I don't think I'd call this a wedding soup. More like an elopement soup?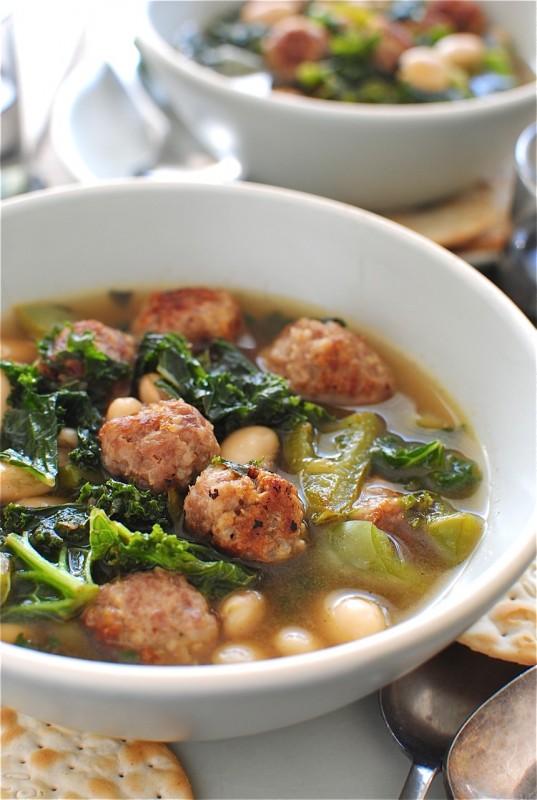 Because the willy nilly factor is maj nil. There are no flowers to be ordered, no cake to taste test, no dress to lose weight for, nothing. It's just hop in the car, sign a paper, I do or whatever, and slurp it down. Or wait! Instead of I DO, it's I SLURP.
You like that? Eh? . . . Eh?
. . . Hello?
Oh.
But if you're just DAHING to call it a wedding soup, by all means, make yourself giddy. Because I think it has all the components of one. Clear broth, greens, meatballs, a starch, a lone drunk dude wearing his mother-in-law's high heels on the dance floor with a bottle of vodka.
Oh you know exactly who I'm talking about.
My secret to this elopement soup is in the meatballs. Hark it up, pigeons. All I did was pinch off little pieces of Italian sausage and roll them into little balls. The end, basically.
And then I browned them in a pan, along with some green bell peppers for a smidge. And the smelleth doth slayeth.
And then I added stock, beans, and kale. The end again, basically.
Except for the simmering.
And the lime juice. Yep, lime juice. I'm obsessed with lime juice and would squirt it into my eyeballs if needed.
Just kidding I would not do that thing I just mentioned.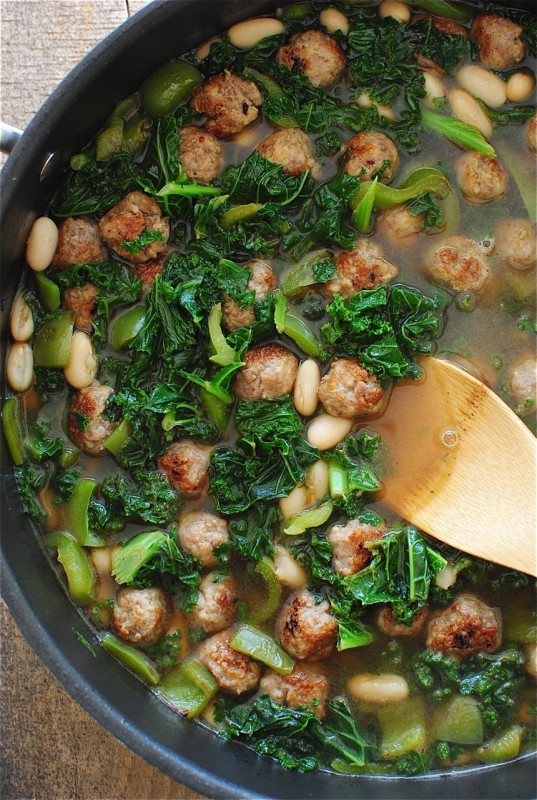 And just like that, you're forever and ever in love and wedded to this bowl of gorgeous, soul warming, prenupless elopement soup.
WHAT, PEE WEE HERMAN WOULD SO BE ON BOARD, YOU GUYS.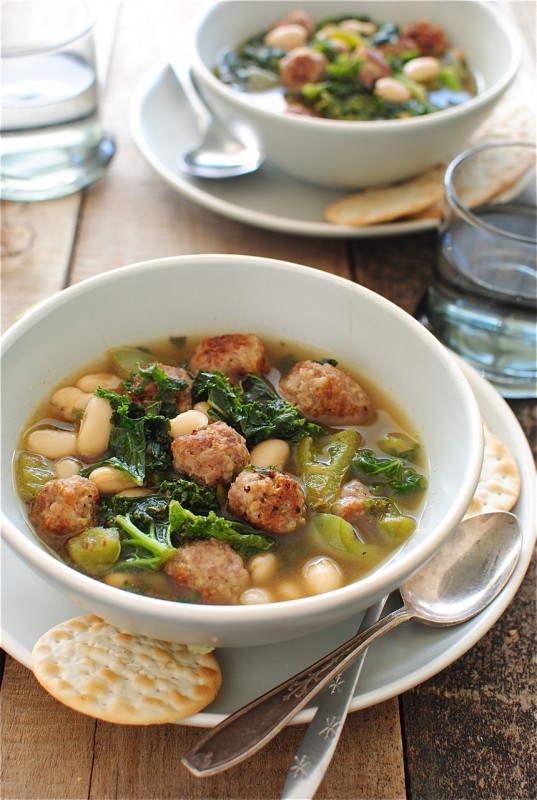 Get eloped!
Soup with Sausage Meatballs, White Beans and Kale:
What it took for 4:
* 4 Italian sausage links, casings removed
* 1 large green bell pepper, diced
* 4 cups chicken stock
* 1 (14.5 oz) can cannellini beans, drained and rinsed
* 4 cups chopped kale
* juice from half a lime
* coarse salt and freshly ground pepper, to taste
Take the sausages and pinch off little sections, rolling them into little balls. There's just no other way around saying that.
Add the balls to a large skillet and bring to a medium-high heat. Brown all over, roughly 7 minutes. Add the green bell pepper (and a tad bit of oil if needed), and sauté until slightly tender, 3 minutes.
Add the stock, beans and kale. Bring to a boil, reduce heat and simmer for about 10 minutes. Add a nice pinch of salt and pepper, to taste.
Now squeeze in that lime juice. Right? It's nice. Taste it again. Done.
Serve with crusty bread or crackers!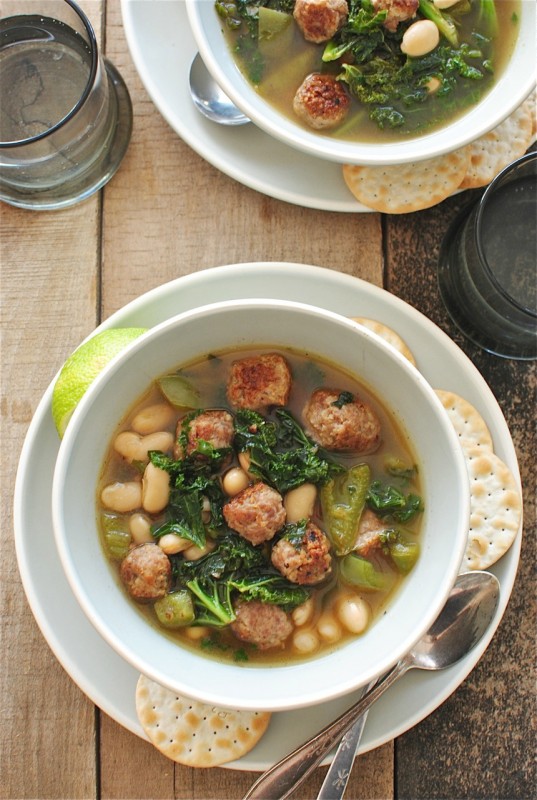 I've mentioned Pee Wee Herman twice in a month. That feels weird.