. . .  with Parsley Pesto. (!!) I just didn't have room for it in the title.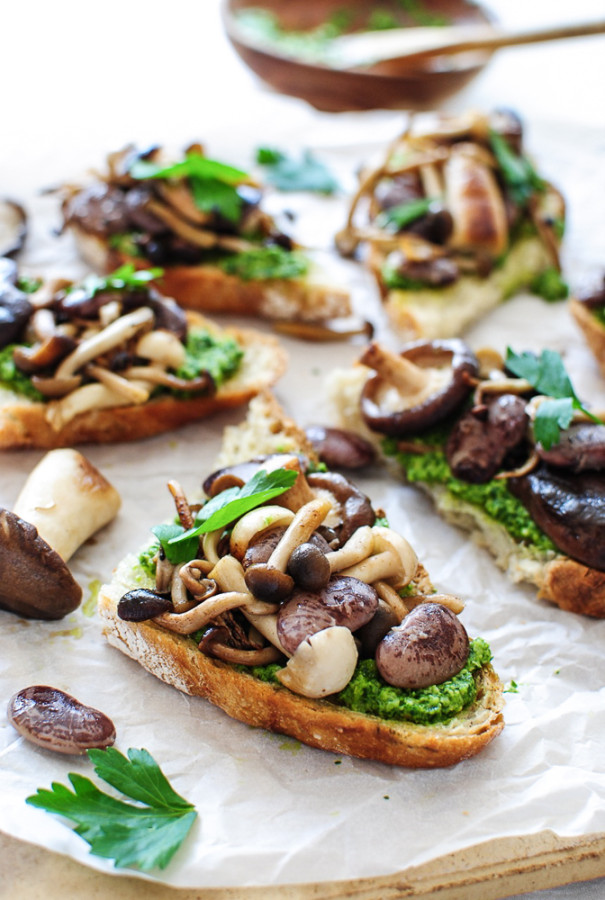 But you're hung on the Christmas bean part, aren't you?
Have you ever seen slash HEARD of Christmas lima beans? I'm sort of obsessed with enormous beans lately. Big, fat, type-A personality, take-control-of-the-situation beans, man. Beans that aren't afraid to ask for directions, and know how to fix a flat tire. Beans that grab the bill before you have a chance. Beans that open doors for you and tell you you're beautiful, even with junkyard gutter roots.
Wait, are we still talking about beans?
I'd only heard of cranberry beans, which are actually what I'd originally planned on using for this recipe, until I saw THESE FRICKIN' CHRISTMAS BEANS at the store. Are you kidding? Look at all that purple speckled splendor! They are exactly what I'd envisioned for this appetizer.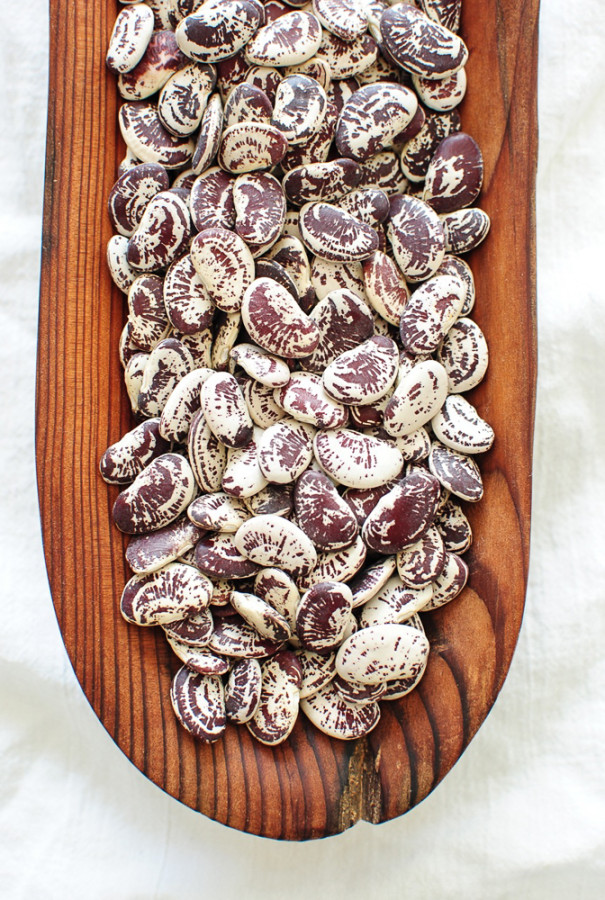 It's a Christmas bean miracle.
But hey, if you can't find these beans, nnnno bigs. Just grab your fave and swap it in. See, you're still a good person.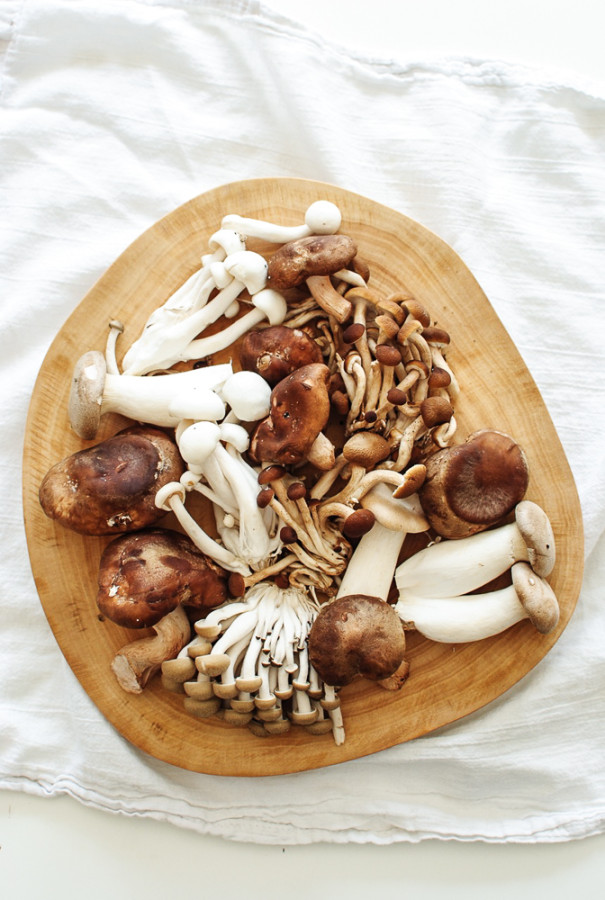 WILD MUSHROOMS. Another obsession? Bizarre mushrooms. Pudgy, gnarly, awkward toadstools. I'm not a huge mushroom snob though! I'll take white button and cremini any day. But if I get a chance to get funky with my fungi, I'm gonna dance all over that.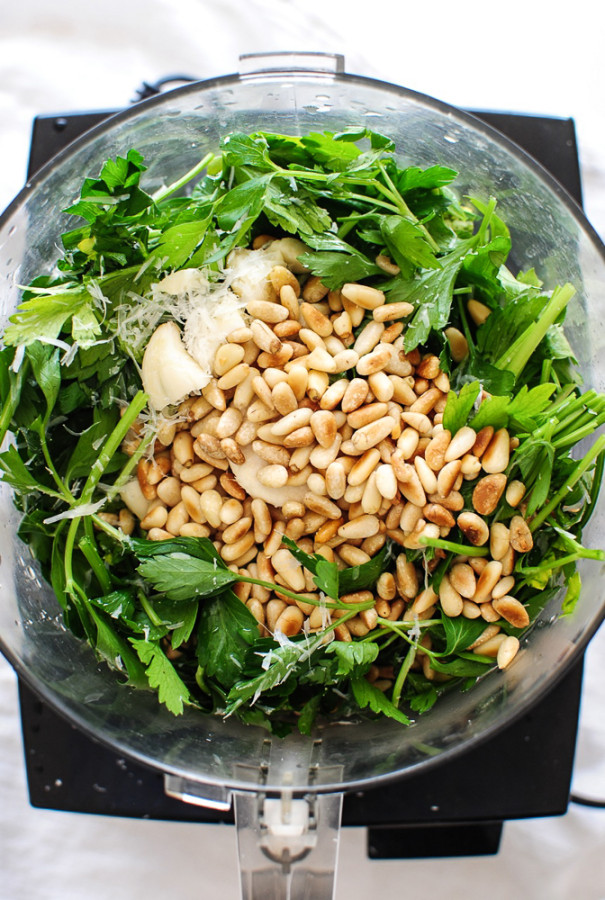 And the last part to this crostini equation, the parsley pesto! I used parsley for this, simply because I like the punchy, earthy tones of the parsley paired with the 'shrooms. But you're more than welcome to swap in the traditional basil, or even arugula, for a more peppery take. ANYTHANG WORKS, Y'ALL.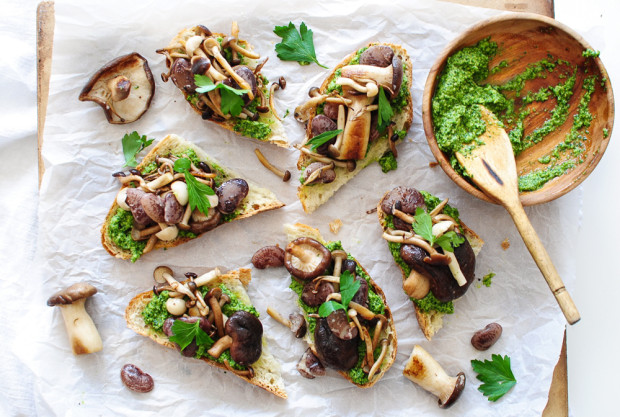 The mushrooms and beans go for a little butter swim, and that's pretty much IT.
Oh wait! It's not it. The crusty bread gets a little toasty stint in the oven, and that's like, ALL.
Wait! Not just yet. The parsley pesto gets to blanket and smother the toasty toast, and that's THAT.
Sort of! You dump and pile and dance and sing and inhale. Now we're done. I think.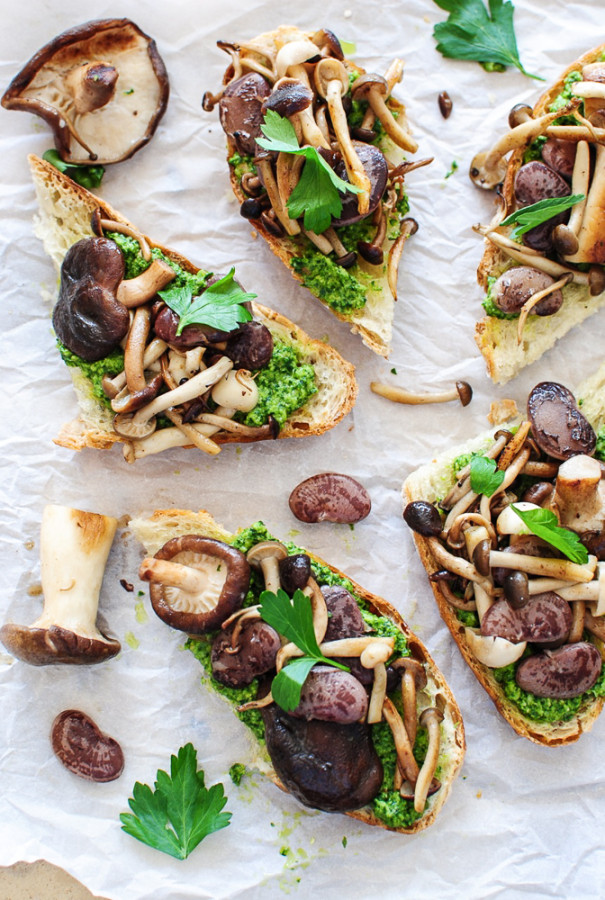 Don't you think this would be perfect for your T-giving appie table? Or just while you're lounging around mid-afternoon with a cocktail in hand, and those blasted noshies began their creepster tummy approach? Don't you think?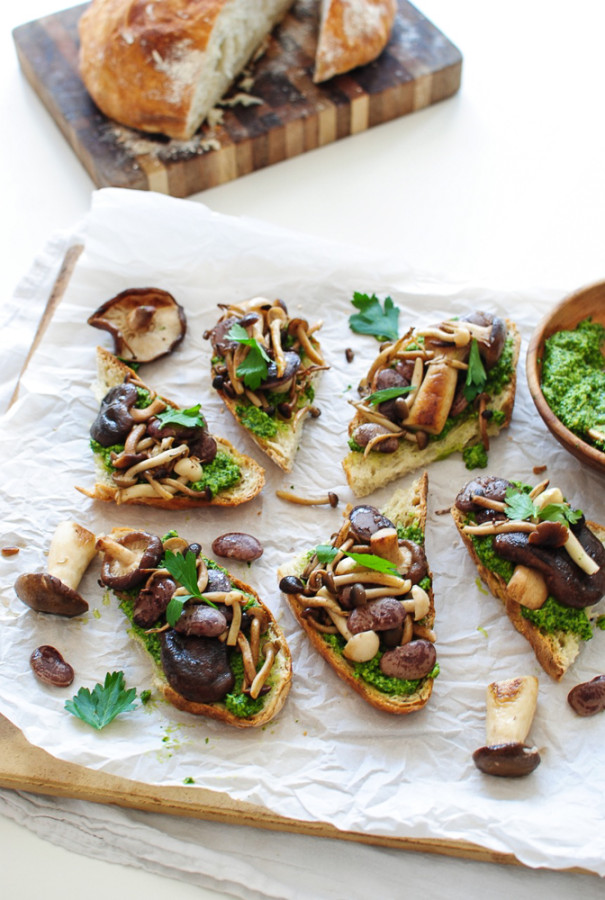 Or, I guess. . . now's fine, too.
Wild Mushroom and Christmas Bean Crostini:
What it took for 6-8 crostini:
* 1/2 cup dried Christmas lima beans, soaked overnight and cooked according to package directions
* 1 pound mixed wild mushrooms (shiitake, brown clamshell, trumpet royal, velvet pioppini, chanterelle, whatever you find!)
* 3 Tbs. butter
* 3-4 large slices of crusty bread (like this recipe! sorry) lightly toasted, then cut in half
for the pesto:
* 2 cups parsley (include stems if you want!)
* 1/3 cup freshly grated parmesan cheese
* the juice from half a lemon
* 1/4 cup lightly toasted pine nuts
* 1 pinch of salt
* 1/3 cup extra-virgin olive oil (more or less depending on the pesto consistency you dig)
Combine all of the pesto ingredients (minus the olive oil) in a food processor. With the motor running, add the oil in a thin stream, until you get pesto! Set aside.
Lightly rinse each mushroom, getting rid of any dirt.
Heat the butter in a large skillet. Add the smaller mushrooms first, sautéing until they slightly wilt and begin to darken. Remove from the pan and add the larger mushrooms. Sauté all over until you see a little wilting, along with some good sear spots. Add the small mushrooms back to the pan, along with the cooked beans and give it all a light toss, coating with the heaven we call butter. Season with a pinch of salt.
Spread the pesto over each crusty bread slice, and pile on the mushroom/bean mixture. Finish with the tiniest pinch of salt, and maybe a squeeze of lemon!
Garnish with a few parsley leaves and you're set for LIFE.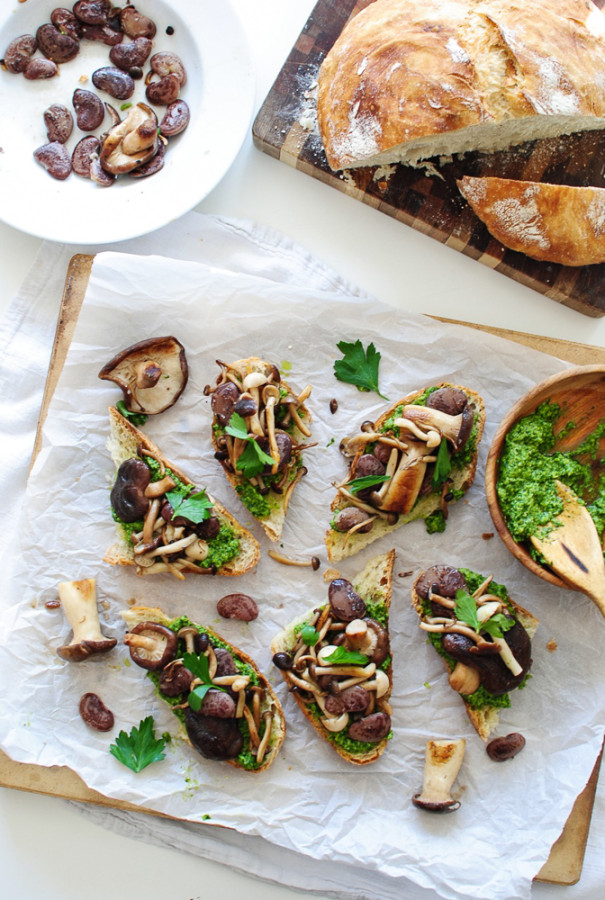 Tell me what else I can do with Christmas beans! Obviously besides decorate my tree with them.