I may never be the same.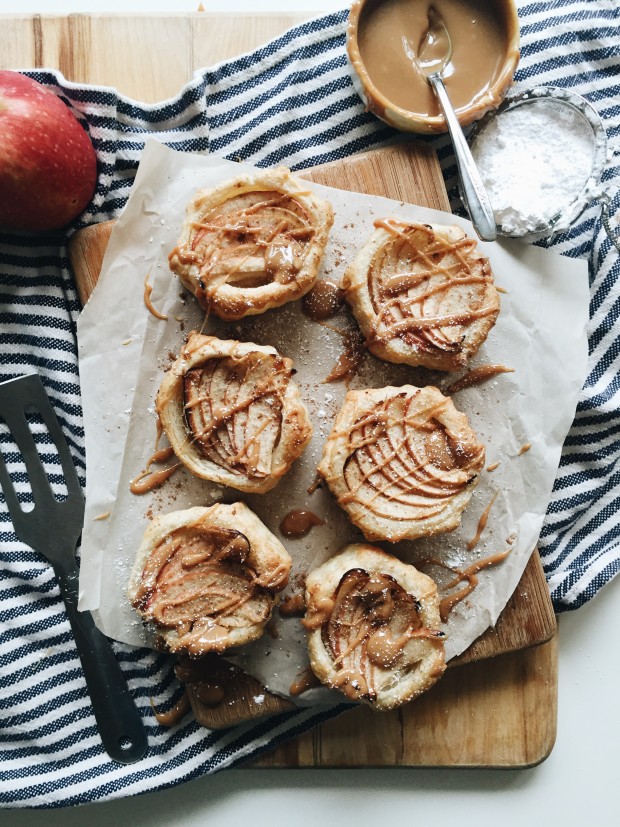 Matter of fact, I don't want to ever be the same. After the discovery of HOMEMADE dulce de leche, I feel the time has come to finally lock myself in a cage with endless vats of this other-worldly nectarous syrup of the sweetened milk gods, and say goodbye forever.
IT IS THAT GOOD.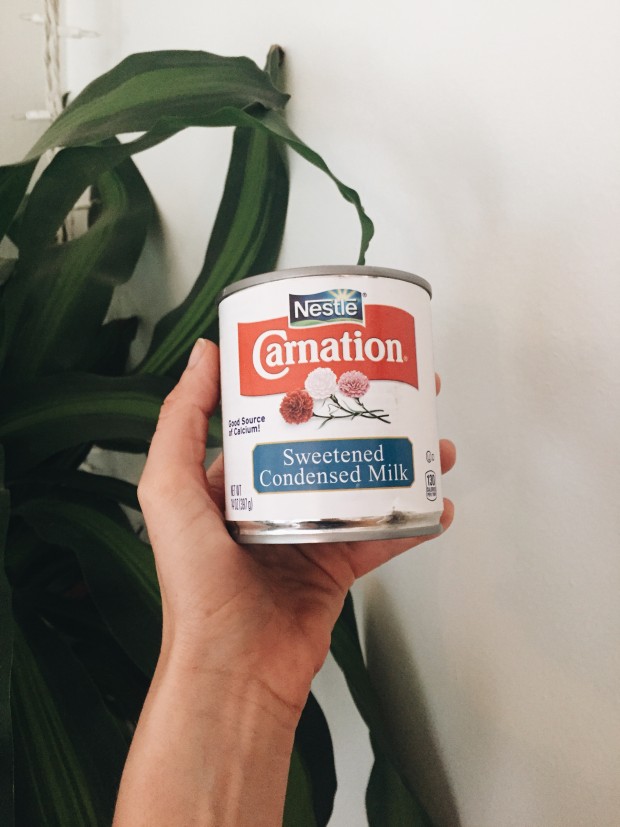 By the way, Nestle has no clue I'm showing you this can. I just wanted to show you what I used exactly to make this luscious sap. But get whatever brand you dig.
Okay, have you heard about this DIY dulce de leche craze? It's apparently been around forever, but I'm late to all the parties. Listen listen, all you do it stick that little can (label removed) in a large pot of lightly simmering water, and roughly three hours later you have REAL DULCE DE LECHE. All caps completely necessary.
I've been seeing this trend everywhere, and decided that by golly, I had to try it. And I am telling you what…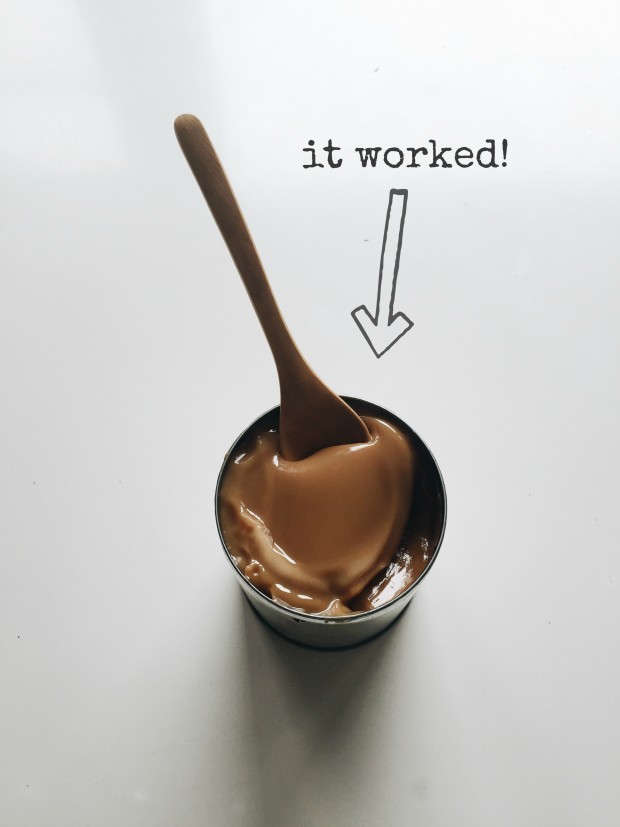 ugh.
Are you even looking at that? Are you even seeing that? Are your eyes even processing that? Yes, this is real life. And no, I'm not shutting the front, or any of the doors.
If you follow me on the snapchats (someday I'll stop saying this), you saw the whole process. And you  heard my lullabies to the boiling water. For which I'd like to apologize.
You basically just need to make sure that there's at least an inch of water covering the can, or else it could explode! At least that's what the interwebz said. And I don't mess around with the words "explode" coming from the internetz.
Well, "explode" and "growth on your back," but that's for another day.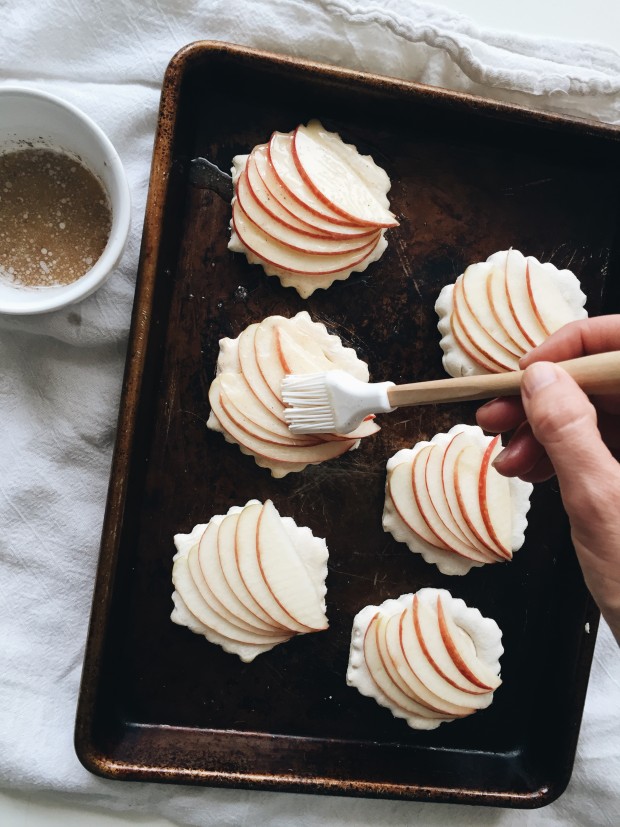 So yeah, if you don't do anything else in your life this week, for the love of all the babies that drink the morning dew, make homemade dulce de leche. You can stick apple wedges in it. Or shoot, just pour it all over your face. I won't tell.
OR! You could take it a step further and make these super fallish appie desserty delights of pastry love bites. (sorry about that sentence)
Ludicrously simple. You thinly slice an apple and fan it over frozen puff pastry shells. You'll melt a little butter with a pinch of allspice, and brush it over the apples and shell edges. You bake.
THEN! You drizzle the pastries with your favorite new thing to eat ever. Lil' sprinkle of ground cinnamon. Lil' extra sprinkle of powdered sugar. And all is well in this world.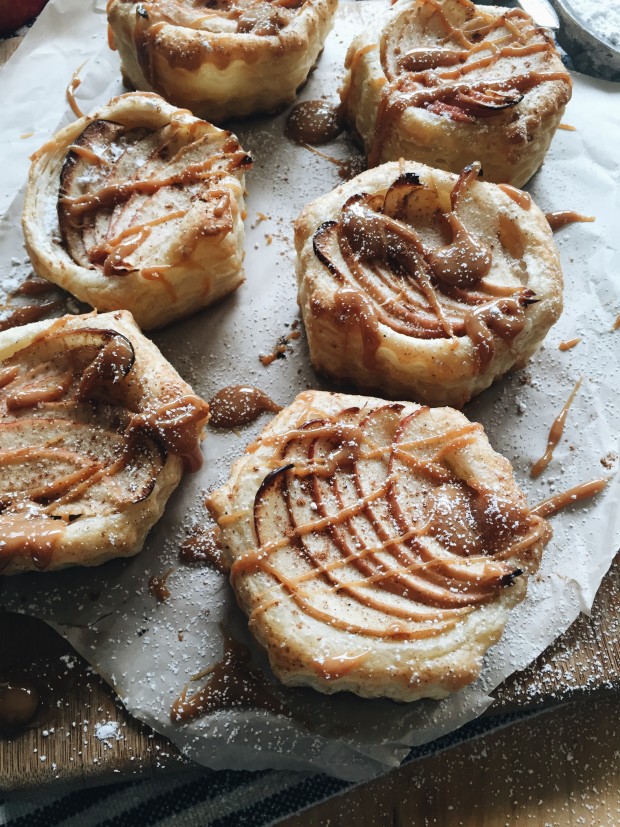 Didn't you have a fall party coming up? Didn't you have lunch coming up?
Yes.
What it took for six pastries:
* 1 (14 oz) can sweetened condensed milk, label removed
* 1 (10 oz) box frozen puff pastry shells (comes in a pack of six)
* 1 large apple (something sweet and tart!), cored and thinly sliced (use a mandolin for super thin slices)
* 2 Tbs. butter
* 1 pinch allspice
* ground cinnamon, for sprinkling
* powdered sugar, for sprinkling
Place the can of condensed milk in a large pot or deep dutch oven. Fill the pot with water, covering by two inches. Bring to a light simmer and cook for three hours. Check every 45 minutes or so to make sure the water isn't evaporating too much. Keep adding boiling water to make sure the can is completely submerged. After about three hours, remove the can from the water with tongs, and let cool on the counter. (maybe 20 minutes) Open the can aaaaand. . . dulce de leche! Stick your finger in that. UGH.
*the longer you simmer, the darker the color will be!
Preheat the oven to 425.
Place the pastry shells on an ungreased baking sheet. Fan the thinly sliced apples over each shell.
Melt the butter and add the allspice to it. Stir it up, then brush it over the apples and shell edges.
Bake for 25 minutes, or until the pastries have puffed and the apples are tender. You might need a full thirty minutes, based on your oven.
Drizzle each pastry with the homemade dulce de leche (you might need to nuke it to get it to drizzling consistency), and sprinkle with cinnamon and powdered sugar. MY GAH.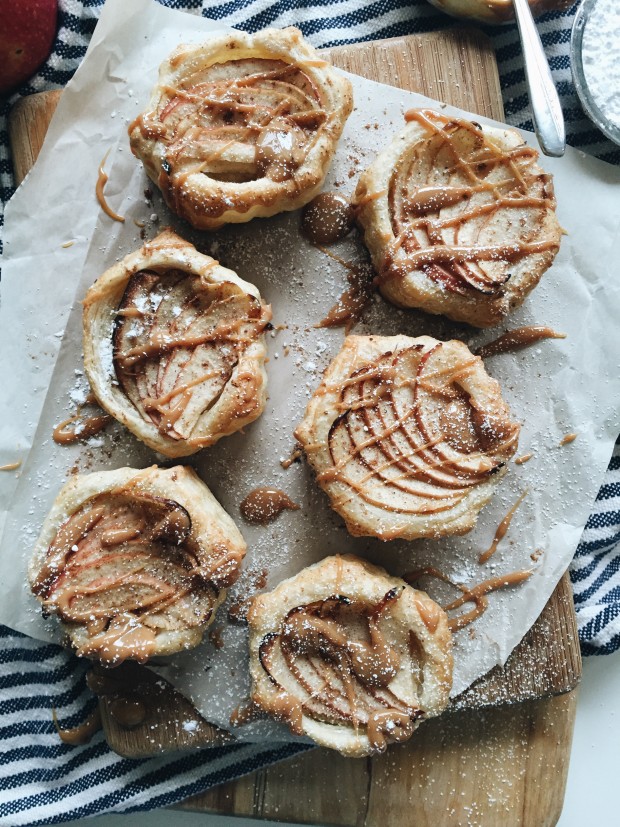 I most certainly will never be the same.