Glory hallelujah I'm posting food.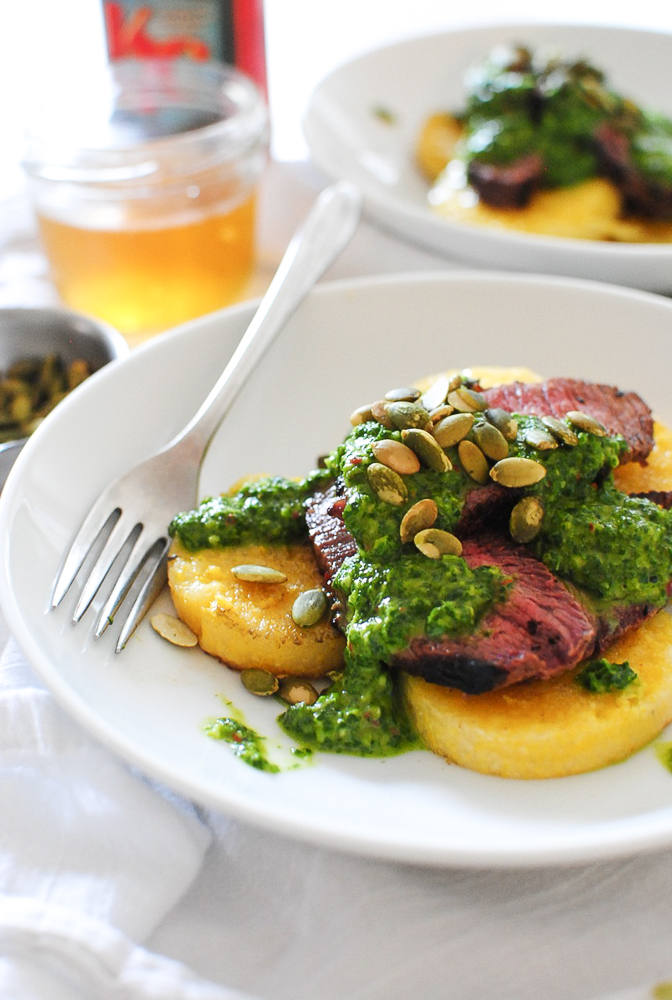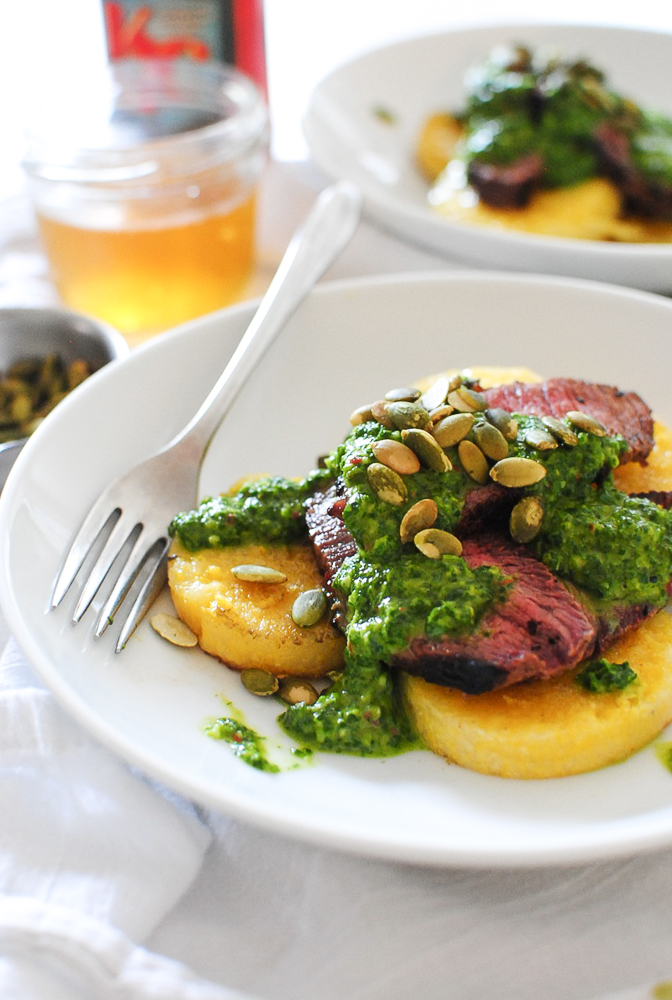 It's been so long since I've shared a recipe with you, n'est ce pas!? No idea why I just went Frenchie on you. Or why I said Frenchie. Let me start over.
We're eating steak today! Honestly though, while I go completely bonkers over a good medium rare steak, it's all about the CHIMICHURRI, omg. It's ridiculous, I've been overly obsessed with making chimichurri since the beginning of May. Which I realize is just barely over a month, but in chimichurri time it's like, at least a decade.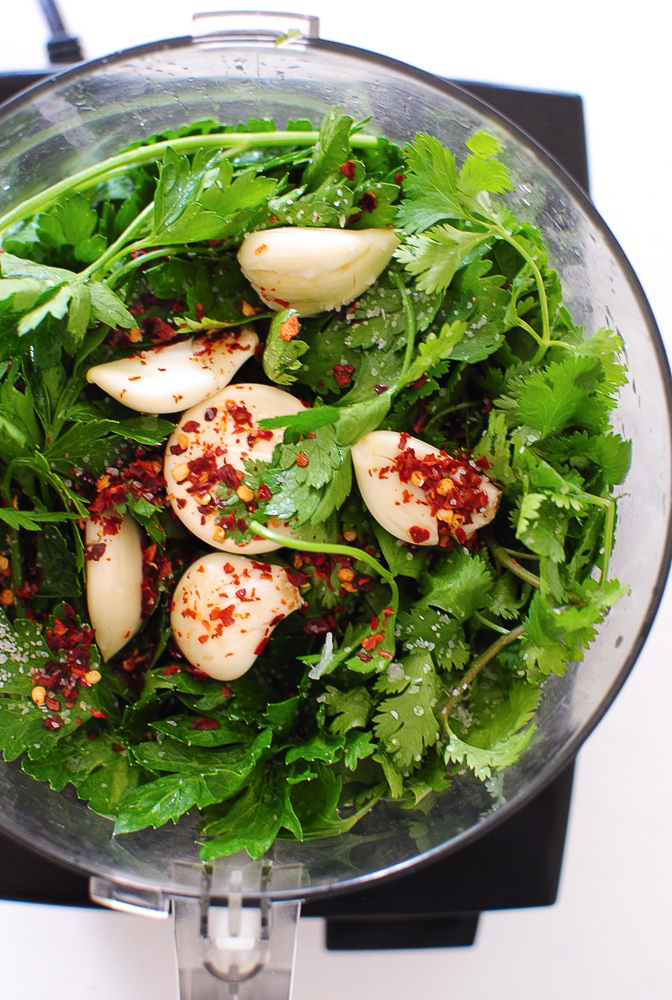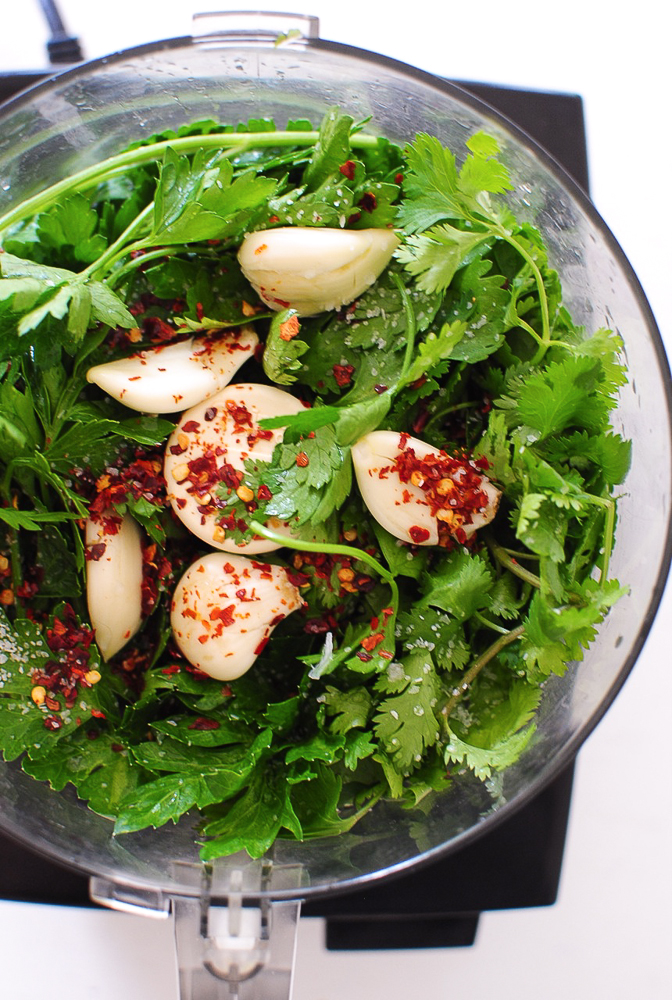 Do you ever make it? It's pesto-ish, but without the cheese and nuts. And a bit thinner, thanks to the healthy glug of deliciously acidic white wine vinegar. And I'll tell you what, the better your vinegar, the better your chimi.
For my staple version, I use an equal mix of parsley and cilantro. A small handful of garden oregano, a kiss of crushed red pepper, BUCKETS of garlic, and salt and pepper. (and oil and vinegar but that's obvz) (sorry for using a z just now). For me, a good chimichurri requires a bunk ton of garlic. But use only a couple of cloves if you like being eaten by vampires.
Wait! Edward Cullen. I may need to rethink this.
Where was I?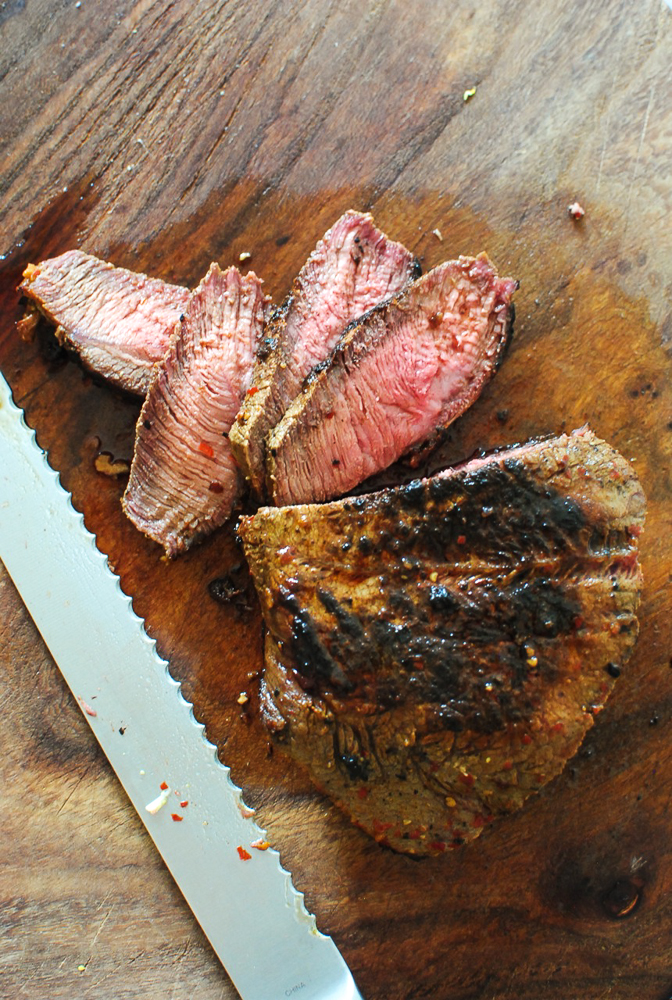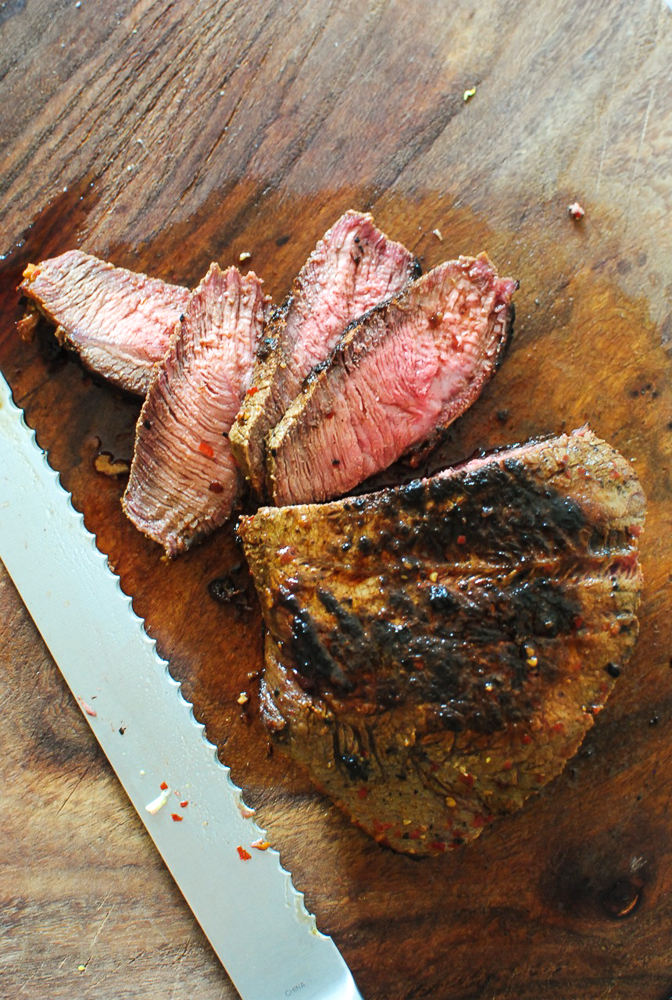 Oh yeah, steak! Now for this I used a flat iron. But honestly, flank is fabulous, skirt is scrumptious, sirloin is sexy. Whatever your face wants. I marinated it for a few hours in a simple mix of oil, soy sauce and sambal. But you could spruce up your 'nade with some brown sugar, honey, minced garlic, whatever! Go insane with it.
And then, to keep with the simplicity theme of the meal, I used tubed polenta. Just a quick slice-a-roo, man.
Then a good sear-a-roo, dude.
Say, "sear-a-roo dude" five times fast.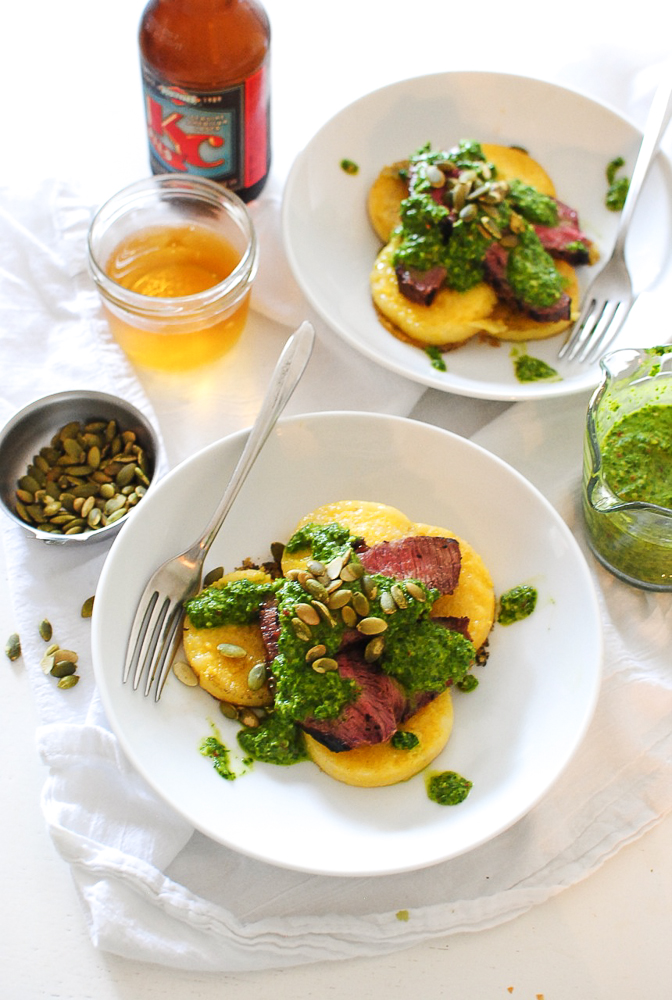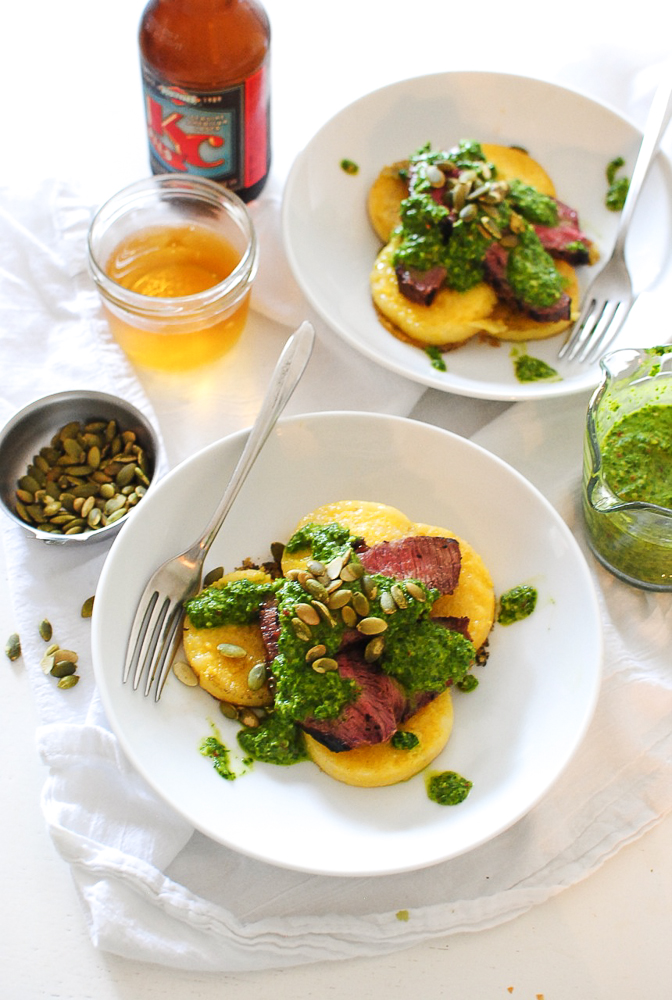 And that's it! Layer layer layer. Garnish with a little bit of toasted pepitas if ya dig. That chimichurri is so fresh and herby, it's SO FREAKING PERFECT over steak. I can't rightly deal.
And the polentaaaaaa, gah. If you want to go the extra mile and make it from scratch, keepin' it on the creamy side, do it! It would be unreal. I kind of prefer the slight spongy give of each seared bite in this particular dish. Makes me weepy.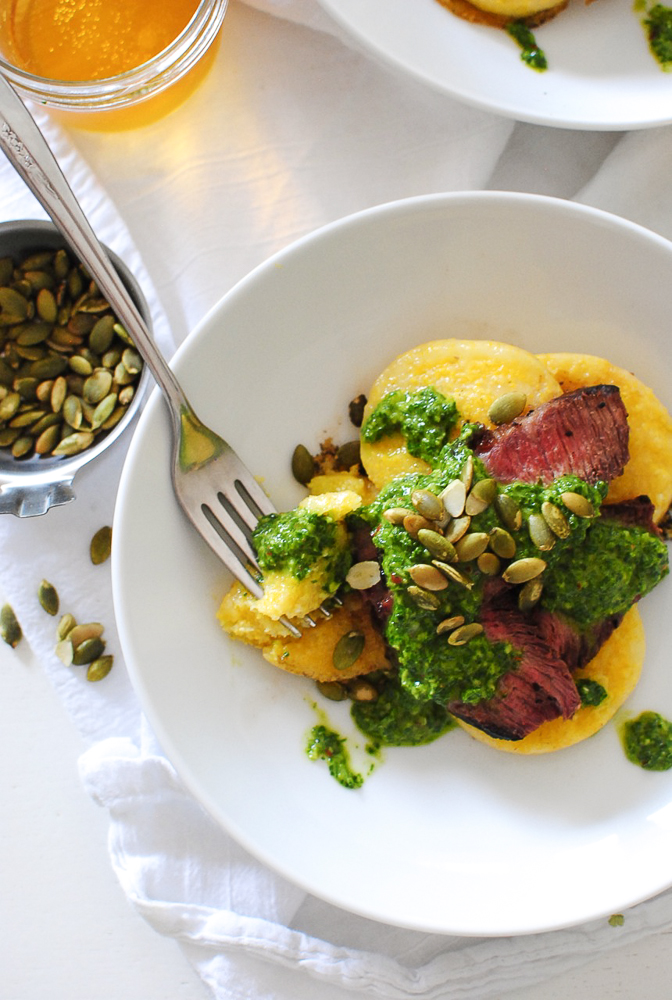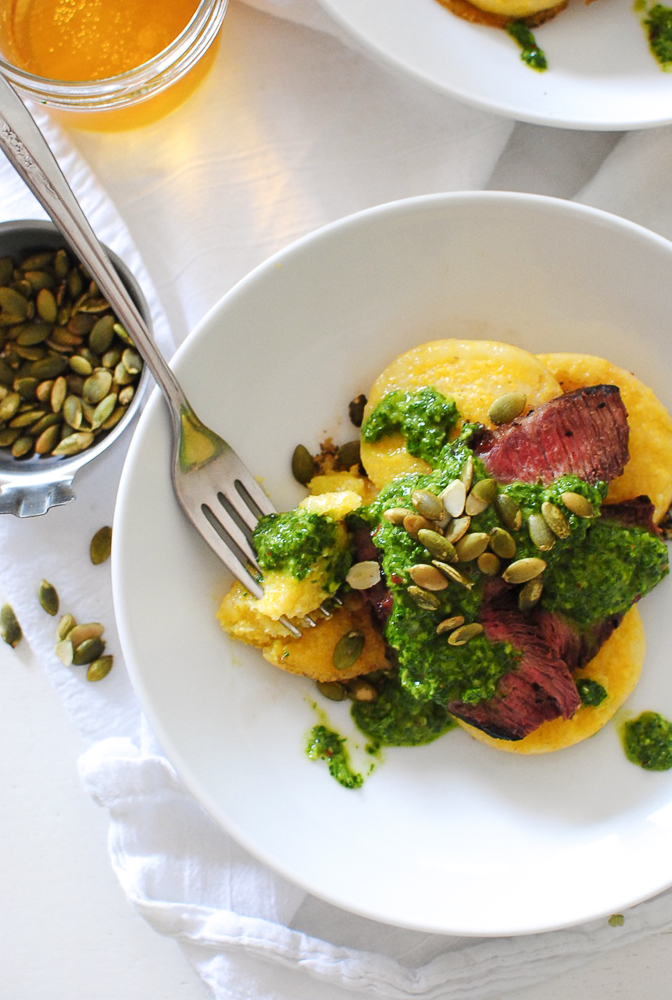 And that's all she ate. I mean wrote.
Seared Steak and Polenta with Chimichurri:
What it took for 2-3:
for the steak:
* 1 pound flat iron steak (flank and skirt work, as well)
* 2 Tbs. extra-virgin olive oil
* 2 Tbs. soy sauce
* 1 Tbs. sambal oelek
* pinch of salt and pepper
for the chimichurri:
* 1 bunch parsley
* 1 bunch cilantro
* 5 garlic cloves
* 2 Tbs. fresh oregano (2 tsp dried)
* 1 tsp crushed red pepper (or a little less for less heat)
* 2 Tbs. white wine vinegar
* pinch of coarse salt and freshly ground pepper
* 1/2 cup extra-virgin olive oil
the rest:
* 1 (pound) tube original flavored polenta, cut into 1/2-inch slices (I used Melissa's)
Place the steak in a large sealable plastic bag and add the remaining marinade ingredients. Seal and chill for at least two hours.
Place all the chimichurri ingredients (minus the oil) in a large food processor. With the motor running, slowly add the oil in a thin stream until you get a nice loose chimichurri consistency. (don't tell the chimi I called it loose.)
Remove the steak from the marinade and pat it dry. Heat a Tbs. or so of oil in a sauté or grill pan. Sear the steak on side for about five minutes. Flip and sear on the other side for five more minutes. Cover and rest for about 10 minutes. This will get you a gorgeous medium rare.
While the steak rests, heat another Tbs. or so of oil back in the pan. Add the polenta rounds (in layers if needed) and sear on one side for three minutes. Carefully flip and sear another three minutes.
Serve the polenta rounds topped with sliced steak, and a good drizzle of the chimichurri sauce. Garnish with toasted pepitas if ya dare! You should dare.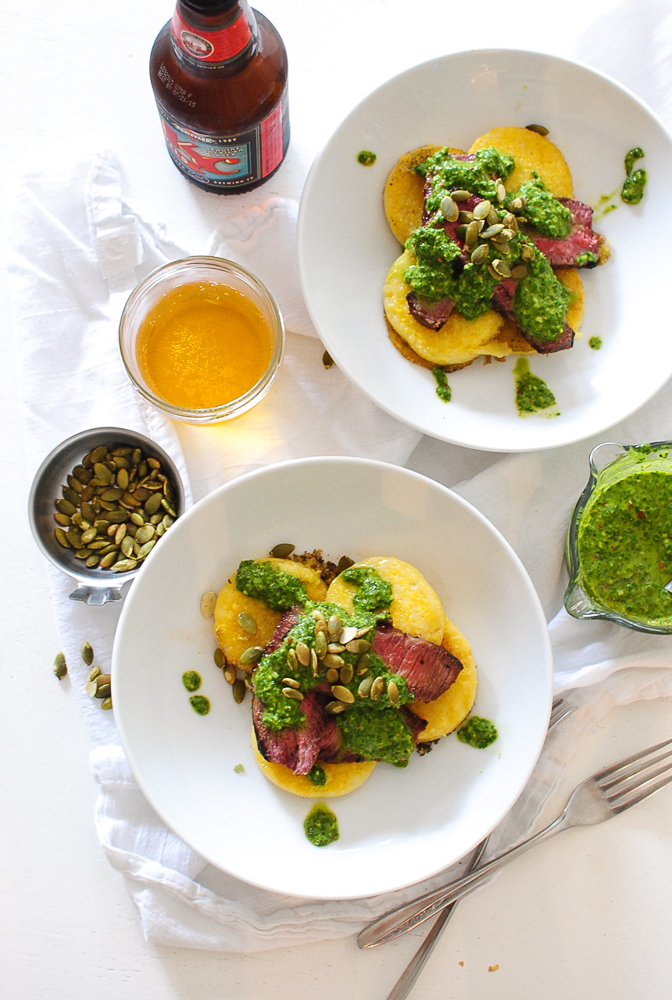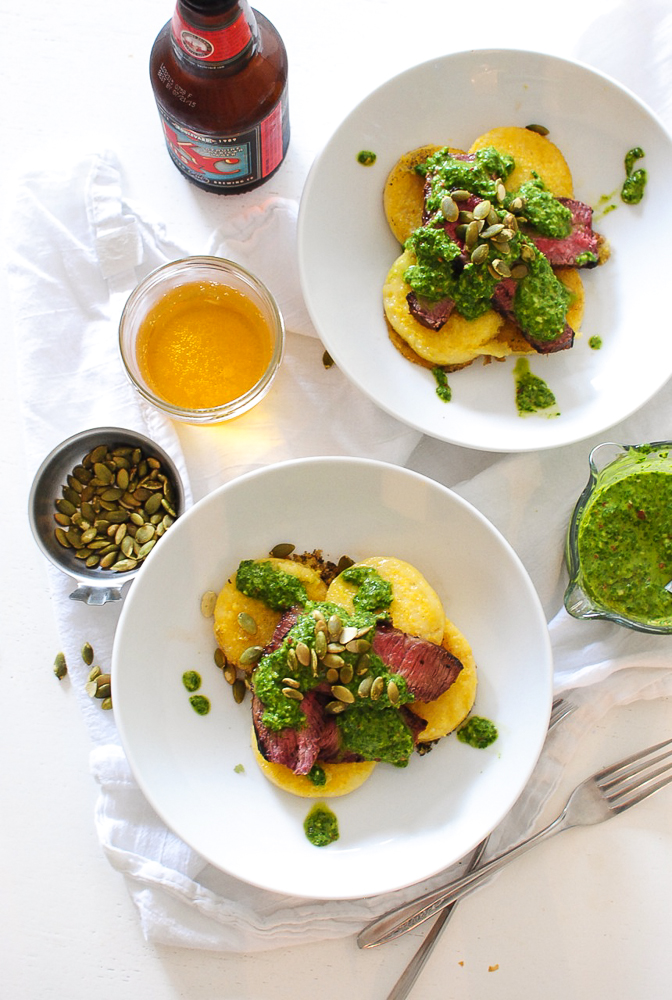 Still can't even deal.