With a chimichurri! I left it out of the title because I didn't want to get kicked out of blogdom for long title abuse.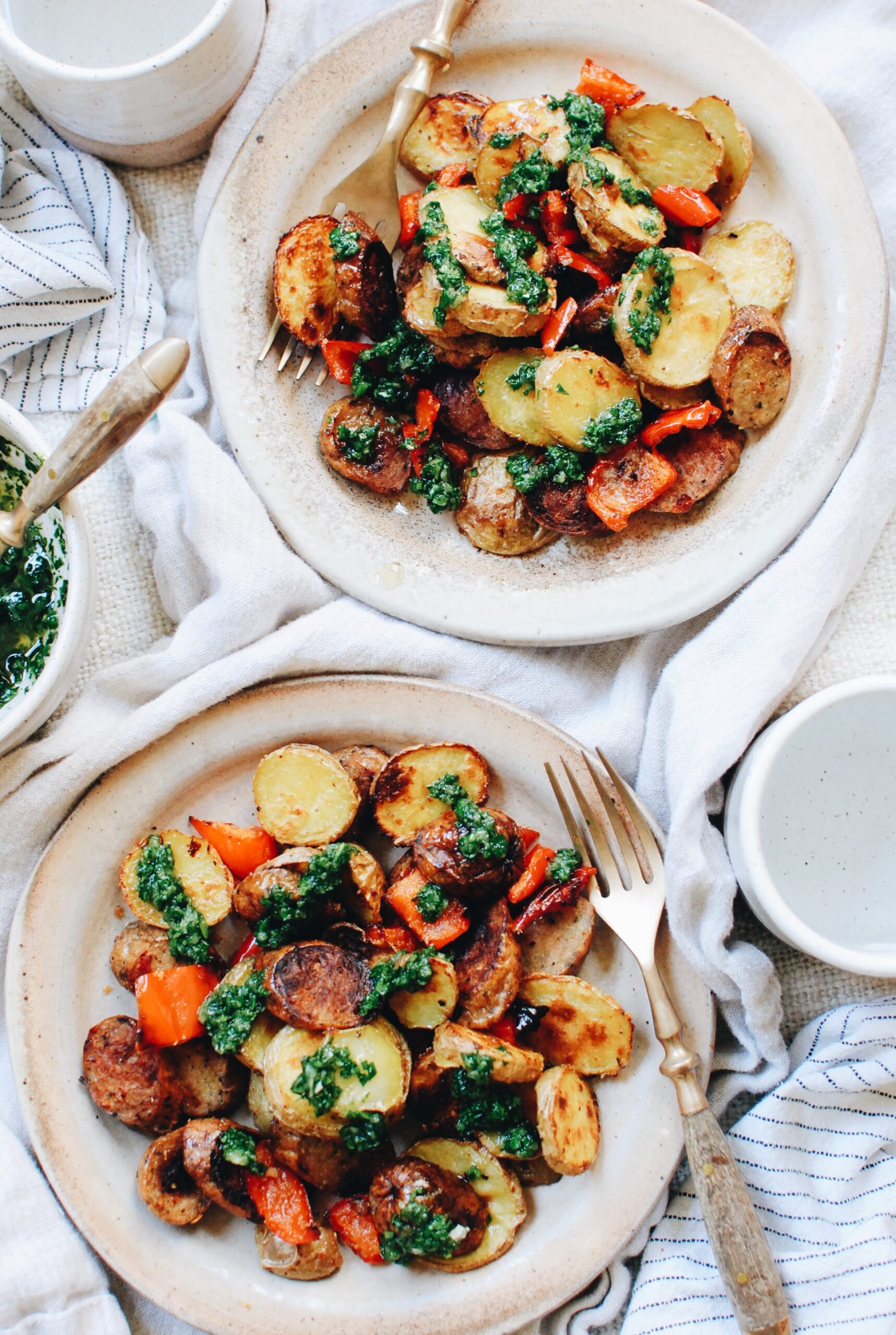 This is one of those wonder meals that takes less than ten to prep, abouuuuut forty in the oven, and .5 to your mouth hole. I'm sure we understand each other.
I did a poll a while back (shocker!) asking what kind of dinners you'd like to see on here, and a tsunami wave of mouth foamers yelled SHEET PAN DINNERS. SHAYT PAYAN DAYNAAAAARS. Just like that.
Exactly like that.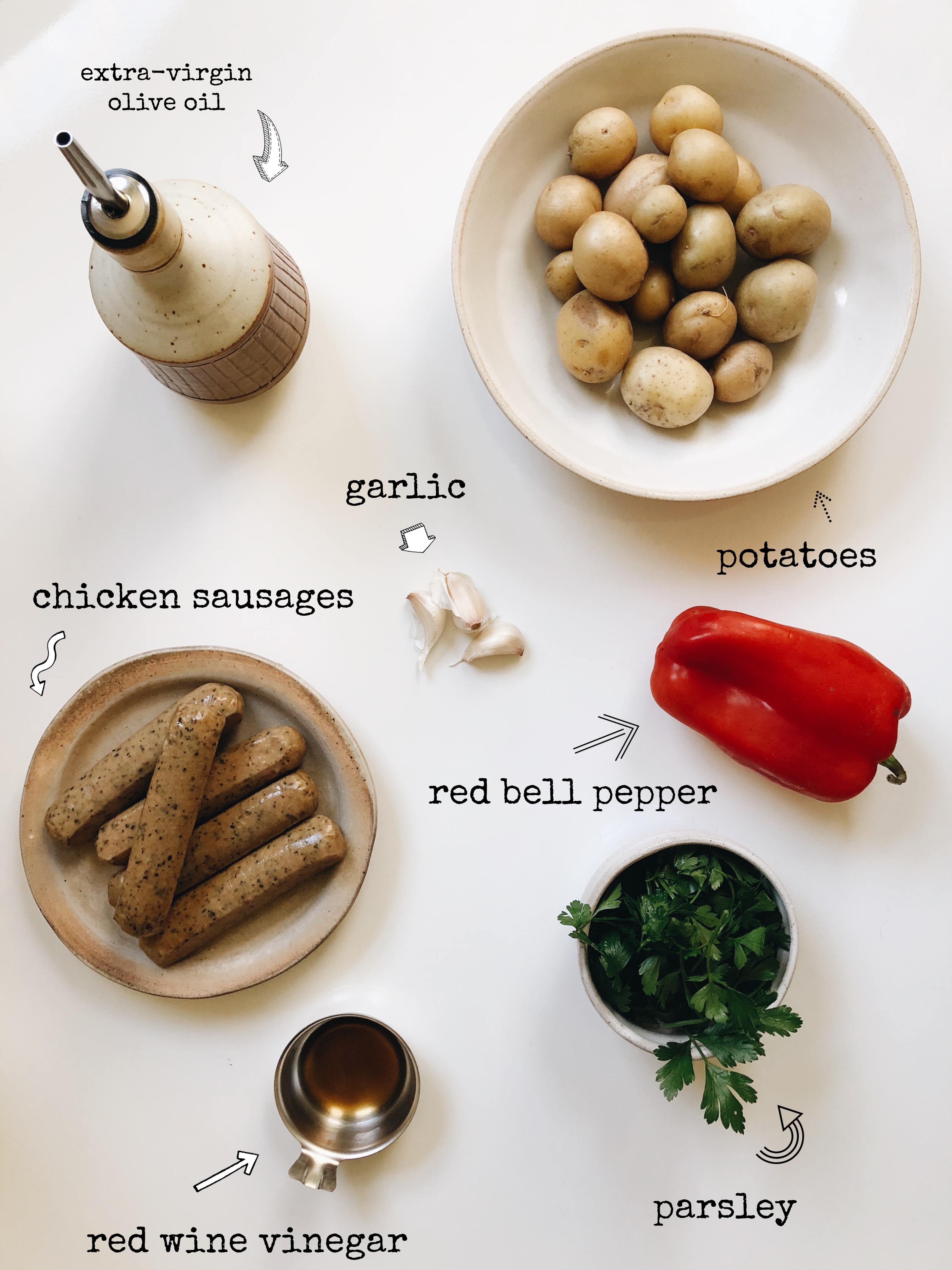 So simple. We're basically slicing and dicing and tossing and spreading and roasting and blitzing and drizzling. Roger that?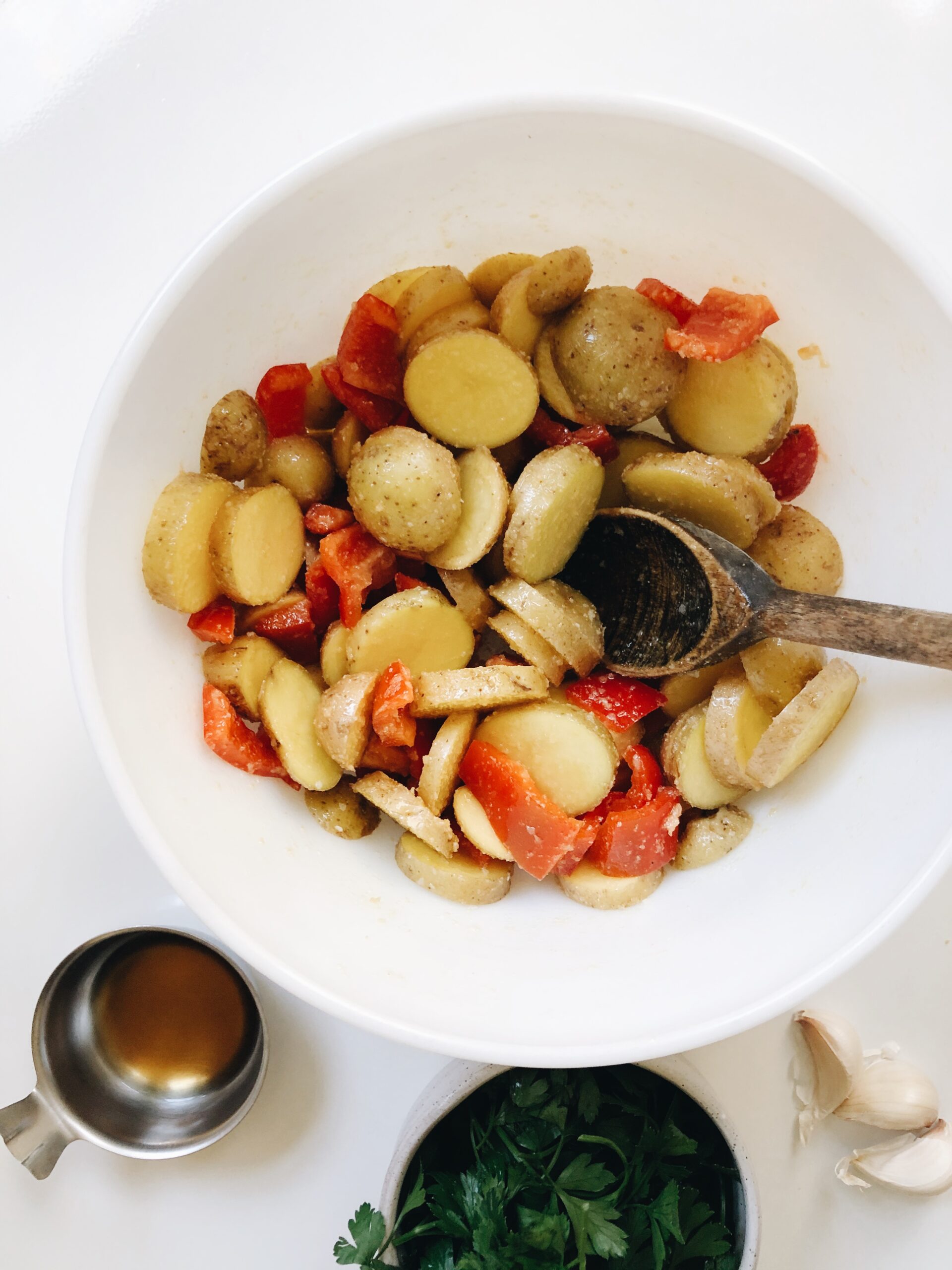 Slice those potatoes into discs. What are they, 1/4th inch? Not too thin, not too thick. You'll feel it in your soul. Dice the pepper and then toss this mix with some oil, garlic powder, onion powder and salt.
And tell you what, if you want to toss the sliced chicken sausage with the potatoes and peppers, it's totally fine. In hindsight I probably would have, but didn't on this particular day because I needed to wash my hair.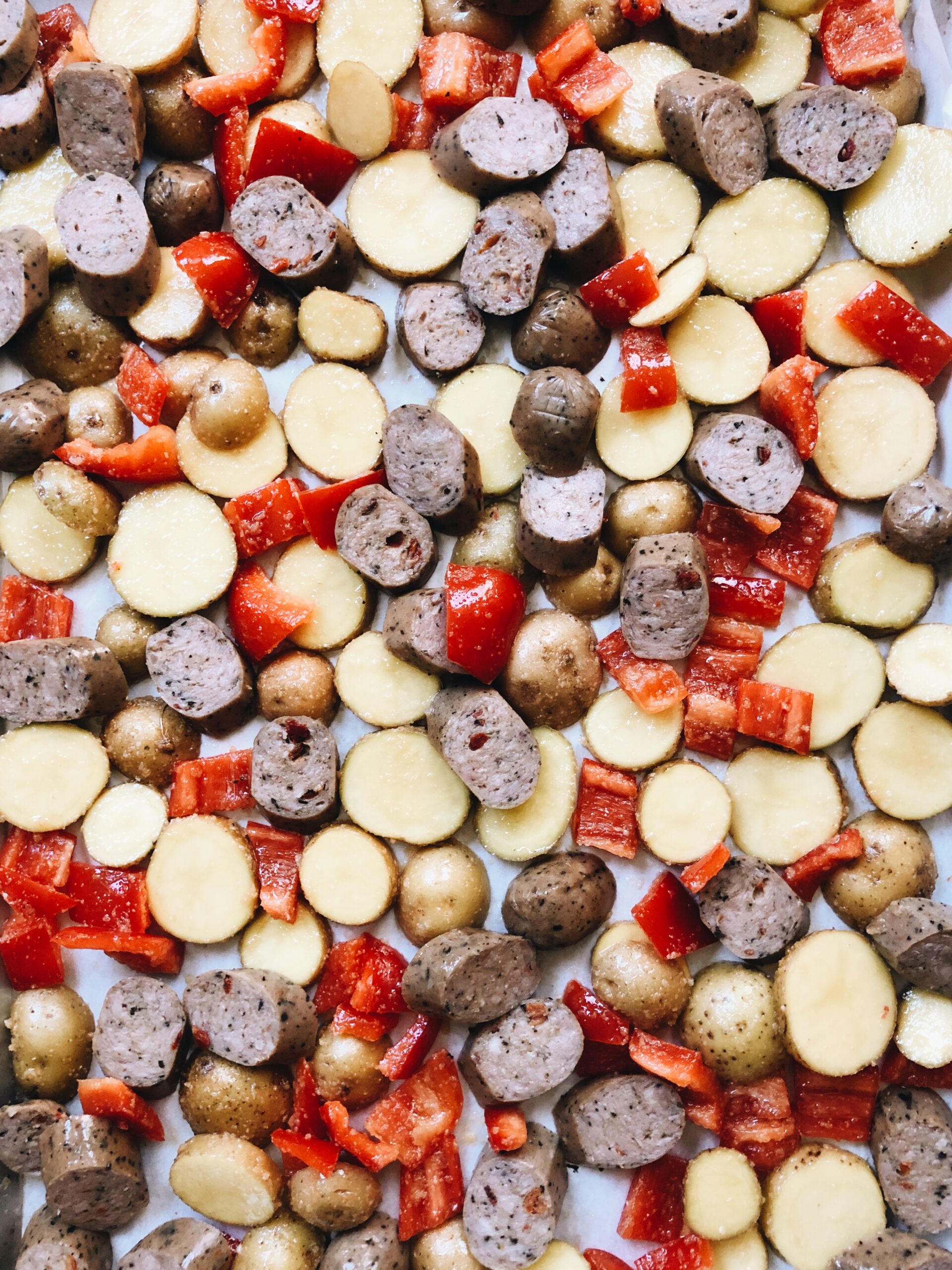 Get it all spread out on a large baking sheet. If you have two smaller ones, do the chicken sausages on one, and the pots and peps on another.
That's what I call them. Pots and peps.
Are we okay?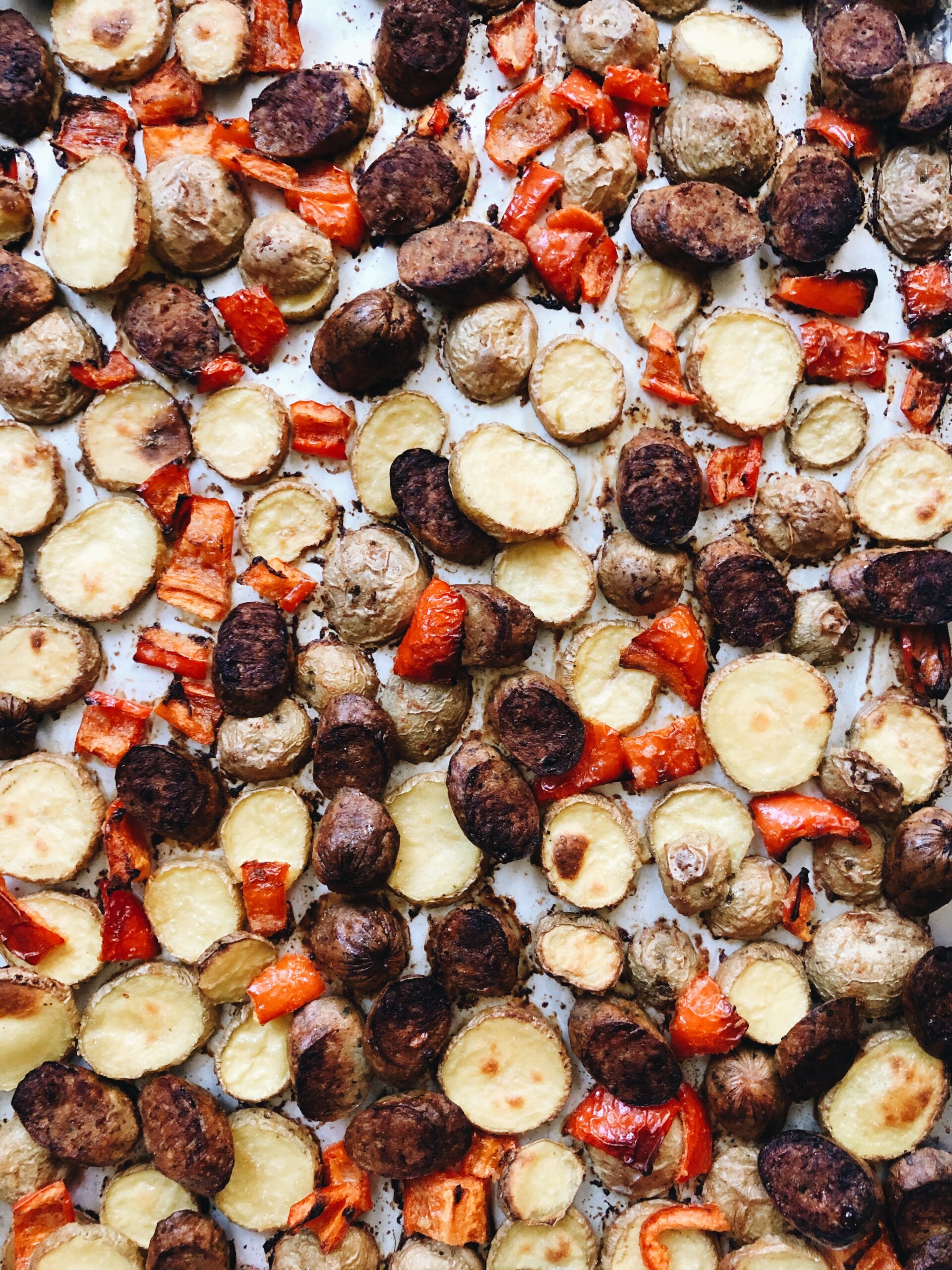 Abouuuuuuuut 35. Maybe 40. You don't want to overcook the sausages (like me) because they'll dry out. You still want them moist (sorry, Ash) and spongy but with that gorgeous roasted crisp on the outside. All ovens are different, so just keep your eagle eye on it at the 30-minute mark, okay?
Okay.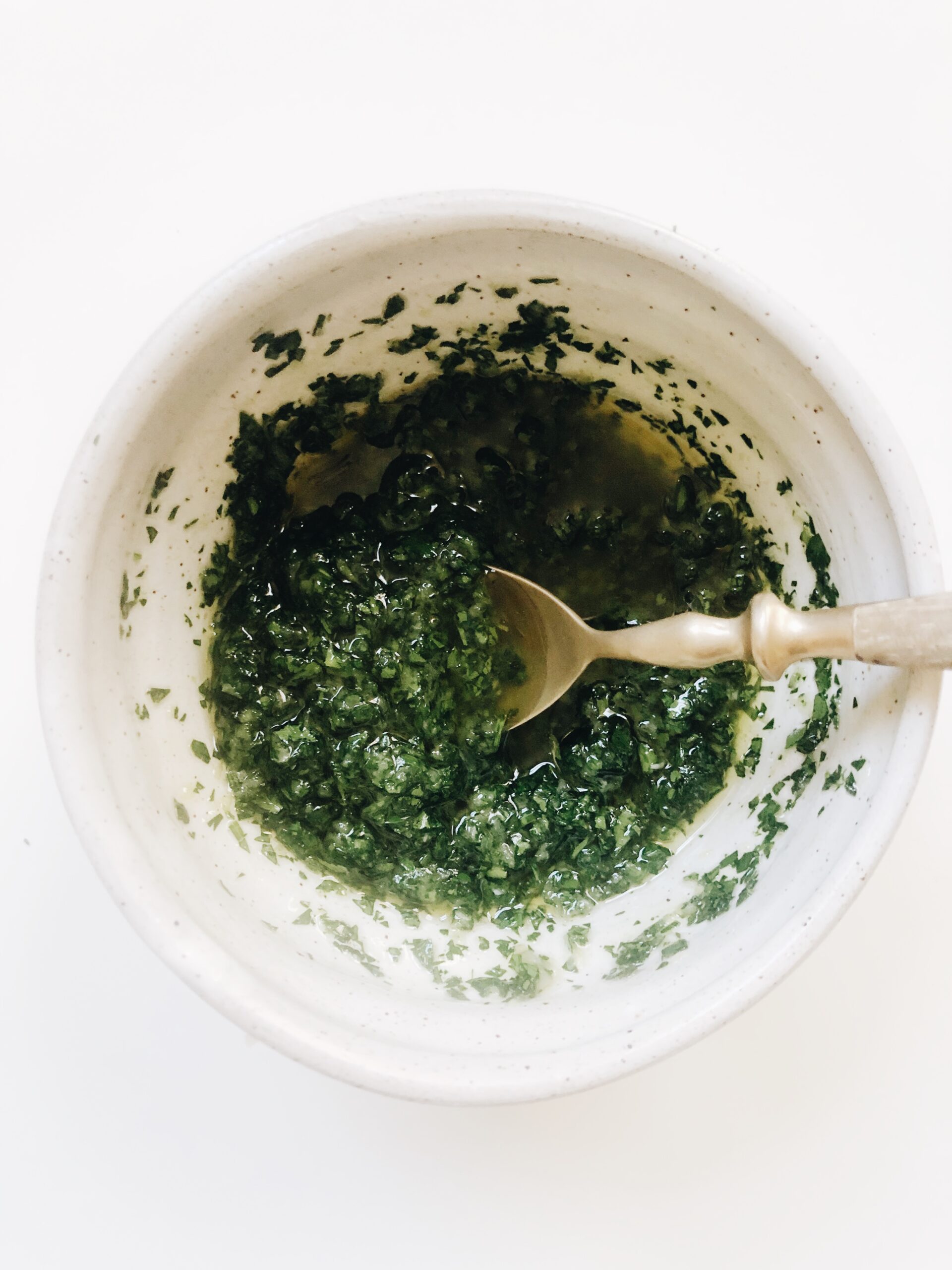 And in the meantime, you can just blitz up a simple chimichurri! This version is bare bones, but still packs so much punch. Parsley + garlic + oil + a splash of red wine vinegar + tiny pinch of salt. Boom.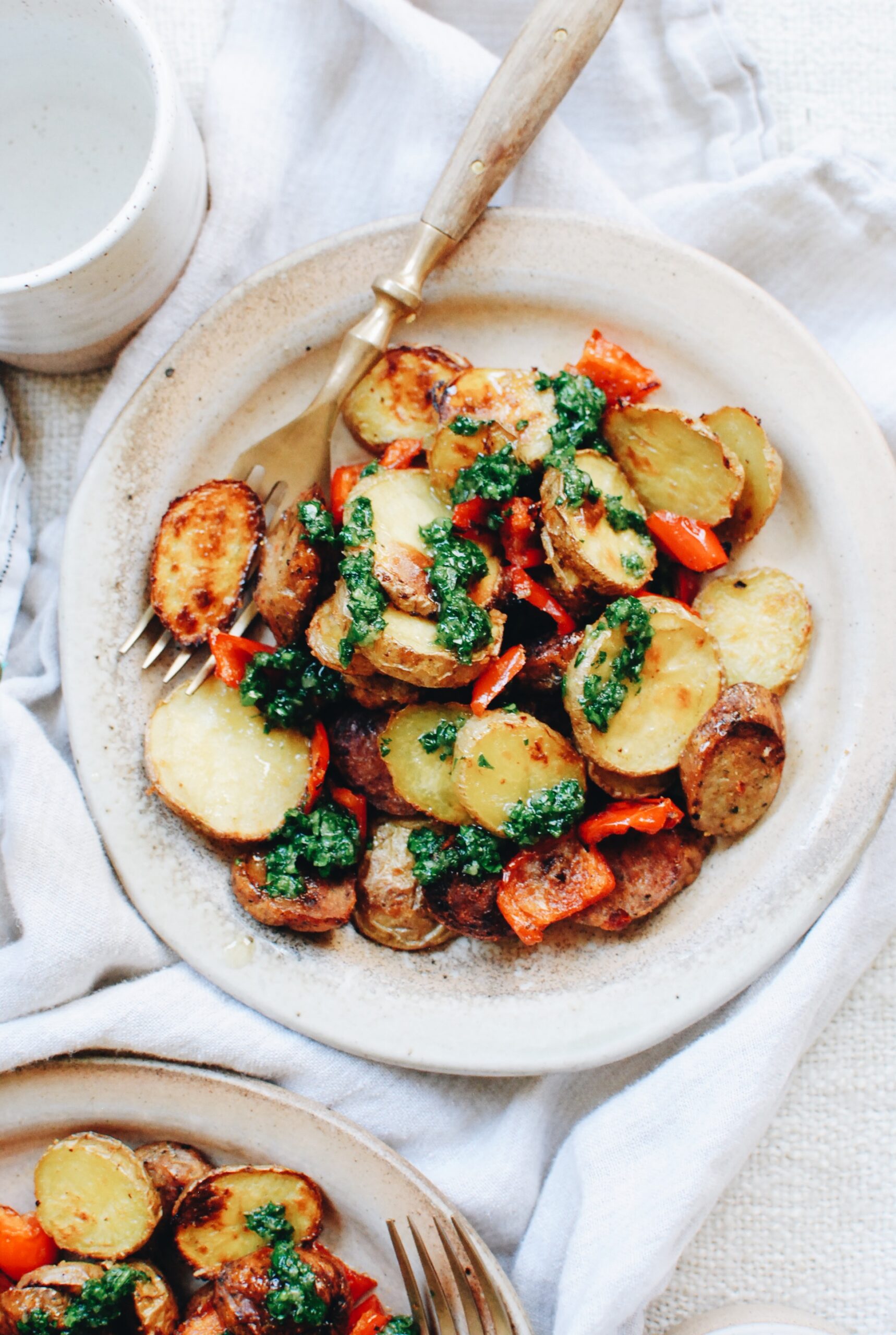 And there ya have it. BUCKETS of flavor, crispy crunchy texture here and there, the brilliant pop of color and hit of earth with that finishing drizzle.
Should we start a band called Hit of Earth?
I'll give you some time to stop rolling your eyes and let you get back to me.
This is perfect for a weeknight when you just don't have it in you. But it also works on a loungy weekend afternoon when you want to tackle early and have dinner just done. So delish, so easy.
SHAYT PAYAN DAYNAR, at your service.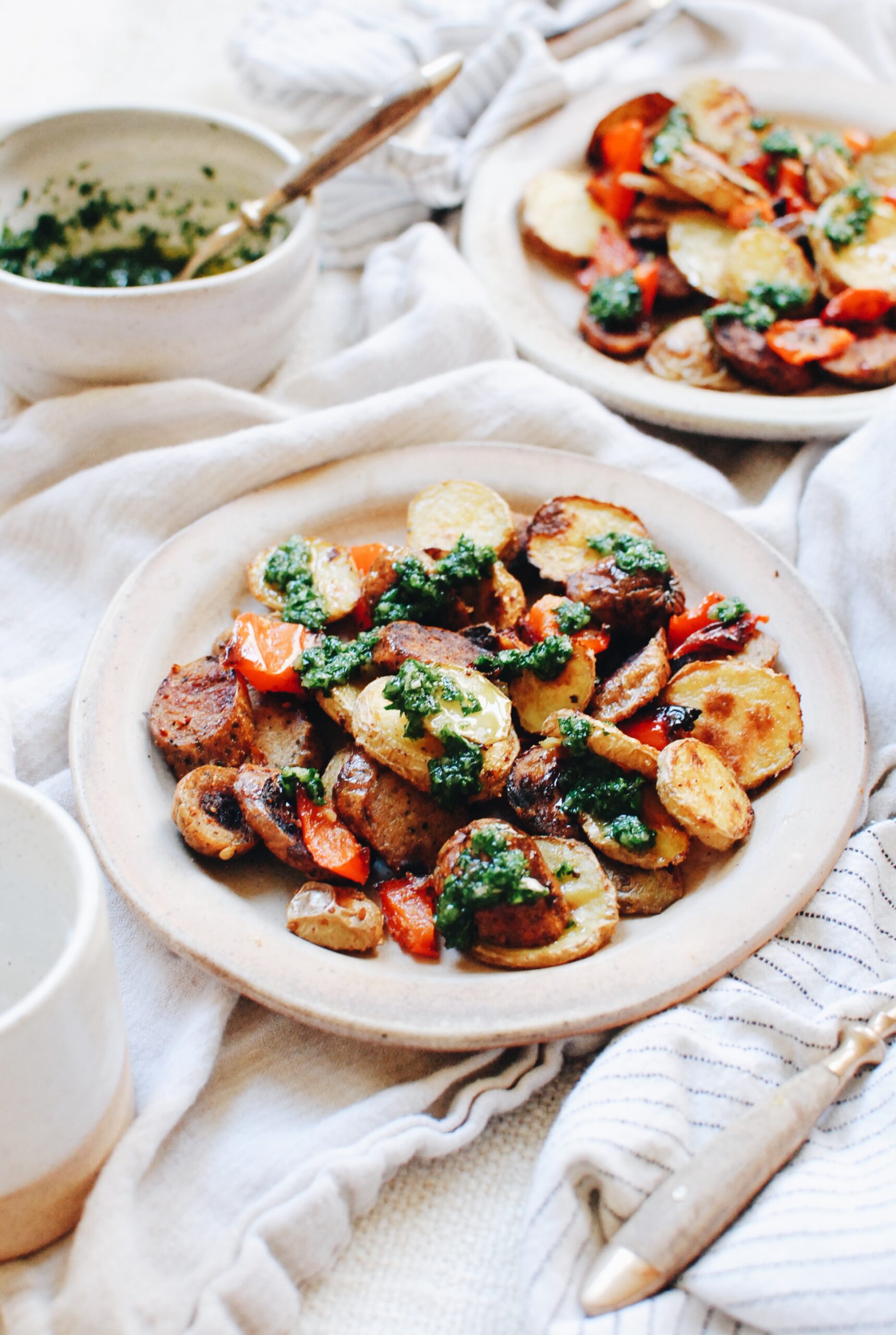 If you need to drizzle that chimi right into your mouth, you're doing it right.
Sheet Pan Dinner with Sausages, Peppers and Potatoes
Ingredients
For the potatoes:
1 (12 oz) package chicken sausages, cut into 1/2 inch slices (any flavor you love!)
1 pound baby potatoes, cut into 1/4 inch discs
1 red bell pepper, seeded and diced
1 tsp garlic powder
1 tsp onion powder
1 tsp coarse salt
3 Tbs. extra-virgin olive oil
For the chimichurri:
1 cup parsley
3 cloves garlic
6 Tbs. extra-virgin olive oil
2 tsp red wine vinegar
Pinch of salt
Instructions
Preheat your oven 400.
In a large bowl, combine the potato discs, diced red bell, garlic powder, onion powder, salt and 3 Tbs. oil. Give it all a really good toss. If you want to add the sausage to this, that's absolutely fine. I didn't, but I think it would be so good. Pour everything on a large rimmed baking sheet. Roast it all for 30 minutes. See how that sausage is. You don't want to overdo it. Make sure everything is starting to brown and tender. 40 minutes tops.
In the meantime, combine the parsley, garlic, olive oil, vinegar and the pinch of salt in a mini food processor. Blitz until combined and smooth. A chimichurri! You know.
Serve the roasted goodies with the chimi drizzled over it, to your liking.
Serves four!
7.8.1.2
469
https://bevcooks.com/2020/12/sheet-pan-dinner-with-sausages-peppers-and-potatoes/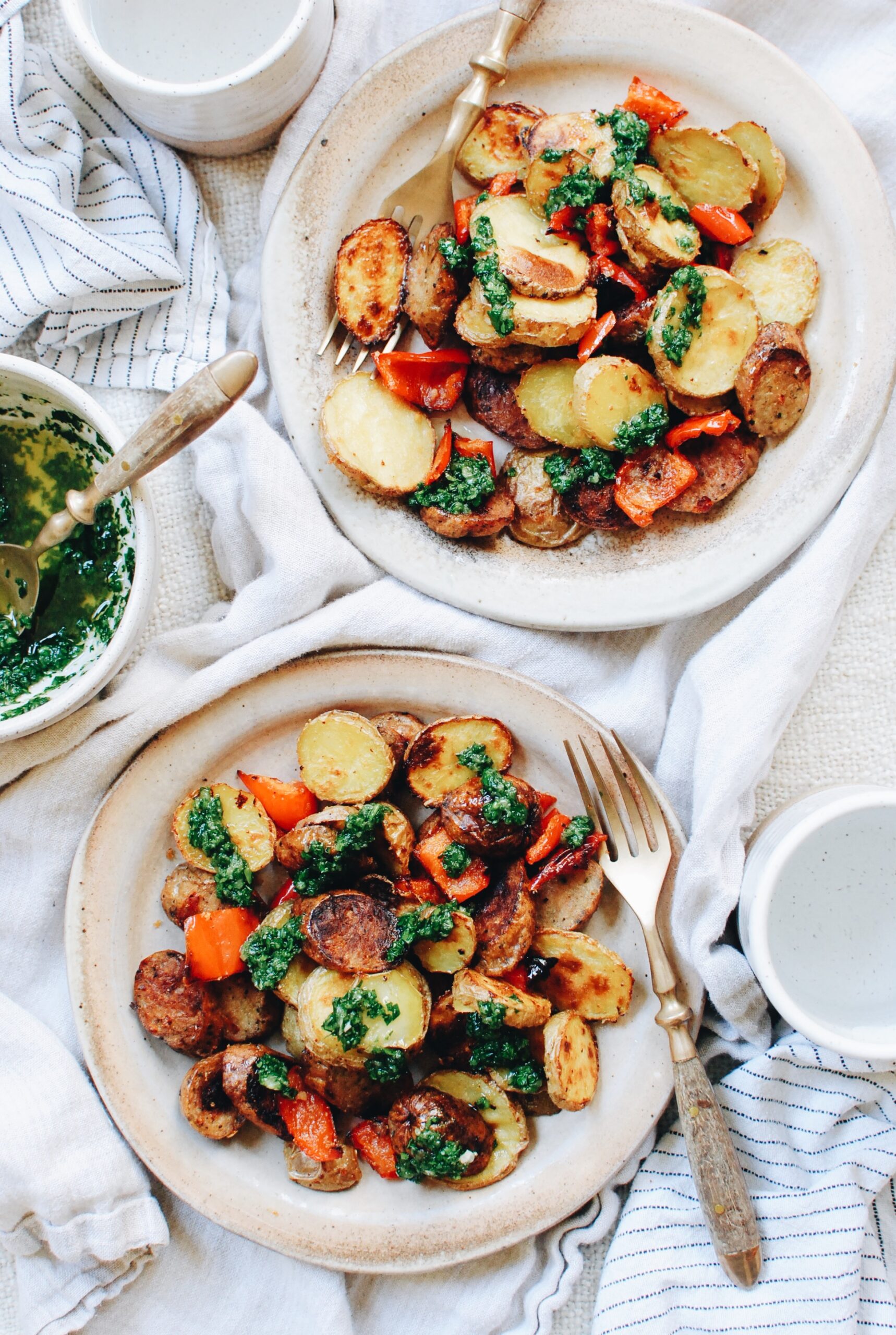 Tonight? Tonight.