With beer and coffee grounds! So you know it's about to get so good right now.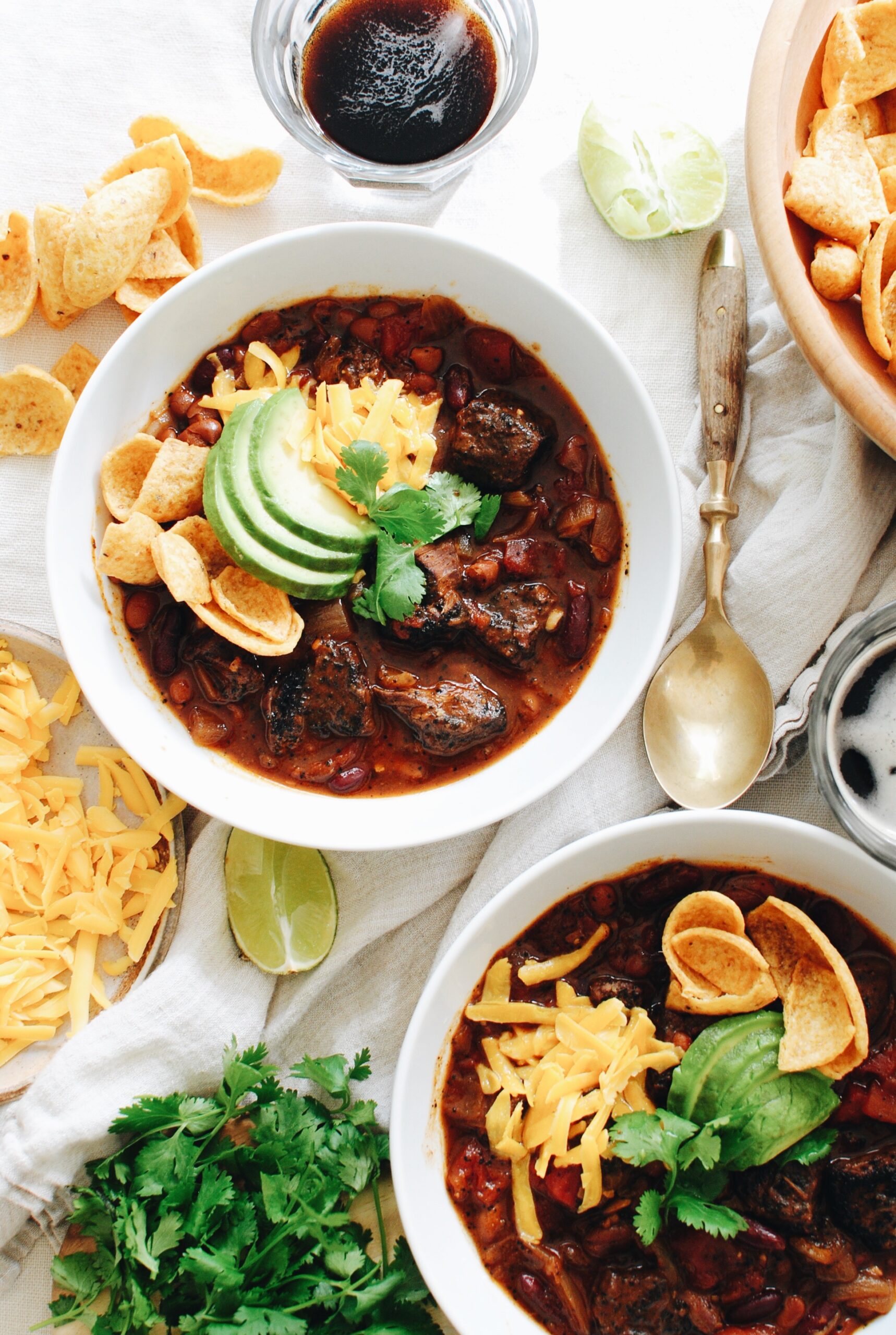 I first played around with this recipe, oh . . . when was it, late September? Well we immediately collapsed into ourselves after one bite, so I obviously needed to a) remember it and b) make it for you! I wish I had a c. I feel like this needs a c. Let me think on that and I'll get back to you.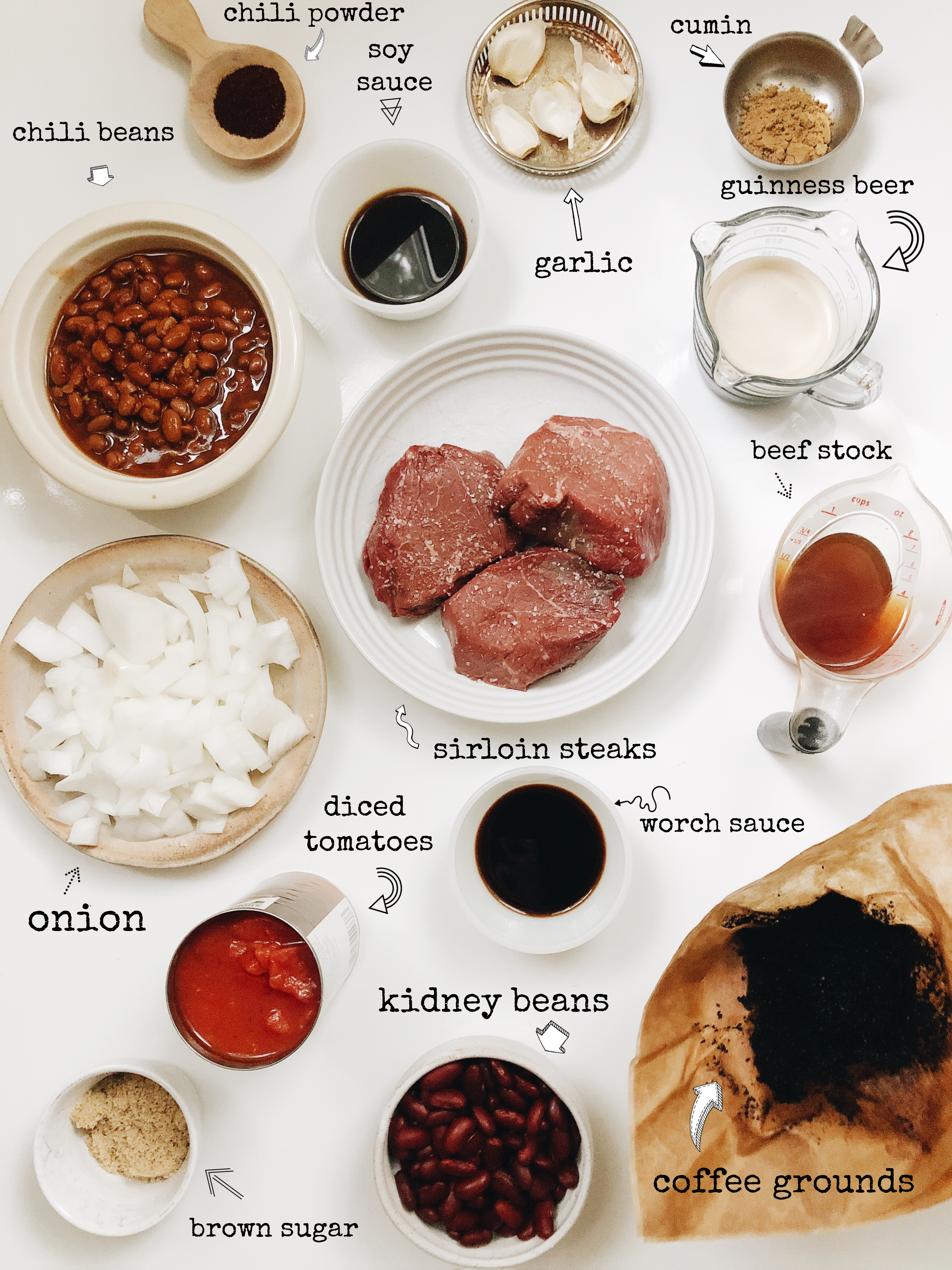 It's a lot, but all chili is. And it's only a lot if you're styling and photographing. It's actually not a lot lot if you're just grabbing from the pantry, tossing in, and sticking back.
(yes I can spell WORHCSHISHICHIHSIH SAUCE but I didn't have enough room, okay?)
Also, would you believe this photo was taken early in the morning, before the time change so it was like, BLUE outside, right in the corner of Nat's bedroom window? You should see the before. I'll never show you.
You're like, "what are chili beans, Bev?" Ohhh we're taking a short cut here. It's just beans that are "chili ready." Says it right on the can. Keep the gravy, too, because that has a ton of flavor. You'll rinse the kidney beans of course, but not the chili beans. We good?
Good.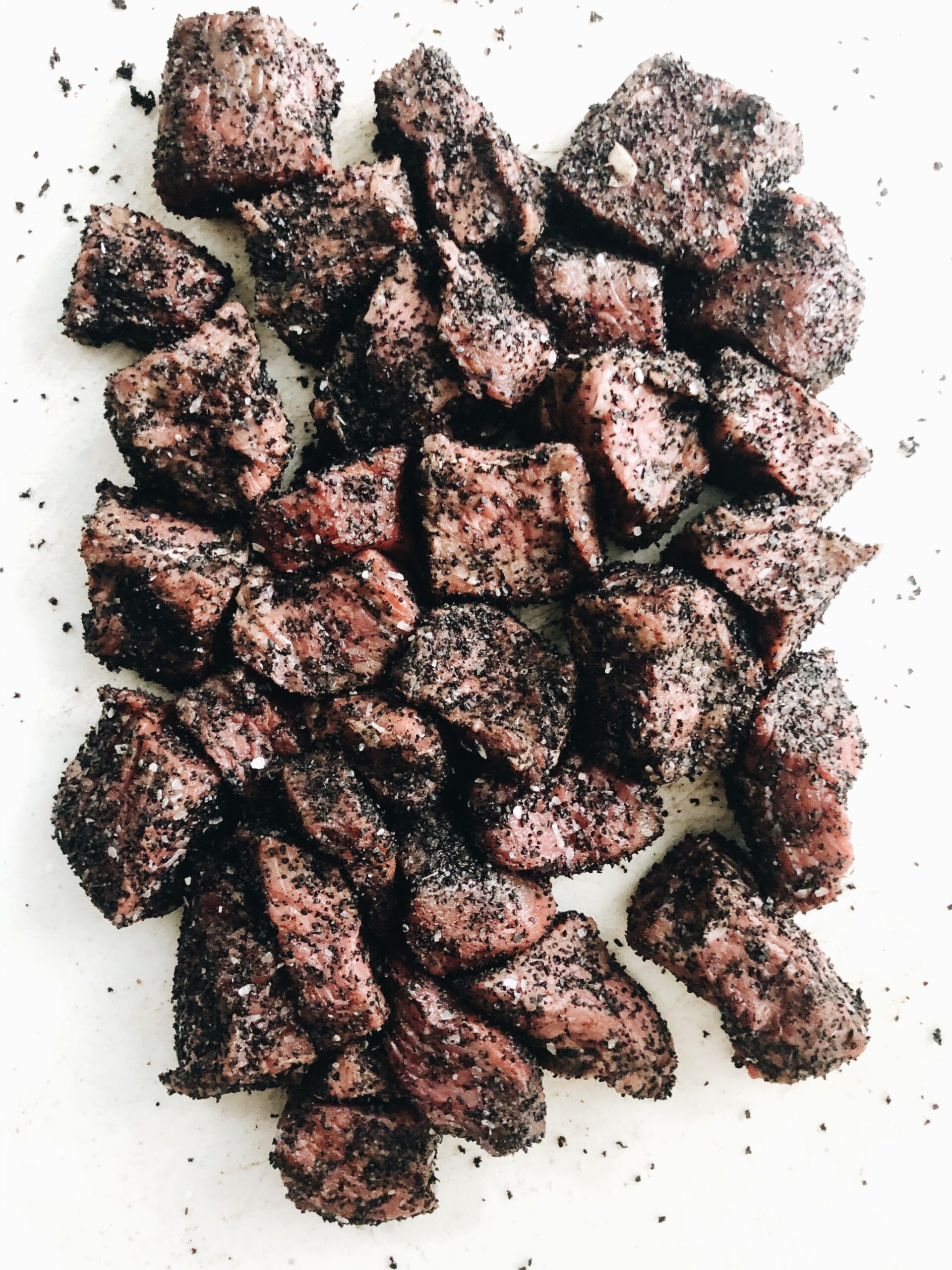 Also, save your coffee grounds! You've made your coffee, dunchew DARE toss those grounds. Instead, cube up some sirloin steaks (prime if available!) and press the grounds into the steak. Season it with salt, too.
Then you'll sear the steak in a little skillet just to get a crust going. You don't have to do this part, but it does make a difference in the end because that little coffee crust is flava.
I took a photo, but you'll get the picture (ha) in the next one. So I nixed it. We okay?
Okay.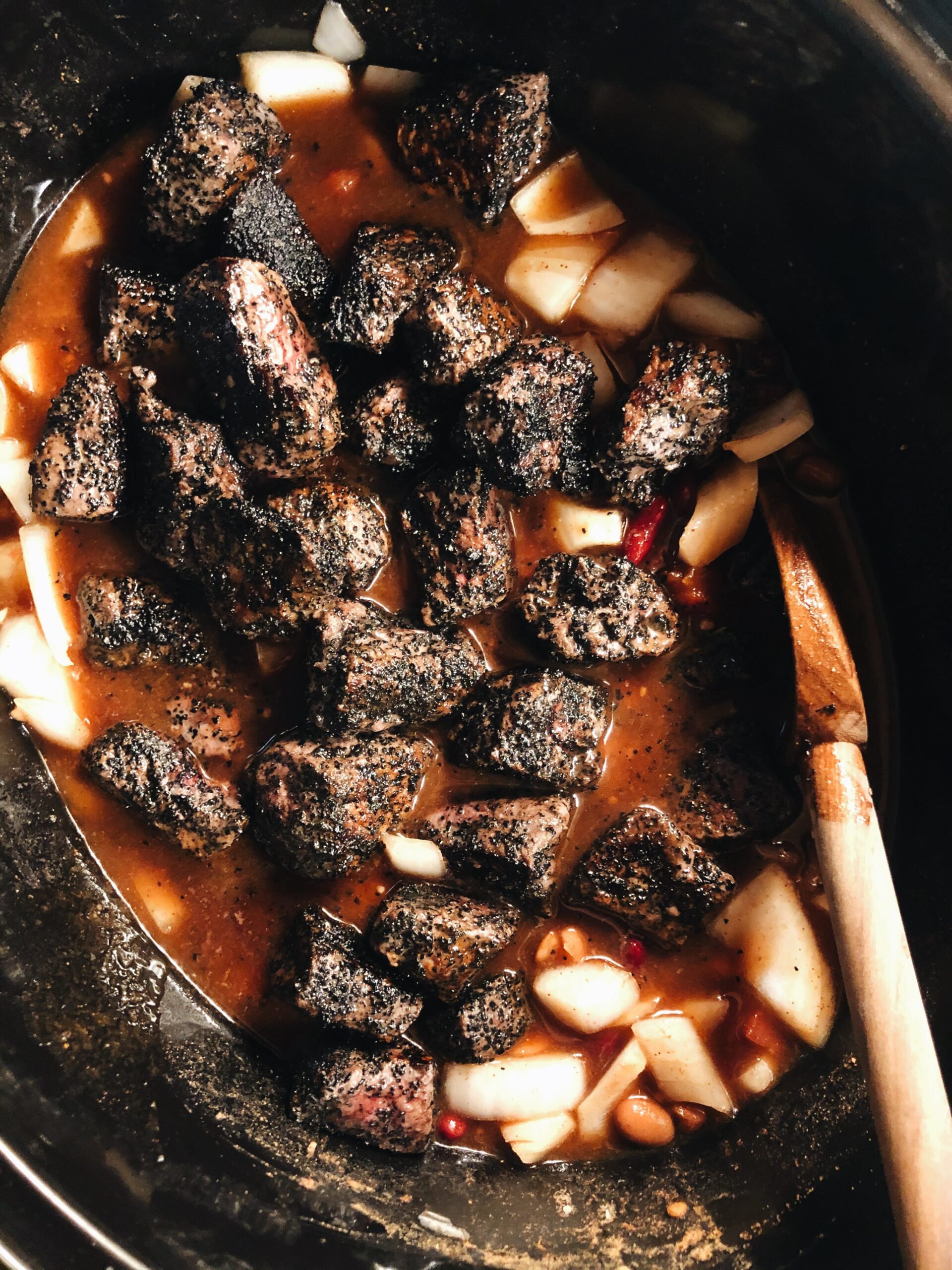 This is PRE-SLOW cooked. Not sure why I yelled that at you. I've tossed all the ingredients in the slow cooker and gotten it going while I seared the steak. Then add your steak and let that go seriously all day. I put it on low for 8 hours only because I had to take photos before the sunlight started to bend. You can go a full 10, though. The steak will be gloriously tender but not overly shreddy. It's steaky sublime.
No we're not starting a band called Steaky Sublime, don't even try it with me.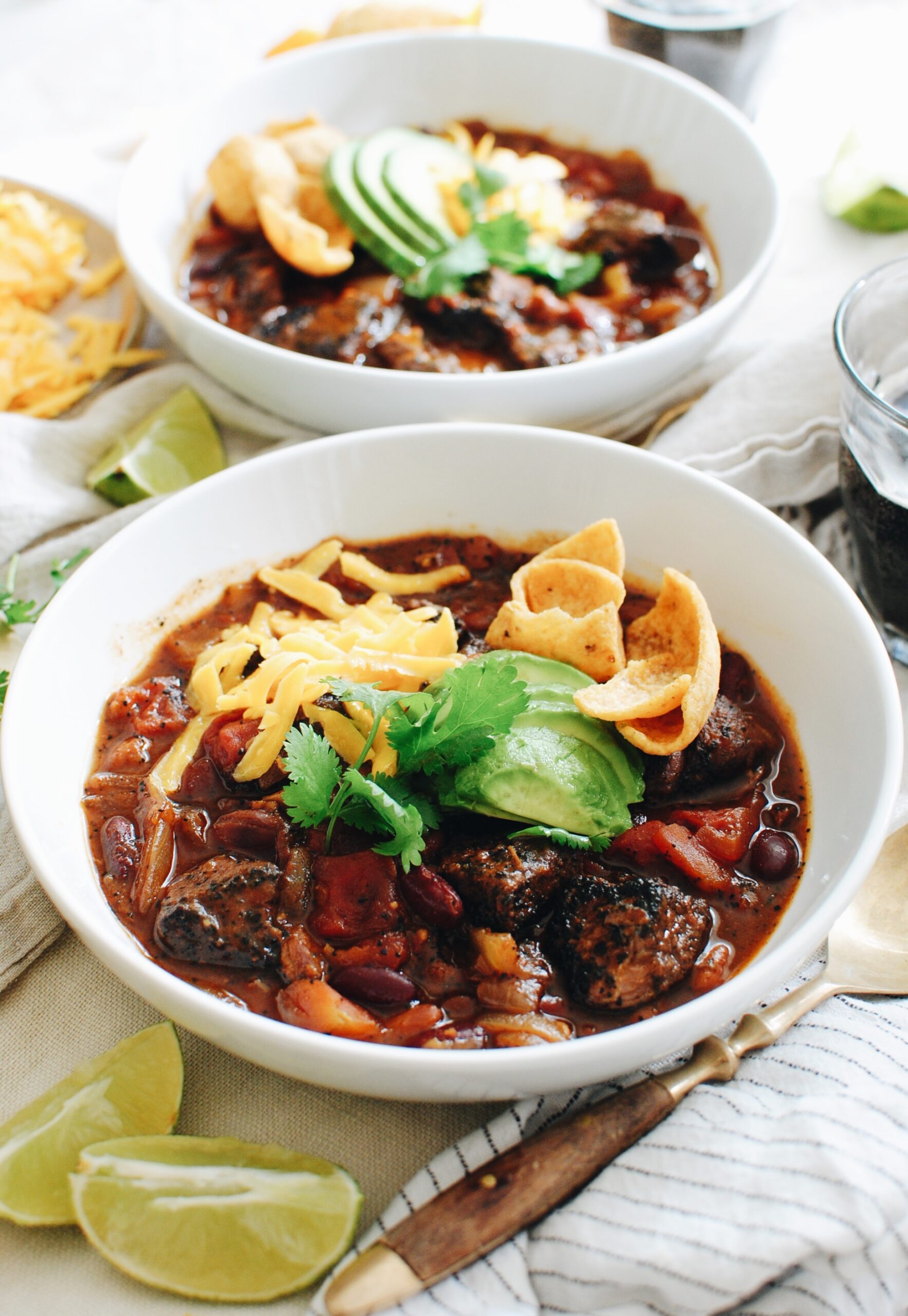 SO. GOOD.
You're like, "But Bev, will this keep me awake with all that coffee?" Nerp. Not at all.
You're also like, "But Bev, are the grounds going to feel gritty in my teeth?" Naw. Not at all. They're more like umami flecks.
Oh! Let's start a band called Umam- no? Oh.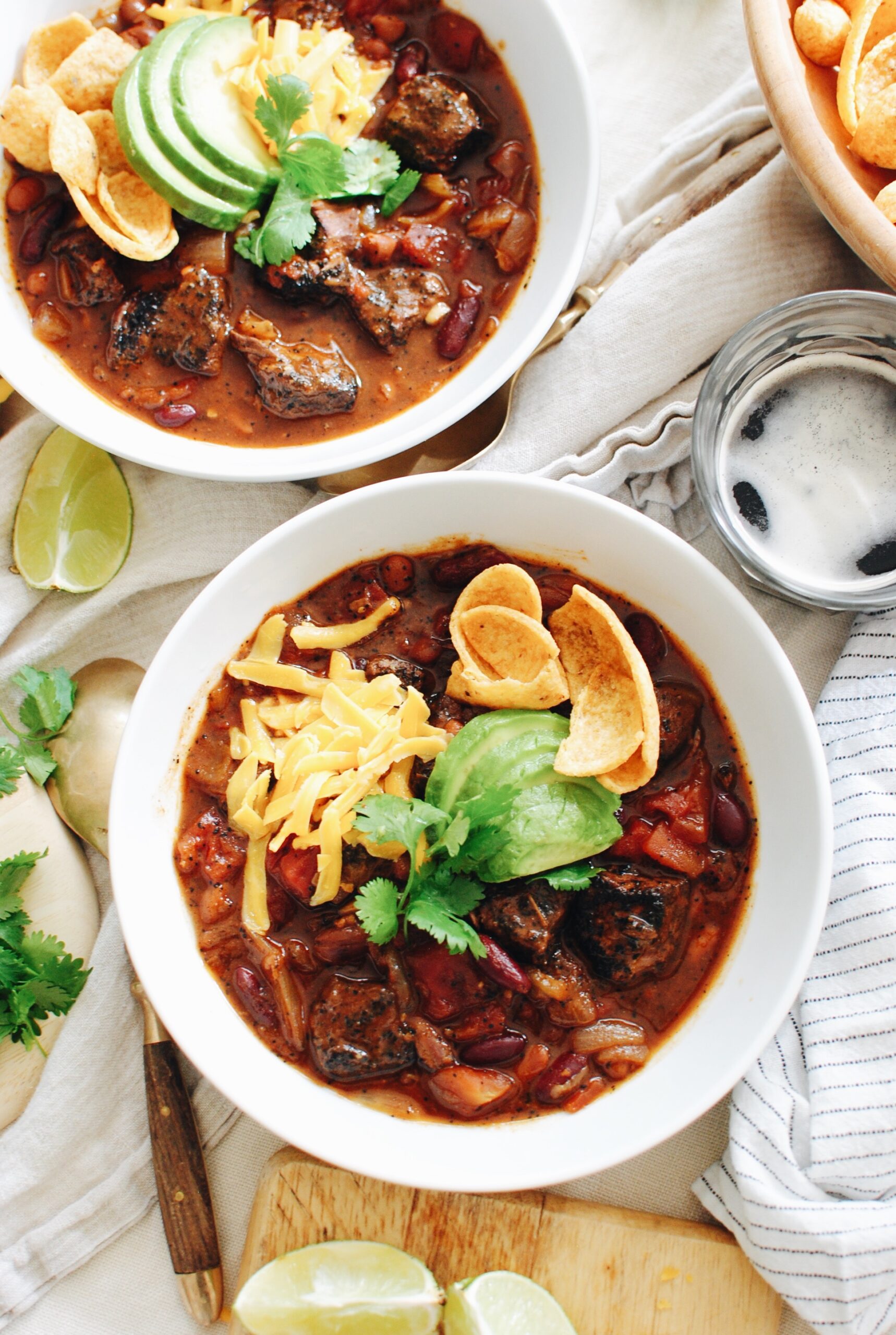 Of course the toppings are your own domain. I prefer Fritos, cheese, avocado and cilantro. But you can get crazy and add in some rice, cornbread, jalapenos and/or sour cream. Go bananas.
Not to be confused with "add bananas."
It's got mega classic chili flavor, of course, but that slow cooked steak will fall apart on your tongue. The beer/beef stock/coffee grounds/soy/worchichishish only add to the complexity (a word so many of us loathe but there's just no other waaaaaay) and the beans and tomatoes round it all out with familiarity.
Chili weekend. Make.it.happen.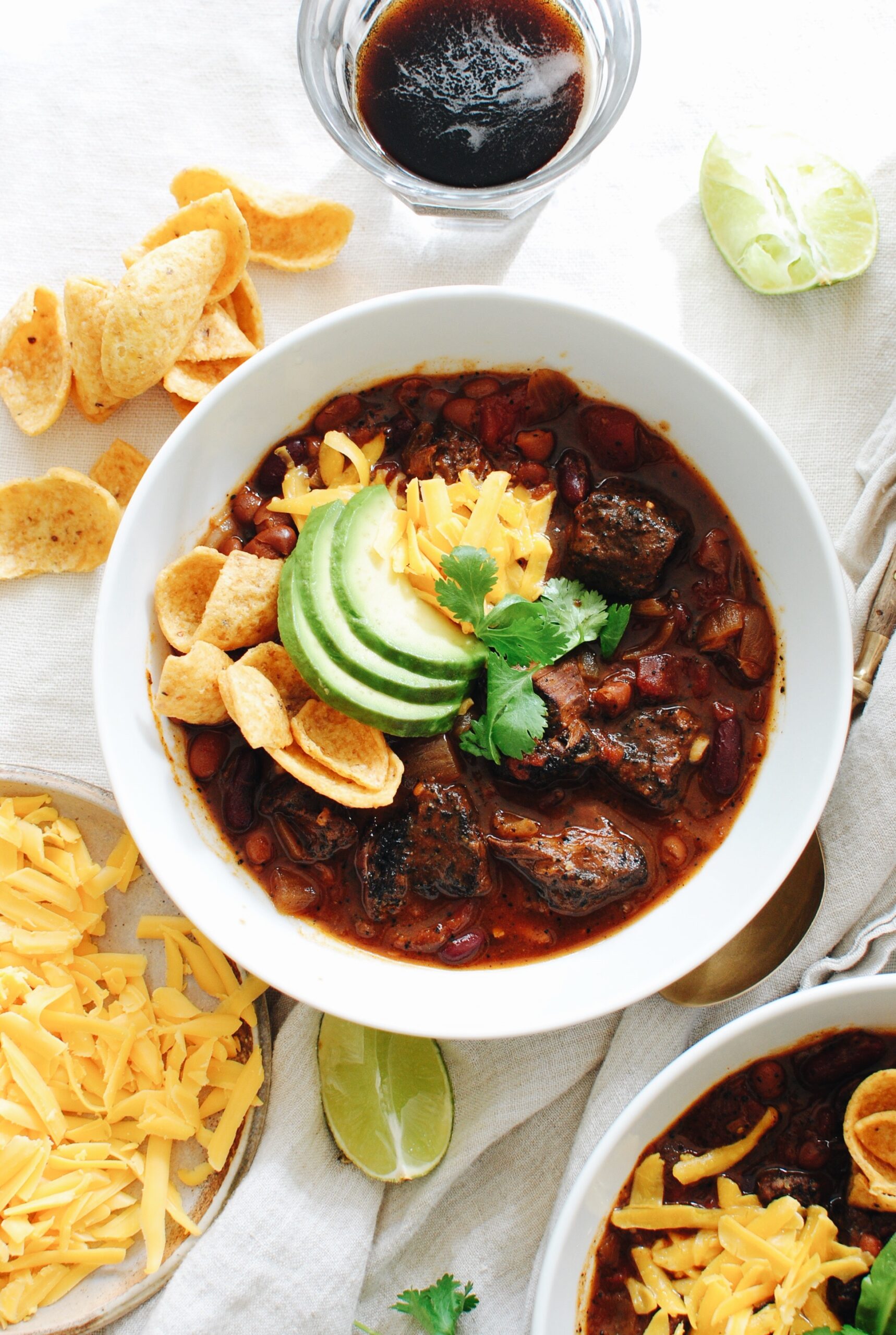 And then come back and tell me what you put on yours! You know I need these details to thrive.
Ingredients
3 (5 oz) sirloin steaks, cut into bite-sized cubes
2-3 Tbs. reserved coffee grounds
1 (14.5 oz) can diced tomatoes
1 (14.5 oz) can kidney beans, drained and rinsed
1 (14.5 oz) can chili-ready beans (not drained and rinsed)
2 Tbs. soy sauce
2 Tbs. Worchestershire sauce
1 white onion, diced
4 cloves garlic, chopped
1/2 cup Guinness beer
1/2 cup beef stock
2 Tbs. ground cumin
1 Tbs. chili powder
2 Tbs. brown sugar
Coarse salt
Any toppings you dig: shredded cheddar, avocado, cilantro
Instructions
Press the coffee grounds into the cubed steak all over, and season with salt.
Sear the steak in a medium skillet until you get nice browning all over, six to eight minutes total. Nothing major.
Add EVERYTHING (sans toppings), plus another pinch of salt, to a slow cooker and cook on low for 8-10 hours.
Ladle the chili into wide-rimmed bowls and garnish with anything you love.
Serves 6!
7.8.1.2
465
https://bevcooks.com/2020/11/slow-cooker-steak-chili/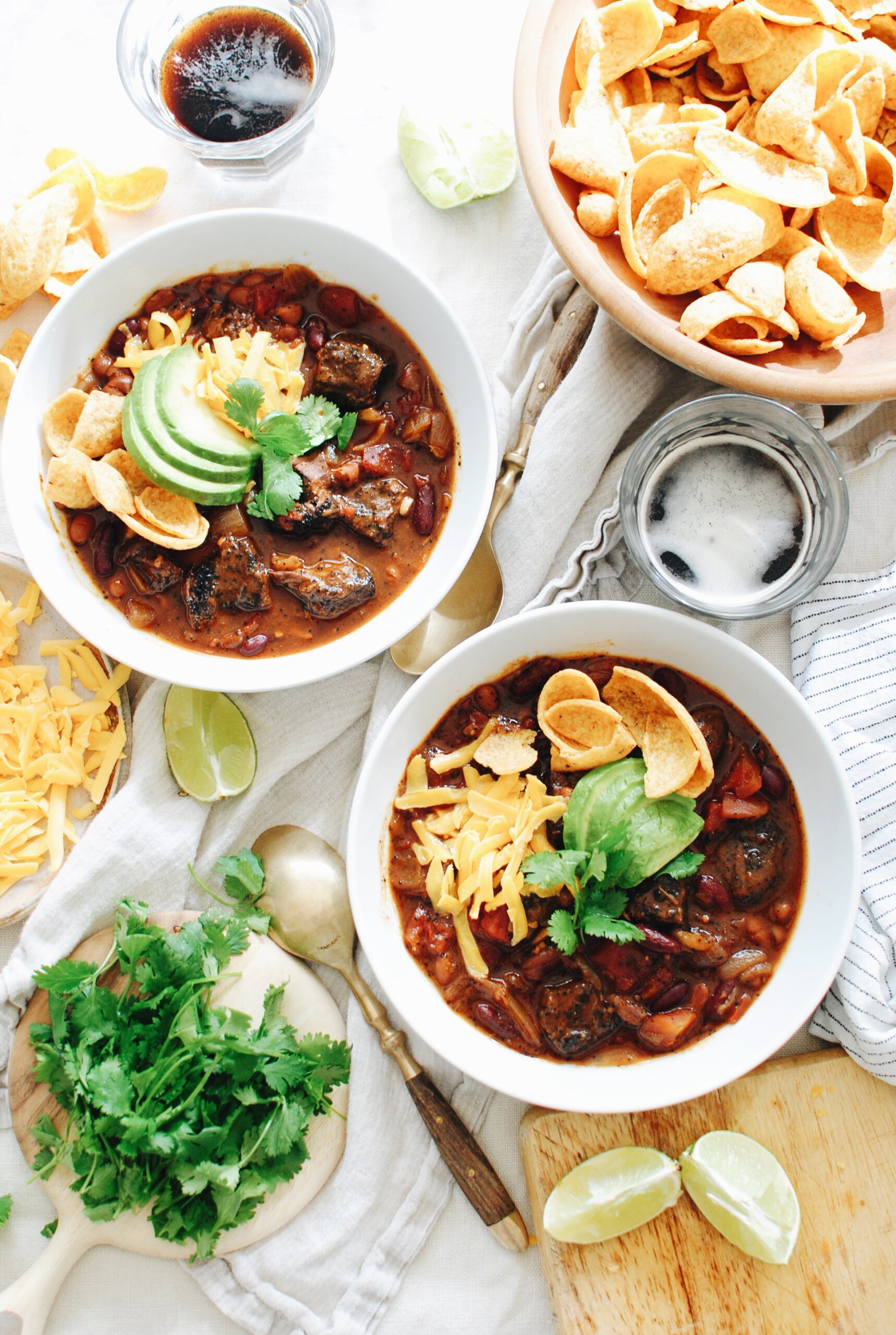 C) You'll barely come out alive. See, I got you the c!