And it's Paleo! I think.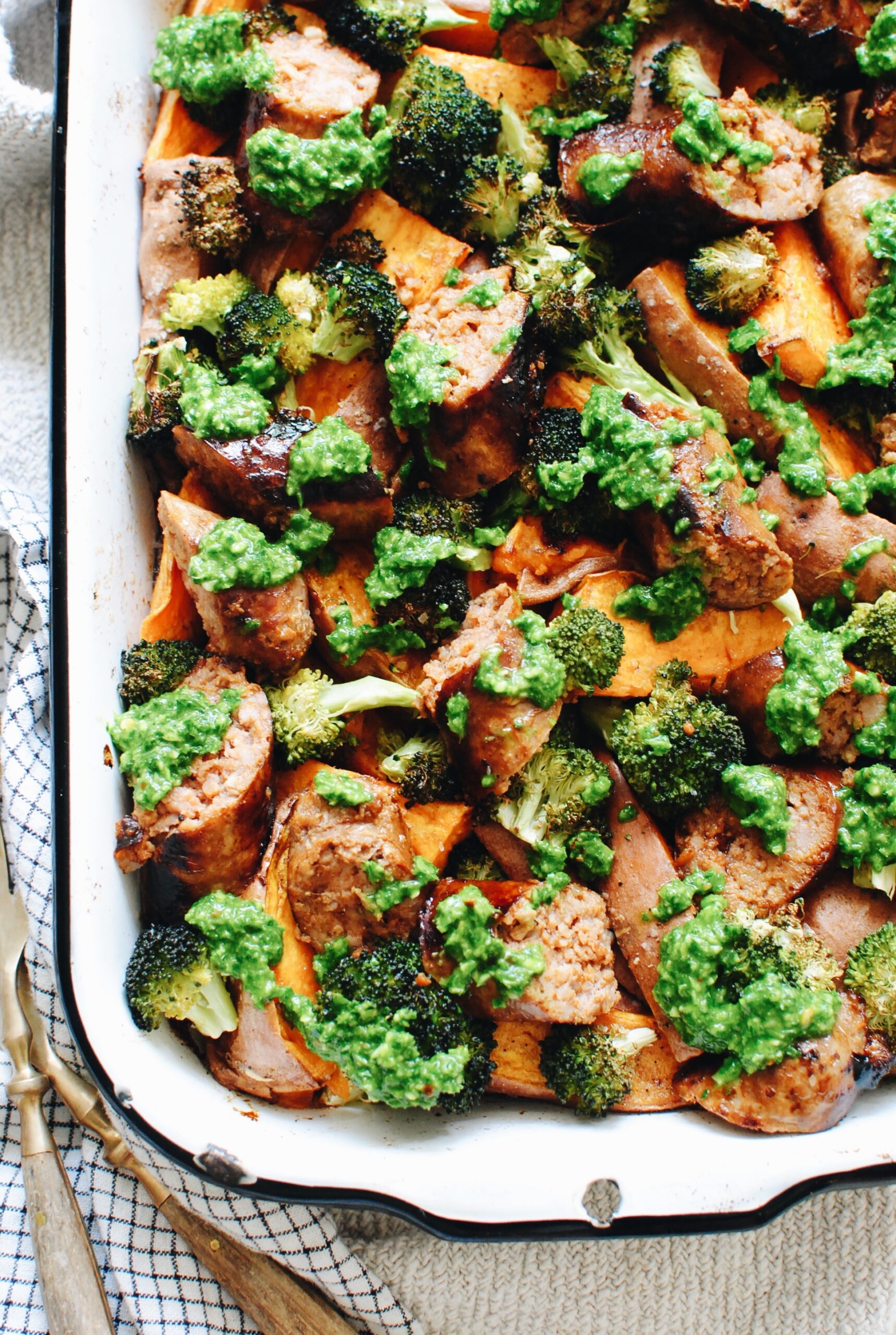 Whatever it is, it's Y U M. And it has this whole rustic caveman meets modern vibe. In my head it does, anyway. Texture on flavor on color on comfort. That's my new Bev Cooks tagline.
Maybe not, I'll get back to you on that.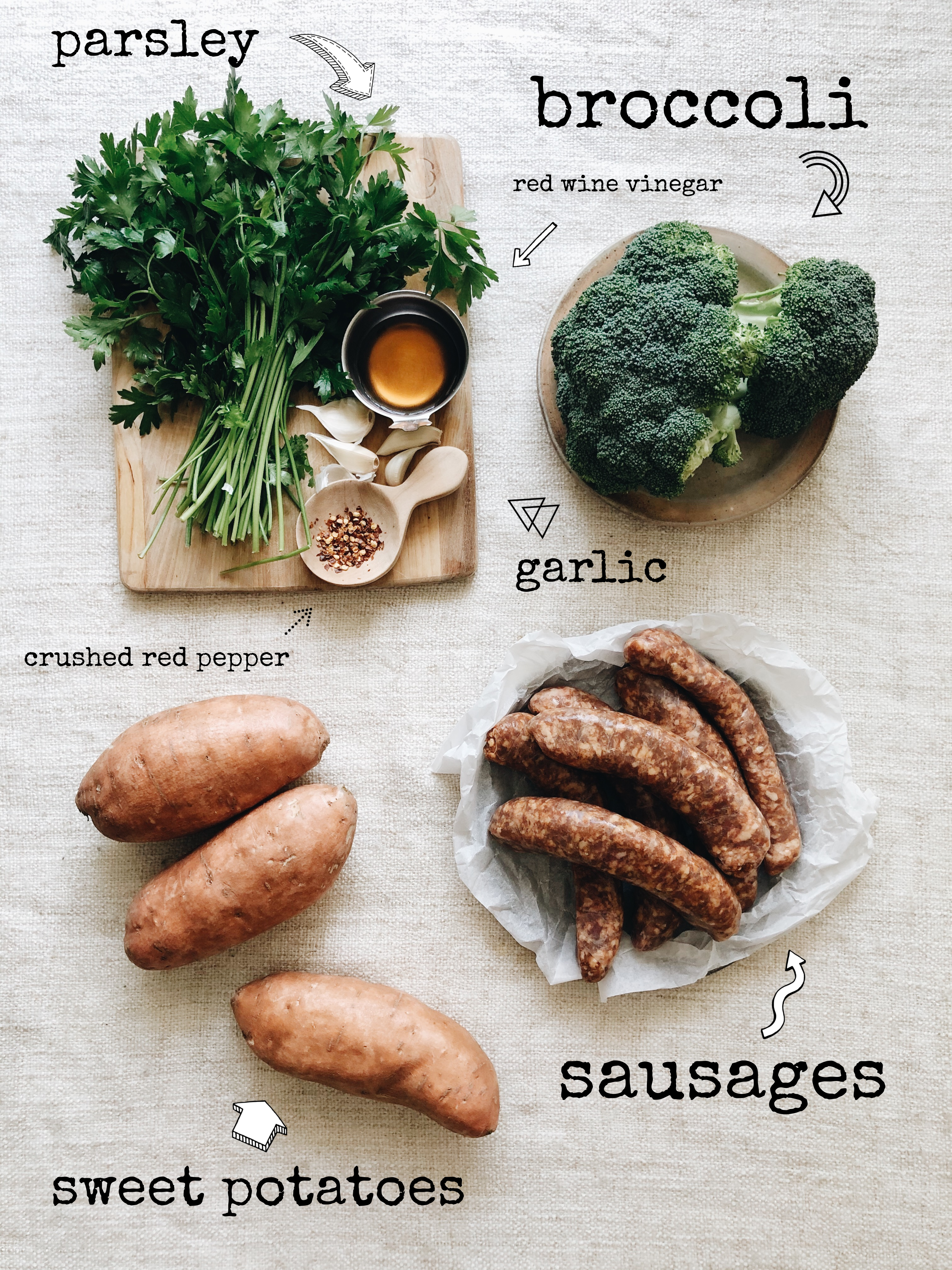 So this is it. It's a roasting/searing/pile-on/drizzledrizzle situation. And the sausages, these are actually burnt-end brats. Aaron bought them at Whole Foods and they WERE delish, but you get whatever you want, pigeon. Any sort of brat or sausage (or even chicken sausage!) is A-OKAY.
Shoot, you could even sear or fry up some tofu and pile it on last second. We're in a pandemic, you guys.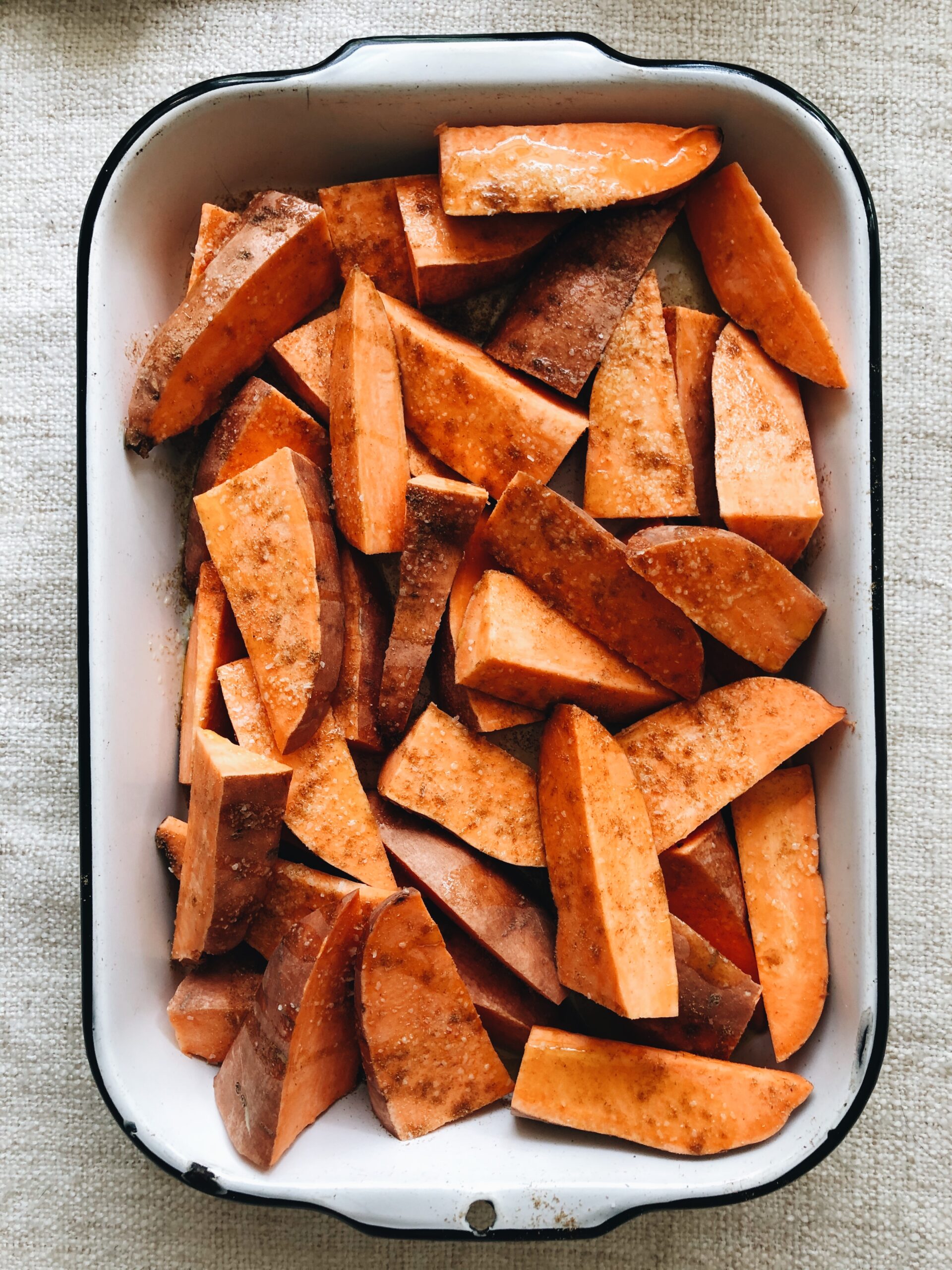 So the sweet potatoes – grab three and sort of hack-wedge them up like this. They're not fries, but they're not overly huge. Layer them in a baking dish (this is an 8×13) and sprinkle with a little cumin. Because cumin and sweet pertaters just WORK, man. Some salt, a bit of oil, toss them with your fingers and get them going in the oven. We'll start with 30 minutes, then add our broccoli florets and go another 30. Sound good? You know it.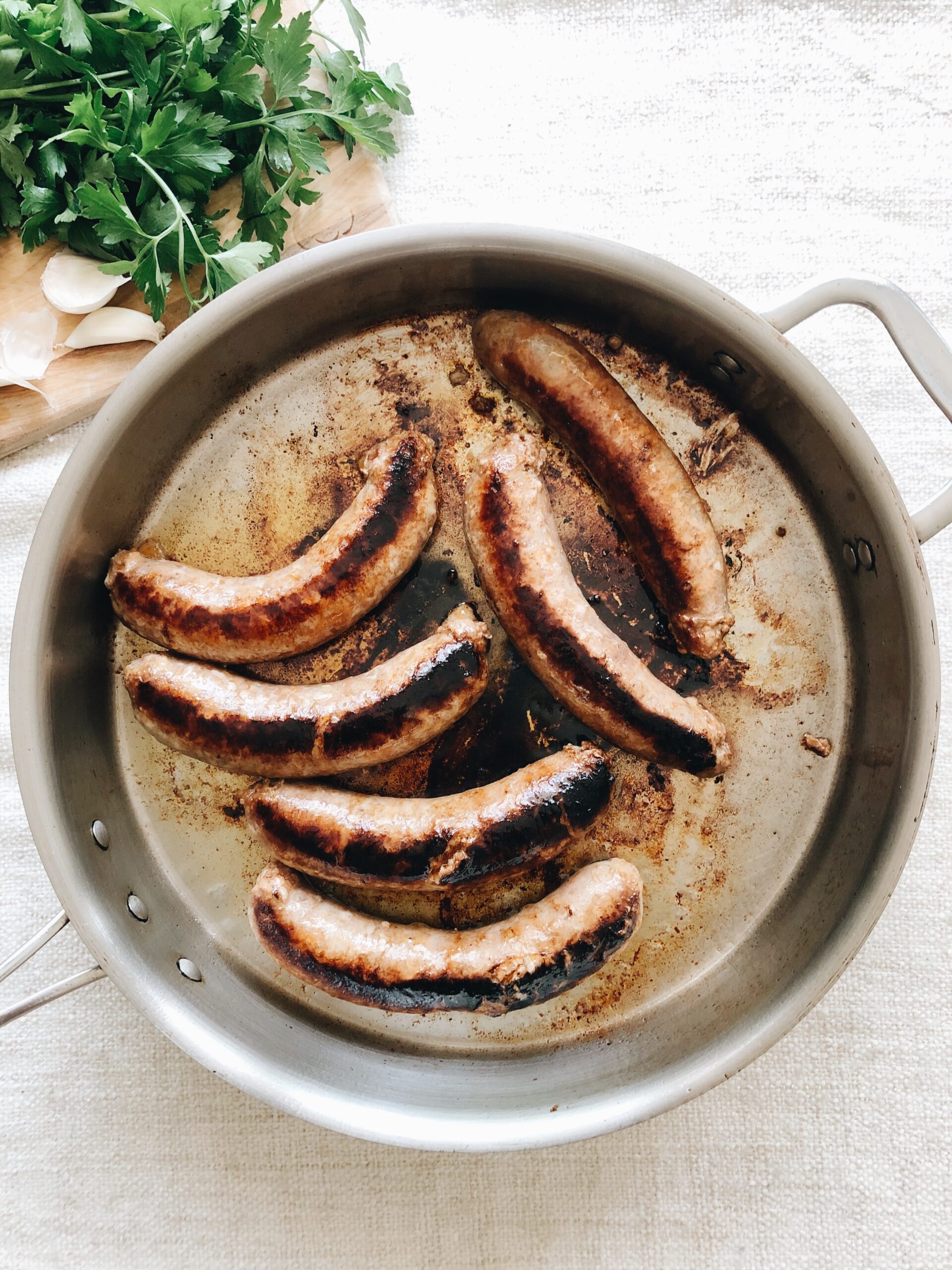 In the meantime you'll sear your sausages. Get them good and browned all over and cooked through on the inside. I mean, you know how to do this. I just feel like talking. Hi! How are ya?! Tell me things!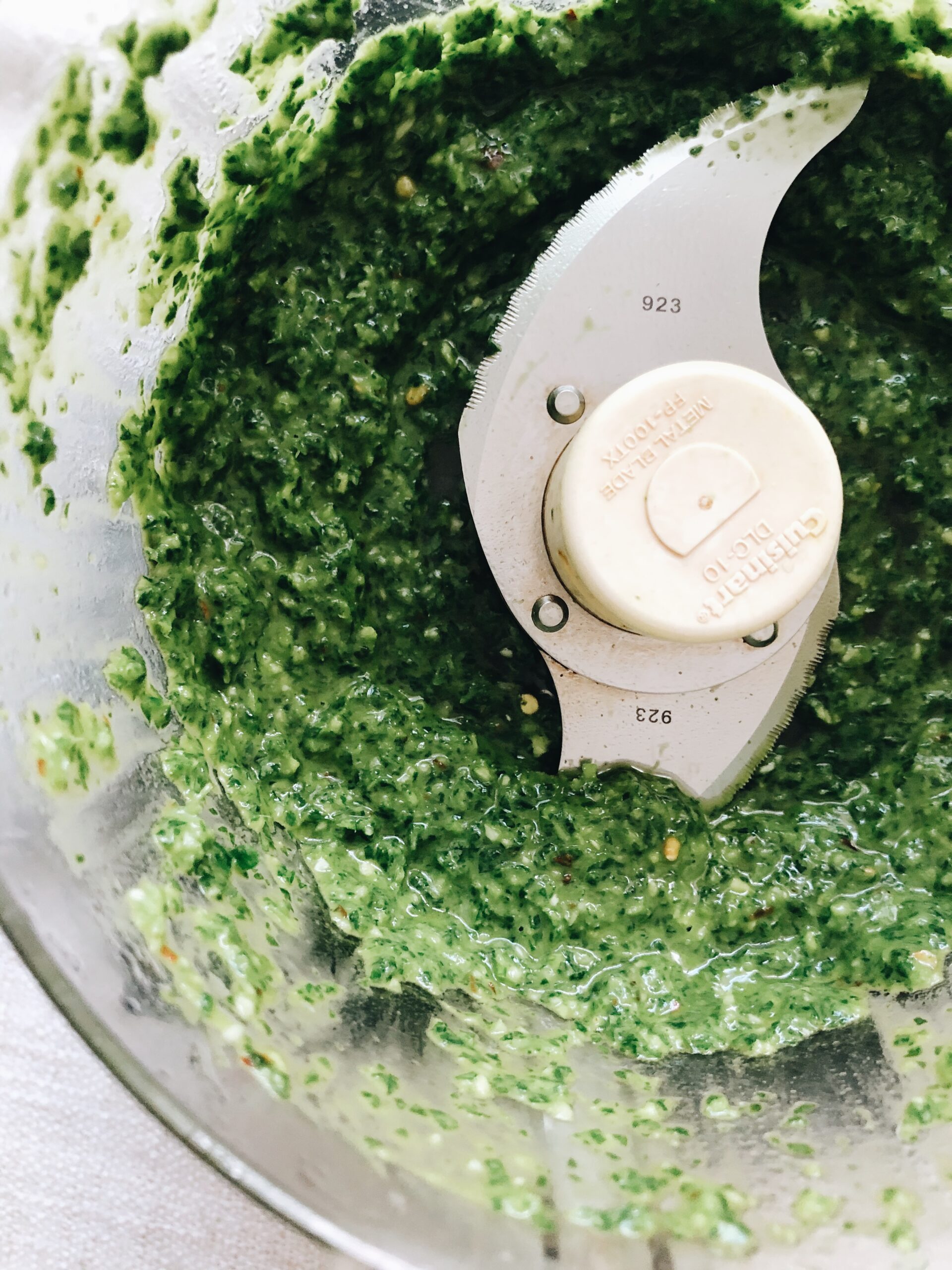 Tell me in a second, we need to discuss the chimichurri.
For this I only used parsley, but you can add in oregano and mint if you want. Sometimes I JUST need a heavy parsley flavor. You feel me? That plus garlic plus red wine vin + a tiny bit of crushed red pepper. And oil. There you go.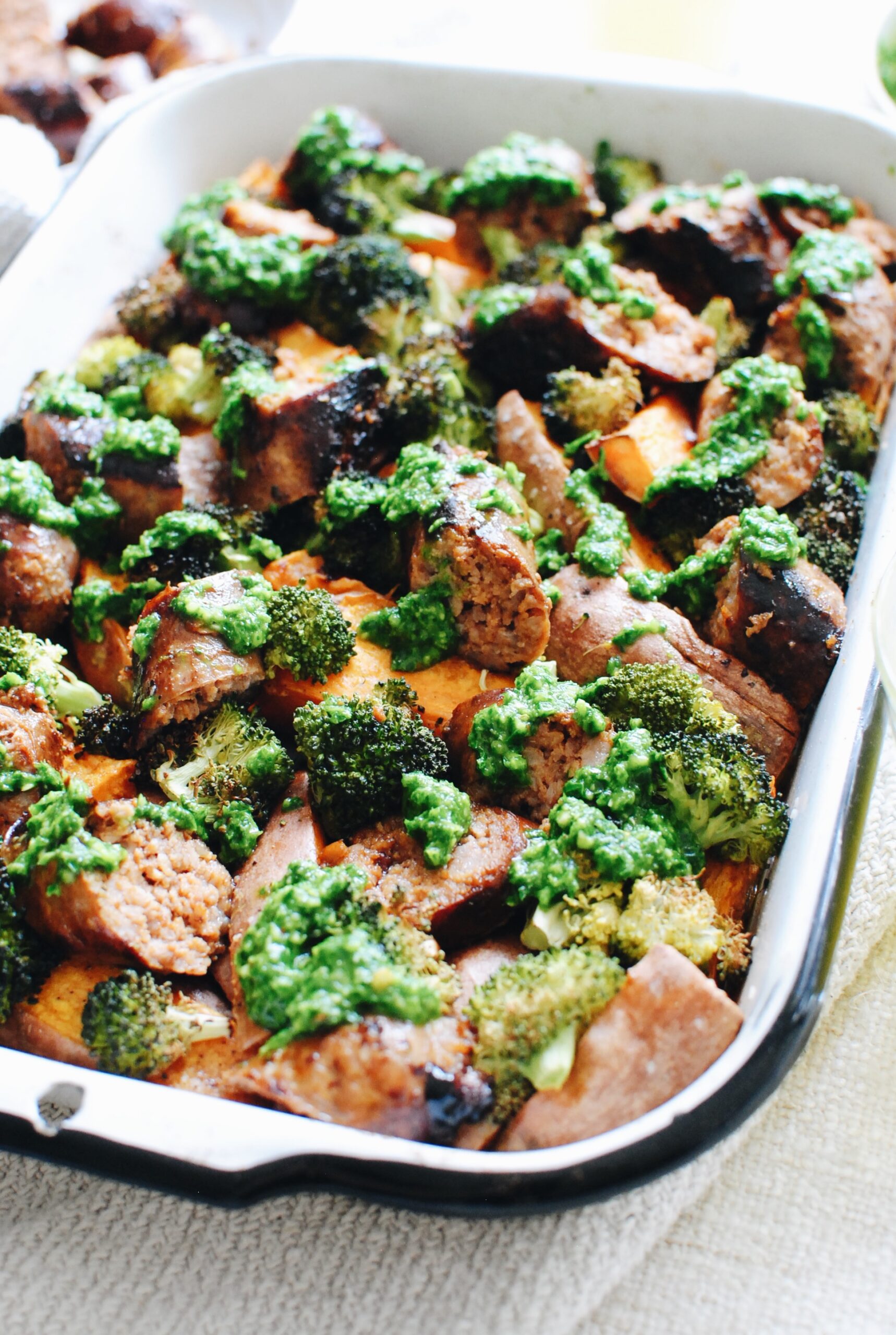 Gurl, please. You've just seared, sliced, roasted, blitzed and now you're mouth is ready to roll.
Those sweet potatoes are tender and perfectly almost-crispy on the edges. The broccoli florets have submitted as well and you'll find nothing but roasted perfection. The sausages are sliced and thrown on top in juicy chunks of savory succulence. And the chimichurri is that acidic hit of wake-me-up brilliance that pulls it all together.
And it's garlicky like whoa, so be ready.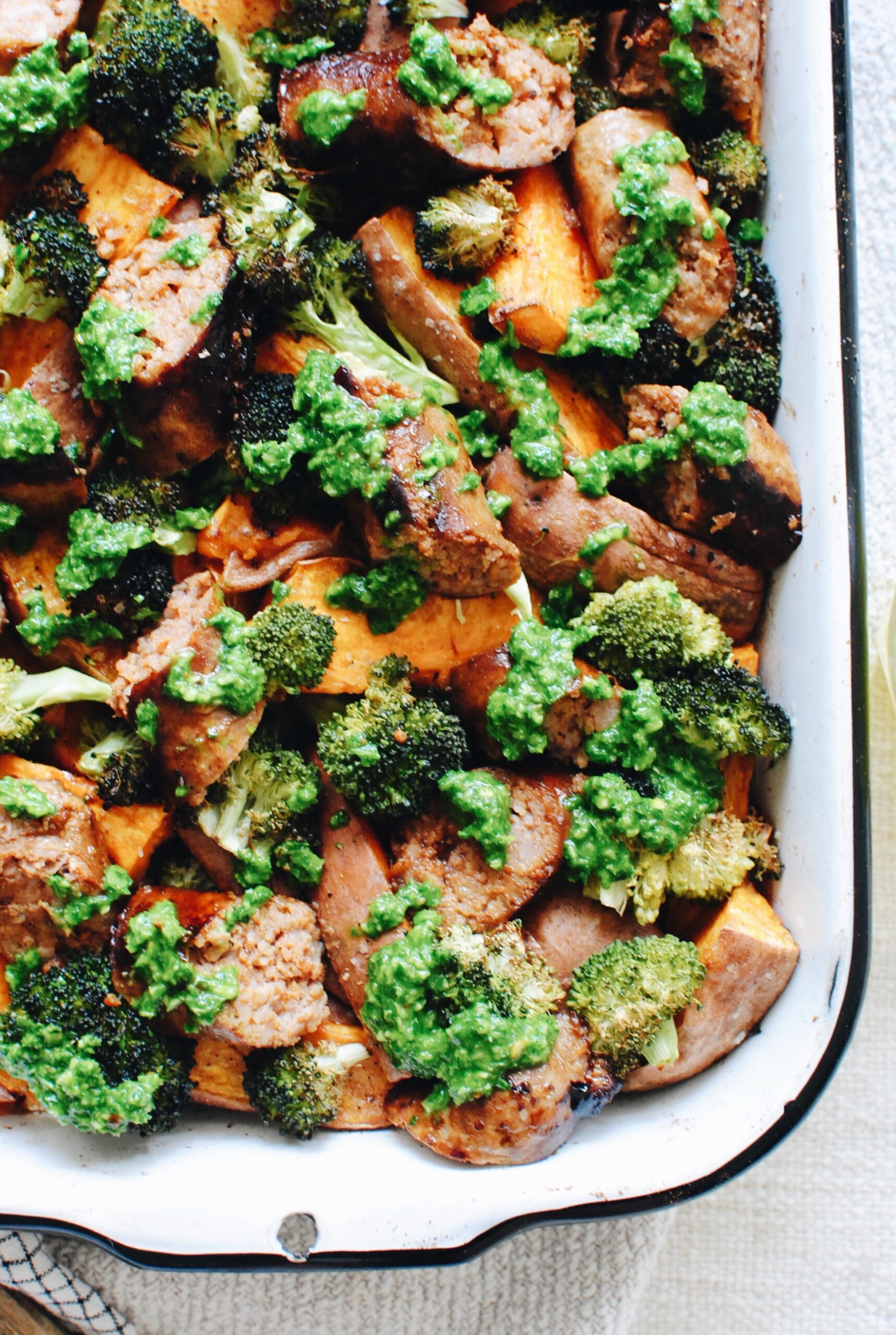 A note on the sweet potatoes possibly not being Paleo. OKAY, some swear they are, some swear they aren't. And there's quite the internet opinion about it, my lands! But apparently they're so low on the carbo-index of guiltery, that many Paleo die hards are fine with it. So if you're on the fence, I'll let you decide. Sweet potatoes make me happy, so I went that direction.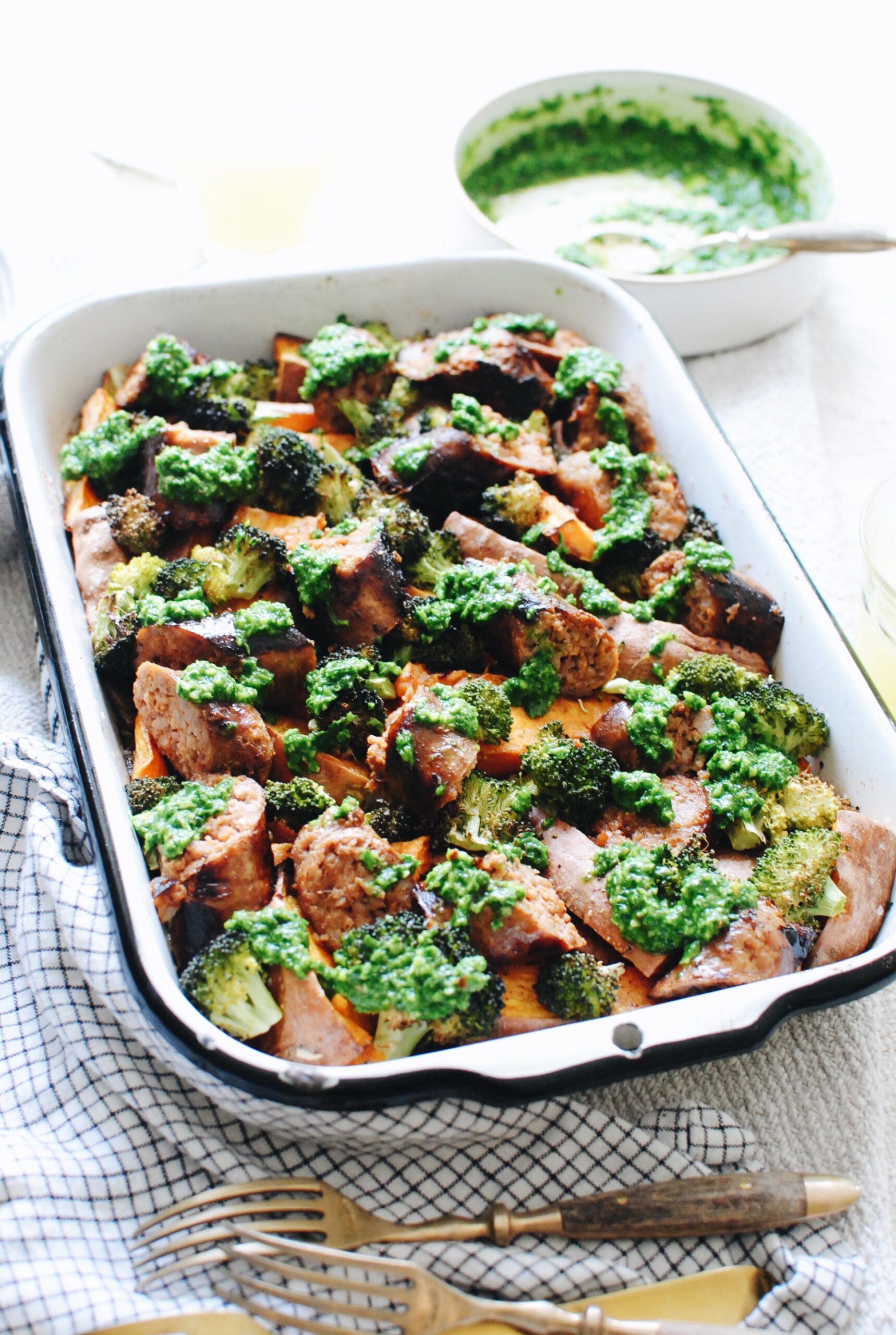 I know I don't even have to tell you what these flavors do together. You can look at that dish and KNOW the eruption of savory and sweet in your face. It's time to party, in other words.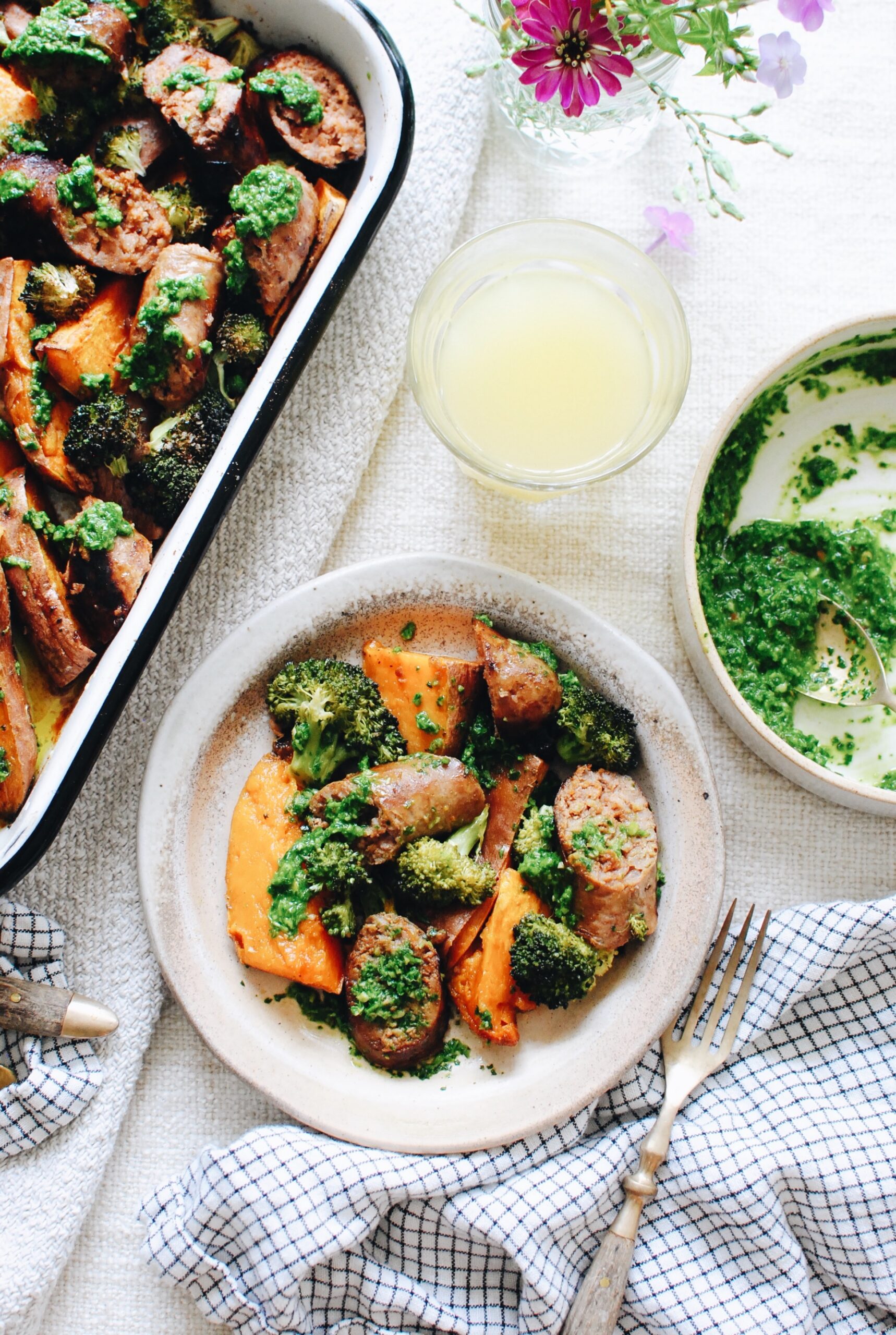 Get in that.
Sweet Potato, Broccoli and Sausage Bake
Ingredients
3 medium sweet potatoes, cut into small wedges
1 tsp cumin
2 broccoli crowns, cut into florets
Six sausages or brats (your favorite flavor)
1 bunch of parsley, stems removed
2 Tbs. red wine vinegar
4 garlic cloves
4-5 Tbs. extra-virgin olive oil, plus more for the veggies
Coarse salt
Instructions
Preheat your oven to 400.
Arrange the sweet potatoes in a casserole dish (8x13 works). Sprinkle with the cumin, a good pinch of salt, and drizzle with a Tbs. of extra-virgin olive oil. Toss everything with your fingers. Get this in the oven for 30 minutes, to start. After 30, add the broccoli florets (cut them on the smaller side so that they'll roast quicker!), drizzle a little more oil over the top, one more pinch of salt, and back in the oven for another 30.
In the meantime, sear your sausages in a large skillet until seared all over and cooked through, about ten minutes total. Maybe a little longer. Slice the sausage into 1-inch pieces after they've rested a few minutes.
In a food processor, add the parsley, garlic, vinegar, crushed red pepper and salt. With the motor running, add the oil in a thin stream. Boom, chimichurri.
Once the veggies have cooked, arrange the sausage on top, followed by a drizzle of the chimichurri. Alternatively, you can serve each plate individually before adding the sausage. Make your life good.
Serves 4-6!
7.8.1.2
447
https://bevcooks.com/2020/08/sweet-potato-broccoli-and-sausage-bake/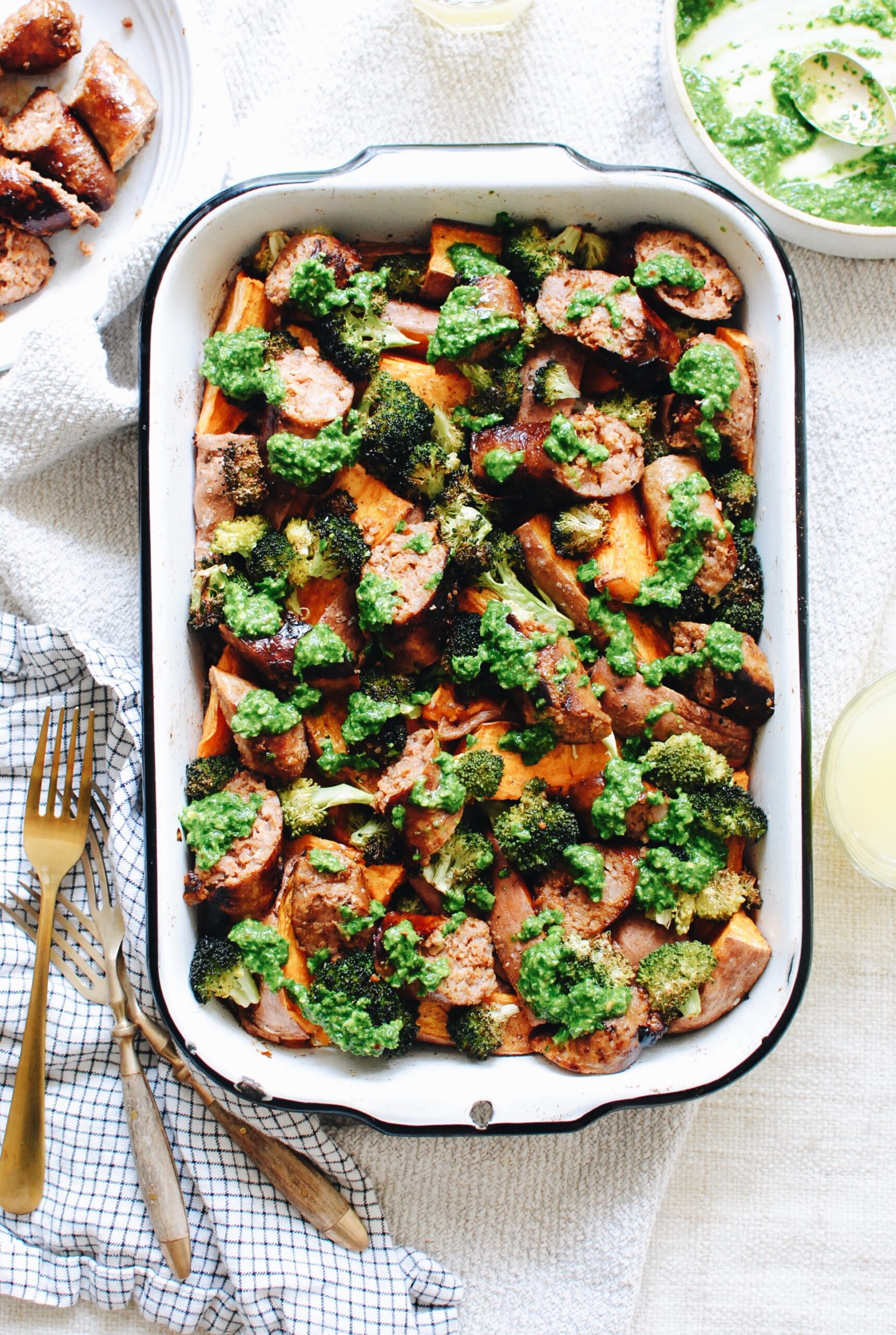 Hello, goodbye forever.