This is one of those rare times on this blog that we'll roll up our sleeves and just dive in.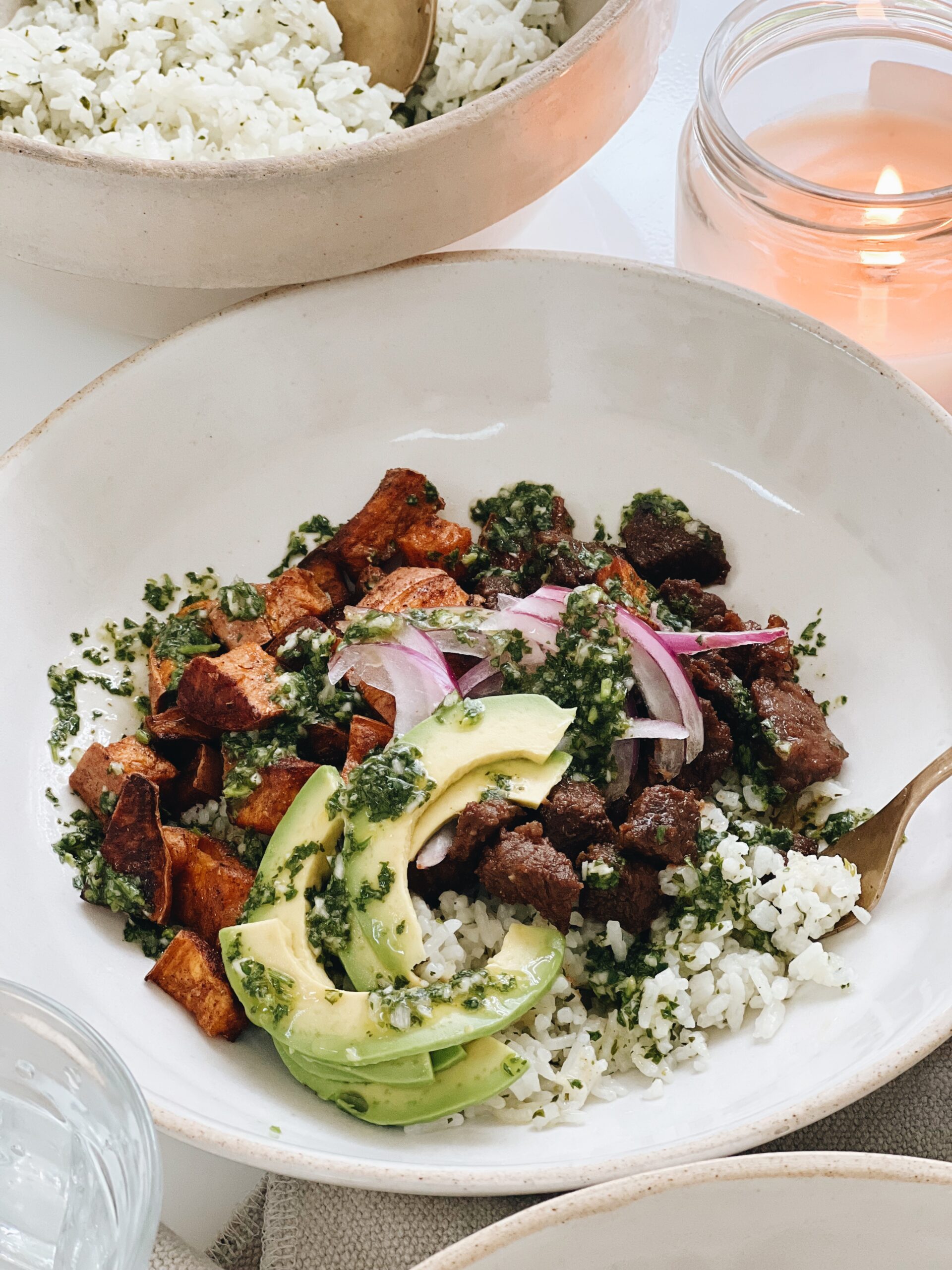 Not that it's hard. Not at all. It's just a lengthier recipe on this ol' website URL internet slice. All super simple to wrap your head around, but it's a few different parts that come together to create a final dish with so much freaking flavor your head will spin off itself.
Ready?
La-heeeeet us peepeth. (<–are we sick of that yet?)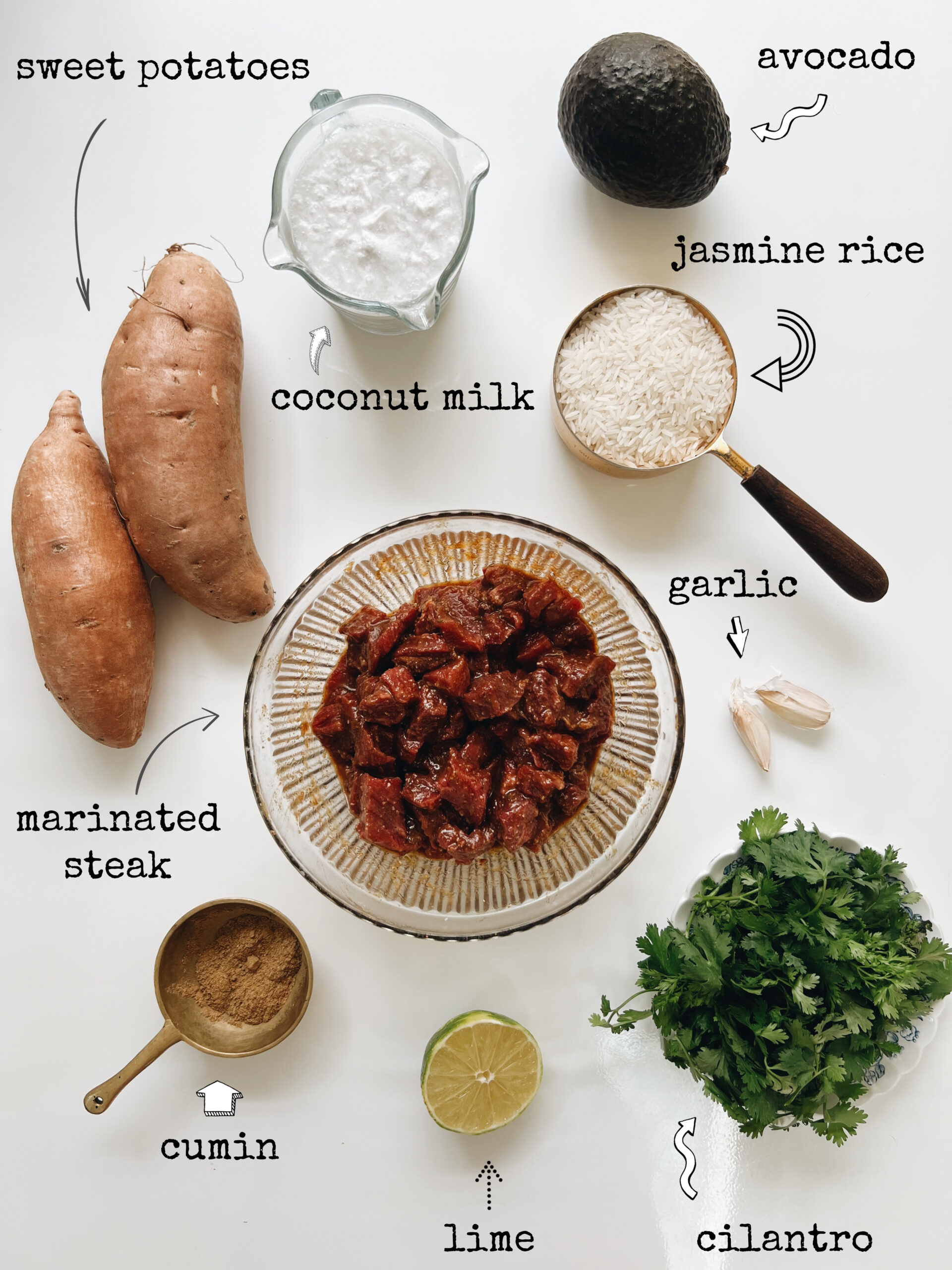 This is a Tex-Mex inspired situation. Steak bowls. Coconut rice. Roasted sweet potatoes dusted with cumin. A cilantro oil that gets drizzled on top and changes the entire course of your evening and week and life. You're going to love this, I promsee.
The chuck steak gets cubed and tossed with a bunch of seasoning and lime juice and olive oil. It's divine.
But let's look at the taters first.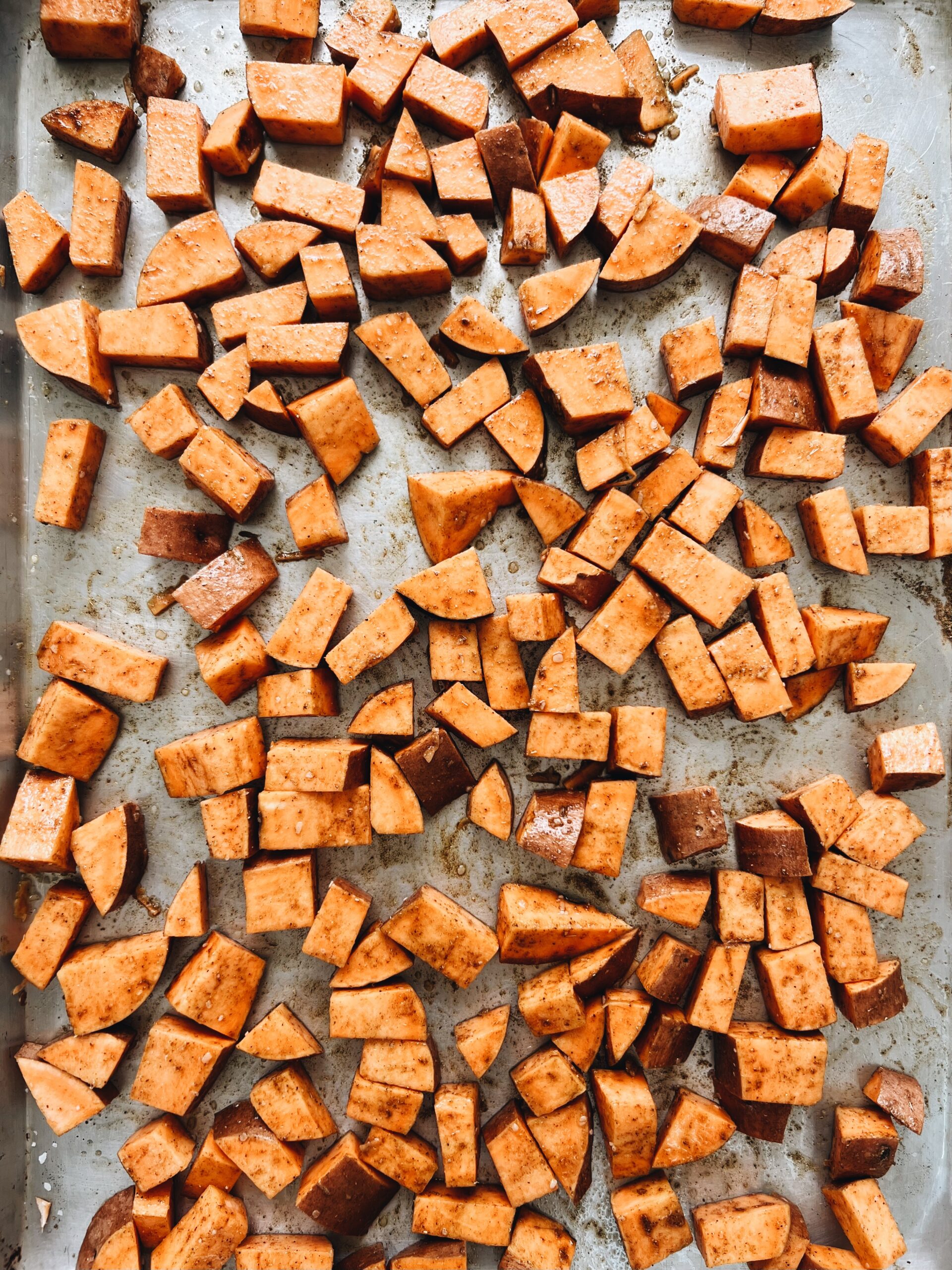 Just a couple of sweet potatoes sprinkled with cumin, salt and a glug or two of oil, tossed and roasted, baaay-buh.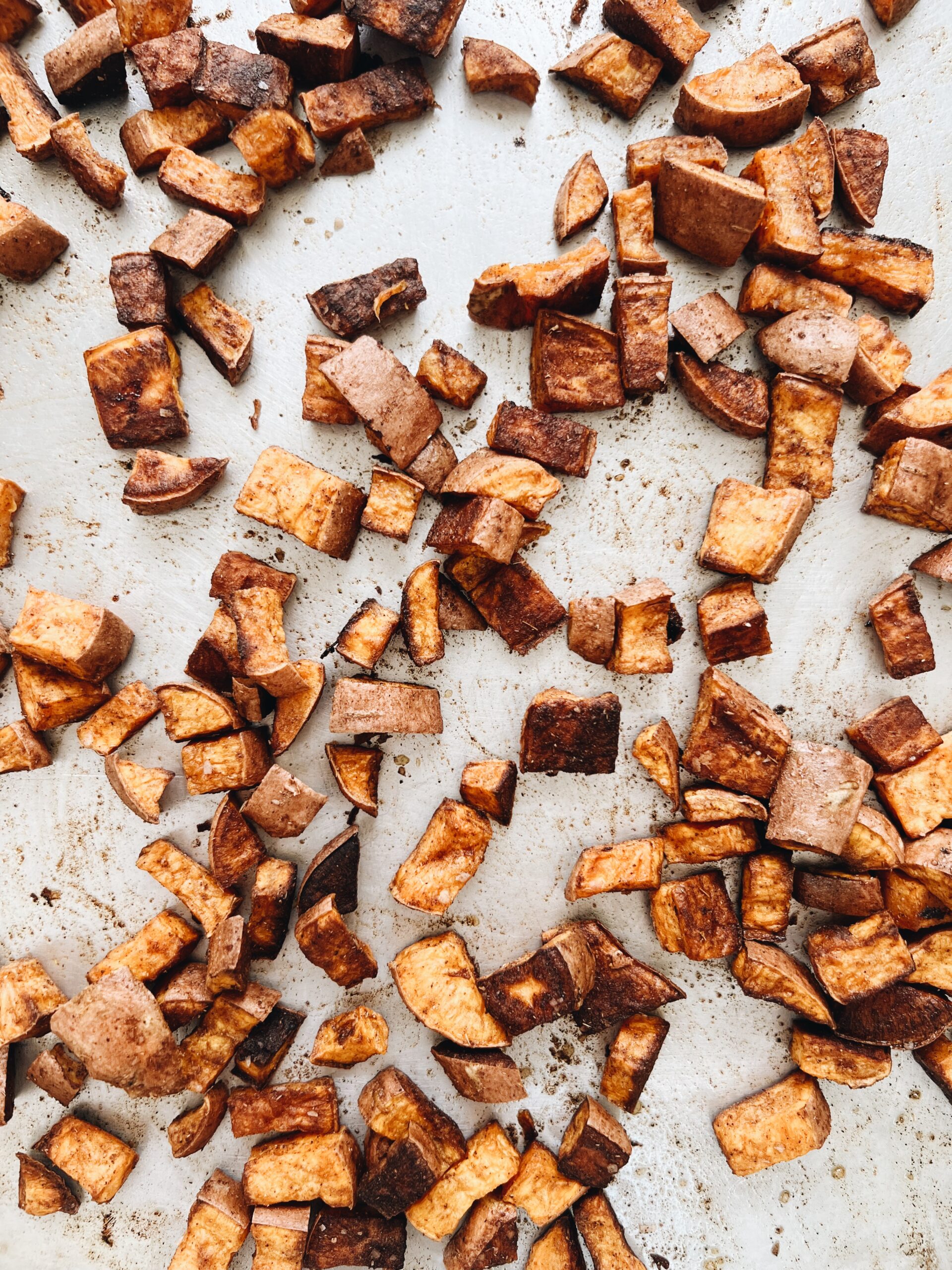 So good. 400 degrees for 40 minutes with a lil' pan shake halfway through should get her done.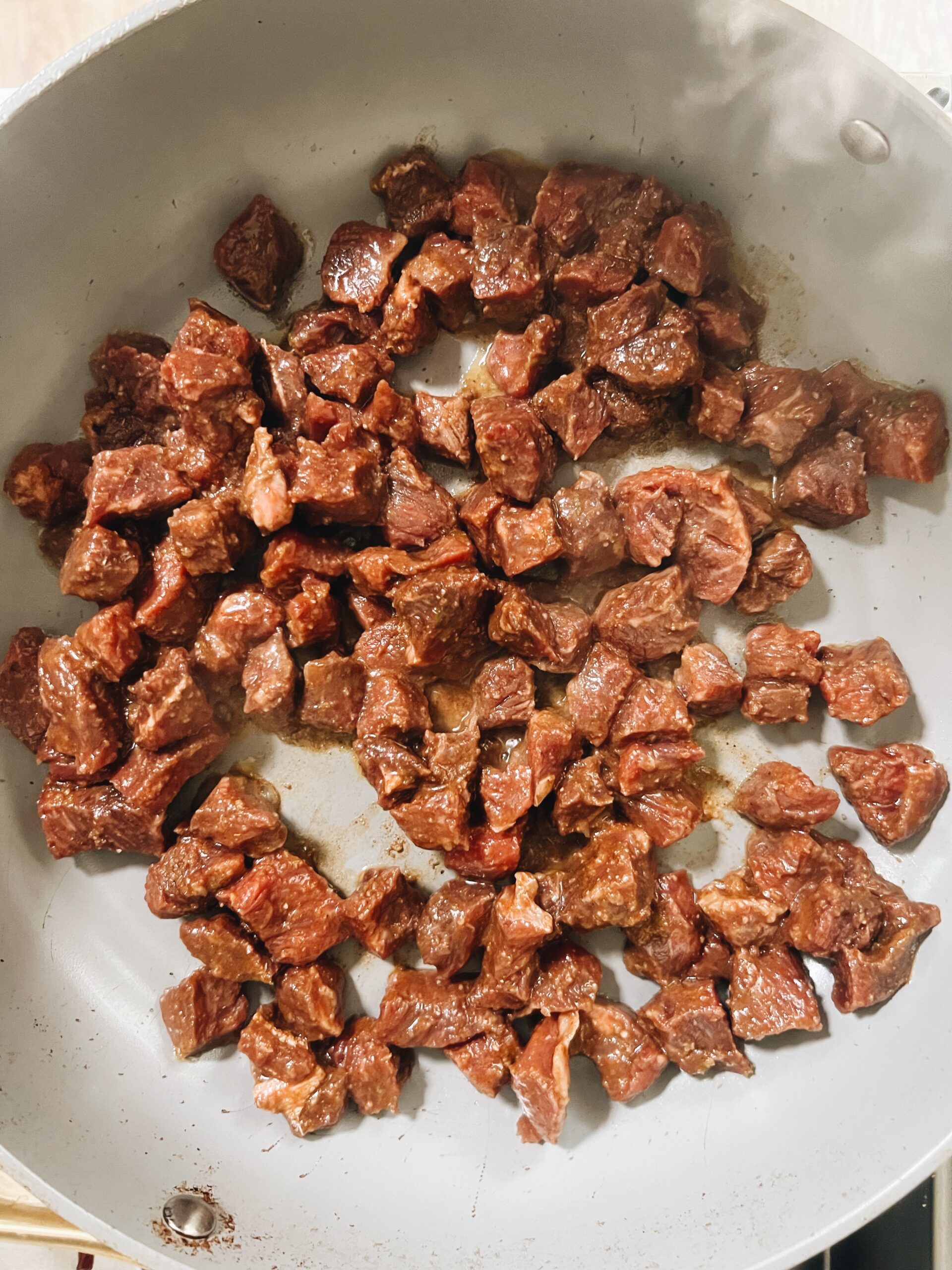 We'll get our marinated steak in a skillet (Oh, quick note! This can chill in the fridge all day if you like. Or just an hour, if that's all ya got. It all works.) and on a higher heat for about ten minutes. The juices will release and bubble up, but will vanish quickly, and what you're left with is a good glaze around the beef.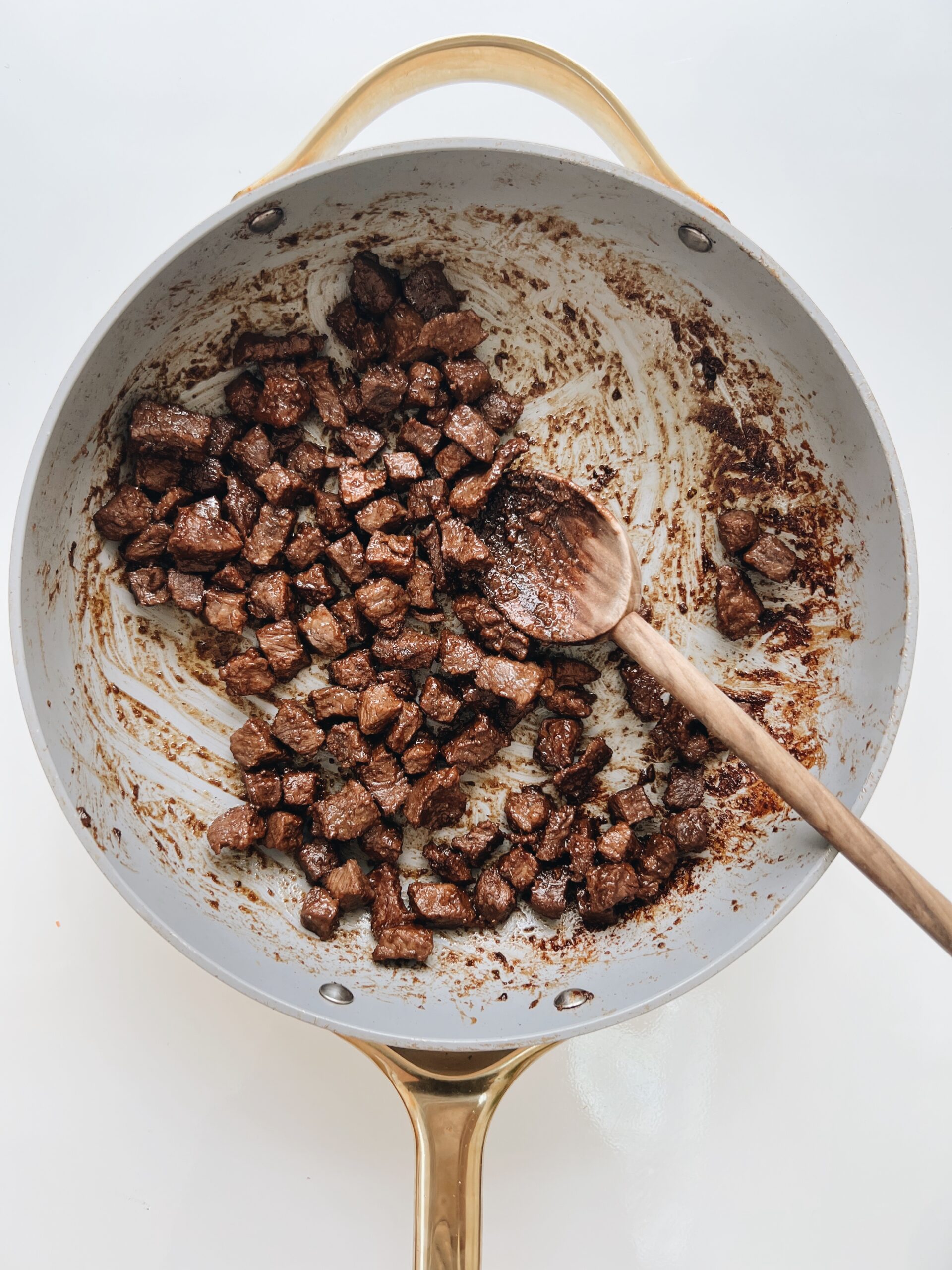 Like that. YUM. Don't argue with me.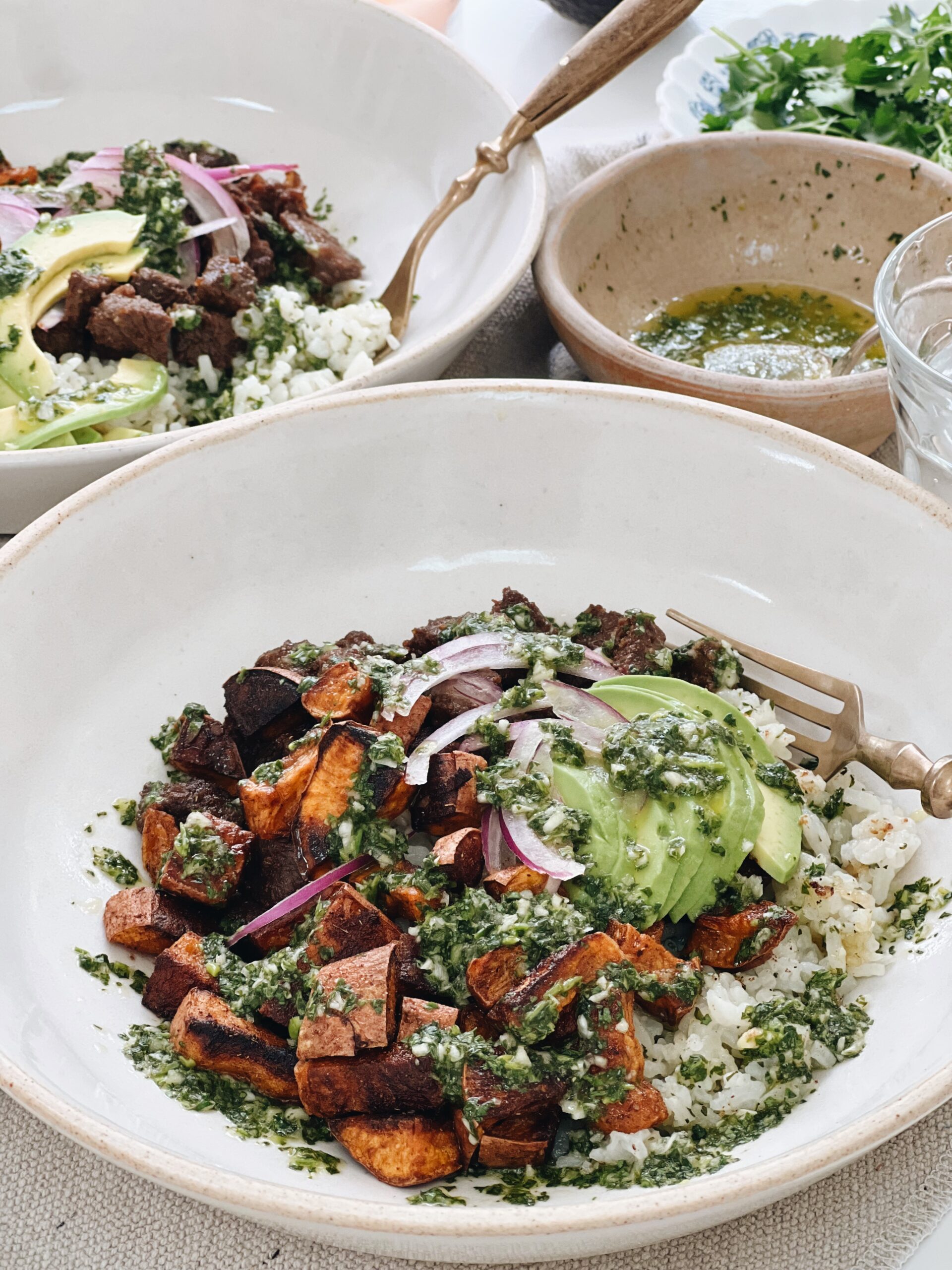 The coconut rice gets prepped in a rice cooker (jasmine rice + coconut milk + water + minced cilantro) and fluffed right before serving. If you've never cooked your rice in coconut milk and cilantro, today is a new day for you.
And it all comes together just like that! Avocado and red onion make a good creamy/crunchy finish. The cilantro oil is to DIE for and should be made every few days so that you can drizzle it over your entire life.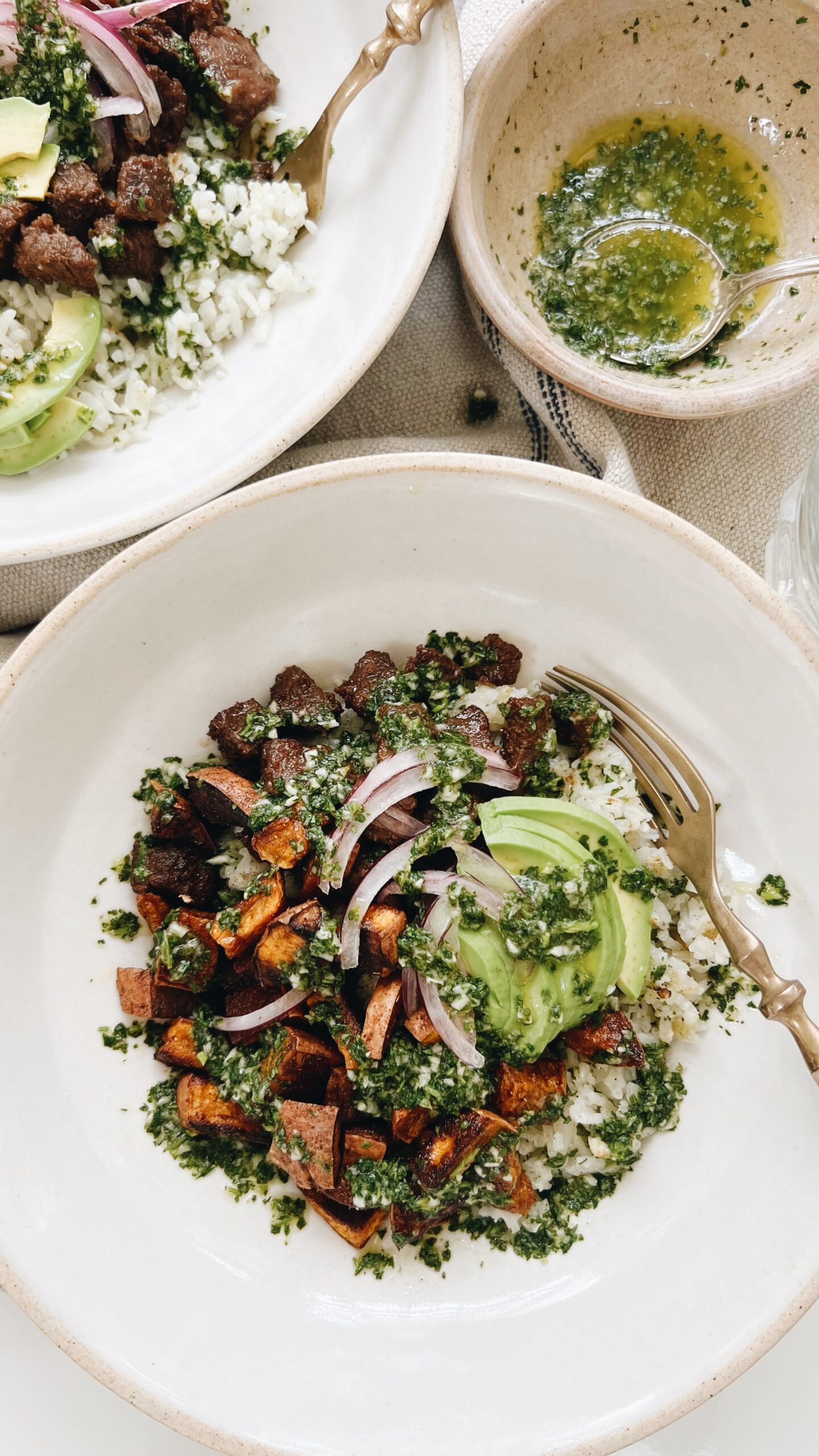 Sweet, savory, rich, bright, IT IS ALL THERE, you guys.
And yes, while it's a few things happening here, it's not that hard to pull together. Like, this Sunday would be the perfect day to give this slight project recipe a go.
Absolutely delish. Trust me.
Or maybe you could make it now. I don't make the rules.
Steak and Sweet Potato Bowls with Coconut Rice
Ingredients
1.5 pound chuck eye steak, cut into small cubes
1 tsp cumin
1 tsp chili powder
1 tsp garlic powder
1 tsp onion powder
1 tsp espresso powder
1 Tbs. Brown sugar
1 tsp lime zest
Juice from half the lime
3 Tbs. Extra-virgin olive oil
1 tsp coarse salt
2 medium sweet potatoes, cubed
1 Tbs cumin
2 Tbs. Extra-virgin olive oil
1 cup Jasmine rice, rinsed
1 cup coconut milk + 1 cup water
1 Tbs. Freshly minced cilantro
1/2 tsp coarse salt
1 cup cilantro
2 garlic cloves, cut in half
Juice from half a lime
2-3 Tbs. Extra virgin olive oil
1 pinch of salt
Sliced avocado, to garnish
Instructions
Preheat your oven to 400.
In a large bowl, combine the steak, cumin, chili powder, garlic powder, onion powder, espresso powder, brown sugar, lime zest, salt, lime juice, and the olive oil. Whisk until smooth and combined. Add the steak to the bowl and use your fingers or a spoon to fully coat. Chill as long as you want in the fridge, or set aside while you prep the rest.
Arrange the sweet potatoes on a large rimmed baking sheet. Season with the cumin and a pinch of salt. Drizzle with the two Tbs. oil and toss with your fingers to coat. Roast for 40 minutes, shaking the pan about half way through.
In the meantime, combine the rinsed rice, coconut milk, water, and minced cilantro in a rice cooker. Throw in a small pinch of salt and stir to combine. Set it and forget it. Once finished, fluff with a fork until you're ready to eat.
In a small food processor, place the cilantro, garlic, lime juice, pinch of salt and the oil. Process until smooth.
In a wide skillet, cook the steak until browned and tender all over, 8-10 minutes.
To build the bowls we'll add coconut rice, cooked steak, roasted sweet potatoes, sliced avocado and a good drizzle of the cilantro oil on top. Just perfect.
Serves four!
7.8.1.2
654
https://bevcooks.com/2023/08/steak-and-sweet-potato-bowls-with-coconut-rice/
We're changing plans and this is happening today.