Get over here. We have a casserole to talk about.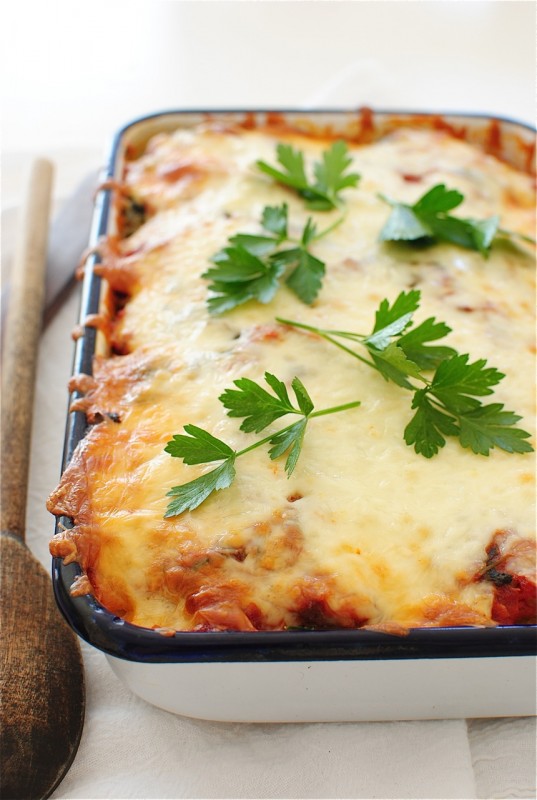 I'm only calling it casserole because I'm originally from Arkansas. But you can call it whatever you so desire! Bake? I like it. It's strong. Or even lasagna. That was my original plan. But there's no ricotta in it, so I swapped out lasagna for casserole. I also swapped out regular low fat milk for half & half in my coffee today. Arctic nostril blasts make me rebelliously dangerous, you guys.
This blog post is getting off to a smashing start, isn't it?
Okayokayokay, so THIS is what happened.
Do you remember that polenta pie I made you a 150,000 moons ago? As the same old blah blah goes, I was in the mood for it, but didn't want to get all laborious in the kitchen. Plus we were watching Robin Hood and I really wanted to see how it ended. (that would be a joke, my pigeons. i've seen it trillions of times hah ah ah ah!  ha hah. ha. ha?) Anyway! I thought, HEYWAITAMINUTE. I can use tubed polenta! I can brown some sausage! I can use frozen spinach! And jarred marinara! And save the children and establish world peace and finally try this new after-shower detangler for my hair!
Please don't go. Look at all that cheese.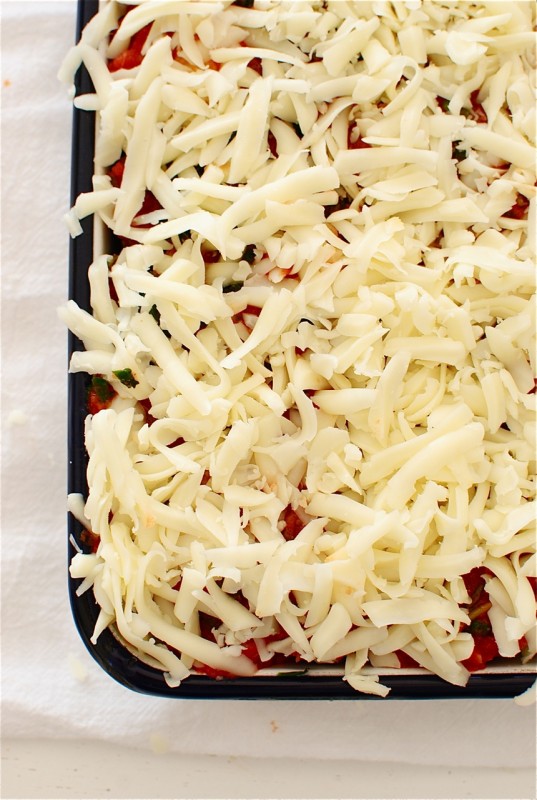 This is ridiculously fantastic.
I only used three Italian sausage links (behind the counter), so it didn't yield too much meat. But I'll be honest, a fourth would have been nice. Use at your delicious discretion.
Also, it's hard to get a photogenic shot of a casserole. At least it is for me. I'm too busy trembling and drooling to get the proper job done.
Who cares though. Look at all that cheese, will ya?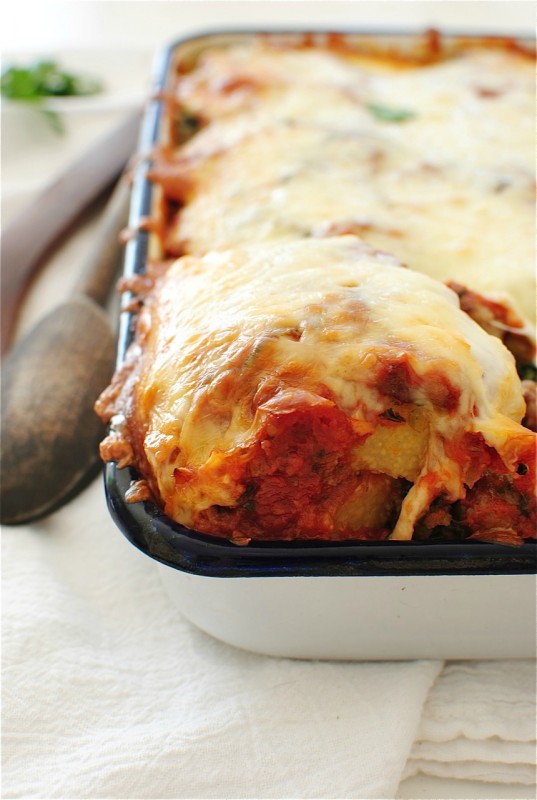 One more thing! And again, I'll be completely honest here. I pan-fried the polenta rounds first to try and get a good crisp. But once everything was baked to gloriously-glory-glor, I'm not sure if I could detect a crisp. But I also inhaled it like a ravenous zombie, so . . . yeah.
One last thing! Make this all winter and make your life and mouth and belly happy.
(excuse the sloppy photo. but who cares. all that cheese!)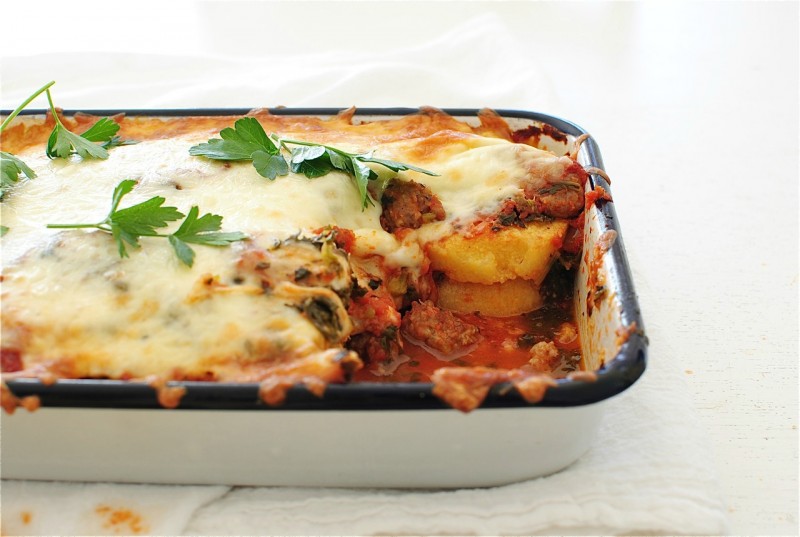 You better.
Polenta, Sausage and Spinach Lasagna:
What it took for 4-6:
* 3-4 Italian sausage links, casings removed
* 1 Tbs. extra-virgin olive oil
* 2 (18 oz) tubes polenta, sliced into 1/2″ rounds
* 1 (10 oz) box frozen spinach, thawed and drained of excess liquid
* 1 large jar (26 oz) favorite marinara
* 1 (8 oz) block mozzarella, shredded
Preheat your oven to 350.
Heat a sauté pan over medium high. Add the sausage and brown all over, breaking up with a wooden spoon. Remove the browned sausage and set aside.
To the pan, add a Tbs. of olive oil and the polenta rounds. You'll need to do this in batches. Fry on one side for 2 minutes, flip and fry another 2 minutes.
Pour a little of the marinara in the bottom of an 8×10 baking dish. 9 x 13 works, too, you'll just a little more space around the polenta rounds.
Place 8 rounds in the bottom of the dish, two at a time. Follow with the browned sausage and chopped thawed spinach. Layer the remaining 8 polenta slices, and the rest of the spinach and sausage. Pour the rest of the sauce over the dish.
Sprinkle with the grated cheese, stick her in the oven (uncovered) for 30-40 minutes, or until the cheese is browned and bubbly, baybuh.
Garnish with parsley and oh my dear faces.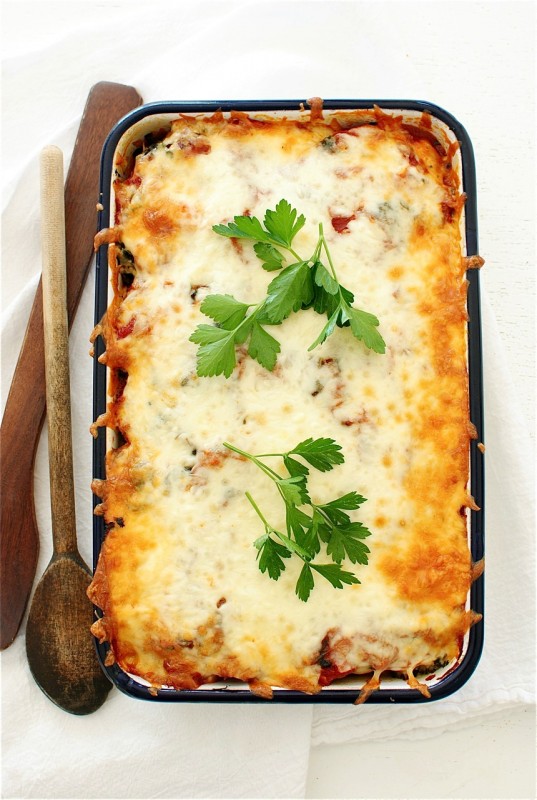 Go ahead in nap in that.