It's opposite day! Not really.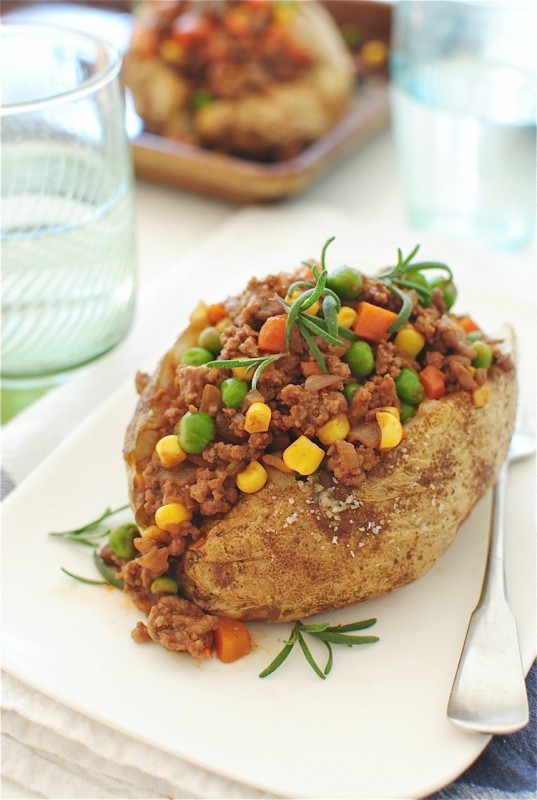 Actually, this weird arctic nostril blast makes the weather feel like opposite day. But not like, opposite opposite. More like, not really accurate.
I'm not making sense.
Let's talk about this flip flop shepherd's pie! This was the thing. I wanted to EAT the shepherd's pie, but I didn't want go through all the flim flam to MAKE the shepherd's pie, since I have two babies. Did you know I have two babies? I have two babies. So I reversed it! Just made the filling and piled it mile high on top of easy baked potatoes. Isn't that wonderfully exciting?
So see? Opposite day! Kind of.
I want to interject real quick and tell you guys what I am seriously looking at right now. It's early in the morning, and Aaron is sitting across from me at our kitchen table, his laptop lighting up his face. But like, he's making these hideously nerdy faces while hearing three beeps and flash! He's taking photo booth-style pictures at his computer. What a DWEEBO. Hold on let me ask him about this. Hold on.
Okay he says it's a photo booth program on his laptop and he's sending sitcom-like stills to his friends because of some long video that went viral one night during the infomercials on Adult Swim. So he's pretending to be a sitcom character and make the "oh golly jeepers you caught me!" face.
THIS IS WHAT I'M MARRIED TO.
I love him.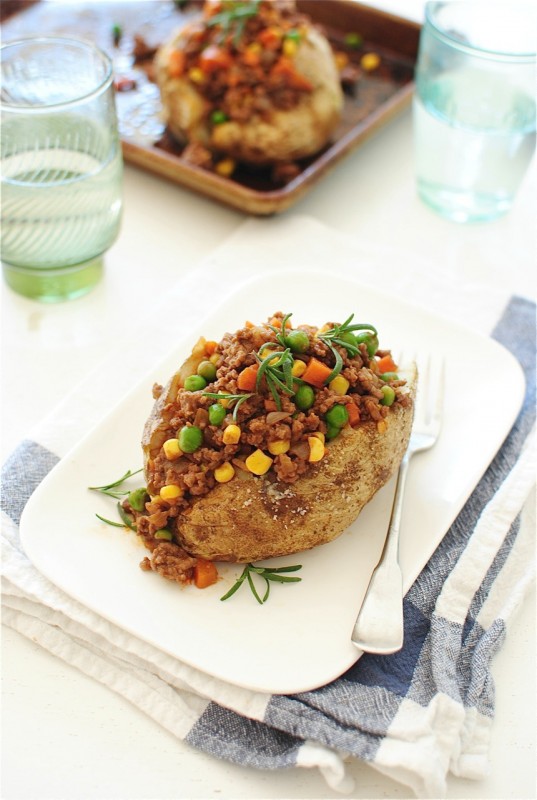 So yeah. Reverse Shepherd's Pie, man. So super easy and you still get all that amaze-maze flavor that you would the traditional way. ME LIKEY.
Please don't tell anyone I just said that.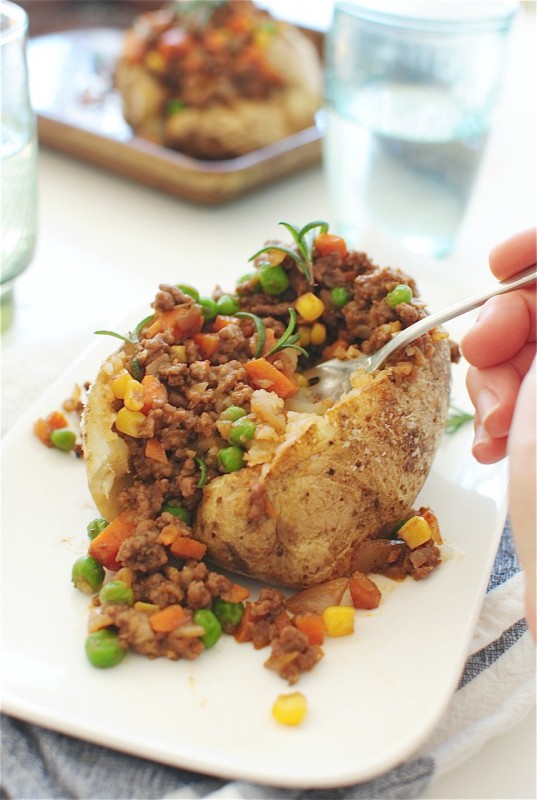 Opposite day! In a way.
Reverse Shepherd's Pie:
What it took for 4:
* 4 baking potatoes
* 2 Tbs. olive oil
* 1 white onion, finely diced
* 2 carrots, diced
* 4 cloves garlic, minced
* 1 pound ground beef (I used 96% lean. Don't kick me.)
* 3 Tbs. Worcestershire
* 2 – 3 Tbs. tomato paste
* 1 cup Guinness beer
* 1 Tbs. brown sugar
* 1/2 cup frozen corn
* 1/2 cup frozen peas
* salt and pepper, to taste
Preheat oven to 400.
Fork the potatoes all over, and place them in the microwave. Heat for 5 minutes. Flip over and heat another 5 minutes. Then place them on a baking sheet. Drizzle with olive oil, and a pinch of salt. Bake for 20 minutes. Maybe 25.
Heat the olive oil in a large sauté pan over medium high. Add the diced onions and carrots. Sweat them down a few minutes, until they start to get tender. Add the garlic and sauté another 30 seconds.
Add the beef to the pan and brown all over. Then add the Worcestershire and tomato paste. Press the paste into the beef to slightly caramelize. Mix well. Add the beer and brown sugar. Season with a pinch of salt and pepper. Taste it. Need anything? Naw? Okay. Add the frozen peas and corn and heat through.
Once the potatoes are baked, slice them down the middle and push the sides in to open. Fluff the potato insides a bit. Now spoon a bunch of the beef filling on top. More. Little more. Now we're talking.
Garnish with anything you like! I used rosemary. Serve her up.
I'm going to start reversing all my food from now on.