Anyone in the mood for a complete mood boost?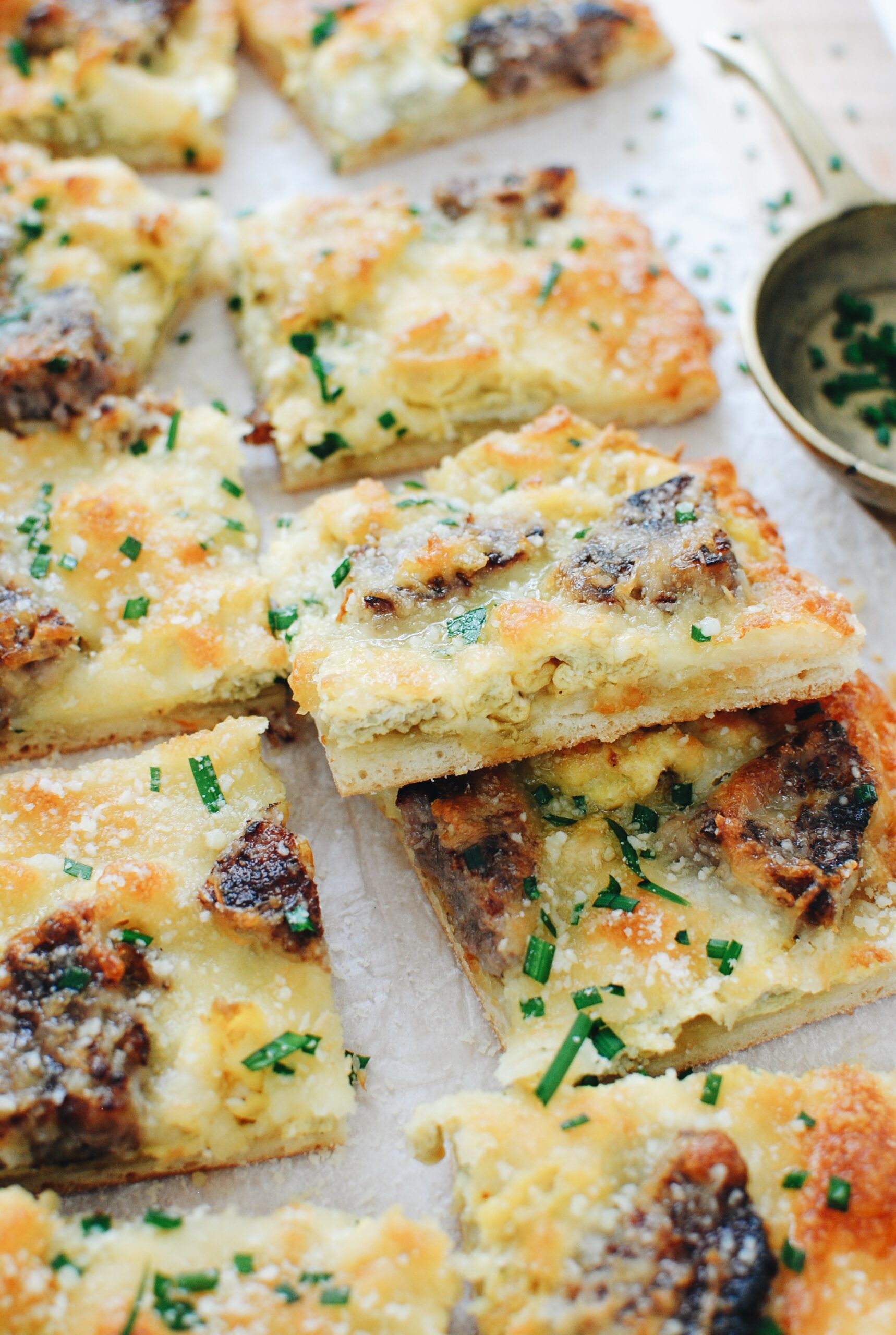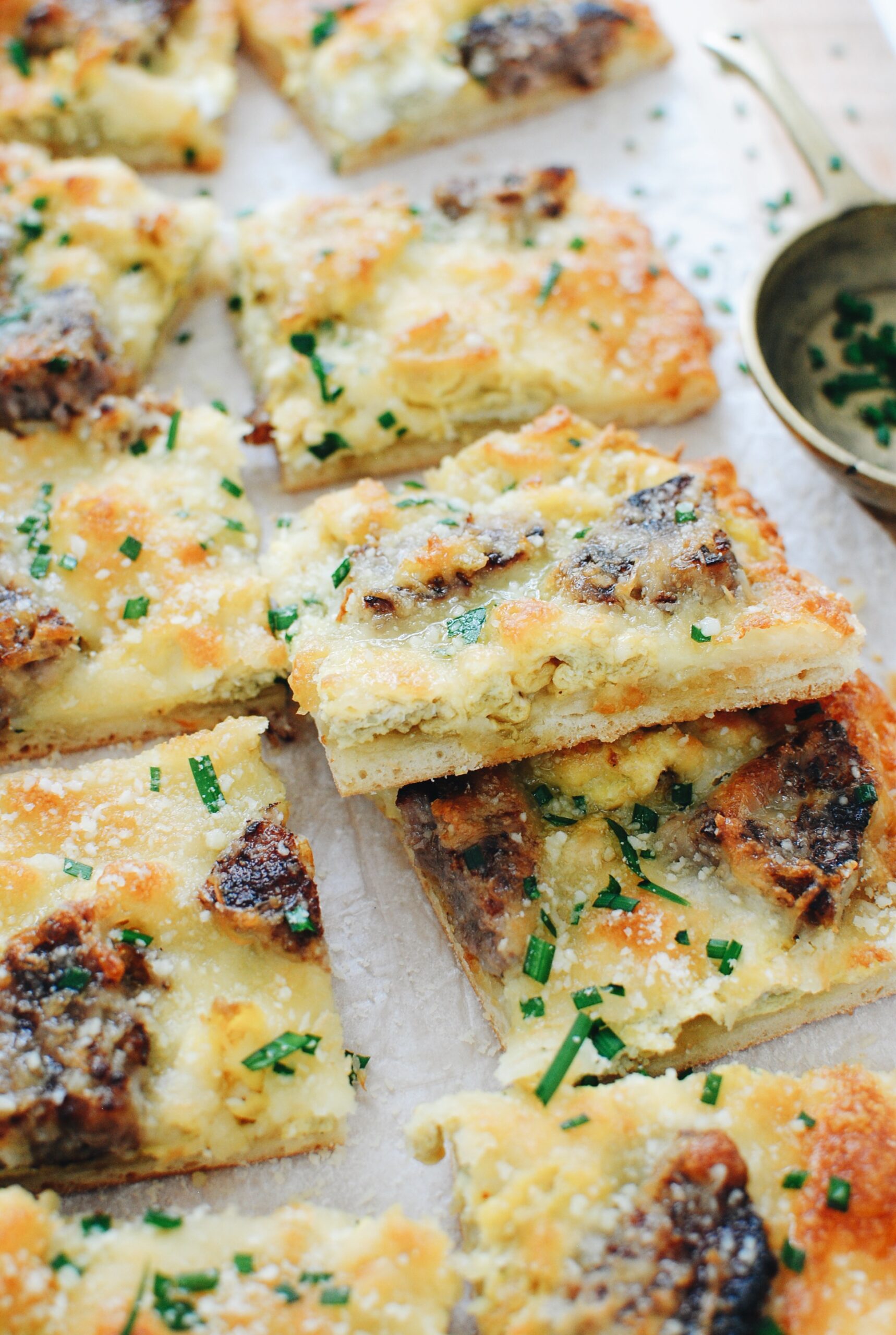 Because it's a flatbread with cheese, sausage and eggs on it. Which I know you already gathered from the title that said breakfast flatbread with a sausage and eggs, but I just felt like bringing it to the table again.
…Badomp?
Look at this! It's distressingly simple, and the flavors are nothing but classic and comforting. I'm about to show you how many ingredients are in this thing, that way you can plan when you want to make it for brunch or for weekday mornings before school and do the quick reheat. Which I did all last week and it was just so exciting. Every morning. Like, "Oh yeaaaah I have this flatbread!" Like that.
Ready?
Let us peepeth.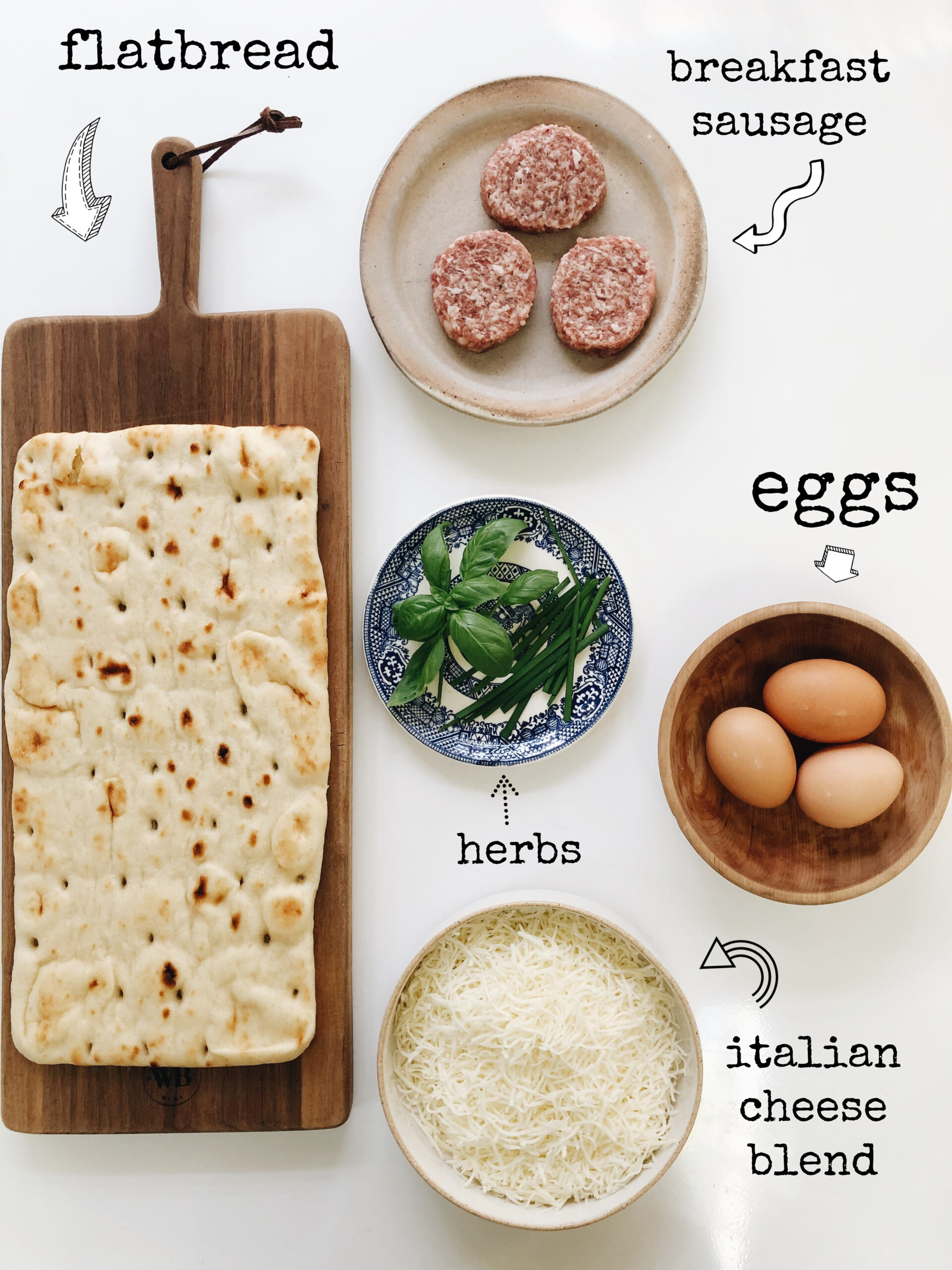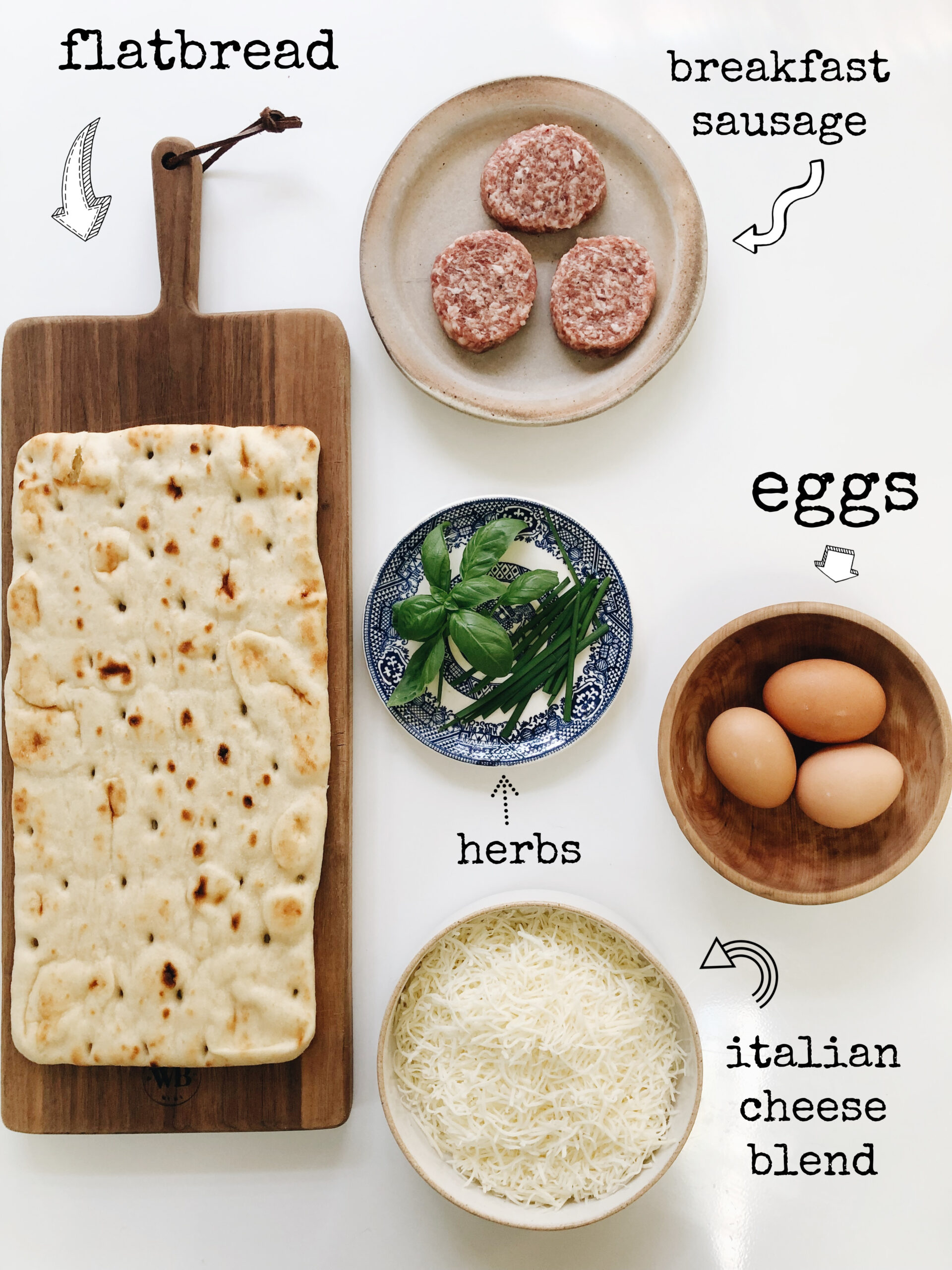 That's IT.
But let's break this down so you know what to look for or swap in or out or whatever.
The flatbread I found at Aldi, but really all grocery stores carry their own version. It just might not be this shape exactly. But we can live with that, right?
The sausage – I went with the little patties, that way I could cut them into corners and scatter them around. If all you can find are the links, I'm SURE little seared chunks of those would be so extra. (<–did I do that right?)
The cheese – I never buy pre-shredded, but I was feeling lazy, and the Italian six-blend just spoke to me. (<–which reminds me of People We Meet on Vacation. remember that on-going joke? "It just speaks to me." never mind.) But honestly, anything works! Cheddar, mozzarella, a blend, whatever gives you giddy pants.
The herbs – I ended up only using the chives, but parsley or basil is fab, too!
We got this?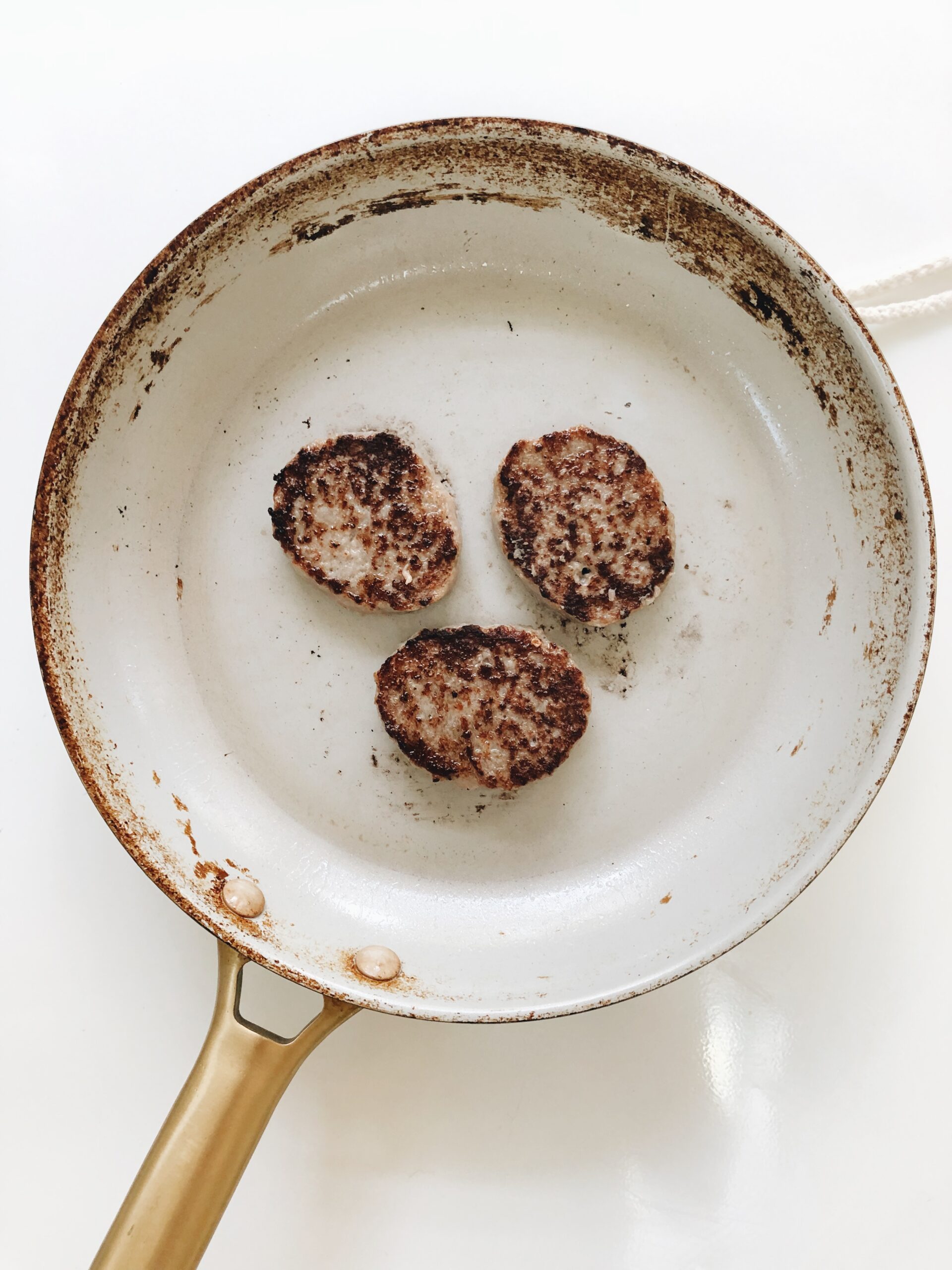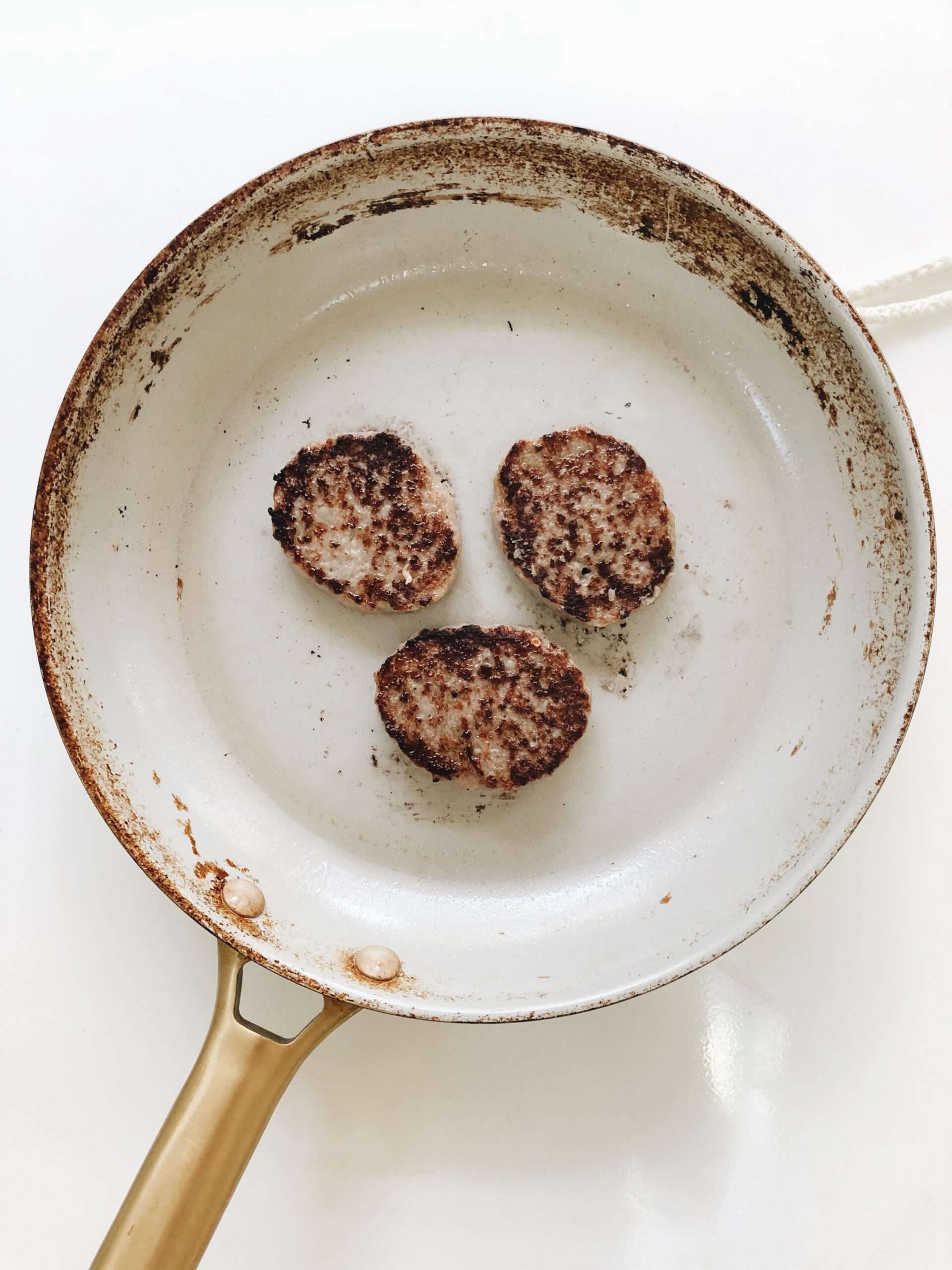 Just sear your patties, bruh.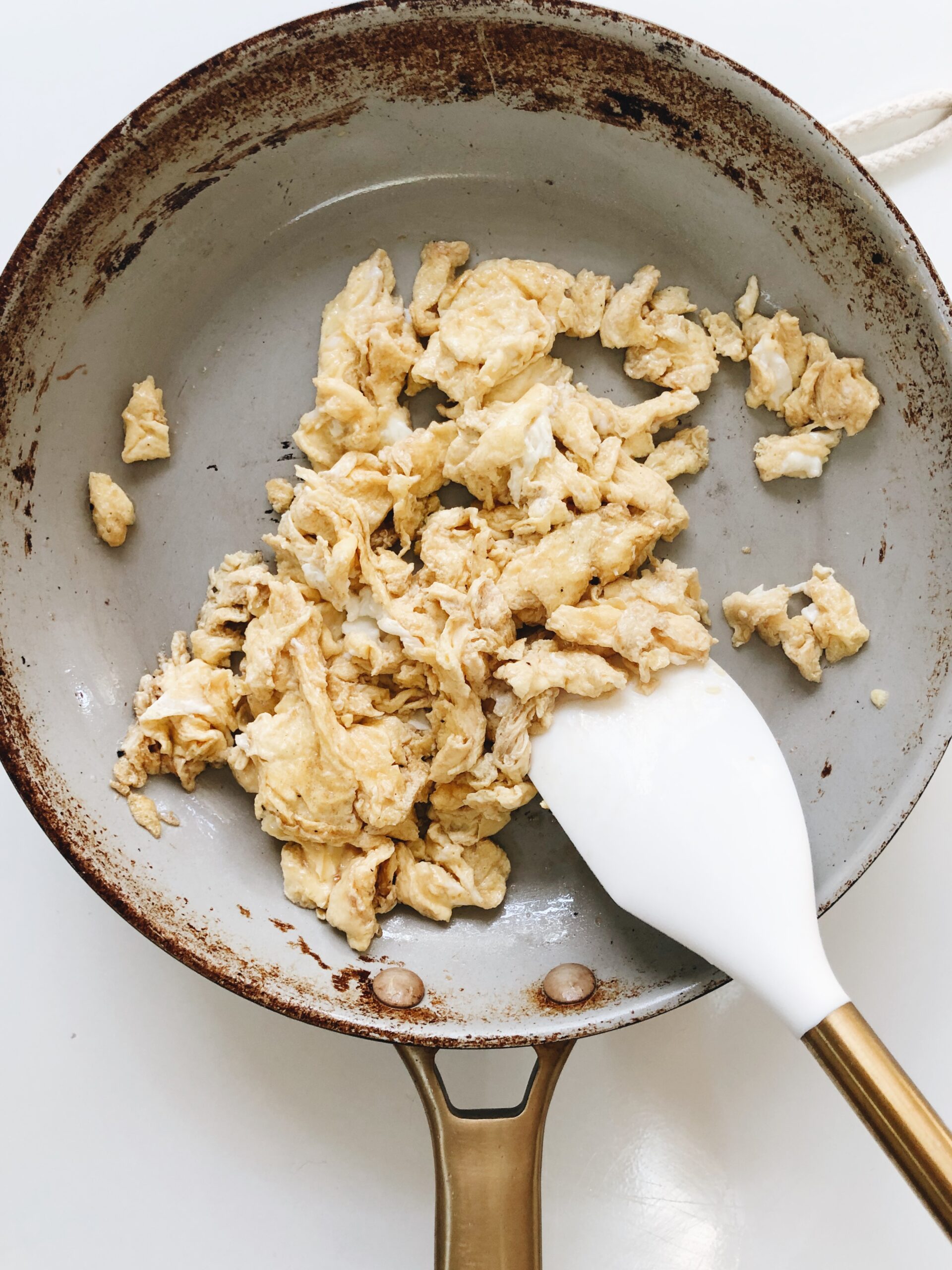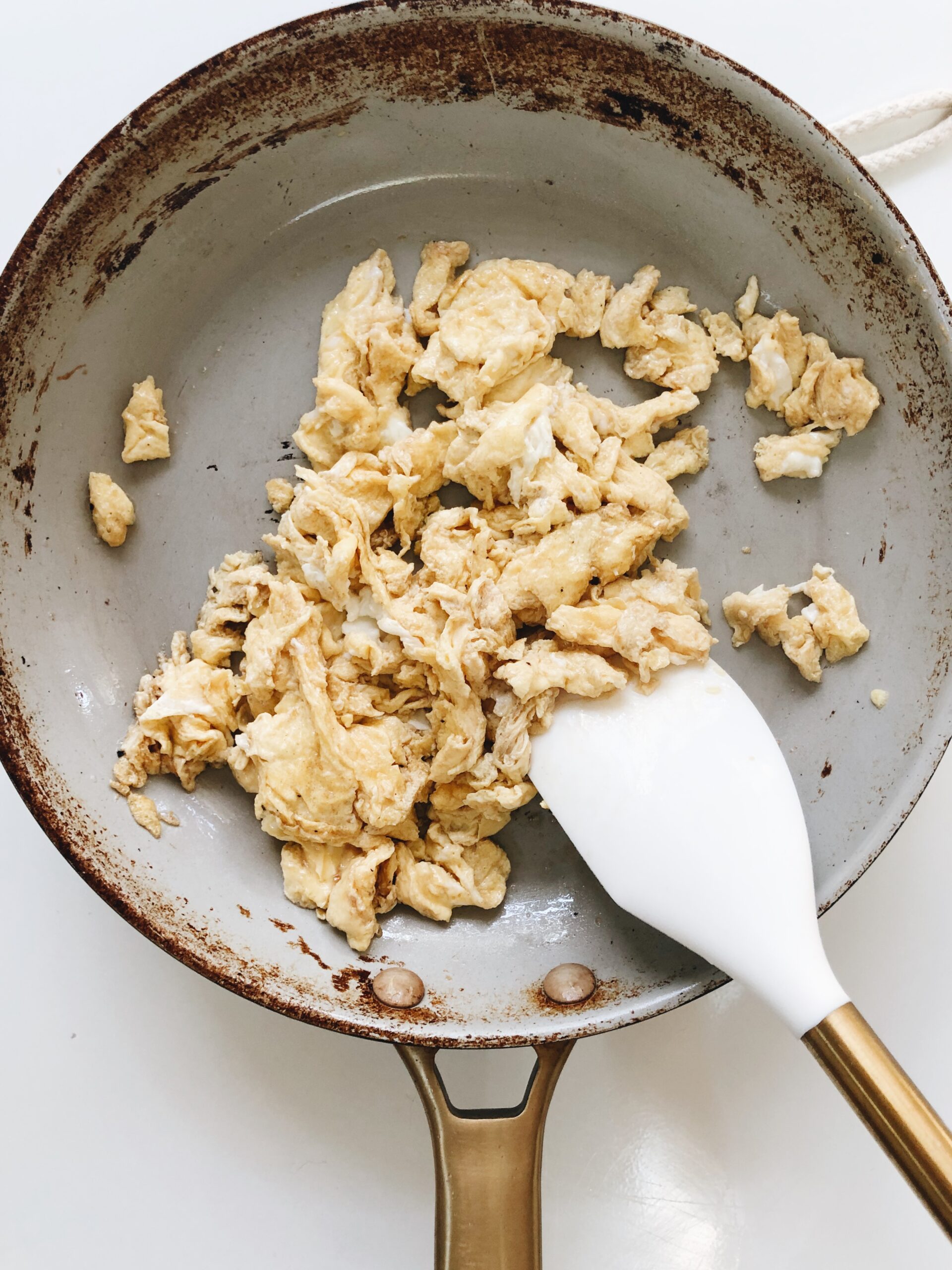 Then scramble your eggs, brah.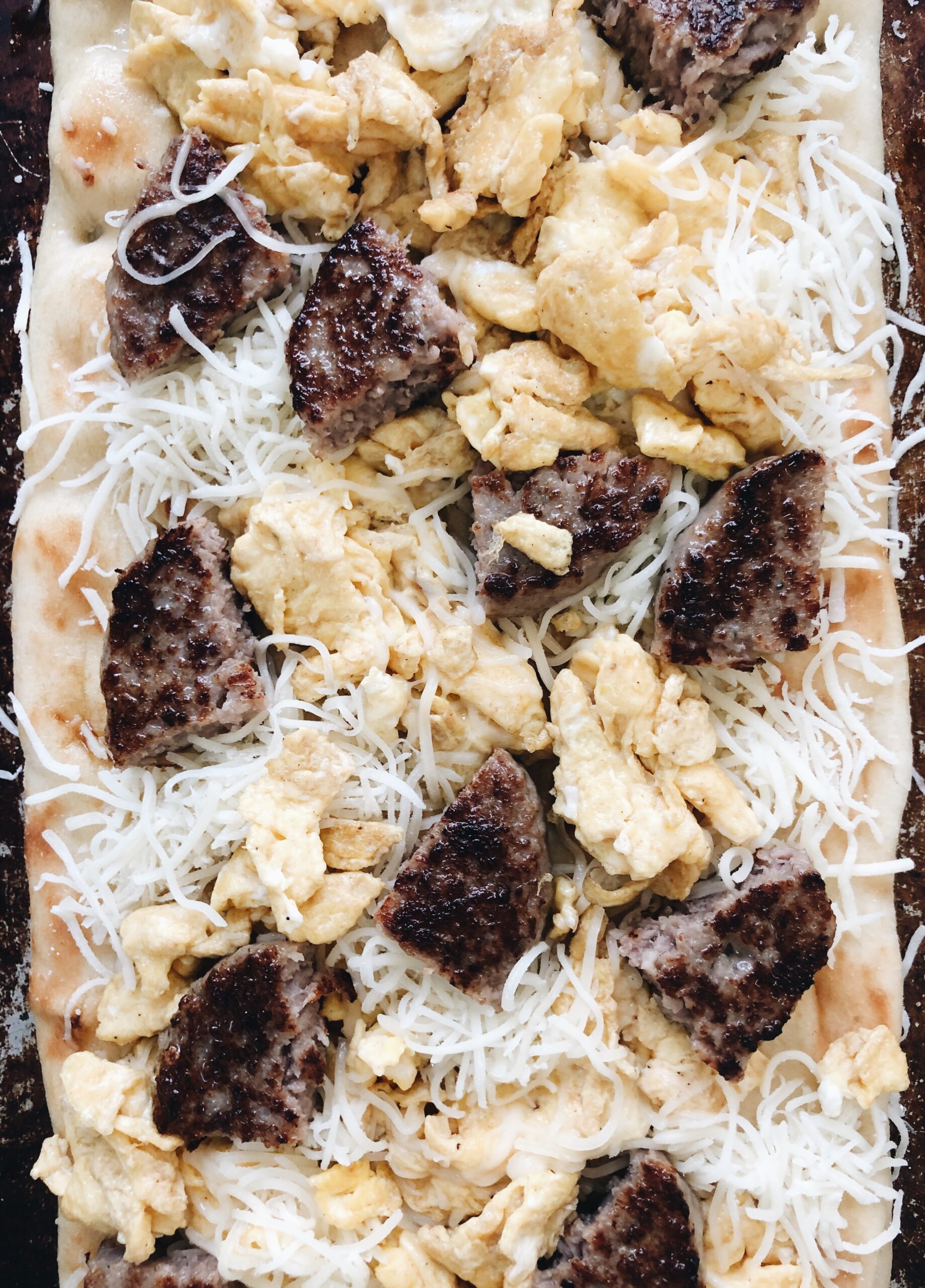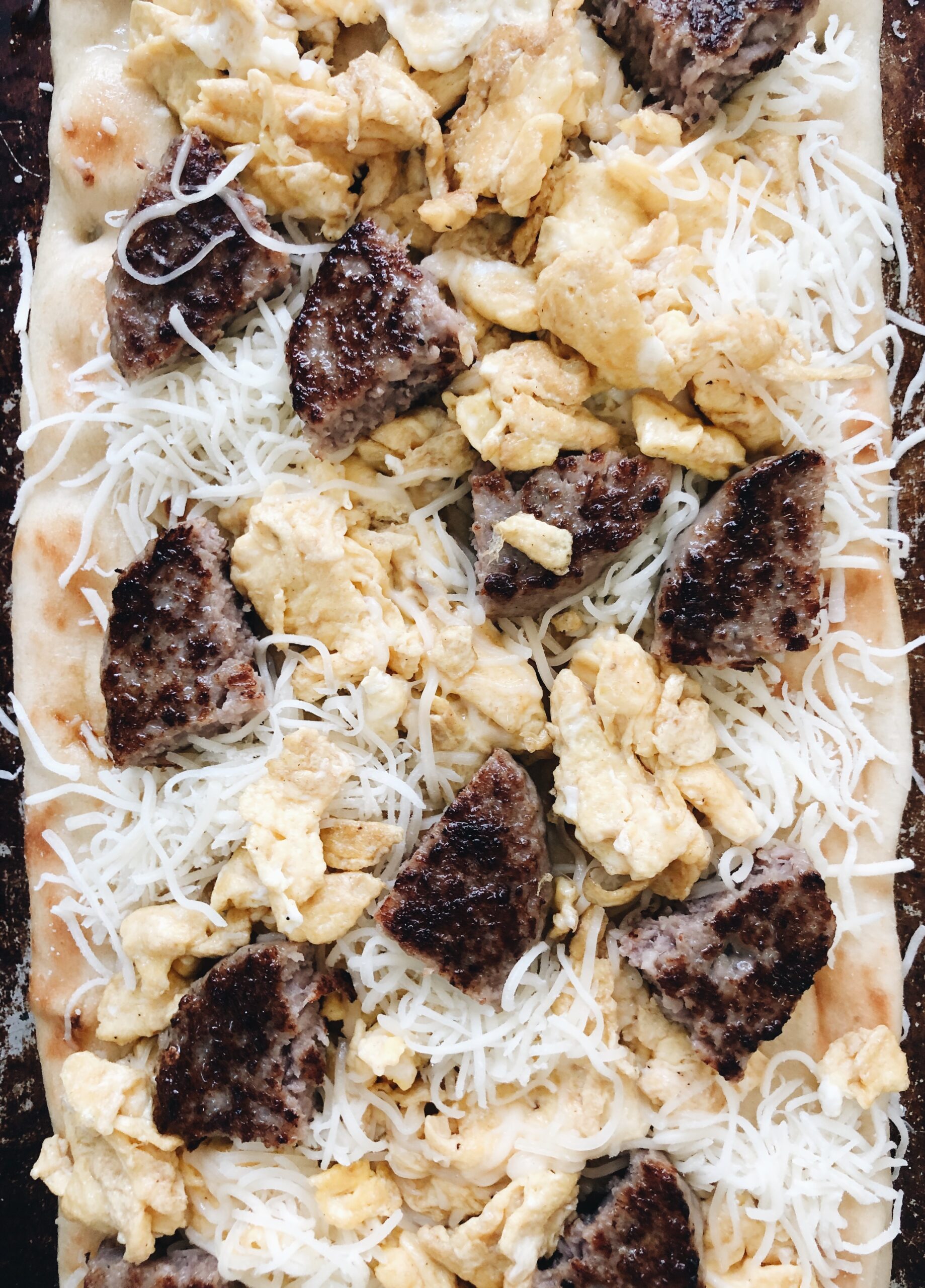 So, the KEY here is a tiny brushing of olive oil over the flatbread before you violently pile it all on. It just helps everything stick a lil' better.
So add some cheese, some eggs, some sausage chunks. (You've chunked your sausage, by the way. Also we're starting a band called Chunk Your Sausage. I already hate all those words.)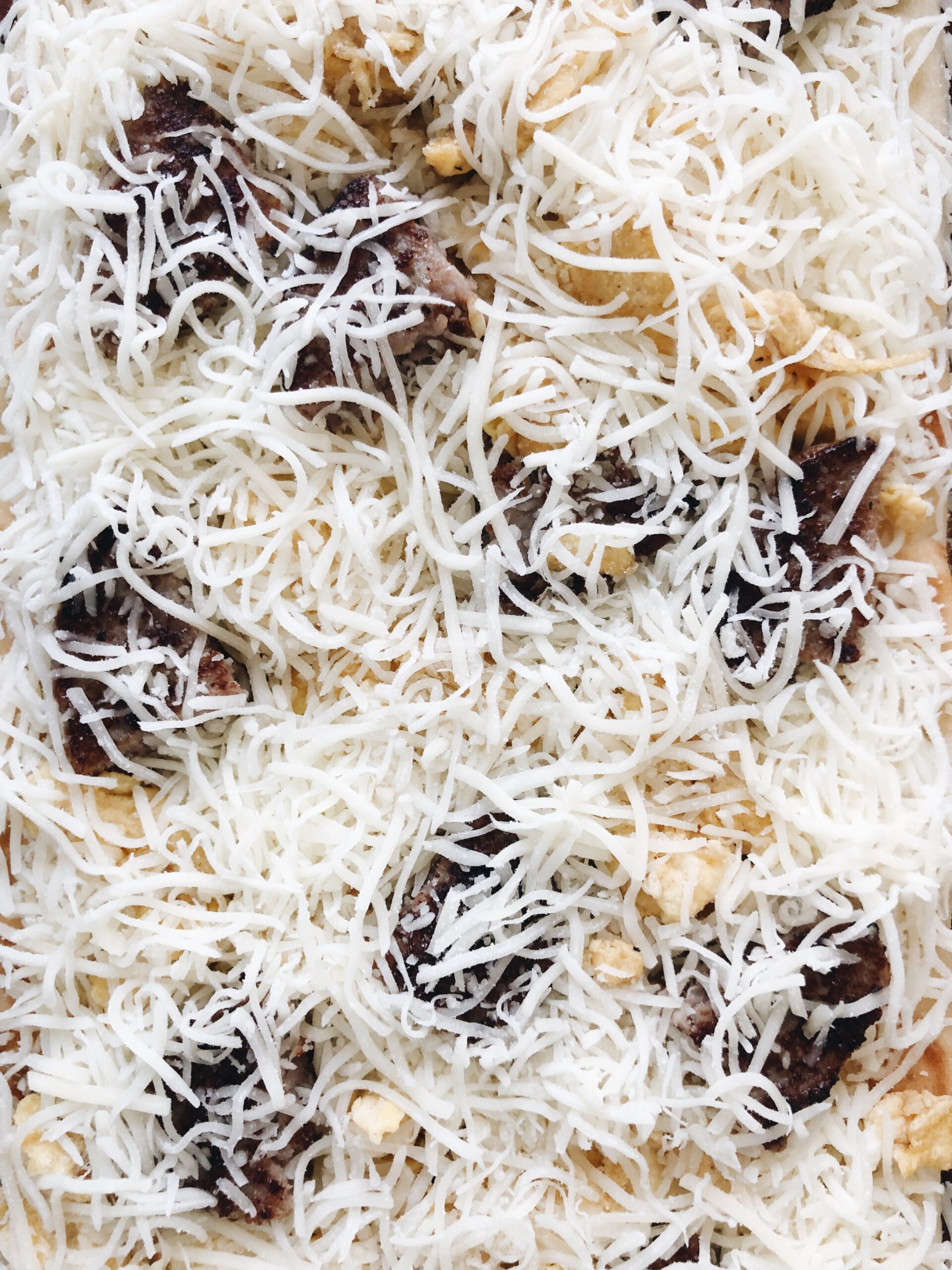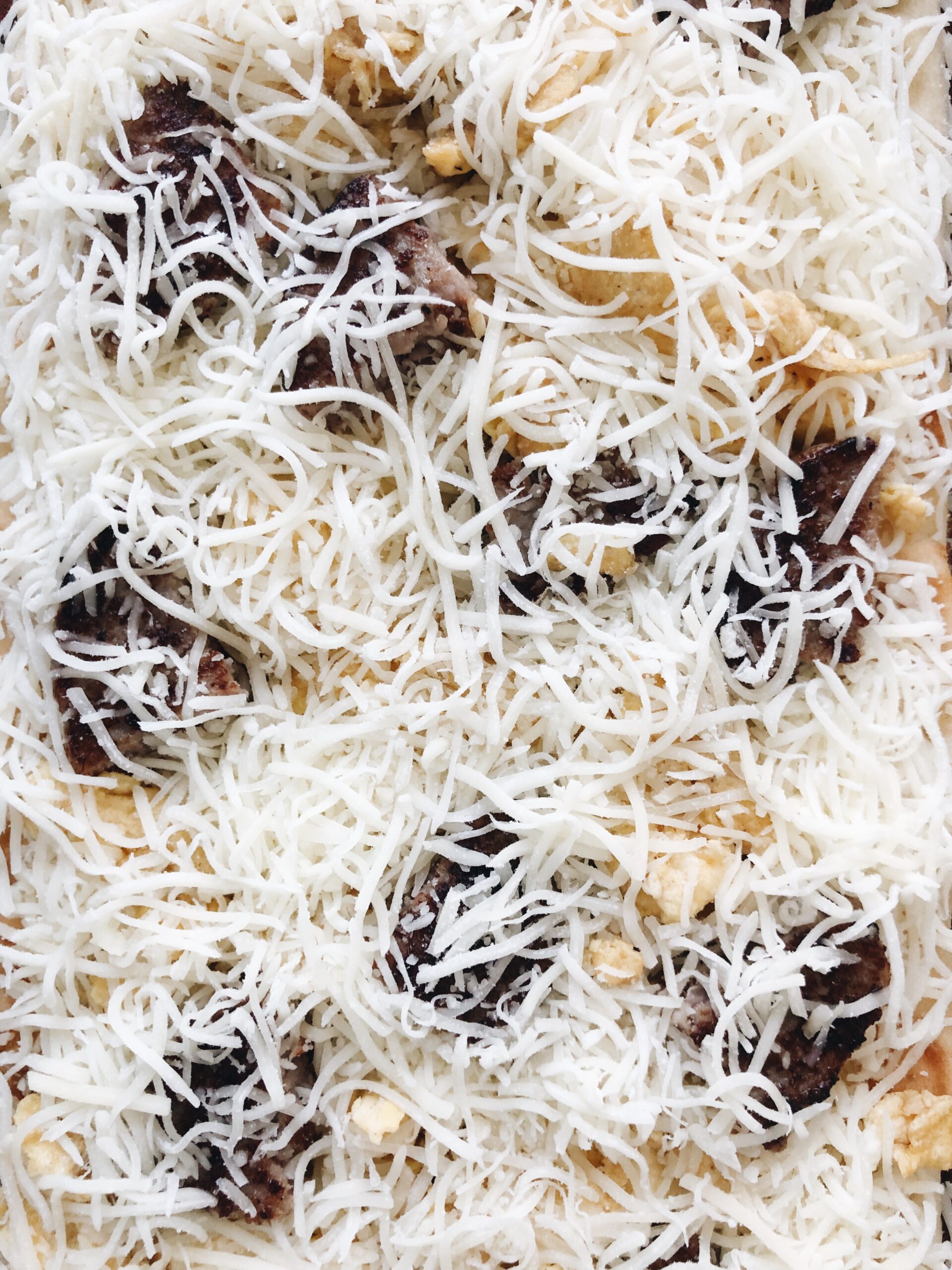 You know you need to add more cheese. You were waiting for it, I can tell.
Add the cheese. Add it.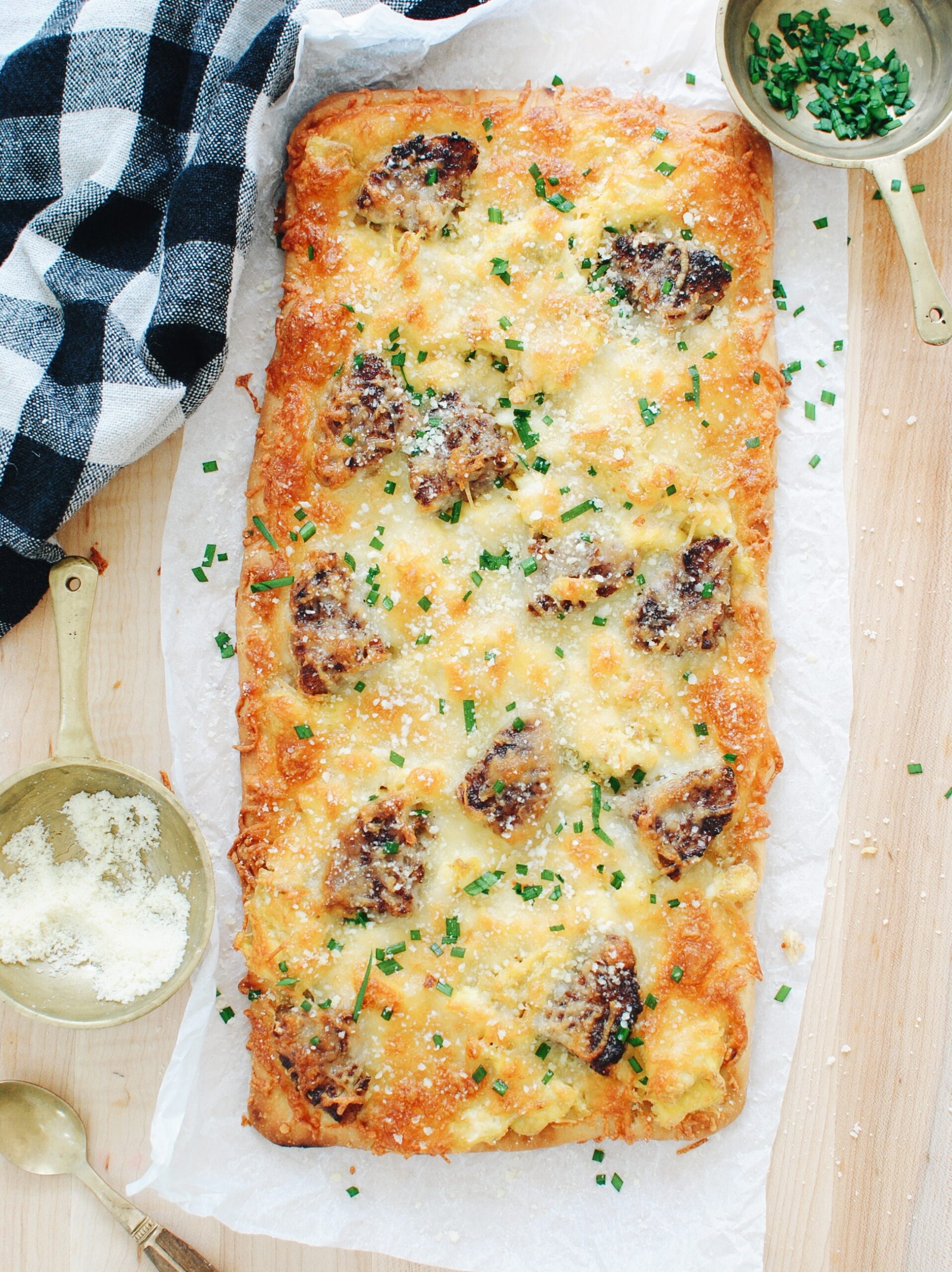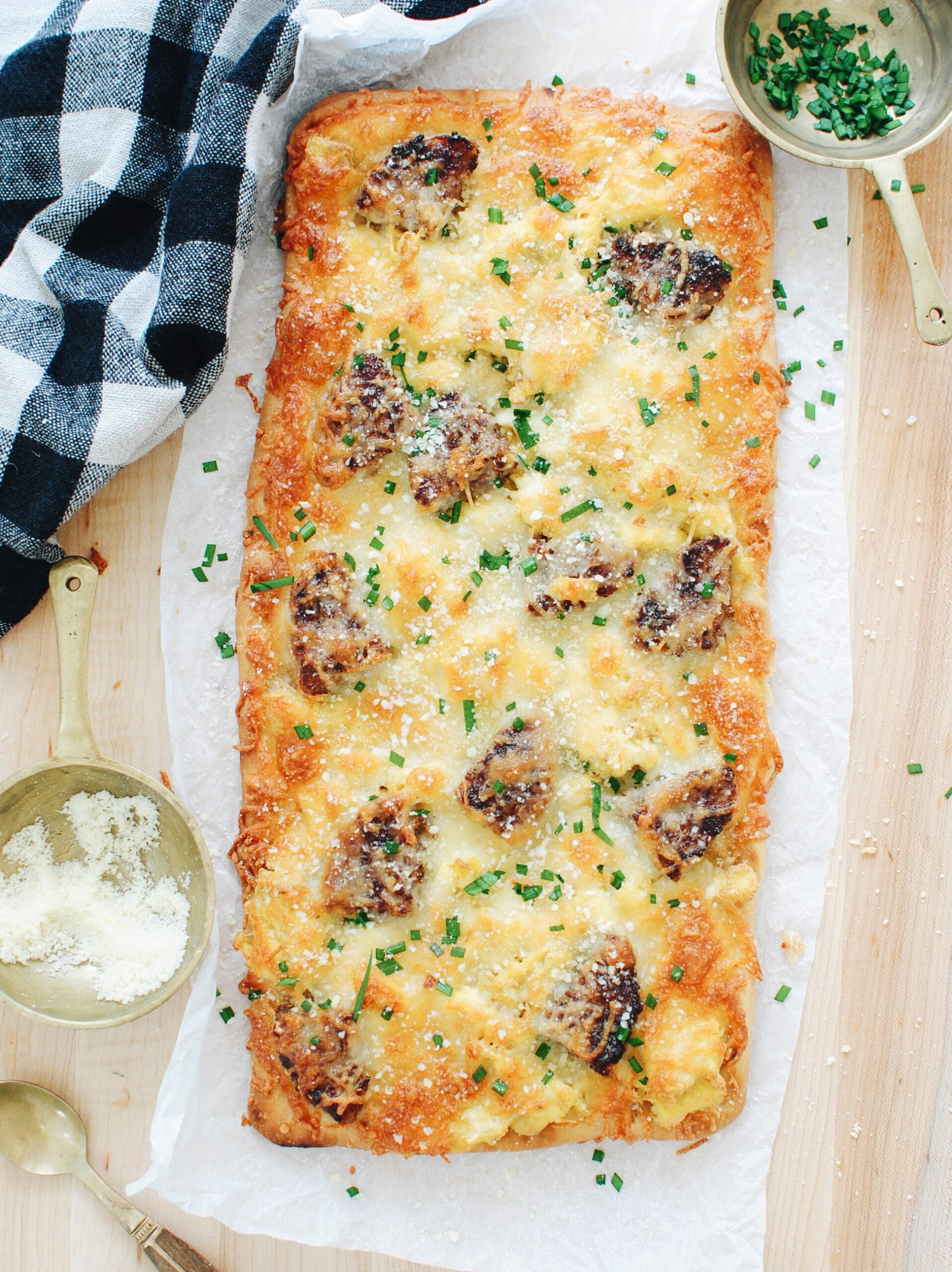 It takes a quick visit to the oven just to heat and warm and melt and transform, and this is what you get.
It's flatbread, you know! Rustic, layered, simple. It's all so good. Let's slice it.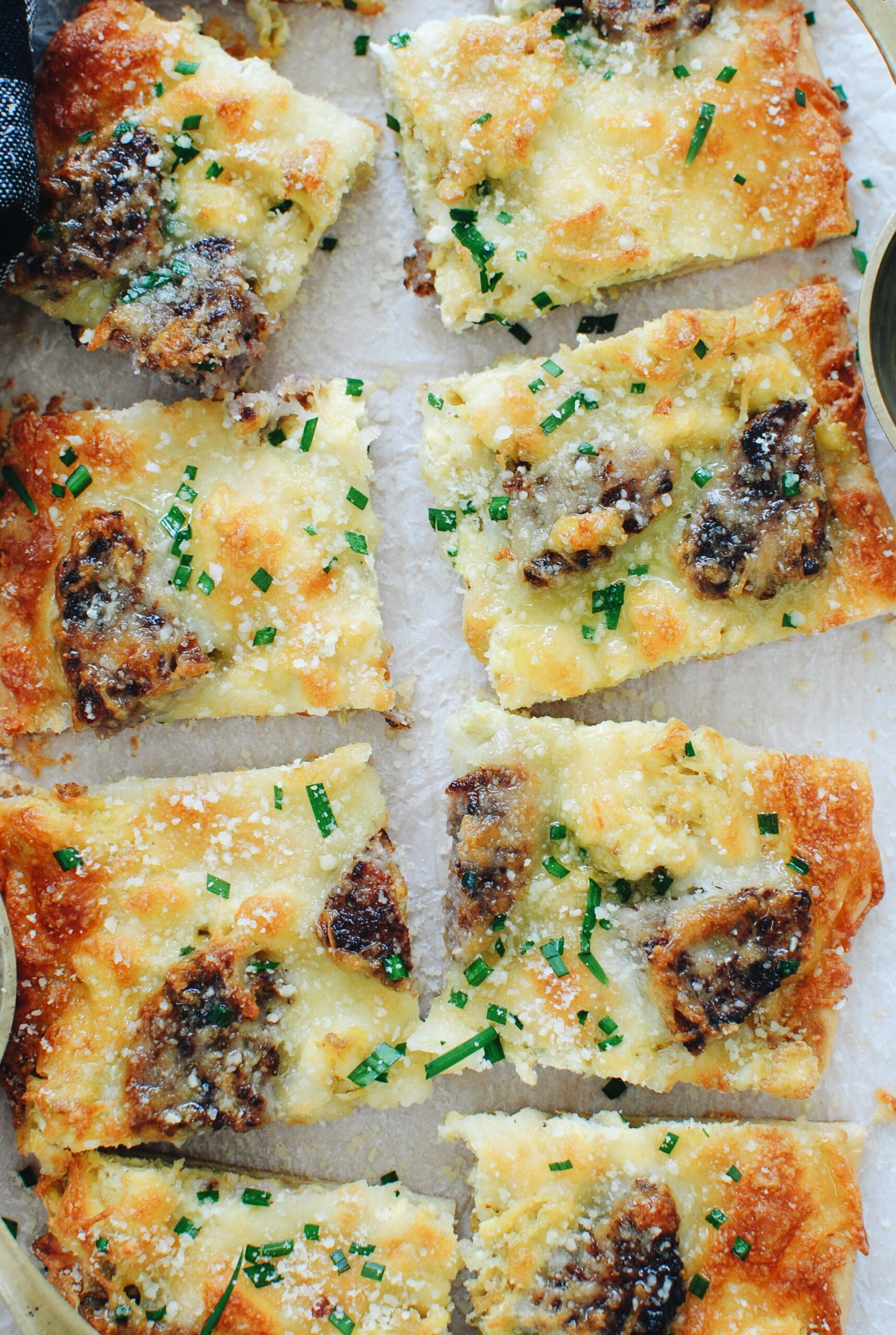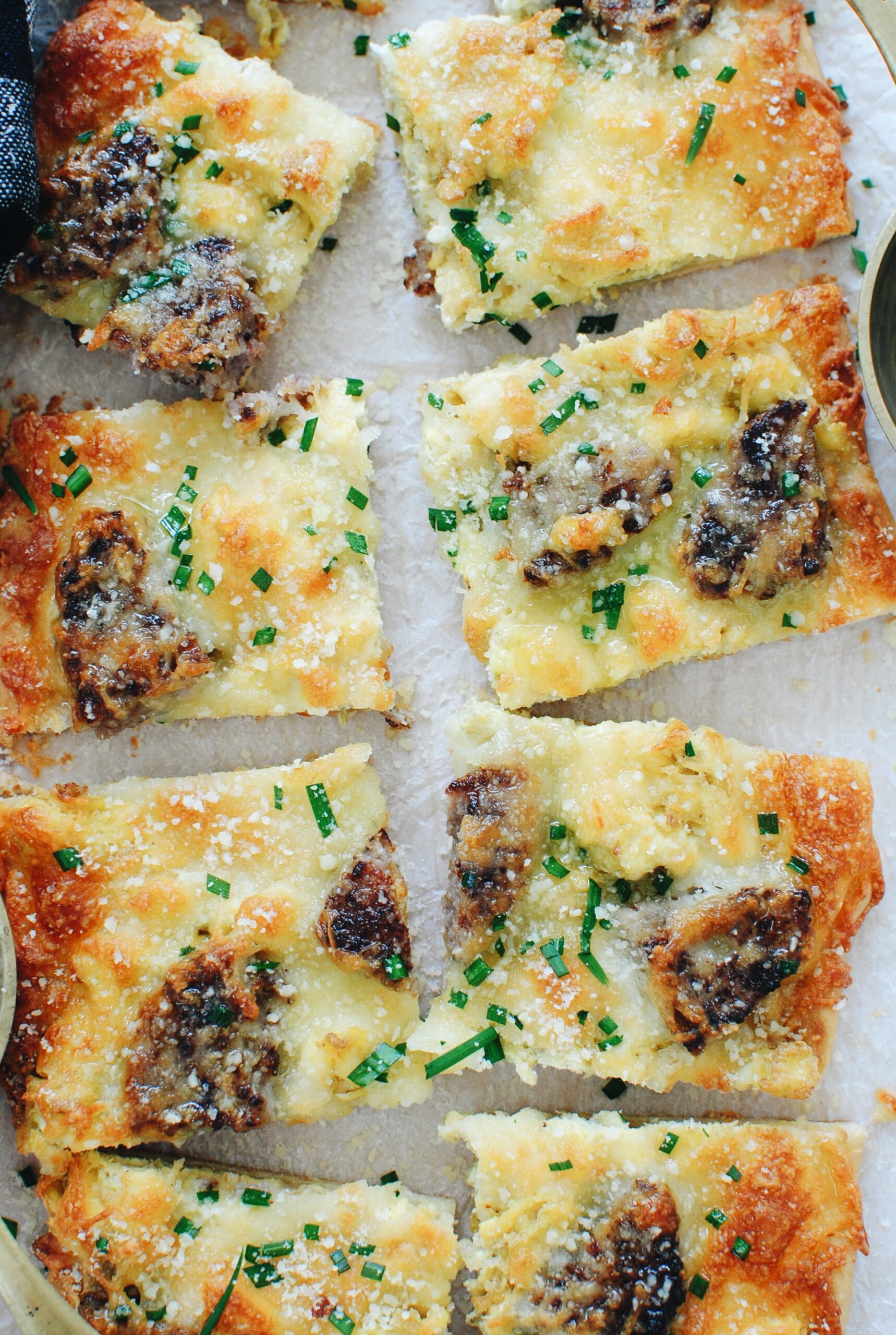 I meaaaaaan.
Sprinkle with chives, garnish with parmesan, just do what you need to do right now.
Just stare it all for a while if that's where you find yourself.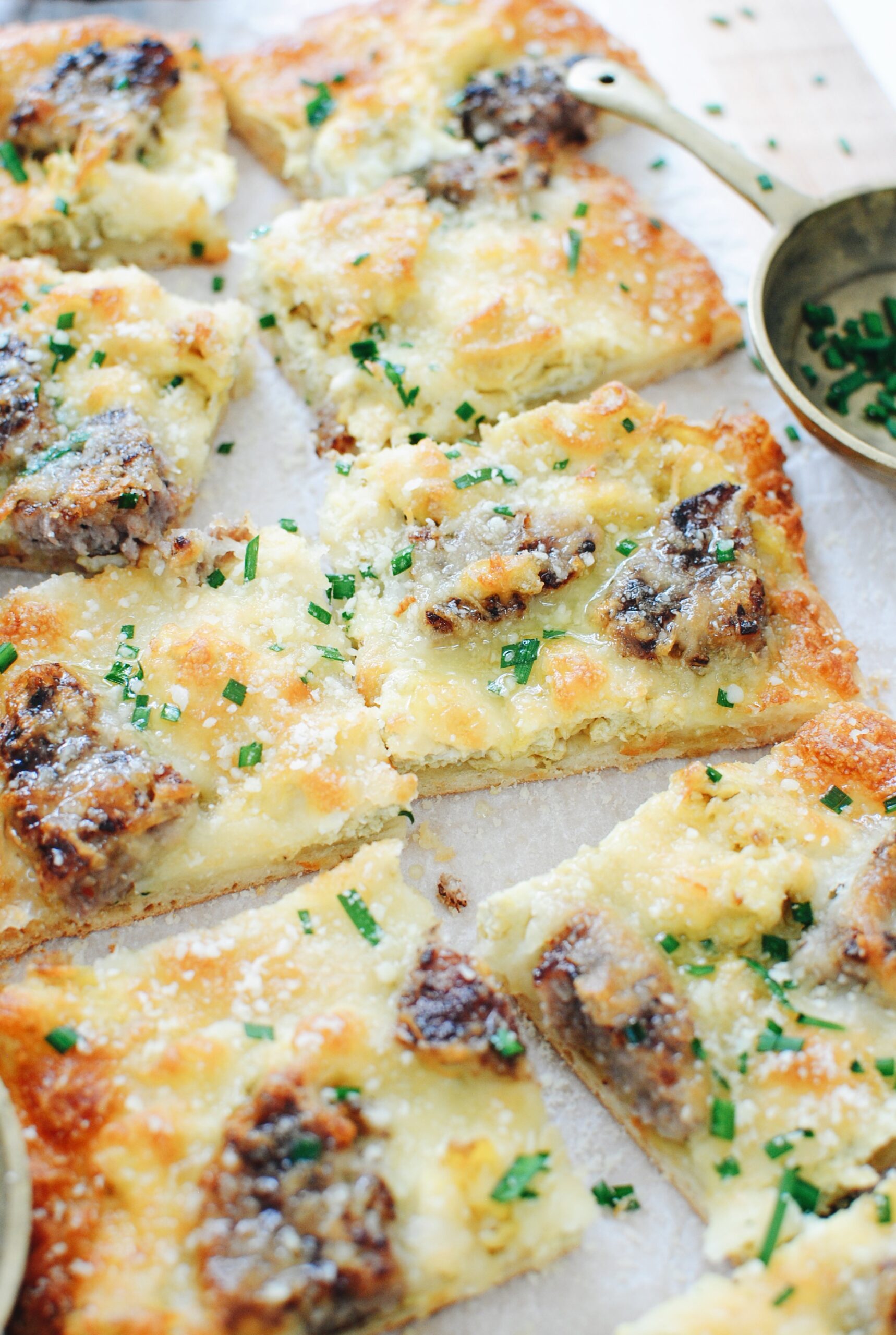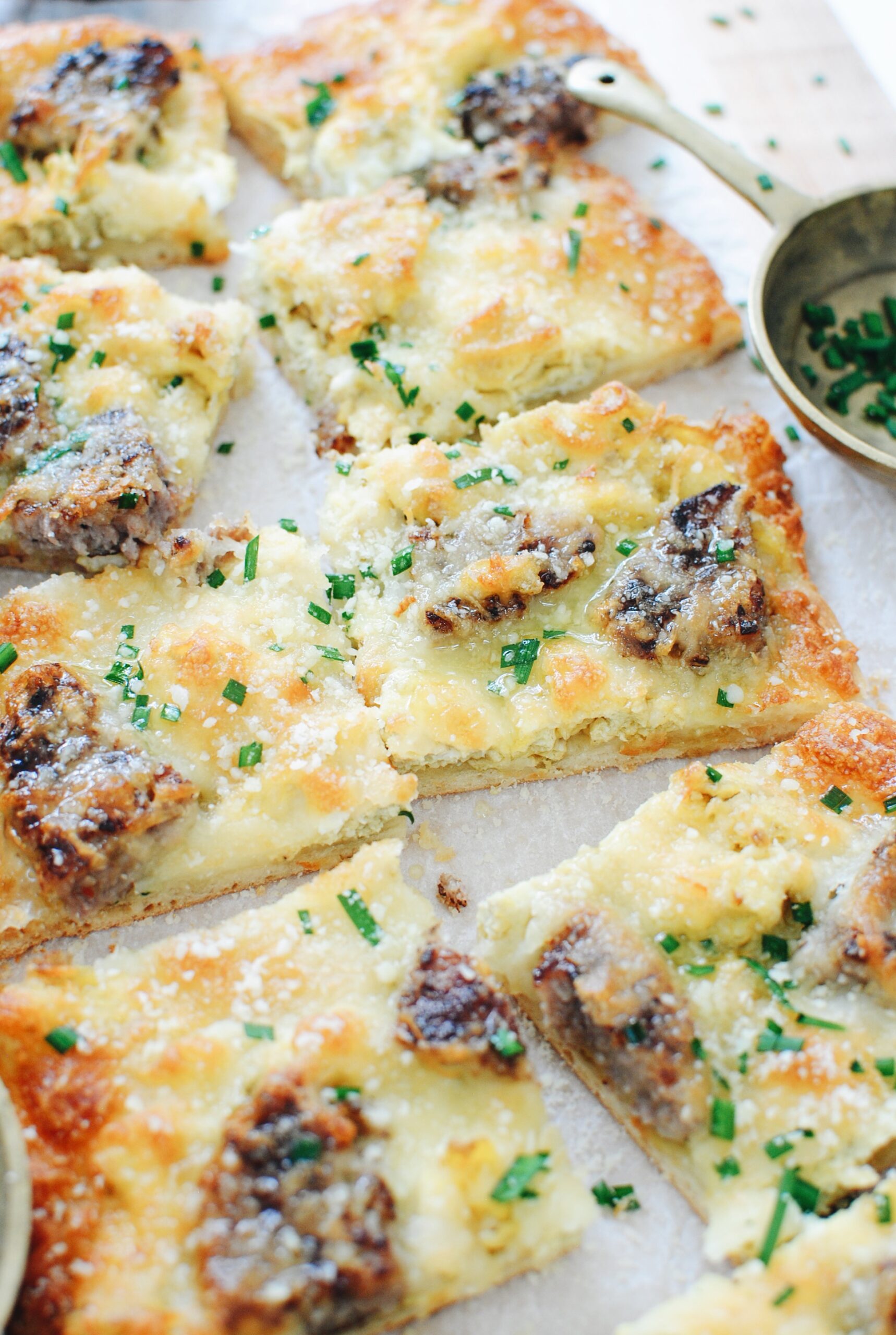 And you know, this is not gourmet at all. But if you need it to be, add some garlic or shallots to your eggs! Swap in a fancy pants Fontina or Gruyere cheese.
I prefer it this side of simple because sometimes that's what breakfast is. And it's totally fine.
It also makes an unexpected weekend breakfast if you want to surprise your spawn before they get up. If they sleep late that is. Mine do not. Mine . . . do not.
Look, there's so much flavor with the sausage. The eggs are creamy and soft under all that cheese, and the flatbread makes the shoveling vessel that much better.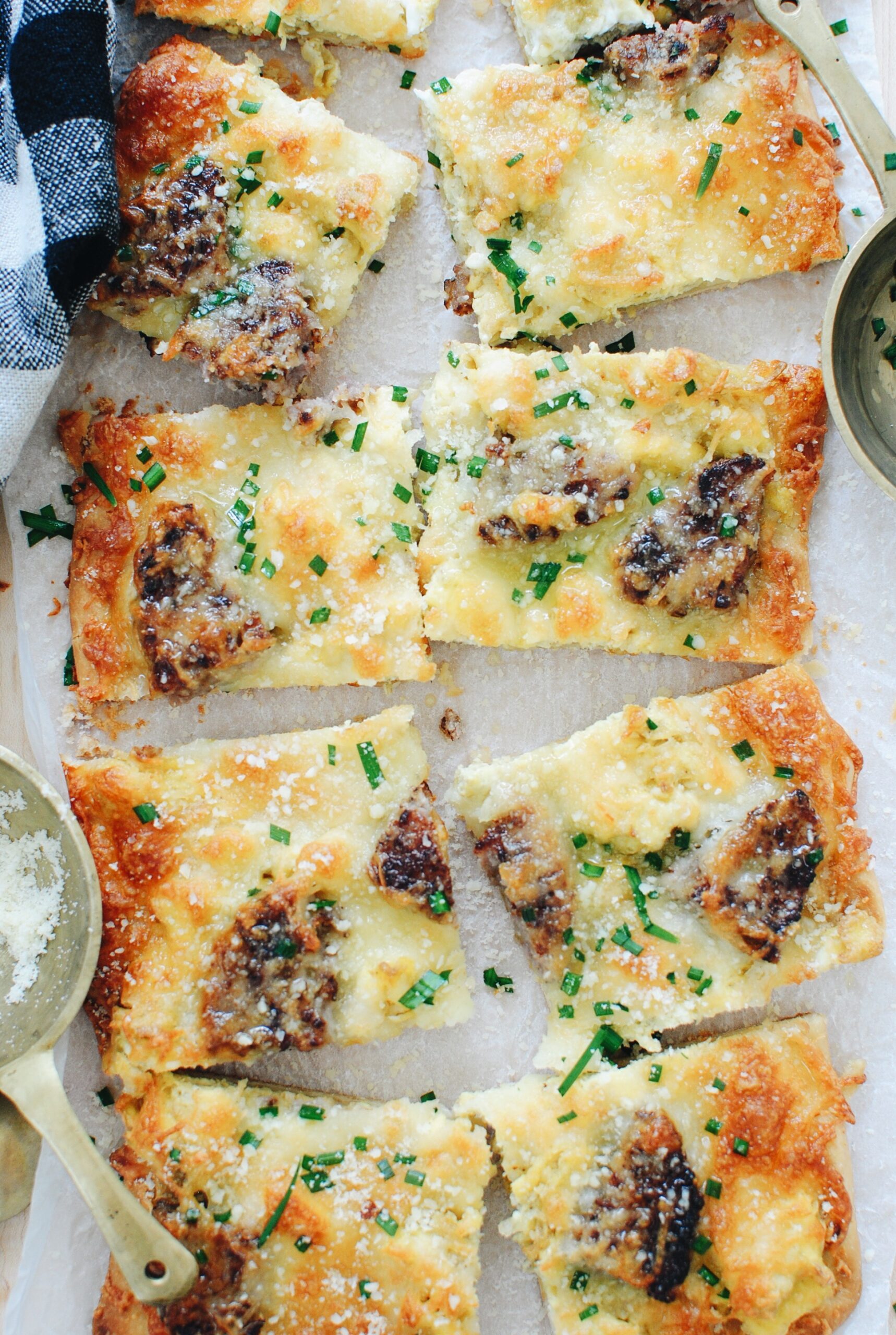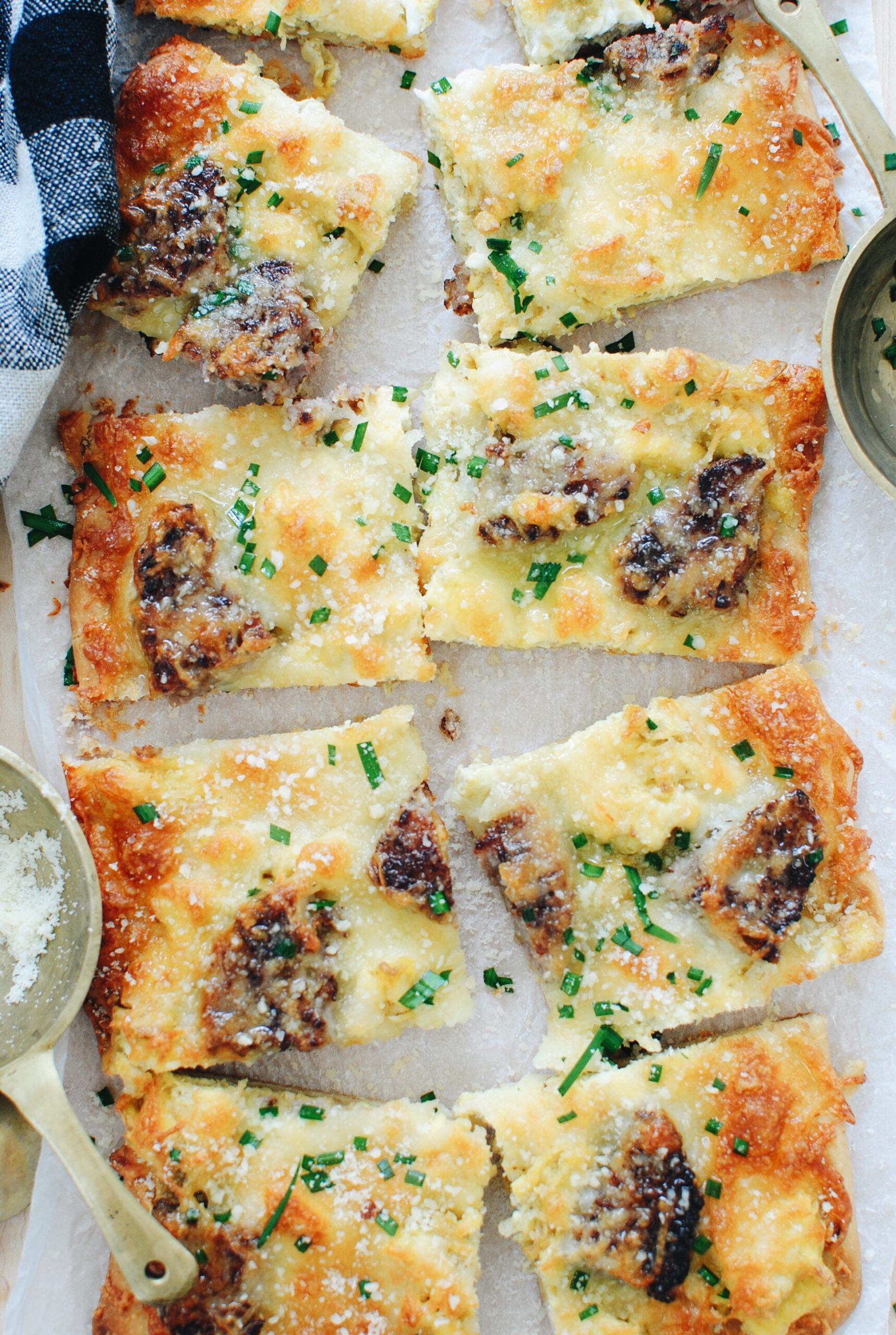 Make this and send me photos stat!
Breakfast Flatbread with Sausage and Eggs
Ingredients
1 (6x13) flatbread (or any flatbread you can find)
1-2 Tbs. extra-virgin olive oil
3 breakfast sausage patties
3 eggs
1 1/2 cup Italian six-cheese blend
Chopped chives and parmesan cheese, for garnish
Coarse salt
Instructions
Preheat your oven to 350.
In a small skillet, heat a Tbs. oil over medium high heat and sear your sausage on both sides until browned. Remove from the skillet and cut into quarters.
Back in the skillet, add the other Tbs. oil and scramble your eggs until they're just set. (I whisked them in a bowl first with a pinch of salt.)
Place the flatbread on a rimmed baking sheet, and brush a little oil over the top. Sprinkle a little cheese on it, along with the sausage and eggs. Sprinkle more cheese on top.
Bake for 20 minutes, or until the cheese is browned and starting to bubble in places.
Garnish with chives and parmesan, slice and serve immediately!
Makes ten small squares.
7.8.1.2
524
https://bevcooks.com/2021/09/breakfast-flatbread-with-sausage-and-eggs/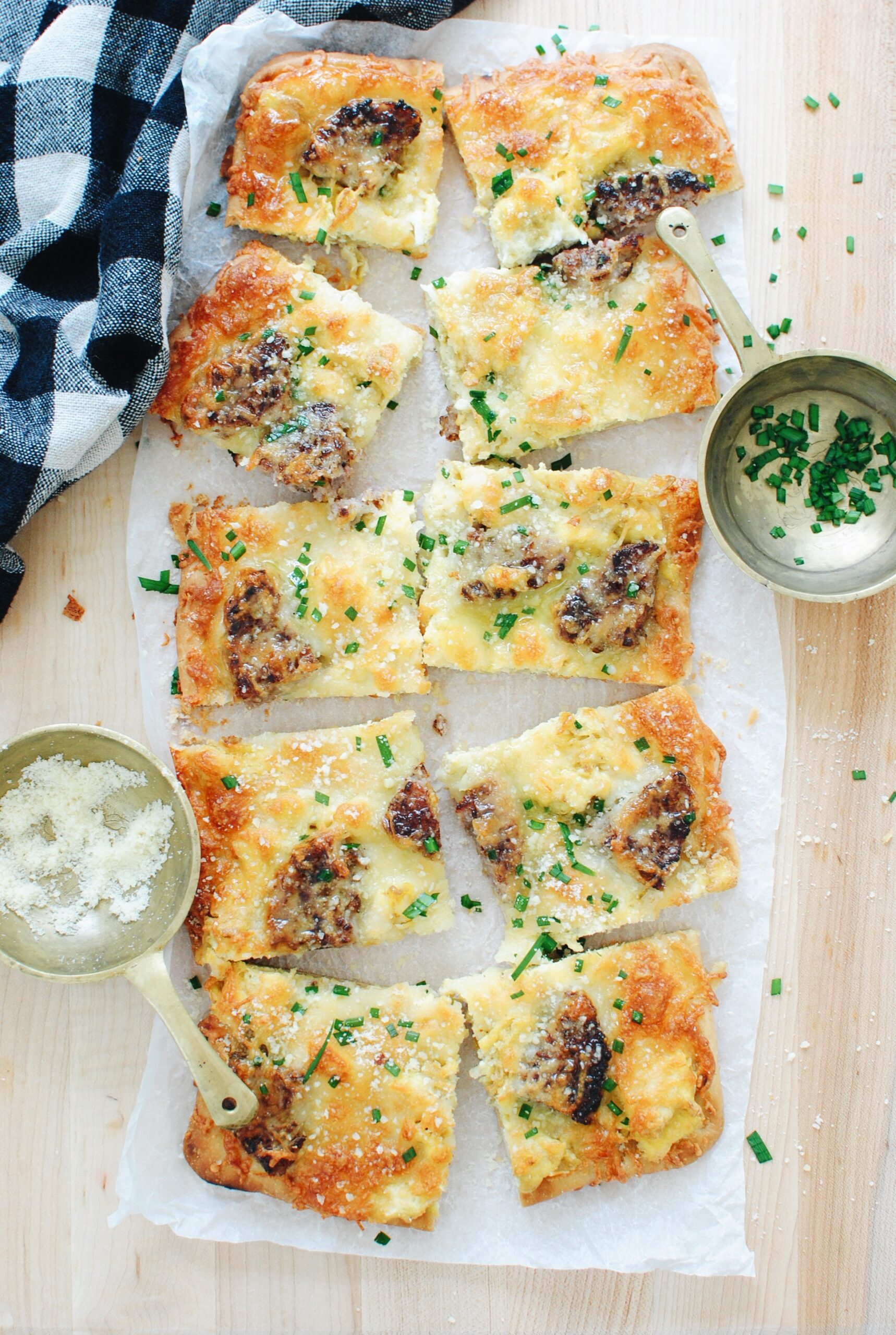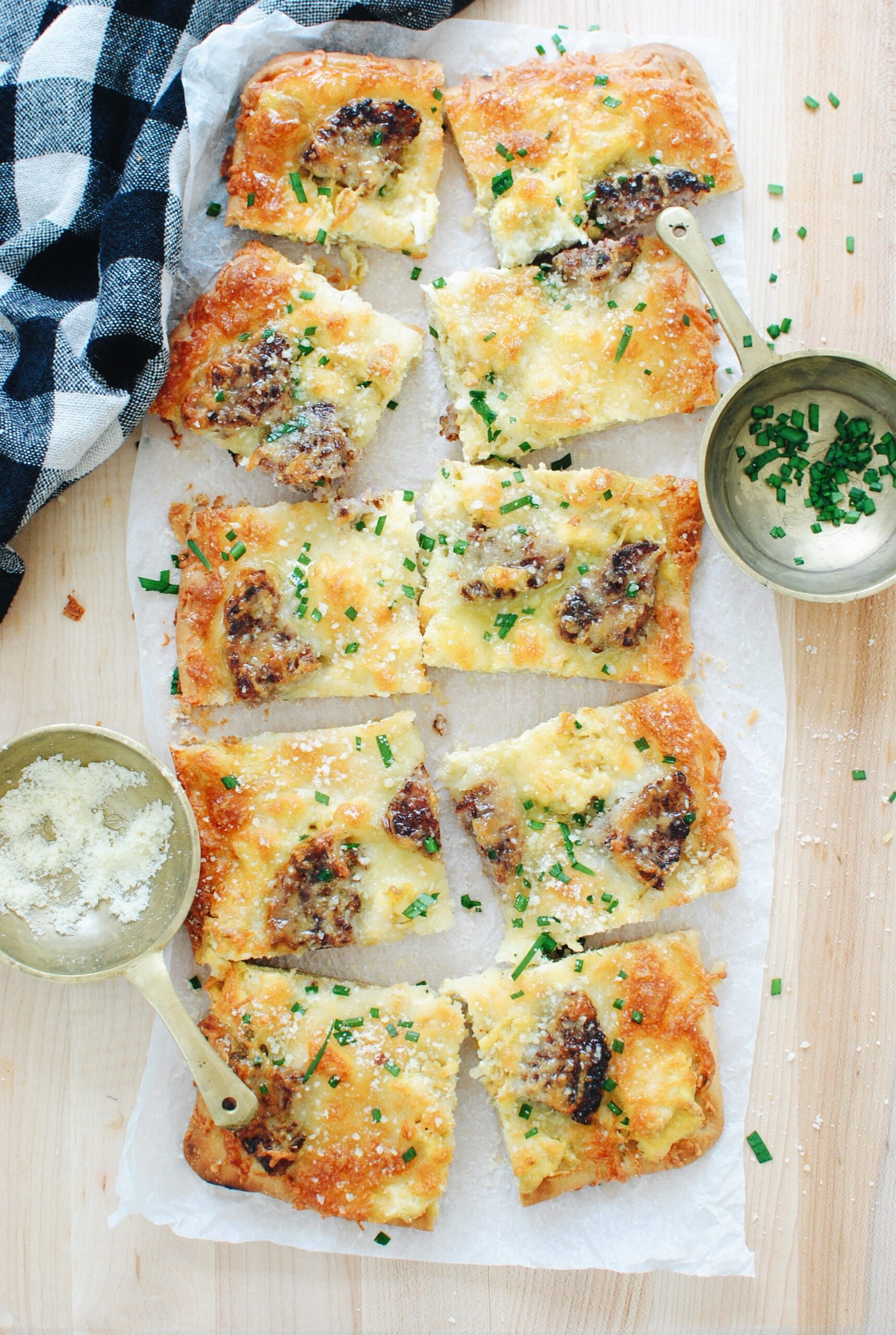 It's such a fun fall breakfast. Or an anytime breakfast. Or a now breakfast.