Seriously, come here.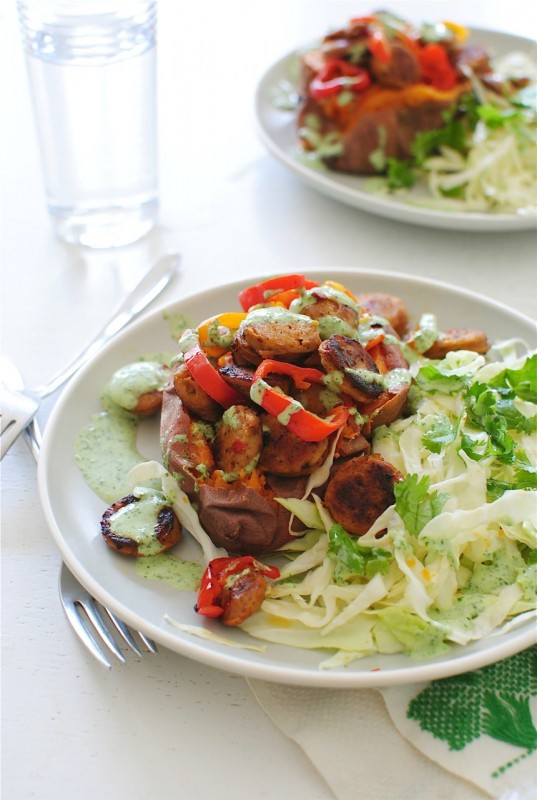 We all know I'm not at all known for being overly dramatic, and I hardly ever use all caps, because I'm classy like that, but WHOOOOOOA, NELLY. I cannot TAYELL you how bonkers ridic this is.
And so simple! You might not think that a basic baked sweet potato spit and piled with seared chicken sausages and sweet peppers would take your mouth very far in life, but you'd be dead wrong, my sisters and brothers. Dead.wrong.
It's not even that though. You see that tantalizing creamy cilantro drizzle pretty much bathing this meal? YOUWILLDIE. Absolute game changer for anything you put in your face for the rest of your life.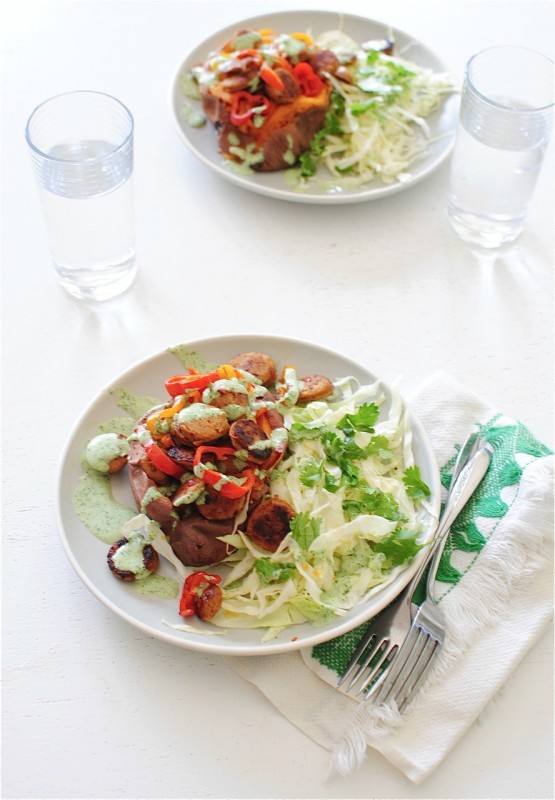 The story behind this meal? So, my good friend Stephanie's completely killing this whole "getting wholed up" thing. It's basically a Paleo diet, I think. You know Paleo, that famous ancient Greek philosopher. Aristotle, Socrates, and Paleo. He's big time, you guys. Super smart.
A lot like me.
Anyway, I've been obsessed with following her progress on Instagram, getting a glimpse into this pretty inspiring way of eating.
I could never go straight Paleoluto, 'cuz I love mah cheese. But the rest? Hells bells, yeah.
ALSO, before I get ripped up, I didn't make the dressing Pluto, because it has Greek yogurt and sour cream in it. But I think Pluleo wouldn't mind this one time. He was Greek, after all.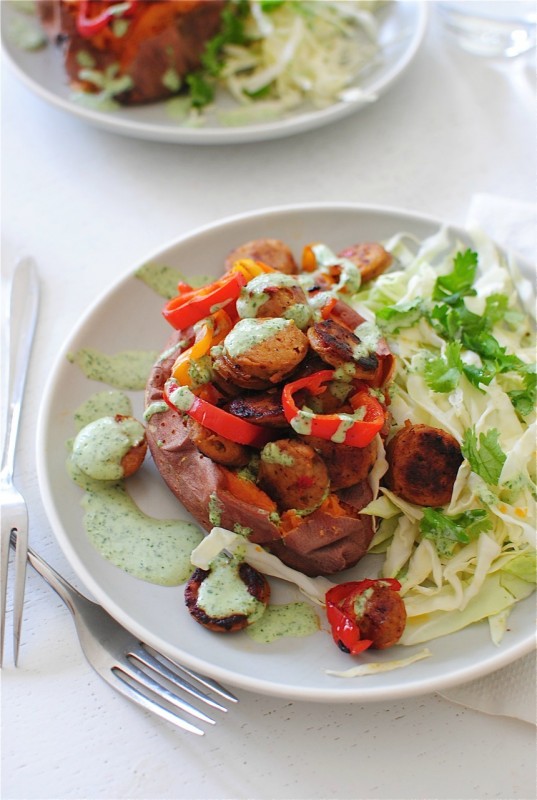 #philosophy
Baked Sweet Potatoes with Chicken Sausages, Sweet Peppers and a Cilantro Sauce:
What it took for 2:
* 2 sweet potatoes
* 4 links chicken sausages (whatever flavor you can't live without), sliced into 1/2 inch pieces
* 4-6 mini sweet peppers (orange, red, yellow), stemmed and sliced
* 2 cups shredded green cabbage
* 1/2 cup Greek yogurt (or a mix of yogurt and sour cream)
* juice from 1/2 a lime
* 1 cup cilantro
* pinch of salt
Preheat oven to 400.
Fork the potatoes all over and bake on a rimmed baking sheet for 1 hour. Longer, if needed.
Bring a Tbs. of oil to a medium-high heat in a sauté pan. Add the sausages and brown on both sides. Add the peppers and sauté another minute or two.
In a food processor, combine the yogurt, lime juice and cilantro. Season with a tiny pinch of salt and puree until smooth. Taste that. You will DIE. If you want it creamier, add more yogurt or sour cream. If you want it thinner, more lime juice!
Slice potatoes open and load up with sausages and peppers. Serve with the shredded cabbage and drizzle everything with the cilantro sauce. Garnish with extra cilantro. Gosh dang.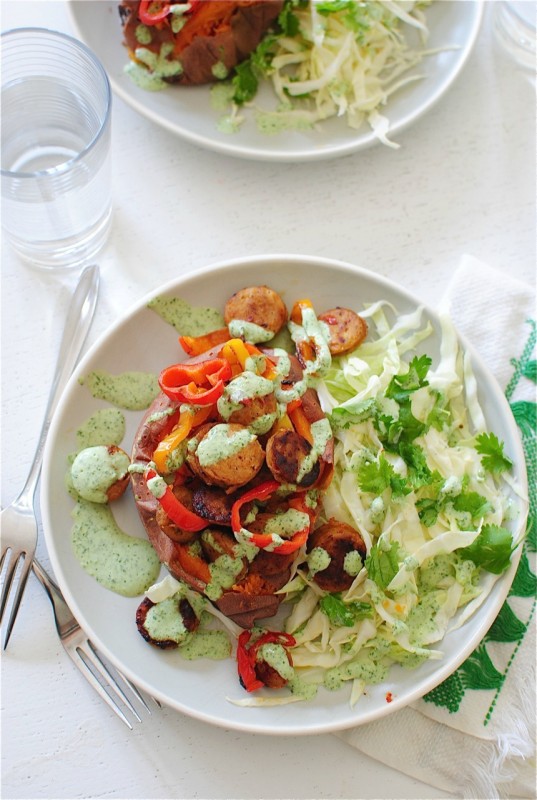 *make a big jar of that cilantro sauce and just toss it back.