Now this is a salad.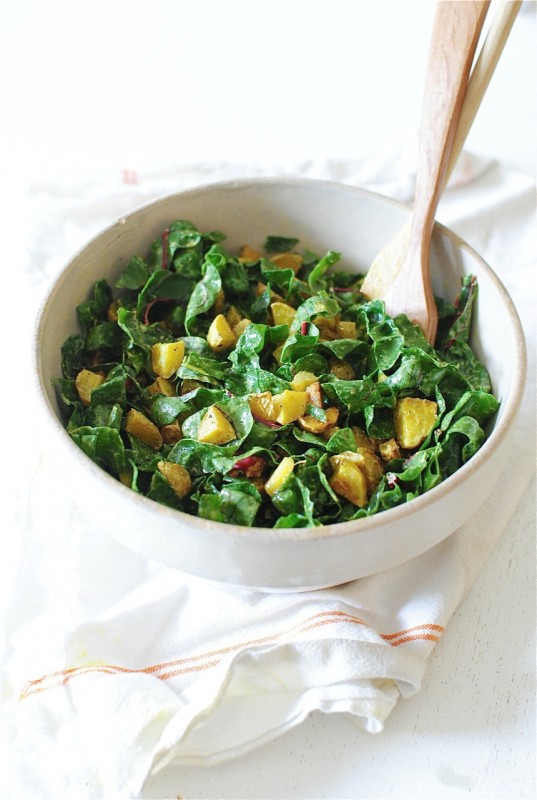 But not like salad salad. More like SALAD, BABY.
Actually, when I made it, Aaron and I tasted it together and I said, "It's hearty! Definitely could be a side dish." But he spoke right at the same time and said, "Whoa! This is definitely more like a salad." So if you heard us it would have sounded like this, "It's whoa hearty this definimorecouldlibeasaladsidedish."
Aren't you so happy for us?
I can't wait for you to make it BECAUSE of so many things.
a) tiny baby buttery golden potatoes cut into a small dice and roasted with a kiss of Indian spices.
b) ribbons of rainbow chard lightly wilted under the touch of fresh lemon and silky yogurt.
c) let the infection dry out as much as possible before applying the ointment to the diaper ras – oh. Wait. Oh gosh. I'm so sorry. That was meant for . . . something else. How embarrassing!
And you're never ever going to make this dish.
Anyway, this salad/side dish whathaveyou is going to rock your face off. The combination of warm spiced potato nibblets with the raw swiss chard and the bursts of fresh lemon GOSH. You could totally serve it with a succulent roasted chicken, a side of seasonal veggies and a vat of chocolate pudding.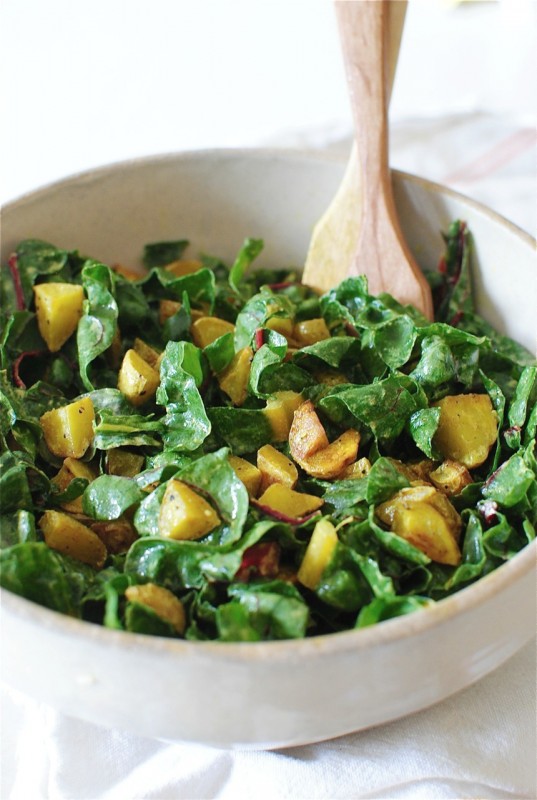 My work here is done.
Indian Roasted Potato Salad with Swiss Chard:
What it took for 4 – 6:
* 1 1/2 pound baby golden potatoes, halved and/or quartered
* 1 Tbs. extra-virgin olive oil
* 1 Tbs. ground turmeric
* 1 tsp ground cumin
* 1 tsp garlic powder
* pinch salt and pepper
* 1 large bunch swiss chard, shredded (or cut into thin ribbons)
* 2 Tbs. Greek yogurt
* 2 Tbs. extra-virgin olive oil
* 2 Tbs. lemon juice (more if desired)
* pinch of salt and pepper
Place the diced potatoes on a large baking sheet, covered in foil. The turmeric stains, man! Toss with the oil, turmeric, cumin, garlic powder, salt and pepper. Slide into a 400 degree oven and roast for 30-40 minutes, or until browned all over and tender, tossing halfway through.
In a small bowl, whisk together the yogurt, remaining oil, lemon juice, and a pinch of salt and pepper.
In a large bowl place the ribboned chard and roasted potatoes. Drizzle with the lemon dressing and toss to coat.
Serve garnished with fresh parsley or basil, if desired. (or chunks of good bacon!)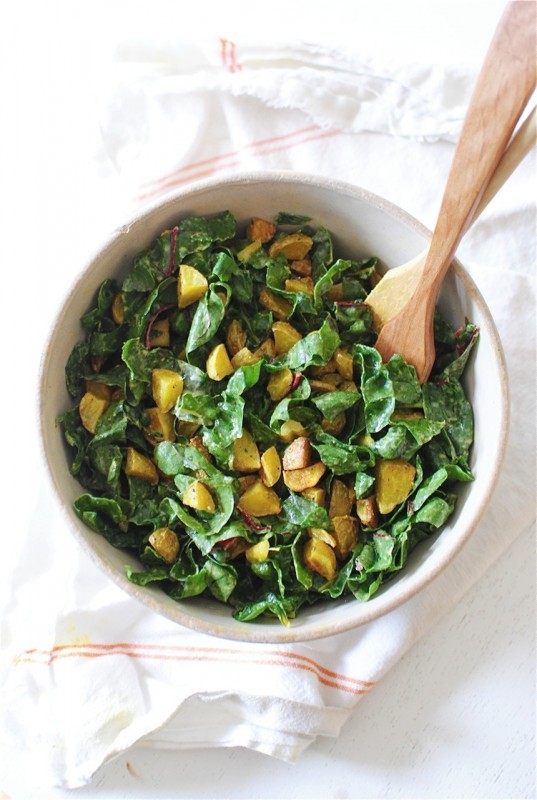 Diaper rash not included.