From a distance that looks like shredded parmesan, doesn't it?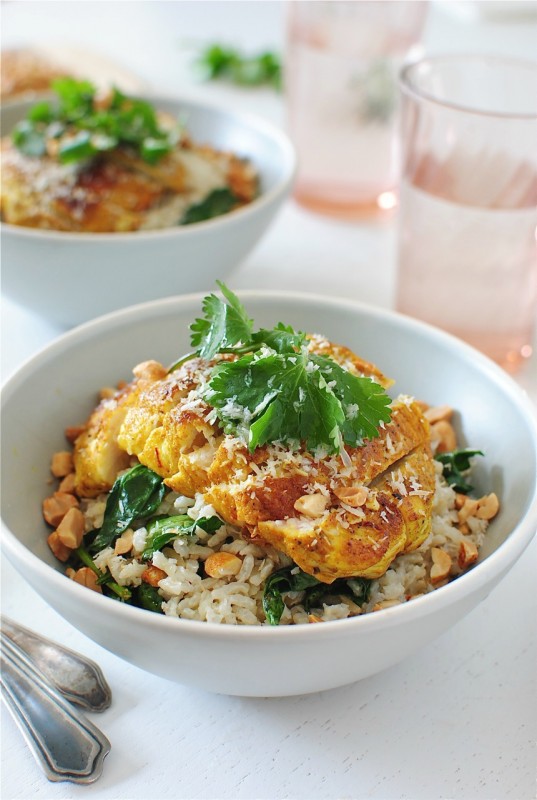 "From a distance, the world looks blue and green, and the snow-capped mountains white."
I always hated that song. Bette sure is a fan of singing about eagles. Have you ever noticed?
"From a distance the ocean meets the stream, and the eagle takes to flight."
"I can fly higher than an eagle, for you are the wind beneath my wings."
I do realize this blog post is going downhill fast.
Okay so come here. Lean in just a little closer. I have to tell you something. Little closer. Just a tad closer. Wee bit clos -okay that's too close I have no idea what you think you're doing right now.
Fastest and simplest Indian food ever.
It's "Indian" in a pinch.
It's Pindianch.
It's curry.
Look, I'm already at the bottom of the hill, JUST LET ME BE.
Coconut/cilantro rice in the rice cooker. Seasoned and seared chicken. Sautéed kale. Fresh lime. Toasted shredded coconut. Chopped peanuts. Giddy pants.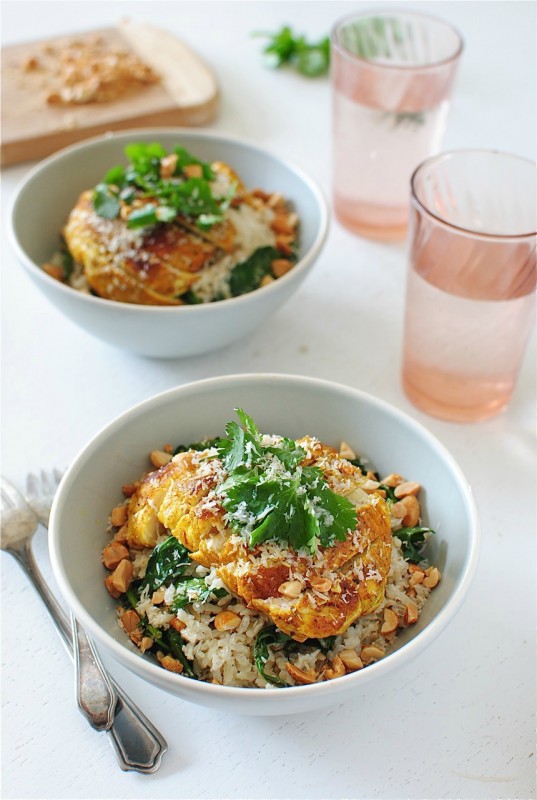 Feels really good at the bottom of this hill, actually. I think I'll hang curtains. Then I'll invite you over because it's no fun seeing it FROM A DISTTAAANNNCEEEEE.
(Fired)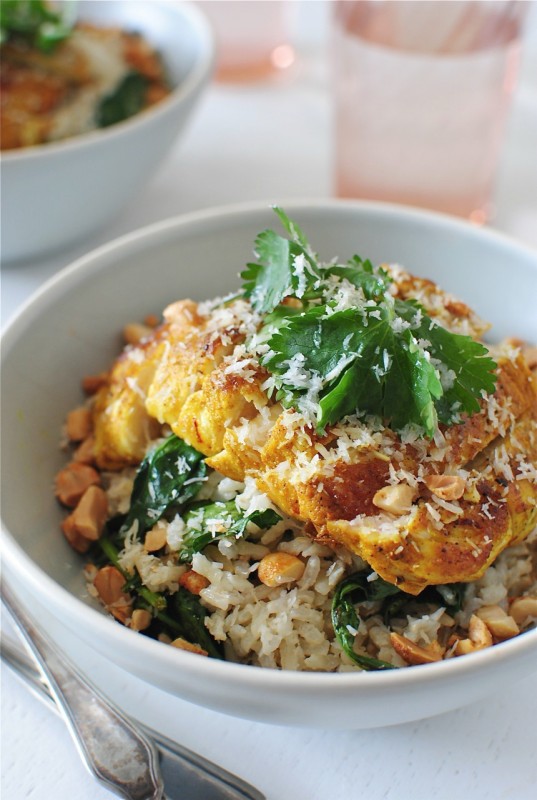 Make and eat this yesterday.
Seared Indian Chicken over Coconut Rice:
What it took for four:
* 1 cup jasmine rice
* 1 (15oz) can coconut milk
* 1/2 cup cilantro leaves, plus more for garnish
* 2 limes
* 2 Tbs. extra-virgin olive oil, divided
* 2 chicken breasts, cut in half lengthwise, making 4 cutlets
* 2 Tbs. Indian curry powder
* 4 cups baby (or chopped) kale
* 1/2 cup (or as much as you want) shredded coconut, lightly toasted
* 1/2 cup (or as much as you want) chopped roasted peanuts
* coarse salt and freshly ground pepper, to taste
In a rice cooker, combine the rice, coconut milk, and cilantro. Cook until you hear the beep. Add the juice from one of the limes and fluff it with a fork. Season with a small pinch of salt.
Heat a Tbs. oil in a large sauté pan. Sprinkle the curry powder on both sides of the chicken. Season with salt and pepper as well. Sear the chicken cutlets on both sides until cooked through, about 6 minutes total. Remove from pan and tent to rest. Thinly slice.
To the pan, add the remaining Tbs. oil and the kale; wilt.
Add the kale to the rice and toss to combine.
Serve chicken on the wings of an eagle (or over the rice) and top with toasted coconut, peanuts, cilantro and more lime wedges.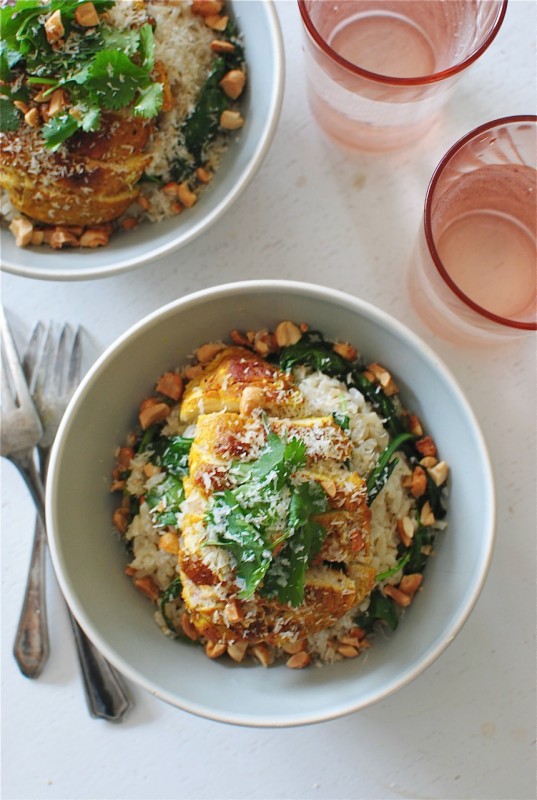 p.s. more coconut, please.