Oh Lord, we're crafting.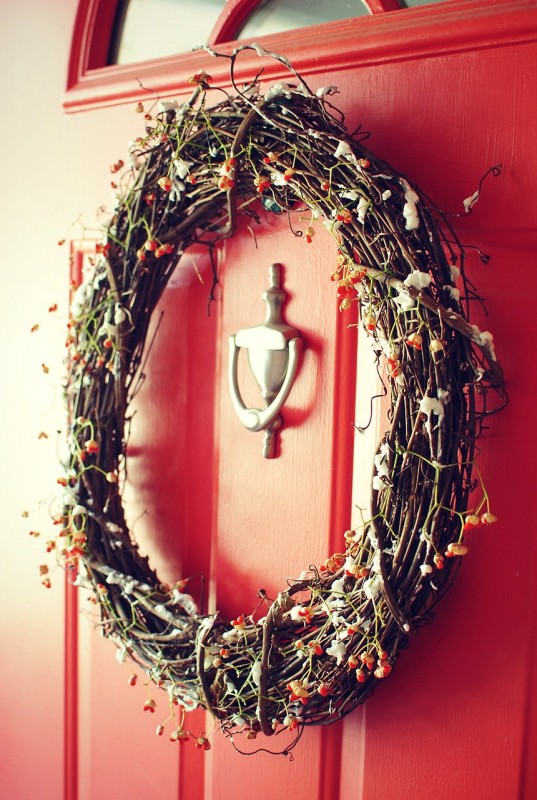 But hark! Before you volunteer to spend the night on a brown recluse farm, you should know that this craft is super weird and actually quite simple.
Fake snow. I mean yes, you can buy it already made, but where's the CHRISTMAS SPIRIT IN THAT?
I must admit, I'd never made fake snow until this weekend. It is the nostalgic recounting of my husband's childhood that brings this craft post to the bevcooks.com internet url blog website. He grew up with sisters and apparently, the greatest joy in all their lives was to plaster the poor tree with so much fake snow, it looked like a Christmas iceberg.
So of course we have to relive it.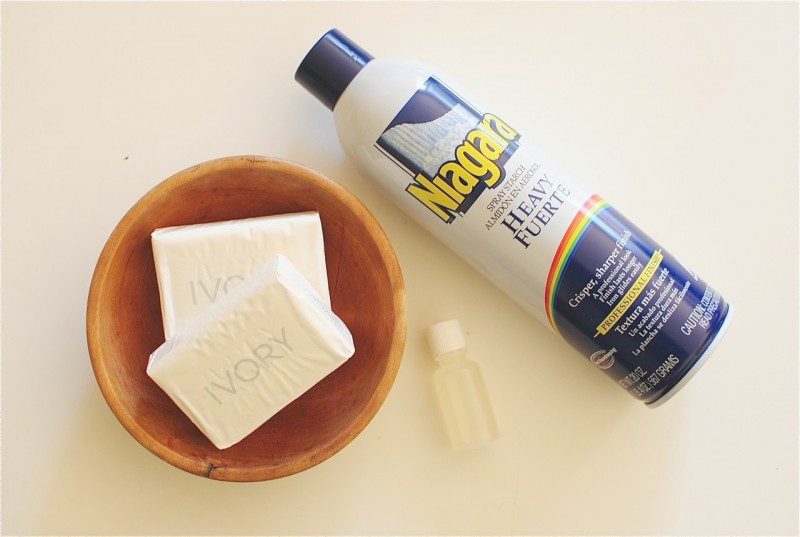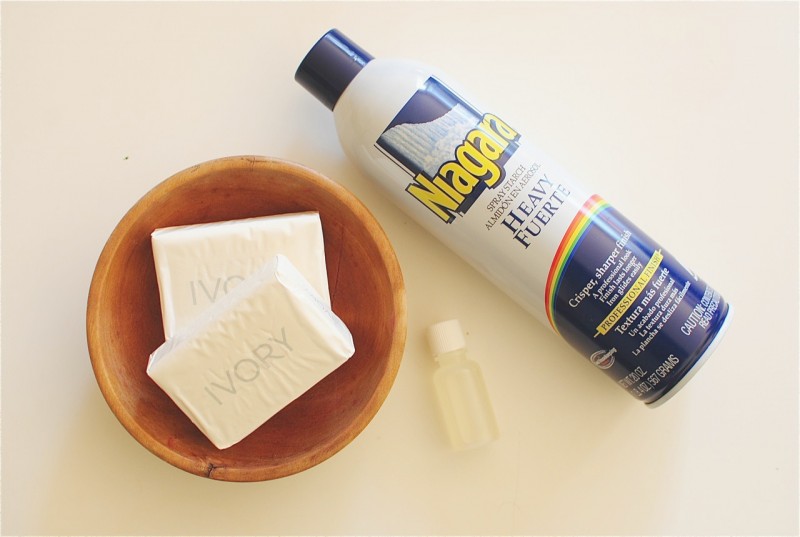 So it's pretty basic stuff. You have Ivory soap, spray starch and some cinnamon essential oil. Or you can use evergreen oil, orange, clove, whatever smells like Christmas to your nose holes. You need the oil because you don't want your entire life to smell like soap. And it will. Smell like soap. Because you're using soap.
So step one: grate the soap! And like every good cook, be sure and taste as you go.
Step two: spray about 1/2 cup of the starch in a large bowl. It will fizzle and foam, so just eyeball it.
Step three: add the grated soap to the bowl and squirt as maaaaany droplets of oil into it as you want. Seriously, it's really soapy. Keep squirting.
Step four: add three Tbs. hot water to the bowl and then beat the mix with a hand mixer until it foams up like whipped cream. It's going to have little soap chunks in it, but that's okay. You're still a good person. Santa knows it.
Step five: go outside and practice on some dead plants so that you don't screw up your entire project on your blog and lose readers and friends forever.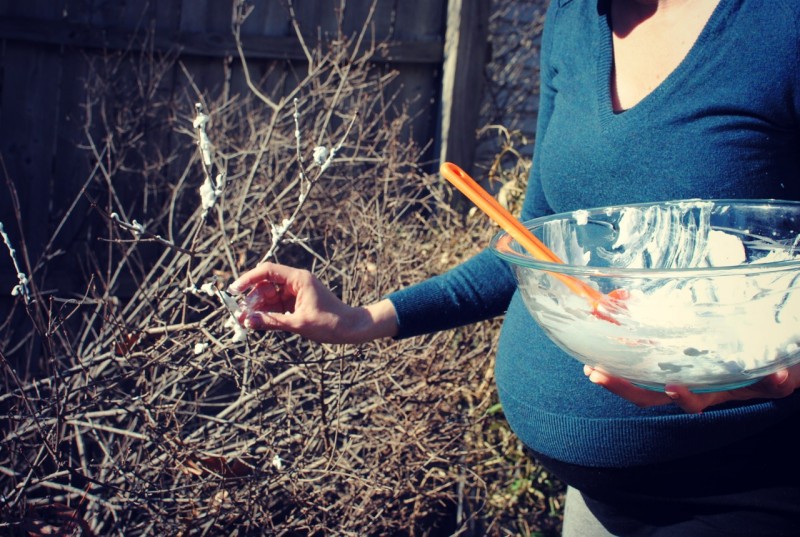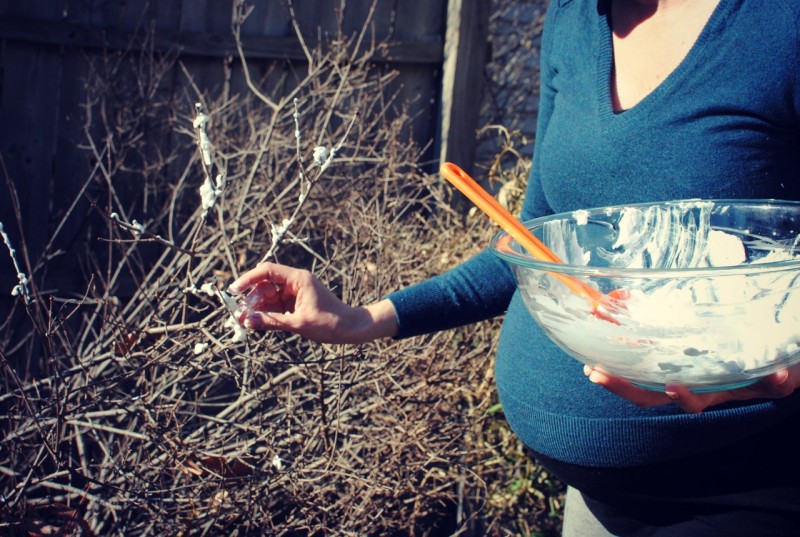 Not too bad! Do you think I'm ready for the big leagues?
You can keep that to yourself.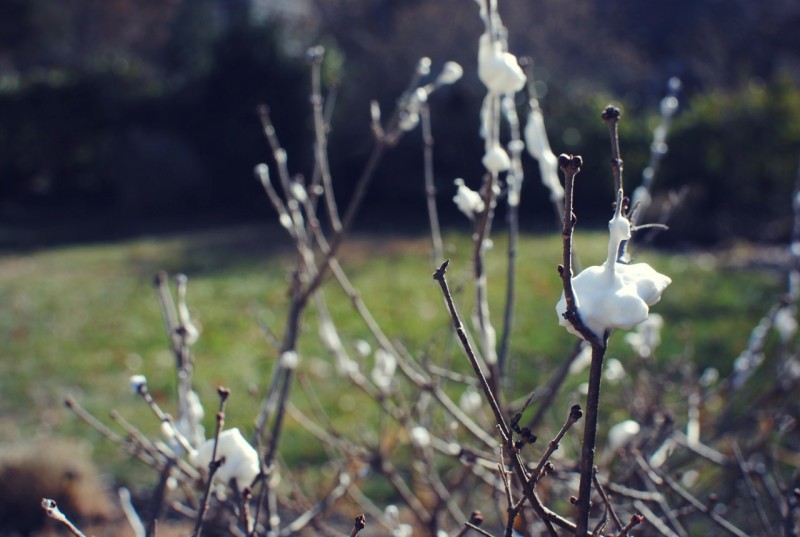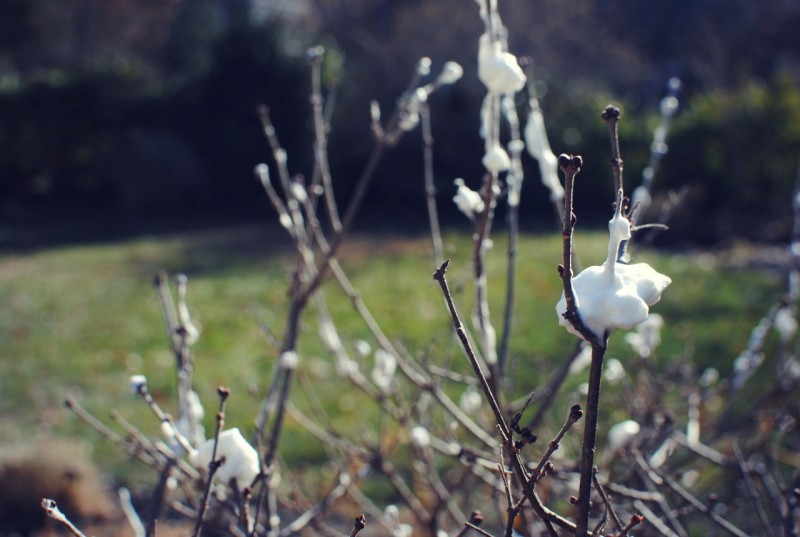 Step six: lightly coat and dollop whatever it is you want to fake snowify! It will harden as time goes on, so you don't have to worry about constantly leaning into wet whipped snow cream.
That was a really awkward sentence.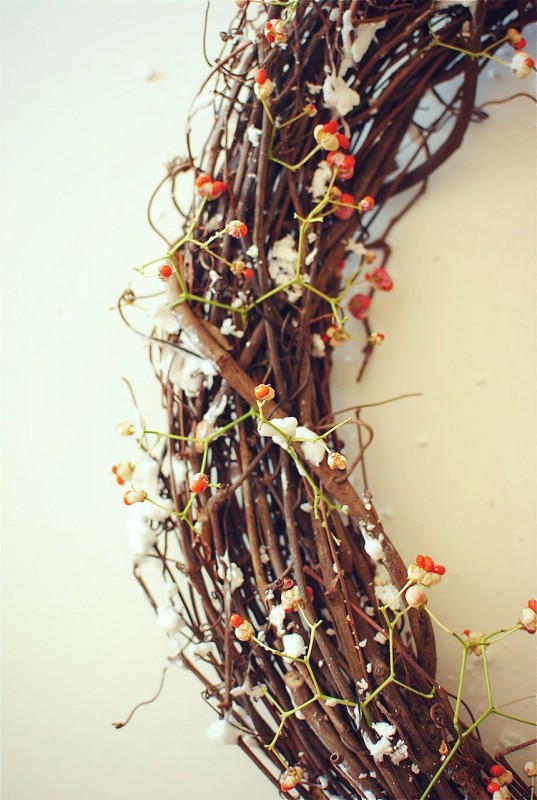 We bought a cheap vine wreath from Hobby Lobby and added berries from our back yard.
I ate a few berries to make sure they tasted like Christmas.
I'm just kidding.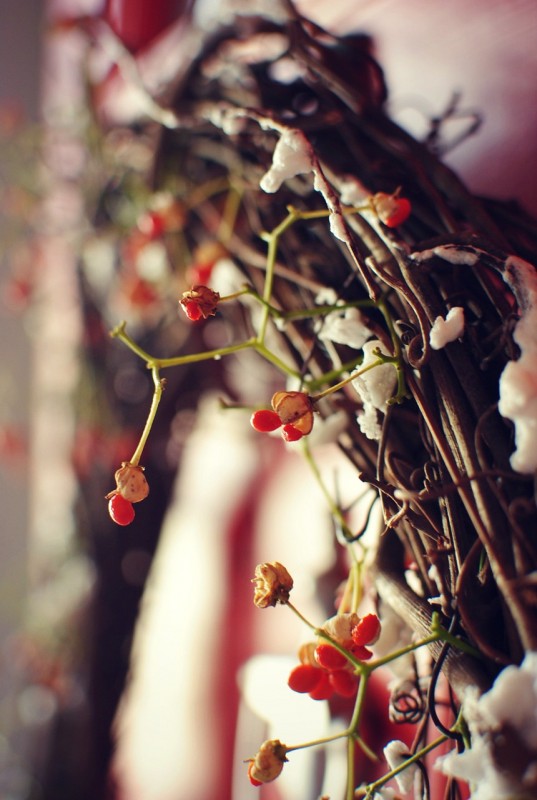 OHHHH THE WEATHER OUTSIDE IS (FAKE) FRIGHTFUL.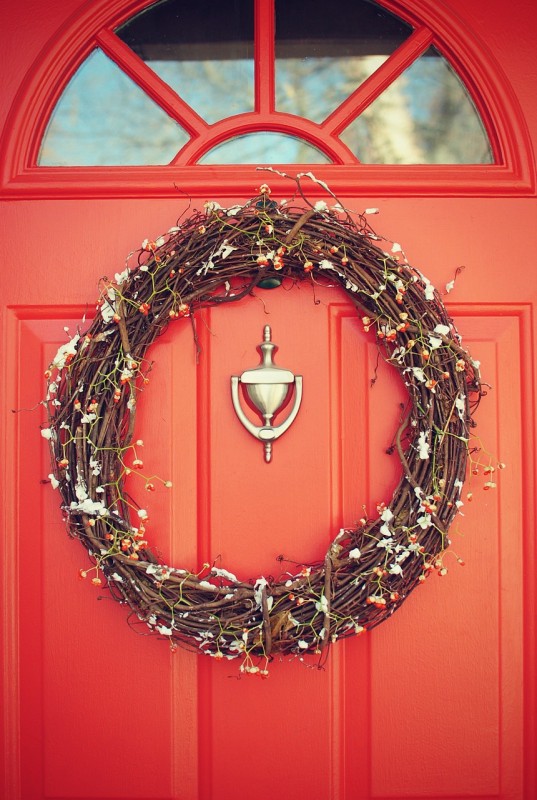 Wasn't that fun?
DIY Ivory Snow:
What it took for 3 to 4 cups of snow:
* 1 Ivory soap bar
* spray starch
* 3 Tbs. hot water
* as many drops as you need of cinnamon essential oil (or orange, or evergreen, whatever smells like Christmas to ya)
Grate the bar of soap just like cheese!
Spray about 1/2 cup of the starch into a large bowl. Add the grated soap, hot water and the scented oil. I kept adding oil because it smells pretty soapy.
Using a hand mixer, beat the mix until it looks like whipped cream with little chunks in it. It will foam up a bit. Pretty nifty. Smell it and add more oil if needed. Do a little more beating as well.
Using your fingers, lightly dollop your tree, wreath, or child's face with the fake snow.
Just kidding on the child's face thing I just said.
I think?
Keep dolloping until you feel the spirit of Christmas in your heart. (gross)
As a quick alternative, place a small chunk of soap on a plate and microwave it for 20 to 30 seconds. It will seriously expand and grow and inflate all huge and weird. The result is a more crumbly snowy look, almost powdery. So you'll have a little sweeping to do. But it's still fun!
Just look at this.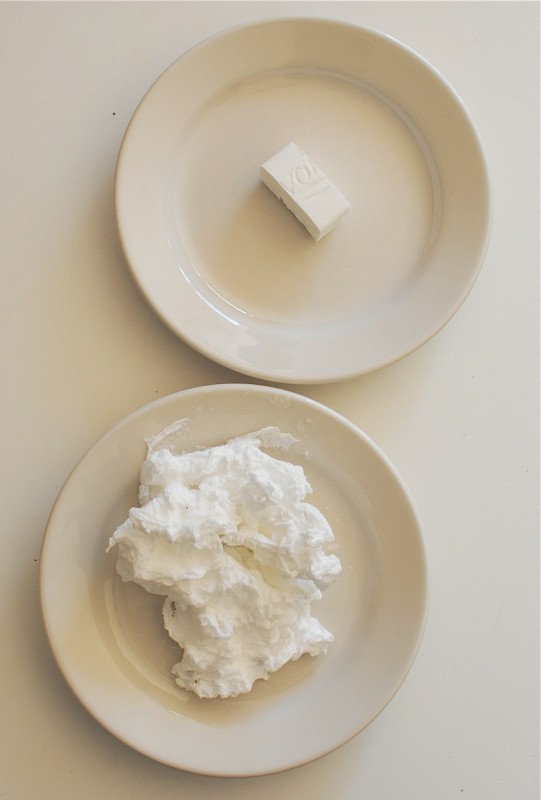 Whaaaat.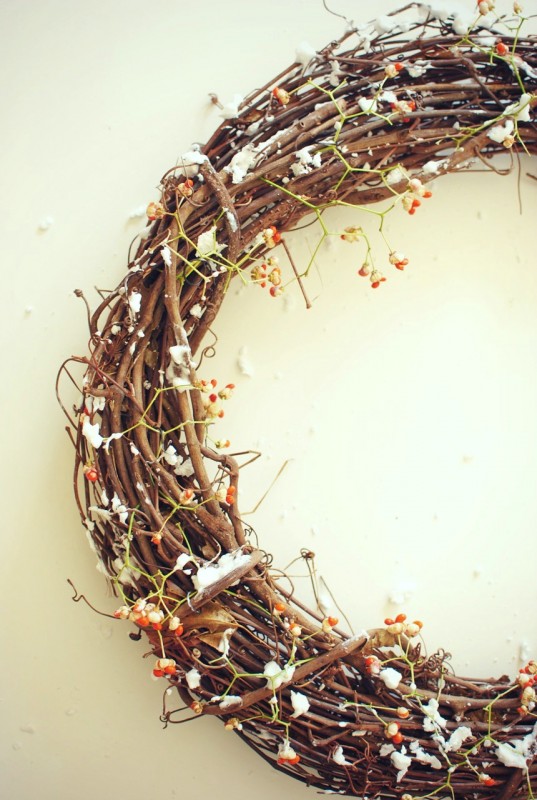 Santa wants you to get crafty.