I'm so excited about this salad I'm going to scream.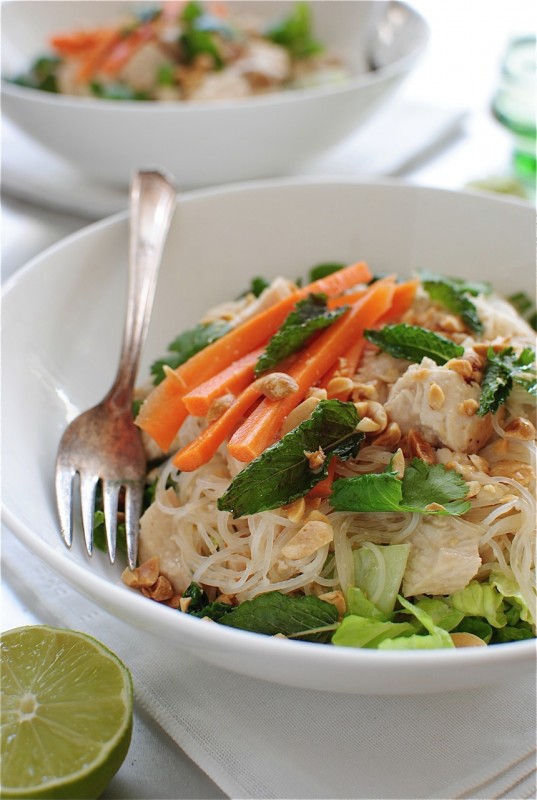 But it's the dressing I'm most screamy about. Matter of fact, I'm writing Scream part 427 right now, and it's all about the dressing.
Remember at the beginning of the year when I made these Open-Faced Thai Peanut Chicken Sandwiches and I freaked my entire face and lifehole? Well, It's been all I can do not to write an entire love album about that stupid sauce.
It was a sauce in that meal, and it's a dressing in this one. TRICKSTER, I AM.
I love this dressing so dang much because of all the coconut milk. I swear, I would hook up a beer hat with tubes inserted into my mouth and fill it with coconut milk if I could.
IDEA: What if I Vined it? Would you watch? Would you cheer me on like I'm a frat dudette at a ragin' summer Cancun party? Never mind, this is a horrible idea. I'm so grossed out right now.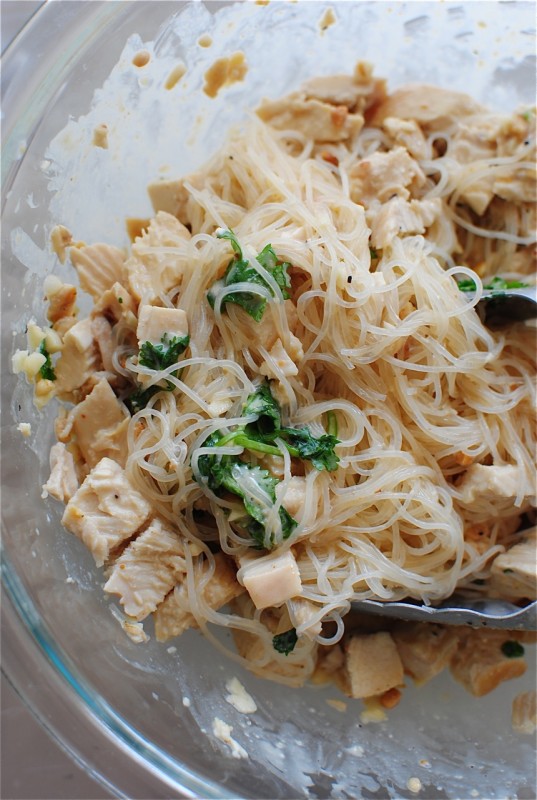 It's not even just the coconut milk that has me sweaty. It's the chunky peanut butter, the fresh garlic, the 13 gallons of lime juice, the hints of soy and fish sauce (don't be a sissy), the freshly chopped cilantro ohhhhhh I can't AYVAN DAYALE.
All tossed with the cooked and cooled vermicelli noodles, tiny chunks of seared chicken, little cute carrot sticks, fresh mint sucker punches to the face, and chopped peanuts? And romaine lettuce? I mean, good grief.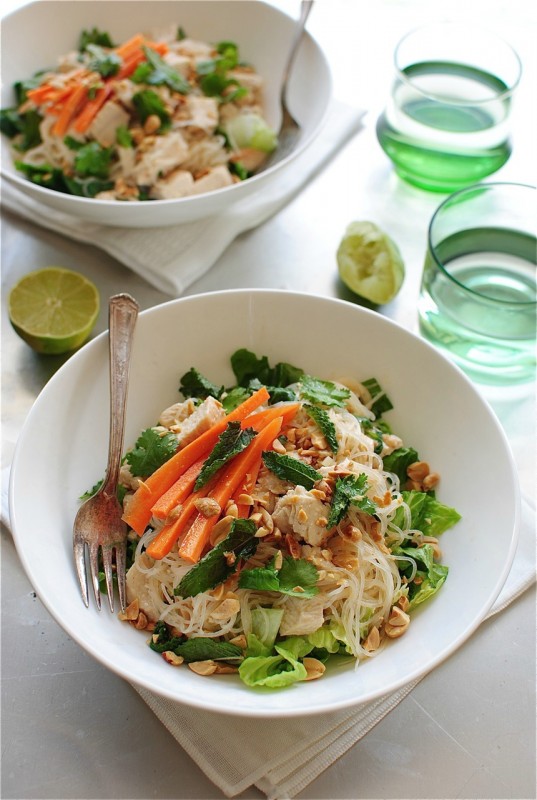 Box. Office. Hit.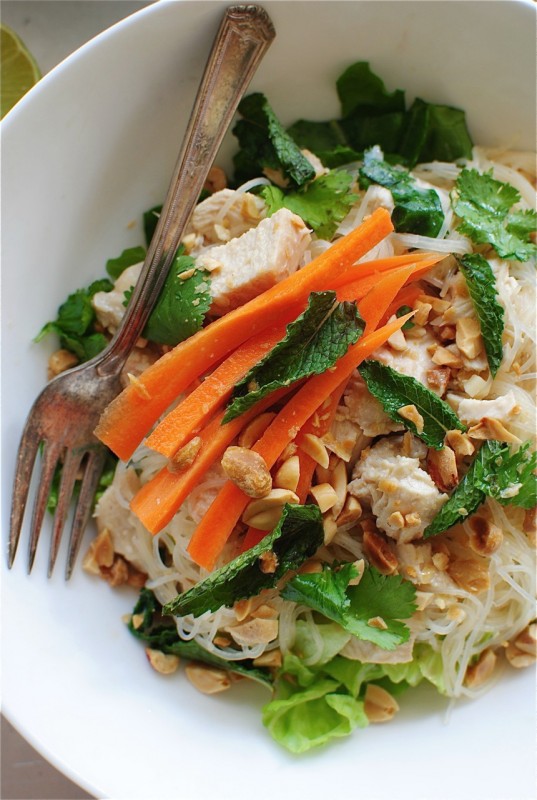 Did I tell you about the dressing?
Thai Peanut Chicken Salad:
What it took for 2:
* 1 Tbs. extra-virgin olive oil
* 1 large chicken breast, cut in half (or two smaller breasts)
* 5 Tbs. coconut milk
* 3 Tbs. peanut butter (I used chunky, but it's whatever you prefer)
* 2 Tbs. soy sauce
* 1 tsp fish sauce
* 2 cloves garlic, minced
* 1/3 cup chopped cilantro
* juice from one small lime
* 2 bundles vermicelli noodles
* 4 cups freshly chopped romaine lettuce
* 1/3 cup fresh mint leaves
* 1 large carrot, thinly sliced
* 1/3 cup chopped peanuts
* coarse salt and freshly ground pepper
Heat the oil in a large sauté pan over medium-high. Season the chicken with salt and pepper and sear (covered) on one side for 6 minutes. Flip and sear (covered) another 5 to 6 minutes, until browned on both sides and cooked through. Remove from pan and let rest 5 minutes. Give the chicken a good chop.
Boil the noodles until soft (about 3 minutes) and rinse under cool water.
In a large bowl, combine the coconut milk, peanut butter, soy sauce, fish sauce, garlic, cilantro and lime juice. Whisk to fully combine. Taste it. Need anything? A little more coconut milk? Adjust to your liking, bebeeee.
Add the chicken and the cooked vermicelli noodles to the the coconut dressing. Give it a good toss.
Arrange the romaine lettuce in the bottom of 2 salad bowls. Top with the chicken noodle mixture, and garnish with sliced carrots, fresh mint and chopped peanuts.
UGH.
Who wants to star in Scream part 427 written and directed by me?
. . . Hello?
Okay, that hurts.