. . . you . . . I  . . . mouth . . . ugh.
I wish I could have packed every single one of you inside my mouth when I was eating this and I am not even kidding.
You wish I hadn't just said that and you are not even kidding.
But can we just look at this together? Take a little tour? A little creamy peanut chicken tour? A little creamy peanut chicken with brown rice tour? Can we?
Because you need to know about this sauce. I've blabby blabbed about it to you this one time and then again this other time, so if you don't make it THIS time, there is something tow.up.wich.yew.
So you make the sauce and then you just let it chill for a bit. Not like, chill in the fridge. Just on the counter. So it's not like literally chilling, just metaphorically chillin'.
Like a villain.
It's room temperaturing. Like a . . . broom vemperacuring?
Nope. Did not work.
Okay so then you just sear some diced chicken with red bell pepper. THEN YOU ADD THE SAUCE.
Sorry to scream.
BUT THAT SAUCE.
Find your mama because you will want to slap her.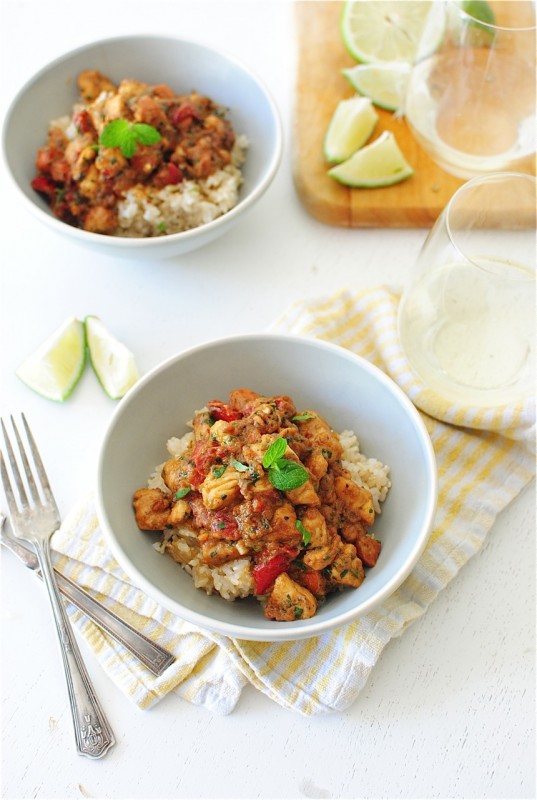 Make sure you serve it with fresh mint and lime wedges because THAT SAUCE.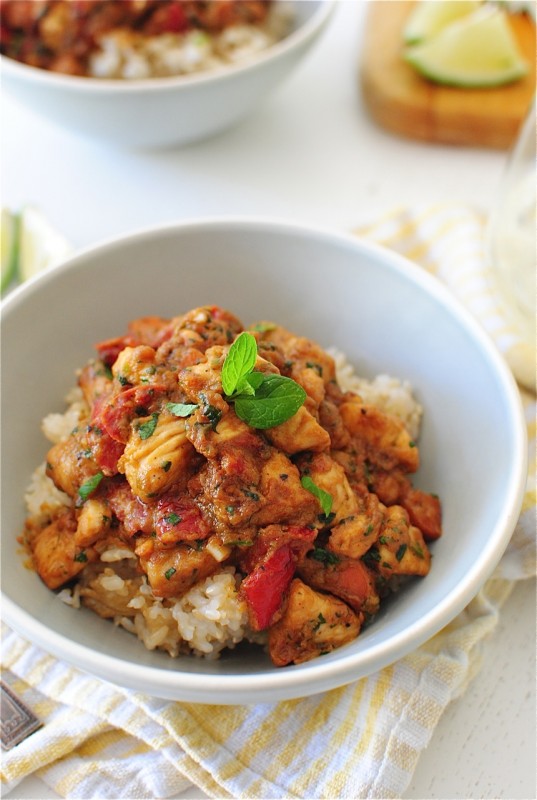 Welcome to your new life.
Creamy Peanut Chicken with Brown Rice:
What it took for 4:
* 1/2 cup crunchy peanut butter
* 2 Tbs. soy sauce
* 1 tsp fish sauce
* 2 Tbs. brown sugar
* 1 (or 2)! Tbs. sambal oelek
* 3 cloves garlic, minced
* 1 Tbs. minced fresh ginger
* 1/3 cup finely chopped cilantro
* juice of 1 lime
* 1 cup coconut cream (or coconut milk)
* 1 Tbs. extra-virgin olive oil
* 1 pound chicken breast, diced
* 1 red bell pepper, diced
* 1 large carrot, diced
* 2 cups cooked brown rice
* fresh mint for garnish
In a large bowl, combine the peanut butter, soy sauce, fish sauce, brown sugar, sambal oelek, garlic, ginger, cilantro, lime and coconut cream. Whisk to combine. Cover and let sit on the counter for about half an hour.
Heat the oil in a sauté pan over medium high. Add the chicken and diced carrot; season with salt and pepper and sauté for about 4 minutes, until browned all over, and the carrot is beginning to soften. Add the diced pepper and sauté another minute. Stir the peanut sauce into the chicken and heat through.
Serve creamy chicken over a bed of brown rice and garnish with fresh mint and extra lime wedges! BIGGIDY.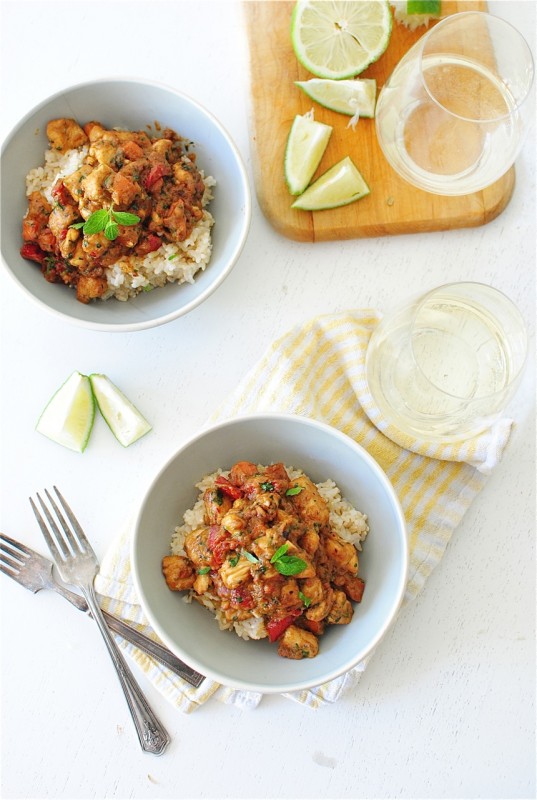 t.h.a.t.s.a.u.c.e.