Schloppy Joes. Schlop, Schloppy Joes.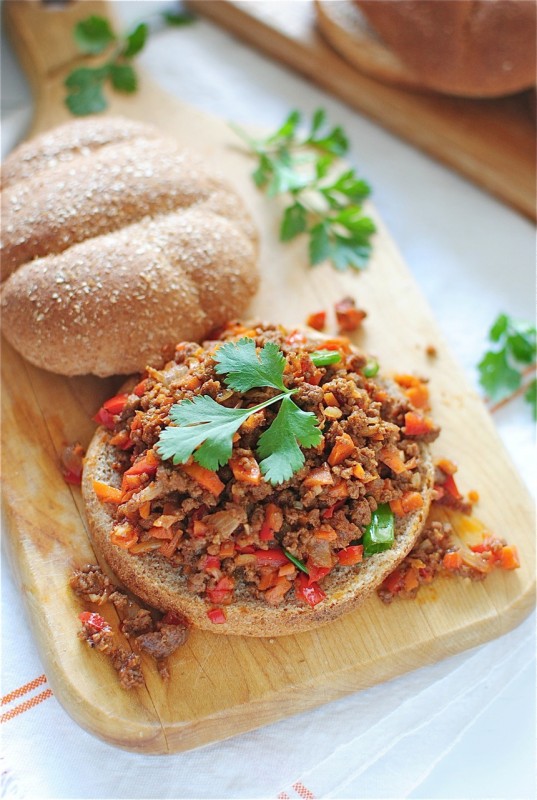 Or I guess in the Korean language it's:
묽고 싱거운 조. 묽고 싱거운 묽고 싱거운 조.
And I didn't even have to look that up!
Oh and by the way, I totally had to look that up.
So a little while back, a package arrived on my front stoop. I'm just kidding I don't call it a stoop. I don't even really know what a stoop is. Is it the same as a front porch? A front patio? The front door? The front steps? The front walkway? The front mulch and tulips that have died and gone away just like the brothers and sisters before them?
You're already gone.
Anyway anyway, so a package arrived. Inside the box was a gorgeous bottle of red wine and a pound of ground beef. And the pairing was called, The TROUBLEMAKER. Hi, only a little bit fitting, right?
Get this, the beef was a blend of prime chuck, short rib, prime hanger steak and prime rib cap fat blend. So in other words, I completely fell apart.
And get this also, the wine was a mix of Syrah, Grenache, Mourvédre, Petite Sirah and Zinfandel. So in other words, the parts of me that had already fallen apart, fell apart again, into smaller pieces. Ew, sorry.
So I made Korean Sloppy Joes out of it. The beef, not the wine. And the smallest parts of me that had fallen apart twice before, fell apart into even smaller pieces.
Why am I doing this to you?
This is ridiculously perfect for a school night. It takes no time at all. And it's spicy! But you can adjust the heat level if you want. I won't be mad or sad. Maybe a little.
The Korean chile paste (gochujang), omg. I had to get mine at an actual Asian market, as I've never seen it in my regular sto'. So here's a google image so you can visualize it before you drive around for 5 hundred thousand hours. But it's worth it. Try and find it.
You'll fall apart into little tiny pieces. And I want that for you so our little tiny pieces of each other can hang out!
UGH, what is wrong with me.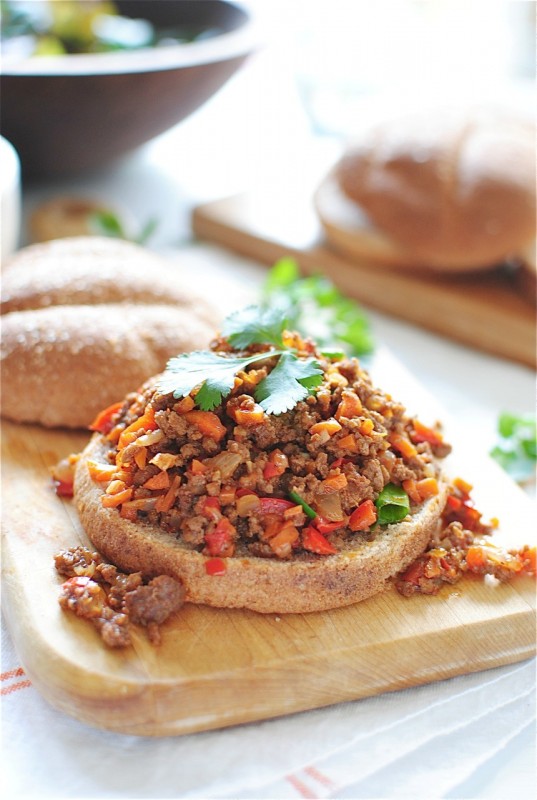 I heavily advise you to get sloppy.
Korean Sloppy Joes:
(tweaked from this recipe)
* 1 pound Flannery ground beef
* 1 small white onion, finely diced
* 2 smallish carrots, finely diced
* 1 red bell pepper, finely diced
* 4 cloves garlic, minced
* 2 – 4 Tbs. Korean chile paste (gochujang), start with 2 and if it's spicy enough, stop there!
* 2 tsp soy sauce
* 1 tsp mirin
* 1 Tbs. tomato paste
* 1 tsp corn syrup (I used dark)
* 2 scallions, finely sliced
* hamburger buns (your choice)!
* coarse salt and freshly ground pepper
In a large skillet, add the beef, onions and carrots. Cook until the veggies have softened and the meat is browned all over, 6 to 8 minutes. Add the garlic and red bell pepper and cook another minute. Drain the fat if needed.
Add the chile paste, soy sauce, mirin, tomato paste, corn syrup and a pinch of salt and pepper. Let it simmer for 5 to 10 minutes, just so everything can get coated and luxuriously sexy. Or something. Taste it. Need more chile paste? If you want more heat, add it! I did. You know me.
Finally, stir in the scallions.
Serve a heaping mound of Joe on toasted (or not!) hamburger buns. Maybe have a little garden salad on the side? Yes, it all comes together now.
Thank you, Flannery Beef for the beef! And thank you, Hope Family Wines for the wine! As you can see, I've fallen apart into microscopic pieces by now. And I'm floating around in the air, like tiny little Bev ghost particles.
. . . I don't know.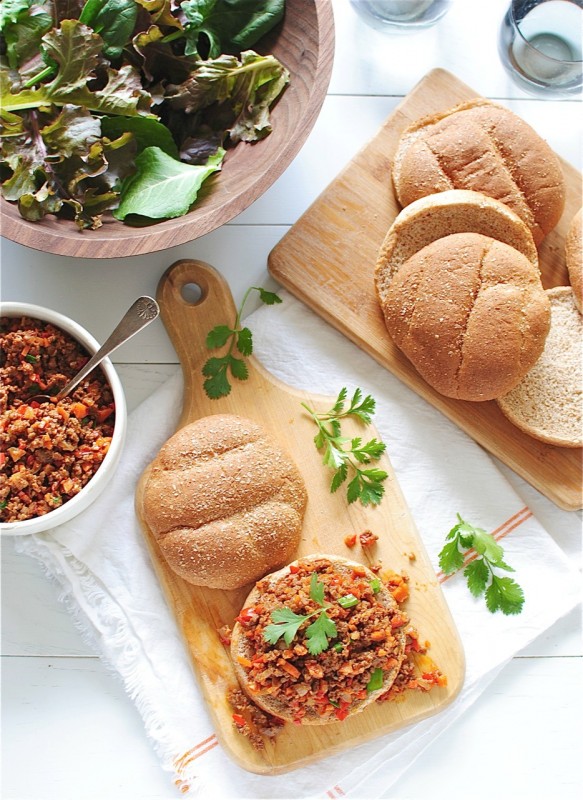 It's a tad obvious, but the Flannery beef and Austin Hope wine were provided to me by Jarvis Communications. I was not compensated for this post. But I did get to cow down (omg sorry) on some insane in the membrane Korean Joe of the Sloppy variety deliciousness. And all opinions are merst derf mah own.