I just discovered my new favorite lunch of all time.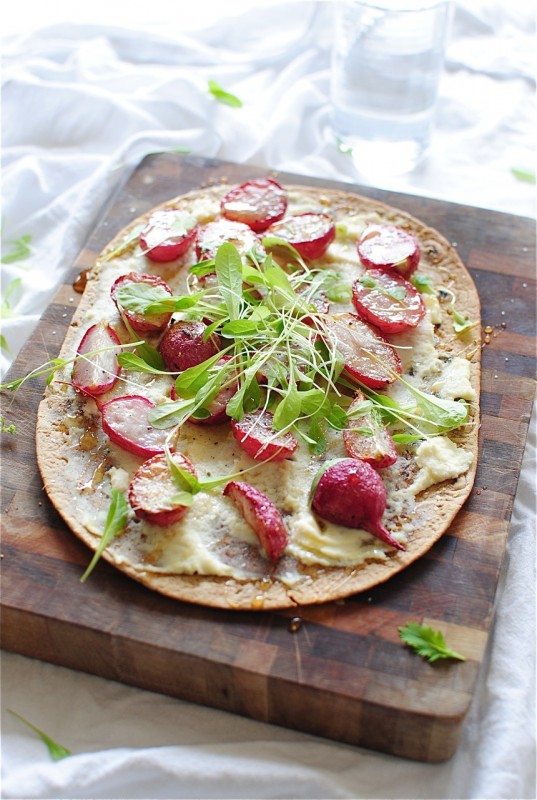 Or breakfast if you put a fried egg on top!
Orrrr dinner if you add some thinly sliced steak on top!
Orrrrrrrr dessert if you put a scoop of chocolate fudge ice cream on top!
Oh I'm just kidding, you guyyyyzzzzz.
There would be at least two scoops.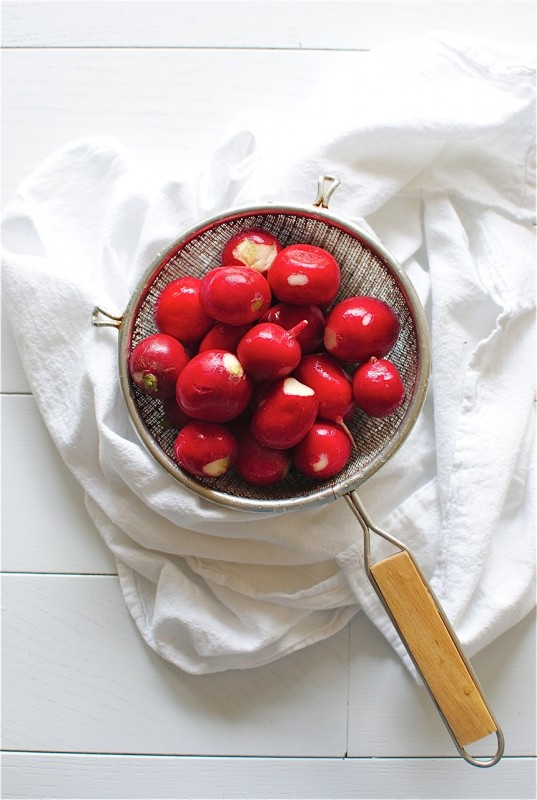 Aren't radishes darling? They're like crunchy little potent peppery root bombs of Earthy delight.
When the movie Julie and Julia came out a zillion years ago, I bought a bottle of wine, a bag of radishes and a stick of butter, and I plopped right on down in front of the TV set, pressed play, and I dipped each radish into the softened butter, then sprinkled each little bite with fleur de sel (because I'm a troll and had to be authentic), and I shoved bite after bite into my head, drank that entire bottle of wine, all by myself, on my couch, at like one o'clock in the afternoon.
And for the first time, I felt like I was a part of something. Something bigger. Something I could be proud of. Something I could call my own.
Oh no, wait. That was just the wine.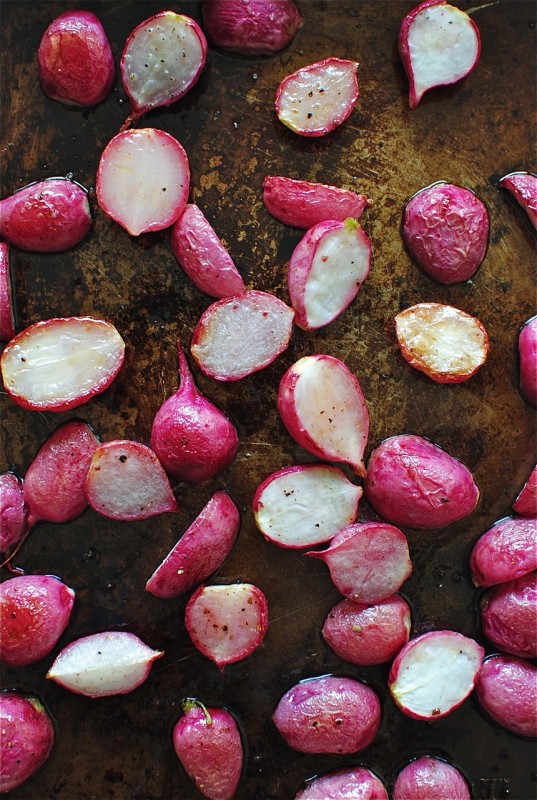 Remember when Jenny and Teri posted roasted radishes a little while back? And remember when you were like, "deeeeeeuuuuummmmm, Gina?"  Me, too.
Well, it got my noggin' crankin', so I decided to create a cute little lunch with ze radishes all roasted up super sexy-like, then placed on a nice spread of ricotta cheese, on a whole grain flatbread, drizzled with luscious honey, and garnished with some microgreens that my husband literally grew at his desk at work. (don't ask.)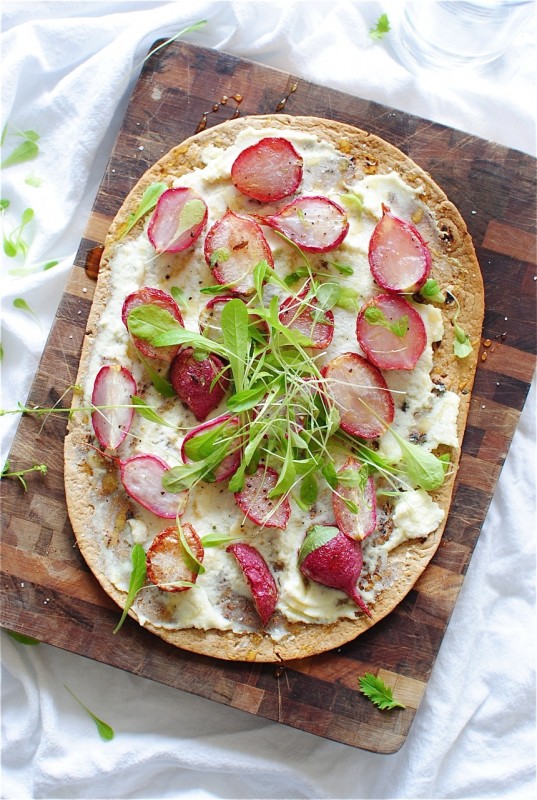 Dudes.
Everything. It all works. I hate it. The radishes are soft and sweet, but still have a deeeeelicate heeeeeeent of pepper glory. I left the ricotta plain, but you could easily whip in some roasted garlic and fresh herbs. Orrrrrrr some chocolate chips for your dessert version!
YOU'RE THINKING ABOUT IT.
And the honey? Child.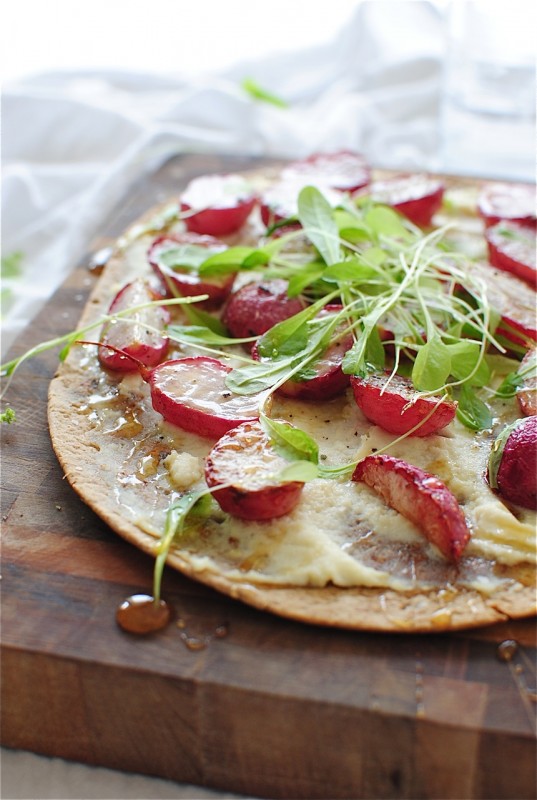 Get in that.
Roasted Radish Flatbread with Ricotta and Honey:
What it took for 2 flatbreads:
* 2 cups radishes, cut in half lengthwise
* 2 Tbs. extra-virgin olive oil, divided
* 2 whole grain flatbreads (or flavor of your choice!)
* (about) 1 cup ricotta cheese
* 2 to 4 Tbs. honey
* microgreens for garnish
* coarse salt and freshly ground pepper
Preheat your oven to 400.
Arrange the radishes on a rimmed baking sheet. Drizzle 1 Tbs. oil over the radishes and season with a little salt and pepper. Roast for 30 minutes, until they start to brown on the edges and are tender, tossing half way through.
Brush the remaining oil over each flatbread. Then spread that ricotta over everything. Sprinkle the radishes on top of the ricotta. Slide back into the oven for 10 to 15 minutes, until the flatbread is crispy on the edges.
Drizzle the honey over the flatbreads and garnish with microgreens! (or whatever you have on hand)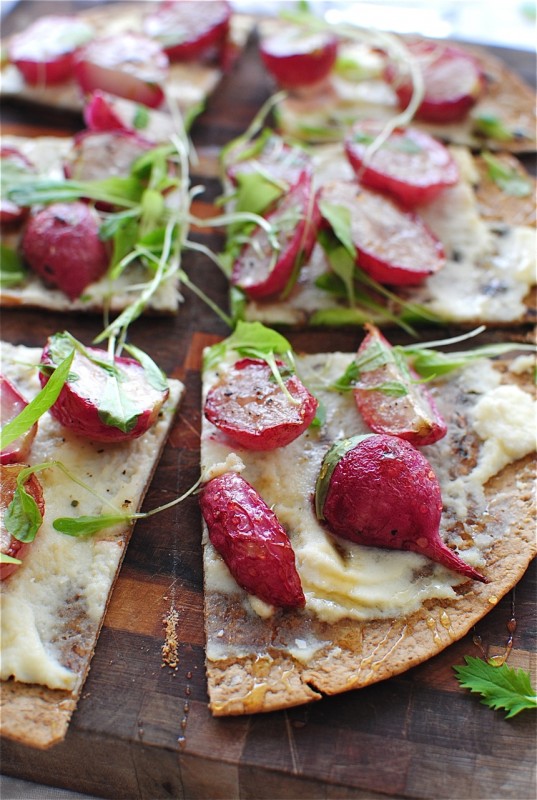 I want more.