And the appies continue! But this time with  . . . well, more shrimp.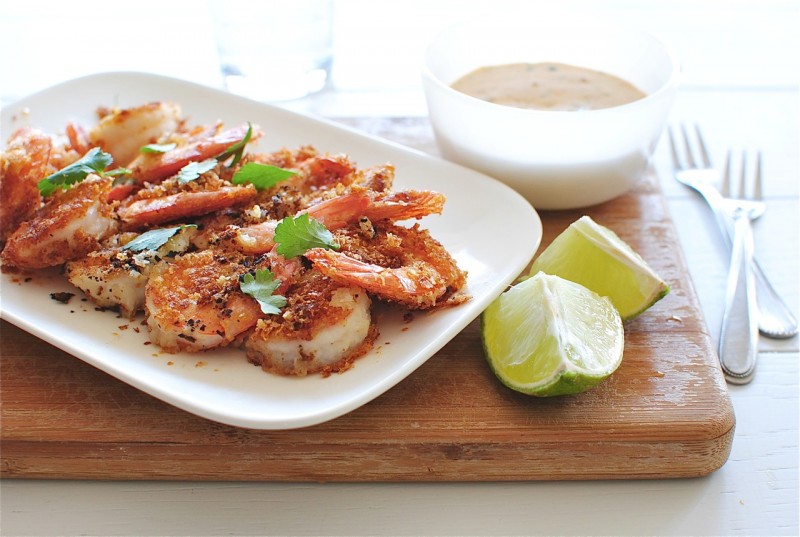 I like the shrimps. What can I say.
But this time they're potato-crusted! (instead of buffalo-crusted) (why I used parentheses right then I don't know) (p.s. buffalo-crusting sounds awesome, doesn't it) (why I'm still thinking about that I don't know) (that was yesterday) (we're here to talk about potato-crusting!)
So, you know those instant potato flakes that come in a box that our moms used to buy in the '80s to make faux mashed potatoes while we watched Growing Pains and Charles in Charge? Did you know they're still hip? Well, they are.
Not for making mashed potatoes.
But for crusting shrimp! For potato-crusting the shrimps! For potato-crusting and pan-frying the shrimpies! For potato-crusti – I'm just kidding.
And I'm not even going to go into how incredible the spicy dipping sauce is because we have one more super nice day before we plunge back into temperatures owned by Satan.
But I'm not bitter or anything.
Potato-Crusted Shrimps on the Tablespoons!
By the way, you'll never guess what I have in store for you tomorrow. I don't want to give it away just yet, but it rhymes with Brajun Mrimp Smaucapole prom ly zreind's pew mookpook.
Yeah, have fun with that one.