I'm going to go ahead and call this week what it is: Appetizers For Your Face Cavern.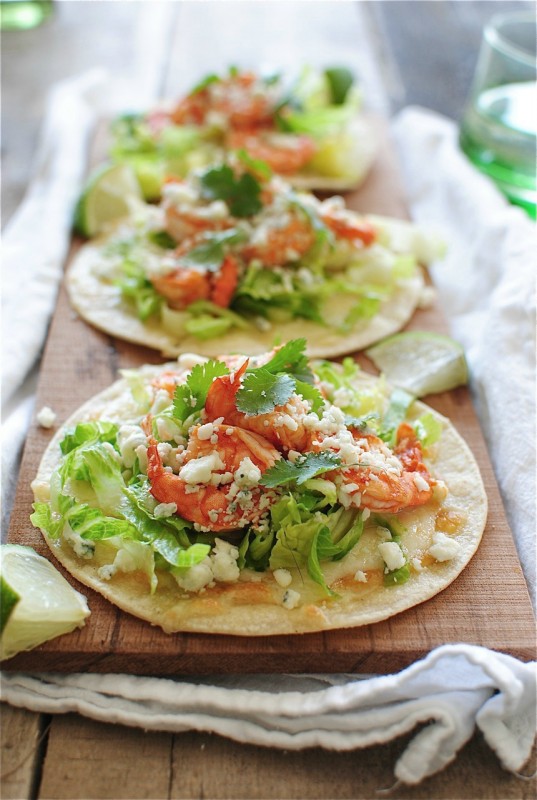 Yerp, snackies all week long! And what better way to kick it off than with a mouthful of bullalo, raaa-haaawwwwt?
On top of that, this recipe isn't really even a recipe. It's pretty much a super speedy trickster scheme in which to shovel something buffaloed into your head as quickly as possible, with minimal efforts. Me likey. Do you likey?
I just now discovered that saying likey makes me feel really gross inside.
Let's talk about this shrimp. But first, a story! (please don't leave me)
It's a story about shrimp and acid. And how I made a boo boo.
It was many, many moons ago, and I was hosting a little dinner patio party at my crib. I decided to marinate some shrimp and grill it later in the evening. No bigs. Well, I marinated the shrimp in about 13 gallons of lemon juice, and left it sitting for, oh, like a hundred hours. When it came time to grill, I discovered the saddest looking, most shriveled up, super tough, yet strangely falling apart, overcooked pathetic shrimp, staring up at me, screaming for a second chance at life. A chance I could not give them. For it was too late. The acid had ceviche-d them straight up tow up. Have you done this before? Please tell me you have.
Wait, you're still thinking about me saying crib, aren't you?
My point is, buffalo sauce is basically a vat of acid. Delicious, delicious acid. So don't let your shrimp sit in the sauce for more than 15 minutes or ellllllse.
We coo? Coo.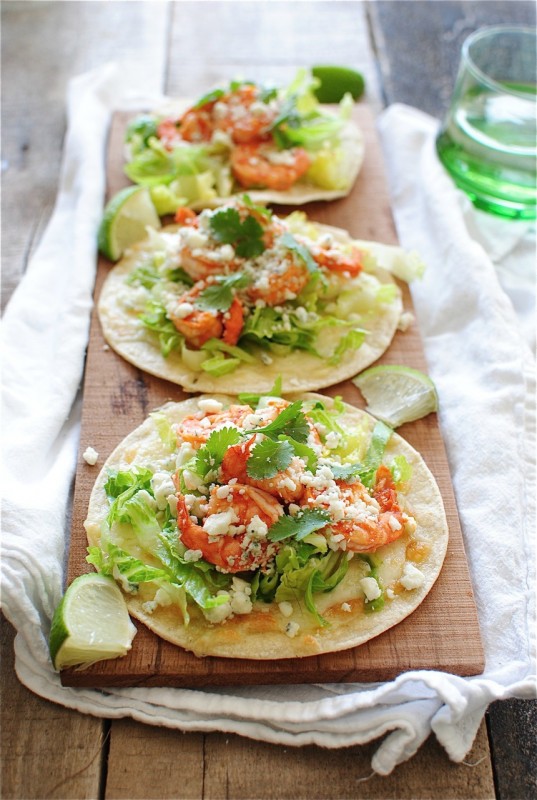 You should also know there's a lot of bubbly, broiled Monterey Jack cheese smothering those crispy tortillas, under all that crisp romaine, seared shrimp, blue cheese crumbles, cilantro and lime juice. Oh, sweet baby turtles, there is.
Aren't these mawwwvelous for game day? Wait, are there any games on right now? Tell you what, find a good bowling league tournie on the TVs and shovel shovel!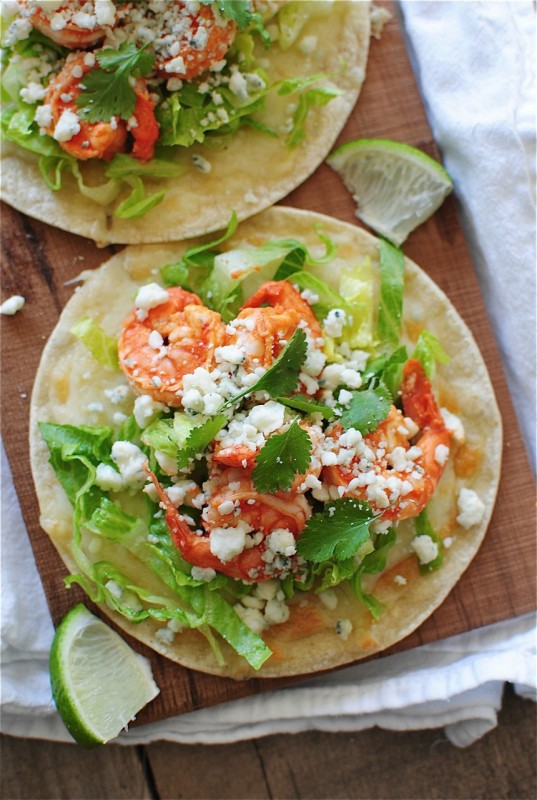 I seriously loved these.
Buffalo Shrimp Tostadas:
What it took for 2 people (4 tostadas total):
* 1 pound extra-large shrimp, thawed and deveined
* 1/2 cup buffalo sauce
* 4 corn tortillas
* 1 cup shredded Monterey Jack cheese
* 1 cup shredded romaine lettuce
* 1/3 cup crumbled blue cheese
* lime wedges, for serving
* cilantro, for garnish
In a large bowl, combine shrimp and buffalo sauce. Let sit in fridge for 15 minutes. The acid in the buffalo sauce will start to cook the shrimp, so don't let it sit too long.
Heat a large sauté pan over medium-high. Add the shrimp in a single layer and sear on both sides until cooked through, about 3 minutes total. Remove from heat.
In the meantime, preheat your broiler. Place the tortillas on a baking sheet and broil on the BOTTOM rack for about 4 minutes. Flip the tortillas, add the shredded cheddar and broil another 3 to 4 minutes, or until the tortillas have crisped up and the cheese is browned and bubbly. Remove from oven.
Now, all you do is layer. Evenly divide the shredded romaine over the tortillas, followed by 4 or 5 shrimp, the blue cheese crumbles and the cilantro. Spritz with lime juice and serve with the wedges!
* you could probably stretch the pound of shrimp over 6 tostadas if you want.
*also, if your tortillas don't get AS crispy as you hoped, no biggero. You still have buffalo shrimp tacos!
*I finally mowed my lawn.
Or make them for your Wimbledon watch party this summer! Or right now.