(to be sung to the tune of Oklahoma! that exclamation point is a part of the song title. i'm not just overly zealous this morning. but also, I am.)
 Guuuaaaaacamole where the avocado is the staaaaaar.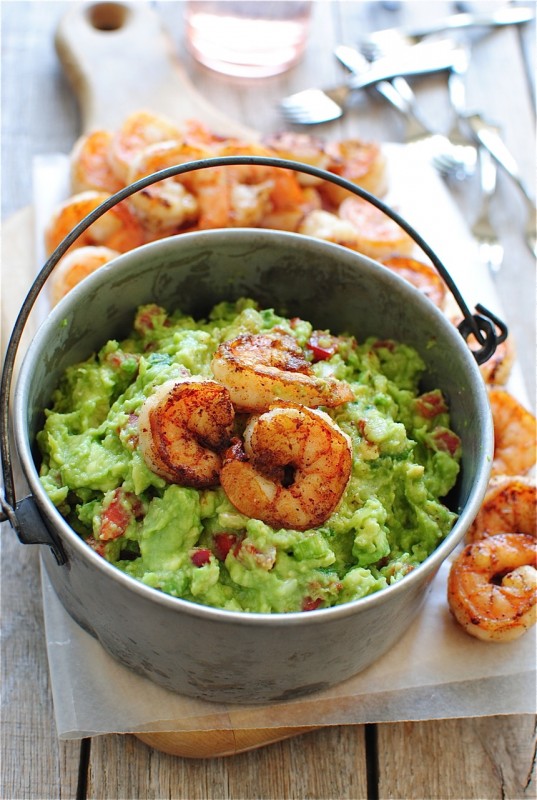 Where the pit comes out, and there's no doubt
That the fleshy mash will take you faaaaar.
And when we saaaaaay, Yum! Yes give it to me, yaaaaaaay!
We're only saying, You're tasting fine, guacamole!
Guacamole, G.U.A.C.A.M.O.L.E. Gaucamoooooole, YUM!
So incredibly sorry to put you guys through that.
But guess what!
My awesome friend Gaby just released a spickidy spankidy brand new cookbook COMPLETELY dedicated to avocados.
Like, totally and entirely all about avocados.
As in, nothing but avocados.
Is this not the most terrific news ever? Just look at this!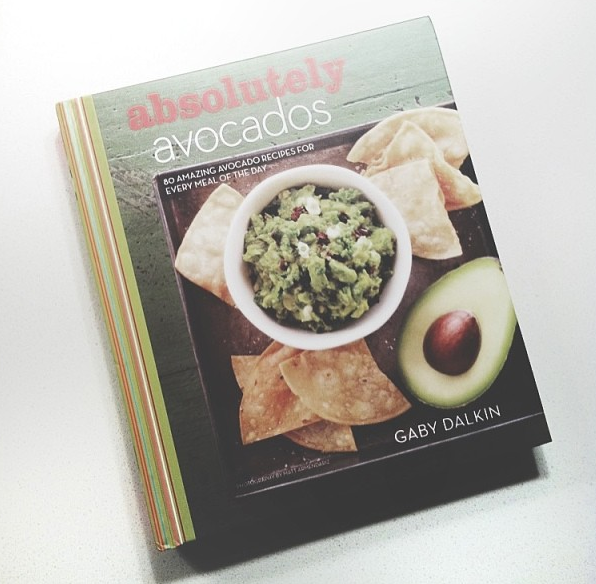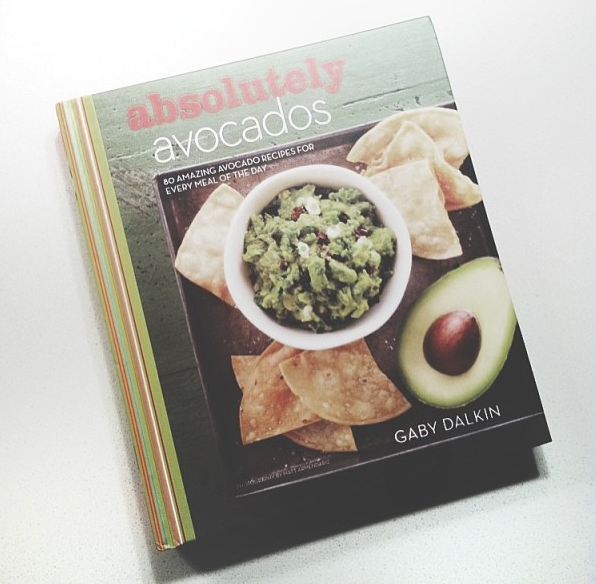 I have looked through every single page of this book approximately 17,634 times and my mouth wants to ride off with it on horseback into the sunset, forever. Just my mouth though. The rest of my body has some things it needs to get done here at home.
Yeah, that image ruined my life too.
Anyway, I HAVE IMPORTANT NEWS. I have a copy of this avocado-licious cookbook, and I'm absolutely dying for you to have one too. Alls yer gotsta do is answer a super crazy important question for me. So easy.
But first! Here are the easy clickidy places you can get them online:
Amazon – http://www.amazon.com/Absolutely-Avocados-Gaby-Dalkin/dp/1118412117
Barnes and Noble – http://www.barnesandnoble.com/w/absolutely-avocados-g-dalkin/1113759689?ean=9781118412114
Aaaaand while you're at it, you just have to watch her cookbook trailer. Why do I just want to cuddle her? Gaby, I want to cuddle you. Wait, please don't call the cops.
I made her Cajun Shrimp Guacamole yesterday, and I'm telling you, my entire body is still absolutely numb.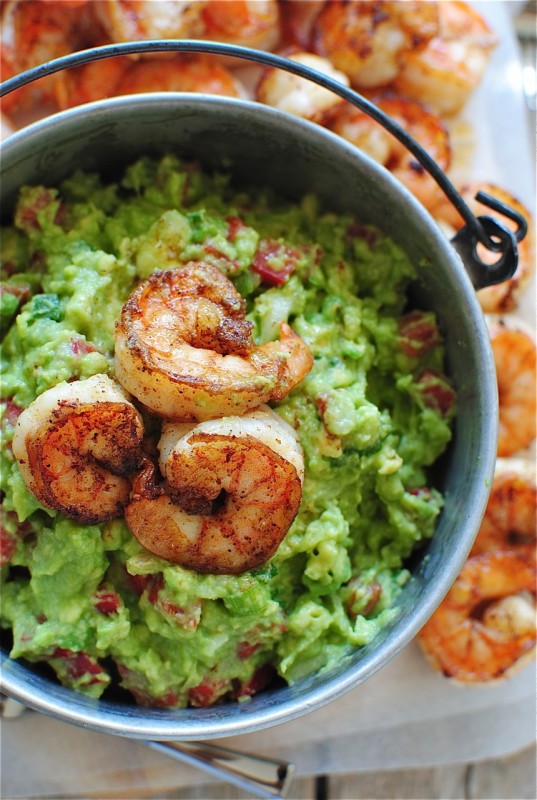 Here's the question!
What other weird ways have you used avocados? Are they good for your hair? Your skin? Could they take the place of shaving cream?
Of course for more entries you can follow me here, here, here and here, and just leave a separate comment on this post letting me know! The winner will be announced Monday morning, May 6th, and is open to U.S. and Canadian residents only. Thank ya!
Cajun Shrimp Guacamole:
(from Absolutely Avocados)
What it took for 1 person. Just kidding! 1 stingy person:
(fine, 4):
* 4 Tbs. butter
* 1 Tbs. Cajun seasoning
* 1 pound medium (or extra-large!) shrimp, peeled and deveined
* 3 Hass avocados
* 1/2 cup chopped red bell pepper
* 1/2 cup thinly sliced scallions
* 1/4 cup chopped yellow onion
* zest of 1 lemon
* 1 Tbs (or more to your liking) fresh lemon juice
* coarse salt and freshly ground pepper
Melt half the butter in a large sauté pan over medium-high. Add 1/2 Tbs. of the Cajun seasoning to the butter. Stir it all in. Let it bloom and fall in love. Add half the shrimp and sear on one side for 2 minutes. Flip and sear another minute or so. Season with salt and pepper. Remove the shrimp from the pan and set aside.
Add the remaining butter and Cajun seasoning. Bloom for a second, then add the remaining shrimp. Sear her up, you know the drill. Set shrimp aside.
Half each avocado and remove the pit. Scoop out the flesh into a big bowl. Add the red bells, scallion, onions, lemon zest and juice, and a pinch of salt and pepper. Mash it all together with your fork, until it's smooth, but still good and chunky. Taste it. BIGGIDY.
Add salt and pepper and more lemon juice to your liking.
Serve with the Cajun shrimp!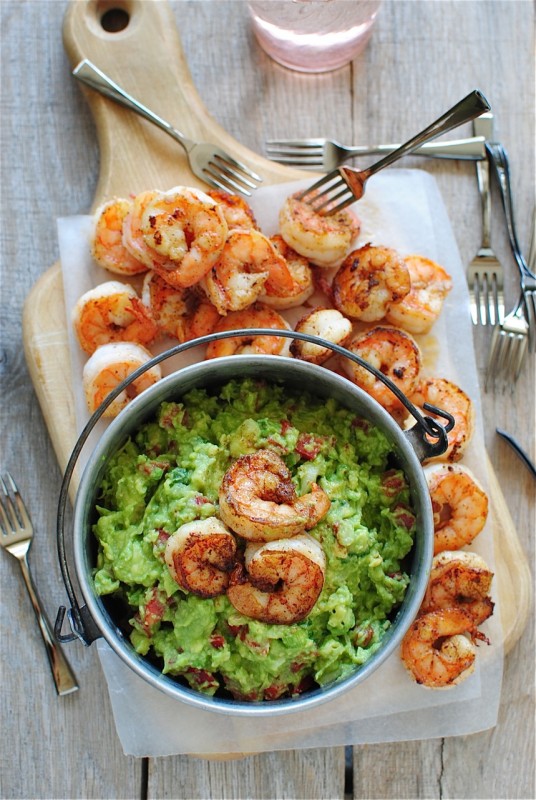 After all, it's called avocado, not avocadon't.