Or as they say, "en papillloleltoltliete."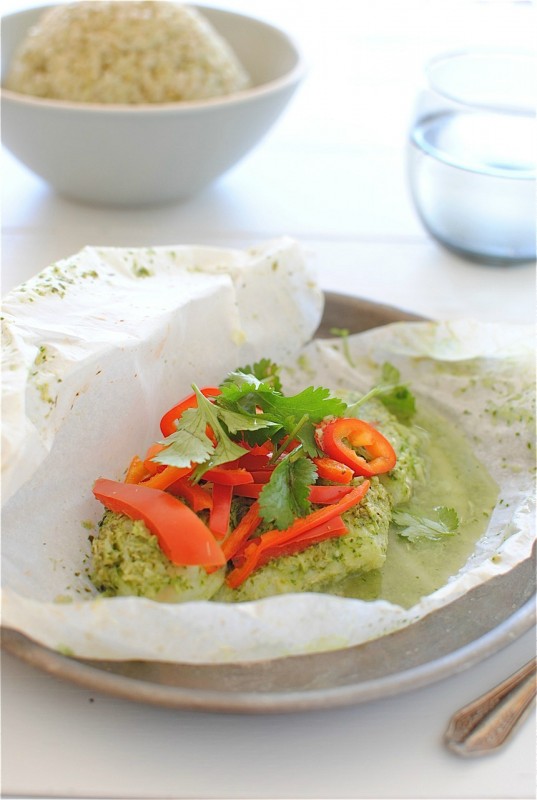 Something super close anyway.
So yesterday we finished the first season of House of Cards. Hooooolmg. Are you watching it?  It's scandalously delicious and addictive. And it's President's Day today. And we're talking about fish in parchment paper. WHICH almost sounds like impeachment paper. It's like the political stars have aligned!
Just go with me.
First I'd like to discuss this marinade/sauce. In the original draft proposal I had only planned on it being a marinade, but later on as I discovered I had about 1/2 cup leftover superfluousness, I quickly worked with the remaining meal components to bring bipartisanship to this dish.
(do I sound political?)
Inside this marinade, I can promise real coconut milk, fresh cilantro sprigs, lime juice from an actual lime, lemongrass, garlic and ginger in which nothing came from a bottle. In other words, no Frankenfood, muthaz.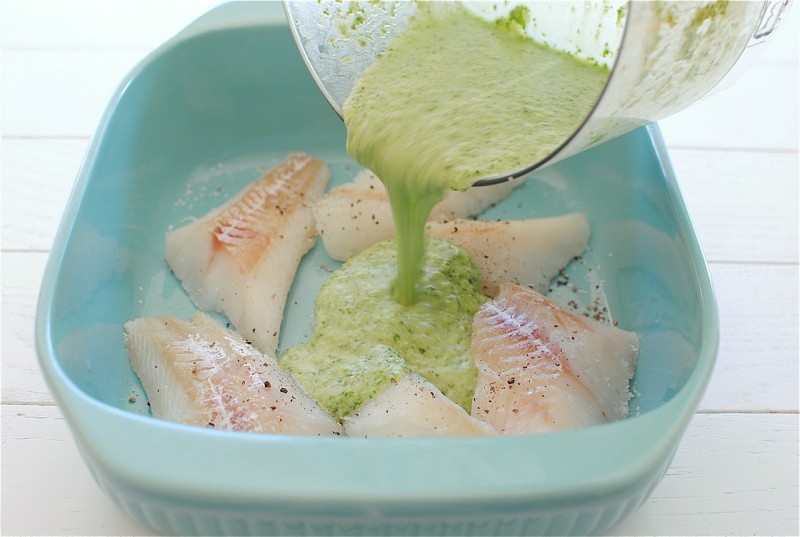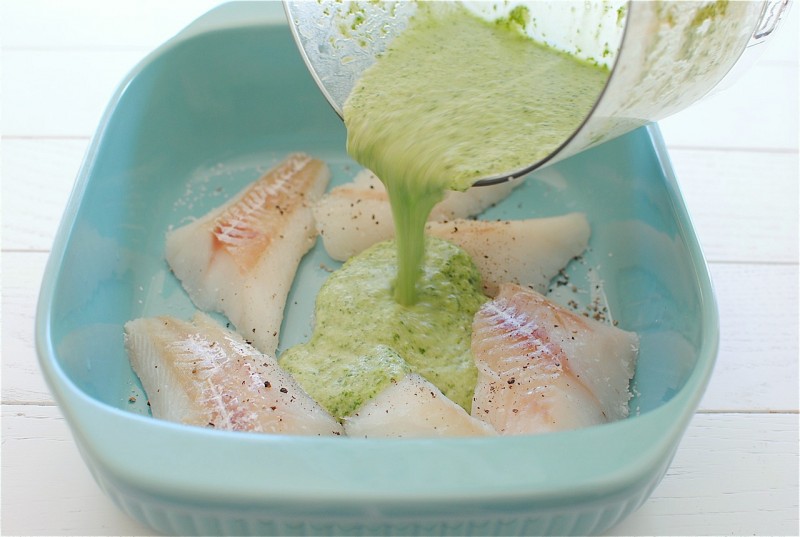 I do need to warn my tree hugging allies that there is parchment paper involved. However, I can assure you I'm not trying to be a greenwasher, or a lame duck. But once you see the truth behind this fish reform, you'll be pro-parchment all the way.
(I sound pretty legit, right?! Hello?)
The only flip flopping you'll see from me is my face flipping off of my head and flopping around on this food.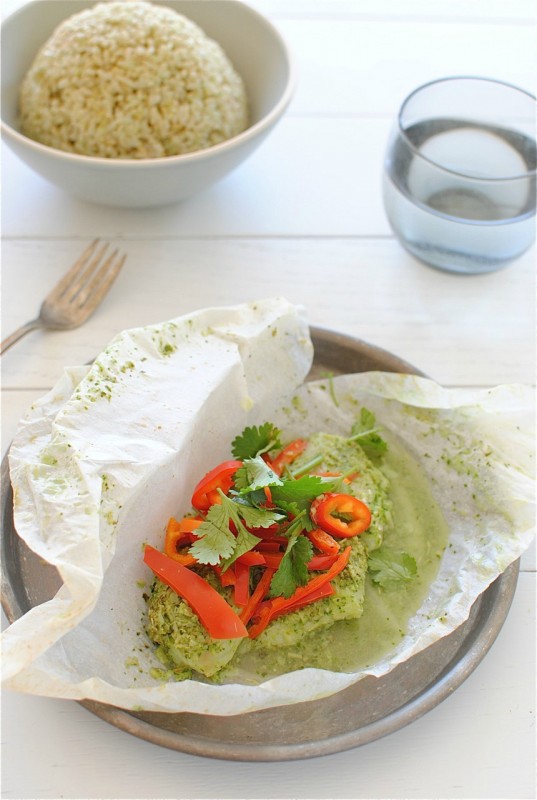 And the only bailout you can expect is the bailing in of this coconut cod and the rejoicing out of pure glee.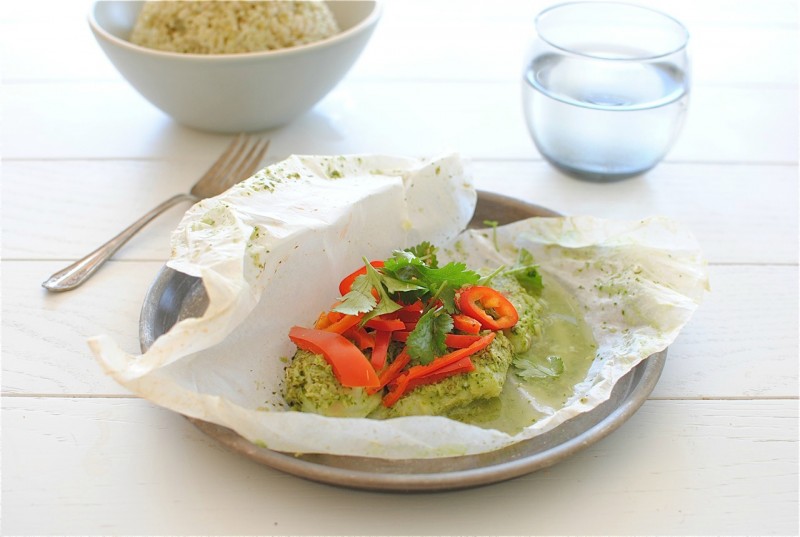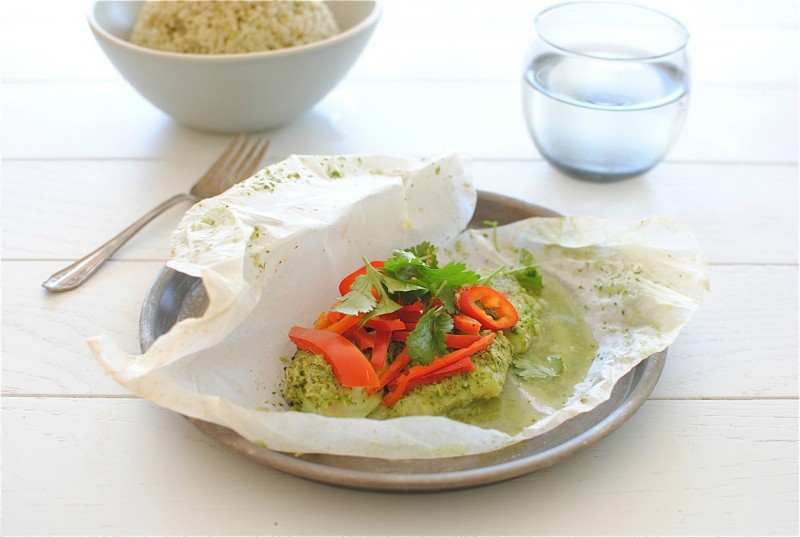 Winner.
Coconut Cod in Parchment Paper:
What it took for 4 packets:
* 1/2 cup coconut milk
* 1 cup cilantro, plus more for garnish
* 2 stalks lemongrass, outer layer removed and stalks finely sliced
* 3 cloves garlic
* 1 Tbs. freshly chopped ginger root
* juice from half a lime
* 1 cup uncooked brown rice (or more if you're a rice lovah)
* 1 red bell pepper, cut into small strips
* 4 cod fillets
* coarse salt and freshly ground pepper
* 1 egg, lightly beaten into an egg wash
In a food processor, combine the coconut milk, cilantro, lemongrass, garlic, ginger, lime juice and a pinch of salt and pepper. Pulse until combined.
Place the fish in a shallow dish and pour the marinade over the fillets. Cover and let sit for about 30 minutes.
In the meantime, cook your rice in a rice cooker or your favorite stovetop method.
Now, take 4 large pieces of parchment paper. Fold it in half and cut a half heart. Toss the excess paper, and open up the paper and you have a heart! Just like in grade school, 'member?
Now, place a fillet in the center of one of the heart halves. Drizzle a little of the marinade over the fish and place a few bell pepper strips on top. Lightly brush the paper edge with the egg wash and pull the other heart half over. Crimp the paper closed. To do this, you'll just make a tiny fold at one end, and keep folding over each fold. Or just crimp it the best you can.
Repeat with the remaining fish.
Place all 4 packets on a rimmed baking sheet, and bake for 15 to 20 minutes in a 350 degree oven.
You'll probably have a few tablespoons of the marinade leftover. So pour it into a small saucepan and simmer it until it lightly boils. Then add it to the cooked brown rice! Oh man just smell that. Coconut brown rice. Yesh.
Serve the fish garnished with more cilantro and alongside the rice, or on top!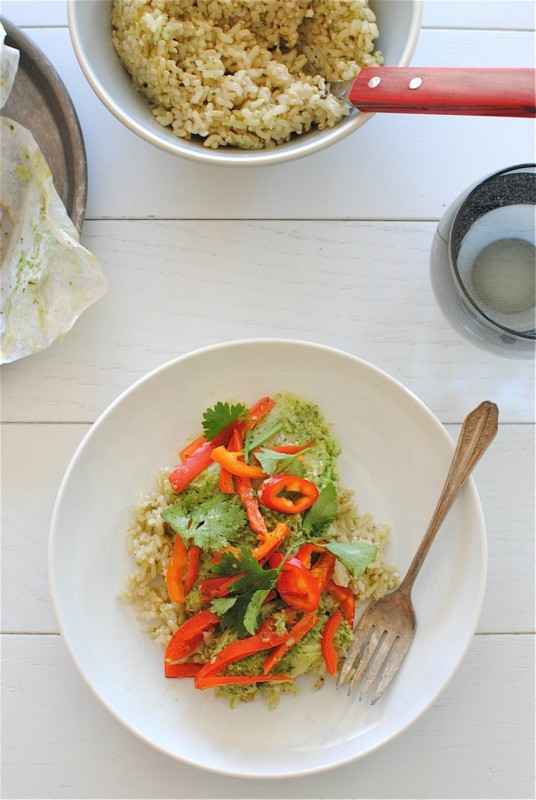 I feel like I should be wearing shoulder pads.