It looks fancy, but honestly it's fish and beans. Just fish and beans. But we made it fashion.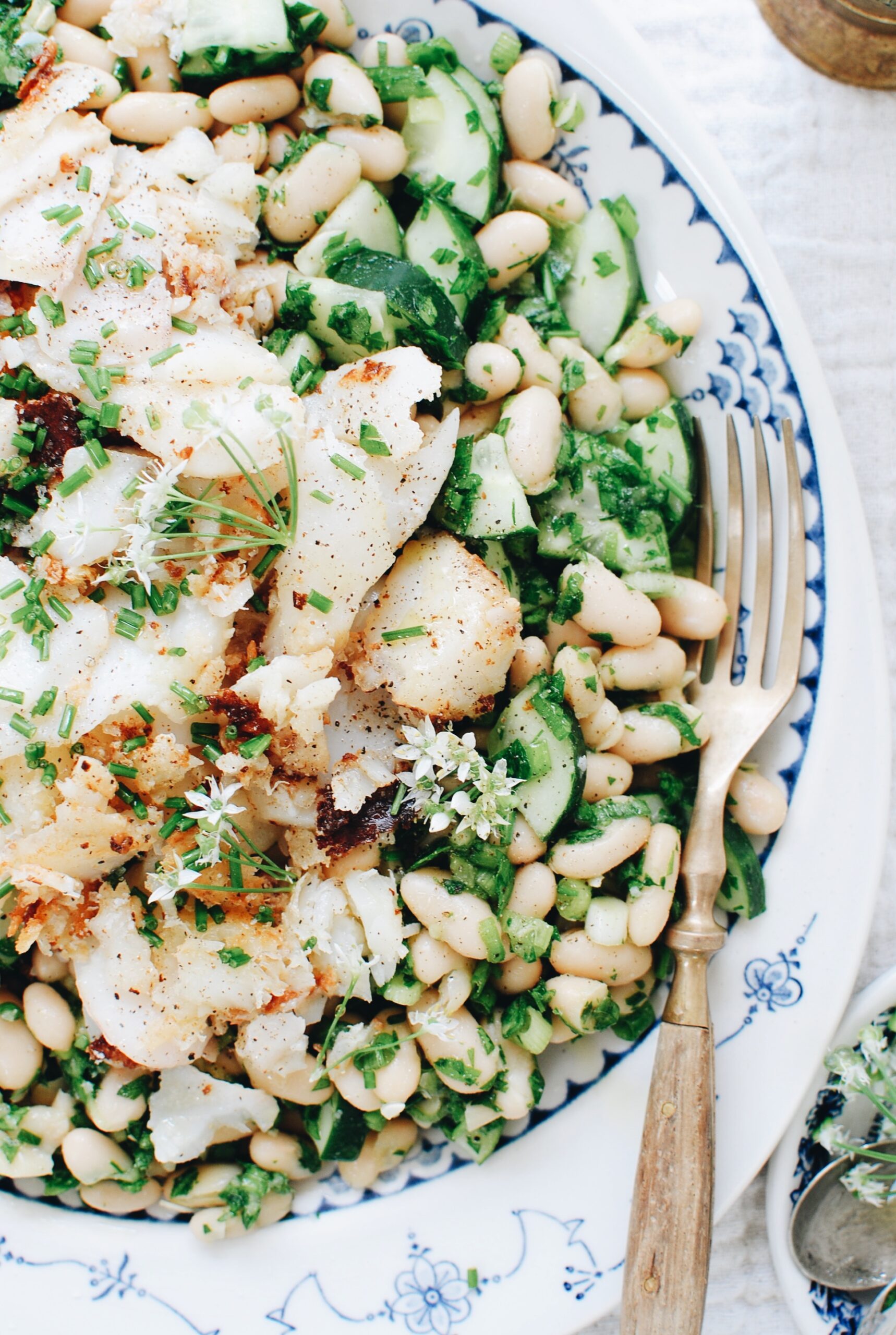 Also my fish completely flaked in the pan while I was searing, but I'm still a good person. Also also this takes 15 minutes to make. Woo hoo! You in?
Let us peepeth.
And listen, you can go with salmon if cod weirds you out. I still can't decide if there really are worms in cod (sorry), but any fish will work. Halibut (I can never find it!), salmon, even tilapia.
But let's look at this bean salad because it just may be the star here. And by "may" I mean "totally and completely is".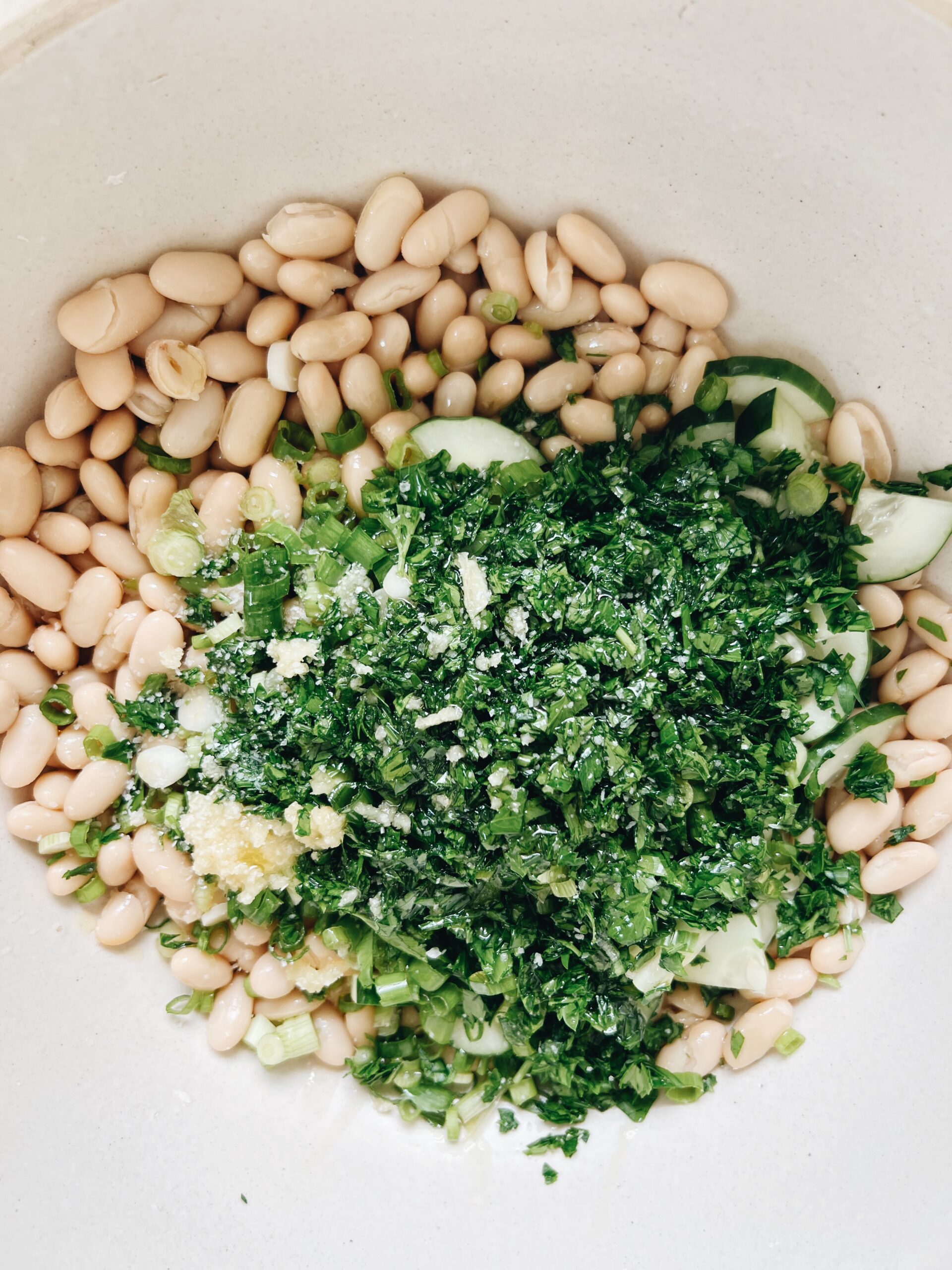 Two cans cannellini beans! Let's rinse and drain and violently throw into a bowl. We'll add loads of minced garlic, scallions, parsley, diced cucumber, a pinch of flaky salt and a hefty glug of extra-virgin olive oil. It's perfect. Do no argue with this.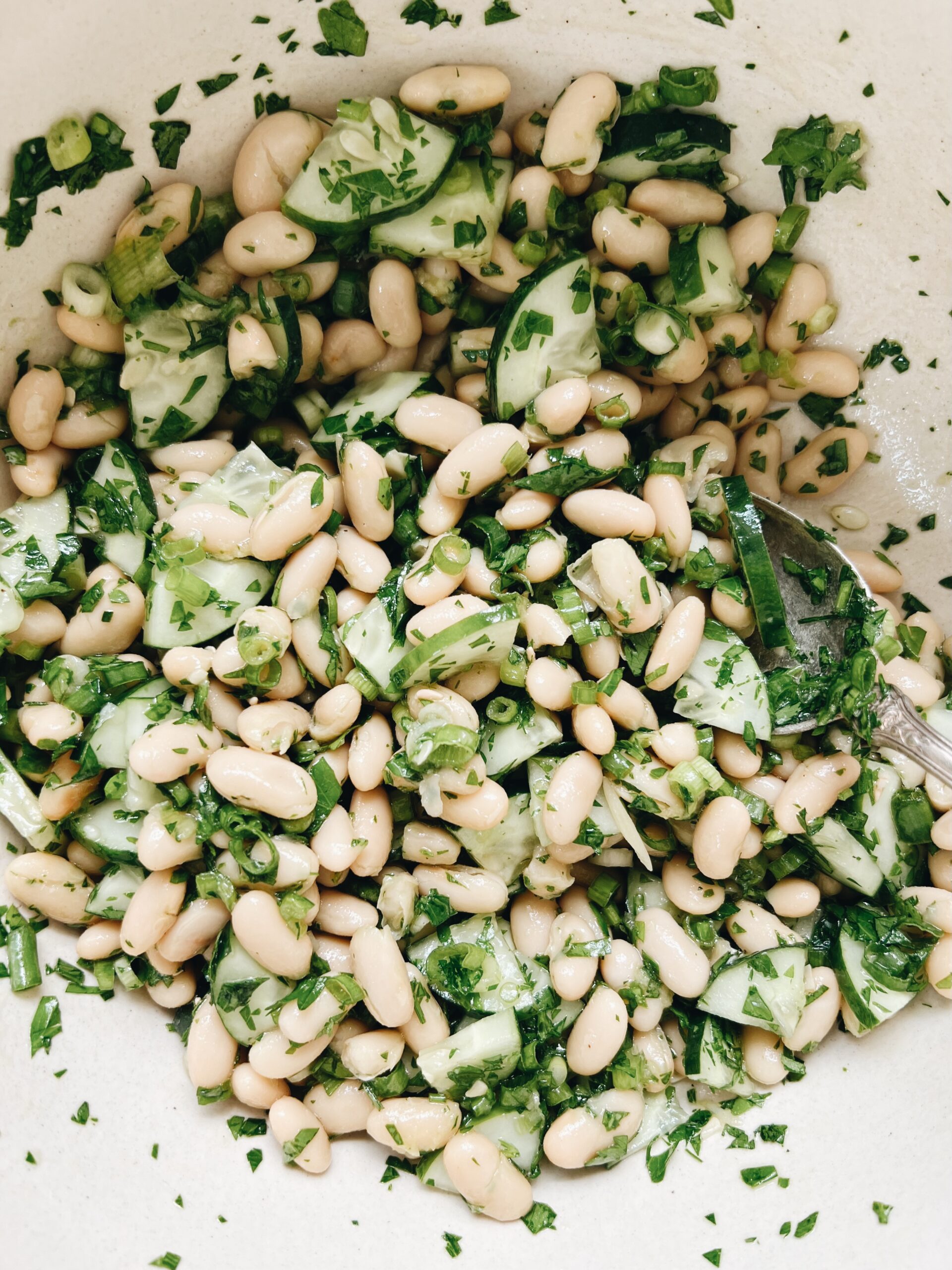 And like, that's done. Finished. A squeeze of fresh lemon juice never hurts anybody. But as is is brilliant, too.
And then you'll sear the fish in a good hot buttery pan and it won't flake like mine did. I didn't even get a photo because I got so pissed. 🙂
But here it is!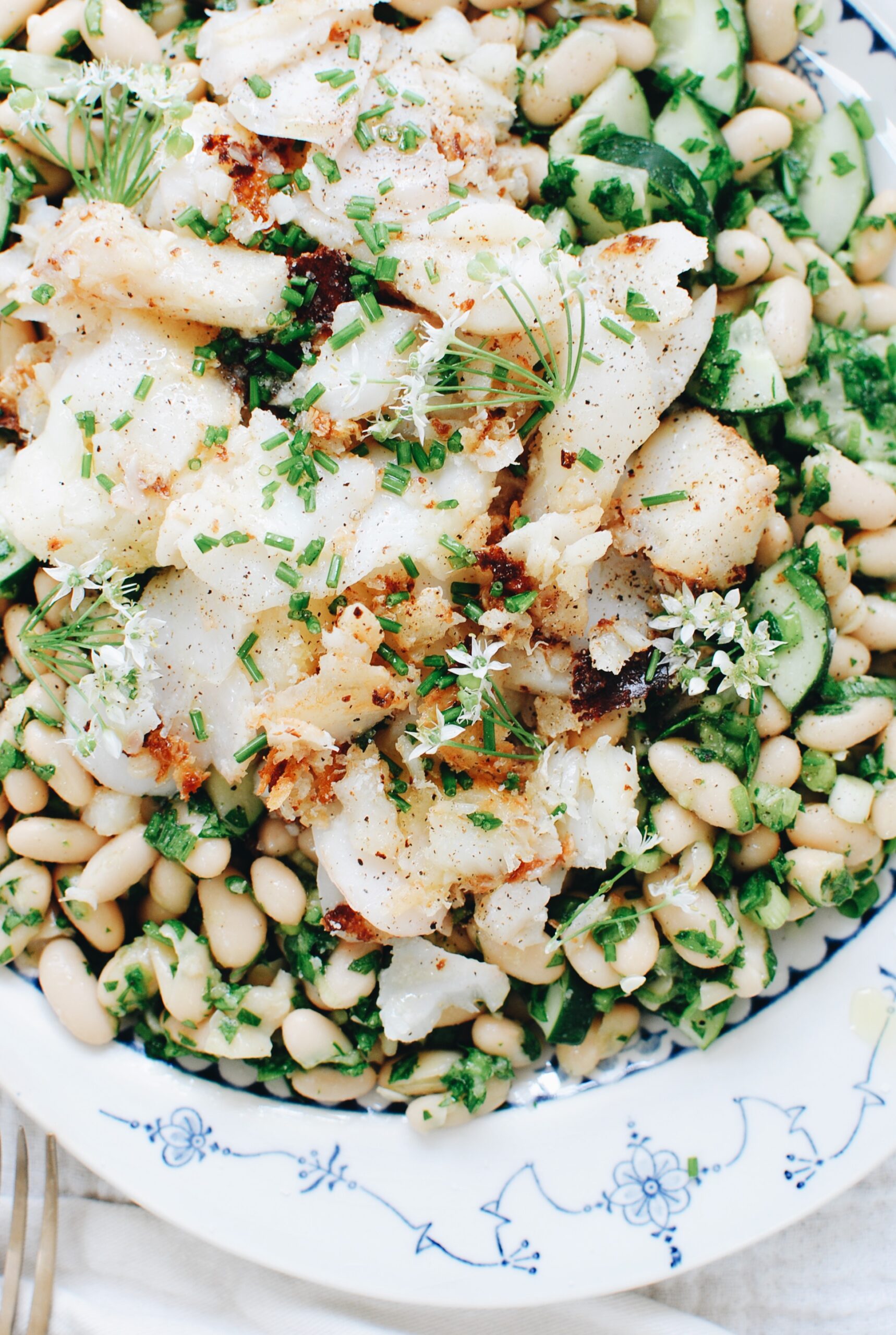 Lovely and simple. You'll transfer the beans to a little cute platter and top with either the unflaked seared fish, or the fish all flaked up. Whatever happens in your life.
I garnished with chives and onion blossoms from the garden, which were so pretty. Any garnish works! Extra parsley? Yep. Do that.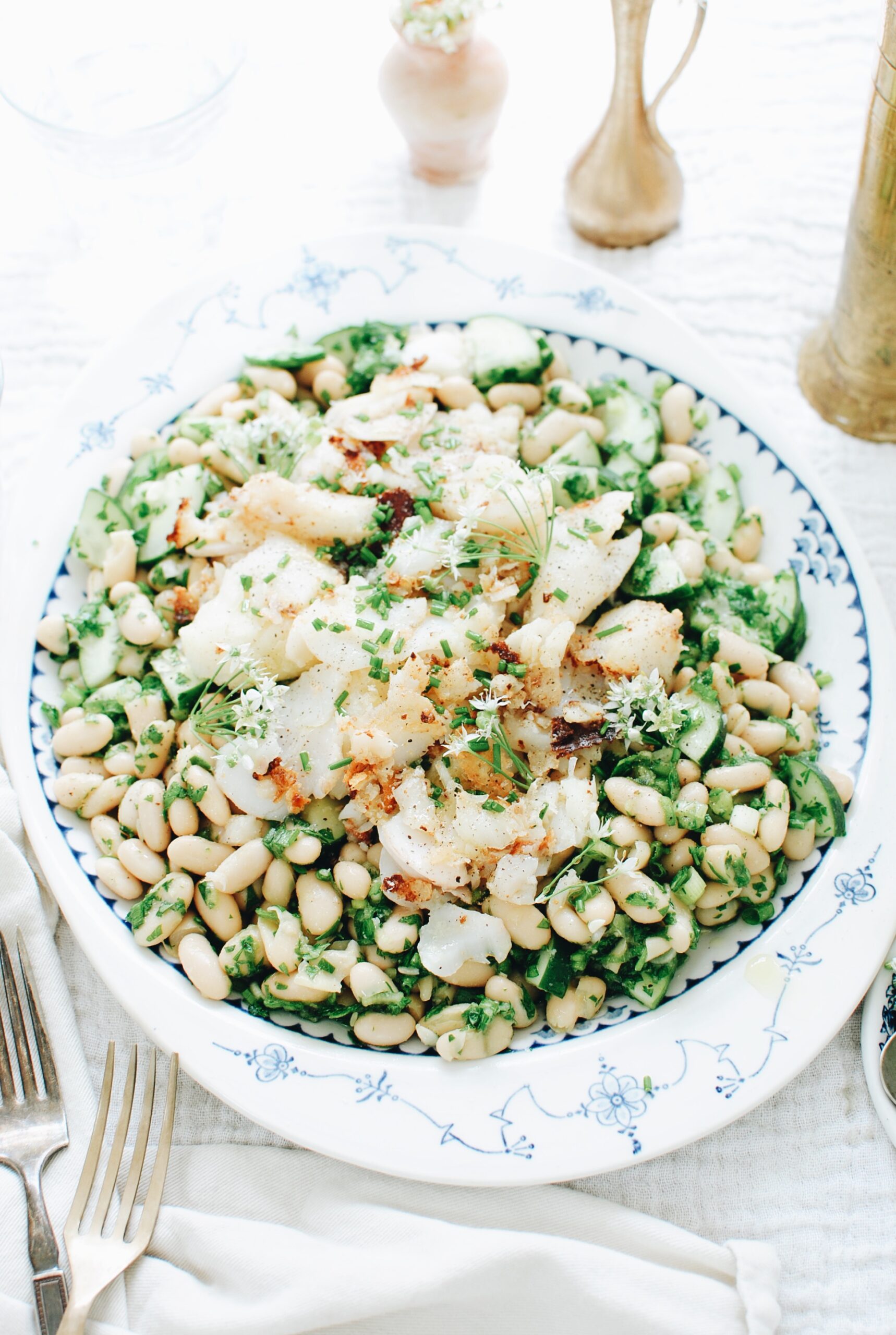 It's one of those extremely simple dinners that comes together in a flash on a Thursday and just hits right. The fish is buttery and seared. The beans are vibrant and creamy in all those herbs and aromatics. It's fresh, light, satisfying and so, so delicious. Pairs well with a crisp white, if I say so myself.
The button-down and the wine. Ha! Oh.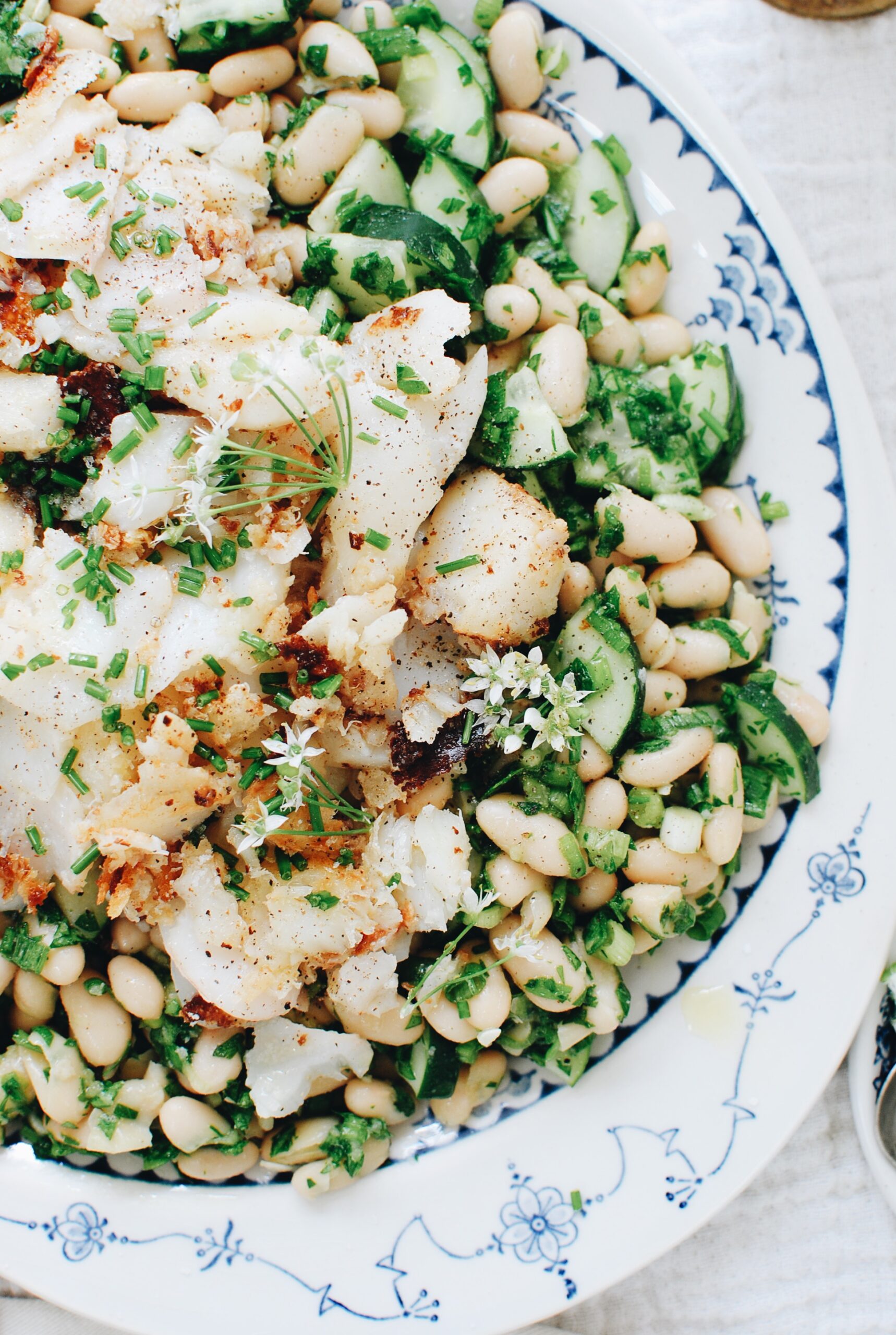 Make this before we're face-first into casseroles and soups, okay?
White Fish and Bean Salad
Ingredients
3 Tbs. Butter
1 pound white fish (3 or 4 fillets) (I used cod)
2 (14.5 oz) cans cannellini beans, rinsed and drained
1/2 large cucumber, diced
5 garlic cloves, minced or grated
5 scallions, finely sliced
1/2 bunch of parsley, stemmed and minced
Coarse salt
3 Tbs. Extra-virgin olive oil
Instructions
In a large bowl, combine the beans, diced cucumber, grated garlic, sliced scallions and chopped parsley. Season with a good pinch of salt and drizzle with the olive oil. Toss to combine. Perfect!
Melt the butter in a wide skillet over medium high. Add the fish and sear on one side for four minutes. Flip and sear another two minutes, or until the fish is flaky and cooked through. And if it flakes in the pan, you're still a good person.
Transfer the beans to a serving platter and top with the fish. Garnish with extra parsley, snipped chives or onion blossoms if you have them. Just make it cute.
Serves 4!
7.8.1.2
603
https://bevcooks.com/2022/09/white-fish-and-bean-salad/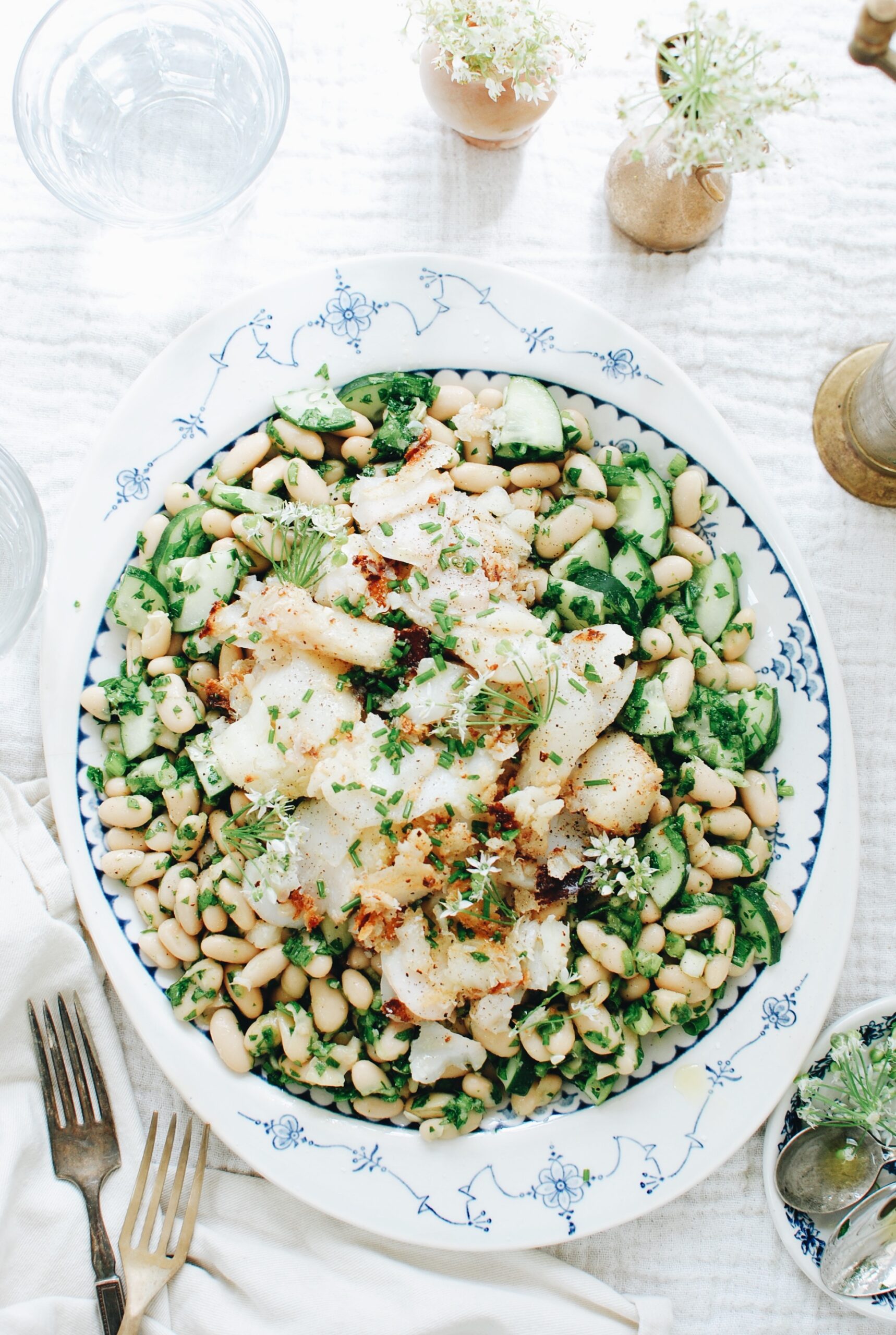 I mean hello, gorgeous.