I can't decide if I want to tell you what's in this or not.
Just like I can't decide if I want to tell you about a fake eyelash that's been stuck to my eye since Saturday night but I'm afraid to pull it off because I'm scared it's going to rip out my real lashes and leave me looking like E.T.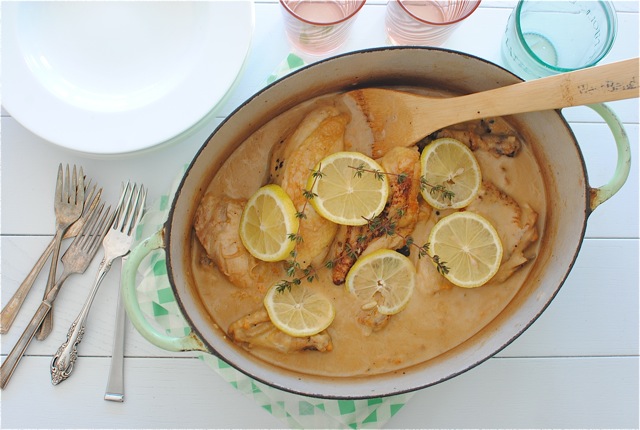 I mean, clearly you see chicken happily nestled in it. That's obvstown.
(I'd actually be more like a brown-eyed E.T., with a sagging top-knot. The ultimate picture of beauty. Crap.)
I know you see thinly sliced lemons on top. And please let me apologize for saying obvstown. How gross was that! I meant to say obvsville.
(What if no eye lashes make my neck look weird and wrinkly too? I guess I need to go ahead and get fitted for a bike basket.)
But you see all that creaminess? It's not just regular creaminess with cream and more cream. It's not. Do I want to tell you? Do  . . . I . . .
(I've tried everything! Water, soap, my trusty Pond's cold cream. It will not release its RAGING DEATH GRIP on my eye socket.)
I'm this close to telling you. Wait, no I'm not. Yes I am. No I'm not. Yes I no I'm YES. No. Yes? No. Ye . . . n . . .
(I'm going to be the world's most annoying alien.)
You know what. I can't do it. I just can't. I have too much to worry about so I'll just let the Tablespoons tell y – FRUIT. I said it. Oh that felt good.
Okay here you go. Creamy Dutch Oven Chicken with Fruit in it.
Oh! What if I said "phone home" in a British accent? You know, change things up?