If you ask me, there's a rumble of mighty confusion among the lands.
And by lands, I mean my noggin.
You know what, I'm just going to ask you. I asked the Google, but it only led me down a path of befuddlement and flask shopping.
What's the stinkin' difference between manicotti and cannelloni? They're both delicious tubes of happiness filled with seasoned glee and topped with creamy giddiness, right?
The Goog tried telling me one was filled with meats while the other was filled with only cheeses and spinach. And that some tubes were smaller with no ridges while the others were larger with design. And also that the sauce on one was tomato-based while the other was a creamy white sauce. Well, home freshies, mine is the combo order of all that, sooooo I think what we're looking at here is manilloni.
Or cannellotti?
Or man-cann-i-e-cott-llon-i-i.
Or cann-man-e-i-llon-cott-i-i.
Or mcaannnieclolotntclontlotii?
I'm so glad you're on board.
Do you want to know why I went with manicotti? Because I WAS going to call this cannelloni. Ya see, there's this restaurant in town that serves thu merst incredible chicken, spinach and mushroom cannelloni known to any face and mouth, and this was going to be my version of it. But their cannelloni tubes are actual crepes. CREPES. Perfectly light, airy, delicate little baby crepes. Is that not ridiculous? I wasn't about to try to make crepes because I had limited time due to my current Parenthood obsession. (Which bee-tee-dub, I'm two episodes from being completely caught up and I did NOT see that coming. My fragility is basically hooked up to life support. Ugh.)
AND, I knew Hank had something up his sleeeeeeeve, ooooh that Hank.
What was I telling you? Oh yeah. Manileeloo.
I called it manicotti instead of cannelloni because the box said manicotti. AHAHAHAH. Oh.
Was that anticlimactic?
How 'bout I show you a close-up of the finished dish, eh?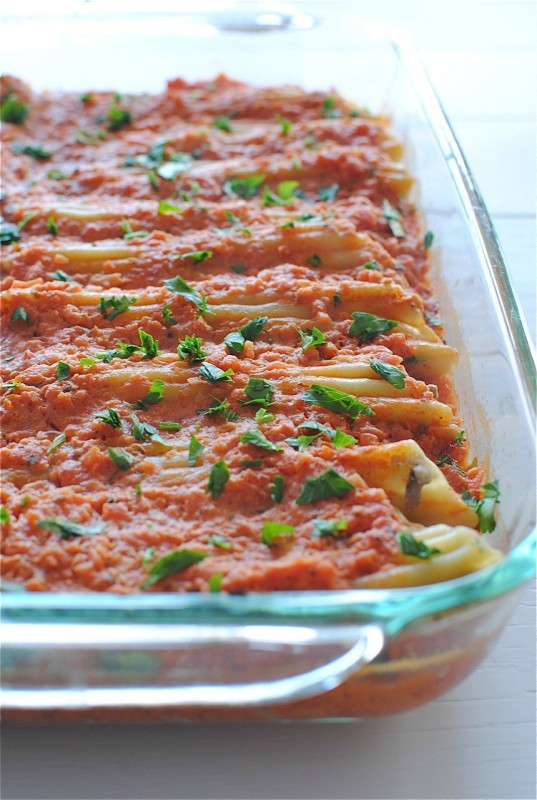 Man-i-don't-care-what-it's-called-i-want-that-cotti is more like it, heeeeeeey-oh!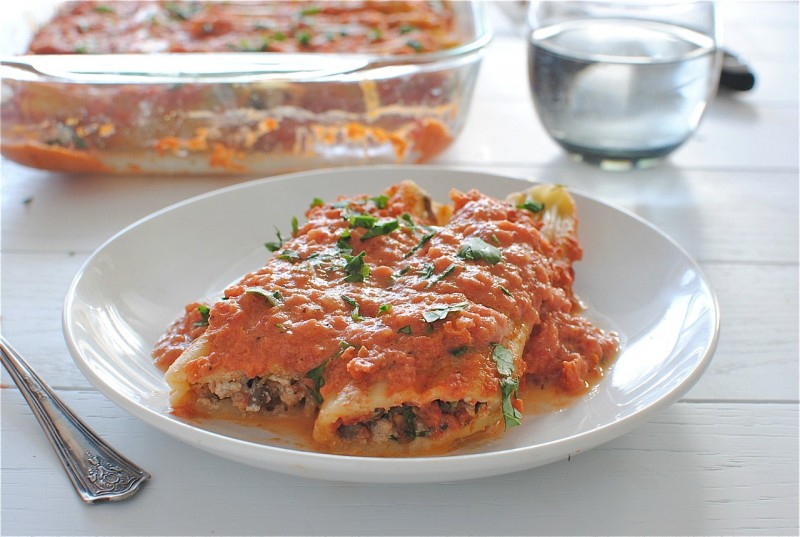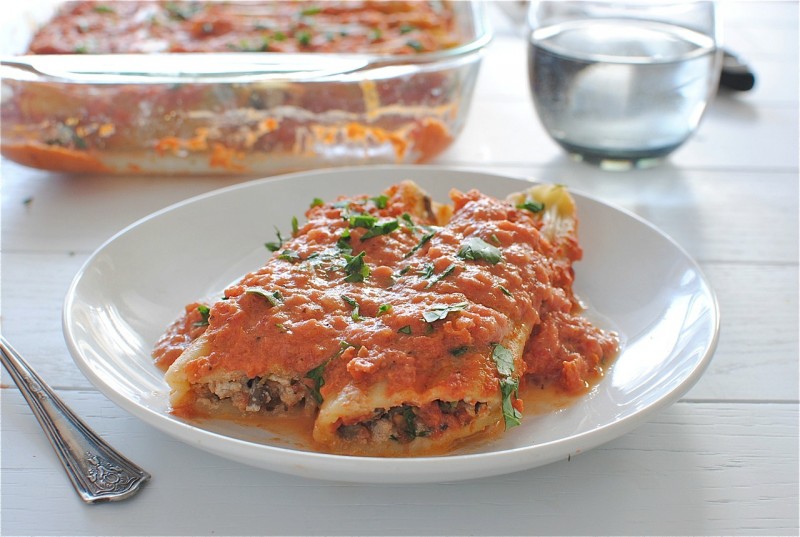 Let's eat already.
Chicken, Spinach and Mushroom Manicotti:
What it took for 4:
* 1 (8 oz) box manicotti tubes
* 1 pound ground chicken
* 1 tsp ground cinnamon
* 1 pinch red pepper flakes
* 1 Tbs. extra-virgin olive oil
* 8 oz baby bella mushrooms, finely chopped
* 3 cloves garlic, minced
* 5 oz baby spinach
* 3/4 cup ricotta cheese (roughly, whatever you want)
* 2 Tbs. fresh parsley, plus more for garnish
* 2 (14.5 oz) cans diced tomatoes
* 1/3 cup heavy cream
* coarse salt and freshly ground pepper
Preheat oven to 400.
Fill up a 9 x 13 dish with warm water. Place the manicotti tubes in there and just let 'em hang while you prepare everything else. They won't be super soft, but it just gets them in the mindset, ya know?
Bring a large skillet to a medium-high heat. Add the ground chicken to the pan and season with a good pinch of salt, pepper, the ground cinnamon and crushed red pepper. Brown all over, about 7 minutes. Remove from the skillet and set aside.
Back in the skillet, add a Tbs. of oil. Add the mushrooms and sauté for 3 minutes, or until they start to soften. Add the garlic and a pinch of salt. Sauté 30 more seconds. Add the spinach and toss to wilt, maybe 2 minutes.
In a large bowl, combine the chicken, spinach and mushroom mixture with the ricotta cheese and parsley.
In the meantime, pulse the tomatoes in a food processor until smooth. Transfer them to a small saucepan. Stir in the cream and lightly simmer. Season with a small pinch of salt and pepper.
Drain the water from the baking dish and wipe clean with a paper towel. Pour about  1/2 cup of the creamy tomato sauce along the bottom of the baking dish.
Stuff each tube with the ricotta mixture and arrange them in the dish. Once all stuffed, pour the rest of the tomato sauce over the manicottis. Cover and bake 30 minutes.
Let rest about 5 minutes. Rrrrrrrrrrrrrrright.
Serve garnished with parsley and freshly grated parmesan!
Man-i-could-cuddle-some-cotti-about-now? No? Okay.