Here I go again with the curryz.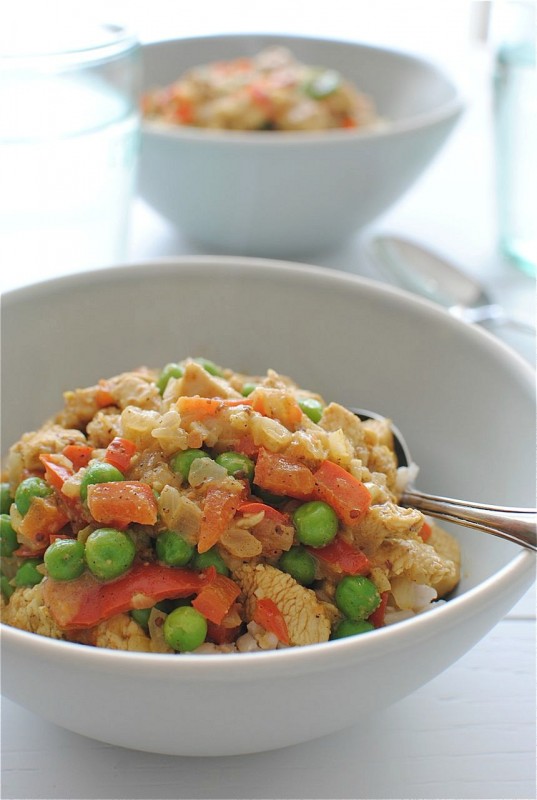 I put a z on the end of that word to prove to you just how hip and current I am with the times.
What's that you say? We're no longer using the letter z to convey our levels of coolery? Only trolls do that these days? Oh. Well that's lame.
SO, a few things:
A) It's going to be 65 degrees here today. SEEXTEE FAWV. I'm exploding within. Doors and windows open. The Cranberries on Spotify. My hair in a wretched top-knot.
B) Speaking of hair, I think I'm going to grow out my bangs. Ah knoooooow I just cut them off just like 5 minutes ago. But, dudes, I'm low maintenance with my hair. (as evidenced in every photo ever, ugh.) However, anytime I say I'm low maintenance, Aaron always interjects with, "You're the worst kind; you're high maintenance but you think you're low maintenance." (name that movie) And then I pout.
C) Look at this photo underneath these words right now. See that brown slurry? That's a curry slurry. A vindaloo curry slurry. Isn't that neat? I'm using the word neat to prove to you just how proper and dainty I am in my life. It absolutely did not work, did it?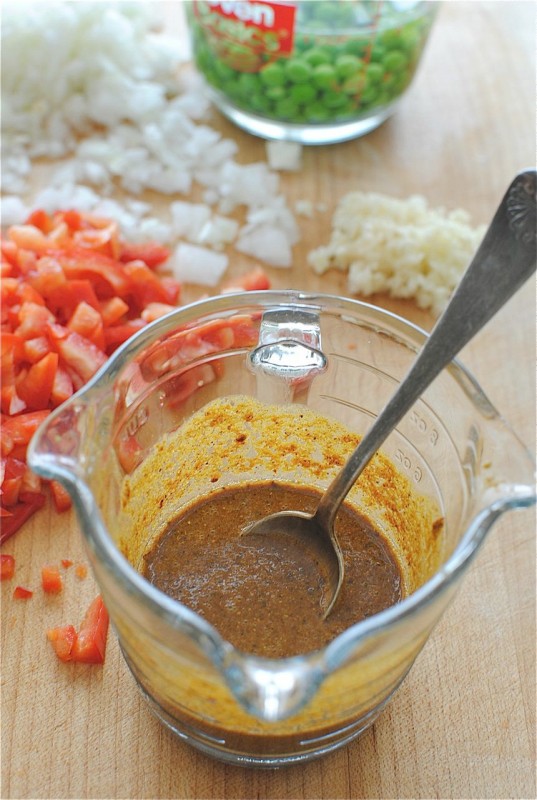 D) I want to keep talking about the curry slurry though. Okay this is the way it happened. It was a blustery Saturday afternoon, and I decided to take my nose on a field trip, so I went to Penzey's Spice Shop. I needed to pick up some bay leaves and something else. What was it . . . doesn't matter. So, at the cash register I grabbed one of those little recipe cards you know? That uses their spices? Well this one used the vindaloo spice, WHICH I HAD AT HOME ALREADY (boom?), so I took it home with me. That's all.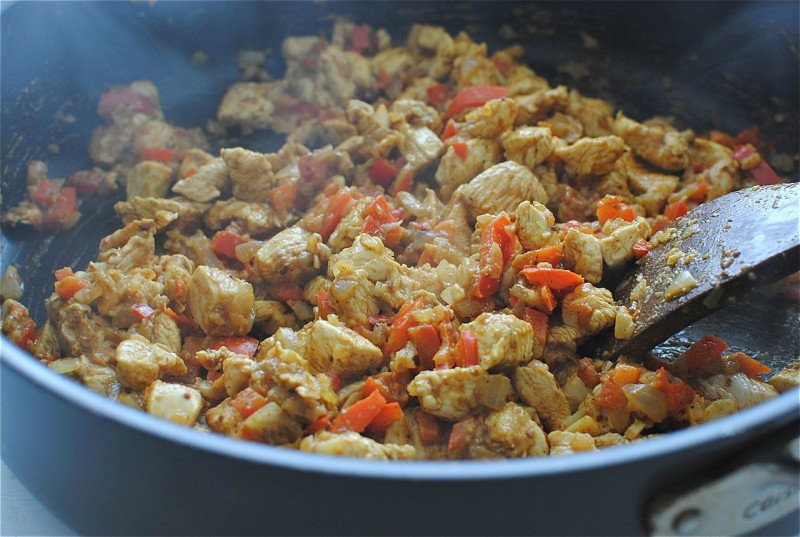 E) Wait that's not all. I was talking about the slurry. One of the steps on the card was to whisk together some of the vindaloo seasoning with salt and cider vinegar, becoming a paste, and I thought, well word to your mother!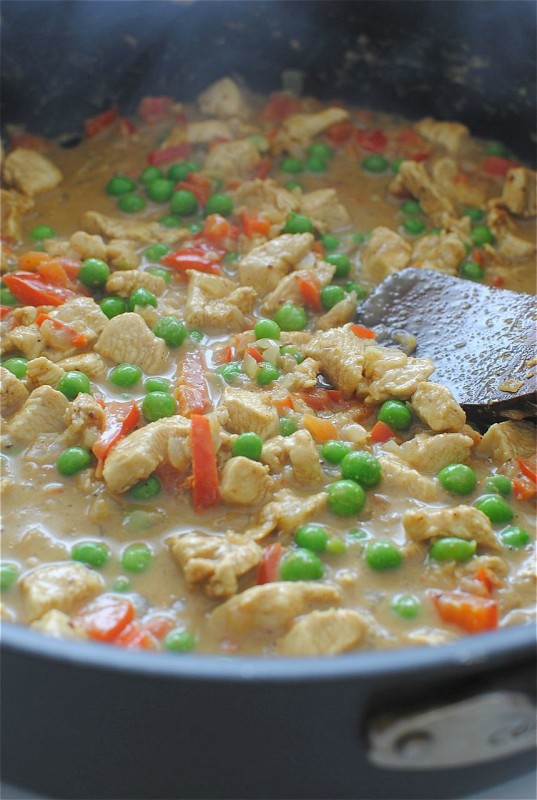 F) I can't say that either, can I?
G) WELL, of course I fiddled with the recipe, changing out a few things, but I KEPT THE SLURRY. I like the slurry. The curryz slurryz. The neat curryz slurryz, yo mama, peace out, in ya face because it's propa.
And tubulah.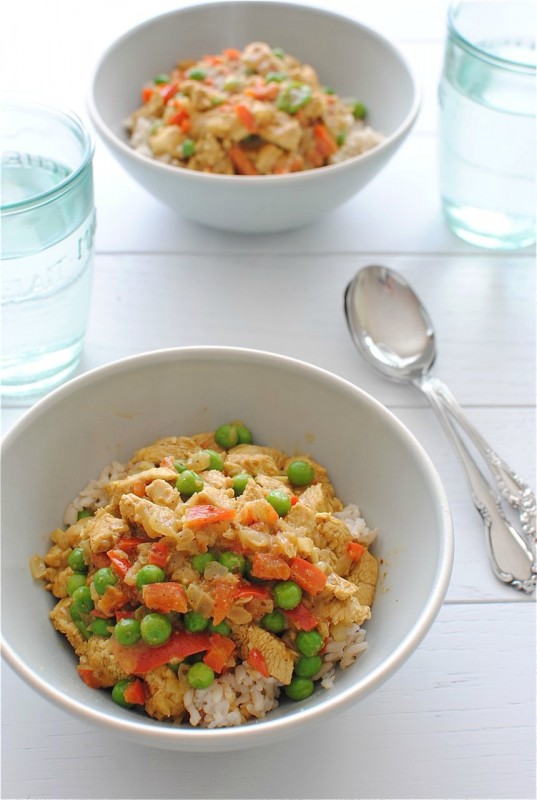 Please don't leave me.
Chicken Vindaloo with Brown Rice:
(tweaked from one of those Penzey's cards you get at the store)

What it took for 4:
* 2 Tbs. canola oil
* 1 pound chicken breast, cut into a small dice
* 2 Tbs. vindaloo seasoning (got mine at Penzey's)
* 1/4 cup cider vinegar
* 1 tsp coarse salt, plus more for general seasoning
* 1 medium white onion, chopped
* 4 cloves garlic, minced
* 1 red bell pepper, chopped
* 1 cup coconut milk
* 1/2 cup frozen peas, thawed
* 1 cup uncooked brown rice
* 1 pinch freshly ground black pepper
Cook rice in a rice cooker, or your fave stovetop method.
In a small bowl, mix together the vindaloo, vinegar and tsp of salt. Stir until it becomes a paste. Set aside.
Heat the oil in a large skillet over medium-high. Add the onions, garlic and red bell pepper. Sauté about 5 minutes, until the veggies start to soften. Add the vindaloo paste (look how much it thickened up!) to the veggies and stir to combine. Let it lightly simmer a couple of minutes.
Add the chicken to the pan and toss to sear for 2 minutes. Then stir in the coconut milk, reduce heat and let simmer about 10 minutes. Finally, toss the peas in and stir to combine as they heat through. Give her one final taste. Need a little salt? Dew eet.
Serve the curry over cooked brown rice!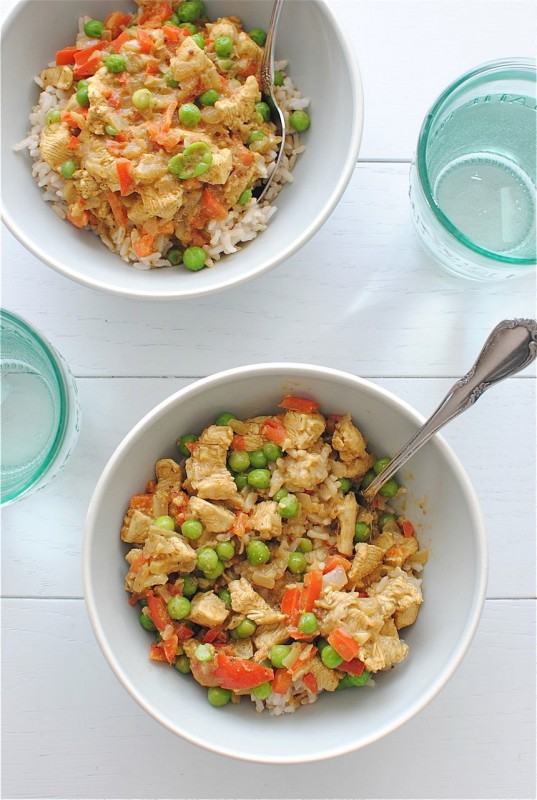 Did I mention there's coconut milk up in this piece? Uh huh.