Noooow this is the story all about how this meal got flipped turned upside down.
And I'd like to take a minute, just sit right there
I'll tell you how this taco became a salad with dope flair.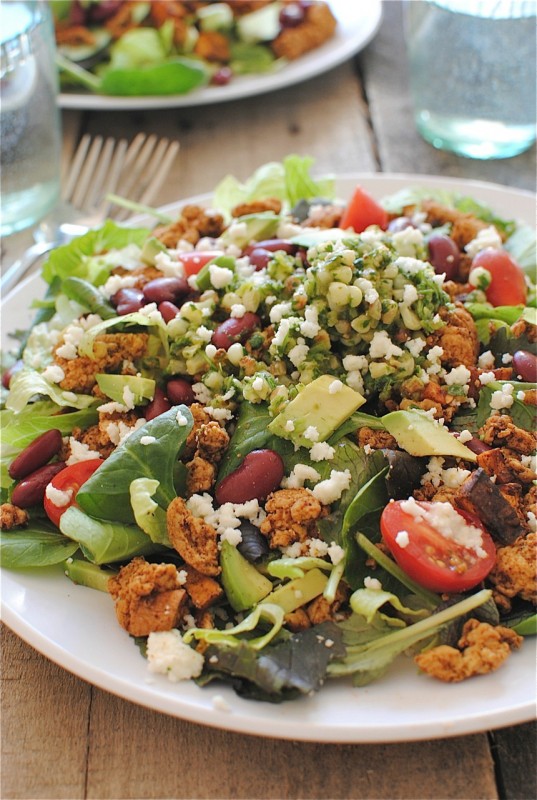 In the west of the pantry shy of arms and laigs
Sat a sweet potato livin' out the rest of its days.
Chillin' out freezer-style I had some corn
A can of kidney beans and salad greens I coulda' sworn.
When a couple of sprigs from cilantro-hood, started making pesto like it's all good.
I roasted one little pepper and my mouth got scared
and said, "You're blizting with the lime and herbs up in there!"
I whistled for the turkey and when it hit the pan
the seasonings were raging so I had to taste it, man.
If anything I could say that taco shells would be ace,
but I thought, "NAW FORGET IT, YO HOME TO MY FACE."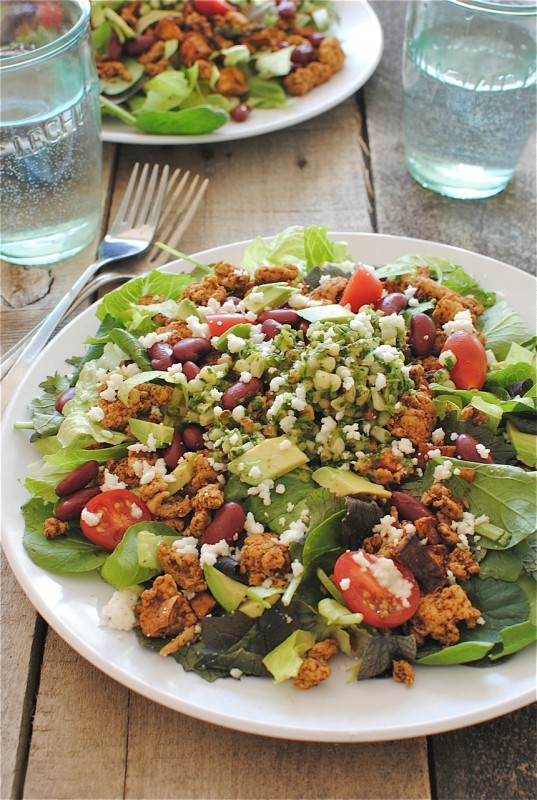 I pulled up to the plate about 7 or 8
and I yelled to the kitchen, "YO HOME, CLEAN YA LATA!"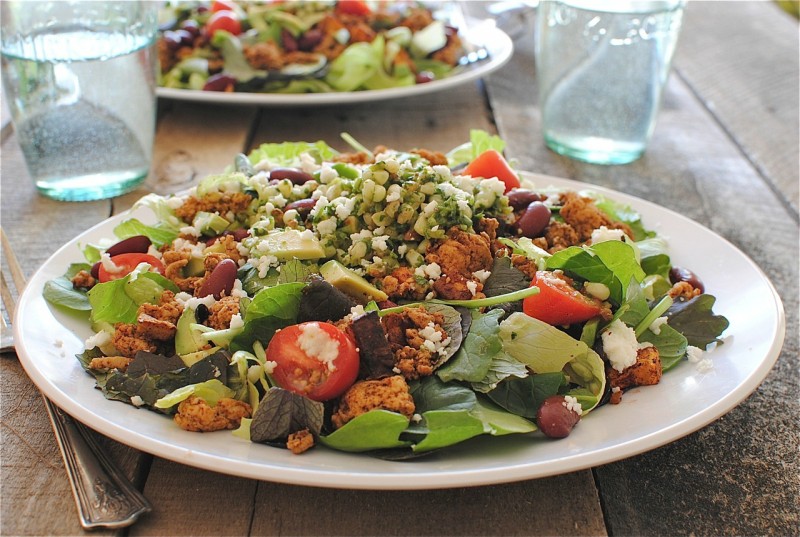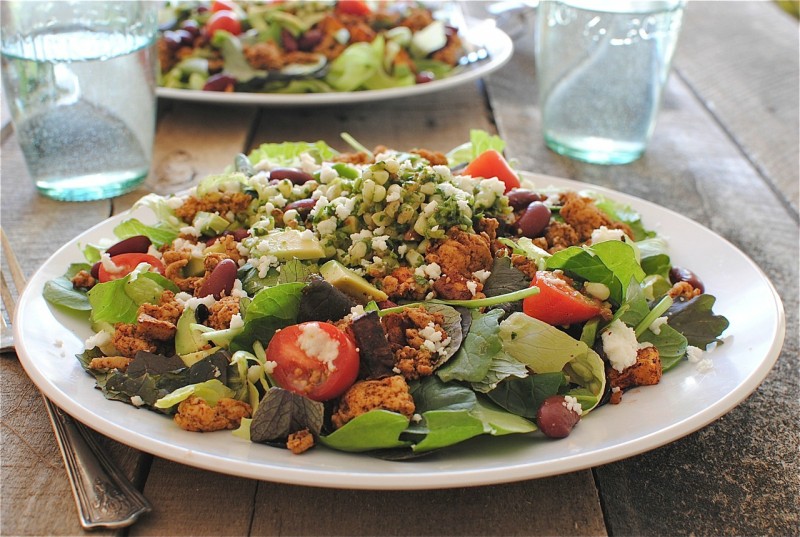 I looked at my salad I was finally there
to destroy it like an unabashed grizzly bear.
Loaded Turkey Tacos Salads:
What it took for 4 dinner salads:
* 3 Tbs. extra-virgin olive oil, divided, plus 1 tsp
* 1 sweet potato, cut into a fine dice
* 1/2 cup frozen corn, thawed
* 1 pound ground turkey
* 3 Tbs. fave taco seasoning, divided
* 1 (15 oz) can kidney beans, drained and rinsed
* 1 cup cilantro
* 2 Tbs. lime juice
* 1 jalapeno pepper
* 1/2 cup cherry tomatoes, halved
* 1 avocado, finely diced
* 8 cups mixed greens
* crumbled queso fresco
Preheat oven to 400.
Toss the sweet potatoes with a Tbs. of olive oil. Sprinkle with 1 Tbs. taco seasoning, salt and pepper; arrange on a baking sheet.
Toss the corn with a tsp of oil and a pinch of salt and pepper. Arrange on a separate smaller baking sheet.
Put both trays in the oven; roast the corn for 10 minutes, and the sweet potatoes for 20.
Once you take the veggies out, flip the oven to broil. Place the jalapeno on the small baking sheet and broil until blackened and charred all over, 5 minutes. Immediately transfer the pepper to a plastic baggie and let sit about 10 minutes.
Brown the ground turkey in a large skillet over medium-high, about 7 minutes. Season with 2 Tbs. of your fave taco seasoning and a good pinch of salt. Add a little water to keep it from drying out.
Now back to the pepper. Remove the skin from the pepper, cut off the stem and scoop out the seeds. Place the pepper in a small food processor, along with the cilantro, lime juice, 2 Tbs. olive oil, and a pinch of salt. Blitz until smooth.
Add the roasted corn to the cilantro pesto and stir to combine.
Now you just layer!
Arrange about 2 cups of salad greens per plate. Top with seasoned turkey, kidney beans, cherry tomatoes, roasted sweet potatoes, avocado, a good drizzle of the cilantro corn pesto, and crumbled queso fresco.
Omg eat up.