Sometimes in life ya just gotta stuff things in other things.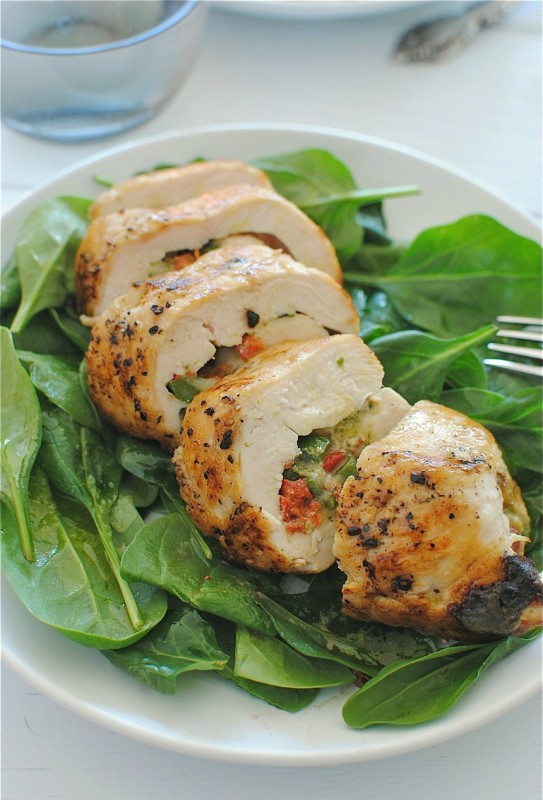 I think for us women it obviously started at a young age, when we dutifully learned to stuff our, ahem, bras. And then it was basically mayhem from there. If there is something to stuff, we'll stuff it. Give me that purse. I WILL STUFF THAT THING.
So today, to celebrate the fact that we're driving to Arkansas so that Aaron can play in his old band's 10-year reunion show, we're stuffing chicken!
Oh no. There's no connection at all. I'm just stupid giddy.
I actually made this dish two days in a row. Once as an experiment (just like bra stuffing) and then once for the video (um, not like bra stuffing I SWEAR, MOM) we shot last week. And I have to say, day two's method was pretty dope. I added a fat dollop of fresh pesto to the mix, and instead of layering everything on the pounded out chicken (like in ze pic below), I stirred the cheese into the mixture before putting it on the chicken. And I'd like to take the next few moments to express the following:
Eeeevery night in my dreams, I see you. I FEEEEEL YOU. THAAAT is how I know you go onnnnnn.
Near . . . far . . . WHEREEEEEVER YOU ARE. I BELIEVE that the heart does go oooooooooooon.
Oh, you're still here? Wow, that's embarrassing.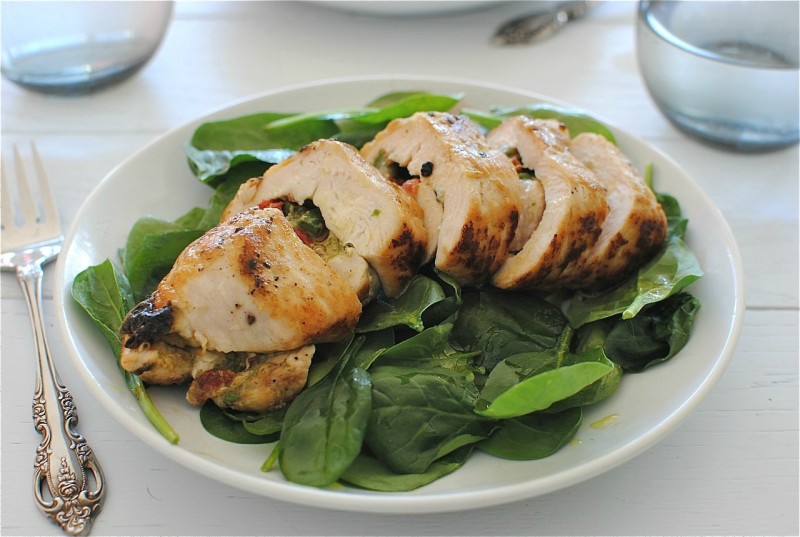 But you should definitely stuff some chicken.
Cheesy Asparagus and Roasted Red Pepper-Stuffed Chicken:
What it took for 2:
* 1/4 bunch asparagus, stemmed
* 1 roasted red pepper, diced
* 1 Tbs. pesto (homemade or store-bought – either!)
* 1 cup shredded mozzarella cheese
* 2 chicken breasts
* 2 Tbs. extra-virgin olive oil
* 4 cups spinach
* coarse salt and pepper to taste
Preheat oven to 350.
Bring a medium pot of water to a boil. Add the asparagus and boil for 1 minute. Immediately transfer to an ice bath to stop the cooking. Drain the water and dice the asparagus into small chunks.
In a small bowl, combine the diced pepper, asparagus, pesto and mozzarella cheese. Toss in a pinch of salt and pepper and stir to combine.
Now, place the chicken breasts between two large pieces of plastic wrap. Pound them out thinly until they're as even as possible. Didn't that feel good?
Divide the pepper mixture and dollop at one end of the chicken, and then roll her up! You don't really need to toothpick them shut, but you can if they don't want to hold. I just used my tongs to kind of keep them together when I was searing. Also, you might left over mixture, which is awesome. Throw it in a tortilla the next day and make a quick lunch quesadilla.
Heat the oil in a large skillet. Add the chicken rolls and gently sear on all sides until browned and lovely, about 7 minutes total. Make sure to season them as you roll. Because it's how you roll. Sorry.
Then transfer the chicken to the oven and cook another 5 to 7 minutes, until the chicken is cooked through.
Remove from the oven and let the chicken sit for a couple of minutes. Then slice and serve over a bed of spinach leaves! You can wilt these too if you want.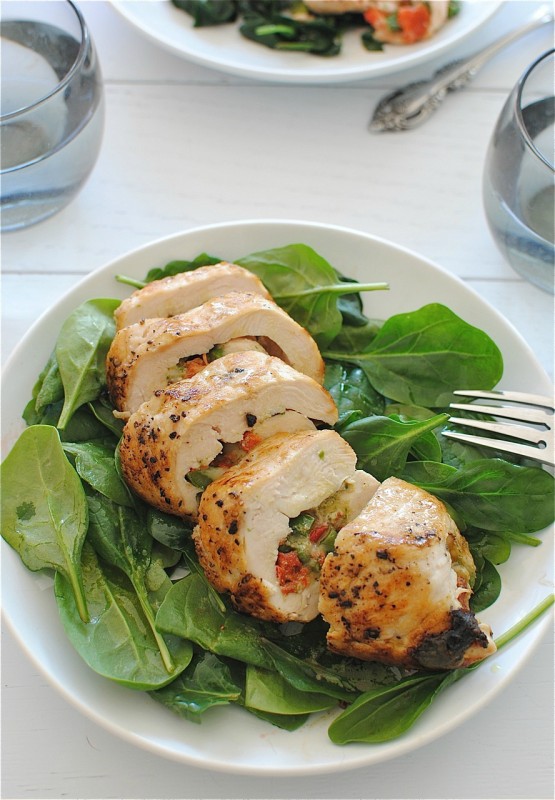 ONCCEEEE MOREEEE YOU OOOOPEN THA DOOOOOO'.