FROOOOOSTY THE SNOWMAAAAN WAS A JOLLY HAPPY SOUUUUUUUUUUL.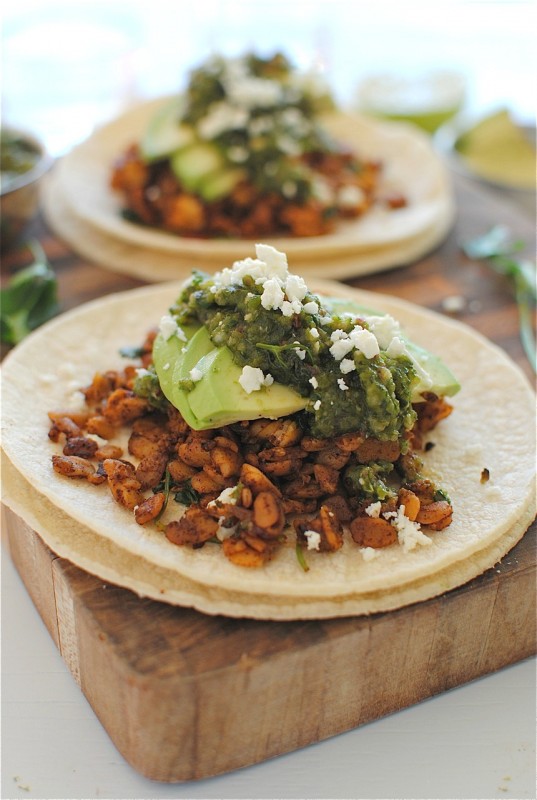 Well guess what, fah-reshy fresh. We got snow! Don't ask me how much though because to me it's all 17 feet. No matter how little or how much, 17 feet. Even the lightest dusting, 17 feet.
"MY CAR IS COVERED IN 17 FEET OF SNOW I'M STUCK HERE FOREVERRRR."
"Bev, I can wipe those two tiny flakes away with this torn kleenex. You're fine."
I'm the world's most enormous whopper of a sissy when it comes to snow. I love to watch it fall of course (duh), and I love watching all the hundreds of thousands of birds pop around on the white blanket in our backyard looking for fallen bird seed because my husband hangs no less than 45 bird seed planter thingies in the trees because we're grandparents, but aside from that? Sissy blimp.
So what today means for me is, in no particular order:
A) Leaving this house? Fat chance.
B) Not getting out of this plush warm robe that I've worn and I'm not kidding since Tuesday morning because I can't get off the couch because Amber was just in a car accident on Parenthood and my whole life is revolved around this don't judge me.
C) Opening a bottle of wine early? prrrrrrrrrrrrrrrrrrrrrrobably so.
'Tis the season? Let's just go with that.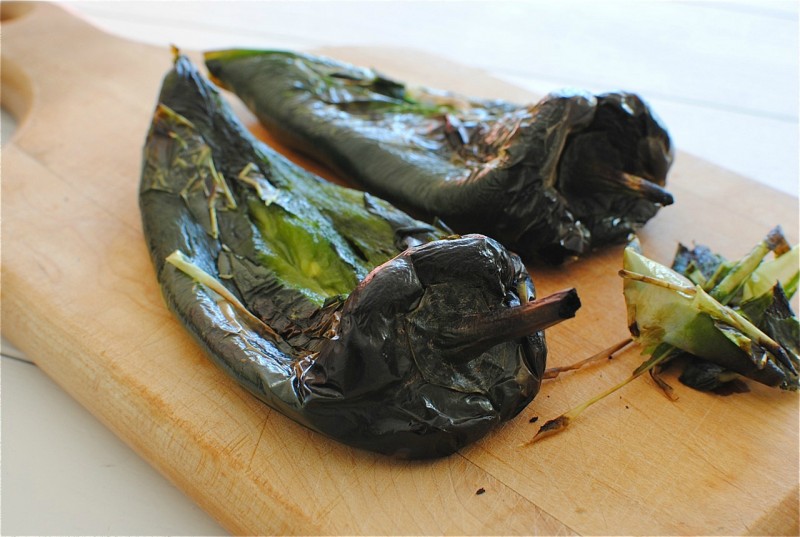 Oh btw, WITH A CORNCOB PIPE AND A BUTTON NOSE AND TWO EYES MADE OUT OF COOOOOOOAL. Which, I'm sorry, but coal? Ow.
You're so ready for Christmas to be over so I'll stop screaming all these obnoxiousities (weird I'm getting a squiggly line) at you.
So these here tempeh tacos, oh my gosh. Consider these your break from the heavy stuff. The meaty stuff. Which I loooove, but geez Louise, next week we're all going to gain like 17 feet of pounds (get it?) and then we're going to be feeling all kinds of blorbalicious. THAT'S when you make these. Or tonight or now. You choose.
Super quick to pull together. And I can't even describe the roasted poblano salsa to you without bawling. Basically I want to replace the inside of my mouth with it.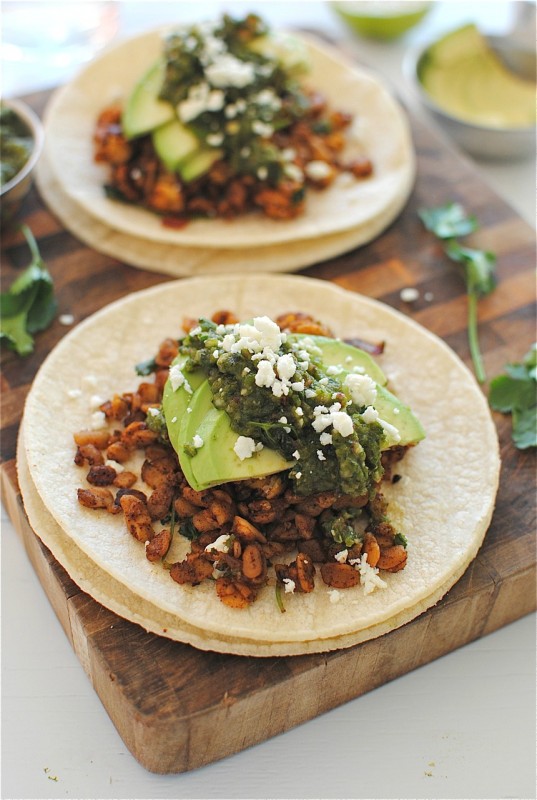 And I think we're up to 18 feet of snow now, ugh.
Anddddd, the winner of the Desserts In Jars cookbook iiiiiiis (drum roll please): Chelsea @ Chelsea Eats Treats who said, "Hmmmm I suppose the weirdest thing I've ever put in a jar is probably insects, like you said. Lady bugs, lightening bugs, butterflies, etc. Possibly a frog too. I was quite the nature kid growing up ;)"
Congrats, Chelsea! Check yo' inbox. And thanks to everyone for parteeecupatin'!
Okay now the tacos.
Tempeh Tacos with a Roasted Poblano Salsa:
What it took for 8 tacos:
* 2 poblano peppers
* 5 cloves garlic, divided
* 2 Tbs. extra-virgin olive oil
* 1 cup diced red onion, divided in half
* 2 (8 oz) blocks tempeh, crumbled with your hands
* 3 Tbs. favorite taco seasoning
* 1 cup cilantro, divided in half
* 1 lime
* 16 corn tortillas
* crumbled queso fresco
* 1 avocado, thinly sliced
* coarse salt and freshly ground pepper
Place the poblano peppers and 3 cloves garlic on a rimmed baking sheet. Stick it under the broiler and broil until the peppers have charred and are black on all sides. You'll need to rotate the peppers with tongs. The garlic will cook quicker, so remove it if it's becoming too charred.
Once the peppers have blackened, place them in a small bowl and cover with plastic wrap. Let sit for 10 minutes, until the skin loosens from the peppers. Once it's loosened, slice the peppers in half and remove the seeds. Pull the skin away from the peppers. Slice the peppers into little strips. Peppers peppers peppers.
Then throw the strips into a food processor, along with the garlic, half the diced onion, half the cilantro, a good spritz of lime juice and a pinch of salt and pepper. Bliiiiiitz until you get a nice (HOT HOT HOT) salsa.
Heat the oil in a large skillet over medium-high. Add the remaining onions and sauté until they start to soften, 3 minutes. Add the garlic and bloom 30 seconds. Add the tempeh crumbles, taco seasoning and a pinch of salt. Sauté 3 minutes. Go ahead and toss the rest of the cilantro in. And a couple of big spritzes of lime juice. Taste it. Nooooot kidding.
Heat your tortillas any way you prefer – gas range, oven, microwave, it's all about what makes you sing.
Double up the tortillas, and top with a good mound of seasoned tempeh. Arrange the sliced avocado on top, and finally spoon a nice amount of the poblano salsa over it all. Oh gosh. And then the crumbled cheese. Another spritz of lime? I think so.
And there ya have it.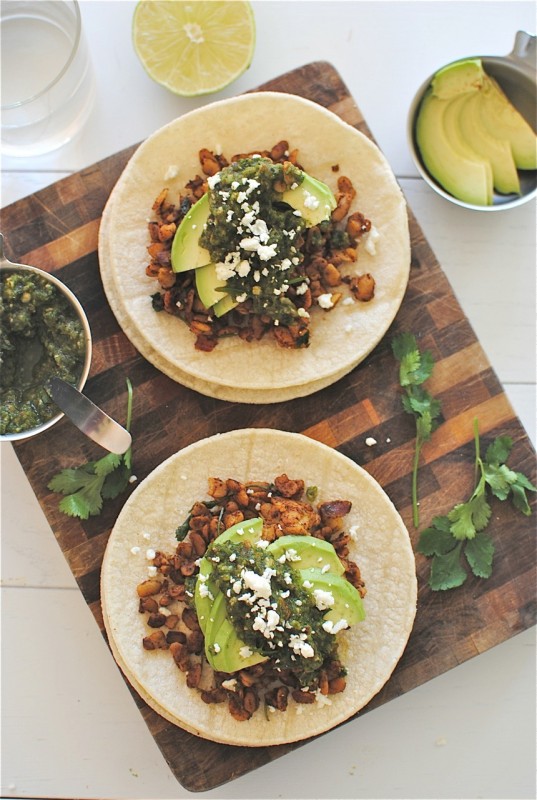 Wait a minute I thought snowmen had CARROTS for noses. Not buttons. What is this b.s.?