ANGELS WE HAVE HEAAAAAAAARD ON HIIIIIIIIGH.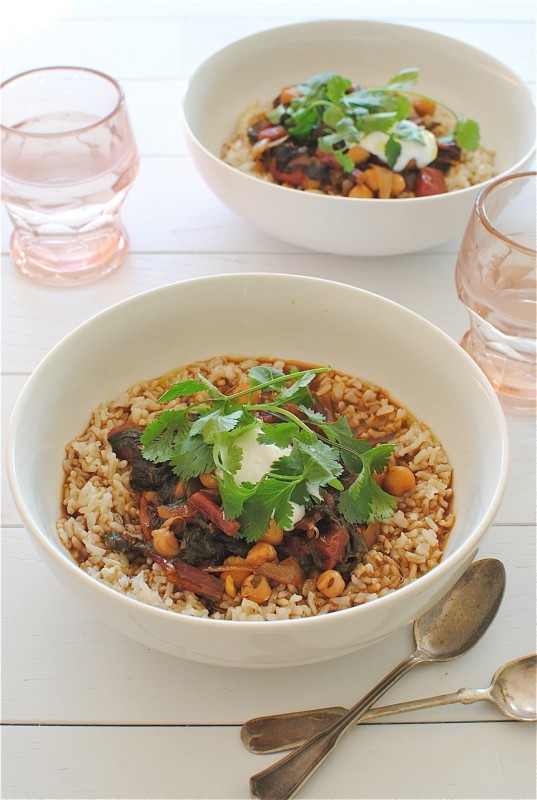 Okay so the world didn't blow up. That's good. I'm actually glad because last night Aaron and I went out to a nice dinner, and I have some major pimp leftovers in the fridge. I would have been peeeeeeeee-oooooooooh'd if any ashes got on them. This does however mean I need to go ahead and wash my hair now that I have a new life ahead of me. Ugh.
Remember when I was a co-host of a baby shower a while back? No? Okay, I was a co-host of a baby shower a while back. And one of the host gifts given to me was this stunning vegetarian cookbook, Plenty. Ohhhhhhhhhmeeelaaaaawd. It's gorgeous. I can't stop licking I MEAN STARING at the pages. Every single photo pretty much punched me in the spleen, "I'M GONNA GET YOU, SUCKA."
So, I picked this crazy wack recipe with TAMARIND in it and just went for it. Tamarind. Have you ever cooked with such a thing? I bought it in paste form – you know what, it would make more sense for me to tell you this under these photos. Hold on.
Okay, I bought tamarind, (that weird dark gluey stuff I'm pouring right under this word right here) in paste form. It's bizarre! But in a good way. It comes from trees in India or something. Like, in dark brown pods. It's hard to describe the taste. It's like sweet met sour on the dance floor and they threw their hands in the air like they just didn't care.
I mean, you wouldn't want to tear up a tamarind smoothie or anything, but in this stew? With swiss chard? And chickpeas? And tomatoes? And onions? And toasted coriander? And caraway seeds? And you're about to tear your face off if I don't just get to it?
It's pretty bawd awss.
And the way you serve it, oh holy night, is over little mounds of brown rice, and then dolloped with some good Greek yogurt, fresh cilantro and a nice heavy drizzle of olive oil.
Sweetly singing o'er the PLAINS, y'all.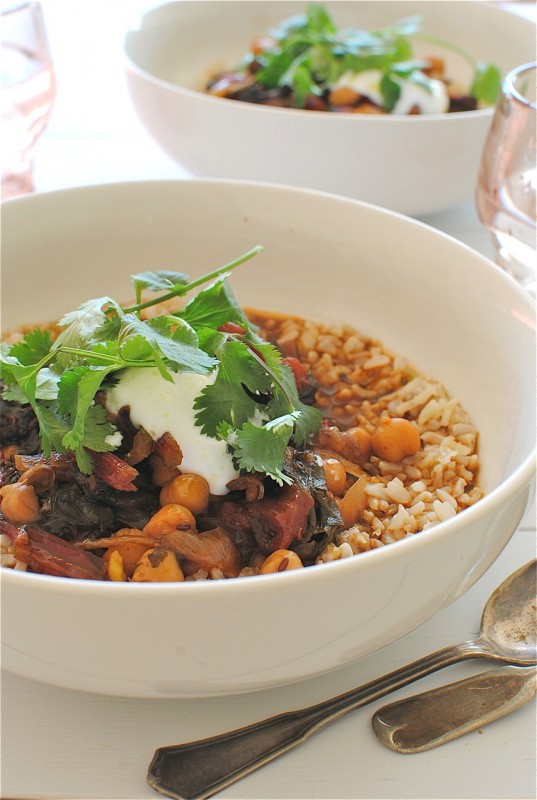 If I were a mountain in reply about to echo my joyous strains, I'd want this stew to be like, all over that strain.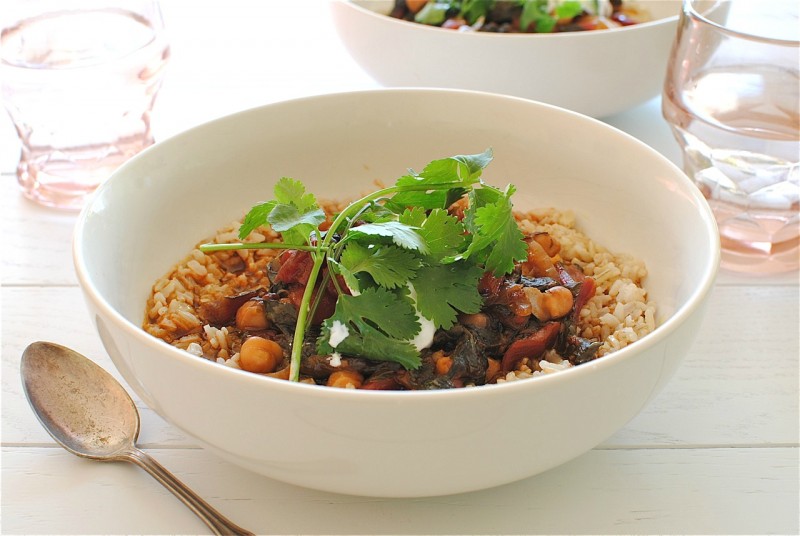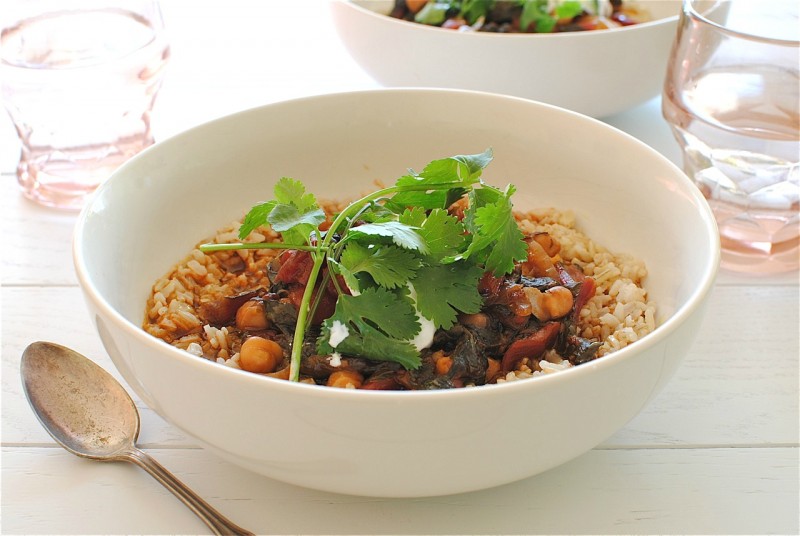 I like tamarind.
Swiss Chard and Chickpea Stew with Tamarind:
(pretty much straight from Plenty)
What it took for 4:
* 4 Tbs. tamarind paste
* 1 bunch swiss chard (stems discarded), roughly chopped
* 1 1/2 tsp coriander seeds
* 1 medium white onion, thinly sliced
* 2 tsp caraway seeds
* 2 Tbs. extra-virgin olive oil, plus more to drizzle at the end
* 1 Tbs tomato paste
* 1 (14 oz) can diced tomatoes, with their juices
* 1 1/2 cup water
* 2 tsp sugar
* 1 (14.5 oz) can chickpeas, drained and rinsed
* coarse salt and black pepper
* 1 lemon
* 1 cup Greek plain yogurt (for the garnish)
* a cup of cilantro leaves (for the garnish)
* 2 cups cooked brown rice
Bring a large pot of salted water a boil. Add the chard and boil it for 30 seconds. Transfer to an ice bath to stop the cooking. Drain and set aside.
Toast the coriander seeds in a small skillet, until fragrant, two minutes. Transfer to a mortar and pestle and crush crush crush until it's a fine powder.
Bring the oil to a medium heat in a large pot. (you can use the one you blanched the chard in) Add the onions and caraway seeds; sauté until soft and golden, about 10 minutes. Add the tomato paste and stir it until it's all over the onions and awesome. Then add the canned tomatoes, water, sugar, chickpeas, ground coriander, swiss chard and a good pinch of salt and pepper. OMG.
Then add the tamarind paste. I can't even tell you what's going to happen. Just do it. Stir it into the stew to get it all combined. Cover with a lid and simmer on low for 30 minutes. Taste it. Need a little more salt? Go riiiight ahead.
Divide the cooked brown rice among 4 bowls. Create a small well in the center of each mound. Ladle the stew into the rice and dollop with yogurt, cilantro and another good drizzle of olive oil. And a good spritz of the lemon juice! Oh man.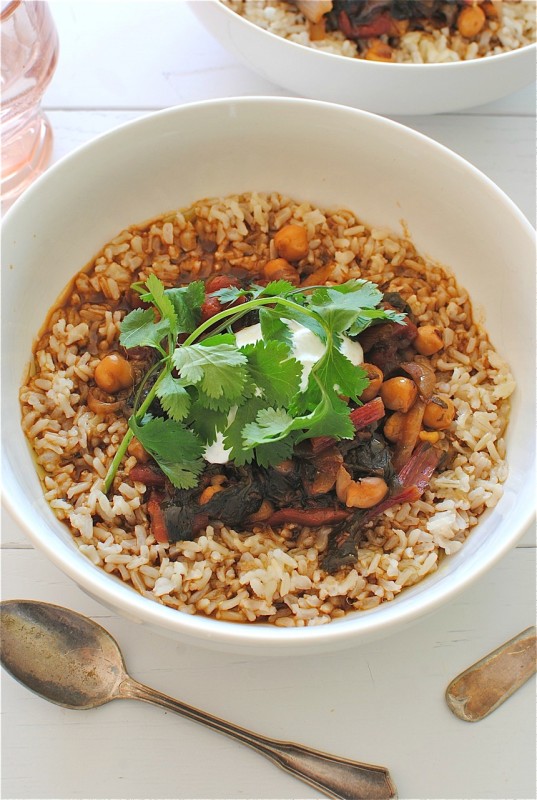 GLOOOOOO-OO-OOO-OOO-OOOOOO (breath) OOOOO-OOOO-OOOO (breath) OOOOO-OOOOOO-OOOOO-RIA.