HARK THE HEEERALD ANGELS SIIIIIING.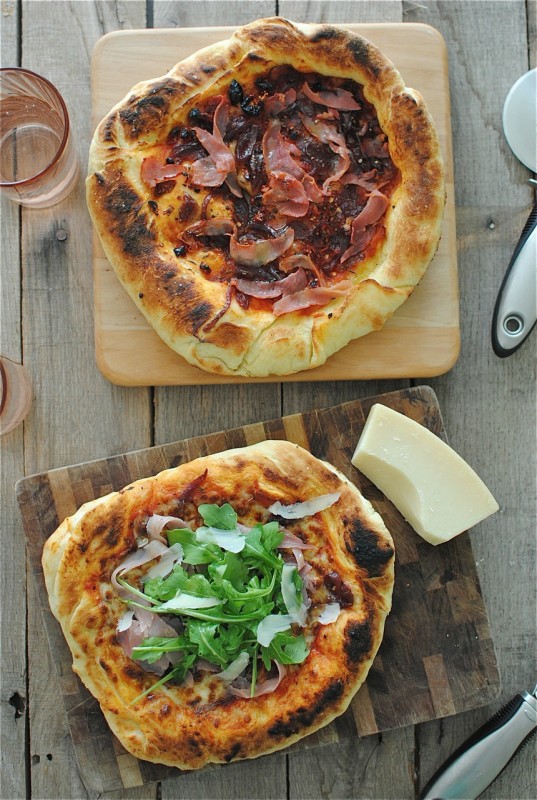 I seriously just typed Harold. Hark the Harold angels sing. Hey, Harold, don't you have some angel harking to tend to? How are those angels, Harold? Exhausted from all that harking? Hi, my name is Harold. This is my brother Angel, and this is my other brother Angel. (name that '80s sitcom)
I can't believe I'm still talking about Harold and his angel harking habits when I have the world's most insane piece of news for you. Well, besides the fact that Crosby and GABY just hooked up on Parenthood. WHAT. I might not make it through this morning if I don't immediately watch the next episode. I truthfully.may.not.make.it.
Anywayanywayanyway, the news. I'll give you a hint. It rhymes with – fe splastest may smehzer behzer do mook ta reetsa biz due muse la smeakring nrast liron lillet, scrascreave eet lor dot.
You know what, I'm so sorry. That was way too obvious.
But the truth remains . . .
The fastest way ever ever to cook a pizza is to use a freaking cast iron skillet, believe it or not!
Cast iron skillet, muthaz!
Would you lose your entire face if I told you this cooked in under 3 minutes? 3 minutes. Under it. Three. Uno, dos, tres.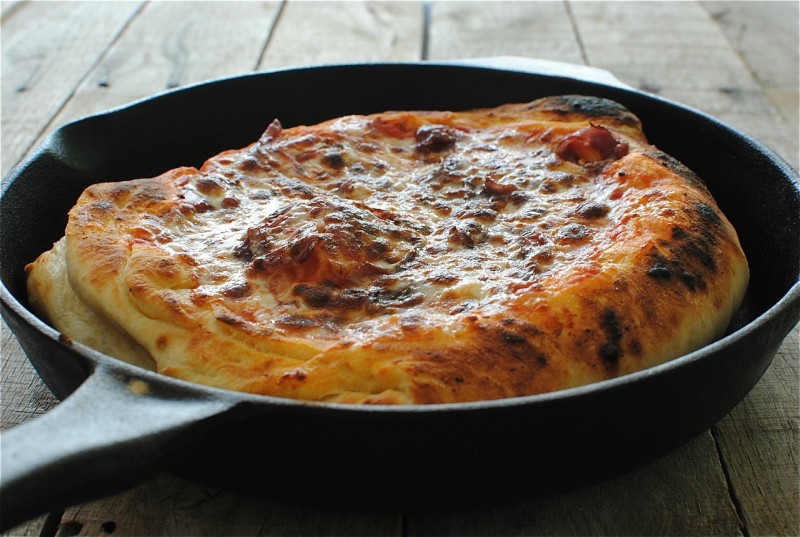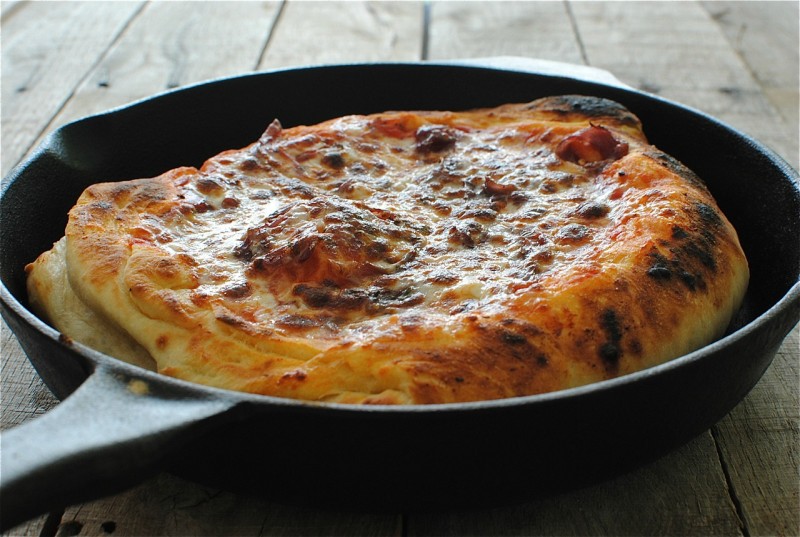 Because it did. And I lost my entire face. Matter of fact it's still lost. I'm like Hollow Face or whatever. Ew. At least I'm not trying to hark all of Harold's angels though with no face I mean YOU KNOW HOW FRIGHTENED THEY WOULD BE?
The above picture is my pizza, with a lot of cheese on it. And the crazy weird shape because we were just going straight up willy nilly town on it.
And the below is Aaron's pizza. With no cheese, crispy prosciutto and a slightly more appealing shape.
I SAID SLIGHTLY, AARON.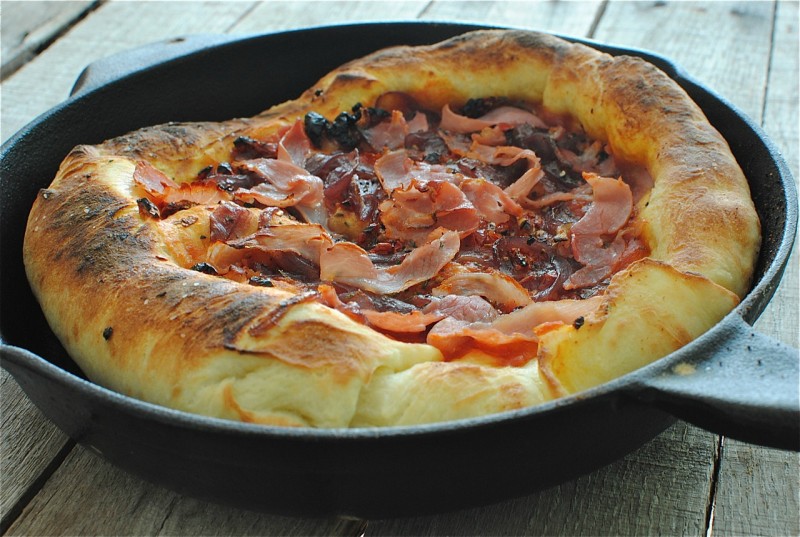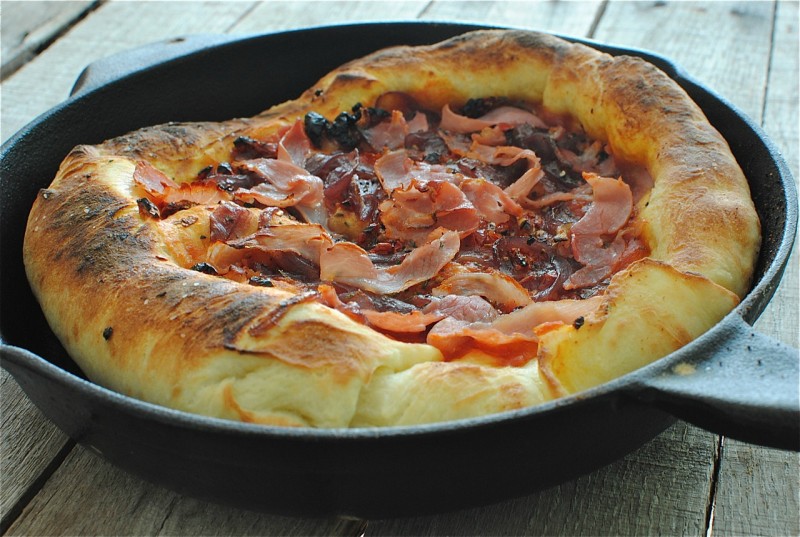 This post is less about the actual RECIPE, and more about technique. You can absolutely pick up a ball of dough at the store, or use your fave homemade recipe. The pizza is going to be mighty billowy and fluffy, since you're using more dough and fitting it into a cast iron skillet. What I'd LIKE to try is using a bigger cast iron and spreading the dough out a little thinner, but I'm skeered because it all happens so fast you don't even have time to say, "hey, babe, will you refill my wine? no, not in that glass. the glass I was using. why would I dirty up another glass? you know what, never mind."
So basically, what we know of life now is forever altered. And there's nothing anyone can do, even Harold and his angels, to stop it.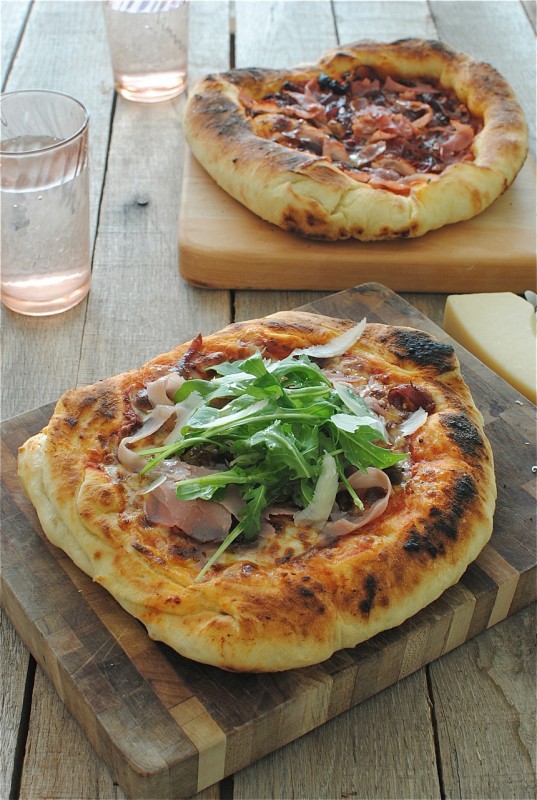 I've never been so happy.
Skillet Pizza:
(method adapted by Kitchen Konfidence):
What it took for two 8-inch pizzas:
for the dough:
(adapted from Baking Bites)
* 1 1/4 tsp active dry yeast
* 1 cup water, on the warm side
* 2 3/4 cup all-purpose flour, plus more for your work surface
* 1 1/2 tsp salt
* 2 tsp sugar
for the toppings:
* 3/4 cup pizza sauce
* 1 cup caramelized onions (thinly slice and sauté 2 whole onions on low in a Tbs. of oil for an hour)
* 1 pinch crushed red pepper flakes
* 2 cups shredded mozzarella
* 3 oz thinly sliced prosciutto
* 2 cups arugula
In a small bowl, combine the yeast and warm water; stir to dissolve.
In a food processor, combine the flour, salt and sugar. Give her a good pulse to blend it all up. With the motor running, pour in the water/yeast mixture. Keep it going until a ball of dough has formed and is smooth, satiny and kind of sexy, actually.
Divide the dough into two balls and transfer to two lightly greased bowls; cover with plastic wrap and let rise about an hour. They should seriously double in size. Once they've risen, you're ready. Grasshopper? No. Sorry.
Okay, turn your oven broiler on. And then take that cast iron and place it on a stove top burner, on high, for like 10 minutes. If it starts to smoke, turn down the heat a little.
Lightly flour a work surface and roll each dough ball out until roughly the size of the cast iron. Mine was a 10-inch skillet.
Spoon the pizza sauce over the dough. Give a sprinkle of crushed red pepper flakes. Now drizzle some caramelized onions on top. Okay now the cheese. Now, using a floured pizza peel, transfer the pizza and carefully plop it right down in the hot cast iron skillet. It might not be perfect, but just go with it. It's already cooking at this point so you have to move fast.
Now immediately transfer the skillet to the oven. Broil for 45 seconds. Then rotate it 180 degrees and broil another minute to a minute and a half, until that cheese is bubbly and the crust starts to char slightly. Watch it! It's fast, baby.
Take it out of the oven and marvel at this seriousness.
Now you can just top it with the fresh ingredients like torn prosciutto, arugula and parmesan shavings. That was it.
I still can't believe it.
*other options – Aaron chose to put his prosciutto on the pizza before cooking it. It's all up tew yew.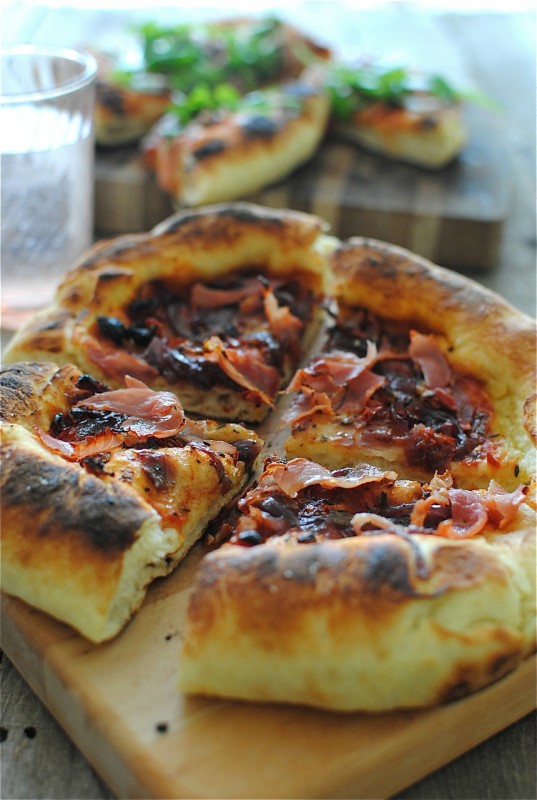 Imma 'bout ta hark the boo-honky out of this pizza, HAROLD.