And with a shallot dressing! Because we have to make sure we know about the shallot dressing. It's too good.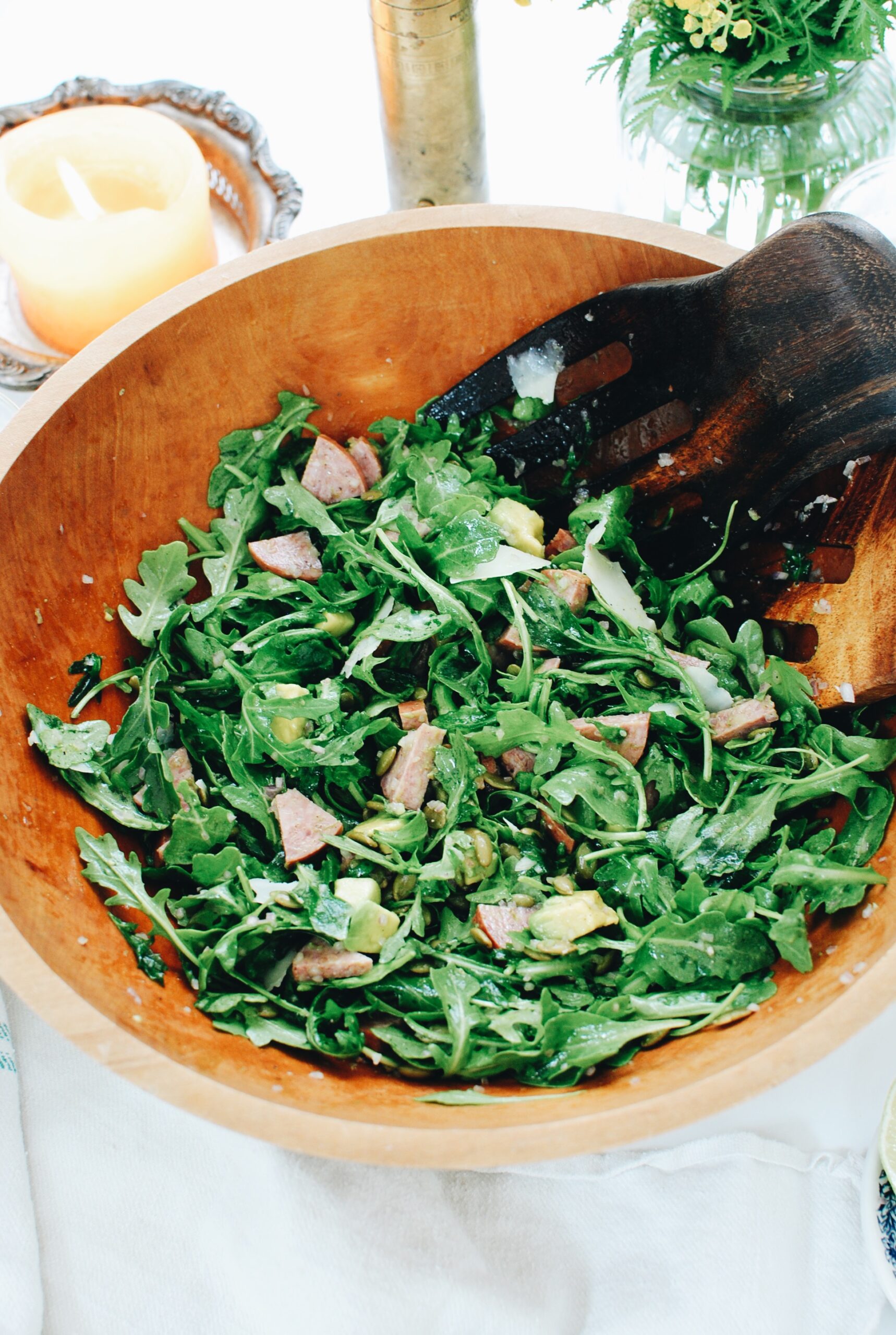 I rarely post salads on this blog because they end up being suuuuch a snooze fest. No one cares! BUT, this one needed to make its way somewhere permanent because hi, summer sausage? What on earth. In a salad? Yes. Of course.
This is a simple way to pack protein in something on the lighter side. A voodoo approach to packing guts into something not so gutsy.
In other words, let us peepeth.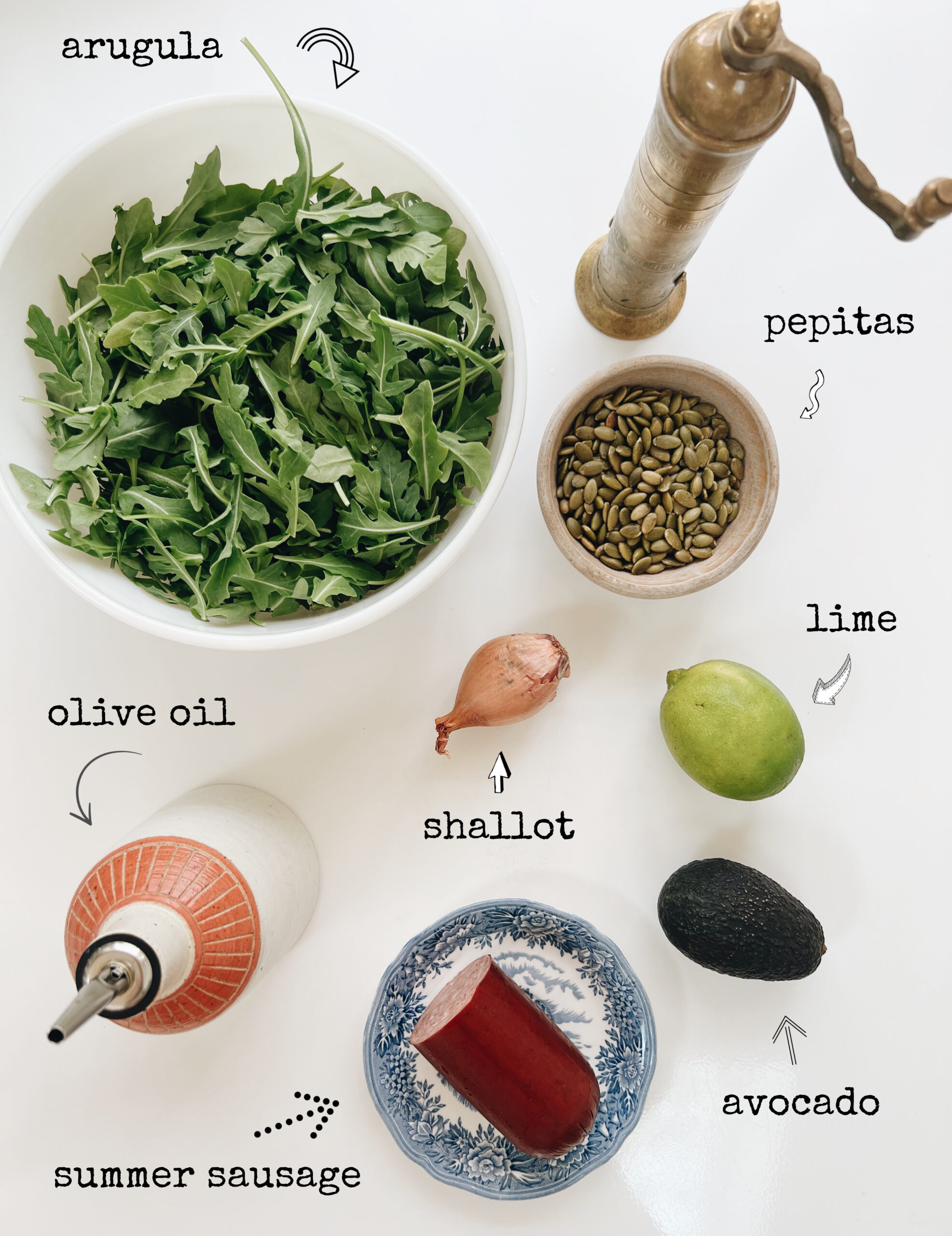 The summer sausage – you'll take that peel off! And then it all just get sliced and quartered. I happen to really love summer sausage this time of year. I buy it regularly and serve it to the kids during the summer at lunch with other nibbles. Makes a good snack. And something sort of hardy on a grazing board. Get into it.
The avocado, we'll dice. The pepitas, I bought them already toasted and salted. SUCH a fun toasty flavor.
The shallot, it's our dressing! You haven't forgotten, have you?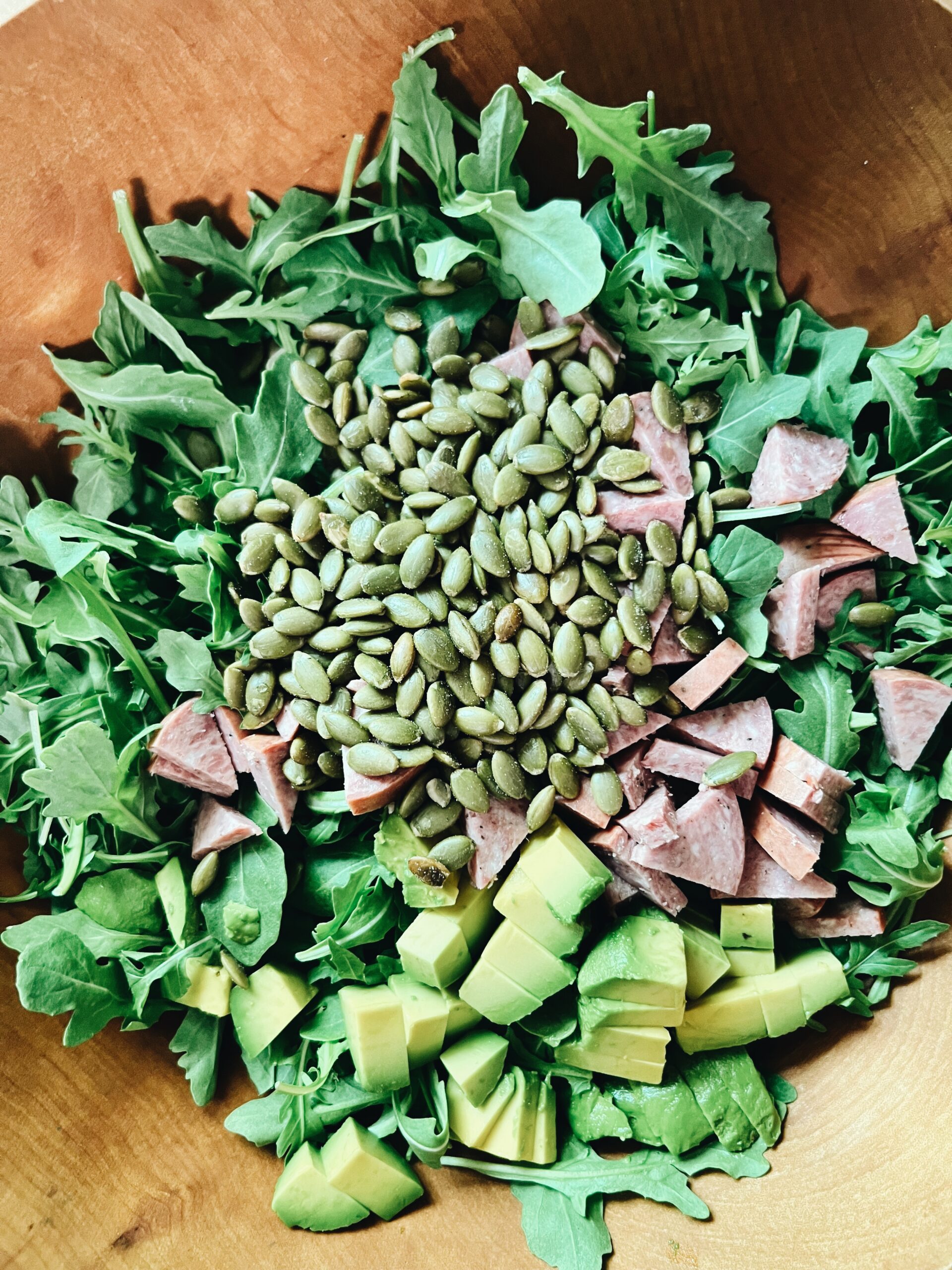 It all just gets tossed together. And the dressing, you'll see it in my video! I didn't get a photo of that part. Of course.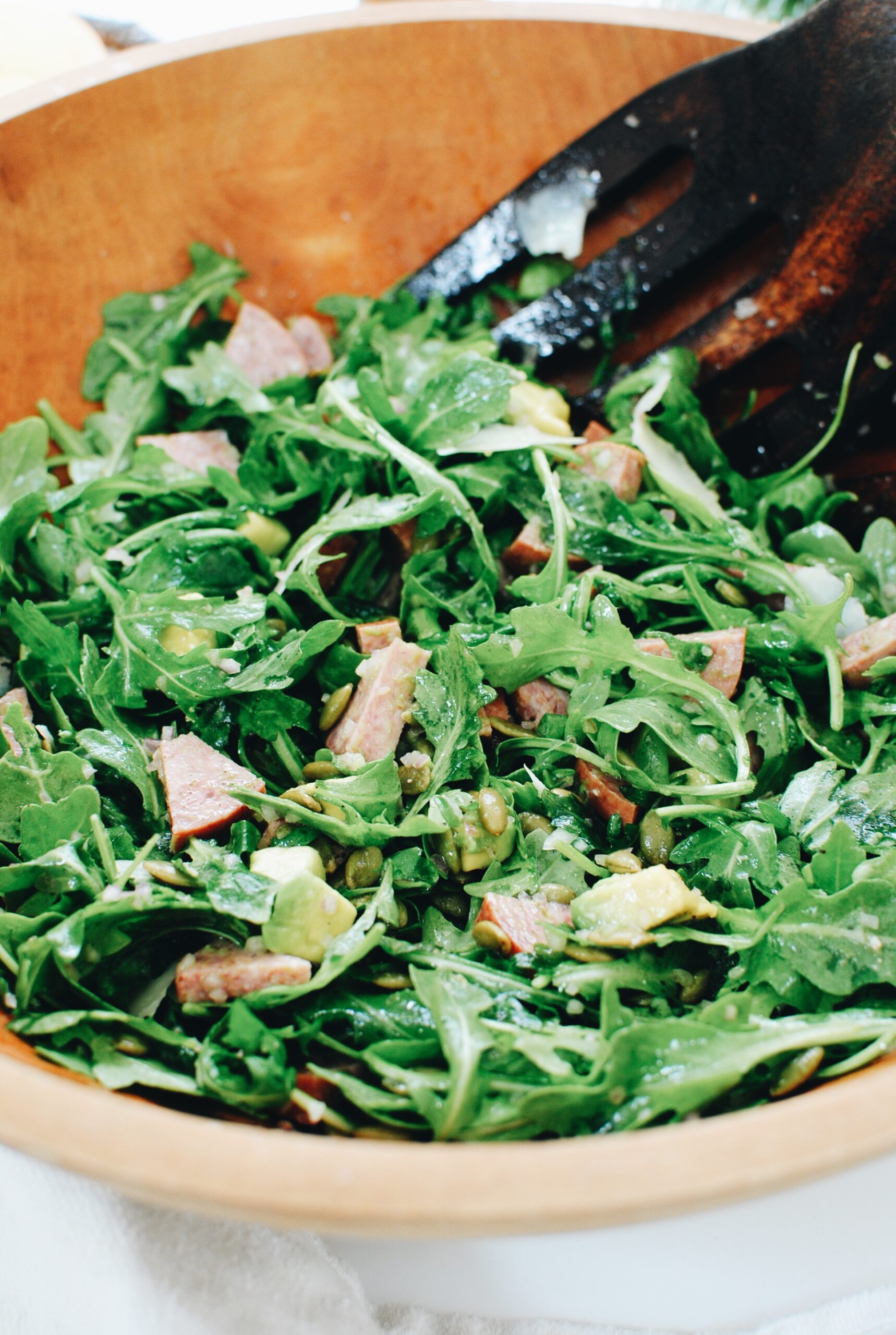 If you're feeling it, you could definitely add some shaved parmesan right on top once it's all coated. More black pepper? Yes.
Okay, this is truly something not to be ignored. Make it this week! It's a beautiful mix of light and bright with an edge. You'll obsess.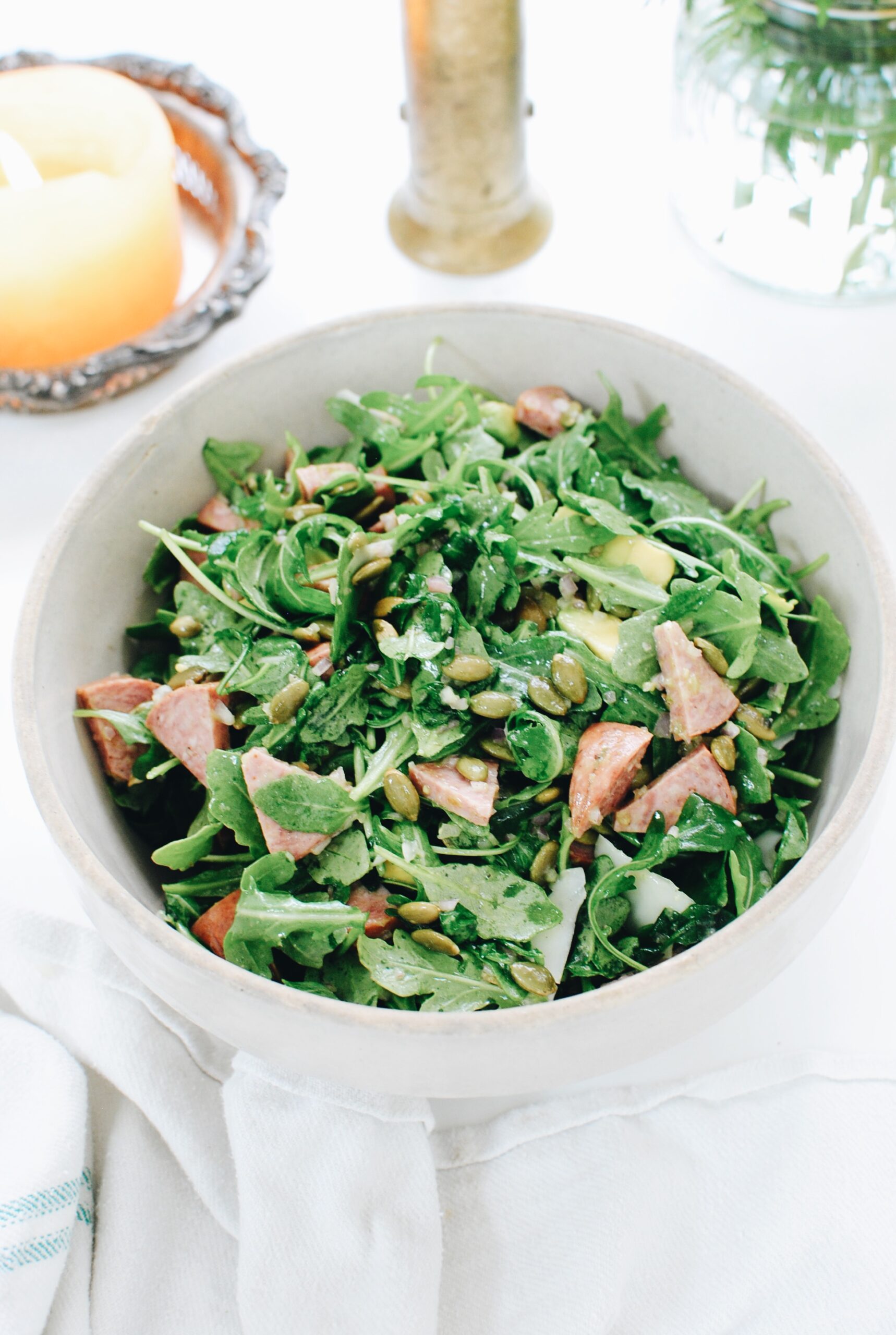 Tons and tons of action in something you truly just whipped together. I mean look at that.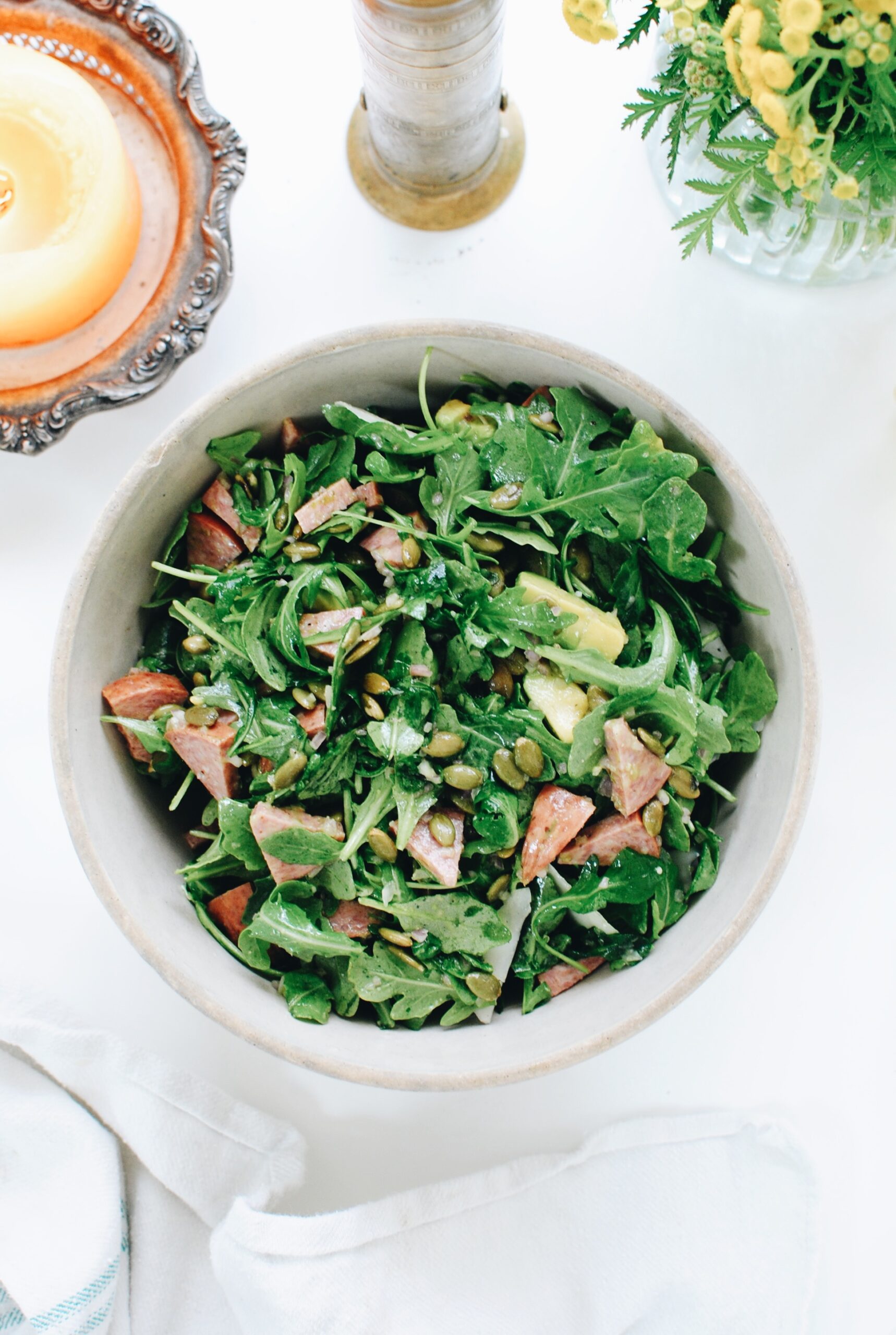 Yes it's a salad, buuuuuut….
Arugula Salad with Summer Sausage and Avocado
Ingredients
5 oz baby arugula
About a cup of quartered summer sausage (half of a 7 ounce log)
1 avocado, cubed
1/3 cup toasted pepitas
1/2 shallot, finely minced
3 Tbs. Extra-virgin olive oil
Lime, for the zest and juice
Coarse salt and freshly ground pepper
Shaved parmesan to garnish (optional)
Instructions
In a small bowl, whisk together the oil, lime zest, juice from half the lime, shallot, pinch of salt and a crack or two of black better. Whisk until smooth and emulsified.
In a large salad bowl, add the arugula, diced avocado, quartered summer sausage and toasted pepitas. Drizzle the shallot dressing over the top and gently toss to coat. If you're feeling it, shave some fresh parmesan on top, add a little more pepper and serve!
Serves four.
7.8.1.2
653
https://bevcooks.com/2023/08/arugula-salad-with-summer-sausage-and-avocado/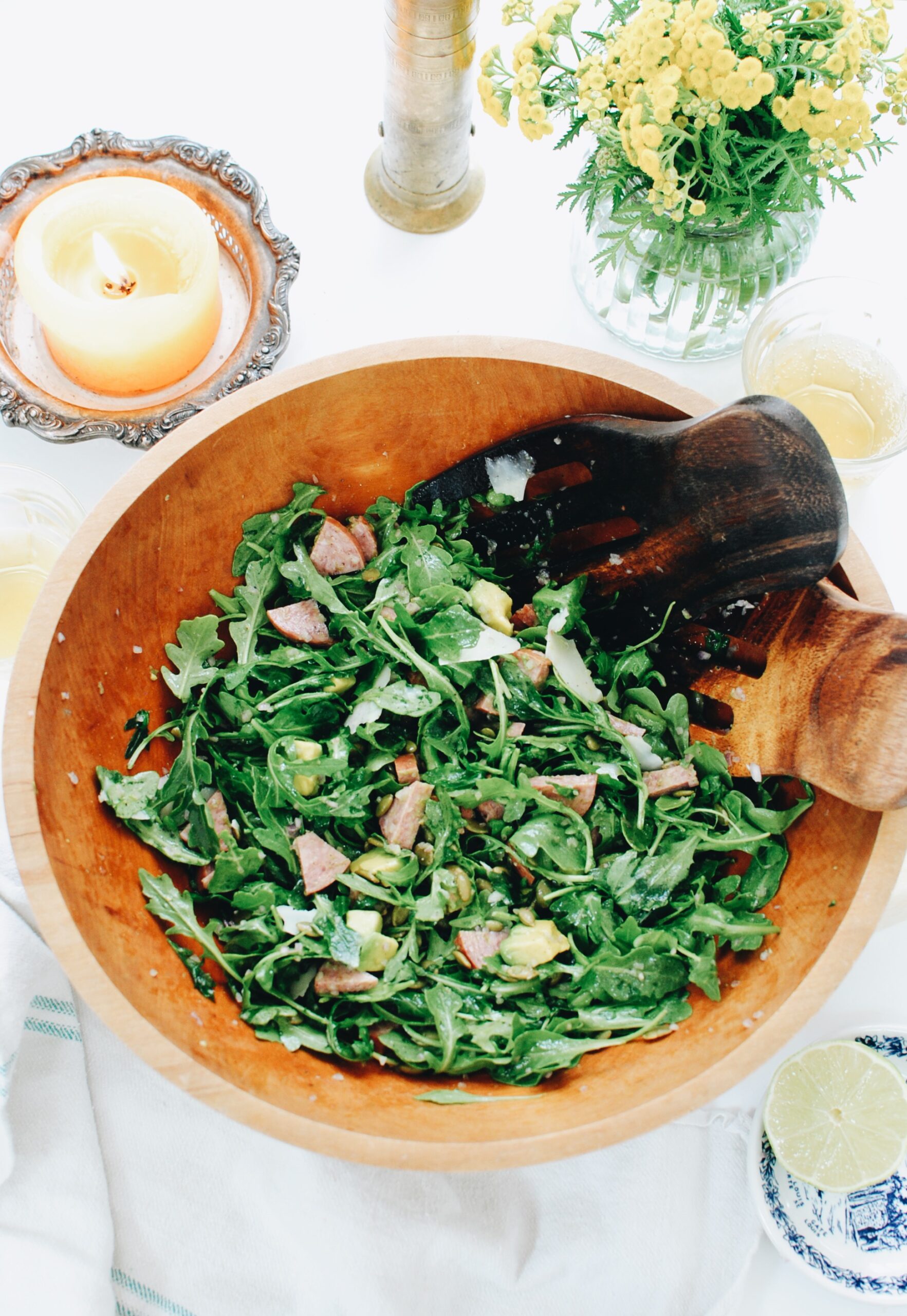 Hubba hubba.