We haven't sheet panned in a while! (<–it's a thing.)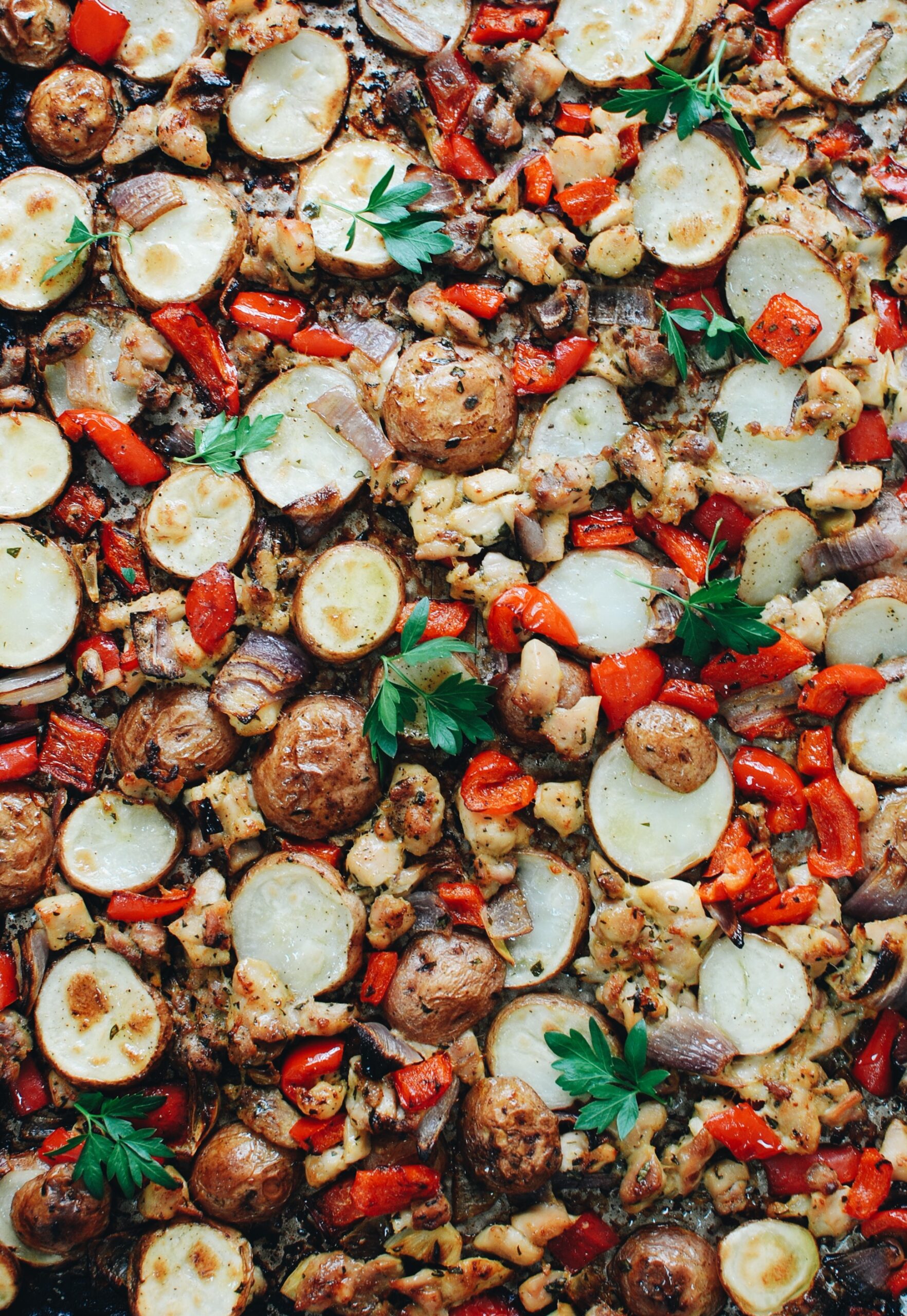 You might be initially turned off at the way I pull this together, but I need you to trust it because I said so.
(mom sayings can fit in other places too, ya know.)
It's all in one bowl. I'll show you in a second, but we're truly going to chop everything and violently throw it together in ONE bowl and then the rest takes care of itself.
Ready?
Let us peepeth.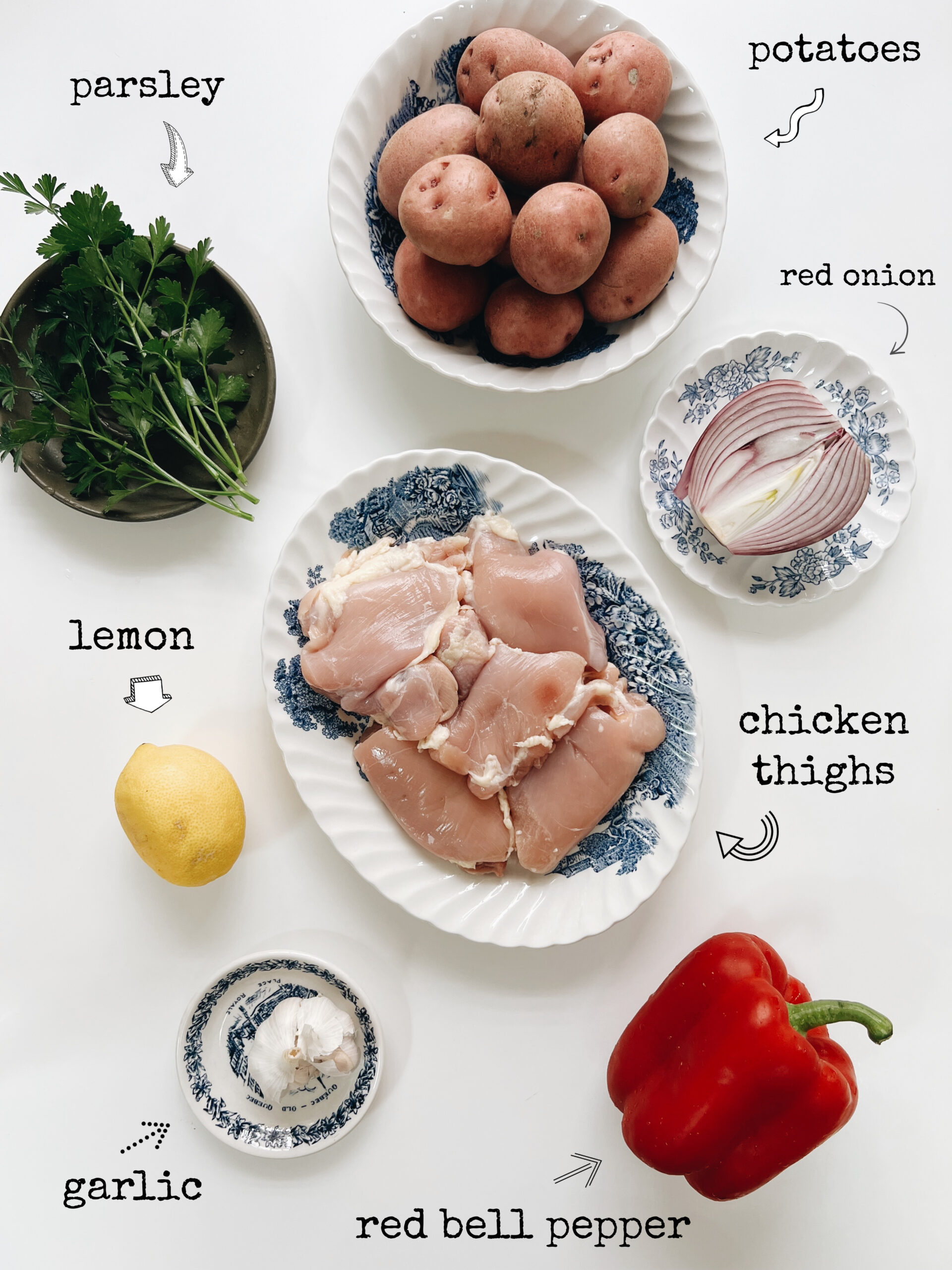 Thighs! Go with chicken thighs. We're roasting this for quite a while and we cannot have our chicken drying out in the process. Plus thighs are supreme, so.
The potatoes! Okay, feel free to just chop these like you would when you normally roast potatoes. I went with discs because my raging inner soul fairies demanded it. But you fly.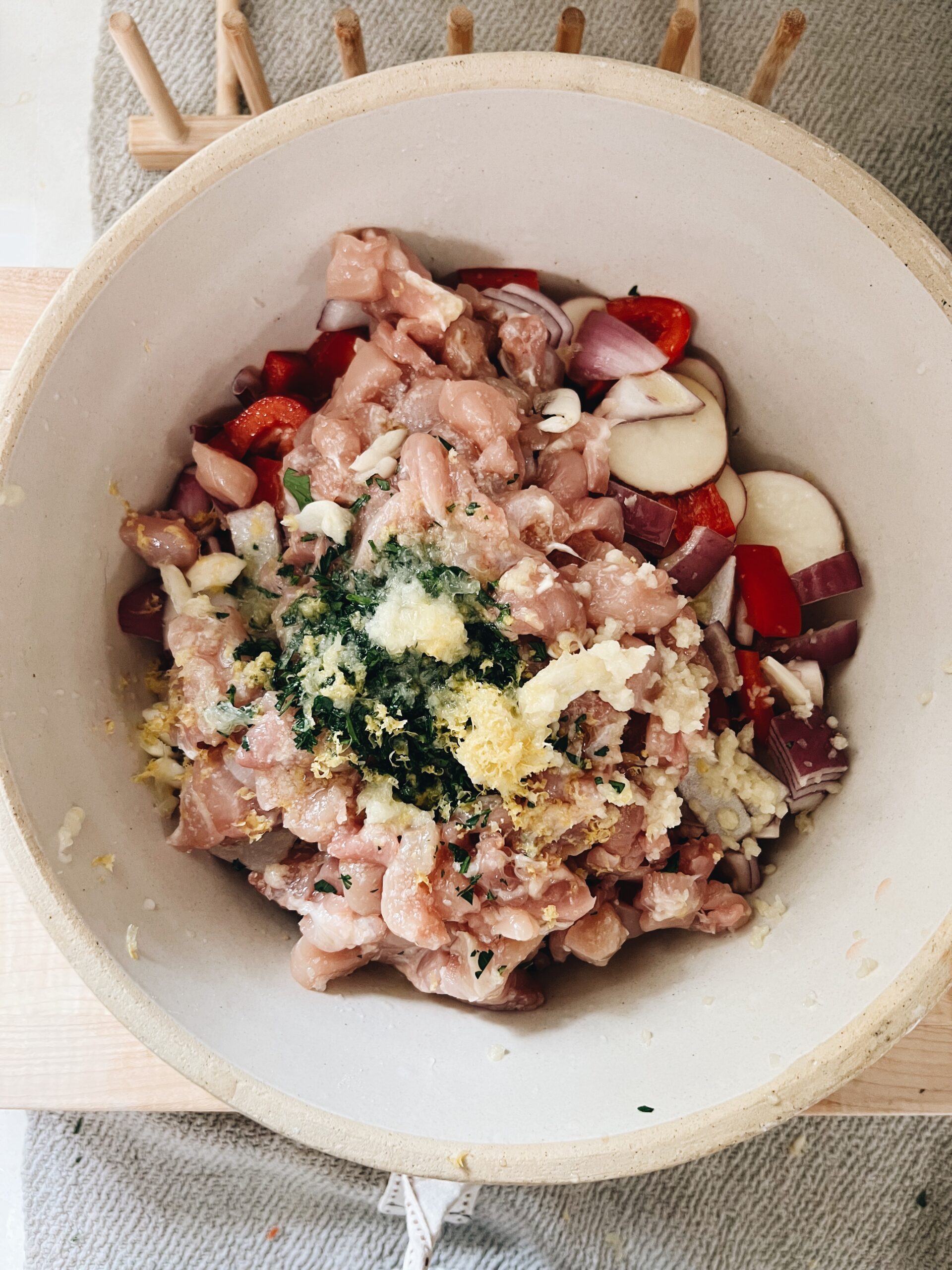 You'll spend a good little bit chopping everything up. We have chicken to chop, a red bell to chop, half an onion to chop, some garlic to mince, potatoes to slice, a lemon to zest, parsley to chop, my wife to murder and Guilder to frame for it. We're swamped.
So start on this early if you need dinner to come together in a snap, okay?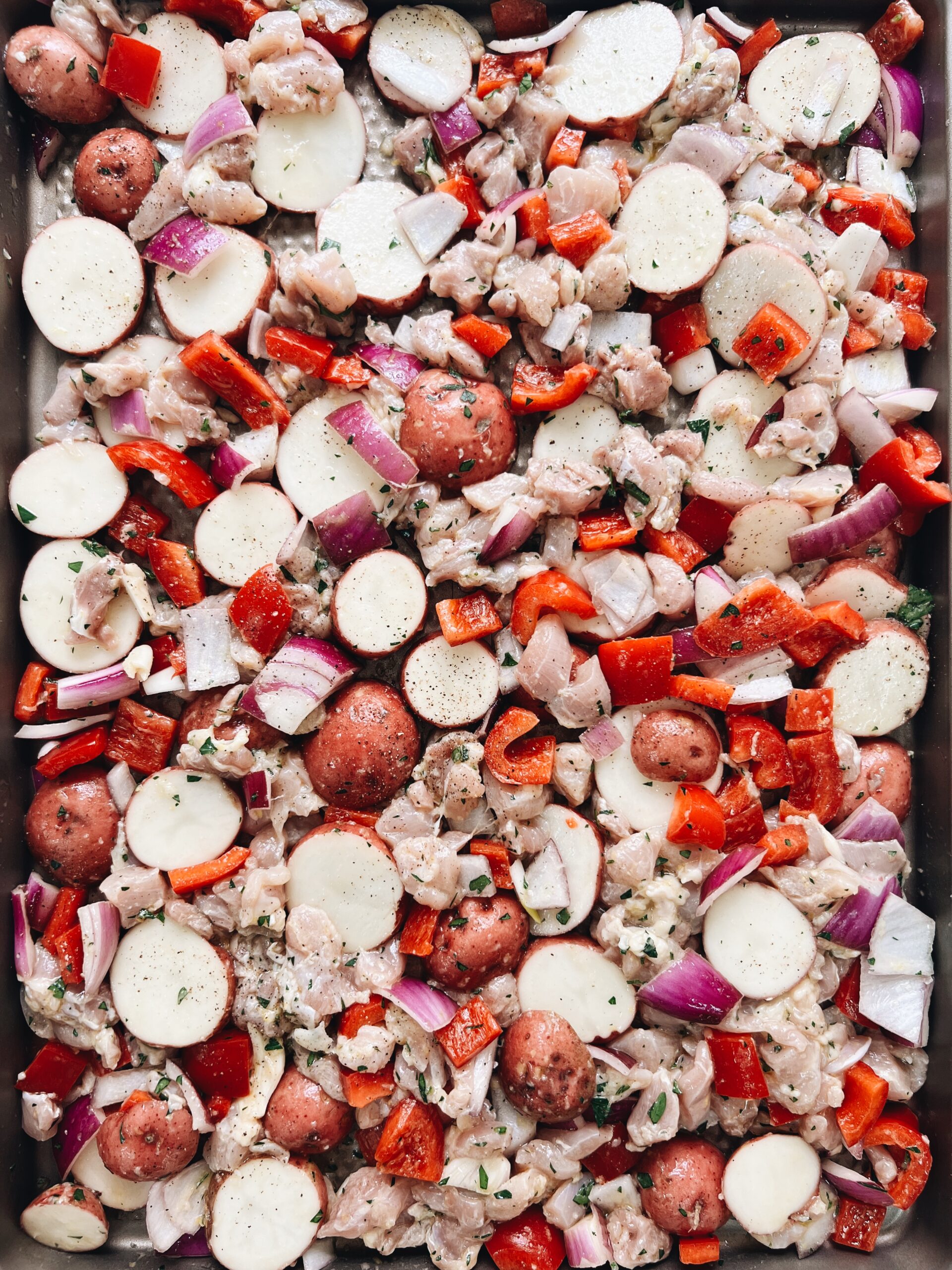 See, it's coated in olive oil and lemon juice, so we're in good shape for success.
Also the garlic and parsley will make this other level. Trust.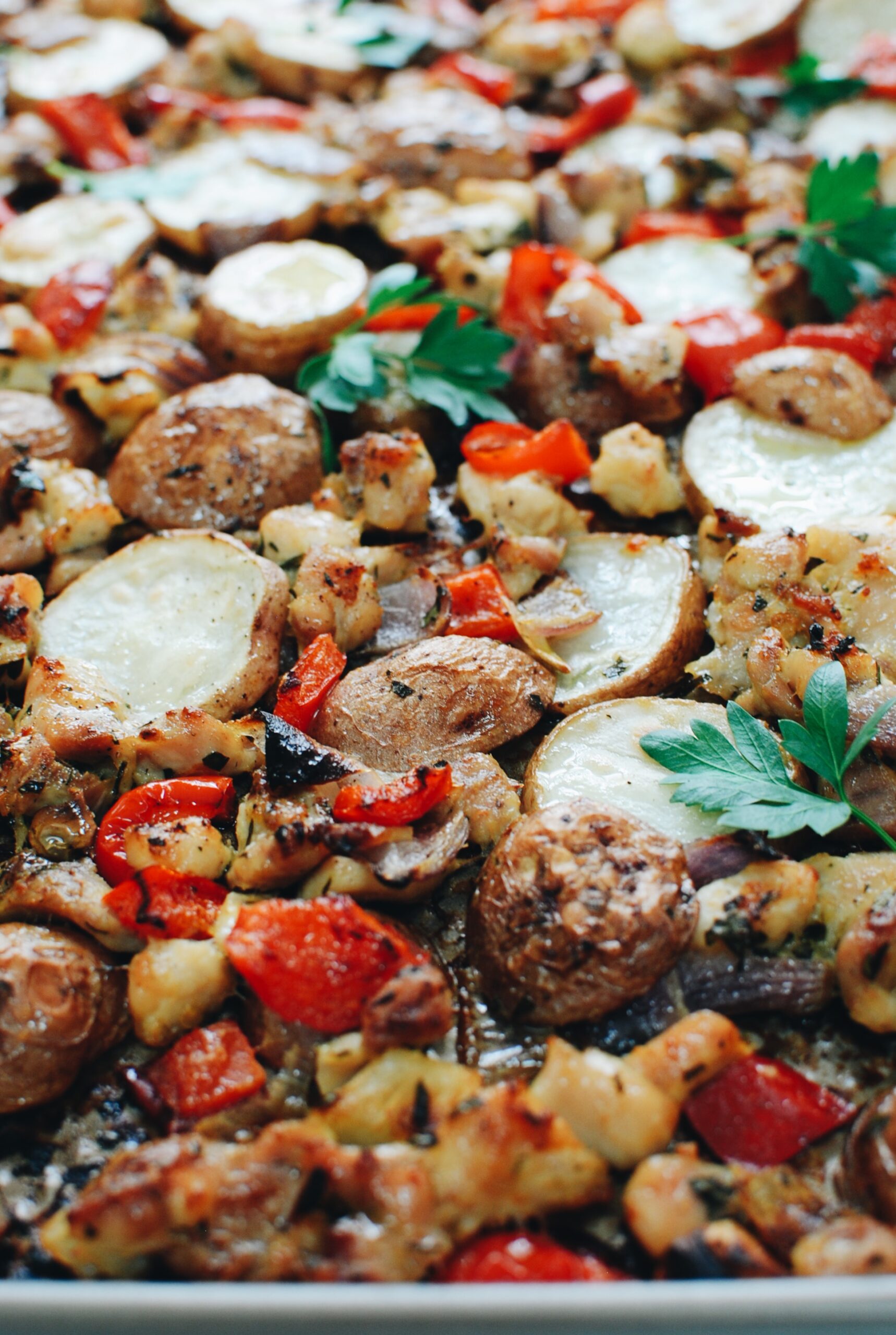 Well hello, there.
Isn't she a ten? She's a ten. Everything nearly caramelizes under that heat, I'm telling you. The chicken gets crispy in places. The potatoes are tender, the peppers are gorgeous, the onions sweet.
This is a keeper. A keeper, for sure.
Have some more lemon juice on hand, just to wake it all up at the end when you serve. If it needs another of drizzle of your best oil, you'll know what to do.
Extra parsley for garnish is a fabulous idea. Sprouts work too. Even grated parmesan! Get creative with it. Dial it just right.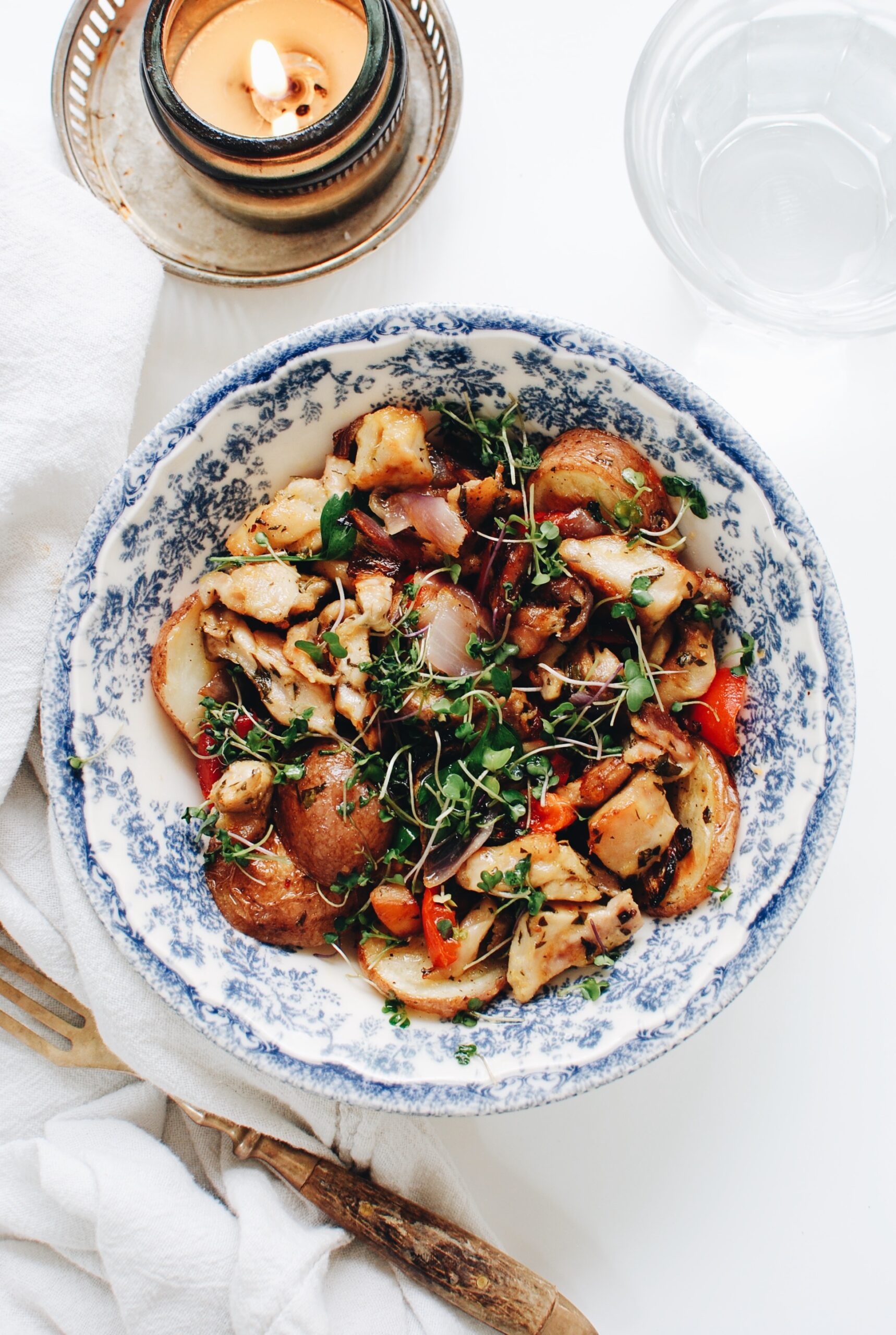 It's rustic and homey and colorful and all that texture is so satisfying. Besides the leg work up front, it's pretty simple. That's the beauty of sheet pan dinners. You can't not love this.
You in for this weekend??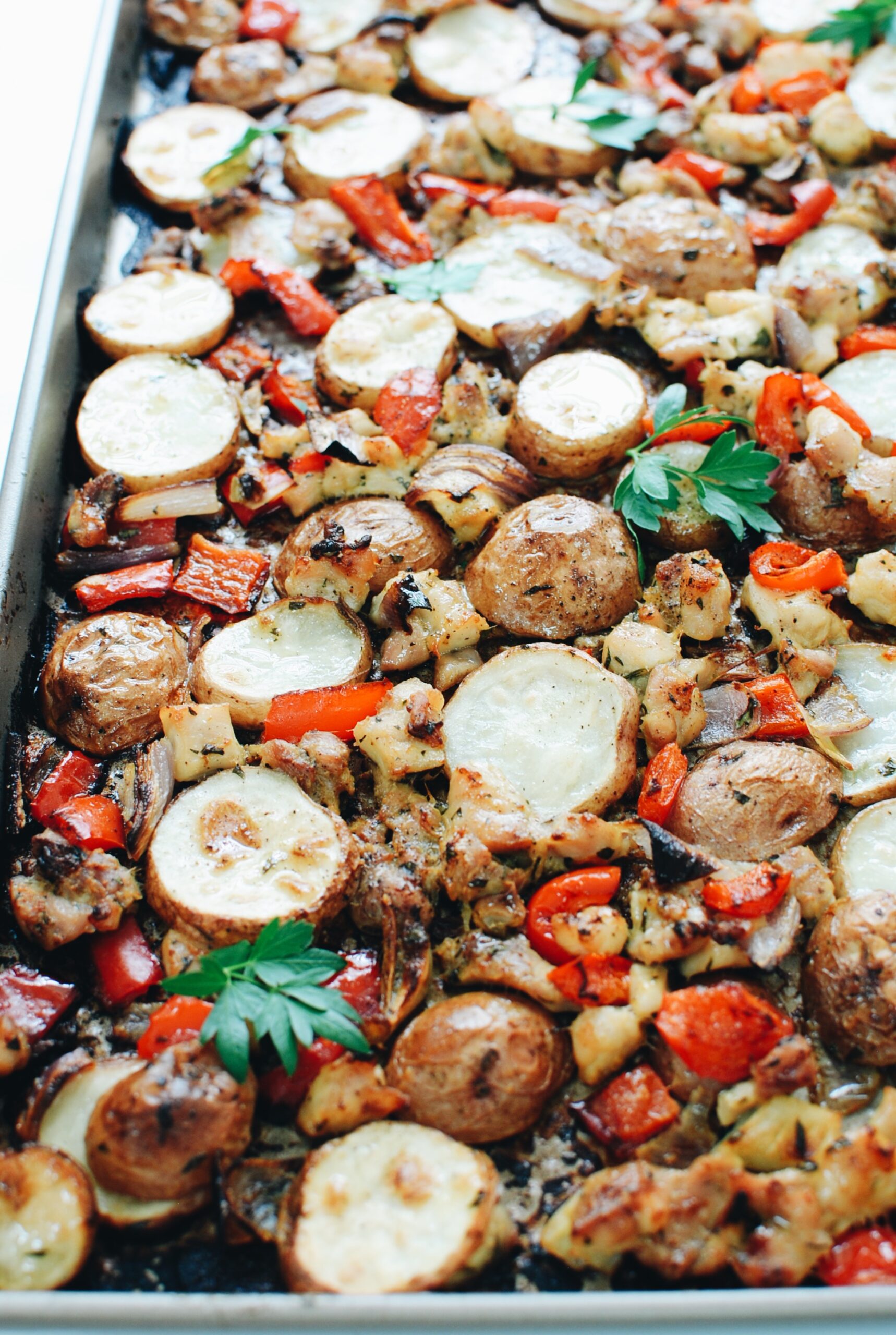 That's right you are.
Sheet Pan Dinner with Chicken, Peppers and Potatoes
Ingredients
1.5 pounds chicken thighs (excess fat trimmed), chopped
1/2 large red onion, chopped
2 pounds red potatoes, cut into 1/4th inch discs (cubes are also fine)
1 red bell pepper, seeded and chopped
3 garlic cloves, chopped
1 lemon, zested and juiced
3-4 Tbs. Extra virgin olive oil
Coarse salt
1 cup loose parsley leave, finely chopped, plus extra leaves for garnish
Sprouts, for garnish (optional)
Instructions
Preheat oven to 400.
In a large bowl, combine the chopped chicken, onion, potato discs, red bell pepper, lemon zest and juice, olive oil, chopped parsley and a good pinch of salt. Yes, all in one bowl. Gently toss this until everything is coated and combined.
Transfer onto a large baking sheet and roast about 40 minutes. Go a little longer if your potatoes need it.
Divide over plates or bowls, squeeze with a little more lemon juice, garnish with sprouts and dive in!
Serves four.
7.8.1.2
640
https://bevcooks.com/2023/05/sheet-pan-dinner-with-chicken-peppers-and-potatoes/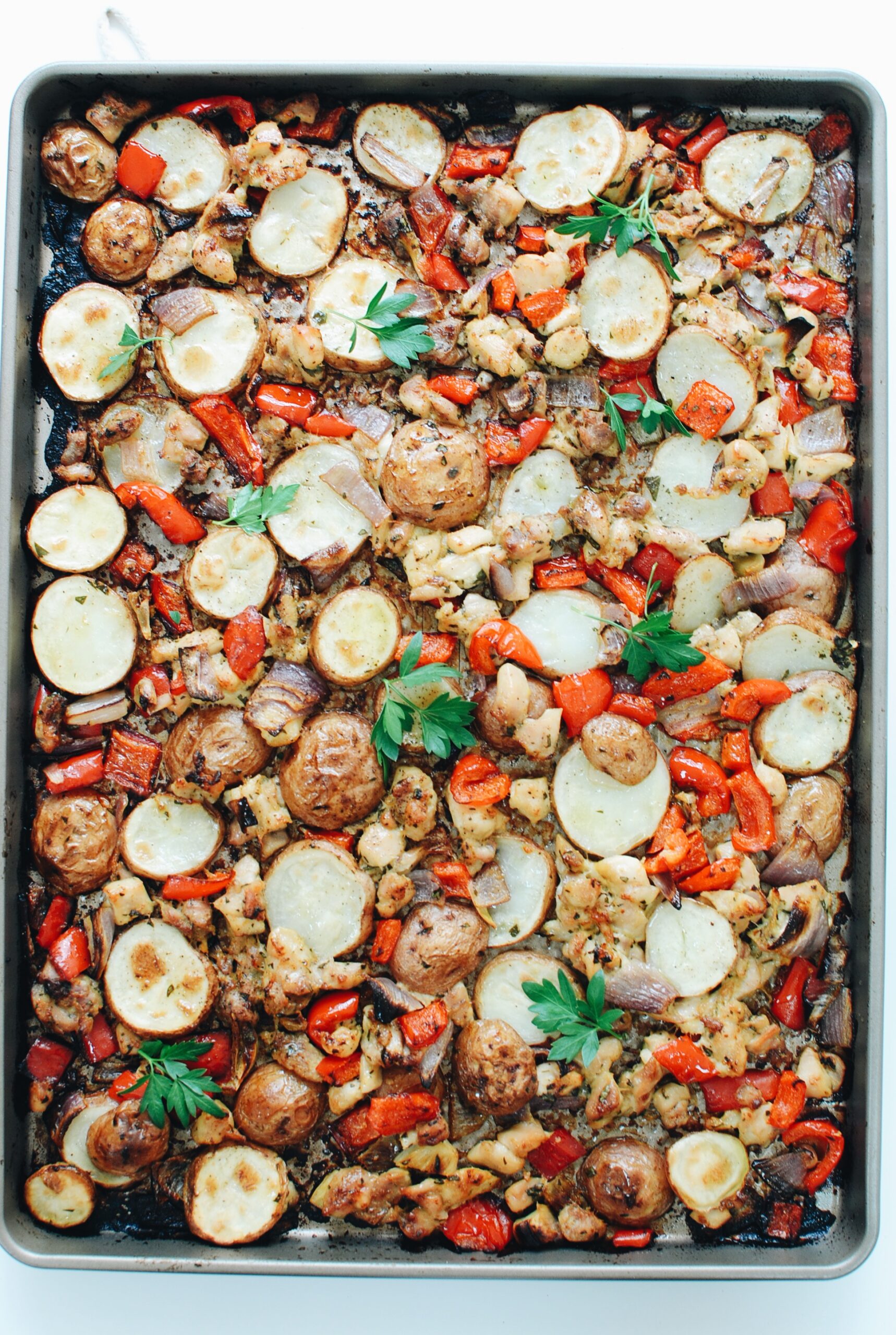 Someone please tell me you got my movie quote.