So loaded! Loaded so good.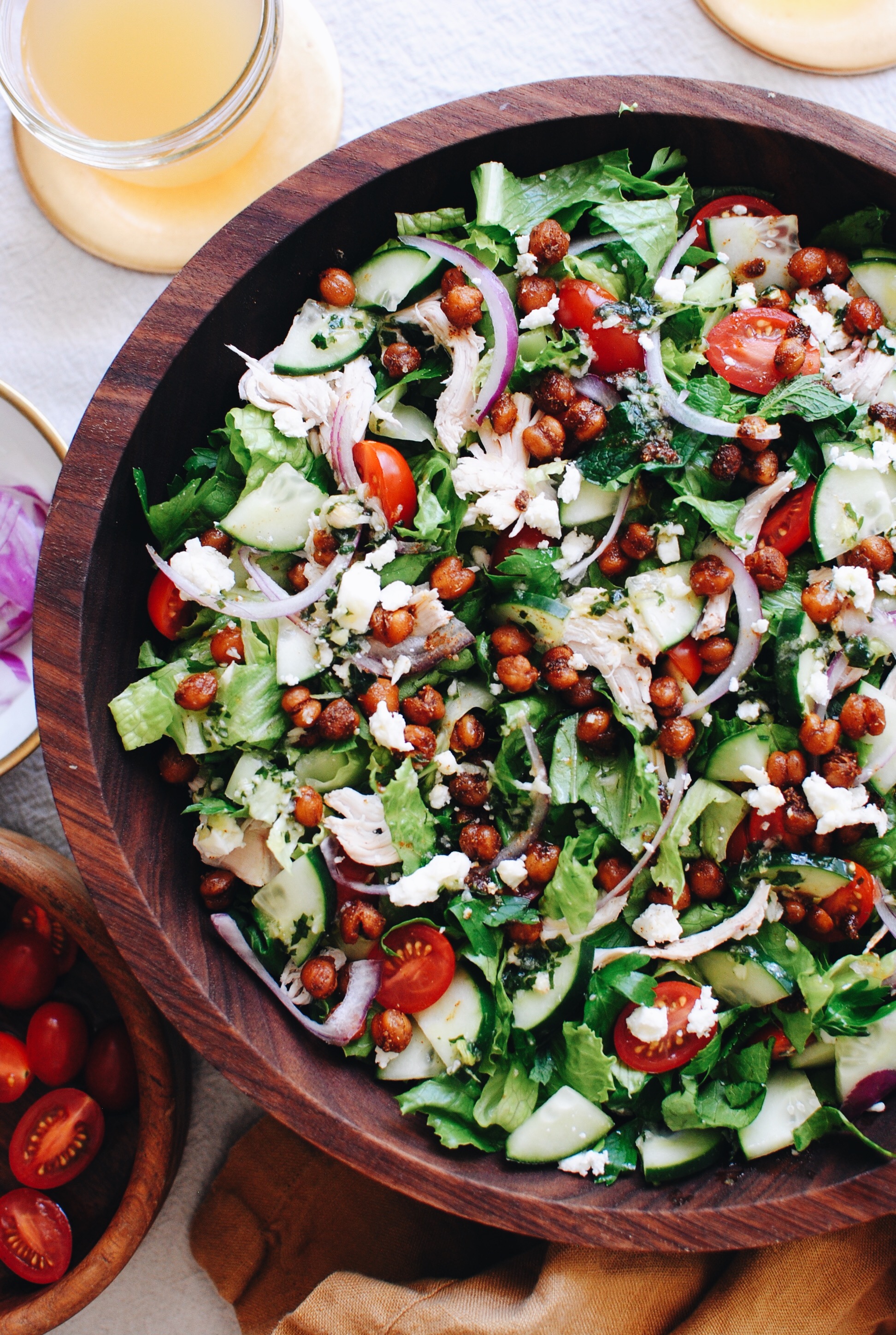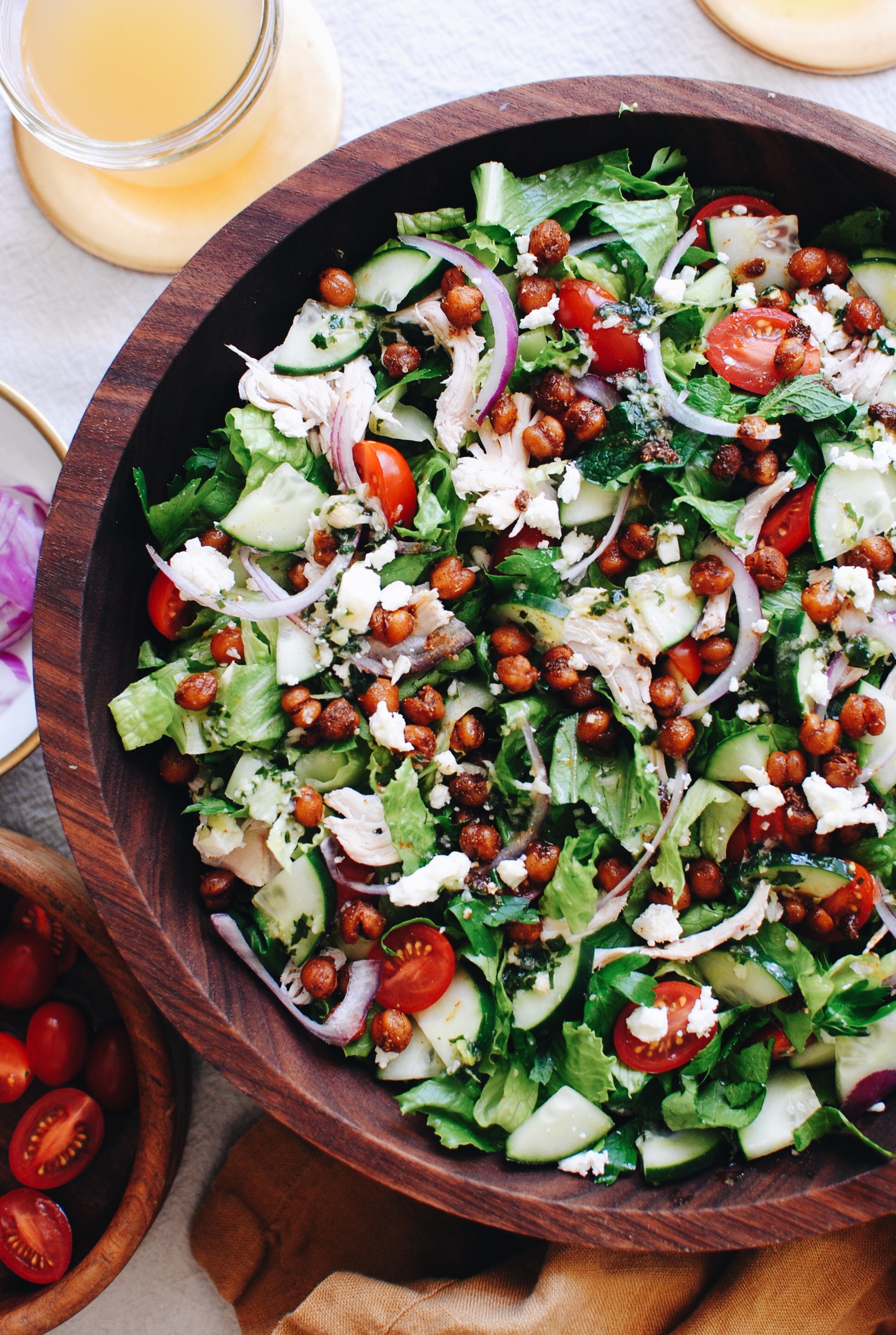 Telling you right now, the only leg work with this salad o' bulk is the prep work. And if you're not arranging little bowls on a table, styling them and photographing them, about a year and a half less. Ha! Oh.
Did you leave me?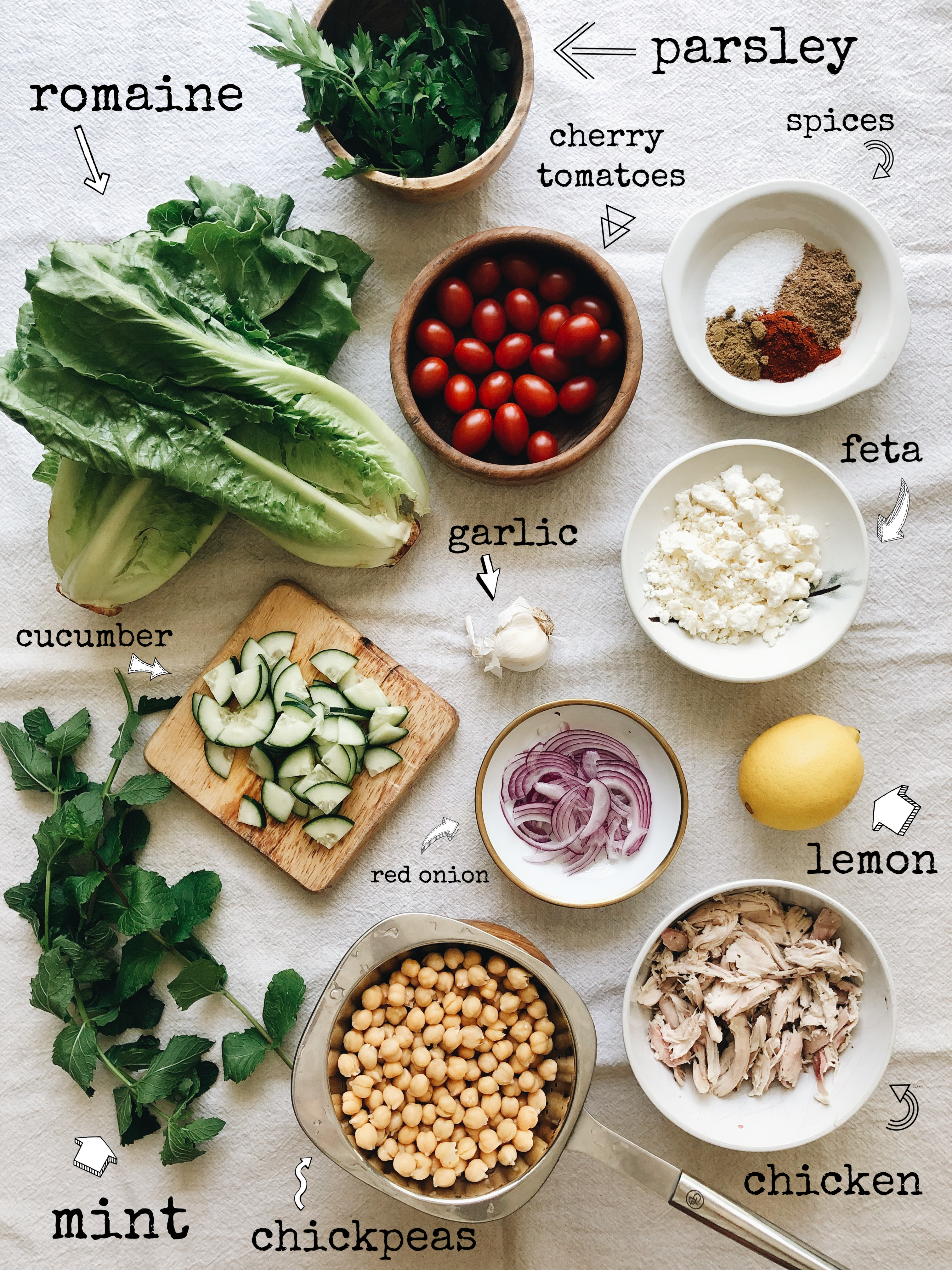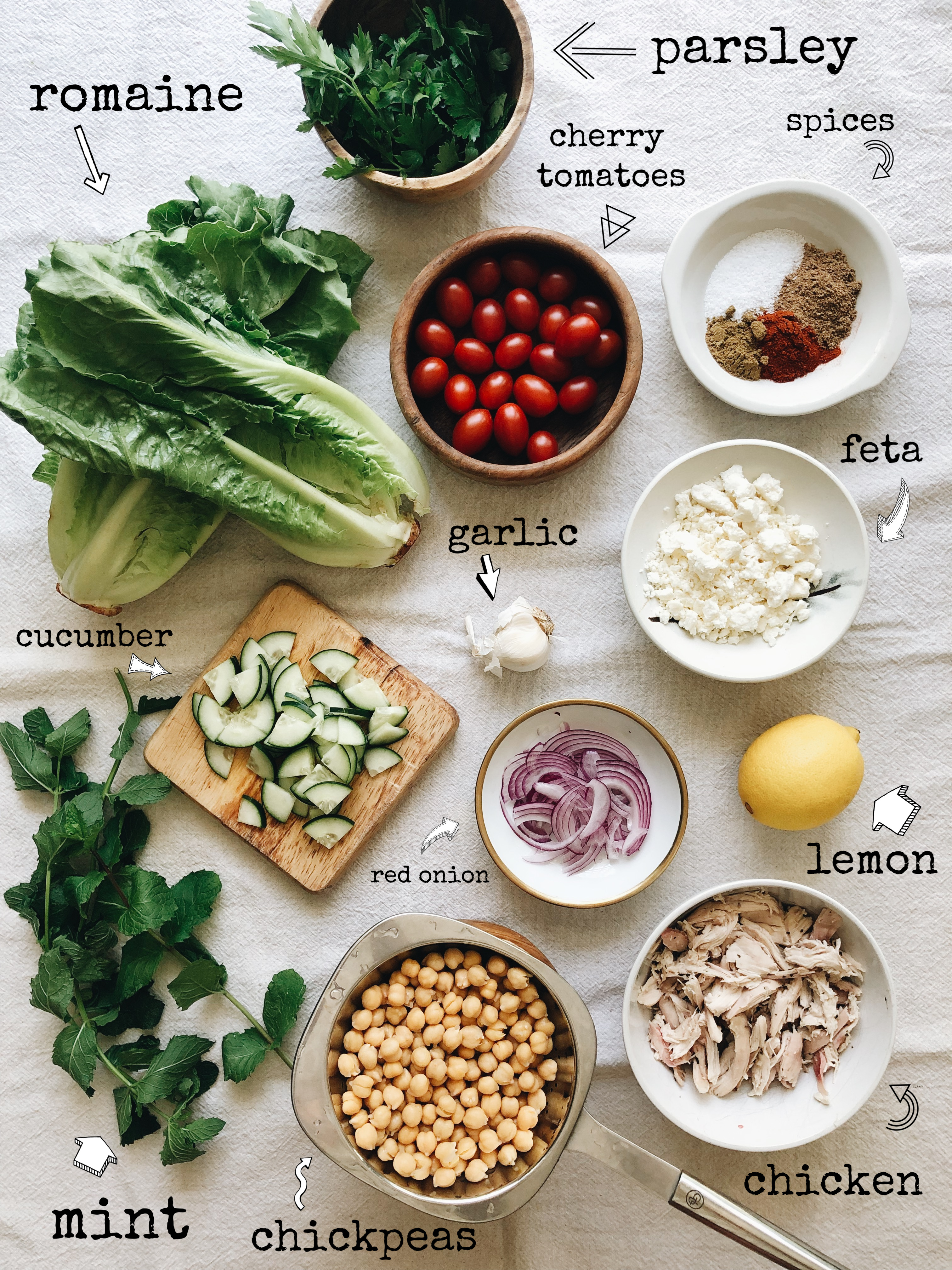 I made this salad for a dinner party in Oregon, and I've not stopped dreaming about it since. Simple in approach, of course, but there are a couple of DO-NOT-SKIPS that I need to yell at you about. Naturally.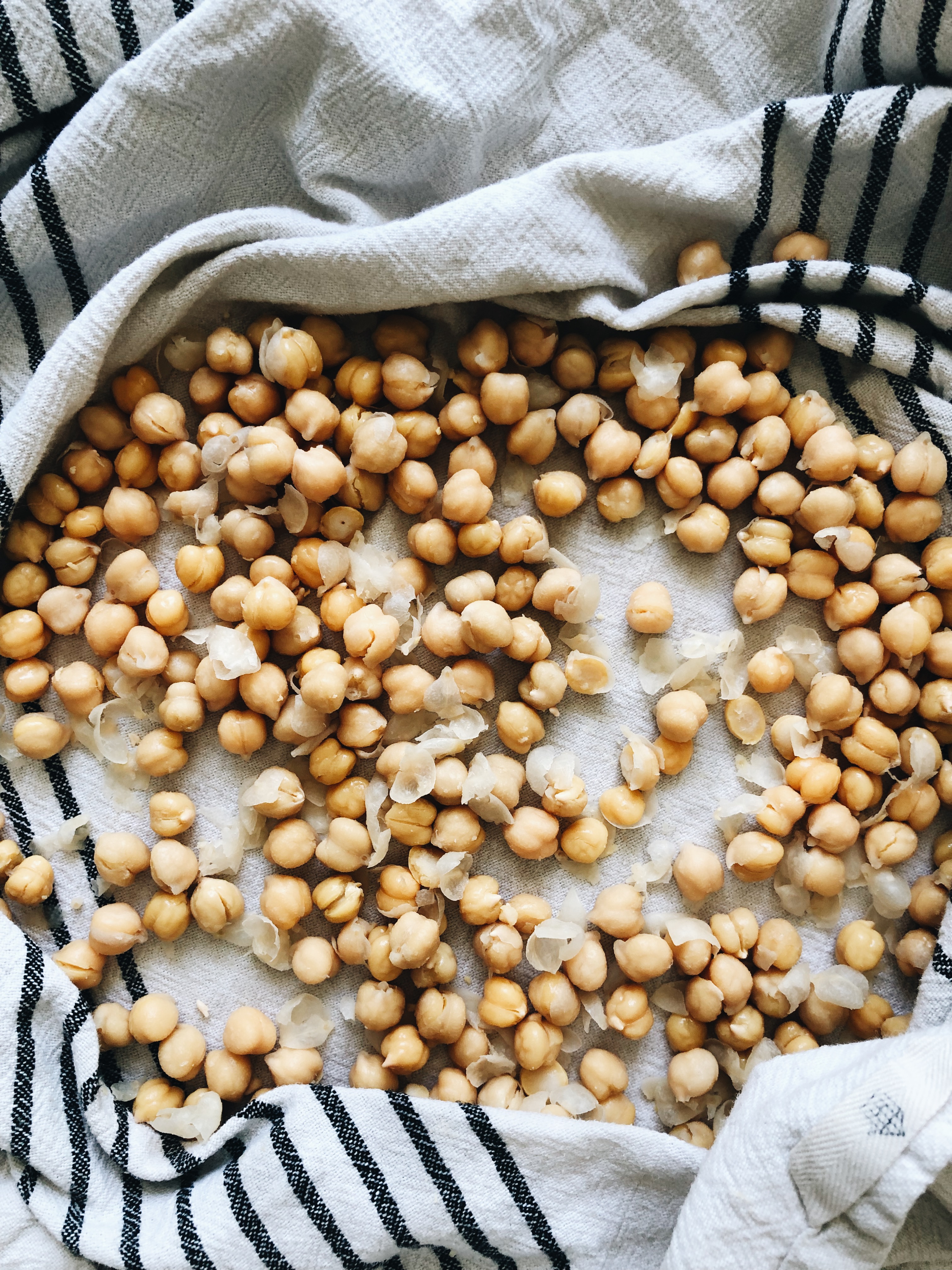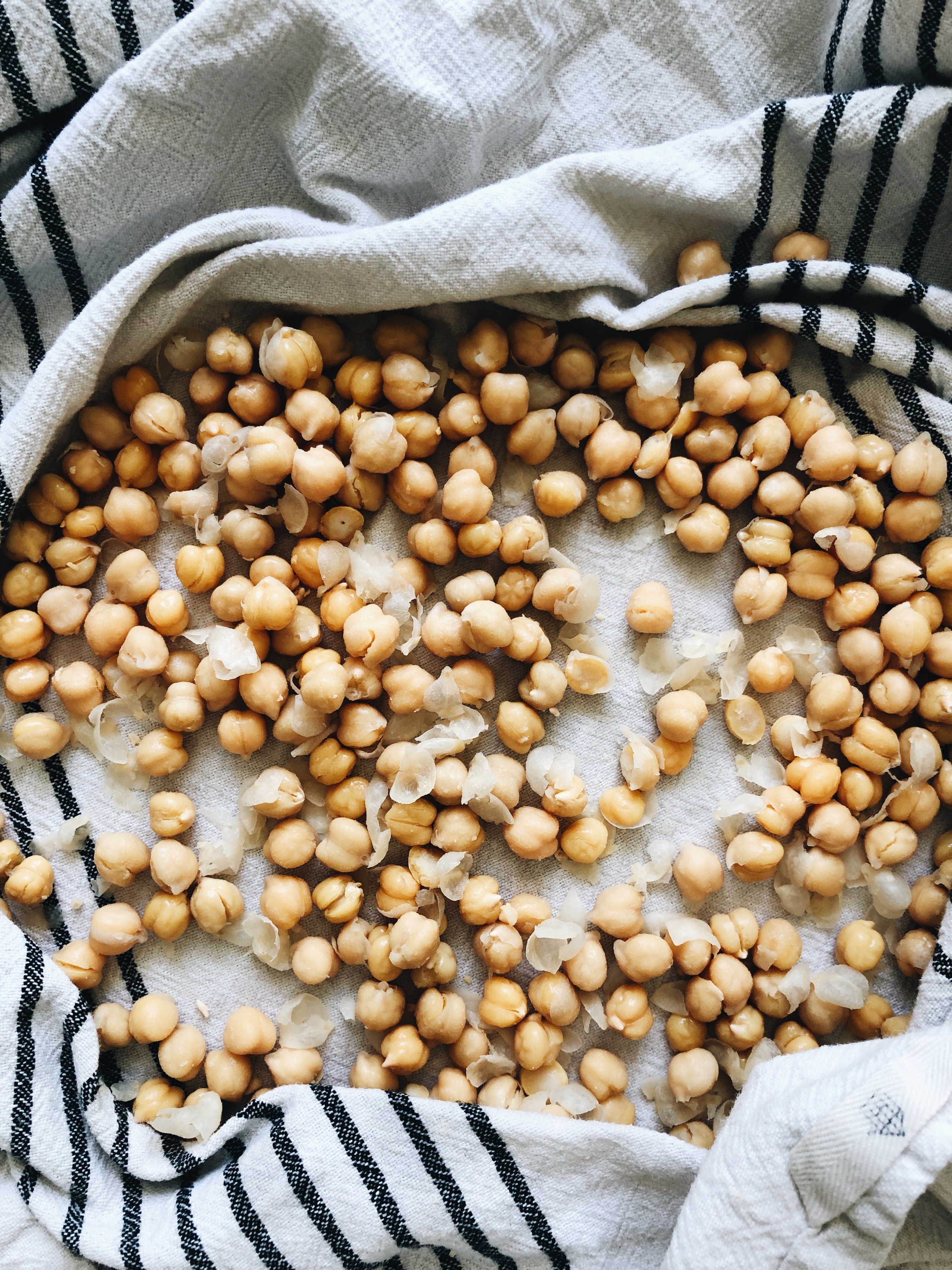 First of all, the chickpeas. They're from a can, it's okay. But what you'll do is roll them around in a clean kitchen towel until all the little pain-in-the-face skins slip off. And even then, you might have to go through and pull the remaining stubborn ones off. You might even curse a little. And you know what, I'm not here to stop you.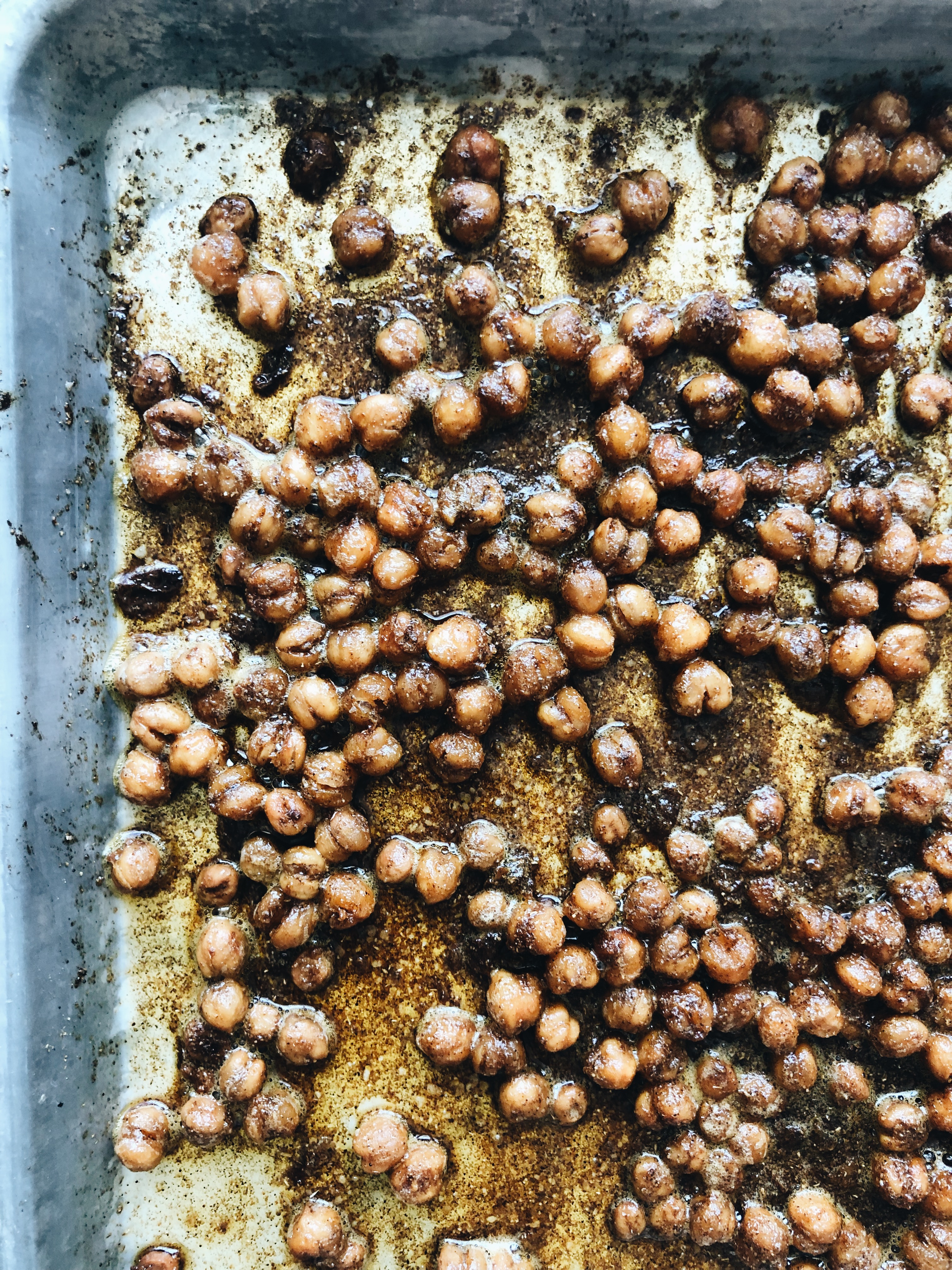 But it's worth it because look! You'll toss the chickpeas in a mix of smoked paprika, cumin and ground coriander (and salt), drizzle with oil and crisp them up all goody goody like in the oven.
This is a DO-NOT-SKIP step. These beans add so much texture, and a lil' kiss of spice right when you're wanting it. Pop pop! In your mouth. Trust me.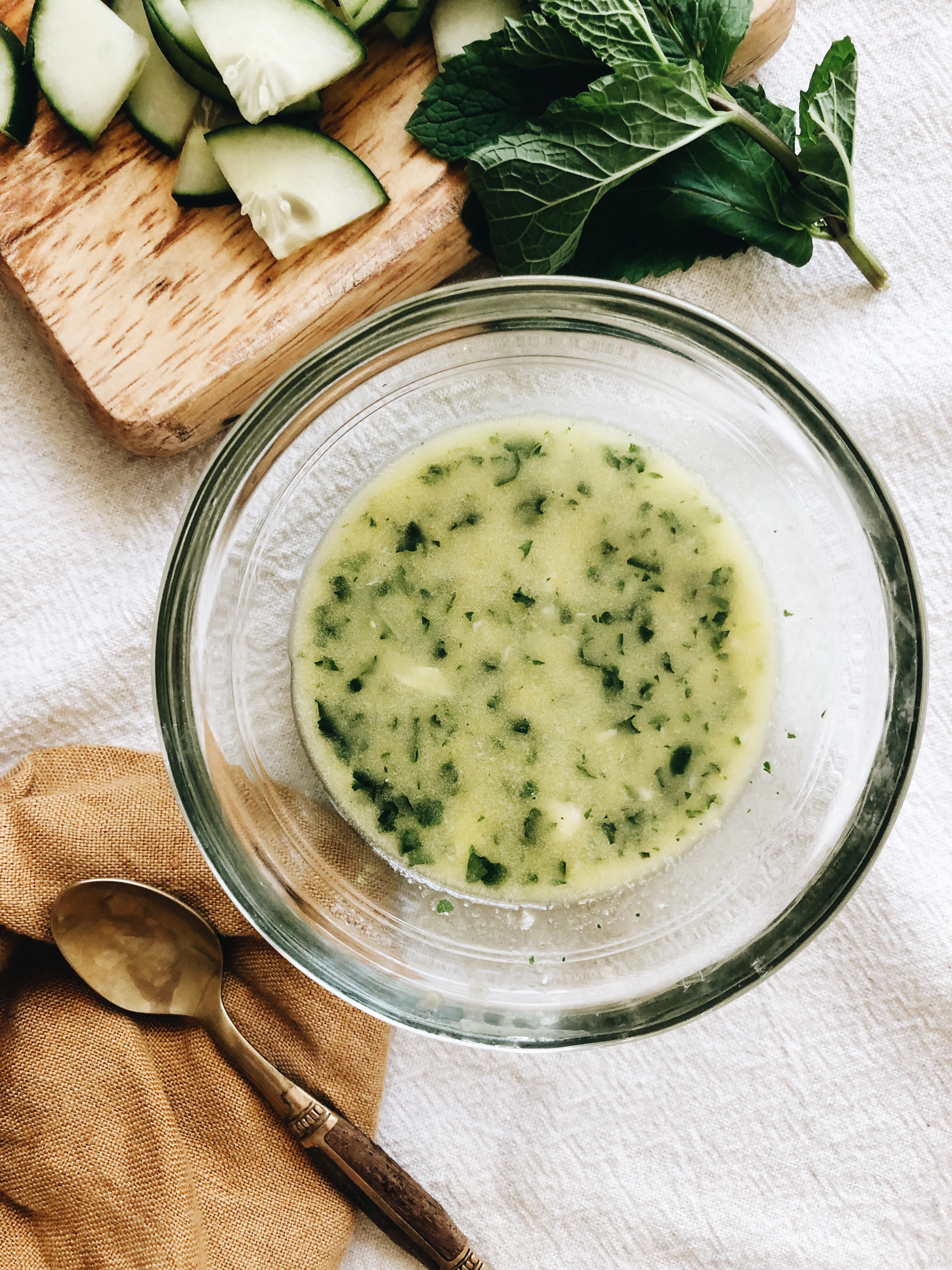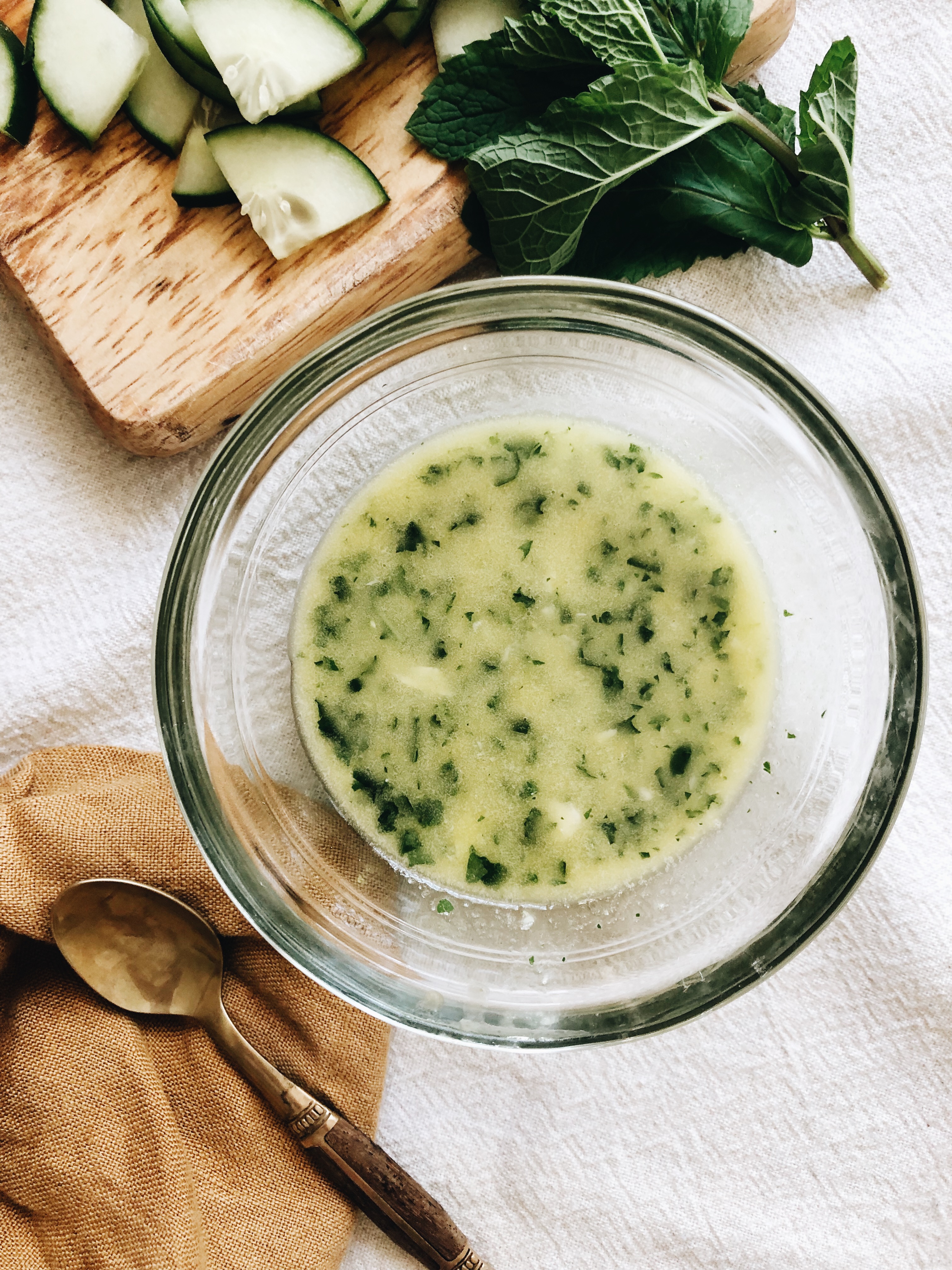 The other DO-NOT-SKIP step is the dressing. It's a garlicky, lemony mint dressing and one hundred times more pimp than anything in a bottle. I made mine in a little food processor, but if you want to grate the garlic right into the dressing with chopped mint – YAS, QUEEN. (<–are we done with this phrase or is it still hip?)
You want that raw garlic kick in the face. It mellows a bit in the dressing, keeps the vampires away AND gives such an aromatic sumpin sumpin to the overall salad vibe. You will love it.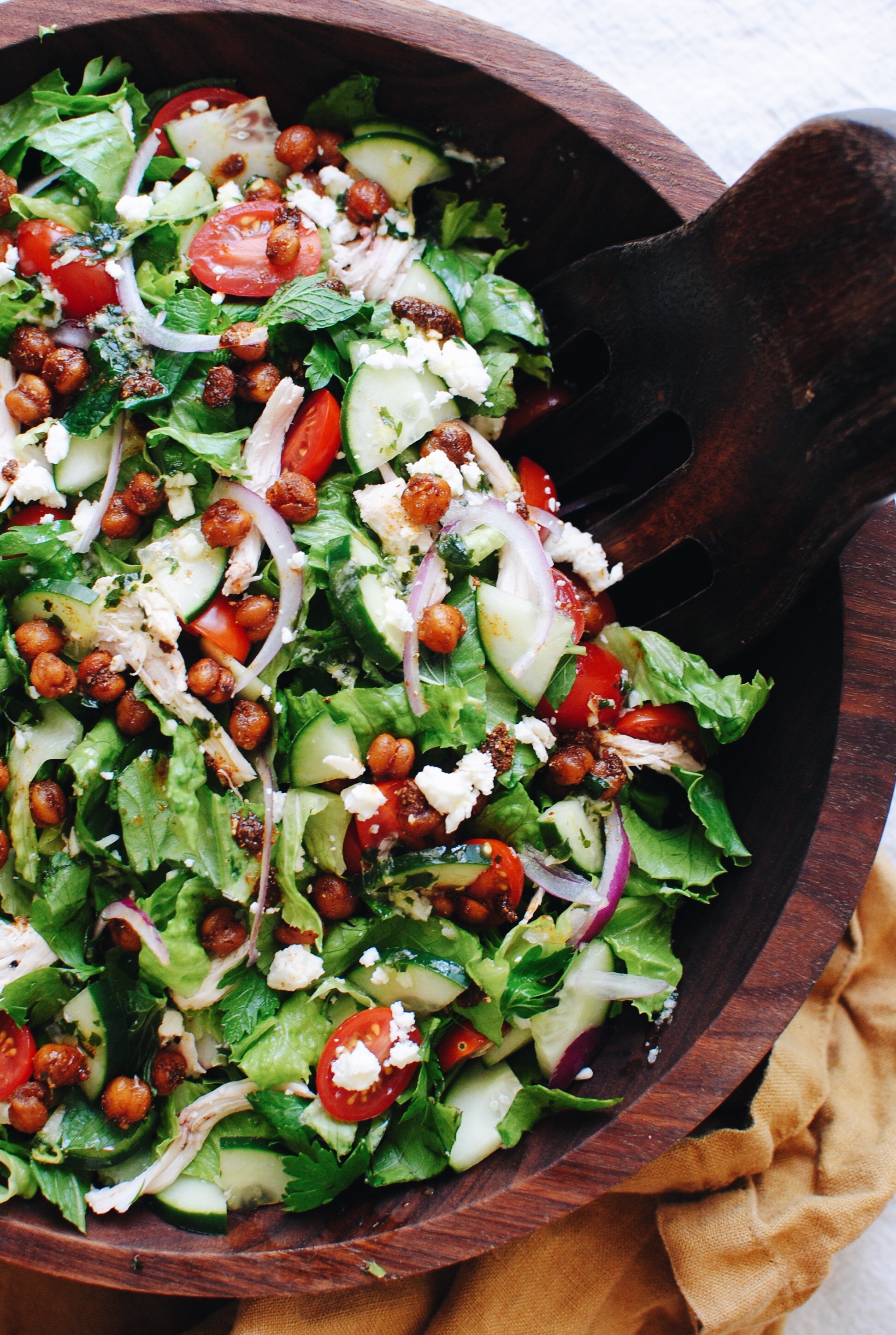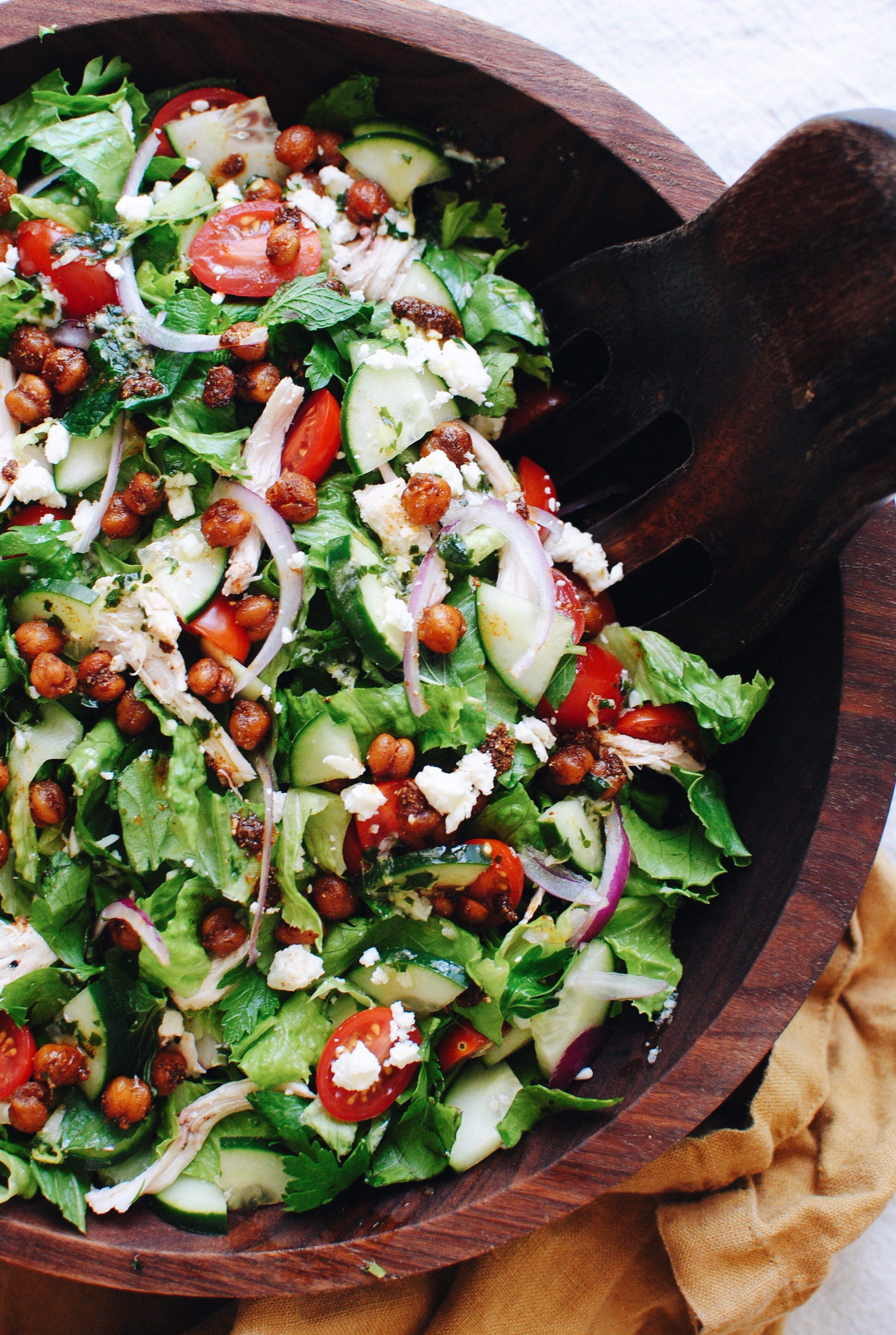 The thing about this salad – texture, man! Cucumbers, thinly sliced red onion, cherry tomatoes, crumbly feta, leftover shredded chick- oh! The chicken. What I did was roast one the night before (you can skip the fig butter – this recipe is SO OLD – I actually need to get my new roasted chicken recipe on the blog, gosh! I'll do that this fall. Here's another one, and super good. Still so old. But do this one!), then shredded up the leftovers for this salad. You can even yoink a rotisserie. Make your life good.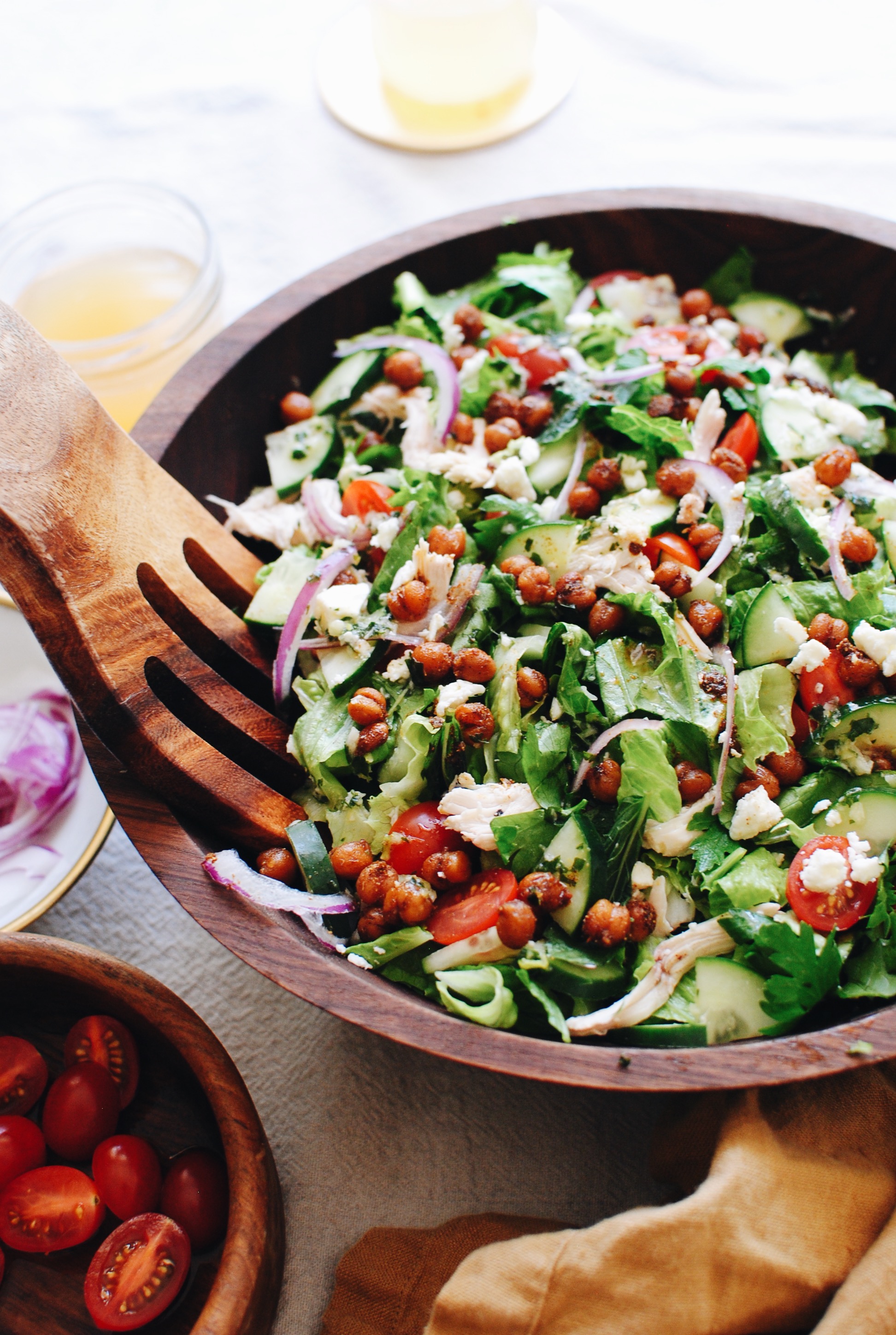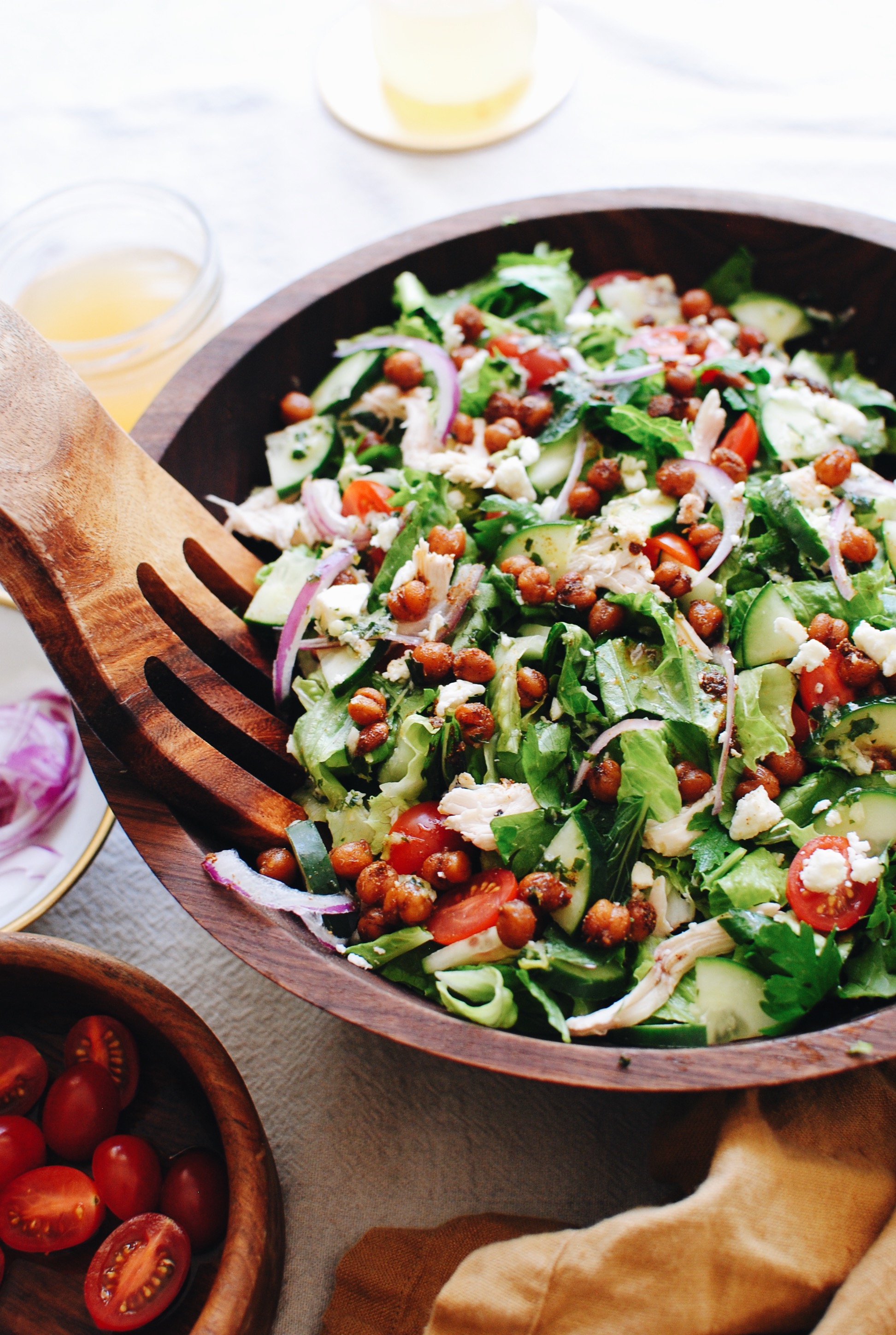 It's just phenom. Everything plays a part, you know? Simple simple everyday ingredients, but together, all tossed in the dressing and glossy with bright flavor and multi-tiered texture extravaganza party town? You can't quit it.
And like I said, if you prep everything early in the day, it comes together in a flash. You can even make the dressing over lunch in a little jar and just shake it up right before dinner. Yew deeg?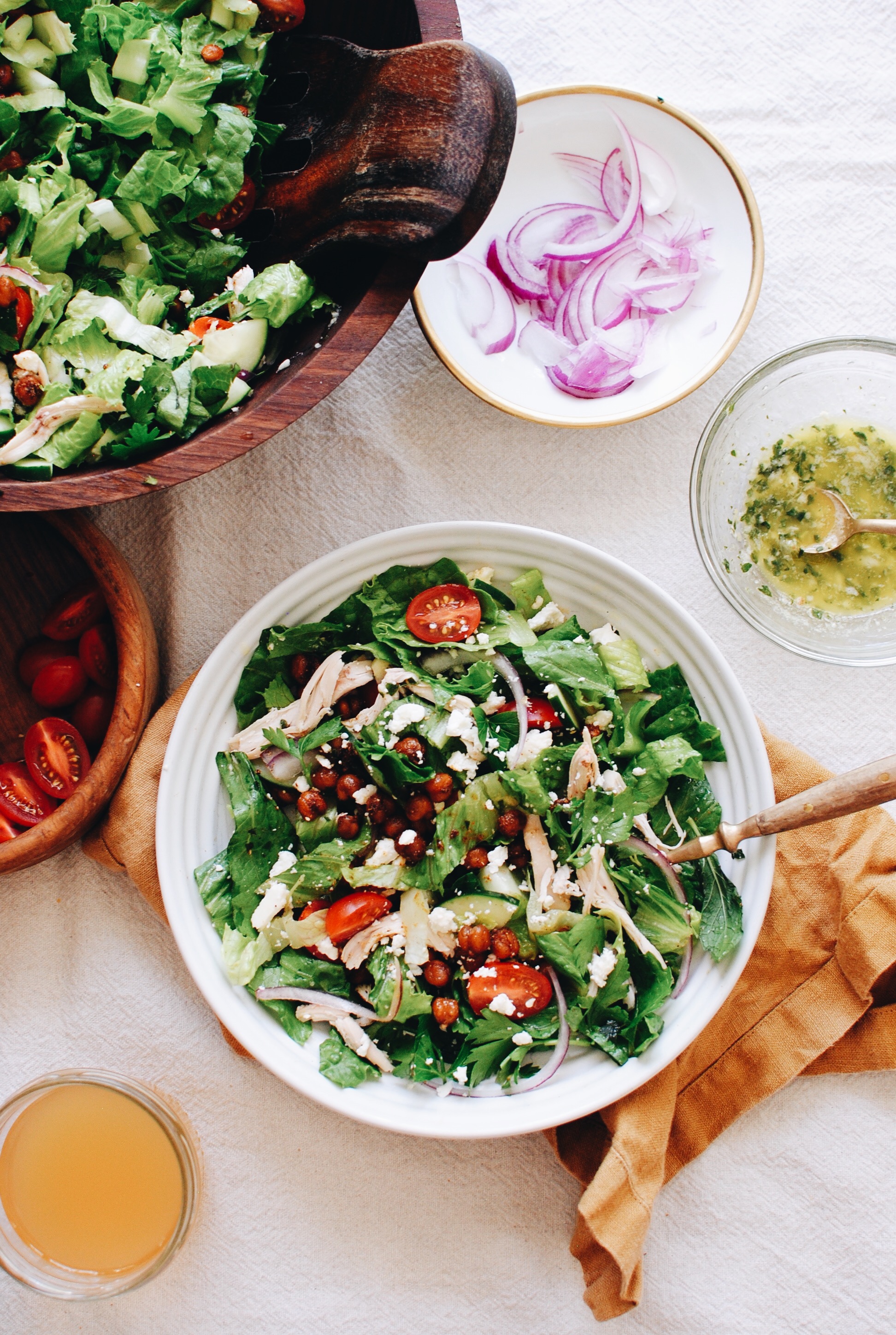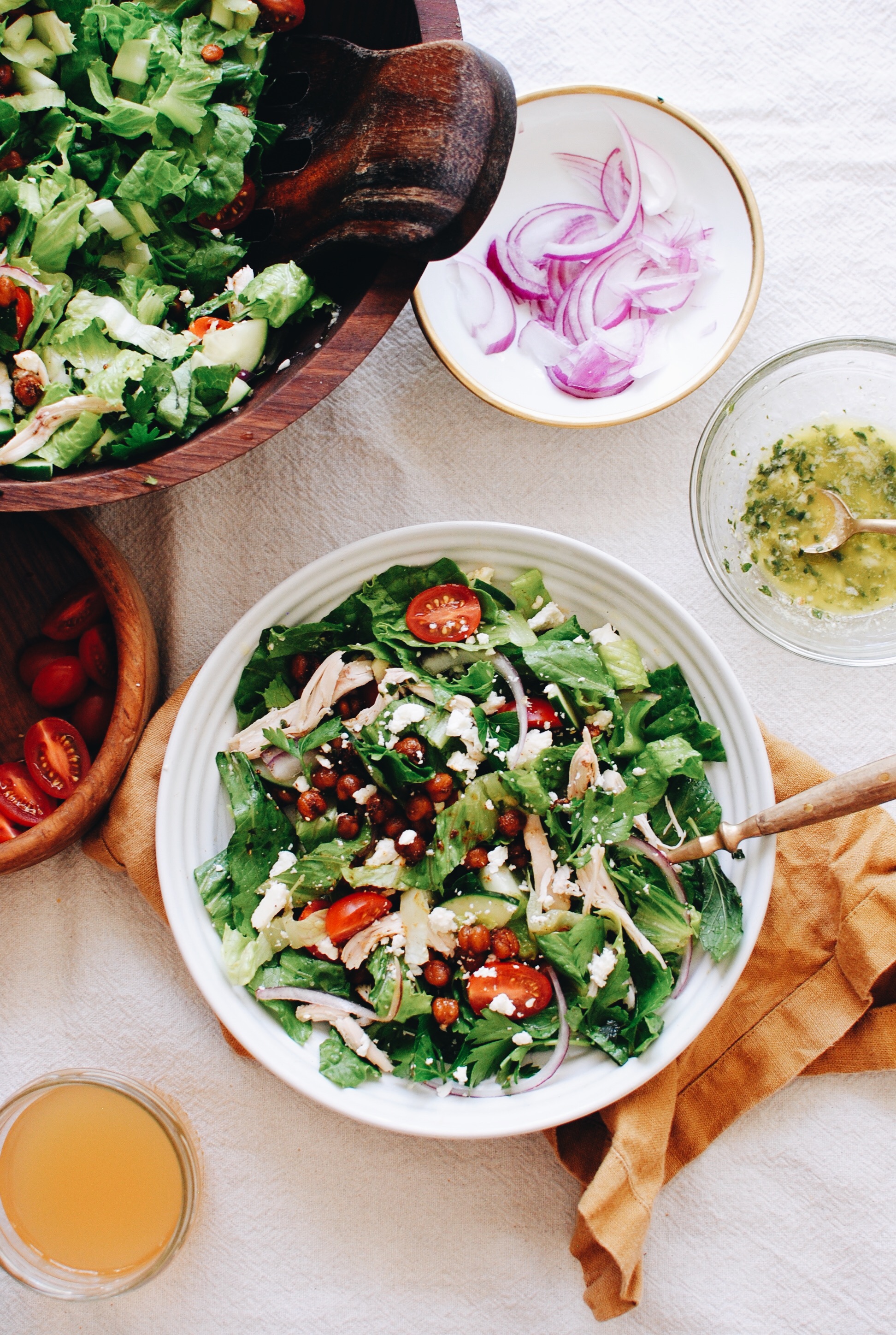 Also, the ingredient AMOUNTS are totally up to you. I'll give you an idea of what I used, but I didn't measure anything. That's the beauty of salad. Get all willy nilly and load that ish up.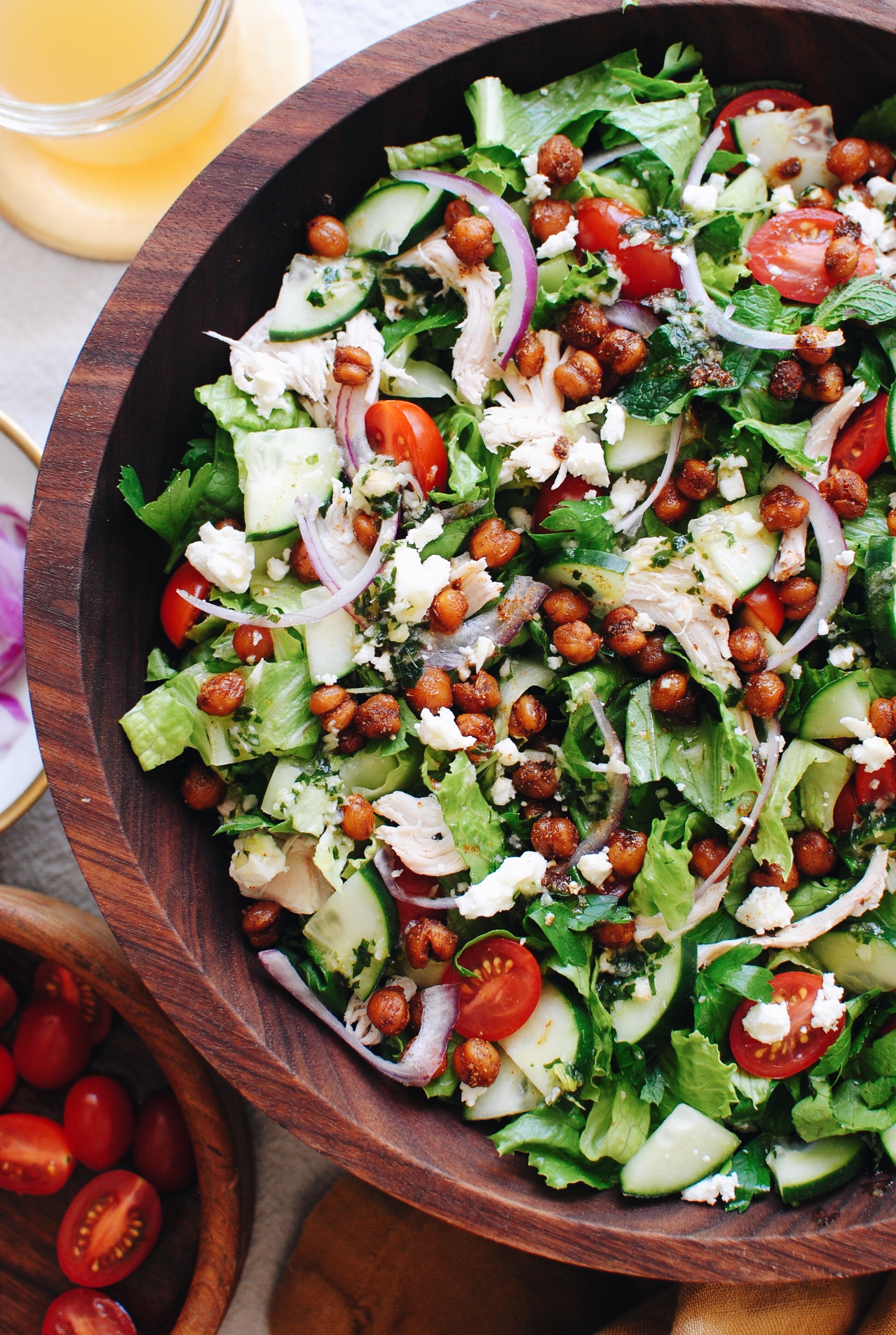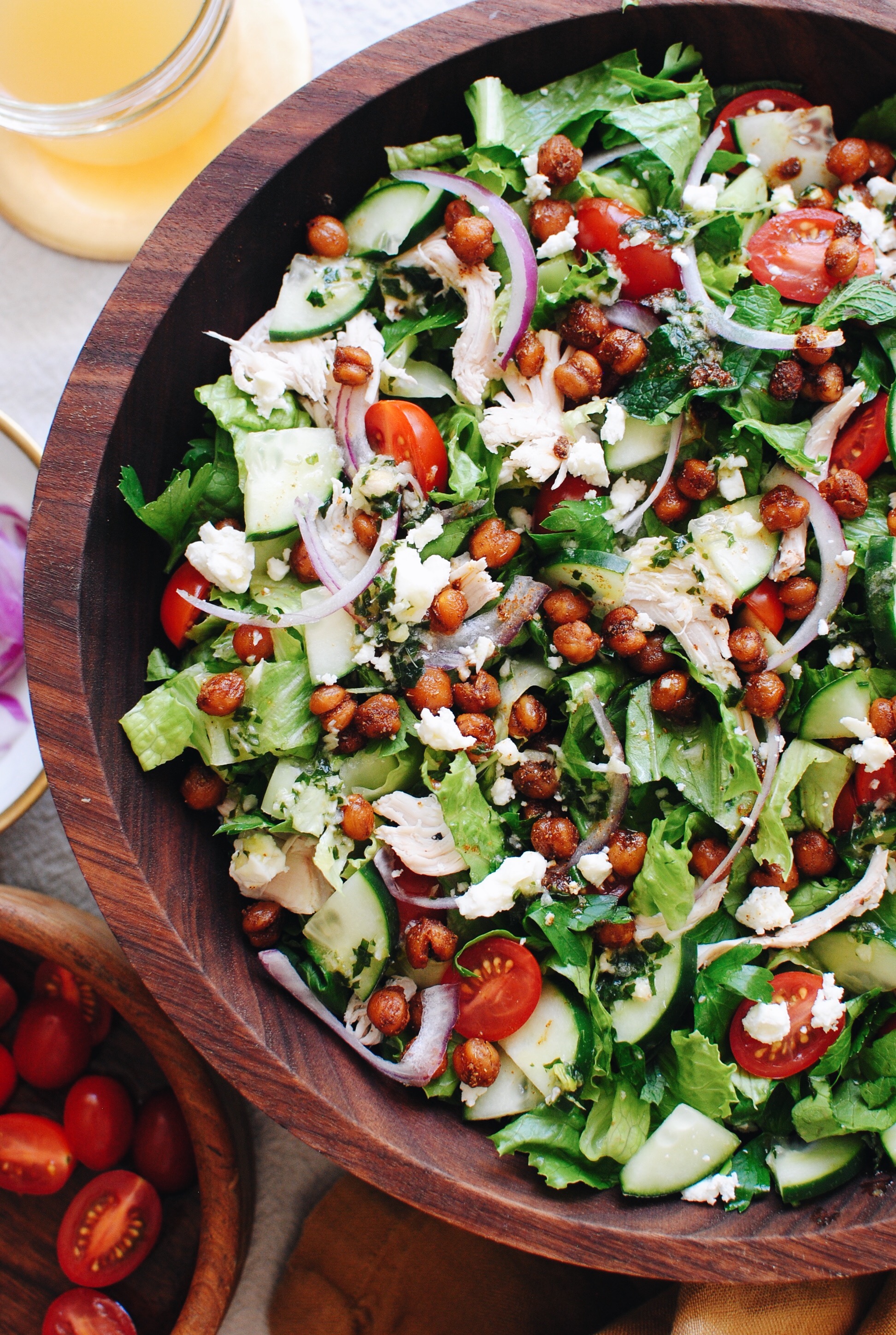 Serve it with three loaves of bread. Ha! Just kidding.
Loaded Greek Salad with Chicken and Crispy Chickpeas
Ingredients
One or two heads of romaine, chopped (one head if it's giant)
1 cup parsley leaves
2 big sprigs of mint (one for the dressing, one for the salad)
1 (15 oz) can chickpeas, drained and rinsed
1 level teaspoon each: cumin, ground coriander, smoked paprika and coarse salt
2 Tbs. extra-virgin olive oil
1 lemon
3 cloves garlic, grated or minced (if you're not using a food processor)
1/3 cup extra-virgin olive oil (if you can get away with 1/4 cup, feel free!)
one cup diced cucumber
One cup halved cherry tomatoes
1/3 cup thinly sliced red onion
one to two cups shredded leftover chicken
1/2 cup crumbled feta cheese
Instructions
Preheat your oven to 400.
Roll the chickpeas around in a clean kitchen towel until the little skins slide off. You'll probably have to pull a few off with your fingers. Place the chickpeas on a rimmed baking sheet and toss with the spices, along with 2 Tbs. olive oil. Roast the chickpeas for about 30 minutes (check on them at 20) until they're crispy and dark. Let them cool just a few minutes before adding to the salad.
In a small food processor, add the 1/3 cup oil, juice from the lemon, about 10 mint leaves, the garlic, and a small pinch of salt. Pulse until blended and smooth. Taste it. SEE, IT'S SO GOOD, RIGHT?
In a large salad bowl, toss - well EVERYTHING together, dressing included. Toss toss toss until it's all combined and distributed and colorful and perfect.
Serve it to yourself. I mean your family, whatever.
Makes four servings.
7.8.1.2
365
https://bevcooks.com/2019/08/loaded-greek-salad-with-chicken-and-crispy-chickpeas/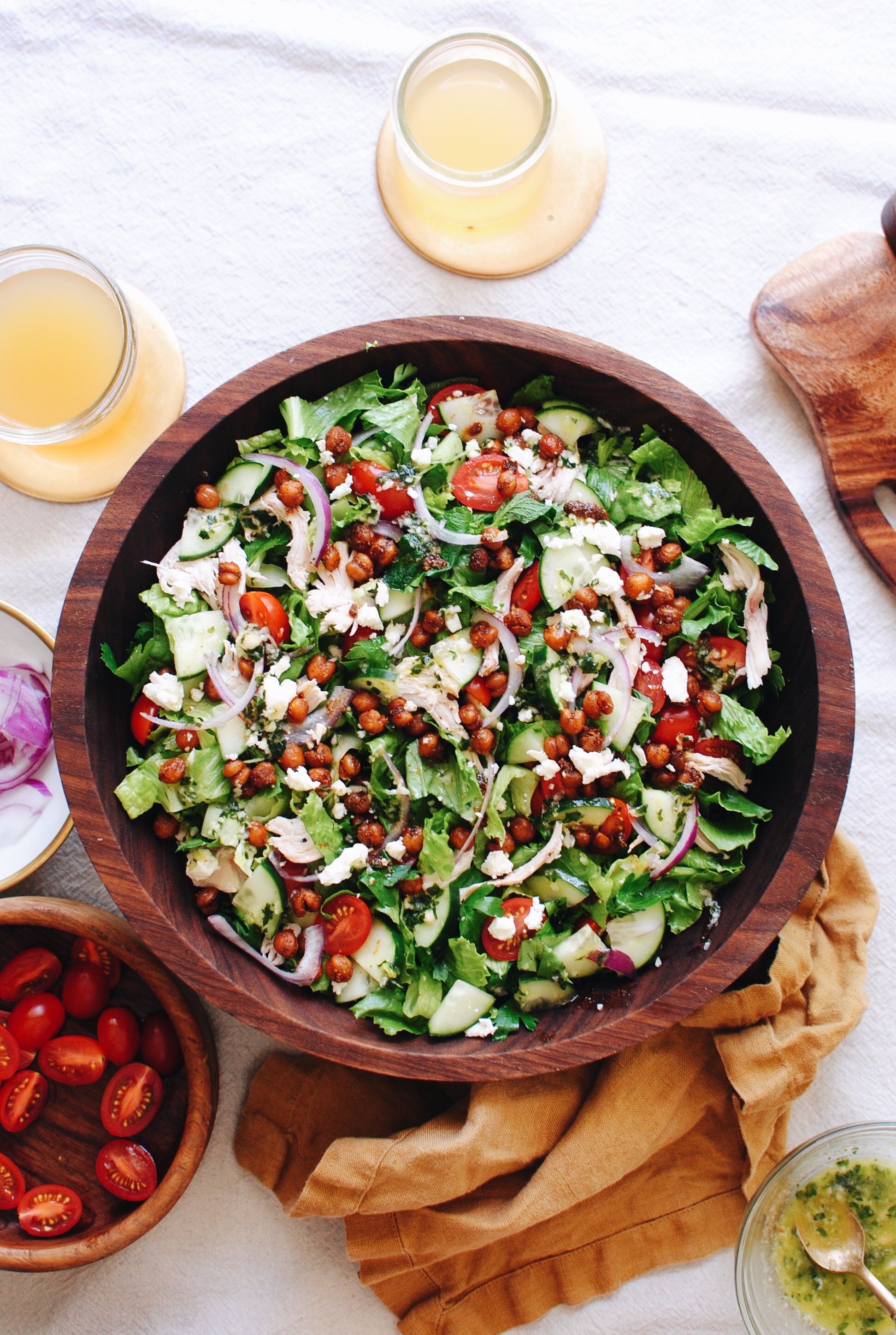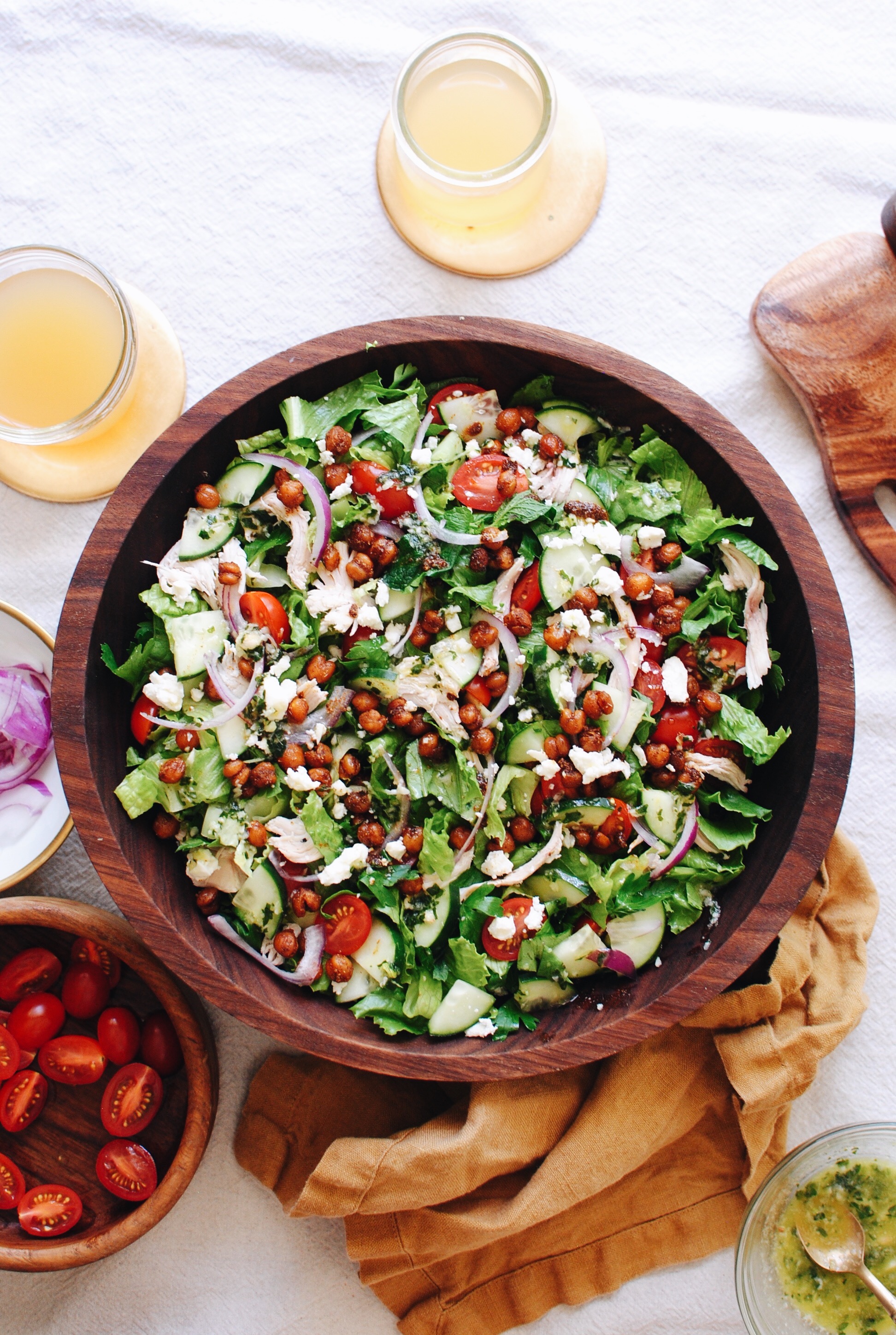 Actually you know what, get the bread.