"Um, this is totally chili," says Bev to Aaron on the hottest day in all of eternity and then some.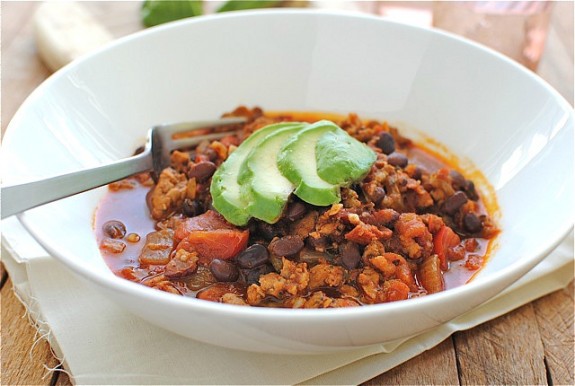 "I know, I know. Total accident. I was going for more of a beans and rice type of thing, and adding those chicken sausages you bought the other day, which was a genius move on your part! But really, all your moves are without a doubt genius, my darling. And by the way, can I just say that you look off the charts stylin' in your new chambray shirt? Especially with that low, wispy ponytail you've mastered. And your skin lately has had this angelic, radiant glow. It must be the new skin care line you're testing this week. I know this because I've noticed the samples so adorably scattered all over the bathroom counter, and I couldn't be more excited for you."
I dunno, it was something like that.
So yeah, we totally had chili. But this is the reason it works, pigeon.
A) You're already indoors with the windows and door cracks completely sealed up like Fort flippin' Knox.
B) You already have the AC and multiple fans blasting on high and are singing "Surrey With The Fringe On Top" into them because it makes you giggle to hear the words "one's like snow, the other's more like milk" all jiggly.
C) You don't plan on going outside anytime soon in fear of losing a limb to the mercy of the dragon bee army.
D) It's a sweet reminder of cooler, safer days.
E) And basically, if your esophagus hasn't collapsed lately due to unbridled pleasure, you kind of need to fix that.
Now, I wasn't in the kitchen with Aaron when he was making this chili, but at one point I caught him slicing up actual angel wings and tossing them into it.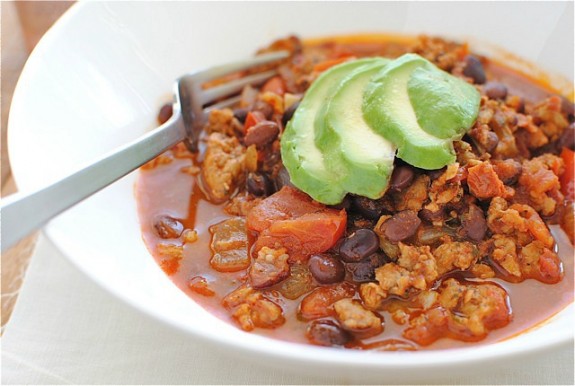 This just better surrey with the fringe on top its way into your mouth, is all I know.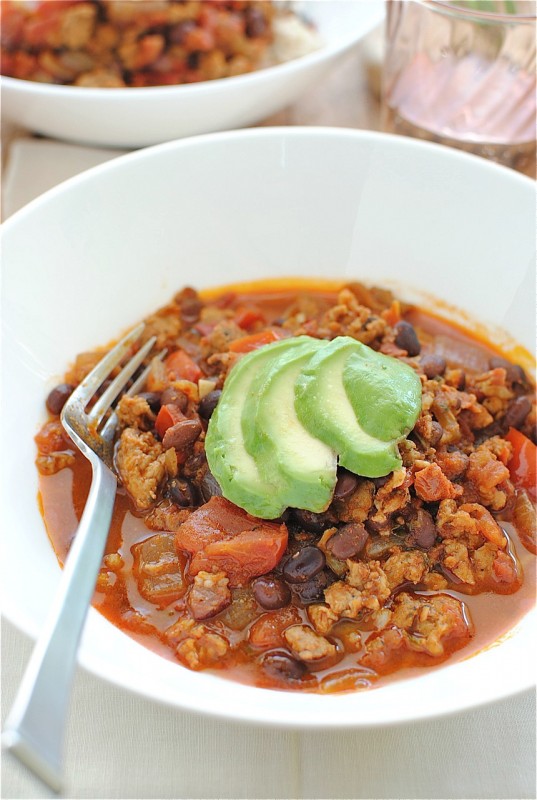 Just get up in that already.
Chicken Sausage Chili:
What it took for 4:
* 1 slice bacon
* 4 sun-dried tomato chicken sausage links, casings removed (or whatever flavor you dig)
* 1/2 large red onion, diced
* 3 cloves garlic, minced
* 1 Tbs. cumin
* 1 Tbs. chili powder
* 1 Tbs. smoked paprika
* 1 tsp onion powder
* 1 tsp garlic powder
* 1 pinch crushed red pepper
* 1 (14.5 oz) can black beans, drained and rinsed
* 2 cups diced tomatoes
* 1 cup uncooked brown rice
* 3/4 cup chicken stock
* coarse salt and freshly ground pepper
* 1/2 avocado, sliced
Cook the bacon in a large pot over medium heat until the fat is rendered and the bacon is crispy, about 7 minutes. Remove from pot and set aside on paper towels to drain.
To the pot (and the bacon fat!), add the chicken sausages and cook through until browned all over, 5 minutes. Remove from pot and set aside.
To the pot, add the onions and garlic. Sauté 5 minutes, until the onion has softened and is taking on a little color. Add the cumin, chili powder, paprika, onion powder, garlic powder, a pinch of crushed red pepper and a good pinch of salt and pepper. Bloom 30 seconds. Add a little oil if needed.
Add the chicken sausages back to the pot, along with the black beans, tomatoes, and chicken stock. Simmer on a medium heat for about 30 minutes.
In the meantime, cook the rice in a rice cooker or stovetop method – you pick!
Okay now taste that chili. Are you not freaked out a little bit? I know. If it needs a little salt, throw in a pinch. Go ahead and add the bacon back to the pot too. I'm kind of not messing around here.
Serve chili over a helping of rice and garnish with freshly sliced avocado.
Heck, throw some cilantro or parsley on it too! We were out, so…we didn't.