No that does not say TRAPEZE.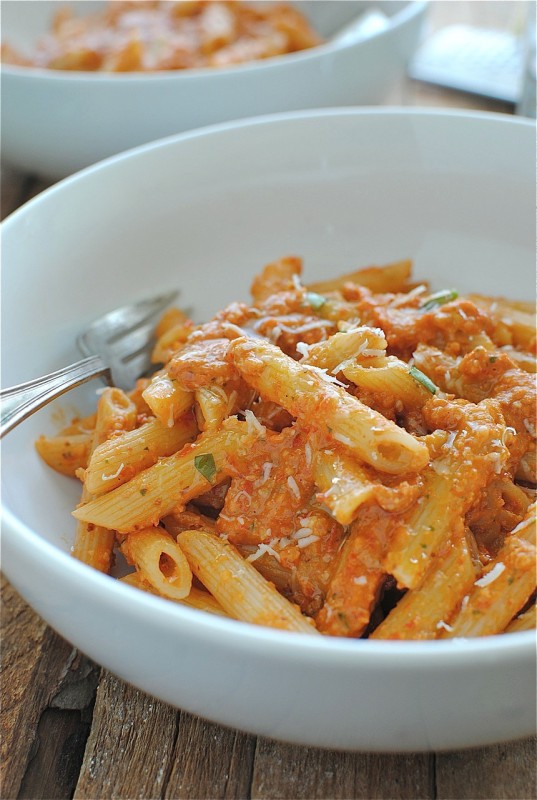 But the weird thing is, the little penne pastas kind of look like little trapezes, don't they? And I didn't even plan that. THE STARS ALIGN ON THIS GLORIOUS DAWN, Y'ALL.
Trapanese pesto is yet another Lidia-inspired recipe. And yes, I'm completely obsessed with her, thanks. I think it's the gaps of silence on her show that calm me. It's not a busy show. She's not a hyper-active woman like someone I think I know maybe probably. At the end of everything she does, whether it be carving a chicken, adding stock to a pot, or crushing fresh garlic, she'll glance up at the camera with a tiny grin and say, "oooo.kay." But the KAY part goes up just slightly. And I like it.
HEY I'M A SANGUINE AND NEED ALL THE HELP I CAN GET.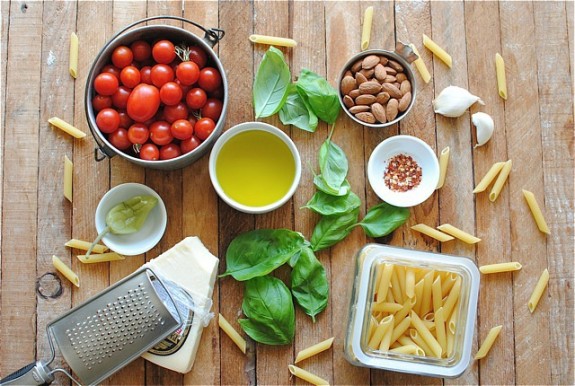 A kabillion moons ago on a routine PBS-induced Saturday morning my jaw fell to my ankles and all the coffee spilled out of my head when I watched her pull together this seriously stunning pesto. At that time in my life I was basically accustomed to your classic basilgarlicpinenutscheeseoilsaltpepperandlove kind. And then my world took an unexpected turn.
Lightly toasted almonds instead of pine nuts? Shoooooooot, yah. 
Addition of cherry tomatoes? I mean I can think of no reason not to.
Flippin' pepperoncini up in it? Wooooooooord to your mother.
Yeah. Jiggle your pinky finger in that, taste it and tell me that is not a promise of a new day.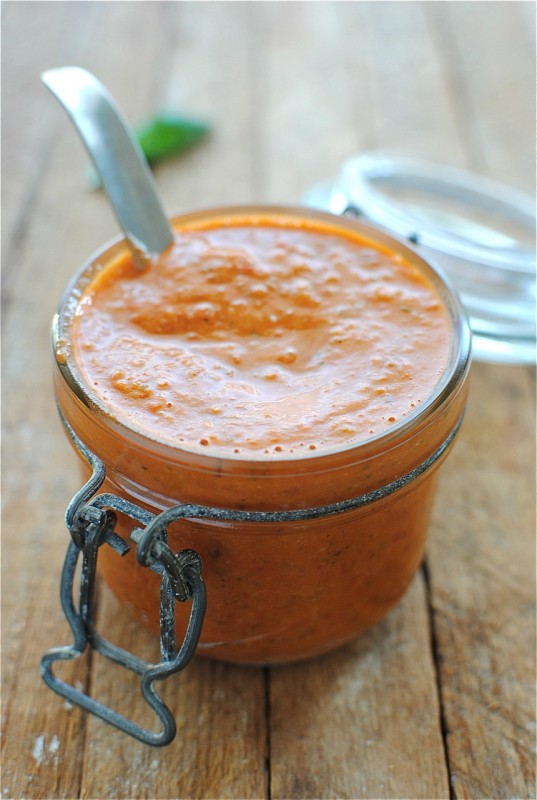 And on top of that, since it's a pesto, you don't even have to willy nilly with simmering it during a time of global confusion with temperature conditions of brutal degrees, cicada killers on the loose, and the faint memory of rain that we're most likely to never ever experience again.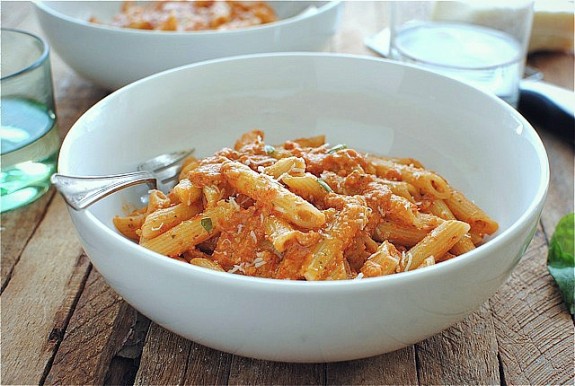 Forget the pinky finger thing. Make it your entire hand.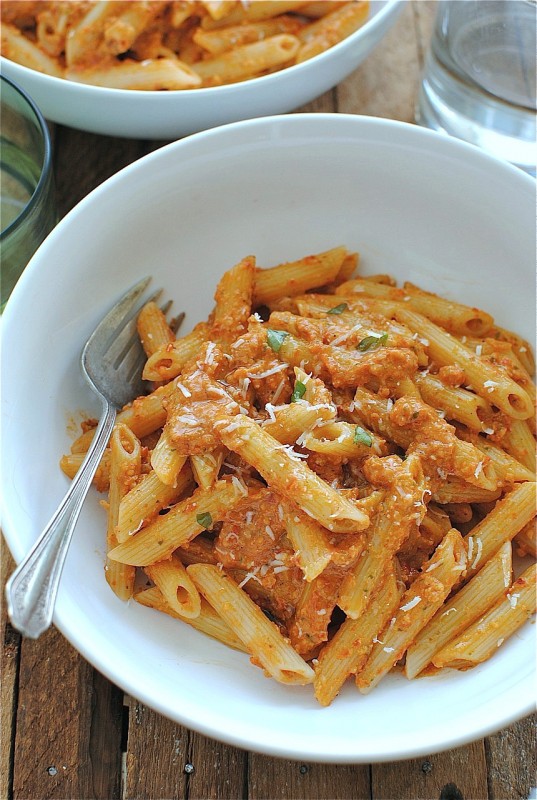 And face.
Penne with Trapanese Pesto:
(adapted from Lidia)
What it took for 4:
* 2 cups cherry or grape tomatoes
* 1/3 cup almonds, lightly toasted
* 2 cloves garlic
* 12 basil leaves
* 1 pepperoncini, stem removed
* 1 pinch crushed red pepper
* 1/4 cup freshly grated parmesan cheese
* 3 Tbs. extra-virgin olive oil
* 1 pound penne pasta
* coarse salt and freshly ground pepper
In a food processor, combine the tomatoes, almonds, garlic, basil, pepperoncini, crushed red pepper, cheese, and a good pinch of salt and pepper. Pulse a few times to get it going. With the motor running, add the oil in a thin stream. Taste it. Add a little more salt if needed.
Meanwhile, cook your pasta in a large pot of salted water until al dente. Drain and return to pot.
Pour the pesto over the pasta and toss to combine. You don't have to use all the pesto if you don't want to. Store whatever is left in a sealed container in the fridge for a week.
Serve with with more cheese and basil!
DEW IT.