A little poem for you. . .
The storm clouds are hoverin'. My coffee's gone cold.
My kitchen looks like a sink hole. I even spotted some bread mold.
The husband has a birthday today. I'll mow the lawns for him.
He still has good hair, they say. He need notteth even a trim.
Speaking of hair, if I so shall. I had mine done last night.
I now look somewhat presentable. It's no longer trying to take flight.
But I'm not here to discuss these things. I'm not here to bore.
I'm simply here to make you salivate. From pesto and beans, galore.
Oh and I forgot there's chicken, too. How could I mislead?
It's because we're running a 5K soon. And my toenails already doth bleed.
I'm kidding. I'm kidding. I can handle the run. It's not that I'm a wimp.
I just get carried away with words. Like, pimp and crimp and shrimp.
You're falling asleep. I can feel it so. I have one more thing to call.
LIVE FROM NEW YORK, IT'S SATURDAY NI – oh wait, that's not it at all.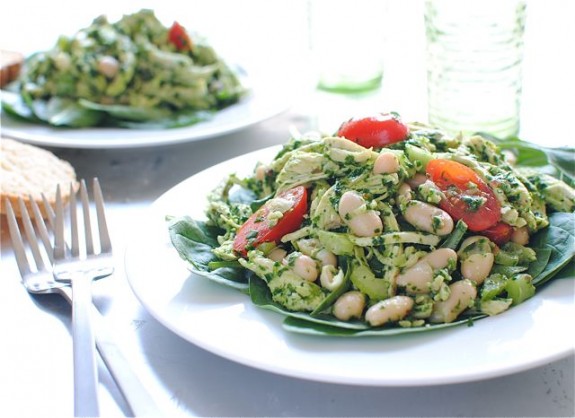 Mmmmmm, pesto chicken salad, for all of your faces.
Full recipe and story, right here!