Yoooooou're heeeere, there's NOTHING I FEEEEAAAAR.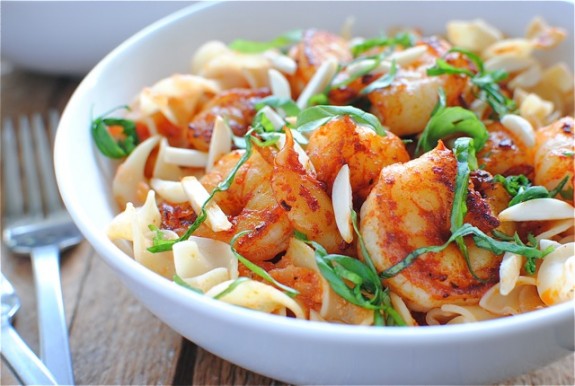 That was the sound of my face at the end of Titanic (in 3D!) last night as the lights came up in the theater and tears bucketed from my eye sockets and my husband leapt from his seat and ran out of the room as fast as he could.
Not even kidding. And in case you're wondering, Leo D. circa 1997 in 3D? Just as ripe-a-licious as legally possible. Aaron totally agreed.
Oh wait, I think his slobber trough was induced by Kate's circa 1997 in 3D nakedness.
Speaking of slobber! Paprika shrimp. Paprika shrimp with a hint of crushed red pepper. Creamy, garlicky tomato sauce. Egg noodles. 3D glasses. Toasted almonds. Fresh basil. Slobber Town, USA with the zip code M-O-U-T-H.
I wish I made sense, even just a little bit.
This was one of those, "ohhh what should I make to eat I have no idea but I really need to clean out the pantry and I guess this goes with that and that with this and I can't wait to get my hairs did tomorrow night" dinners. But I love those kinds of meals. The ones that sort of create themselves and end up being so fabulous you go cross-eyed.
The ones you can really SINK your teeth into.
Get it?!
Seriously, why do I do this to you?
Leo and Kate want you to eat this. MAKE IT COUNT, YOU GUYS. NEVER LET GO.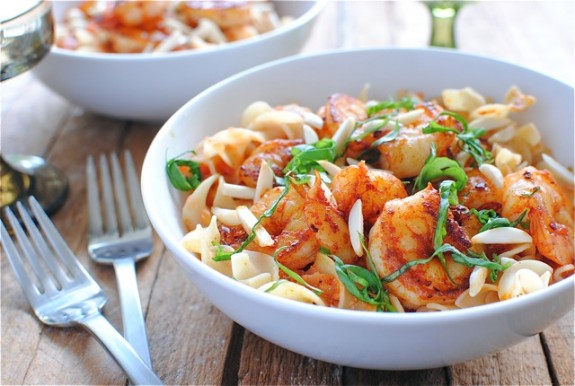 I BELIIIIIEVE THAT, THE HEART WILL, GO OOOOOOOO–O-O-ON.
Paprika Shrimp Over Creamy Egg Noodles:
What it took for 2:
*18 large frozen shrimp, thawed, peeled and deveined
* 1 Tbs. smoked paprika
* 1 pinch crushed red pepper
* 2 tsp extra-virgin olive oil, divided
* 2 cloves garlic, minced
* 1 (14.5 oz) can diced tomatoes
* 1/4 cup cream or milk
* 5 basil leaves, 2 thinly sliced
* 2 cups egg noodles
* 1/3 cup sliced almonds, toasted
* coarse salt and freshly ground pepper
Toss the shrimp with the paprika, crushed red pepper and a pinch of salt and pepper.
Blitz the can of tomatoes in a small food processor until smooth.
Heat 1 tsp of the oil in a small saucepan. Add the minced garlic and bloom 30 seconds, until fragrant. Add the tomato sauce and 3 basil leaves. Reduce the heat to medium-low and simmer 10 minutes. Add the cream, stir to combine and keep the heat on medium-low.
Heat the remaining tsp of oil in a medium skillet. Add the shrimp in a single layer and sear on one side for 2 minutes. Flip and sear 45 more seconds.
In the meantime, boil your egg noodles until they reach al dente. Drain and transfer to the tomato cream sauce. Stir to combine.
Serve creamy noodles topped with shrimp and garnished with toasted almonds and torn basil. And freshly grated parmesan if you so desire. Which you should.
Eat!