SPAAAAAAAAAARIIIIIIIIIIIIIIIIIIIIIIIIIIIIIIIIING IS HEEAAAAHHHH.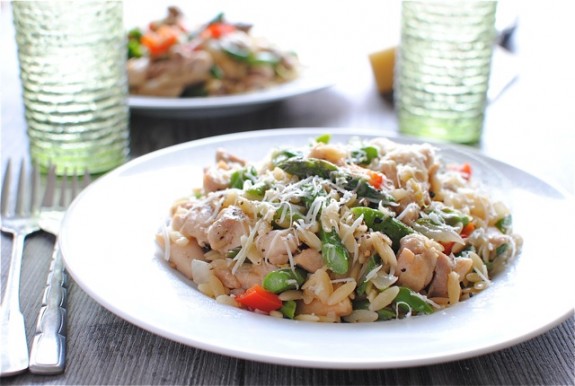 Well, sort of. Technically it's next week. But if you could sit next to me and witness this deafening performance of A CHORUS LINE being put on by 37,000 robins on my back porch at 6am, you'd agree. Spring is up in this piece.
I've never said "up in this piece" before. It kind of tickled.
OH HOW I LOVE THE SPRING. It's time for fresh starts! It's time to change filters, clean gutters, break out the chacos, prep garden beds, hunt for morel mushrooms, learn how to manage my crush on Phillip Phillips on American Idol. Seriously, someone needs to make him stop being so delicious. I want to plant him in my garden right in with the tomatoes. Naked.
SHE DID NOT JUST SAY THAT.
I will now attempt to distract you by talking about spring food and this springy orzo risotto thingy that I made with chicken and lemon and asparagus and scallions.
Looook at it.
And see, I made it like a risotto, where you ladle the broth into the orzo little by little, to creamy it up. I mainly did it this way because I wanted to pour a cup, I MEAN 1/4th a cup of vermouth into it. Spring's orders!
But if you want to skip the booze (uh, why again?) and skip the ladling, you can always just boil up the orzo in some stock or water and toss it with the seared chicken and veggies! Ner prerblerm.
This is going to rock your mouth straight off like a ping pong ball into the spring heavens.
Oh! ROCKIN' ROBIN. Like on my back porch?
Oh.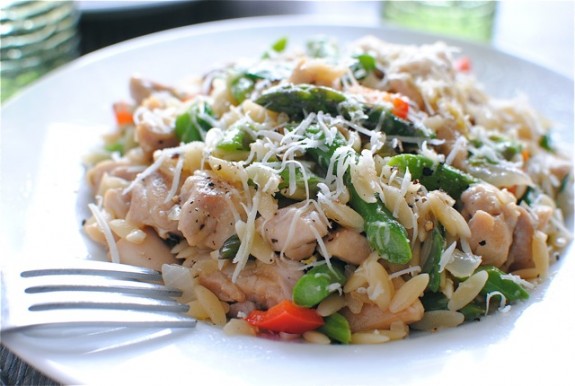 You're still thinking about tomato plant Phillip, aren't you? Me too.
Orzo Risotto with Chicken and Spring Vegetables:
What it took for 2 (pretty large servings):
* 2 Tbs. extra-virgin olive oil, divided
* 6 chicken thighs, trimmed of any excess fat and cut into small chunks
* 1/2 medium yellow onion, finely diced
* 3 cloves garlic, minced
* 1 cup orzo
* 1/4 cup vermouth or dry white wine
* 3 cups chicken stock
* 1/2 bunch asparagus, ends trimmed and cut into 1-inch slices
* 1/2 red bell pepper, diced
* 3 scallions, sliced into 1-inch pieces
* 1/2 cup freshly grated parmesan cheese
* 1 Tbs. butter (or olive oil)
* 1 lemon
* coarse salt and freshly ground pepper
Bring the chicken stock to a light simmer in a small sauce pan. Add the asparagus and cook until crisp-tender, 2 minutes. Using a slotted spoon, transfer the asparagus to an ice bath, stopping the cooking.
Heat 1 Tbs. oil in a medium skillet over medium high. Add the chicken, toss in a pinch of salt and pepper and cook until browned on all sides and cooked through, 8 minutes. Transfer to a plate.
Add the other Tbs. of oil to the skillet. Add the onion and garlic, saute 3 minutes. Add the orzo and "toast" for about a minute. Add the vermouth or wine and cook until mostly absorbed, 2 minutes.
At this point you'll ladle the broth into the orzo, one ladle at the time, until the orzo has absorbed the liquid and become nice and creamy. And dreamy. This takes about 15 minutes.
Add the asparagus, red bell pepper and scallions to the orzo. Toss to combine. Add the chicken back to the mixture. Take off the heat and add the butter (or oil) and cheese. Add about a Tbs. of lemon zest to the dish, along with a few good squeezes of lemon juice. Toss to combine. Taste it. Salt it good.
Serve risotto garnished with more lemon and parmesan cheese. And fresh basil. And Phillip Phillips.
Sorry.