(This giveaway has now ended.)
So there's this woman. Her name is Ree. You might know her?
I'll give you a hint! Her last name rhymes with Brummond and she's married to a man who lives for cow poop and they have four punks (hey! her word, not mine) and they live on a huge ranch where the wind comes sweeping down the plain.
That's riiiiight! The Pionee – oh my title already told you. Yeah.
Well, as the entire planet knows (and most likely Mars and Neptune) today is a really exciting day for Ree. Her second cookbook is released! I was one of the lucky bloggers who got an early copy of The Pioneer Woman Cooks: Food From My Frontier and I can't even begin to describe to you the giddy pants dance I performed when I found it at my front door. I think it's on YouTube somewhere. I'll try and find it.
I just love her blouse.
So Gaby had this super fab idea of getting a few food bloggers together to host a virtual "Congratulations, Your Awesome Cookbook Is Released Today and You Should Totally Celebrate With Panty Hose on Your Head!" party for Ree by cooking something from it. And this is it! This is our party for you, Ree!
Are you wearing panty hose yet?
(psst! Giveaway at the bottom of this here post.)
THIS BOOK. Ugh, it's such a gas to read, the step-by-steps are helpful and beautifully shot, and as you would expect, it's perfectly decorated with her signature style, complete with lovely borders, pretty butterflies, pictures of the kids and cute little cowboy and cowgirl symbols indicating if the recipes are strong enough for a man, but ph balanced for a woman.
I'm already in love.
I can't wait to meet Ree next week when I drive to Oklahoma in the middle of the night and break into her house and have french toast on the breakfast table and a creepy smile on my face when they wake up.
I am TOTALLY kidding!
I'll be making breakfast burritos.
As you can tell, I chose her delicious chicken tortilla soup to party with today. Um, I took one bite and had to put on a wet suit so that I could snorkel in the pot for the next 5 hours.
Why don't I live on a ranch?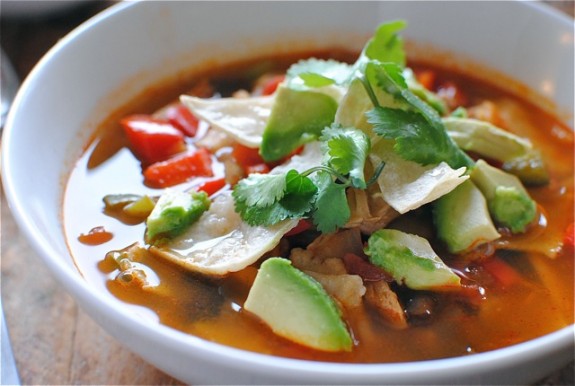 I'd live in this dang soup, I tell you what.
MAKE IT. Your tongue will be born again.
And buy this book, for the LOVE. Your soul will fly like the wind.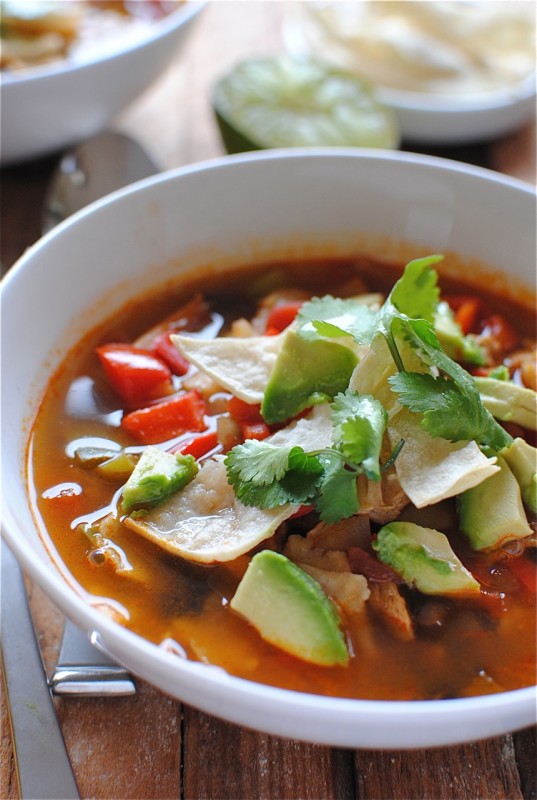 And since I picked something out of the book that's already on her site (DER) here's the original link to the recipe! I think a few others did the same thing, so I don't need to enroll in doofus camp this summer.
AND here are the links to the other lovely ladies participating in today's virtual celebration with panty hose on our head. Thaaat might be just me. Cheers and big time congratulations, Ree!
Two Peas and Their Pod – Restaurant Style Salsa
Picky Palate – Malted Milk Chocolate Chip Cookies
What's Gaby Cooking – Knock you Naked Brownies
Kevin and Amanda – Pasta with Pesto Cream Sauce
I am Baker – Coffee Cream Cake
She Wears Many Hats – Iced Coffee
**Guuuuess what! Ree is so awesome and wants to give away 3 signed cookbooks to 3 of my readers! She'll personalize it and send it straight. to. your. door. All you have to do is leave a comment answering this: What is your favorite Ree-ism?  (I made up this question, just so ya know.) I'll pick 3 winners via Random.org and will announce them Friday morning. Be sure and hit up these others blogs for more chances to win!**
(By the way, it's not like the panty hose would be over my FACE. It's just on my head, like pig tails. Stop giving me the stink eye.)