I was going to wait and make this after Valentine's day, but when I made the mistake of verbalizing the week's list of potential dinners to Aaron, he interrupted me at "black beans and ri–" with, "YES. YES. MAKE THAT TODAY. I DON'T CARE ABOUT THE REST OF THE LIST. JUST MAKE BLACK BEANS AND RICE." Quiver-lipped, "IF YOU LOVE ME YOU WILL MAKE THE RIGHT DECISION FOR US."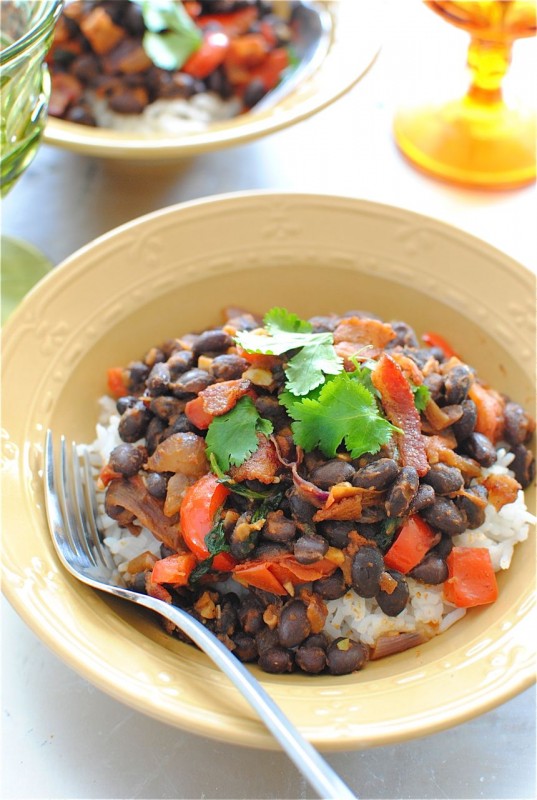 And then he fell into a coma and promised only to come out of it if I made the gall-darned black beans and rice.
And obviously I can't have a husband in a coma! I have a sink knob thingy that needs fixing.
So, this version is actually really simple, but with a creole punch that will knock your soul into next week. Which is perfect because Mardi Gras is next week! I seriously didn't even mean to do that, you guys.
Remembering what my Louisiana cousins survived on growing up, and would straight up tar and feather me if I left it out, I went straight to the source for the ultimate in flava flav: Tony Chachere's famous creole seasoning. (It's in that little stainless cup.)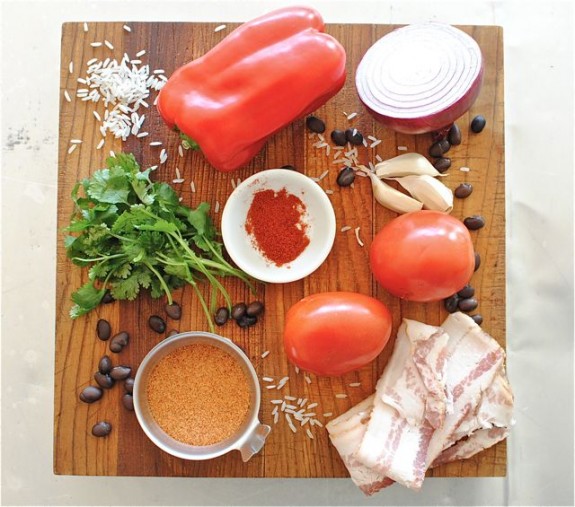 OHHHHHHH. I don't know what Tony was on when he came up with this spice mix, but I want to dip myself in a bowl of it, followed by an egg wash, and then bake myself until perfectly browned and crispy.
Whooooa wait. That's crazy talk!
I'd rather become a black bean and spend my life inside my own belly after eating 37 bowls of this.
THAAAAT makes more sense.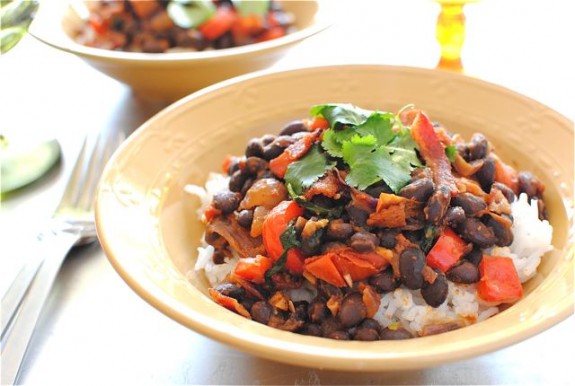 Lick, lick, lick.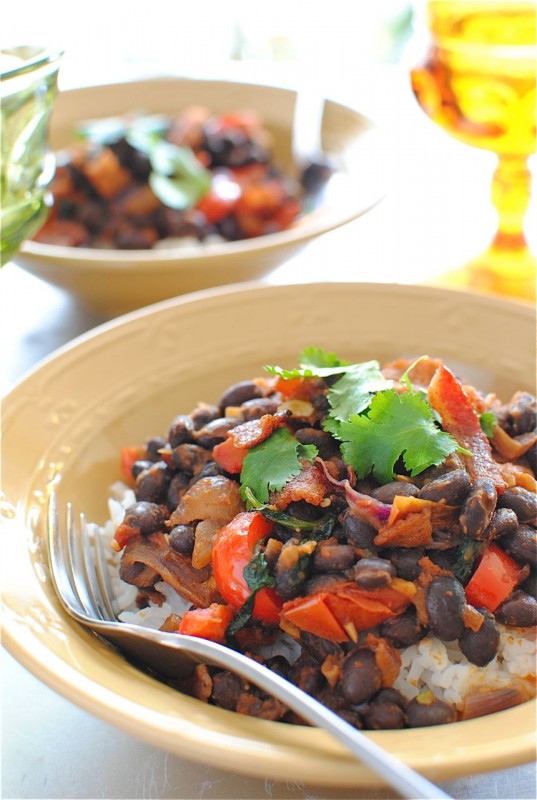 Hey, Tony. What are you doin' later?
Simple Black Beans and Rice:
What it took for 4:
* 3 slices bacon, cut into small chunks
* 1/2 red onion, diced
* 3 cloves garlic, minced
* 1 Tbs. smoked paprika
* 1 tsp cumin
* 1 – 2 Tbs. (or more!) Tony Chachere's cajun seasoning, divided
* 1 red bell pepper, diced
* 2 roma tomatoes, diced
* 2 (14.5 oz) cans black beans, drained and rinsed
* 1 Tbs. honey
* 1/4 cup favorite beer
* 1/4 cup fresh cilantro, plus more for garnish
* few glugs of Tabasco sauce
* 3 cups cooked jasmine rice
Cook the bacon until crisp. Remove bacon and set aside to drain on paper towels. Discard all but 1 Tbs. of the bacon fat.
Add the diced onion to the skillet and cook until they start to soften and caramelize, 5 minutes. Add the garlic and bloom 30 seconds. Add the red bell pepper, the paprika, cumin and a good pinch of the Tony's spice. Saute another minute.
Add in the diced tomatoes and saute until they start to break down a little, 3 minutes. Then pour in the beans. Toss to combine and cook 2 minutes. Taste. Add the honey, beer and another pinch of Tony's. Cook another two minutes.
Toss in the cilantro to wilt, along with a few glugs of Tabasco. One final taste. More Tony's? It acts as salt so don't overuse.
Serve black bean mixture of a heaping mound of cooked rice and garnish with more cilantro leaves and the reserved bacon bits. Have more Tabasco on hand. It's only right.