So, the other night I decided to FaceTime with my younger sister. I touched the screen, heard a few techie beepidy beeps, and a moment later her little face appeared in my hand.
(By the way, did you know phones DO THIS? Oh you did? Oh.)
"What are you doing?" I asked.
Without a single word, she held up a scallion.
"Oh, you're making mom's Chinese rice!" Her eyes widened. She slowly nodded. And just as we have our entire lives, we belly-busted it all over Giggletown, USA.
Actually, I have no idea why that was so funny. Sisters are weird.
So it got me thinking about mom's old recipe. Which led me to start thinking about how she once accidentally overslept during her afternoon nap and left me all alone sitting on the curb at the elementary school as the sun went down. But I'll deal with that one on my own.
She used beef bouillon cubes in the recipe. Do you remember those things? Hello, they're like little cubes of abracadabra your mind is blown. I'm going to start a new revolution: BRING BACK THE BOUILLON. Would you join me?
Oh, we could wear capes!
Chinese Beef and Broccoli: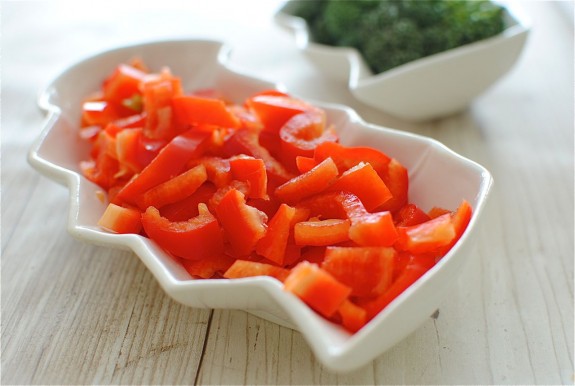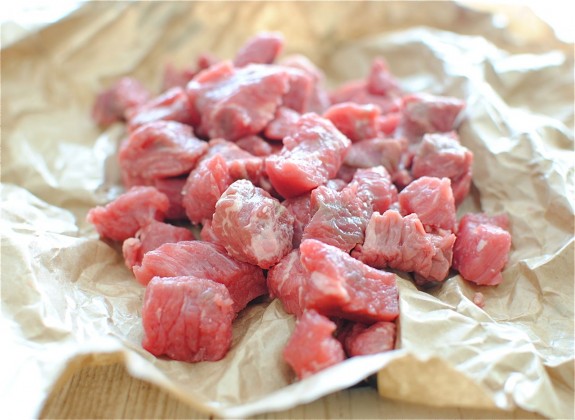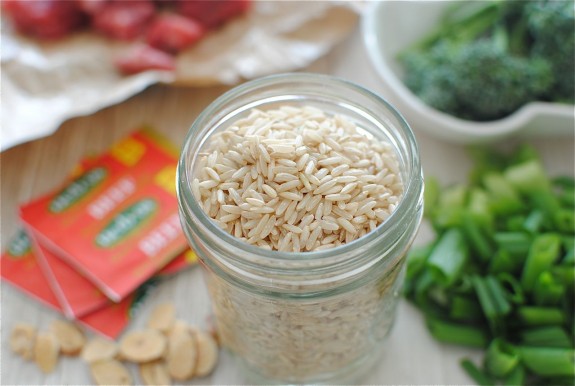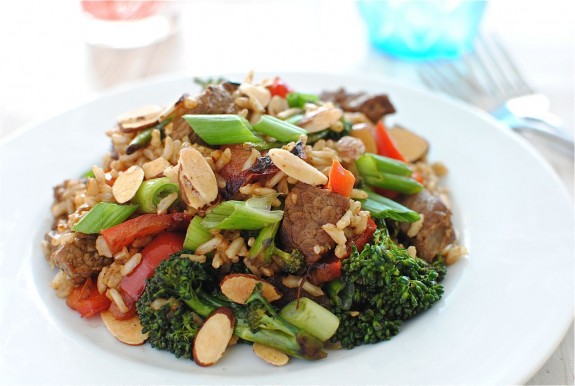 What it took for 4:
* 1 cup brown rice
* 2 beef bouillon cubes (or packets)
* 1 Tbs extra virgin olive oil
* 1 pound cubed steak
* 1 red bell pepper, roughly diced
* 2 cups broccoli florets
* 3 scallions, sliced
* 1/4 cup honey roasted almonds
*coarse salt and freshly ground pepper
Cook the rice with the bouillon cubes. (rice cooker or traditional stovetop method – up to you.) It will infuse the rice and have you so in love you won't even understand.
Heat the oil in a large skillet over medium-high. Throw the meat in, season with salt and pepper and sear on both sides until nice and browned, 6 minutes. Remove from the pan and set aside.
To the pan, add a little more oil if needed and toss in the red bell pepper and broccoli. Sprinkle with a little salt and pepper. Saute until the colors pop and the business is crisp-tender, 5 minutes.
Add the meat back to the pan, along with the cooked brown rice. Toss to combine. Add the scallions and give one more toss.
Serve with the honey roasted almonds. Why am I not eating this right now?