Friday evening my husband skipped through the front door with a grin on his face the size of Delaware and an obscenely large new toy in his grip. He had just purchased . . . a mountain bike.
Lord help me.
You see, he just started training for an Xterra triathlon next summer, and has been drooling over different bikes in my presence and slowly manipulating my mind to get used to the idea that a large purchase was soon to take place.
Hold my hand.
As he giddily admired the hunk of metal and rubber, showing me all the bells and whistles (which, speaking of, I fully plan on installing a little whistle and pink ribbons behind his back) he looked up at me and said, "And to celebrate, I'm cooking all weekend!"
Riiiiight, I see what you're doing here, mister mountain bike man. You're softening this expensive blow by allowing me to rest all weekend while you slave away in the kitchen. You're making it up to me by planning, prepping, cooking and handing me delicious food that I didn't have to lift a single finger for. You're sweetly encouraging me to sip wine and watch my favorite shows while you stand on your feet for hours on end and … wait a minute.
IT WORKED.
Trickster.
After the third potsticker that entered my mouth hole, I'd all but forgotten about the enormous dent in our bank account. As a matter of fact, he can buy anything he wants if he cooks like this for me more often!
Wait, DO NOT TELL HIM I SAID THAT.
Pork and Shrimp Dumplings: 
(recipe from Steamy Kitchen)
Jaden's dipping sauce will you have you crawling to bed, it's that good.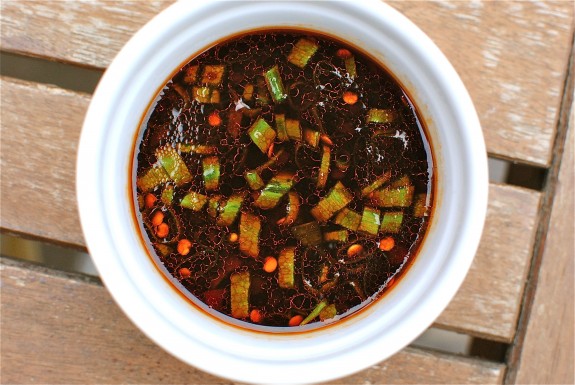 This picture was taken in our kitchen, after the sun had gone to bed, hence the jank lighting. But look at him in his little apron.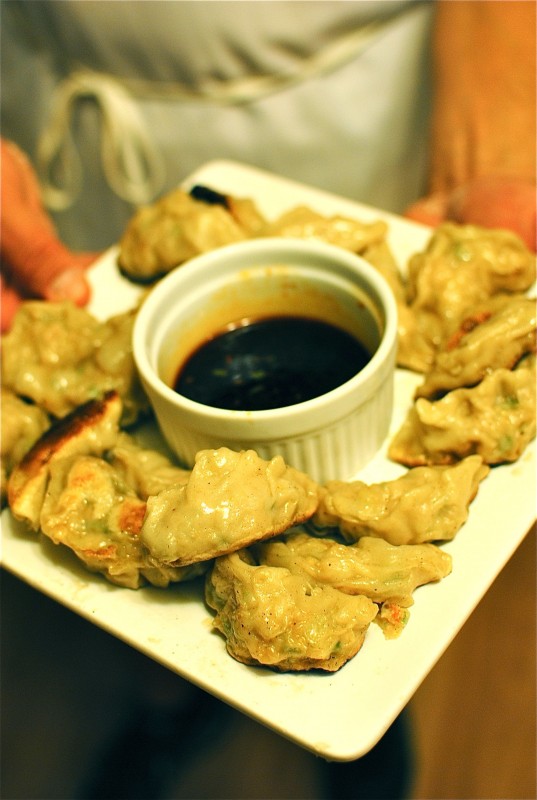 Jaden kind of knows what she's doing.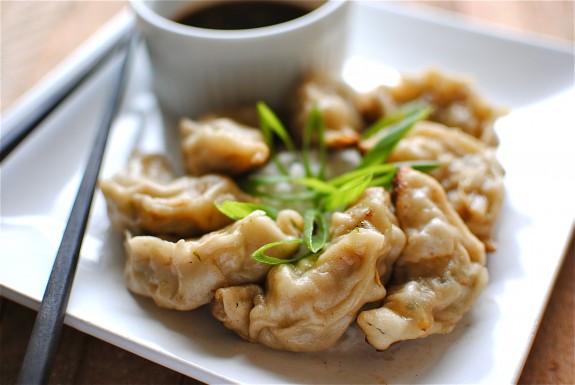 What it took for 25 potstickers:
He didn't nilly willy around with this recipe. Only halved it so that we didn't have 4 billion potstickers on our hands. Actually, that sounds like a good problem to have.
Here's Jaden's awesome recipe.
*** Aaron made the potsticker dough from scratch. But you guys, it's kind of a hassle, so use wonton wrappers to cut down on the cursing in your life. Jaden agrees with this. ***