Salsa: it's one of summer's most quintessential snacks. We all love it. We all need it. We all inhale roughly 140 pounds of it during these warm, ripe months. But, are you used to only eating it out of jars or small tubs? Are you on the verge of an emotion breakdown over the limp and lifeless taste of manufactured salsa? Are you about to throw your fists in the air, kick the nearest chair and scream, I CANNOT LIVE LIKE THIS ANY LONGER?
If so, a) whoa, relax dude, and b) I'm here for you.
Making salsa is such a cinch, you'll never go back to the store-bought stuff again. The trick is making it ahead of time, so it can spend at least 2 hours in the fridge, letting the flavors go on dates, get married and have like 17 babies.
In my version, I leave the seeds and ribs in the jalapeno for more heat, but the end result isn't over the top hot. It has just that right, subtle kick that I crave in salsa. I also add lots and lots of cilantro to mine, but if that's not your thang, leave it out! I won't judge.
Not that much anyway.
What's your favorite version of salsa? Do you prefer lots of tang? Super runny? Super chunky? I'd love to know!
Homemade Salsa: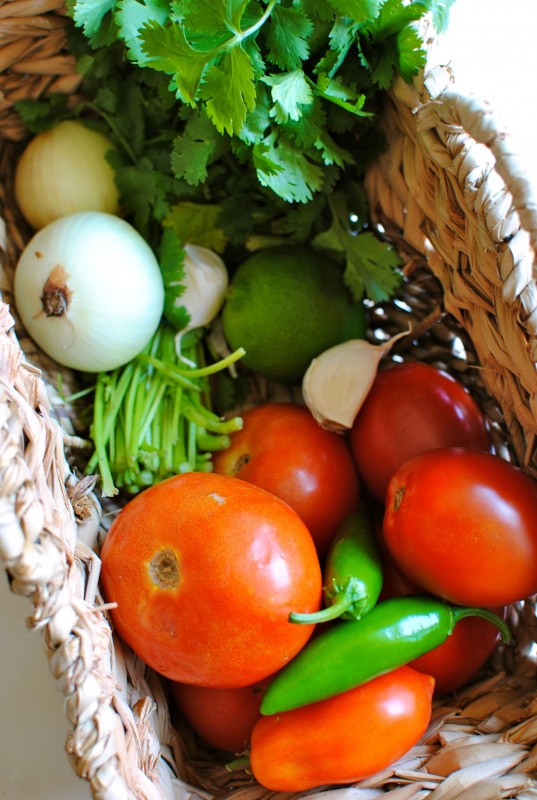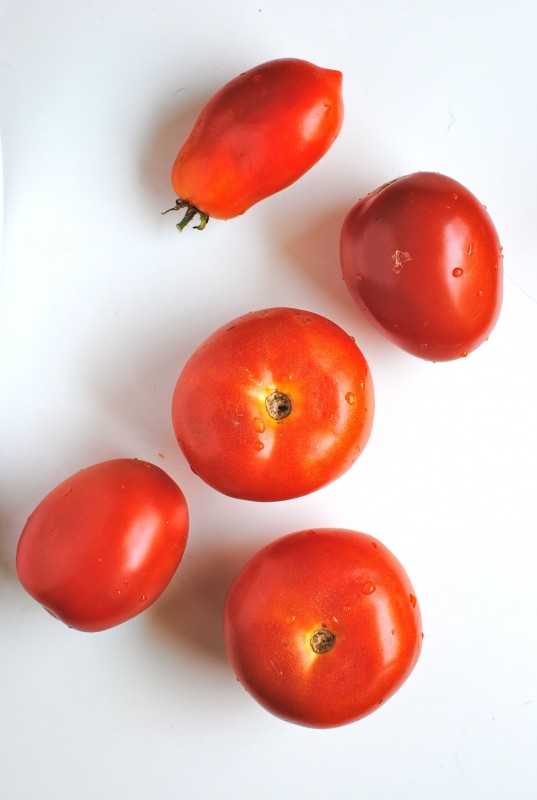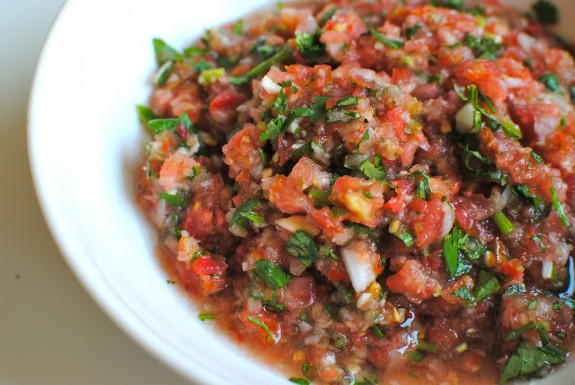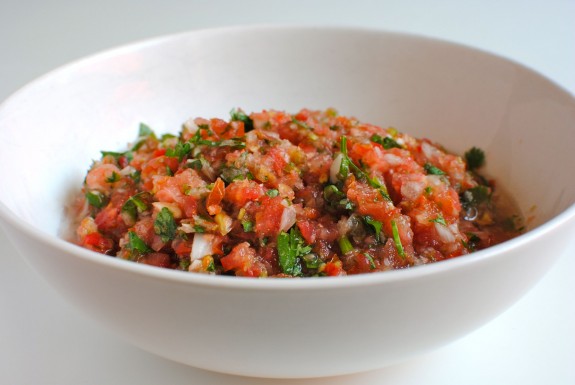 What it take for about 3 cups:
* 2 pounds tomatoes (roma, heirloom, beefsteak – whatever you have on hand)
* 1 small white onion
* 2 small jalapeno peppers (or 1 large)
* 3 cloves garlic
* 1/2 bunch cilantro, chopped
* juice of 1 lime
* salt
Start by giving the onion, jalapeno and garlic a super rough chop. Drop them into a food processor and pulse a few times. Not too much as you don't want a paste. Just a good mince. Now, spoon the mixture into a little glass bowl and microwave  for 45 seconds. This will bring out the flavor. Set aside.
Half or quarter the tomatoes and dump them into the food processor. Pulse them until finely chopped. They'll be REALLY juicy, so pour the tomatoes through a fine sieve, taking out most of the juice, leaving you with a most perfect slightly chunky consistency.
Add the onion mixture to the tomatoes in a  large bowl, and throw in the cilantro and lime juice. Stir to mix. Salt. Taste. Salt a little bit more. Cover and put it in the fridge for at least 2 hours.
When you're ready to enjoy the salsa, you'll notice the juices have settled in the bottom of the bowl. I personally love this as I like a little bit of juice in my salsa, but also chunky. I'm not making sense. Enjoy!