Remember last week when I made this dish? Well, when I bought the wax beans at the farmer's market, the little basket was enough to feed at least 14 dinner parties.  So, I've been eying the remaining half in my crisper for the last few days, wondering what to do with em, before they grow arms, legs and teeth and climb their way out of my fridge and head East towards the compost bin.
In the meantime, Aaron's been harvesting green pole beans from our garden, and pondering ideas on what to do with those little guys.
DING DING DING – How 'bout we introduce the two beans and see what kind of sexy hotness occurs! Oh, and let's get scandalous and add grilled steak to the situation. Let's watch as jealousy and wrongful lust unfolds!  It will be like watching Jerry Springer on a PLATE.
You guys, chairs were overthrown, lips were busted. I think one wax bean was even pregnant by a steak strip!
It was so awesome.
Grilled Flank Steak with Sauteed Beans: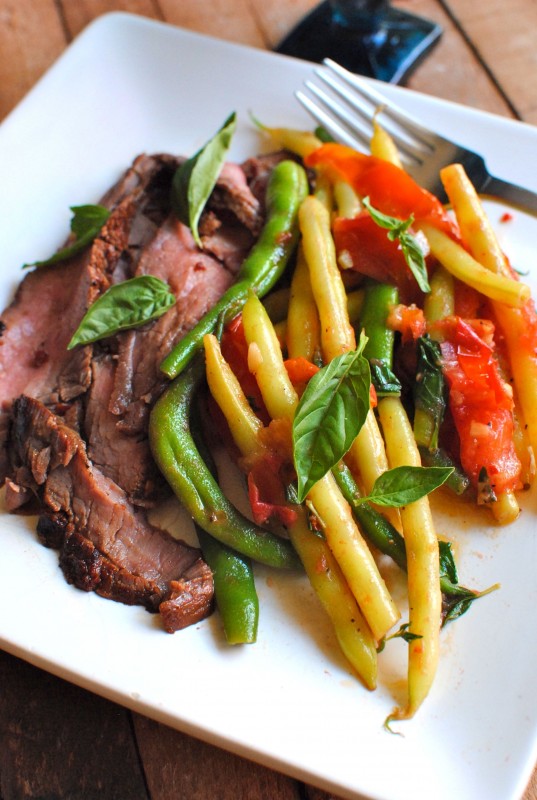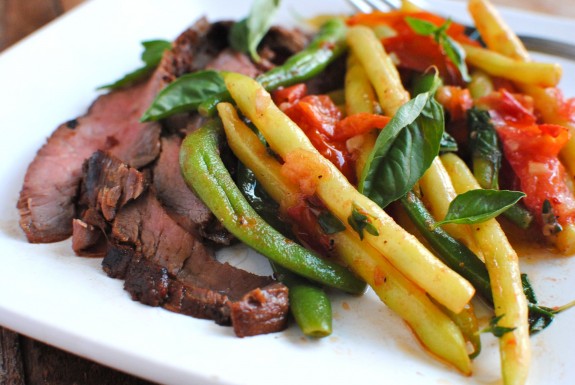 What it took for 2:
for the steak marinade:
* 1 pound flank steak
* 2 Tbs. extra virgin olive oil
* 2 Tbs. soy sauce
* 2 Tbs. worcestershire sauce
* 3 cloves garlic, minced
* 1 Tbs. sambal oelek
* 2 Tbs. fresh herbs, your choice
for the sauteed beans:
* 2 cups yellow wax beans, tough ends trimmed
* 2 cups green beans, tough ends trimmed
* 2 roma tomatoes, chopped
* 2 cloves garlic, minced
* 1/2 pinch crushed red pepper
* 1/4 cup fresh herbs, (basil, oregano, parsley)
* 2 Tbs. extra virgin olive oil
* coarse salt and freshly ground pepper
In a large sealable plastic bag, combine the oil, soy sauce, worcestershire, garlic, sambal oelek, and the herbs. Score the steak with a fork, then add to the bag. Seal and marinate in the fridge for about 4 hours. Flip at the 2-hour mark.
Dinner time: Preheat grill to medium-high. Grill the steak until your preferred doneness. We like medium-rare.
In the meantime, bring a pot of salted water to a boil. Add the beans and cook 2 minutes. Remove with a spider and place them in an ice bath to stop the cooking.
Heat the oil in a medium skillet, and add the garlic and crushed red pepper. Bloom for 30 seconds. Add the beans and tomatoes. Throw in the herbs, season with salt and pepper and let saute about 2 minutes.
Serve sauteed beans and tomatoes with sliced steak!