We're in the dog days of the summer and zucchini is everywhere. The neighborhood gardens, farmers' markets and local grocery stores are all working double-time shelling out the summer beauties.
Hey, I high-five summer for that because my soul belongs to zucchini in the summer. Yes, I literally jump around my back yard high-fiving the air.
(I don't do that actually.)
(But I should.)
(Or not.)
Anyway, you can really do just about anything with zucchini, and while they're at their prime during these summer months, take advantage.
I always think about making baked zucchini boats, but distraction takes its lethal hold and I'm a goner.
NOT TONIGHT BABY.
After a few colorful finds at the farmer's market this morning, the idea surfaced once more and I obeyed. Oh mama, did I obey.
Baked Zucchini Boats: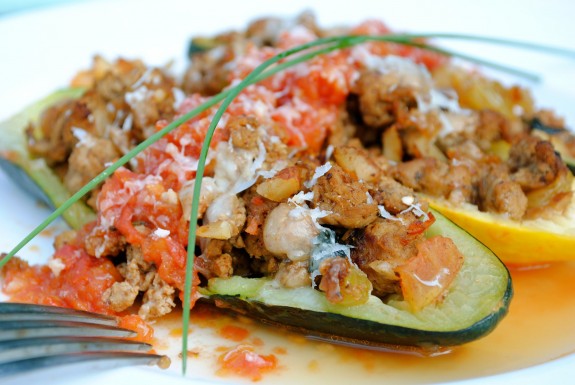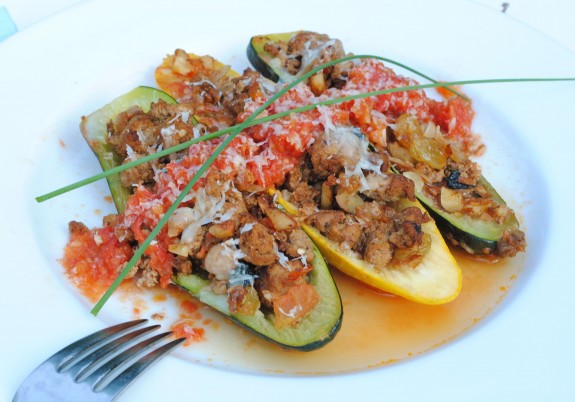 What it took for 2:
* 6 yellow or green zucchinis, sliced lengthwise and seeds scooped out
* 1/2 yellow onion, finely diced
* 3 cloves garlic, minced
* 1 pound ground turkey
* 1/4 cup yellow raisins
* 1 tsp ground cumin
* 1 tsp ground cinnamon
* 1 tsp ground coriander
* pinch of crushed red pepper flakes
* 1/3 cup almonds, chopped and toasted
* 2 Tbs. extra-virgin olive oil
* 4  tomatoes, 2 roughly chopped, 2 pulsed in a food processor
* 1/4 cup parsley, chopped
* coarse salt and freshly ground pepper
Preheat the oven to 350.
Bring the oil to a medium-high heat in a skillet. Add the onion and garlic and cook until they start to soften, 6 minutes.  Add the ground turkey and stir to combine. Season with salt and pepper, cumin, cinnamon, coriander, and crushed red pepper. Cook for 6 more minutes. Toss in the chopped tomato, raisins, almonds and parsley. Cook another minute or two.
Heat the pulsed tomato with 1 clove of minced garlic and a Tbs. extra-virgin olive oil in a small saucepan. Season with salt and pepper.
Spoon the tomato sauce along the bottom of a baking dish.
Stuff each zucchini boat with the turkey mixture and place on the tomato sauce in the baking dish. Cover and bake 30 minutes, then 10 more minutes uncovered.
Delish!