Oh hellooooo, fall. I see you.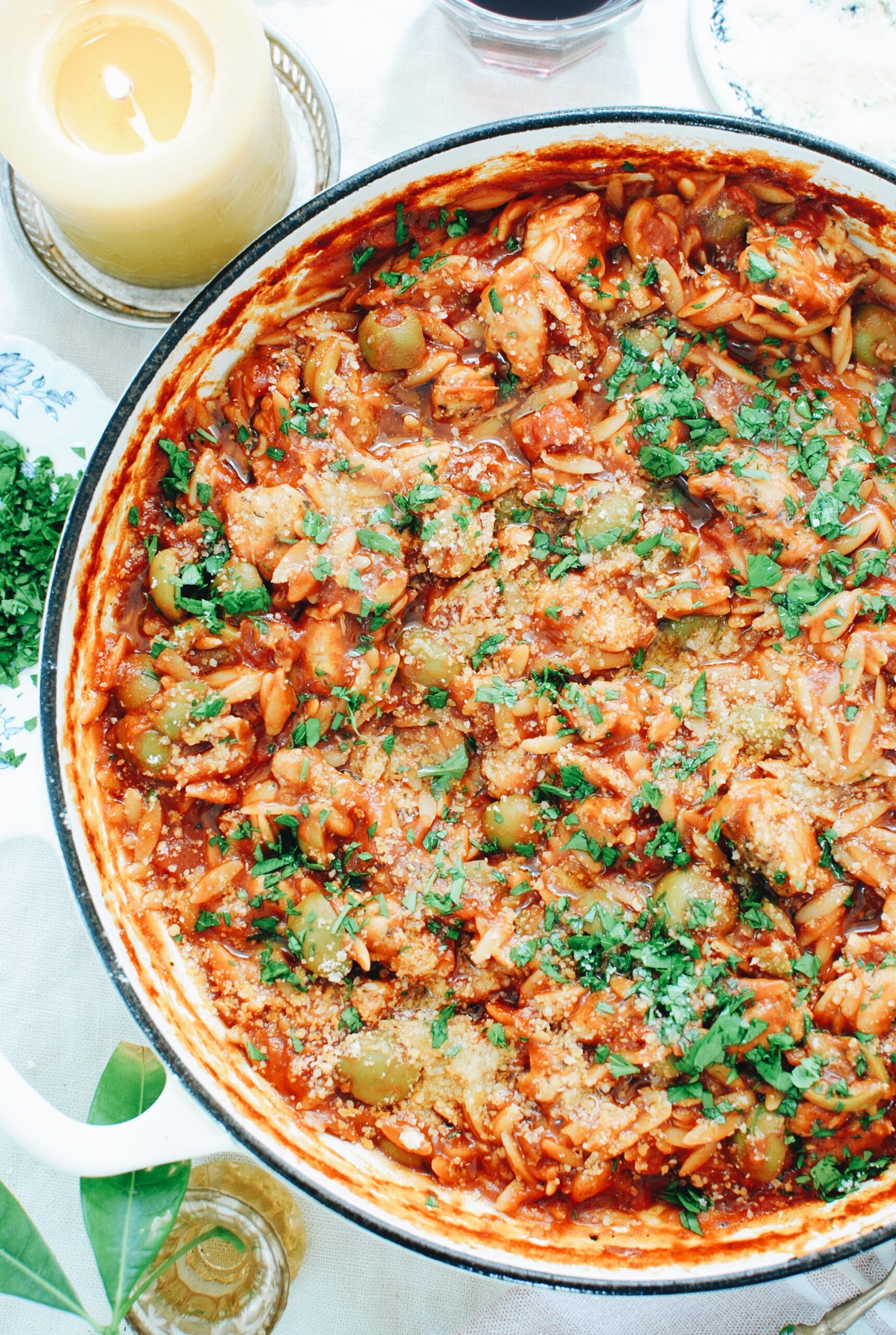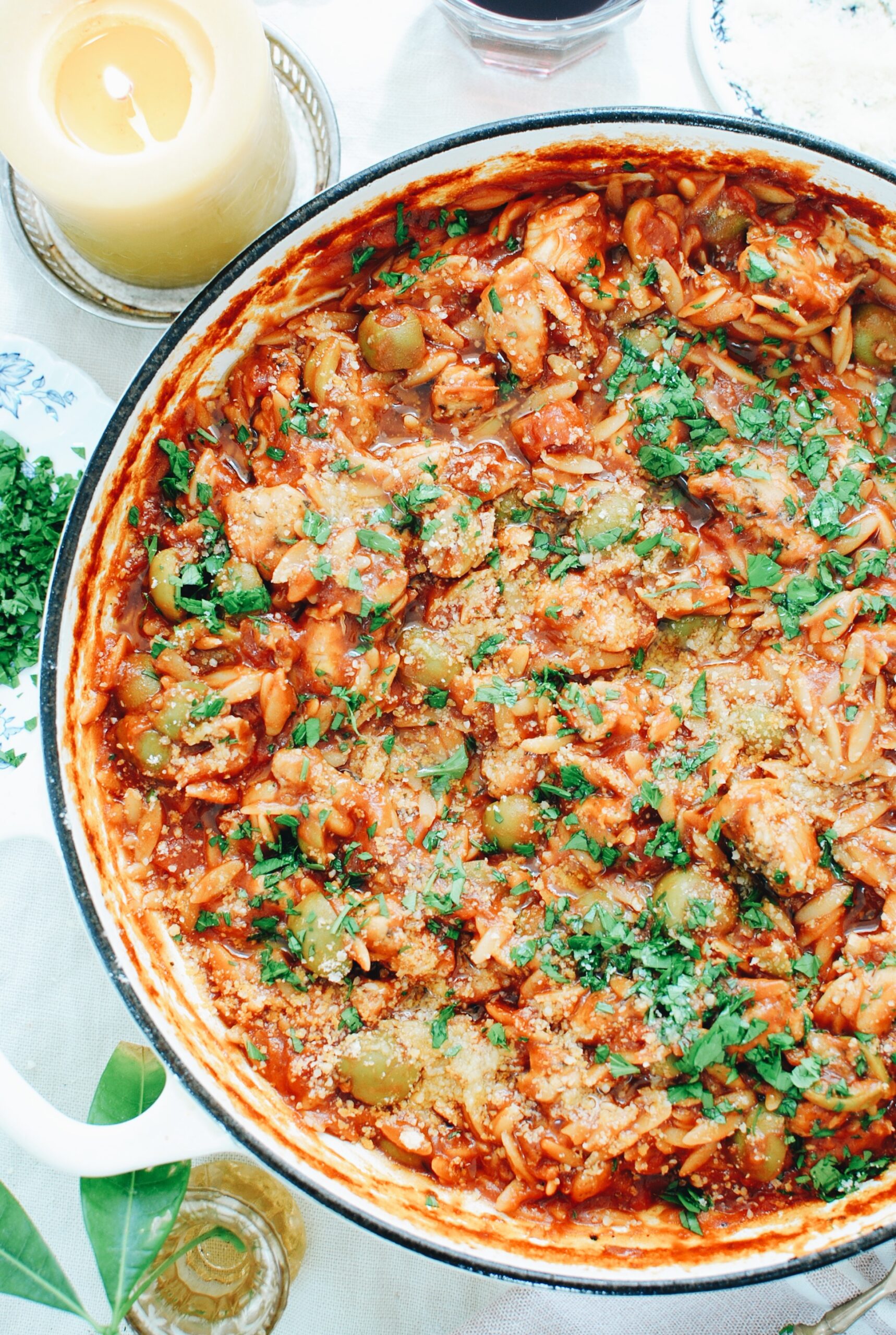 This is what happens when you take chicken tenders, cut them up, sear them with olives and red wine and crushed tomatoes and ORZO. A heavy hand of parmesan and freshly chopped parsley to garnish, plus a drizzle of extra-virgin olive oil? Stop. Stop it. It's quite divine, I tell you.
And DeLallo has e-v-e-r-y-t-h-i-n-g you need to pull this magic together like, yesterday.
Let us peepeth.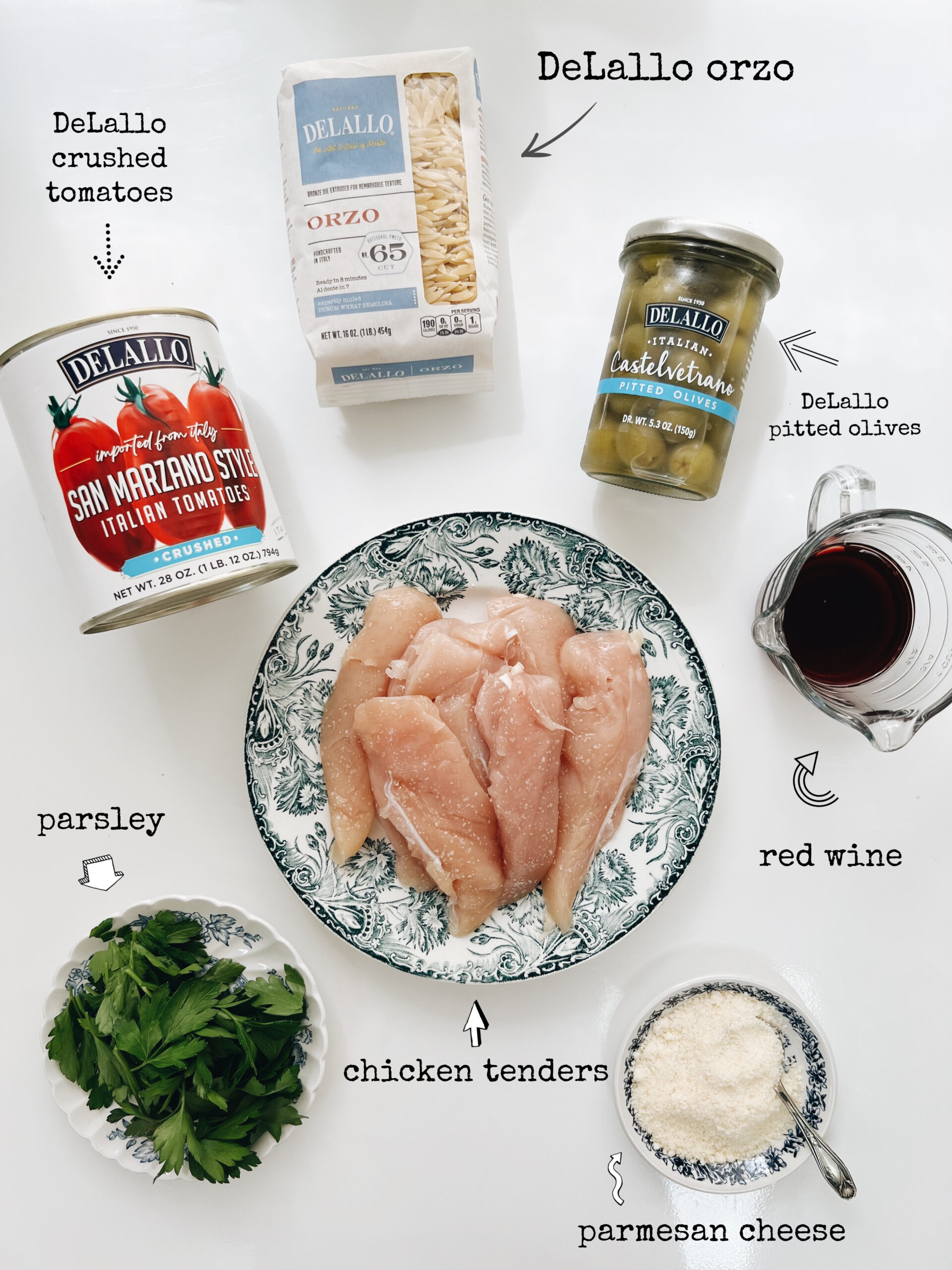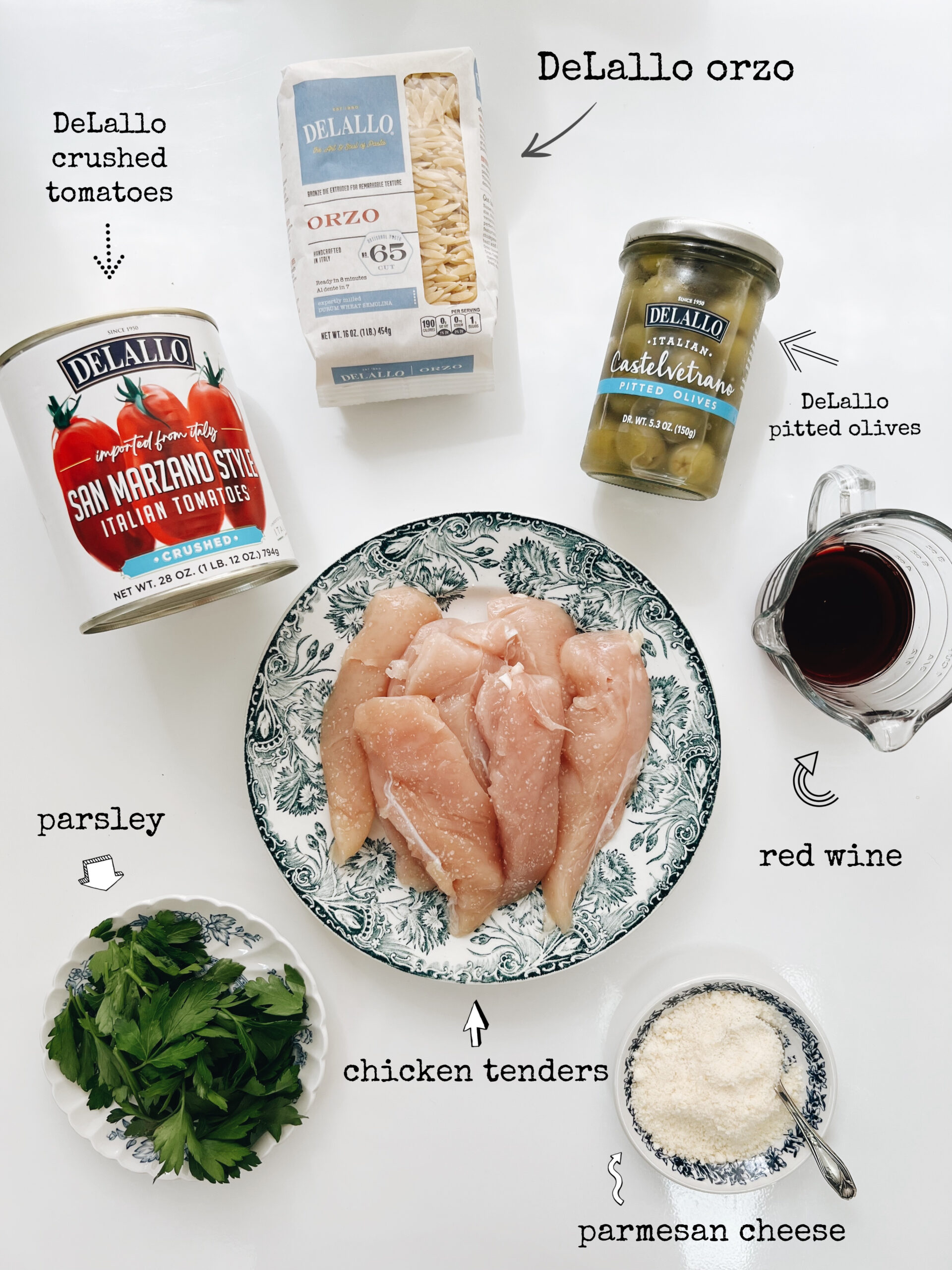 Super simple! Rustic, just as we like it over here on bevcooks.com.
Thing is, it's all in one skillet, so it cuts way down on clean up. Which is another thing we like over here on bevcooks.com. Let's walk through this!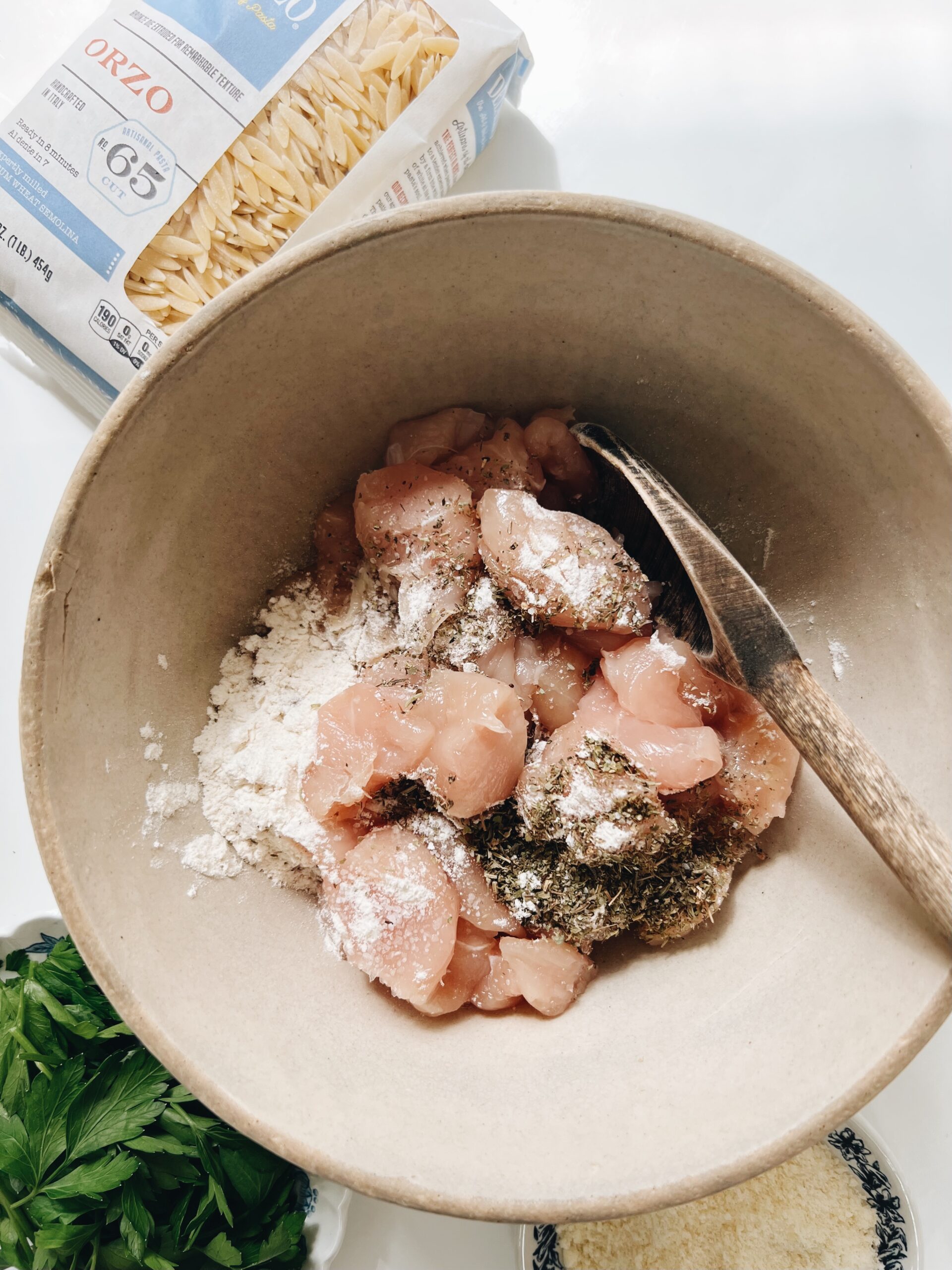 First up, we'll take about a pound of chicken tenders and cut them into bite-sized pieces. Takes like three minutes tops. Then we'll add a little bit of all-purpose flour and dried Italian seasoning, just to amp up the Italian flavors and give it all a bit of attitude.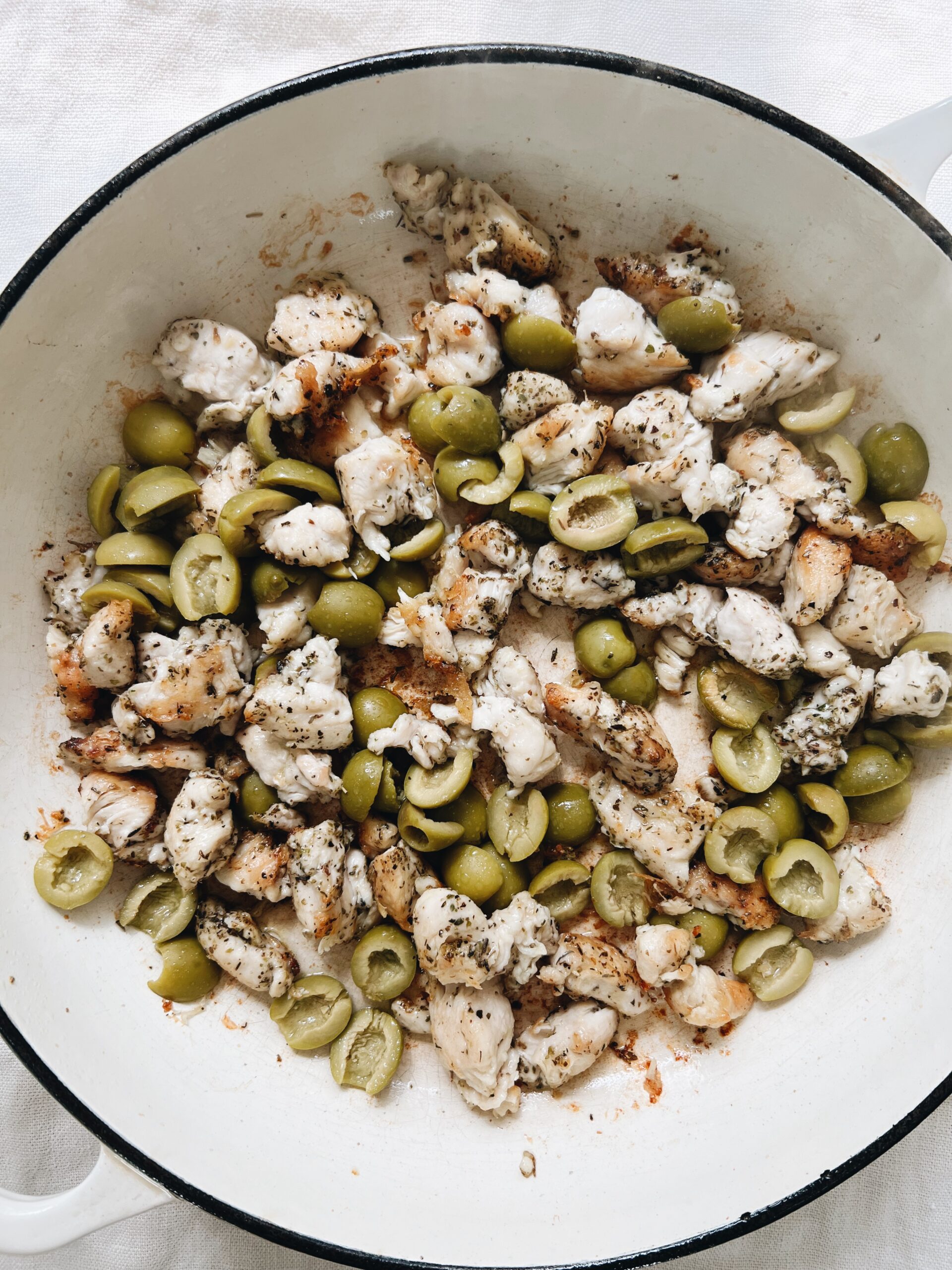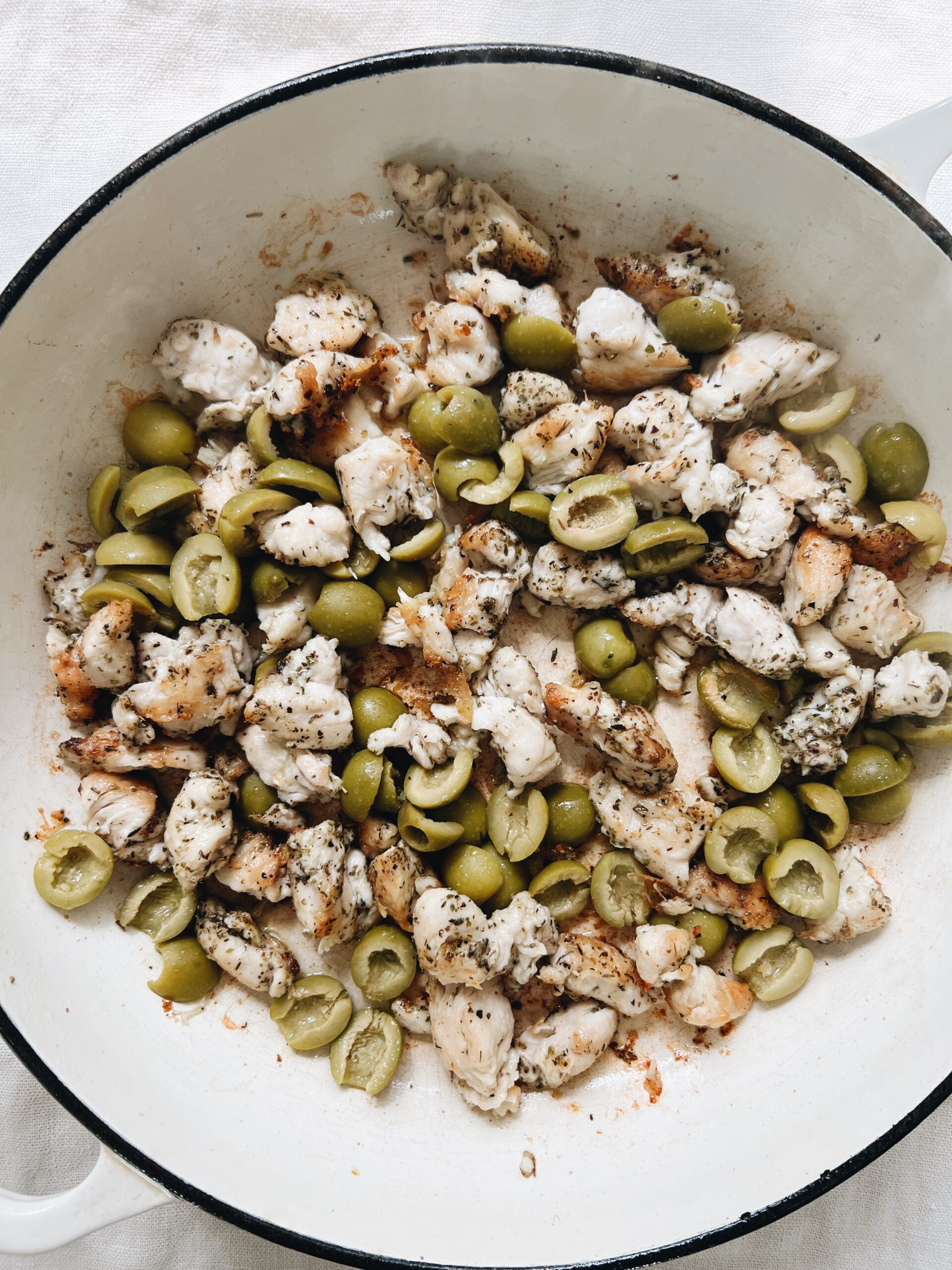 Next up, let's take some DeLallo pitted Castelvetrano olives and slice them in half. Briney and salty, they add so much OOMPH to this entire thing, you will scream.
We'll sear the chicken for a few minutes to get some pretty color all over, add the olives to start the marrying of the two flavors. Theeeeeen….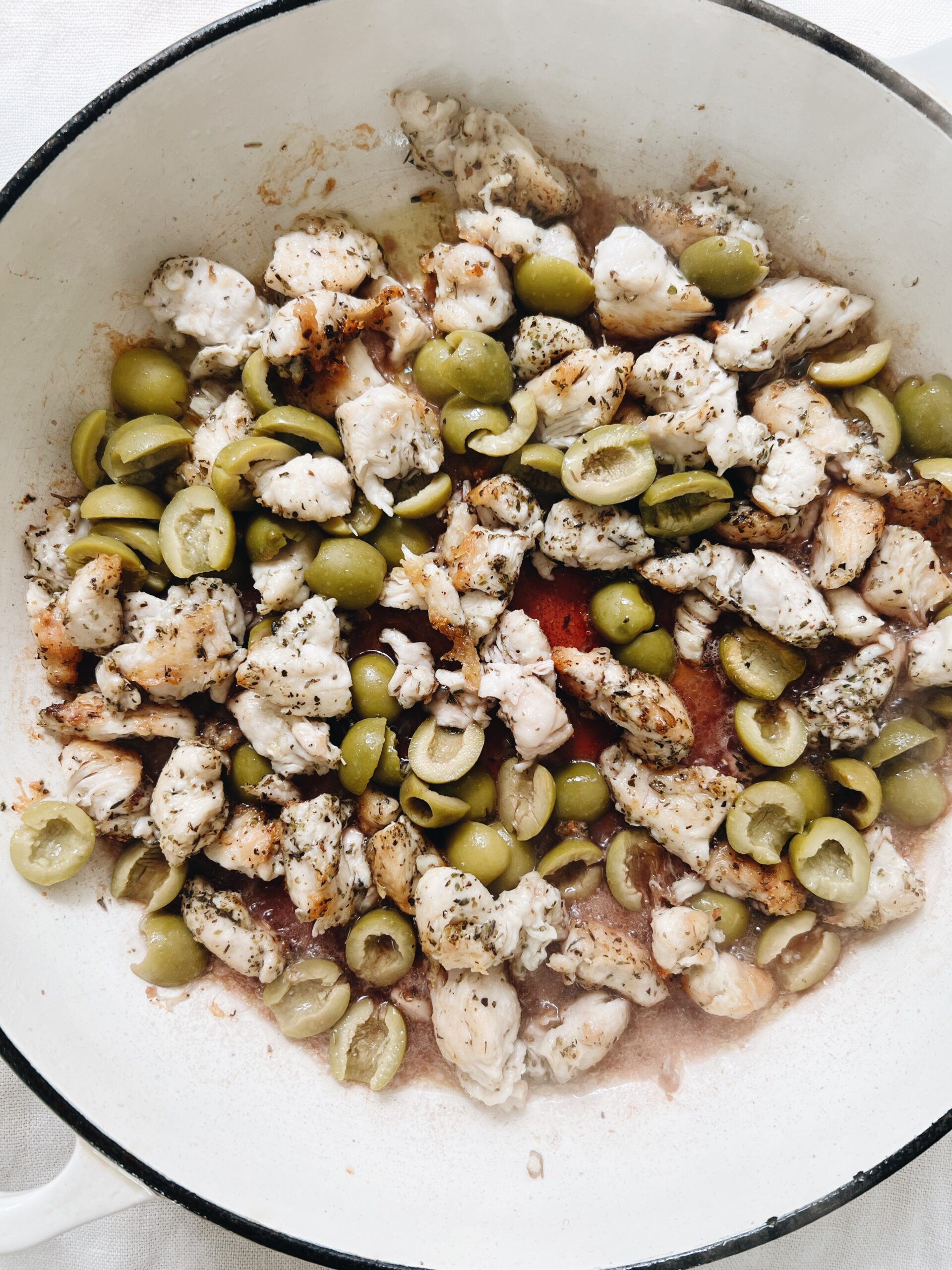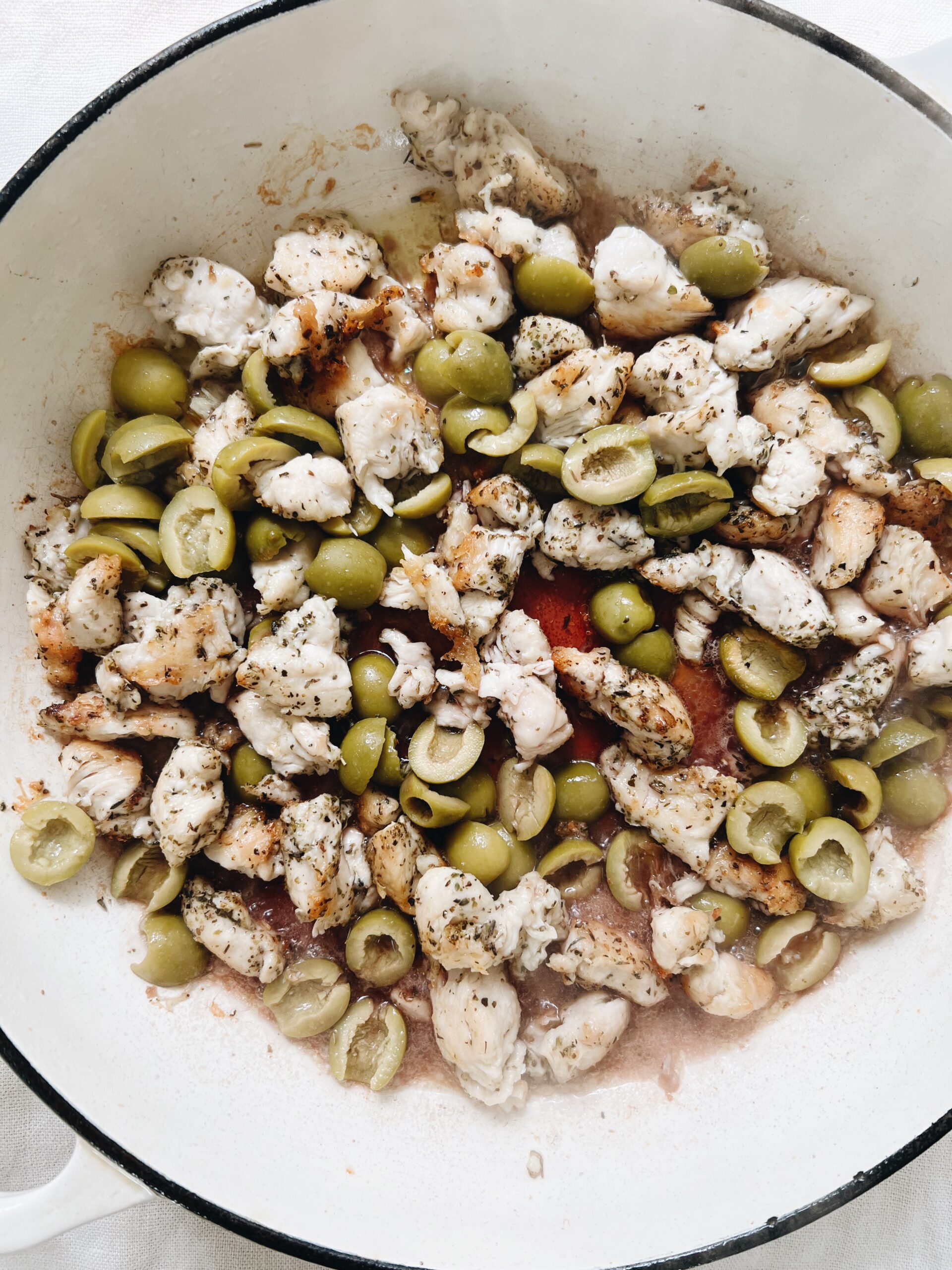 Red wine, bay-buh. A good dry red wine. Something you'd drink. Let's add 1/4 cup to the skillet and let it bubble up and simmer for a good thirty seconds. The fragrance right now will slay your soul. But let's keep going because so much goodness is ahead.
Add DeLallo's San Marzano Style crushed tomatoes! Once you add that and stir everything to coat, we'll get the heat turned down, add the DeLallo orzo and my goodness. This is skillet business, so there's some tending to, but nothing aggressive. Just keep stirring to make sure nothing sticks to the pan, and you're set. About ten minutes total of the orzo simmering in the sauce with chicken and olives and it all comes together in a deep, beautiful, sinful, flavorful way. Like, look at this.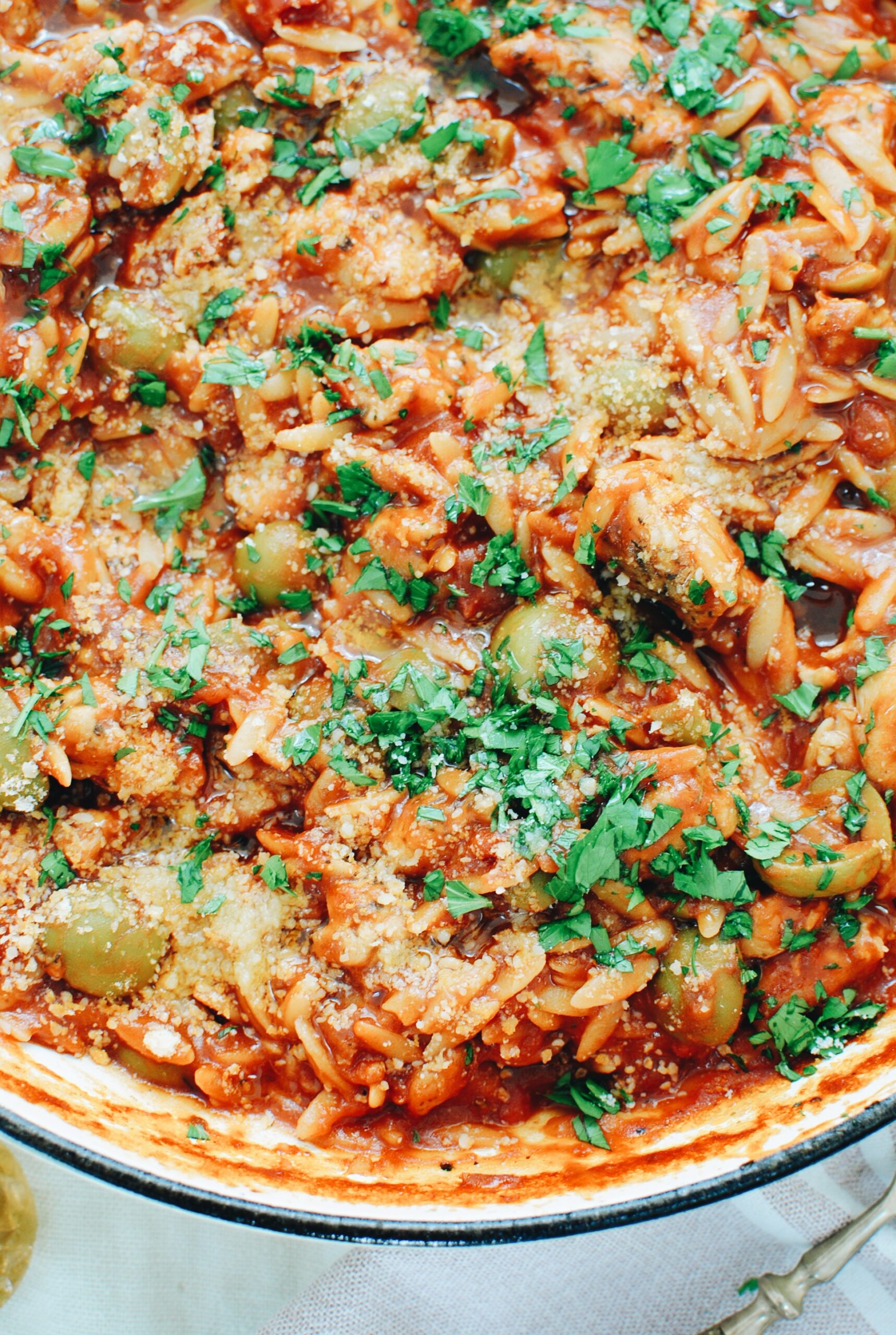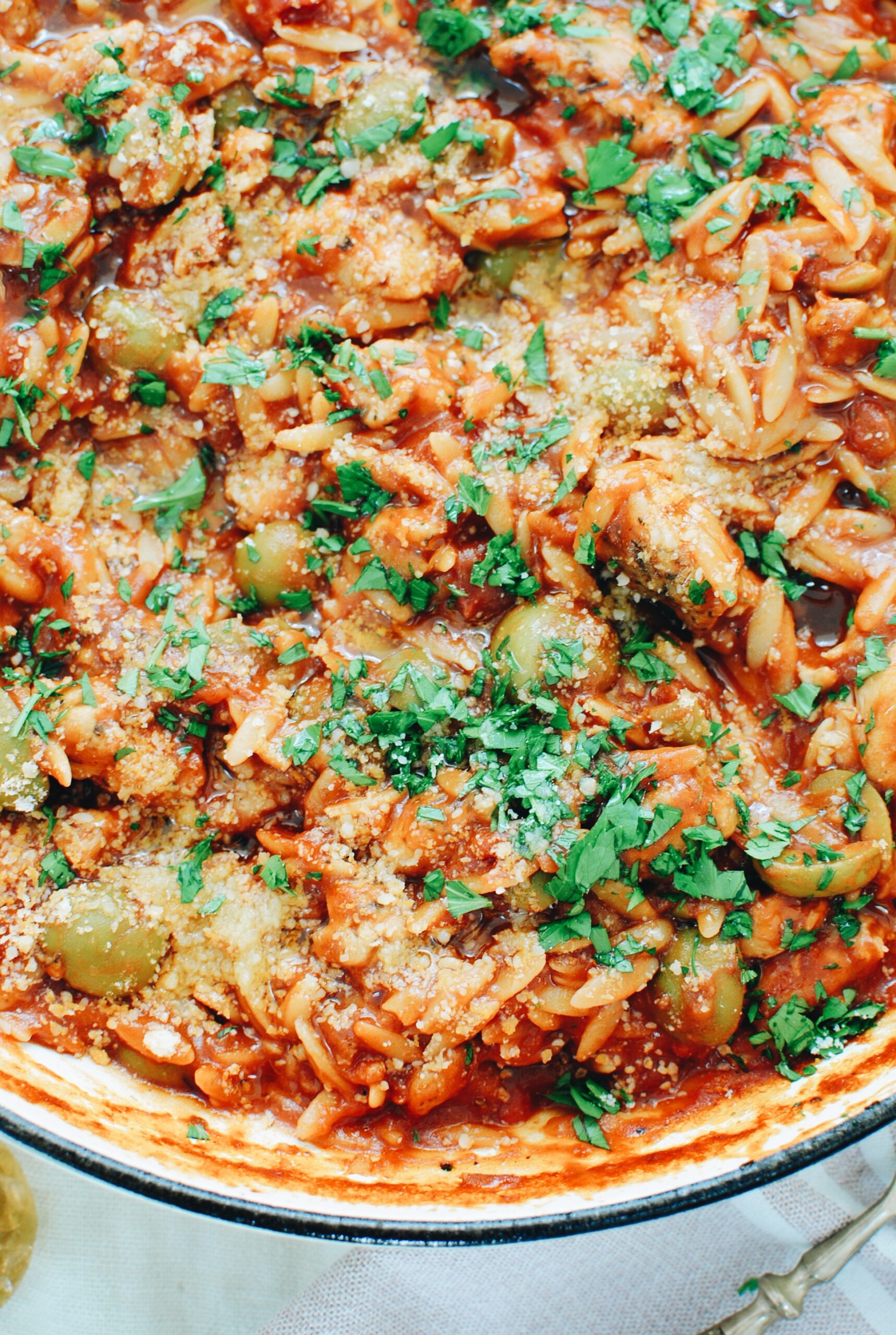 UM, WHAT? That just happened. To you, yes it did. It's gorgeously complex because we've been building the flavors since the very beginning. But it's also painfully simple for any night of the week. This is it, you guys.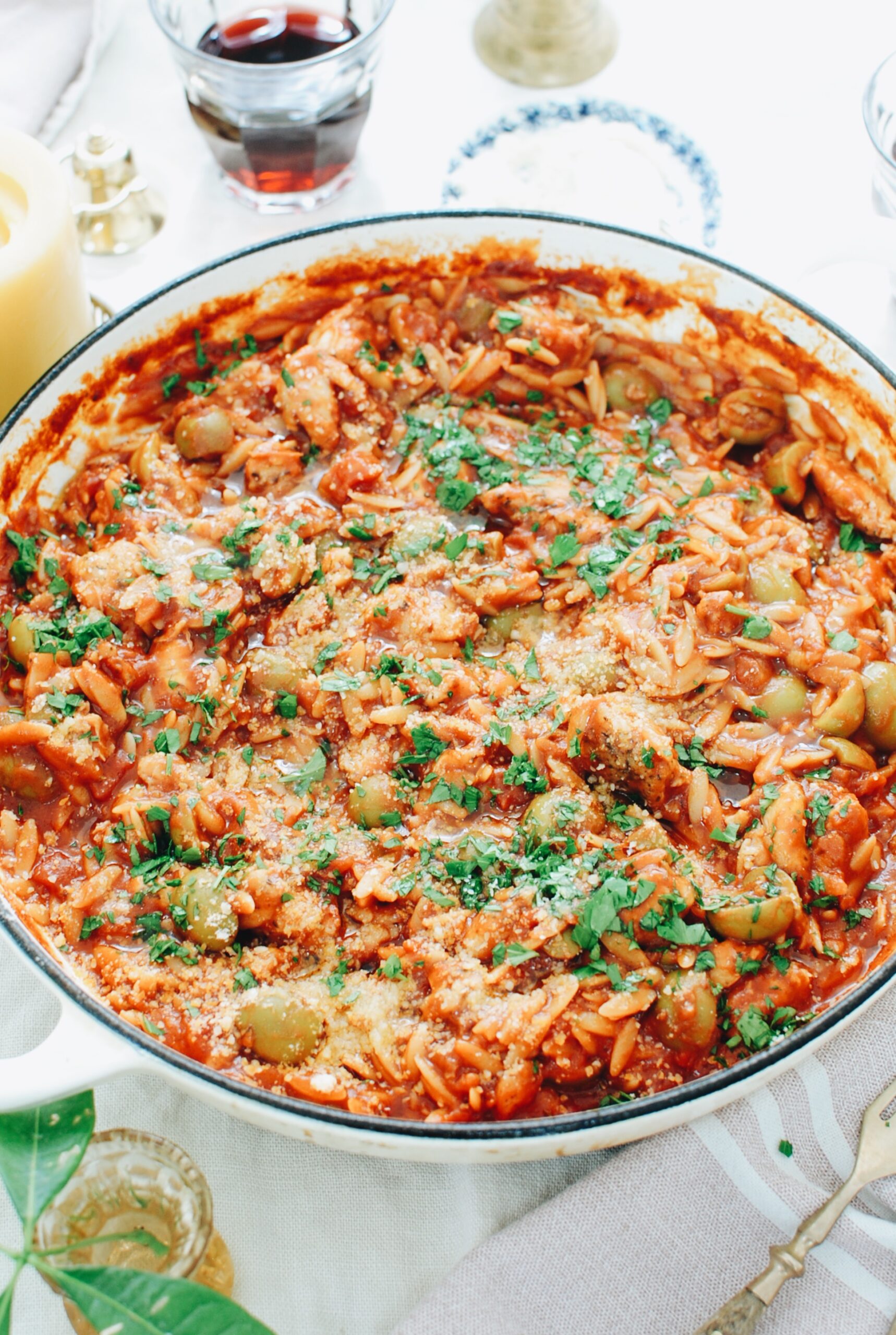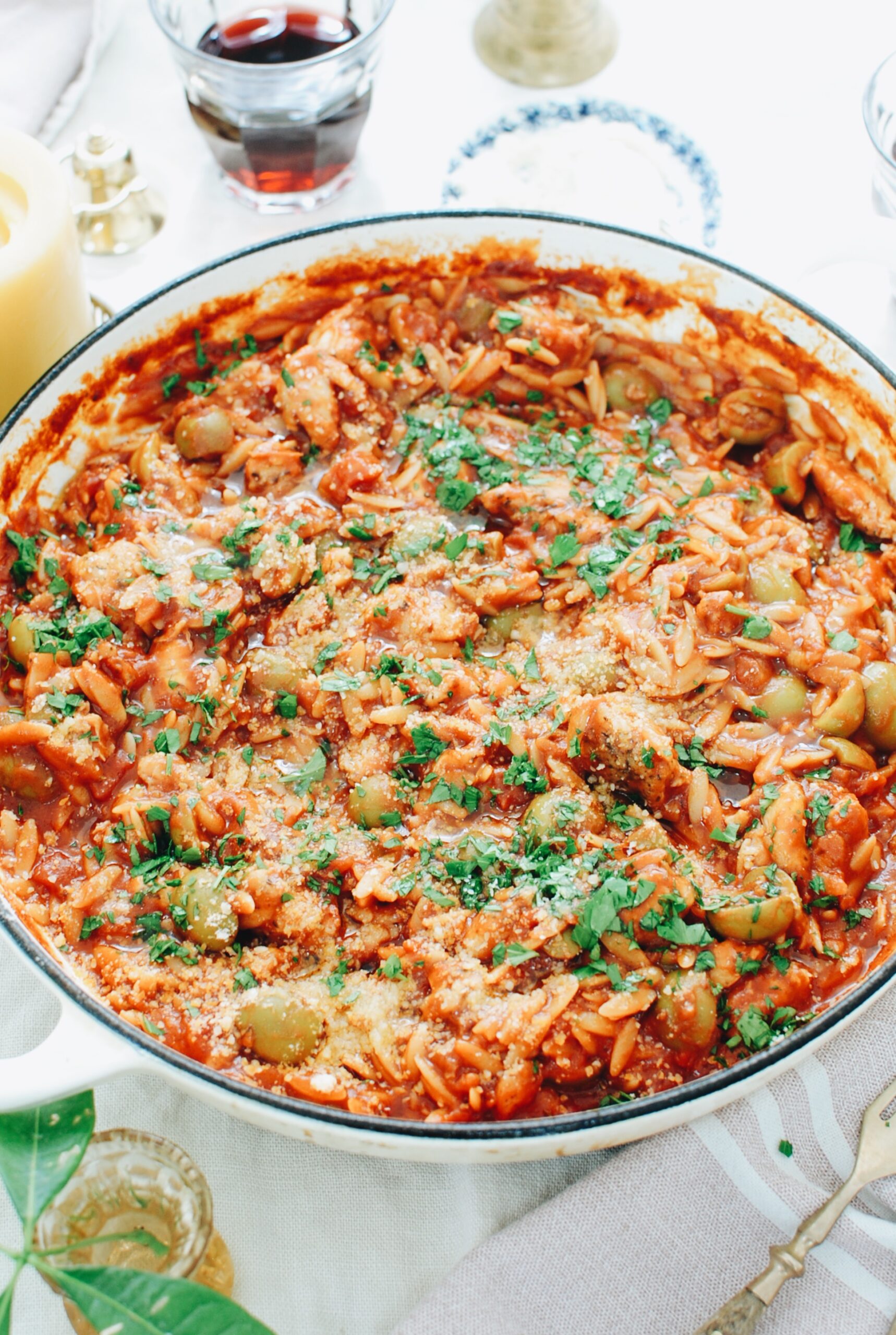 It's not only inviting in the way it looks because I'm a firm believer in rustic red sauces. But the tastes are absolutely family-friendly but elegant in a way that's so delicious.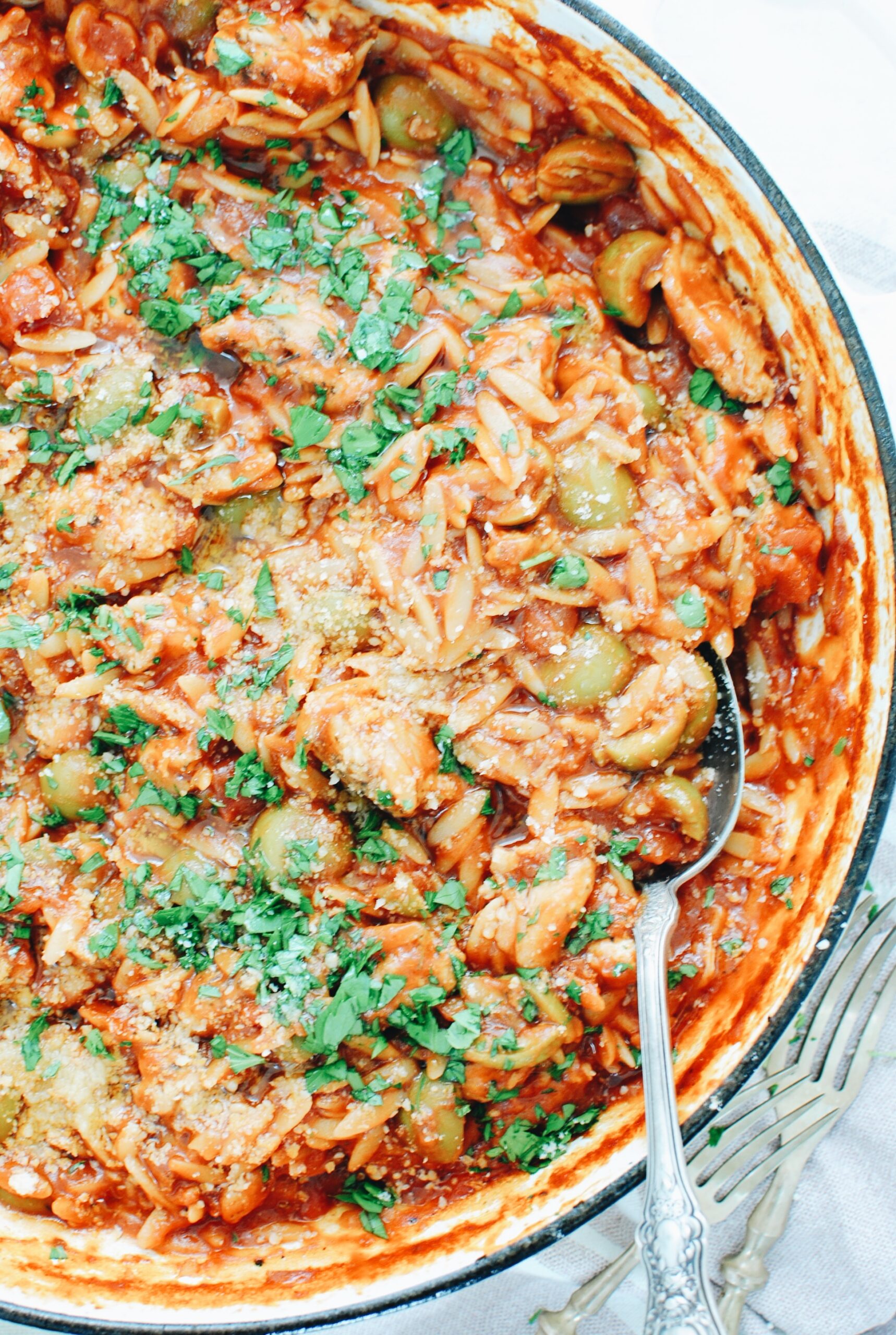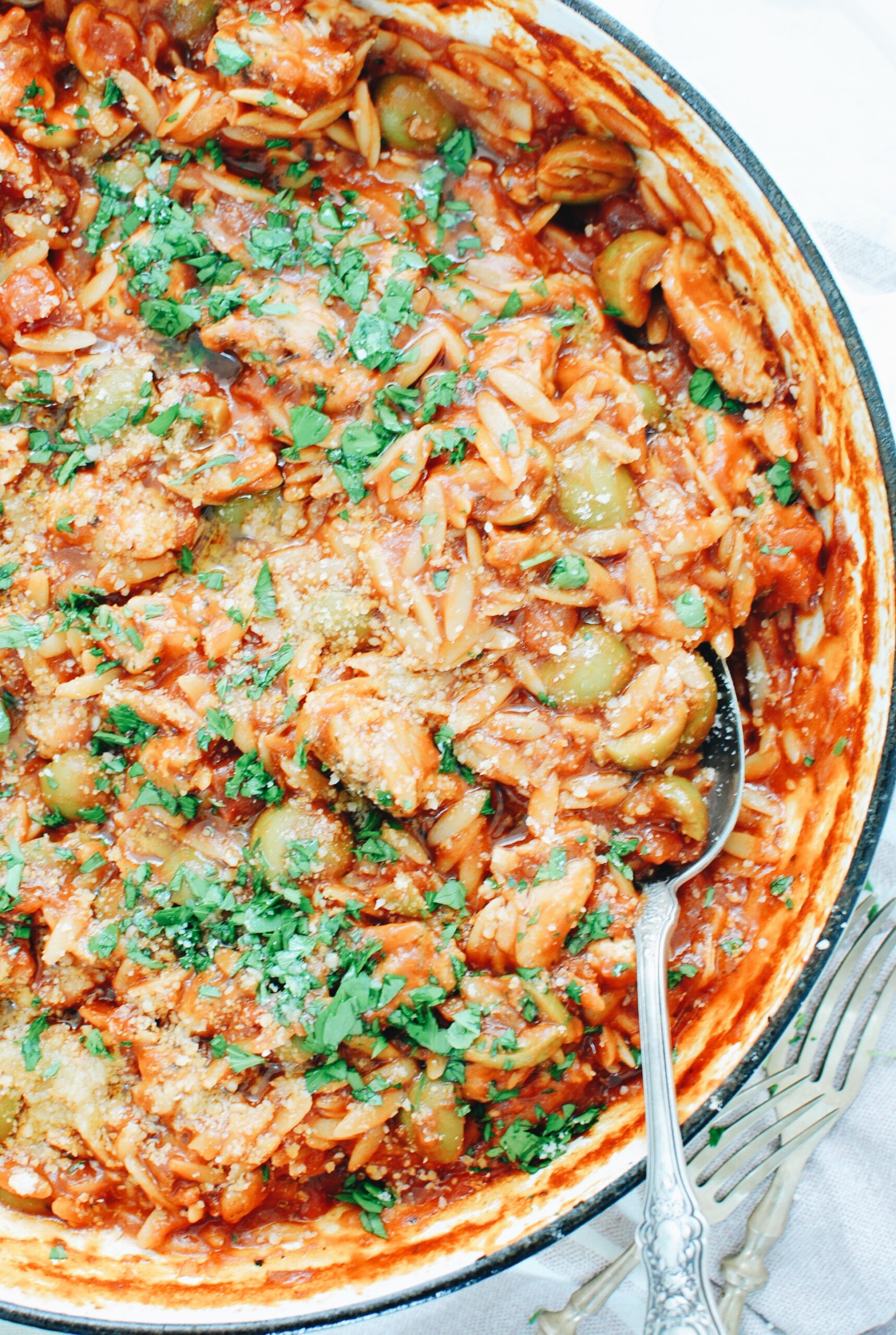 Don't forget the garnishes, because that's where it all wakes up! A good bit of fresh parsley to add an earthiness, parmesan to add a nutty, salty finish, and a hefty drizzle of DeLallo's extra-virgin olive oil to take it to 11. And trust my face, it does.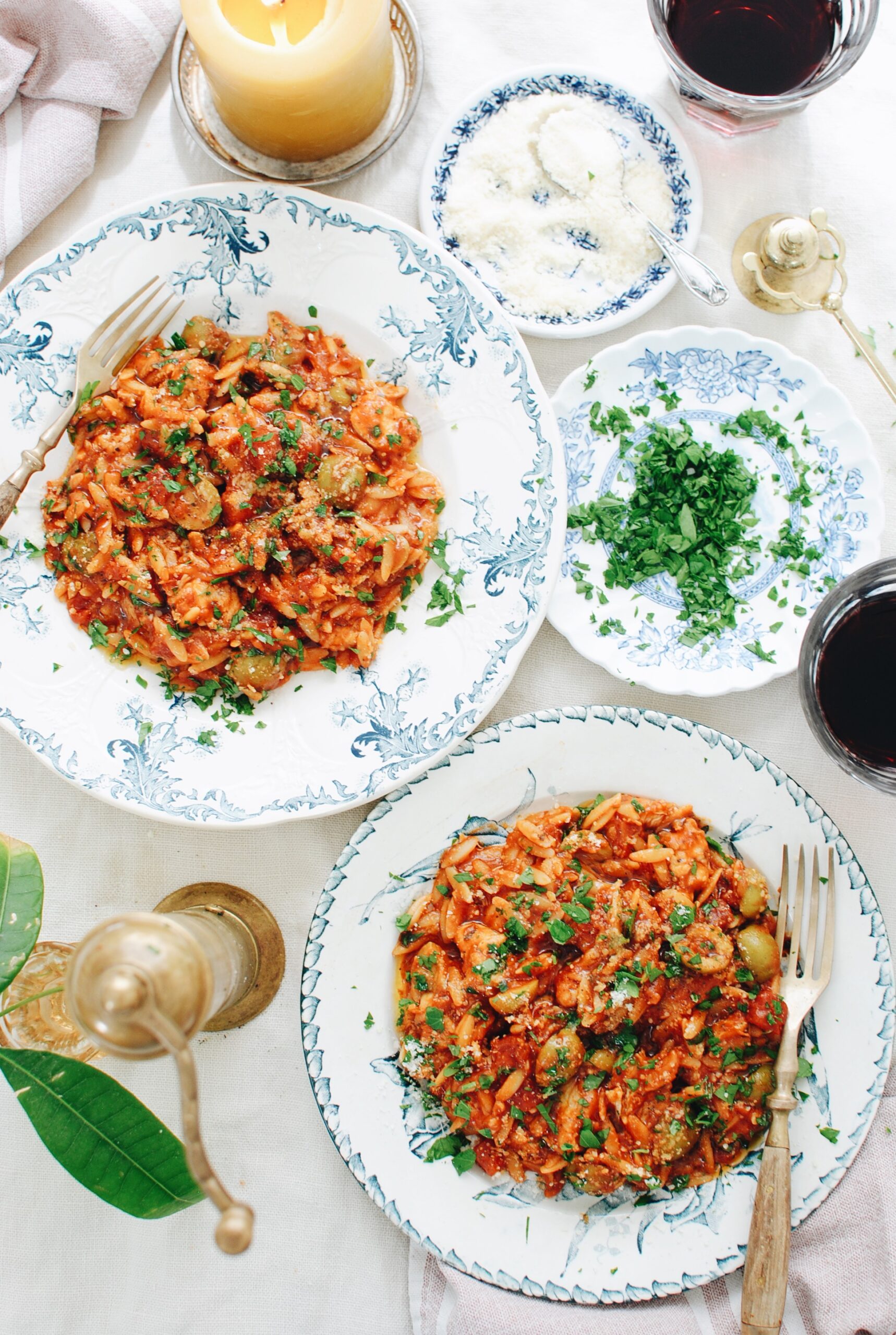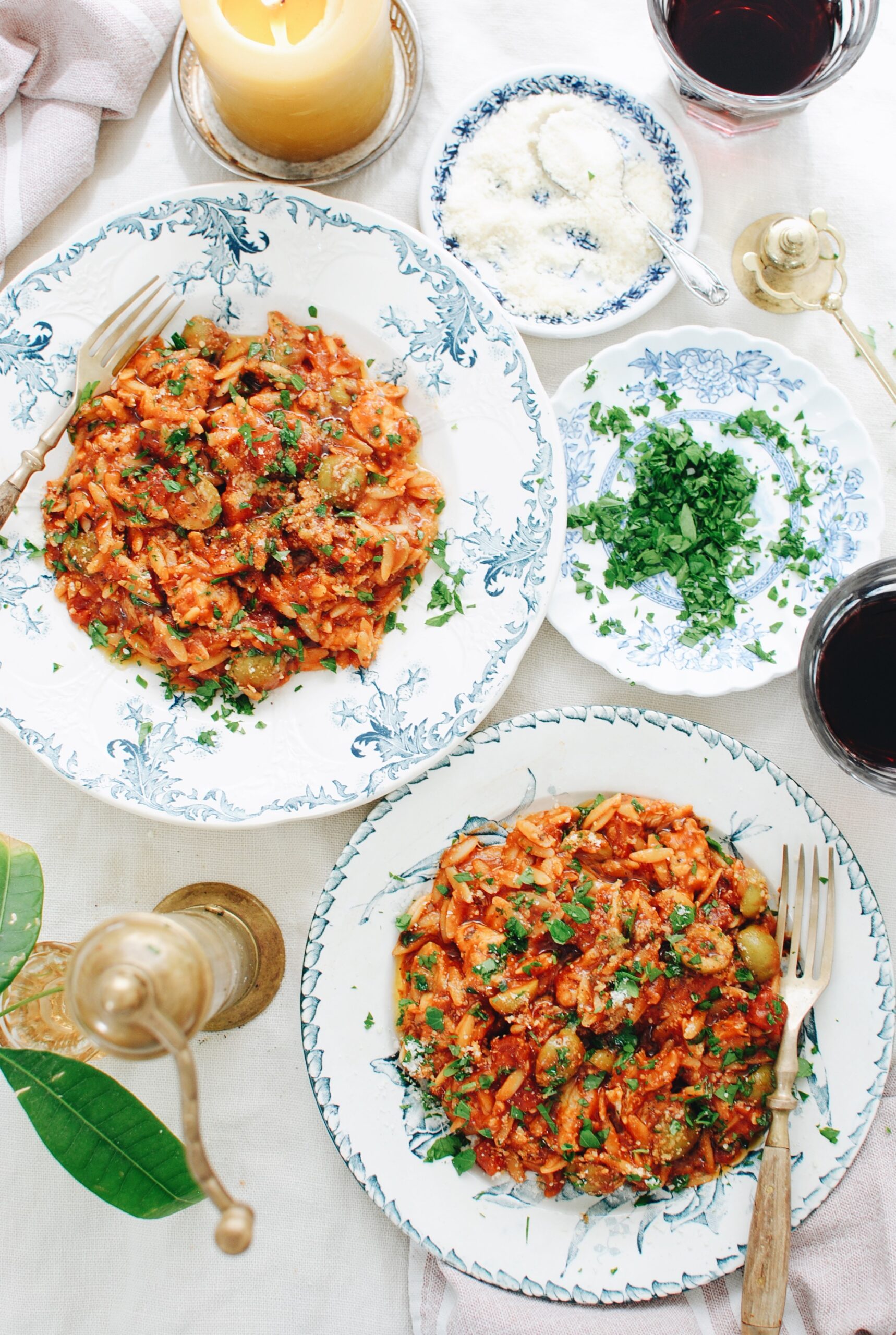 It looks gorgeous on the table, and tastes gorgeous in your mouth hole. Get on iiiiiin that!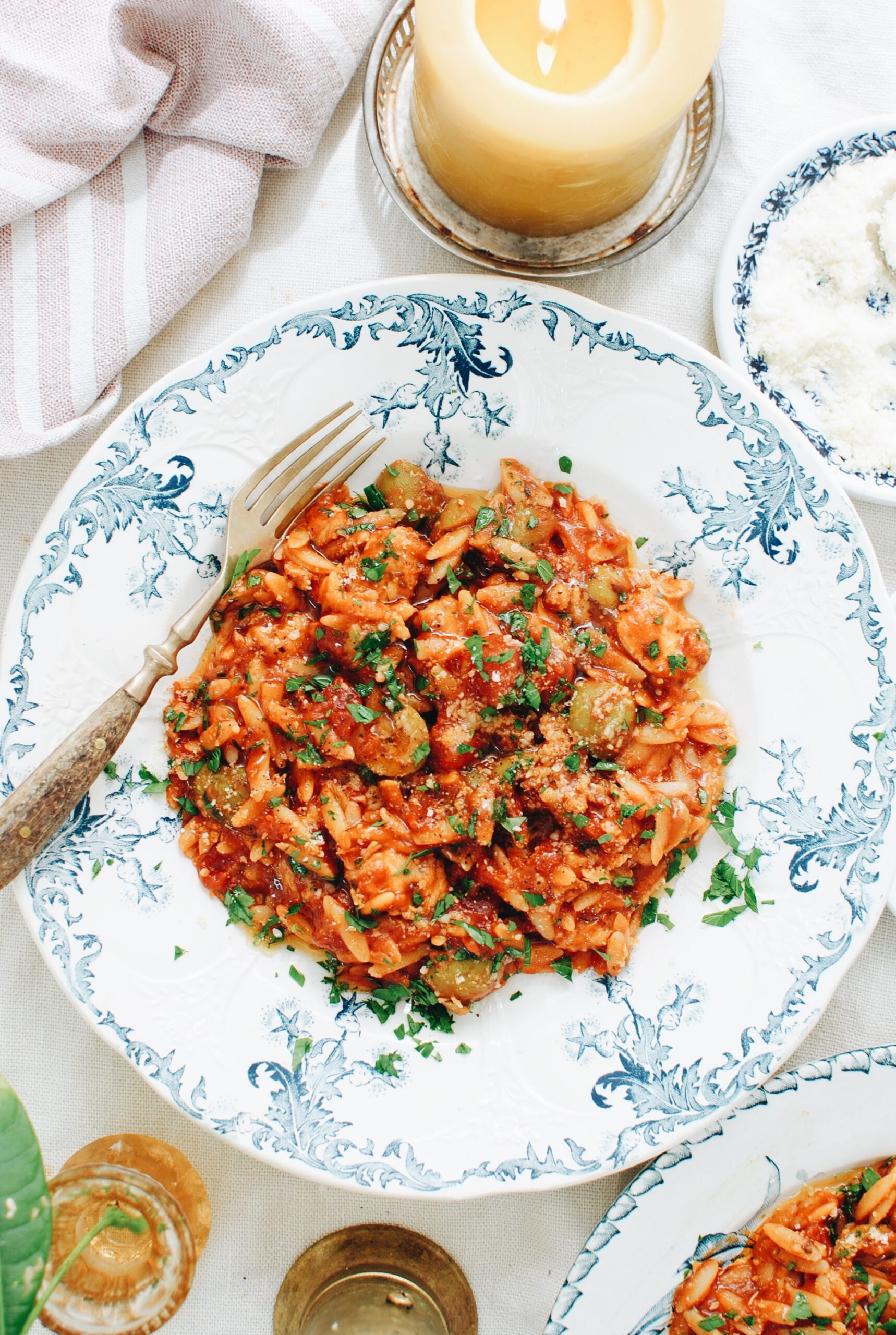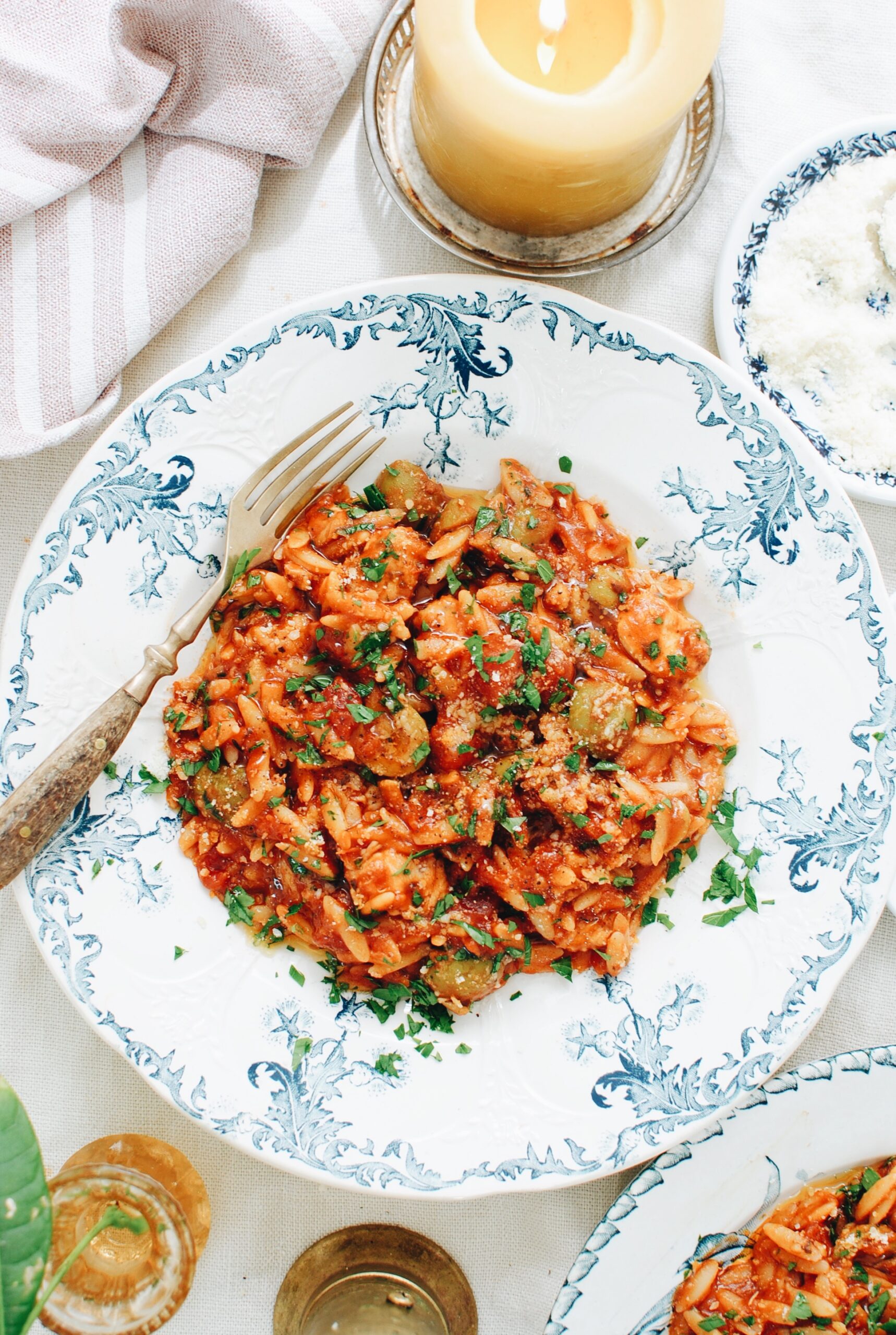 Like, tonight if you can.
Skillet Orzo with Tomatoes, Chicken and Olives
Ingredients
1 pound chicken tenders, cut into bite-sized pieces
1 Tbs. All-purpose flour
1 Tbs. dried Italian seasoning
2 Tbs. DeLallo extra-virgin olive oil
5.3 oz jar DeLallo pitted green olives
1/3 cup dry red wine
28 oz can DeLallo crushed tomatoes, plus half a cup of water swirled in the can
1 1/4 cup DeLallo orzo
Coarse salt
Freshly chopped parsley
Parmesan cheese, to garnish
Instructions
In a medium bowl, place the chicken, flour and Italian seasoning. Season with a pinch of salt and toss together with your fingers, or a spoon to coat.
Heat the oil in a wide skillet over medium high and add the chicken in a single layer. Sear the chicken for three minutes, then flip the pieces and sear another two minutes, until you get some nice char all over.
Add the olives to the pan and stir to combine. Add the red wine and let it bubble up and simmer for thirty seconds. Add the crushed tomatoes, plus a little water to rinse out the can. Stir to combine everything. Now add the orzo and stir it in. Pop the heat down to medium or medium/low and place the lid on top. Simmer for three minutes, then remove lid and stir to make sure nothing is sticking. Because the orzo will start to stick to the bottom. Put the lid back on and simmer another three minutes. Take it off, stir it again to avoid sticking. Keeping the lid off, simmer another three to five minutes, until the orzo is tender. Keep an eye on it and stir it continuously to avoid any more sticking. You can even add a splash to water to thin it if needed.
Off the heat, garnish with plenty of chopped parsley and parmesan cheese. Serve immediately!
Serves four.
7.8.1.2
602
https://bevcooks.com/skillet-orzo-with-tomatoes-chicken-and-olives/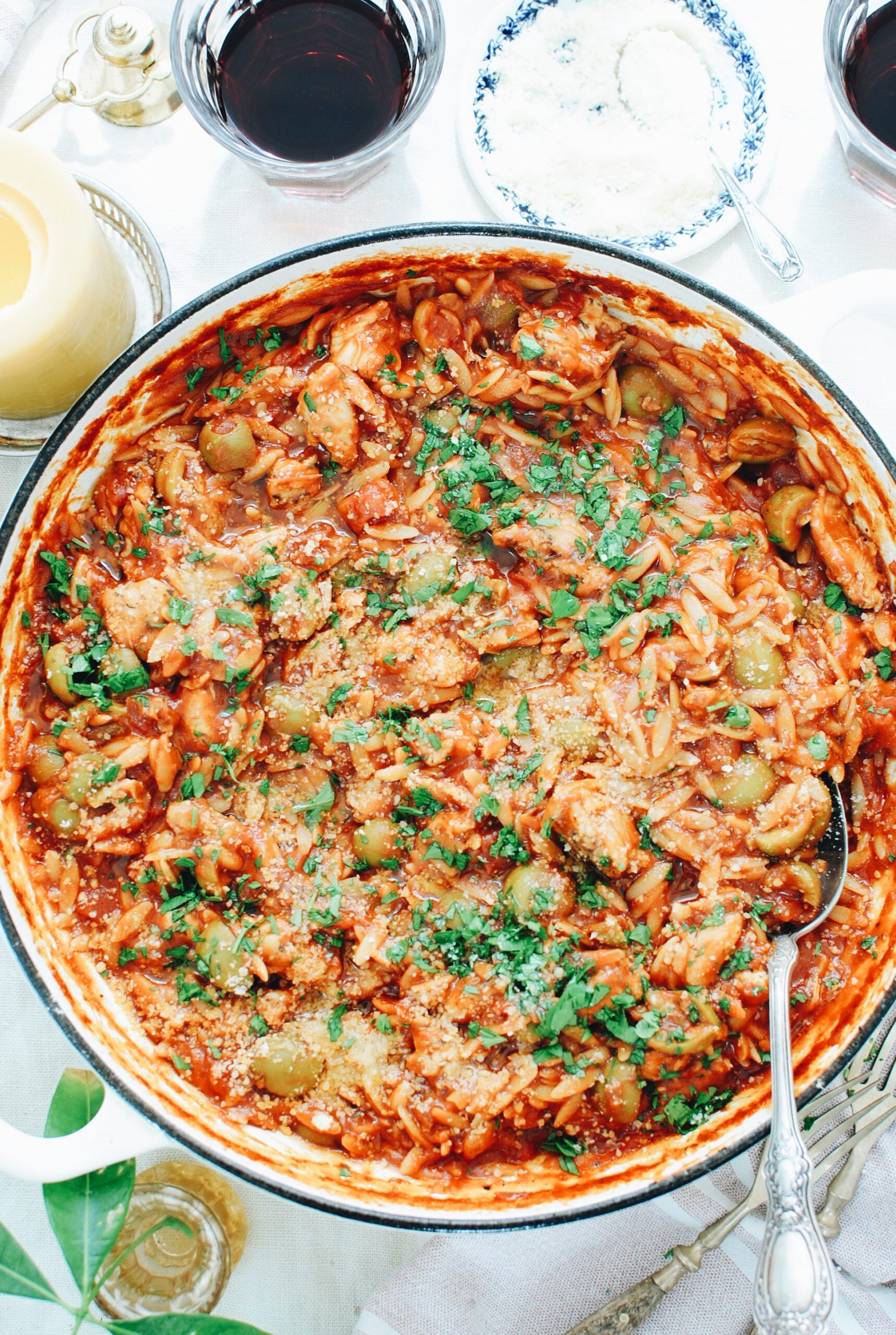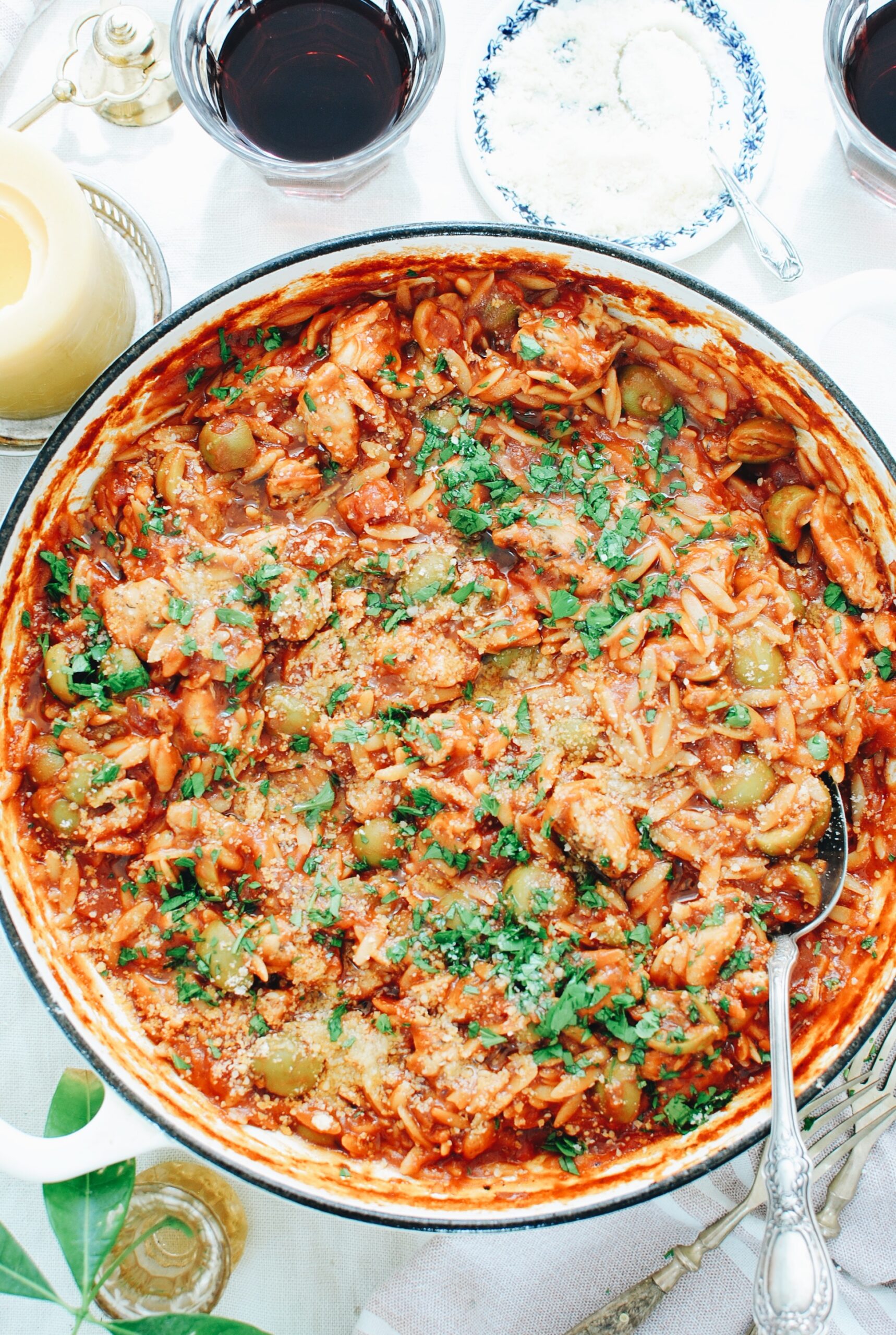 But invite me over if you do.
This post is definitely in partnership with my lover DeLallo, but all ramblings and orzo inhalings are totally my own. We coo?