This is that risotto recipe that will make you not scared of risotto. Oh, just hark this.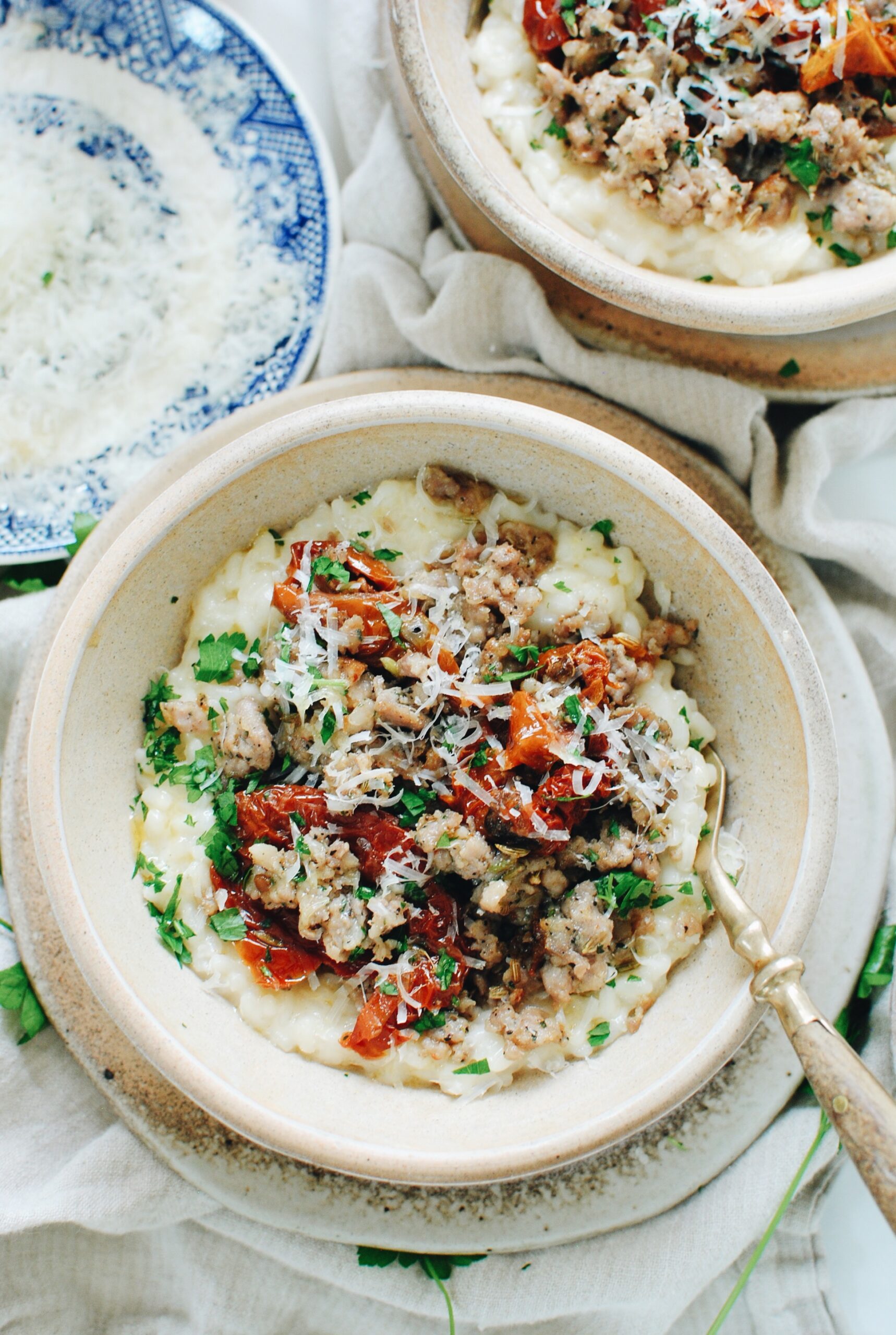 Why? Because when you're not in the mood for the slightly laborious feel of making risotto from scratch (which I love at times, but this is brilliant!), DeLallo has a quick-cook cheese risotto in a cute little tapered BOX that comes together in less than 20. Which is unheard of in risotto speak.
And is also crazy delicious.
And also makes me wildly excited.
Let us peepeth.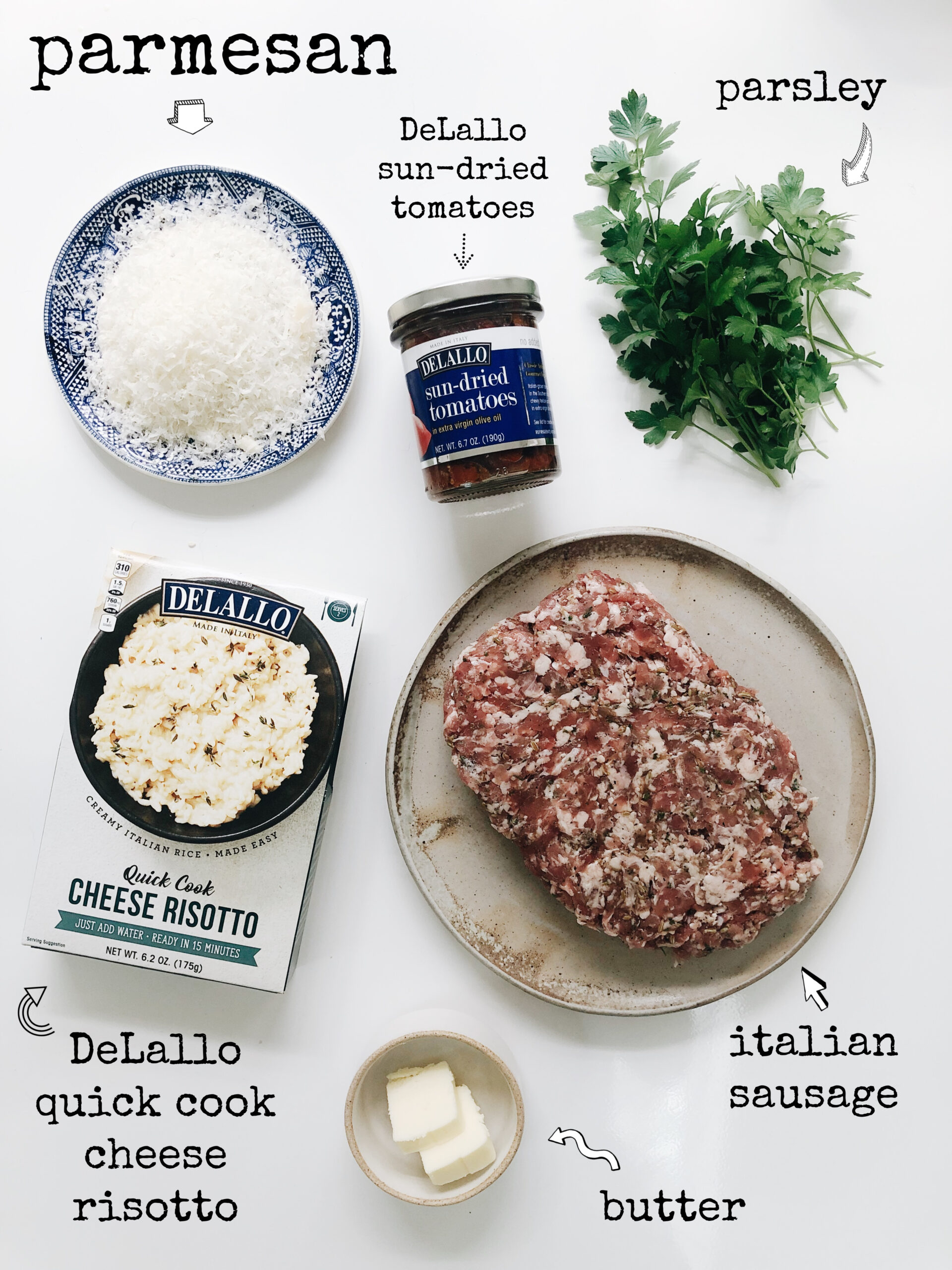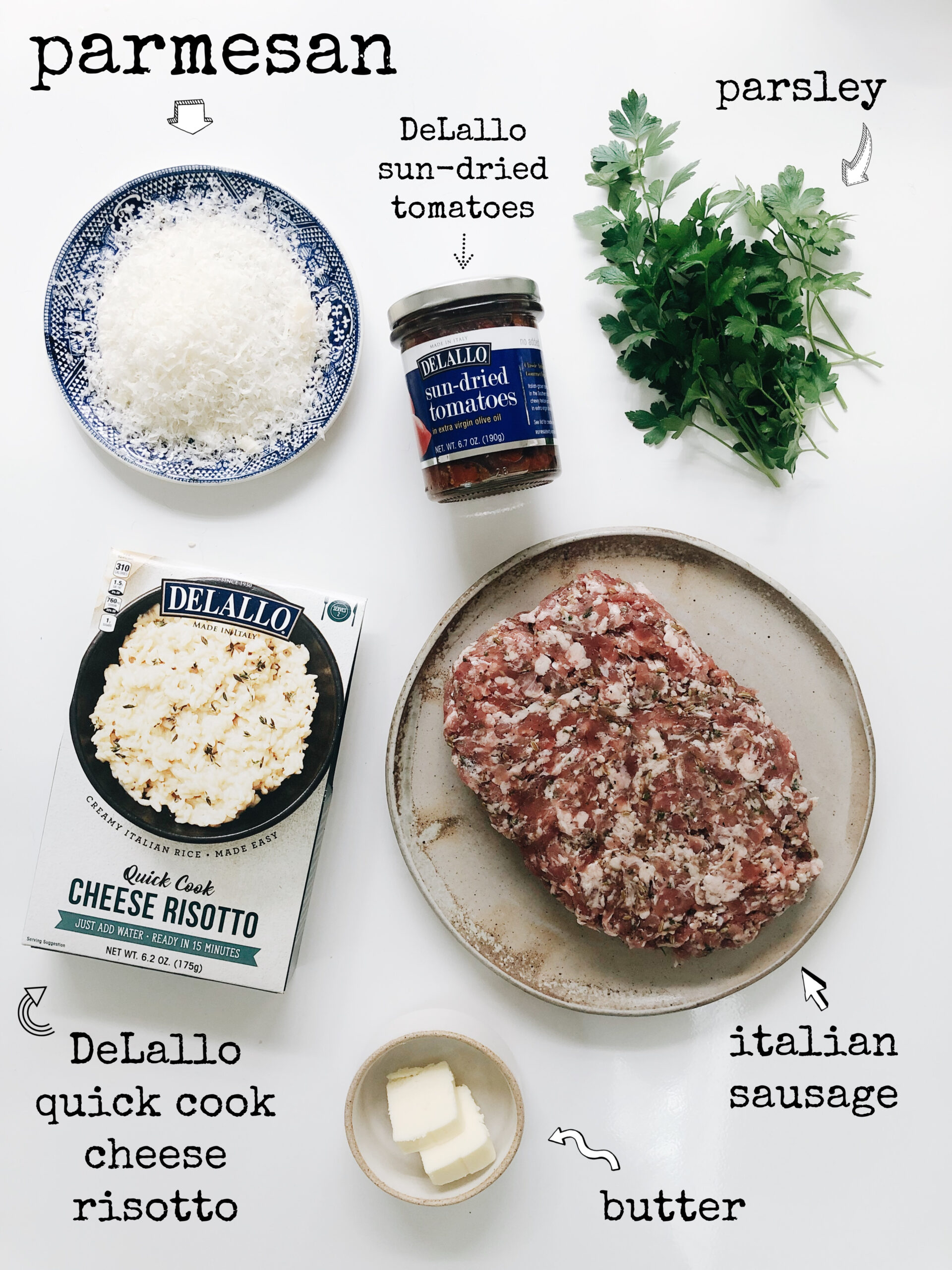 I kept it simple, but classic. You can do ANYTHING with their risotto, because it's all a topping. I'll show you here in a second, but think of it like a box of pasta that ends up super creamy and cheesy, and then whatever you want to go on top. Which in this case, was savory Italian sausage and DeLallo's very own sun-dried tomatoes in oil. We'll even use the oil! See, no one's left out.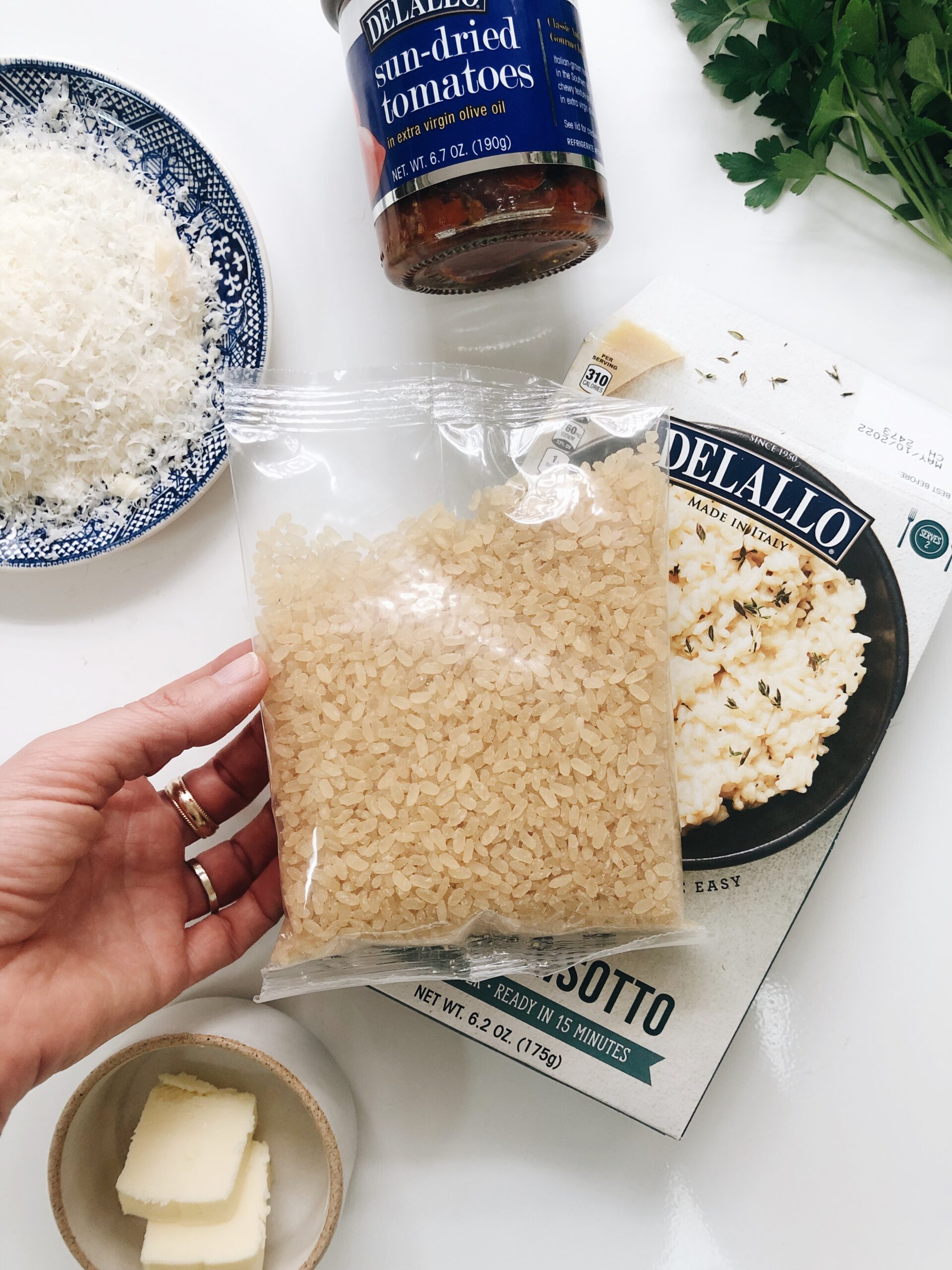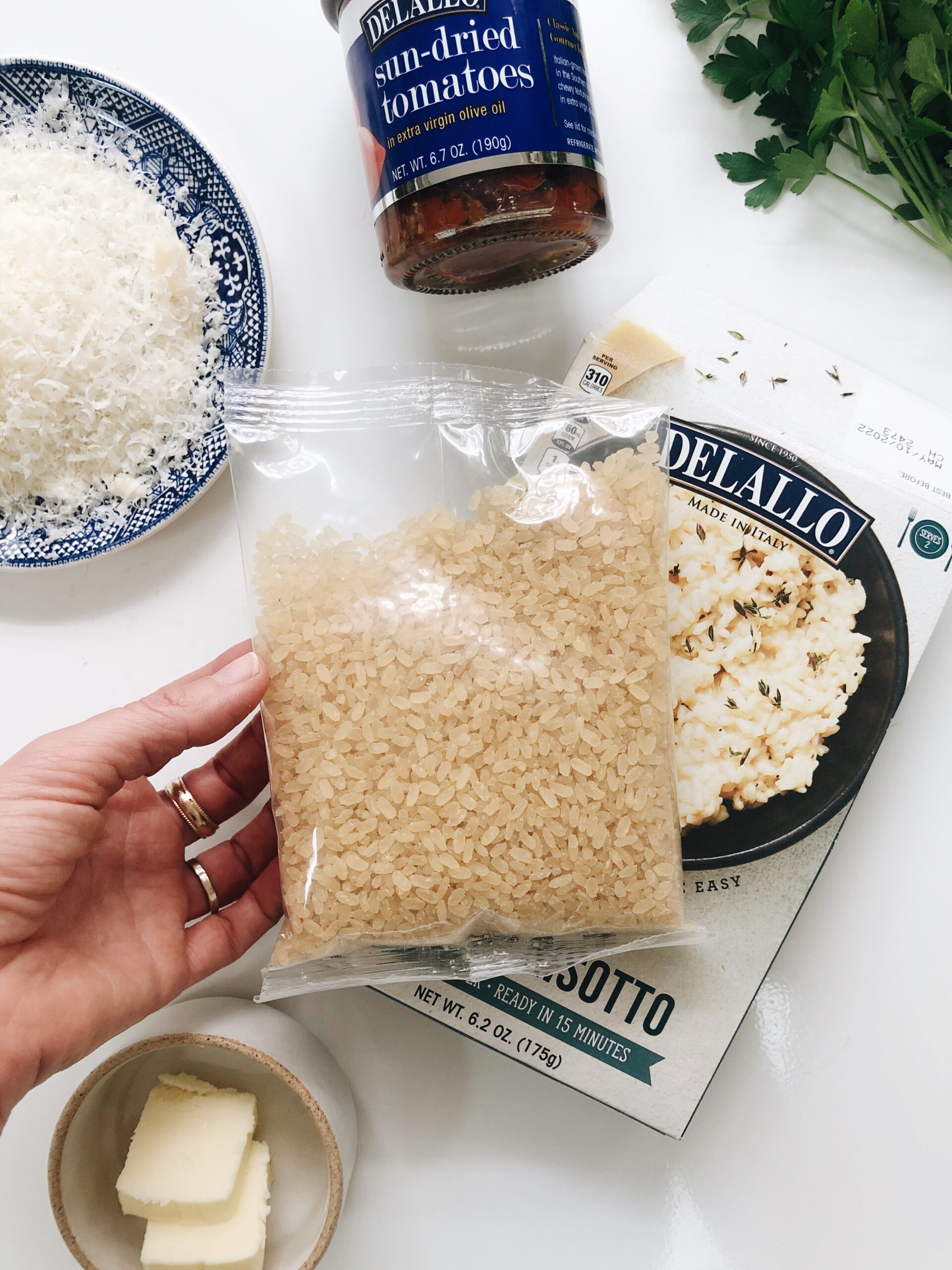 This is what it looks like. Seasoned Arborio rice, just waiting to get boiled and starch out some water into thick and creamy bliss.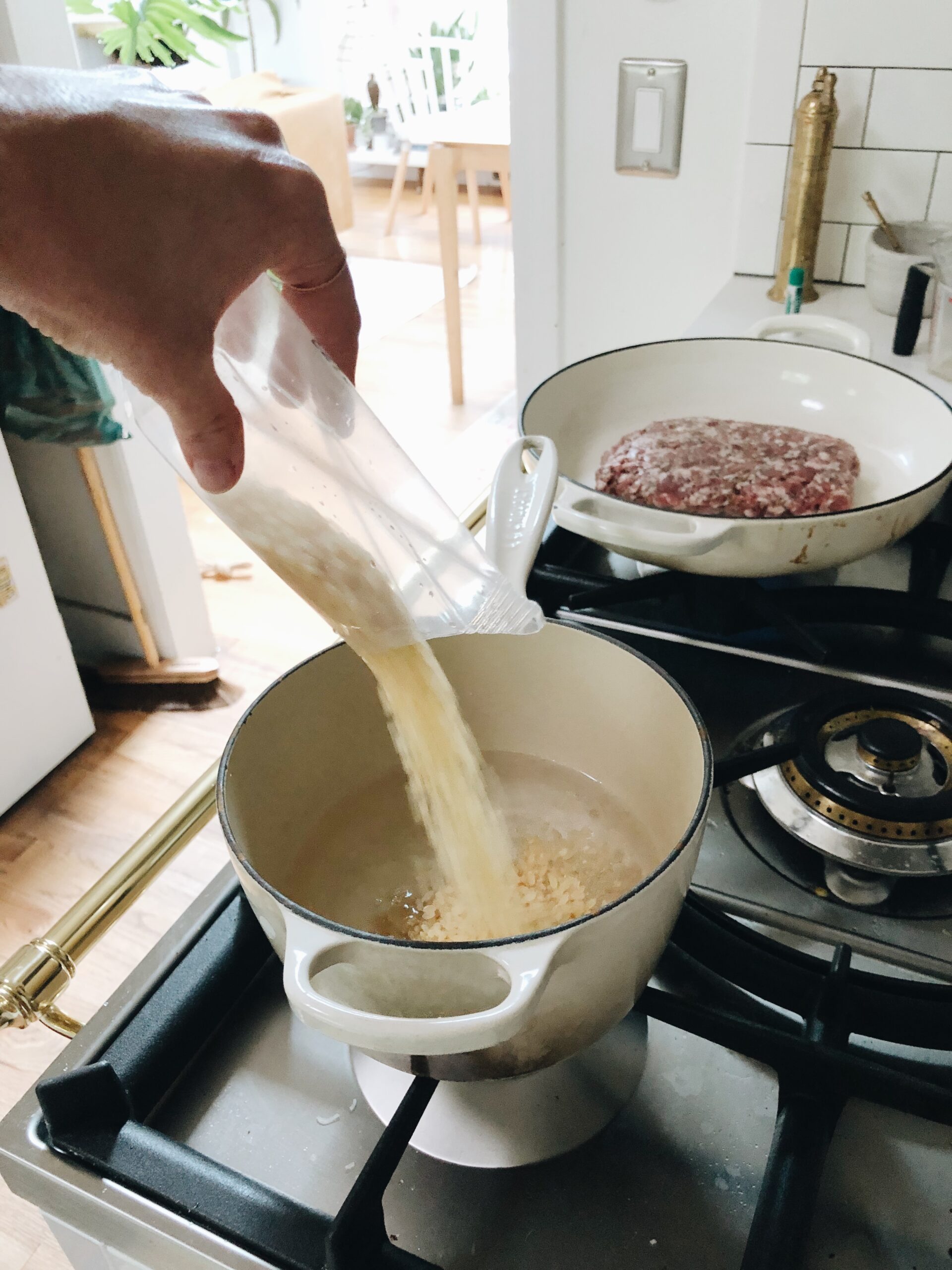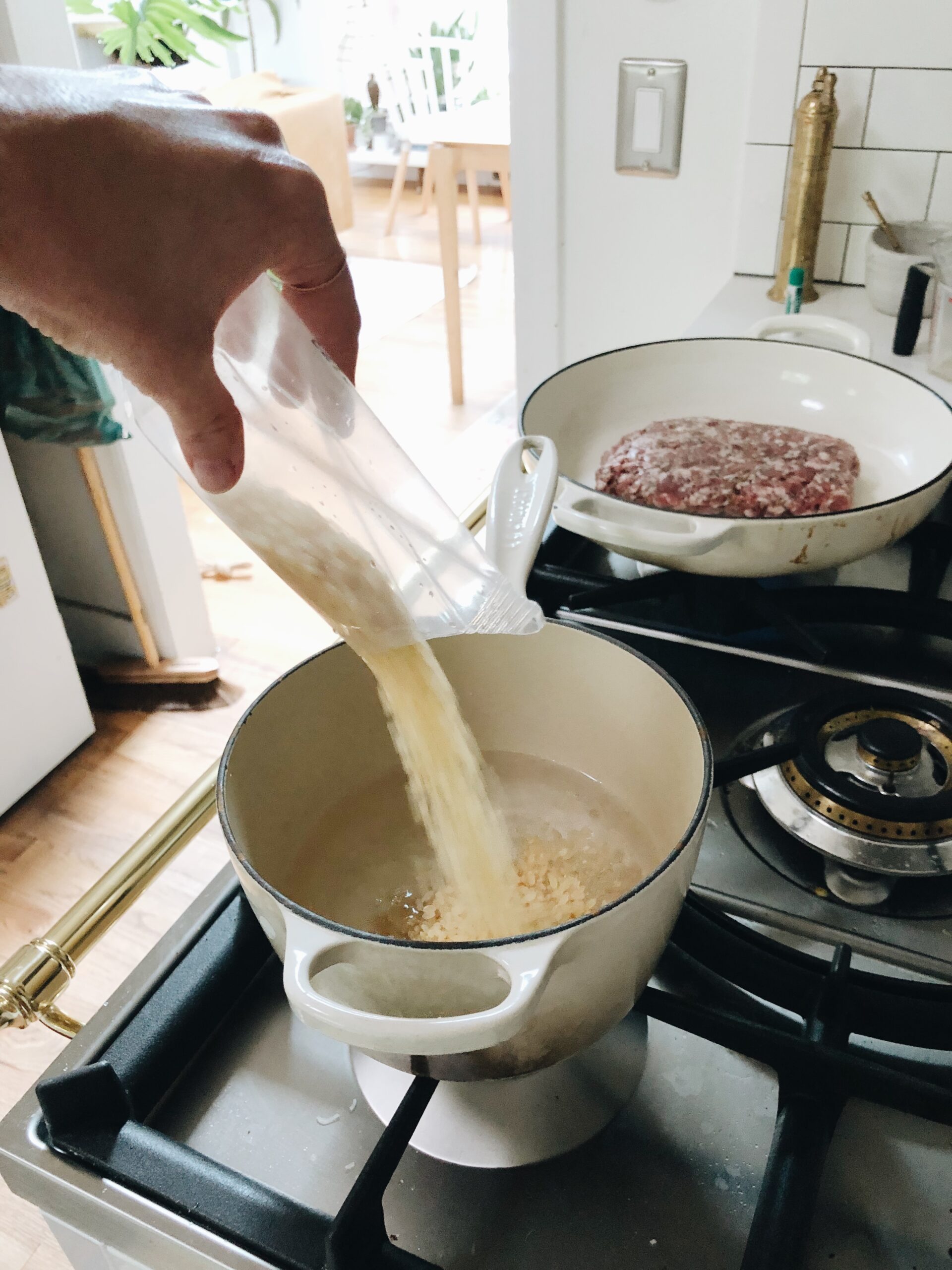 You pour the rice into cold water, bring it to a light boil, then pop the heat way down to low. Simmer this for 15 minutes, stirring every five just to make sure there's no sticking. The rice absorbs the water and uses the starches (and the cheese seasoning!) to create this beautifully creamy risotto that is to fall apart for. And listen, if you need to keep it going another five minutes on low just to make sure the rice gets really toothy and tender, do it. Even if another splash of water is needed. Ain't no thang.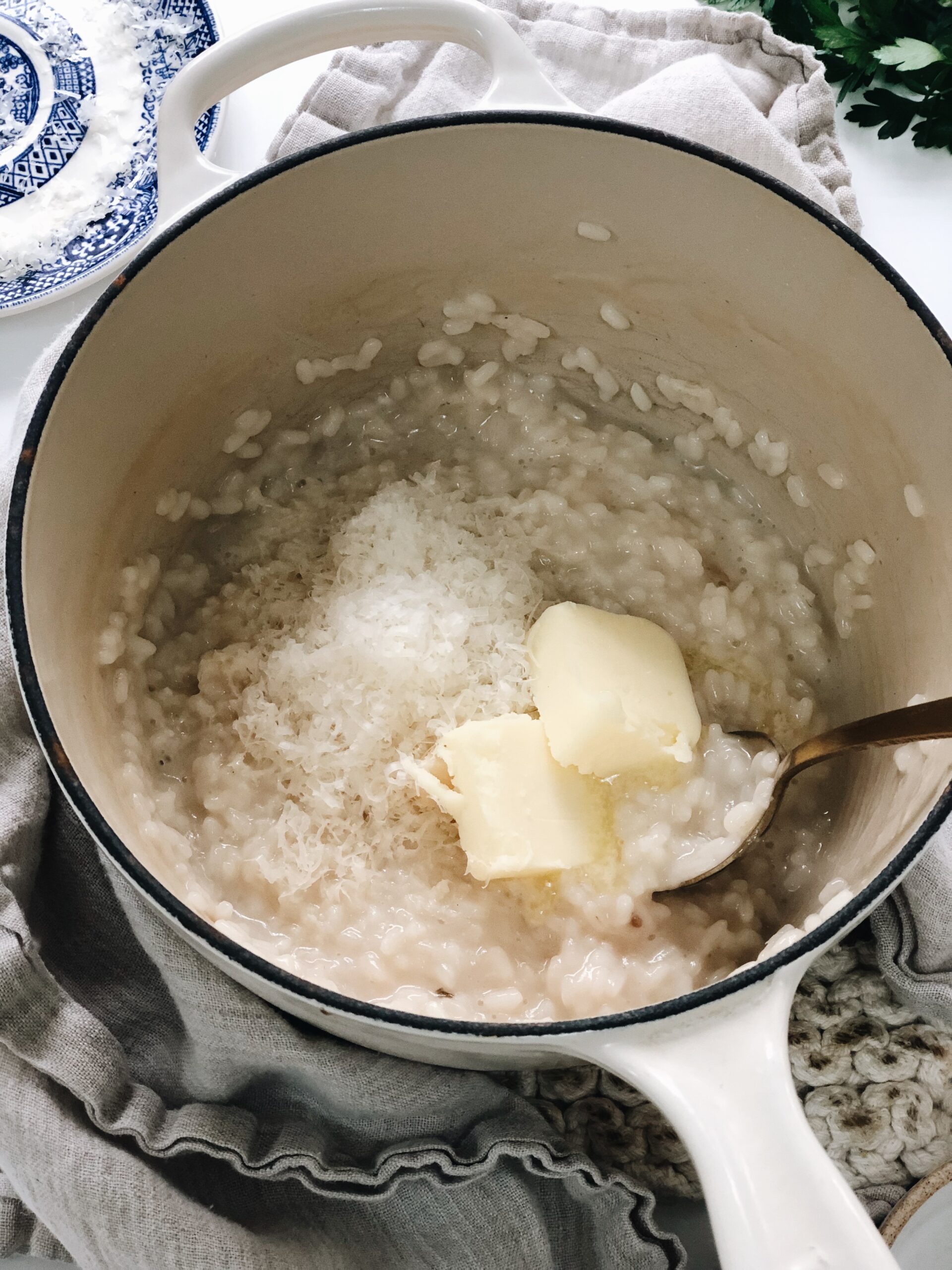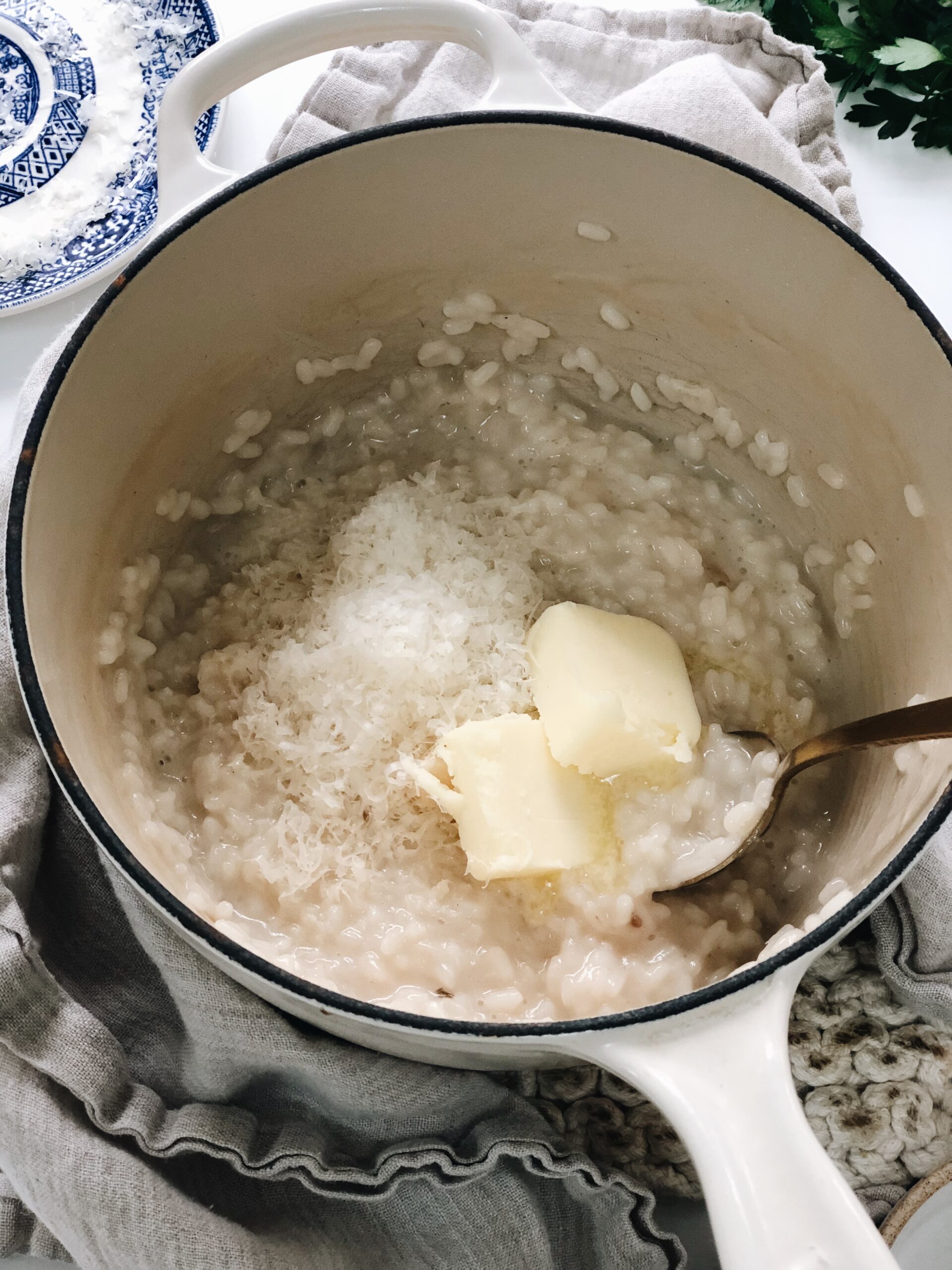 DeLallo suggests this next step on the back of the cute little tapered box, and I fully agree and approve and support. Add a little bit of cheese and butter. Oh my gosh, add it. The butter works its magic, and the freshly grated parm just amps up the parm flavor. You can skip this of course, but I just feel like you'd be doing a disservice to yourself if you did.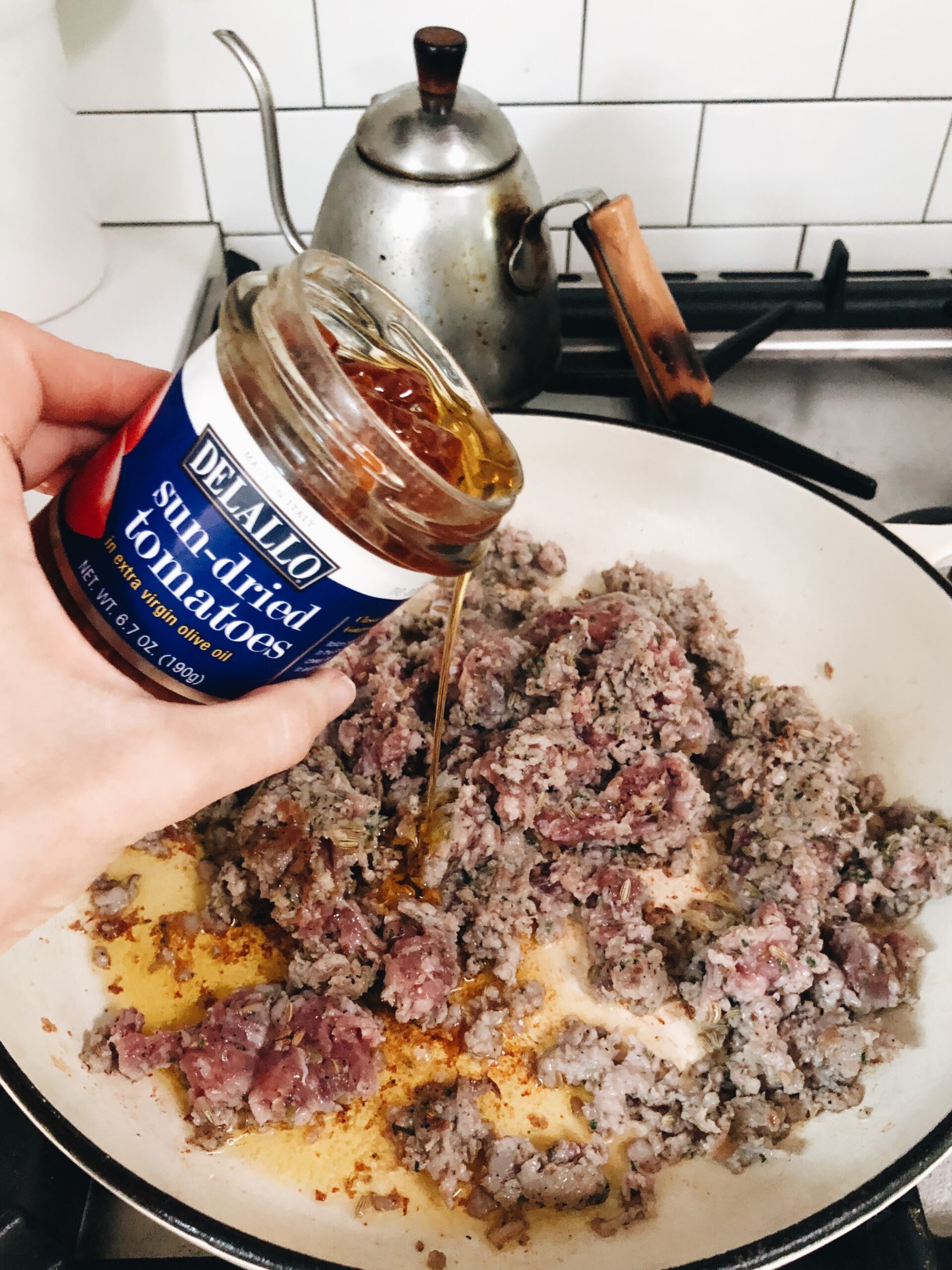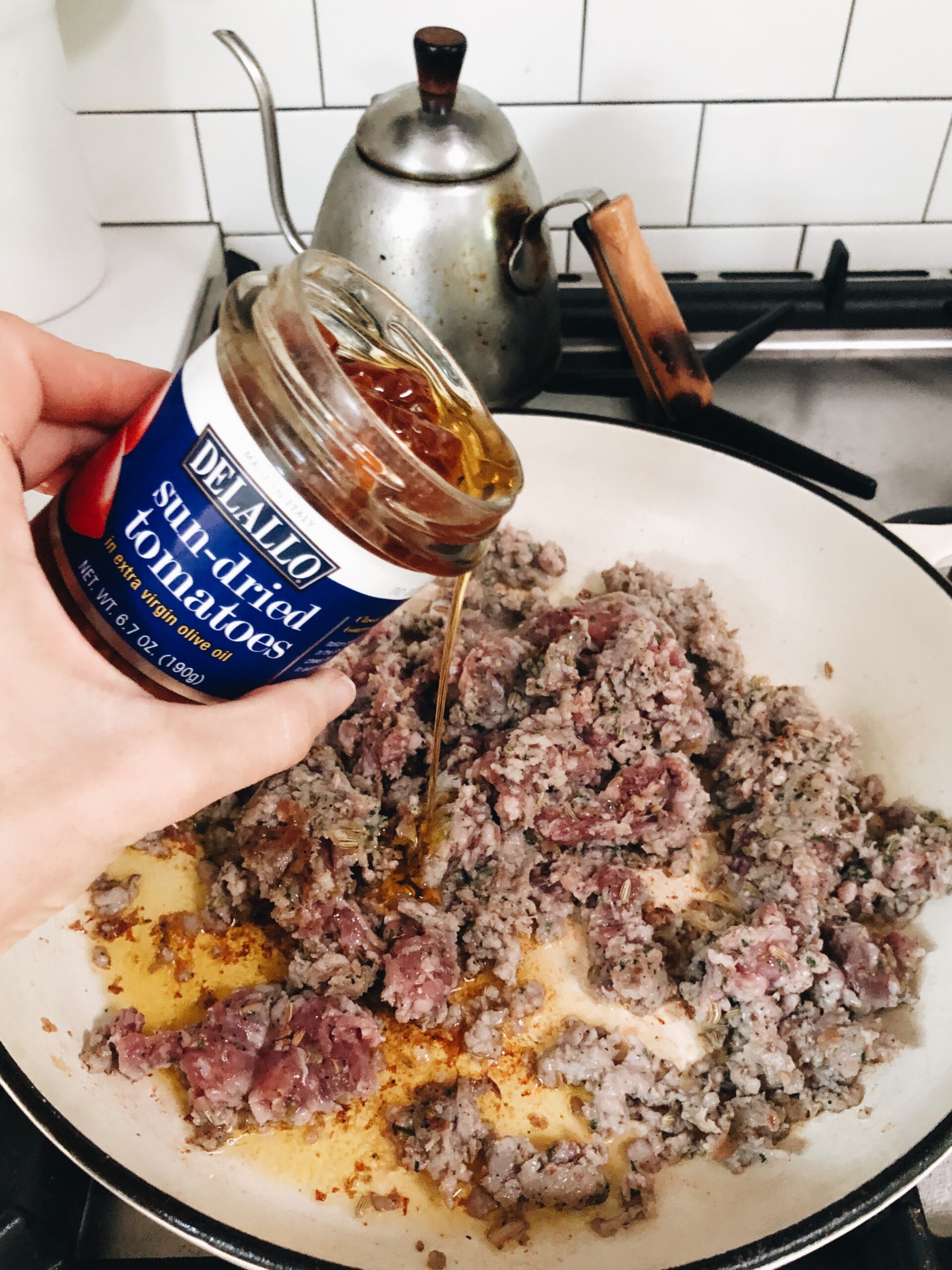 While the rice cooks, you'll use some of the sun-dried tomato oil and brown the sausage in it. I'm telling you, that flavored oil is a wonder with the sausage. Absolute delish-ness-to-the-max.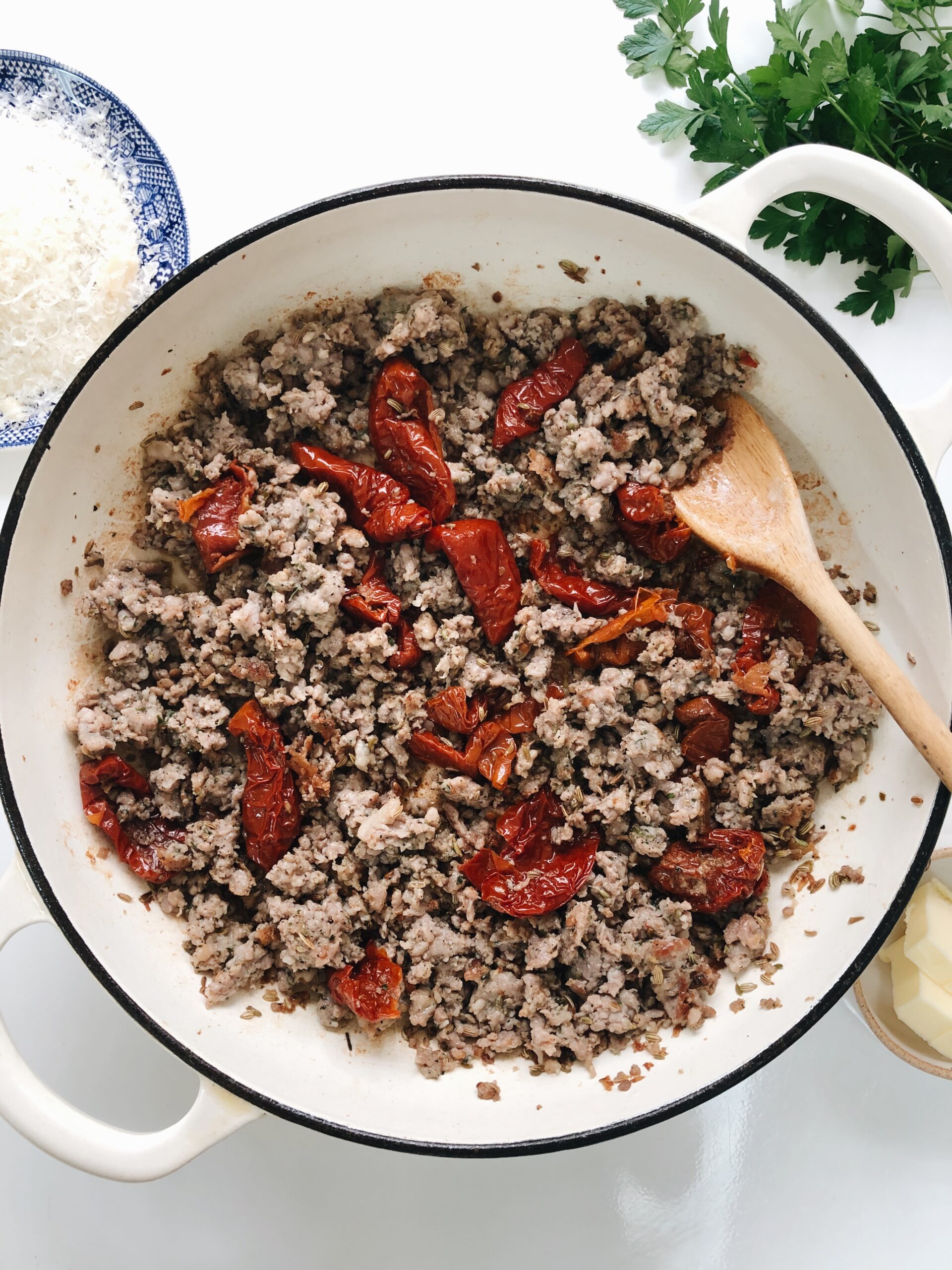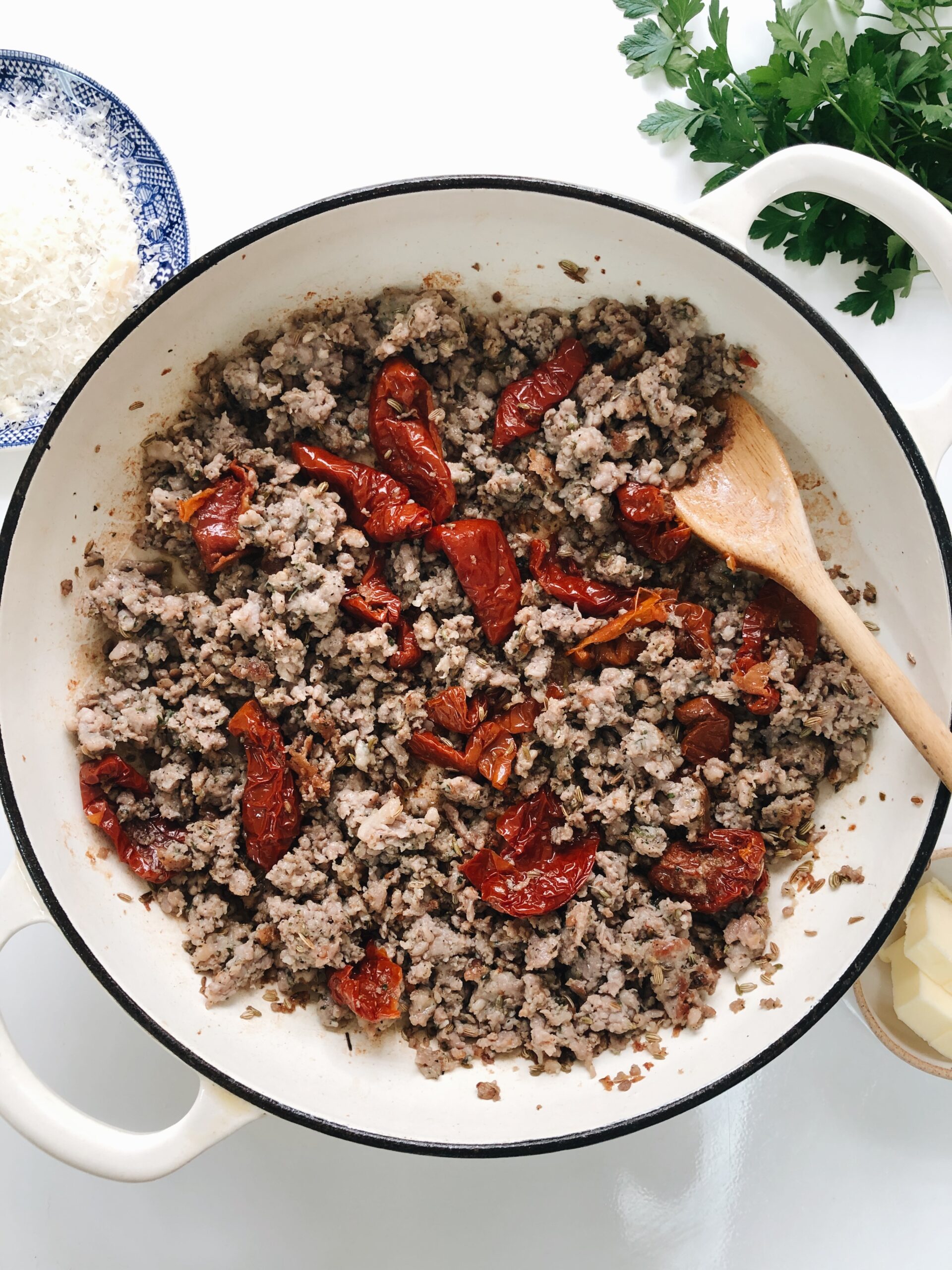 Once the sausage is cooked through, go ahead and add the sun-drieds right to the skillet for a little sauté. We're just warming it up, nothing too aggressive.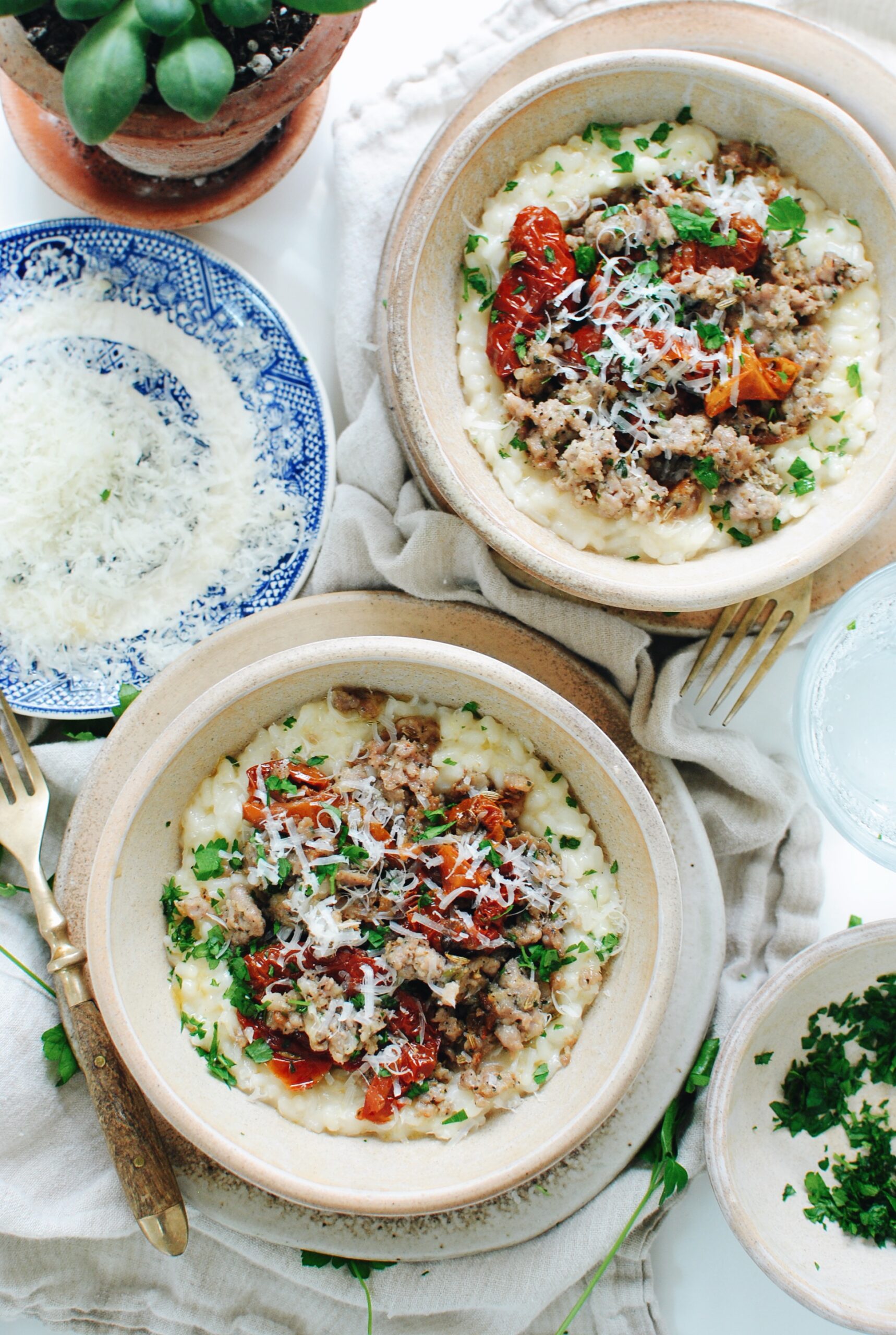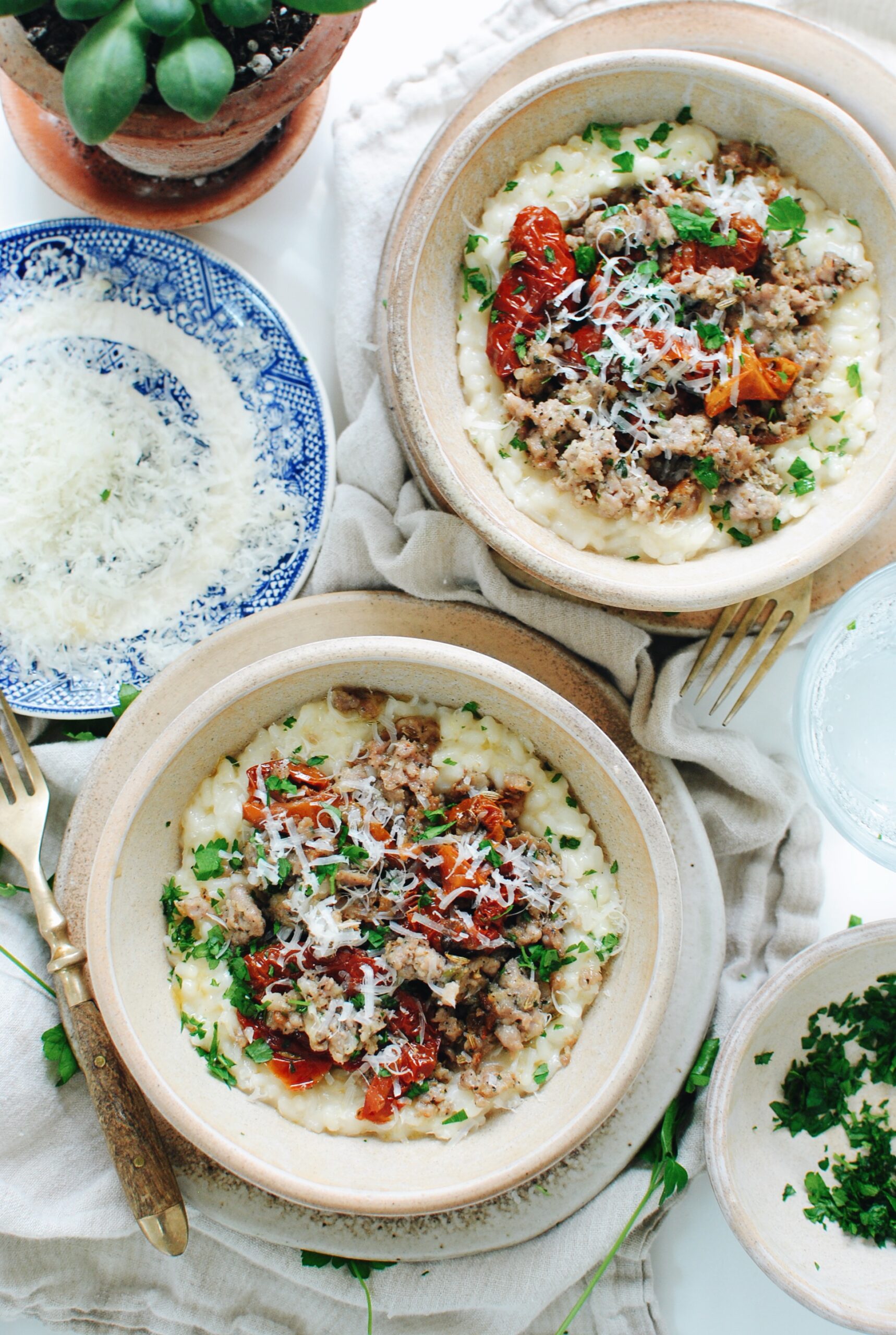 And then you just combine and serve! Dreamy creamy risotto in a couple of bowls, sausage and tomatoes on top. Complete comfort. And then you top it with freshly grated parmesan and minced parsley, ARE you kidding.
This is a succulent, rich meal. It's rib-sticking, soul-tickling, giddy-inducing. The flavor of the risotto is outstanding, and the toppings just add to the whole experience. I want to scream in all caps at you right now, but I'm doing my very best to stay moderately chill.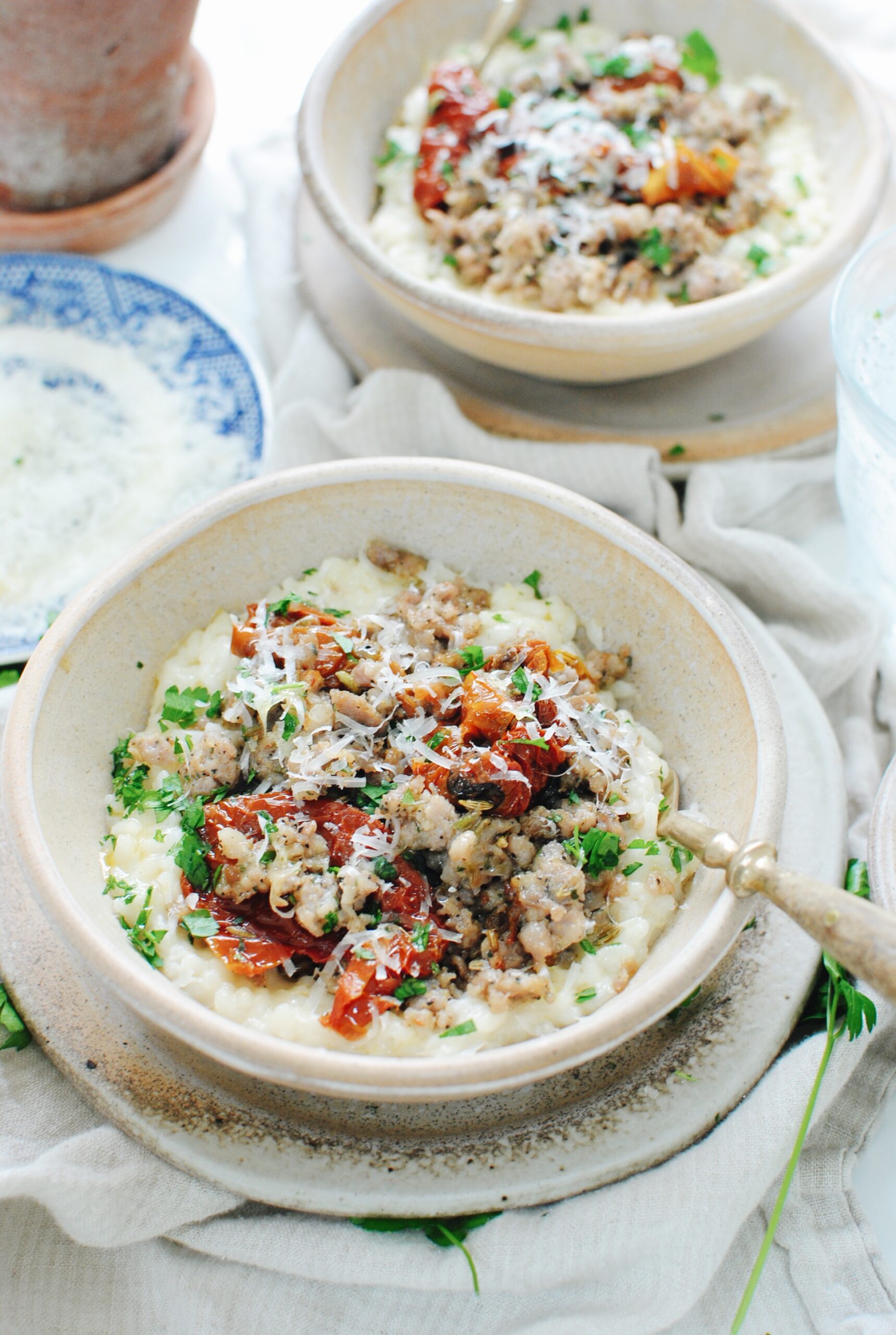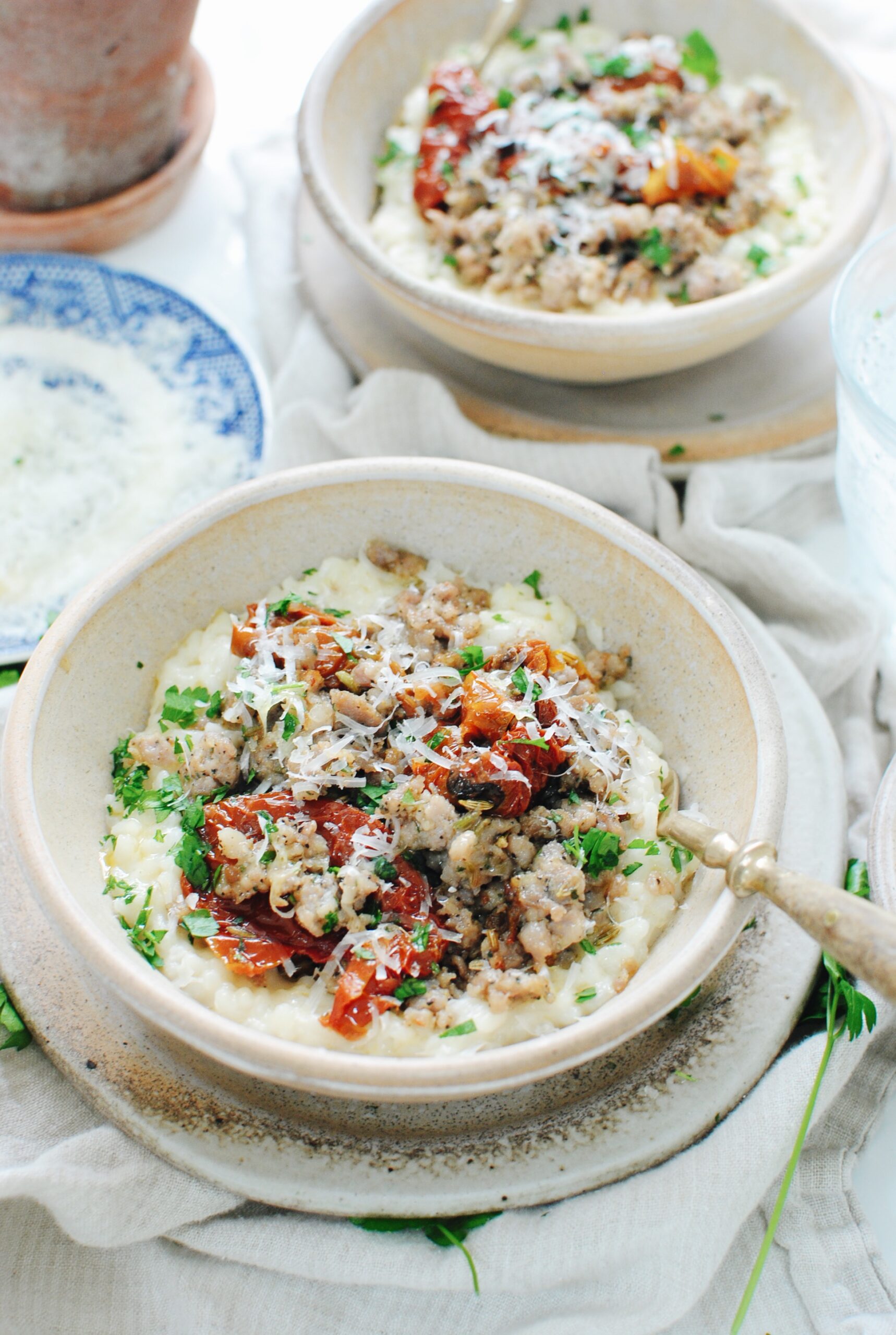 Try the box! Try the cute little tapered risotto box! Criminally simple, and you can do just about anything with it. I'd love to know if you have tried it, and what you paired it with. I can tell it's going to a staple throughout fall and winter. Maybe some fall roasted veggies piled on top? Or just shoot – maybe it's a side dish and you just garnish with fresh thyme, like the cover of the cute little tapered box! Yeah, do that, too.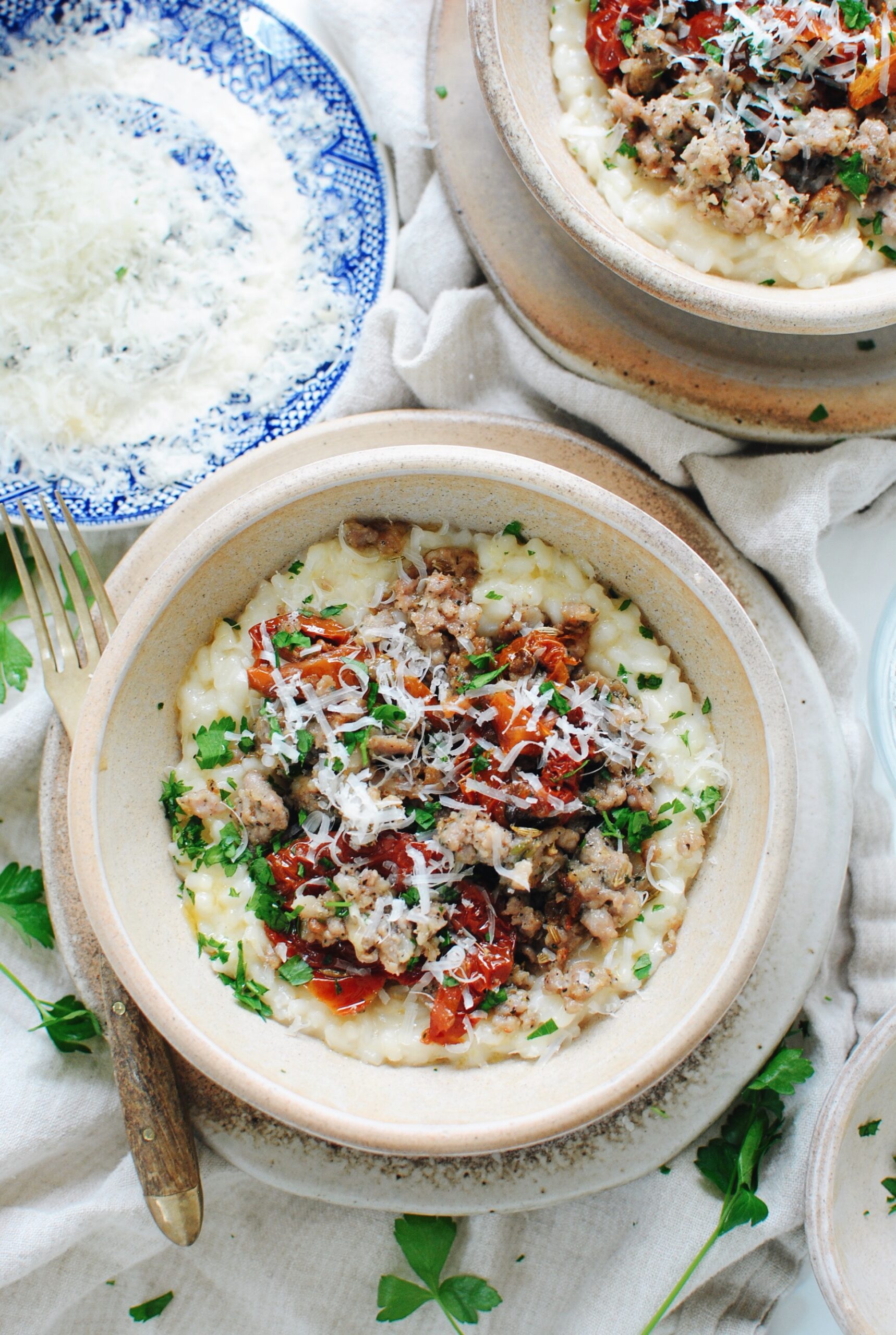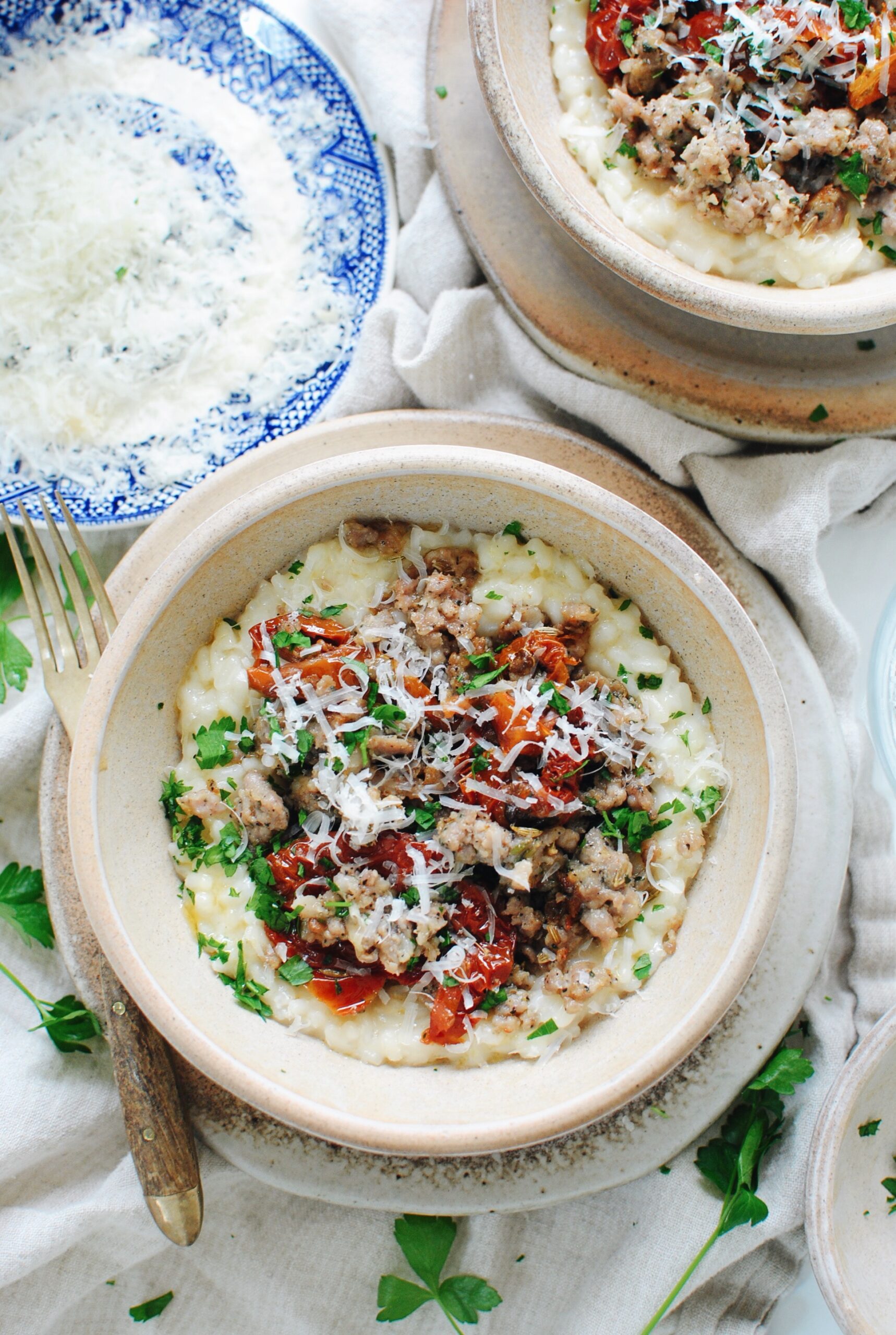 You might need to crawl on in.
Quick Cook Cheese Risotto with Italian Sausage and Sun-Dried Tomatoes
Ingredients
6.2 oz DeLallo Quick Cook Cheese Risotto
1 pound medium Italian sausage
6.7 oz DeLallo sun-dried tomatoes in oil
2 Tbs. butter
1/2 cup freshly grated parmesan cheese
Chopped parsley for garnish
Instructions
In a medium saucepan, combine the contents of the DeLallo Quick Cook Cheese Risotto plus two cups of water. Bring to a boil, then reduce the heat and let this simmer on low for about 15 minutes. Twenty if you need it. Stir often to make sure nothing sticks! Once the rice is creamy and tender, flip the heat off. Stir in the butter and parmesan. Taste that. SO GOOD. SOOOOO GOOD.
In the meantime, add 2-3 Tbs. of the sun-dried tomato oil to a large skillet. Add your Italian sausage to the skillet and brown with a wooden spoon until cooked through, about six minutes. Add the jar of sun-dried tomatoes to the skillet and sauté a minute or two, just to warm it through.
Divide the risotto among two shallow dinner bowls and top with the browned sausage and tomatoes. Garnish with parsley and extra parmesan.
Serve immediately!
Serves two.
*you're cooking a whole pound of sausage, so if you want to prep two boxes of risotto, go for it. Just up the butter and cheese. Otherwise two sausage links and half the sun-dried tomato jar will suffice!
7.8.1.2
529
https://bevcooks.com/quick-cook-cheese-risotto-with-italian-sausage-and-sun-dried-tomatoes/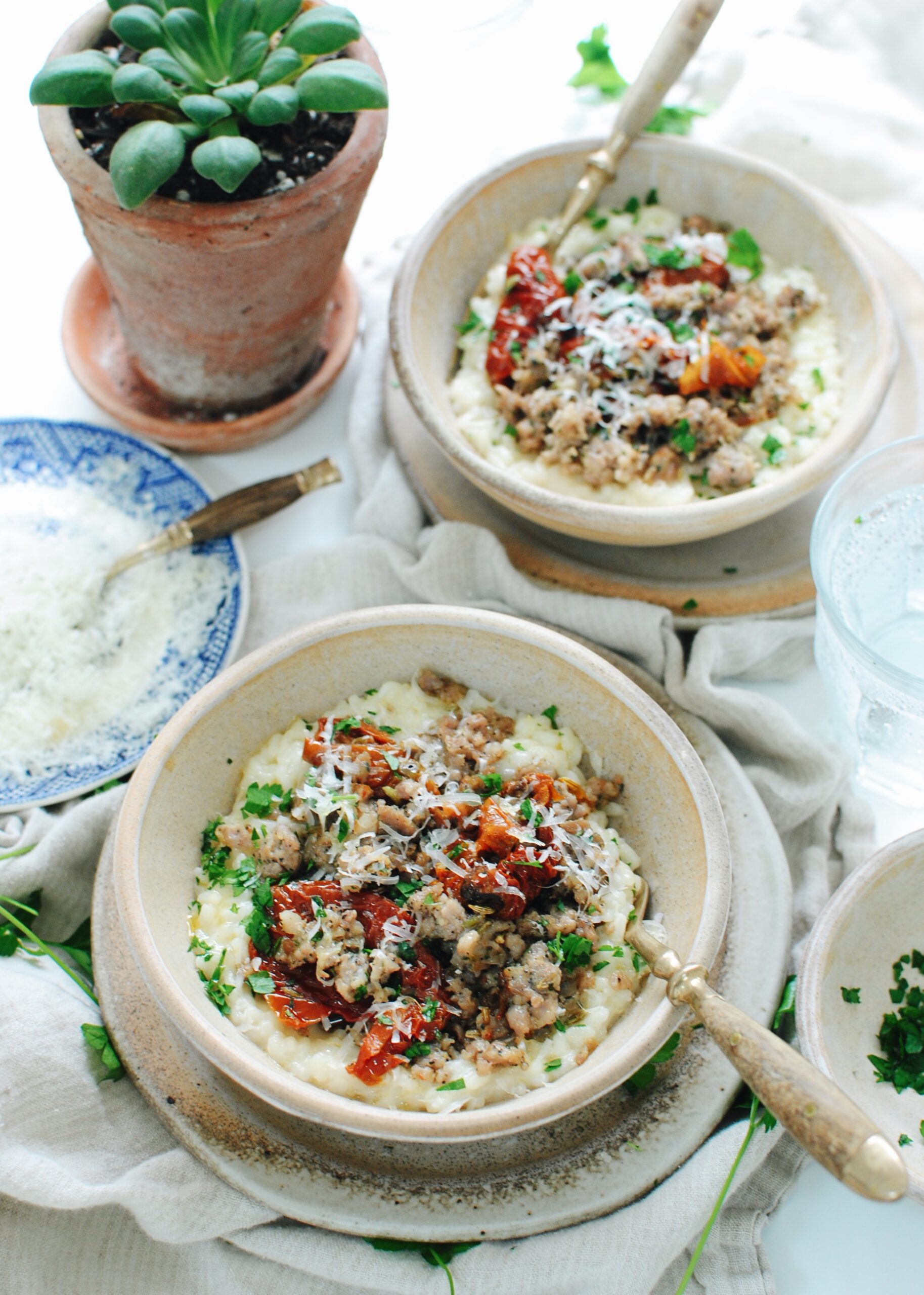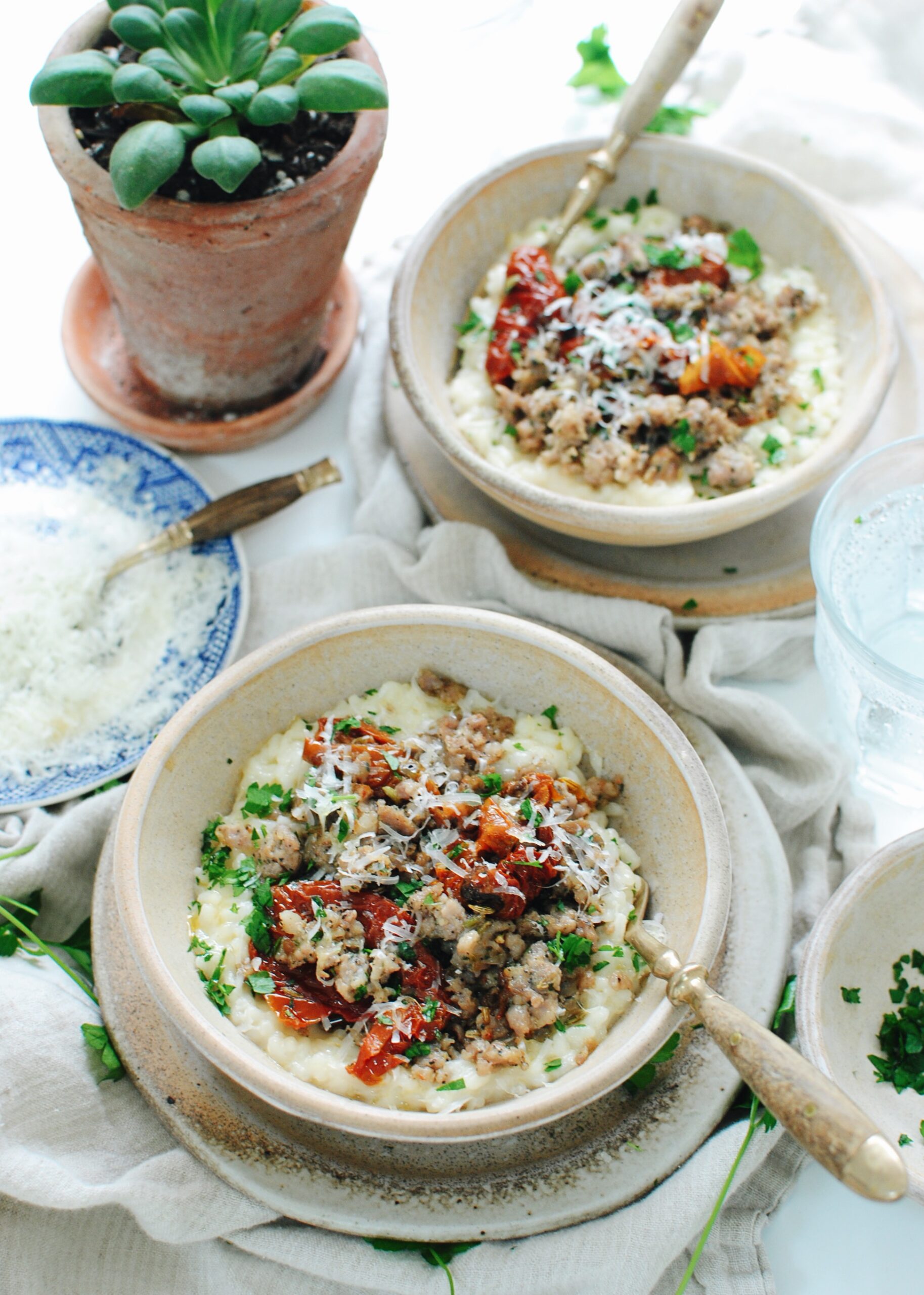 Because I'm about to.
(This post is definitely in partnership with my lover DeLallo. But all risotto inhalings and ramblings are completely my own. We coo?)