It's slurp time. You knew it was coming.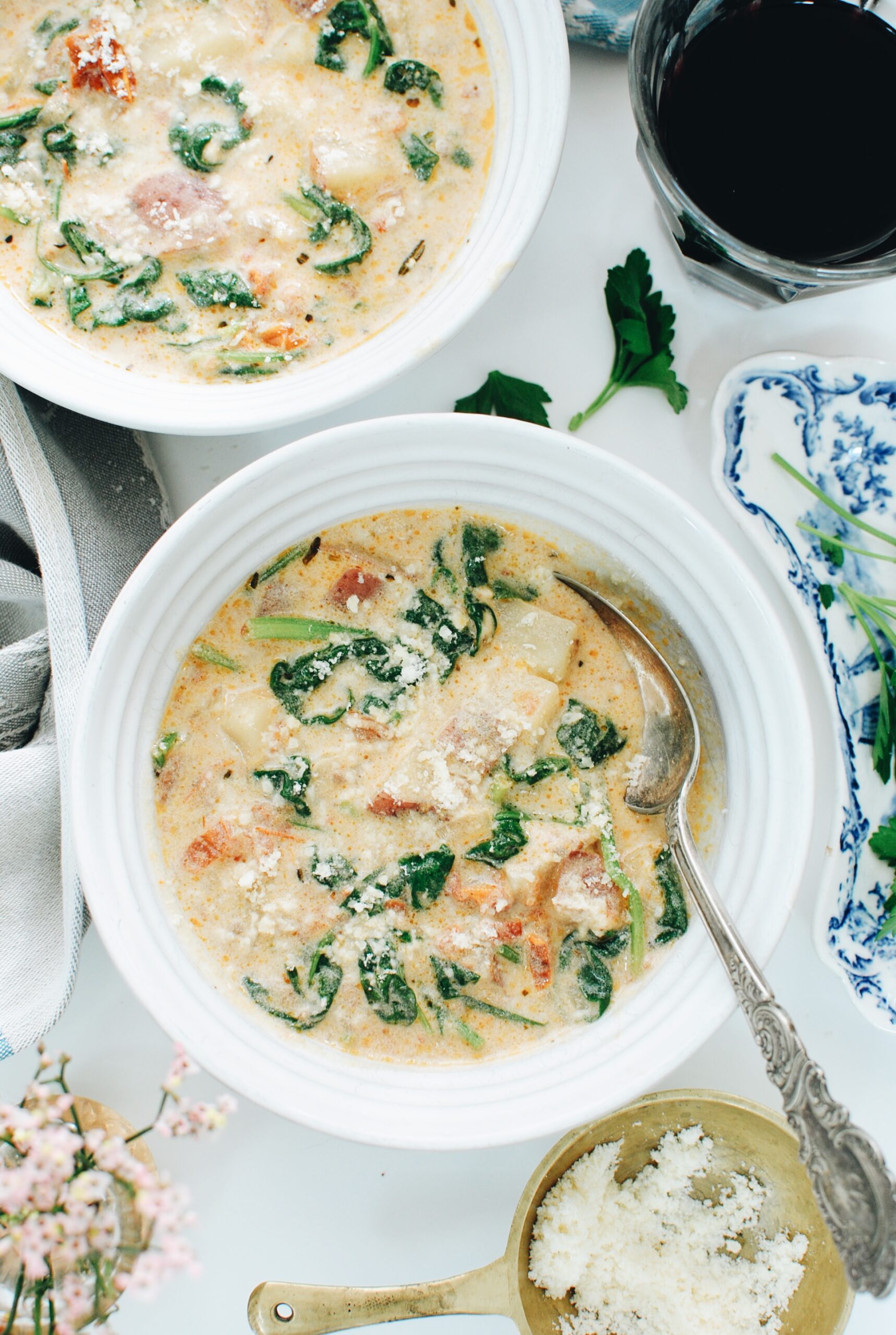 I think actually that this is my last recipe of the year! I think. Maybe?
I can't decide just how active to be on this blog over the next two weeks. It's giving me so much trouble lately: pages not pulling up, not being able to comment on posts, not being able to log in at all – I just want to scream. I'm talking to myself here, but if you're listening, thanks. Thanks for being here. Thanks for commenting and pinning and liking and all that. Really, thank you.
If I manage to smooth out this blog and get it connected to Pinterest again, I'll keep going. But I'm feeling a break. Maybe I just need some snow. And eggnog. (jk)
In the meantime, leeeeeet us peepeth!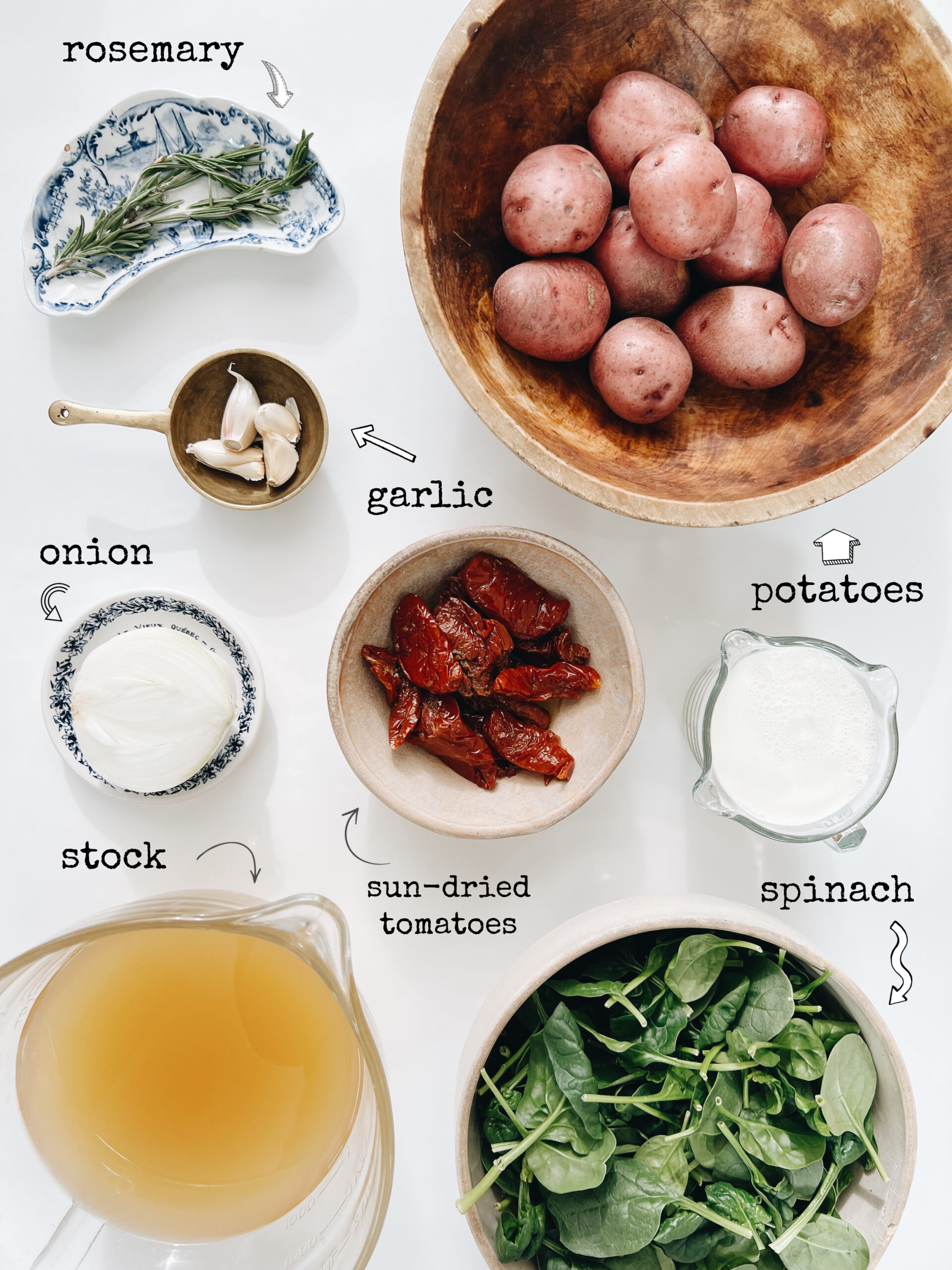 It's vegetarian, minus the chicken stock. So don't send me hate mail about the freaking chicken stock. Sub veggie stock and be happy in your life. Or leave it chicken if you're a rebel like that!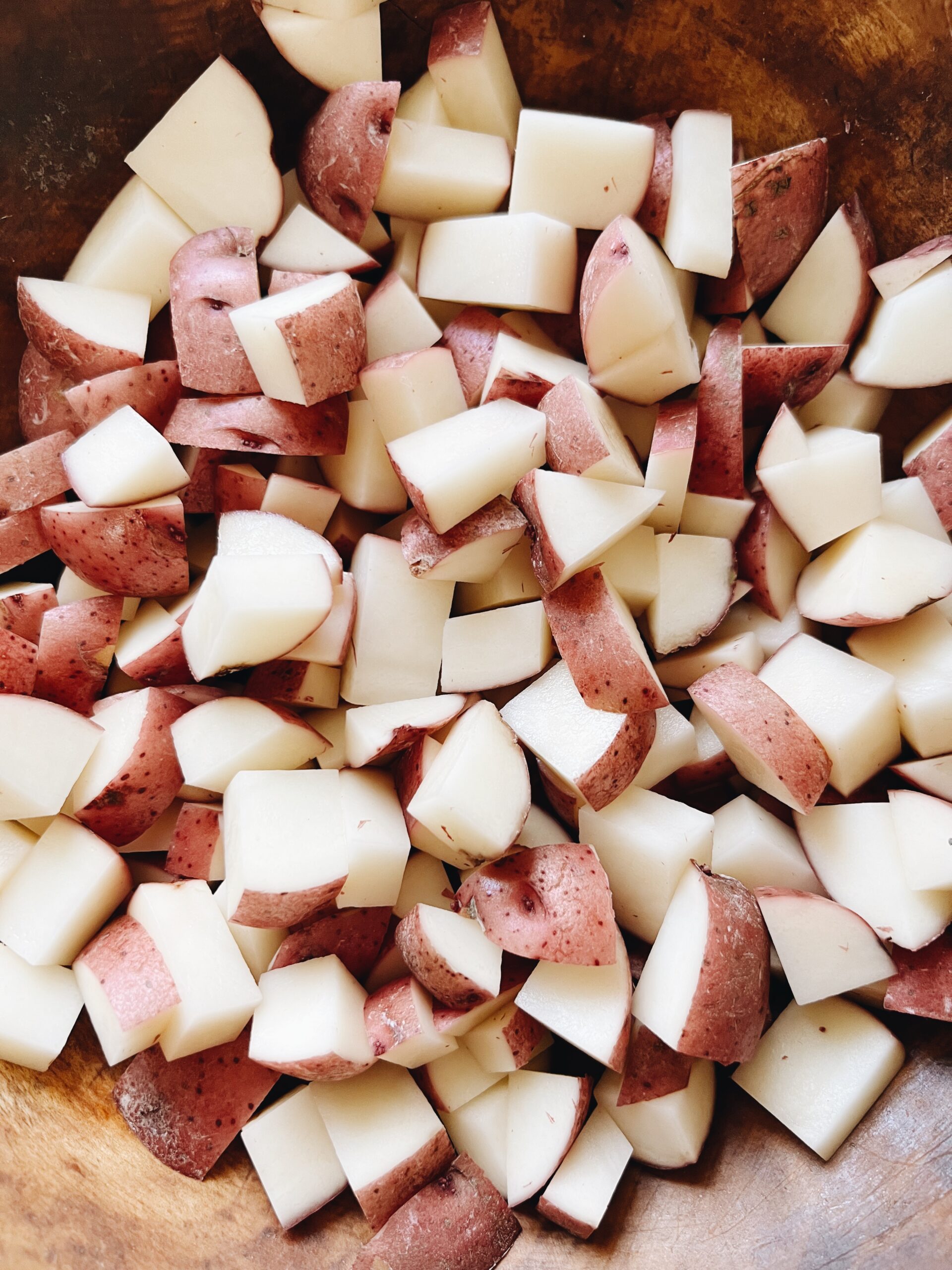 We'll get our 'taters chopped up. More like a dice. It's not tiny tiny but not huge either. Just a small cube. You'll feel it in your bones.
Then we'll dice up half an onion and get it sautéed in the sun-dried tomato oil! I used Delallo's, but anything works. Just be sure and sauté the aromatics in that oil, bruh.
Get some minced garlic in that pot, too.
And some freshly minced rosemary because "you're wiiiiiiiiiild!" <–name that movie.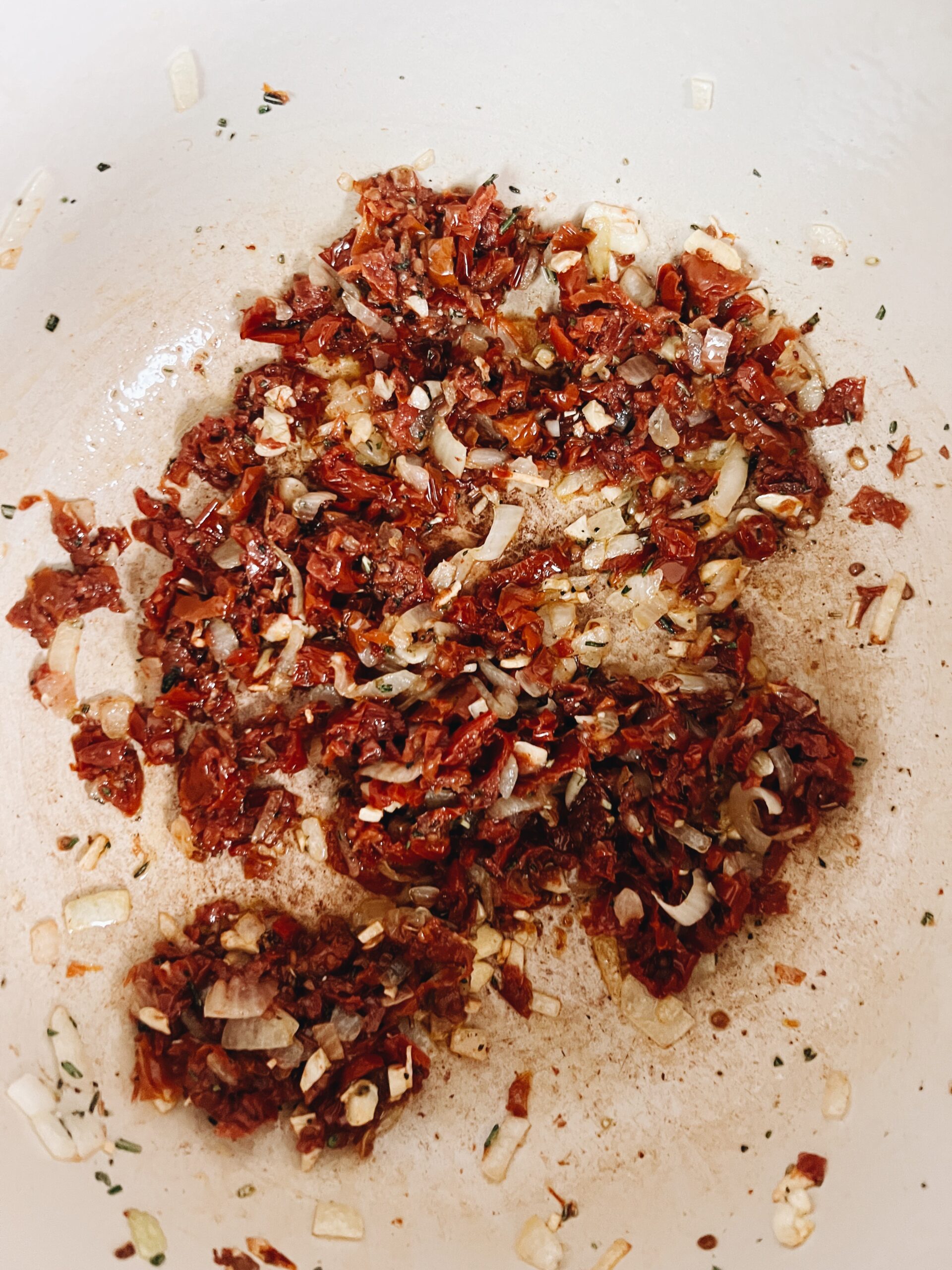 Then we'll throw in some finely chopped sun-dried tomatoes. This is where all the umami is. TONS of flavor depth happening right here. Right now.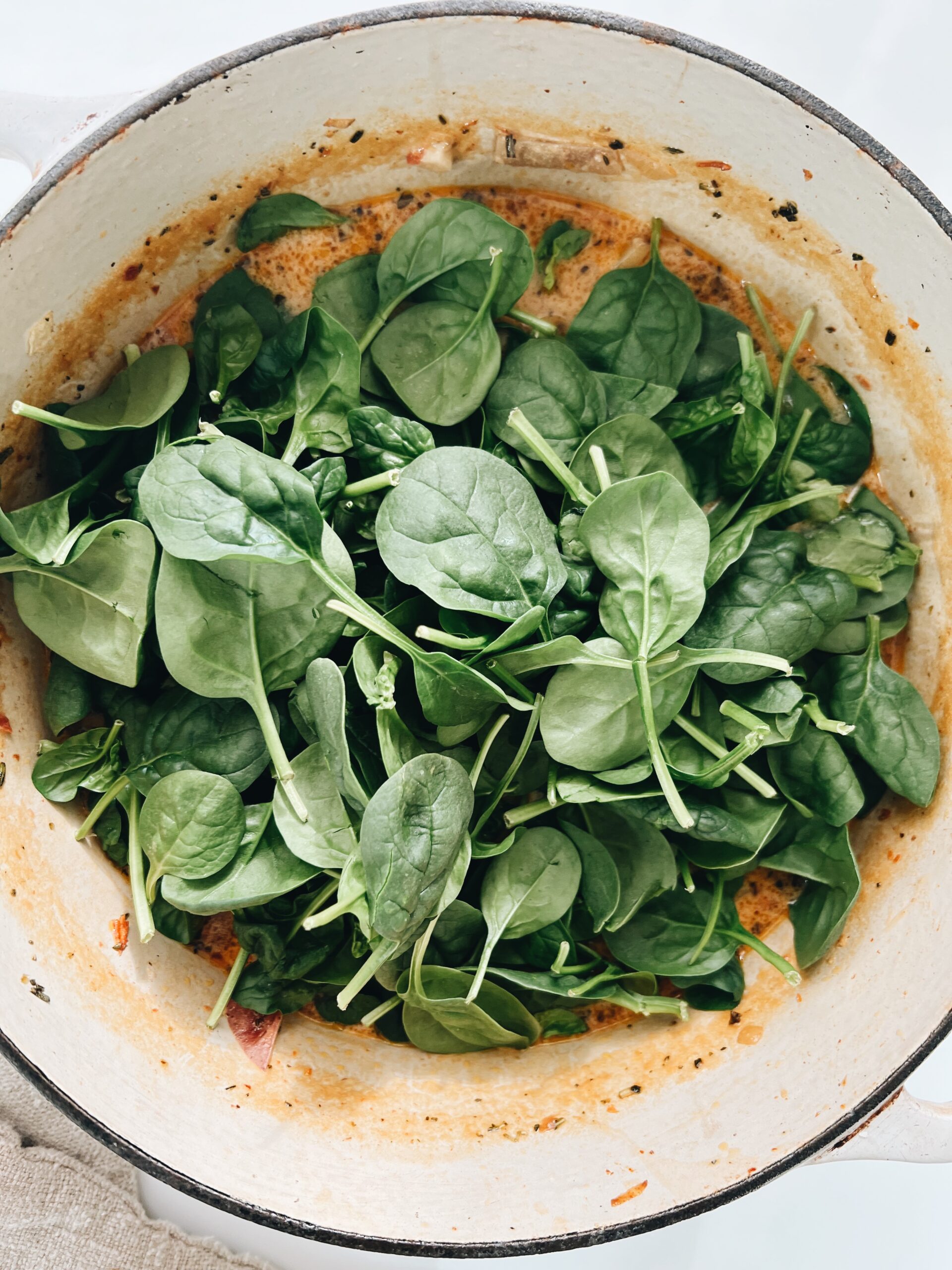 Okay then you'll add in the potatoes and give it a good stir. Then the stock and cream. Another goooood pinch of salt right now. Partially cover with a lid and let it simmer on a gentle medium heat, a light rolling boil for about 25 minutes. Keep going if your potatoes need the extra time. You might go 35 minutes, but just enjoy it.
This is the thing, at first it will look oily on top. That's okay because it will change. Then it will look a little broken with the cream. Just keep going. The longer it simmers it will come together and be creamy and silky.
Then violently dump in a few good handfuls of spinach. There we go. Just made it healt- do what?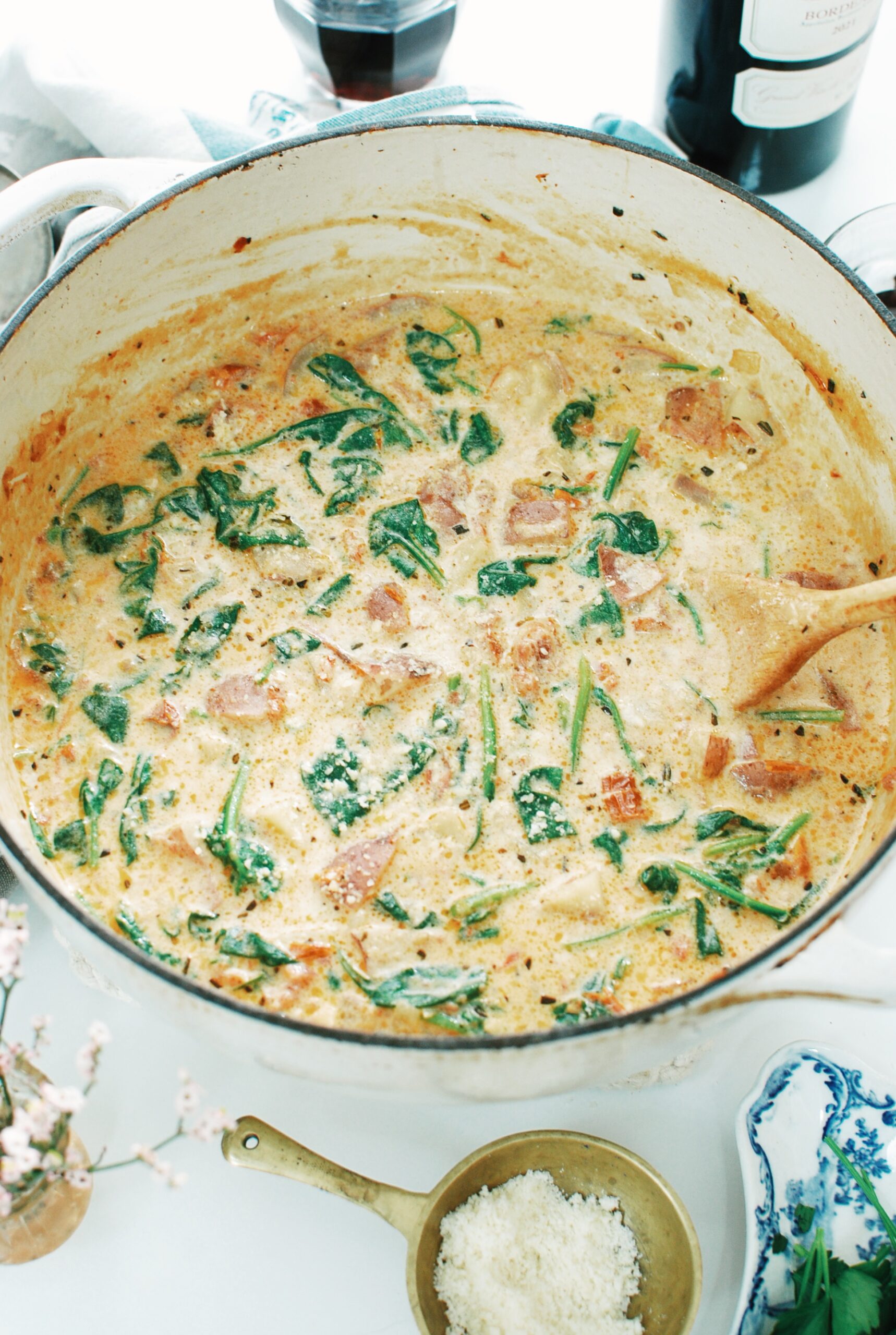 Completely delicious. The depth of the tomatoes will have you so weepy.
The potatoes are tender, the spinach is velvety, the creamy slurpiness of the soup is just to die for.
You'll very very much enjoy this, I promise.
Oh! Add some lemon juice to wake it up. You know how we do.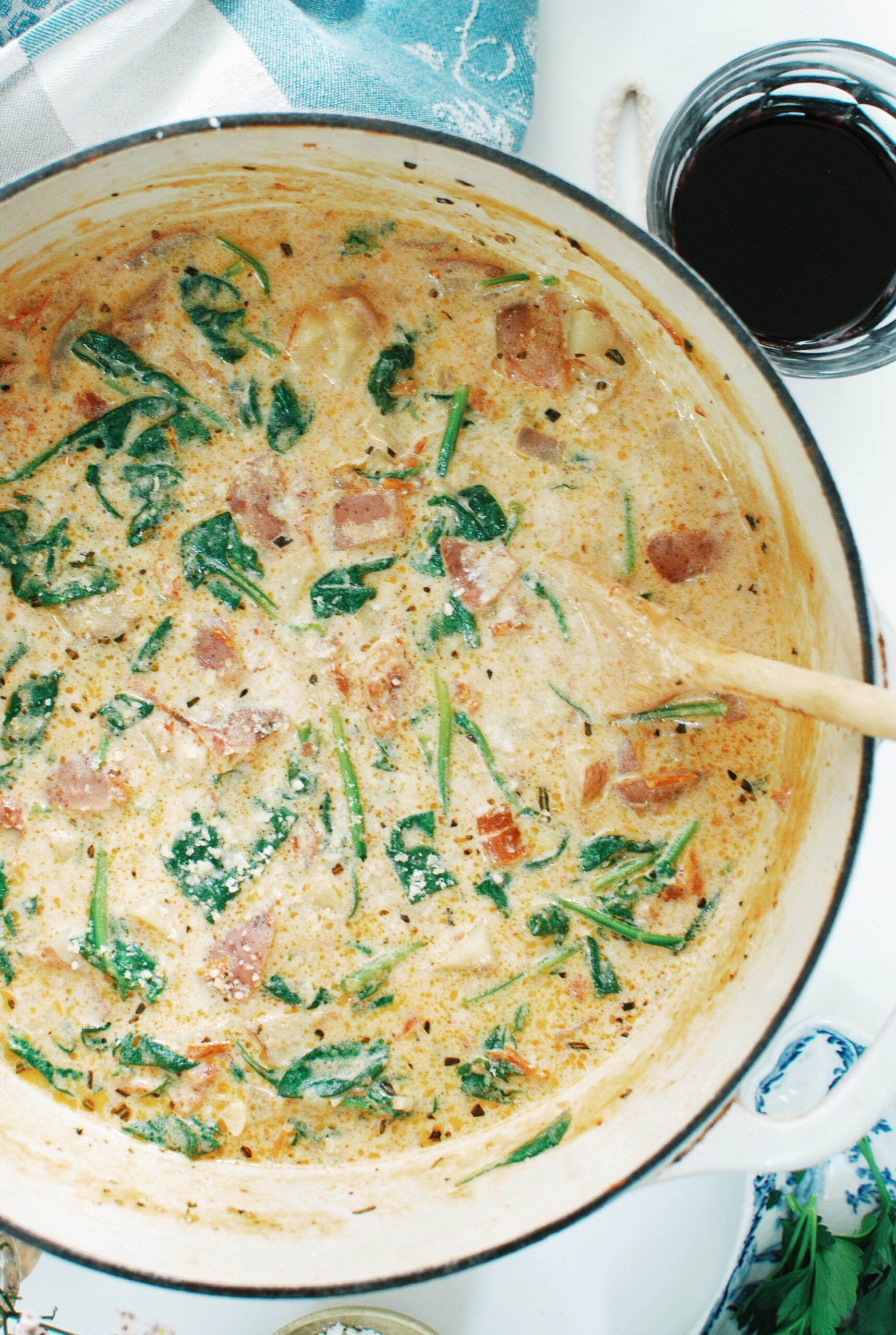 If you need a vegetarian but sturdy soup for your holiday break – this. This is it. Come back to this.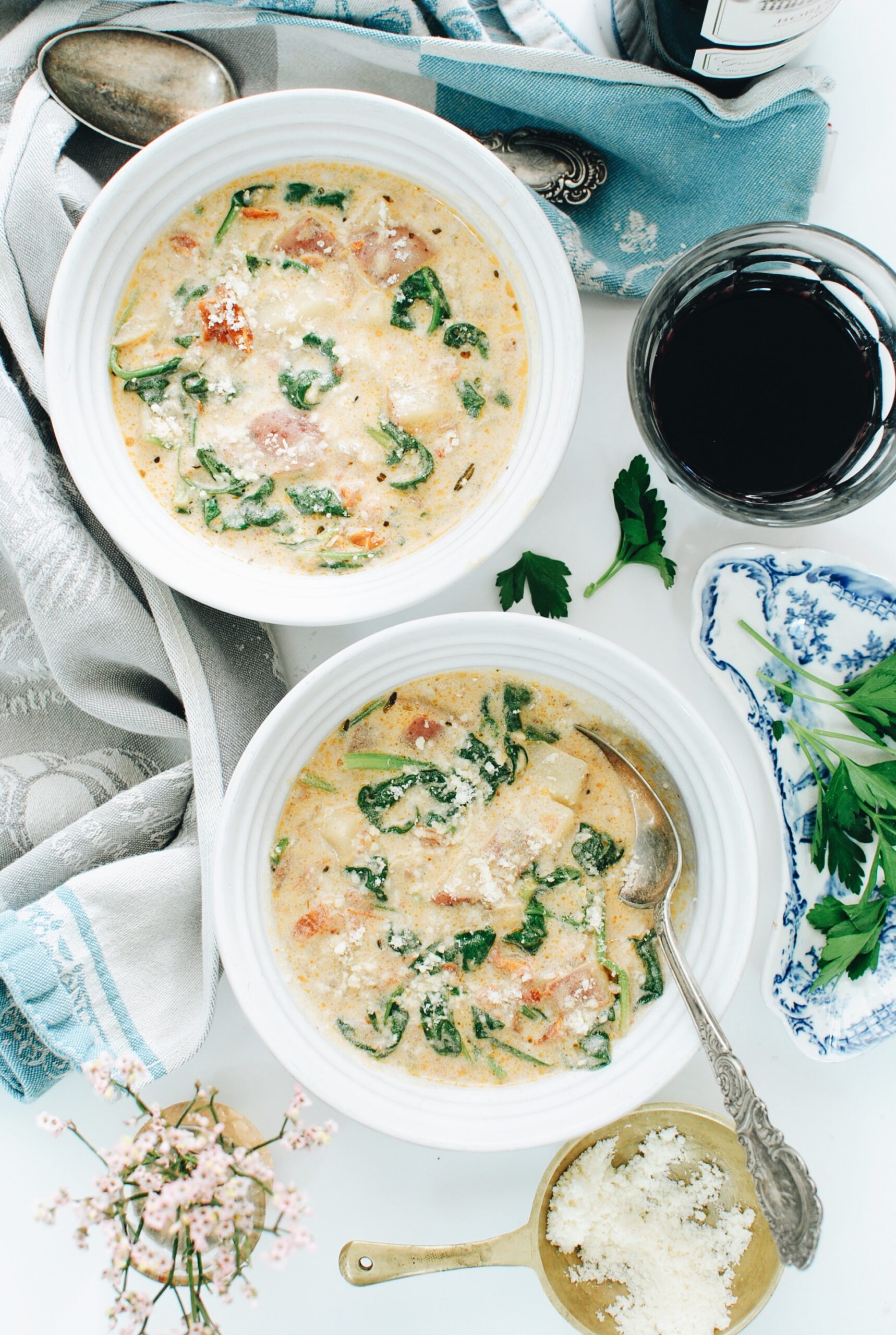 A little parmesan to finish never hurt anyone.
Creamy Potato, Spinach and Sun-dried Tomato Soup
Ingredients
1 1/2 pounds red potatoes, diced
1/2 large white onion, diced
4-5 cloves of garlic, minced
1 Tbs. Freshly chopped rosemary
6.7 jar of sun-dried tomatoes, finely chopped (oil reserved)
4 cups chicken (or veggie) stock
1 1/2 cups cream (half and half or milk work, too)
5 oz baby spinach
Coarse salt
Parmesan to garnish
Lemon juice to wake it up!
Instructions
In a large soup pot, add 2 Tbs. sun-dried tomato oil and bring to a medium high heat. Add the onions and sauté about five minutes, until you get some nice color. Add the minced garlic and rosemary, sautéing another minute. Add the tomatoes and let this cook a minute or two, just so the flavors start to build.
Add the potatoes to the pot and toss with everything. Pour in the stock and cream and bring the heat up just a tad. Once boiling, season with a good pinch of salt and reduce the heat to a medium. Let this lightly simmer anywhere from 25 to 35 minutes, until the potatoes are tender under a knife.
Add the spinach and stir to wilt. Now taste it. More salt? Add another pinch to get it just right. Add a squeeze of lemon juice to the soup to wake it up! Just about a Tbs. More if you want that good bite.
Ladle into soup bowls and garnish with parmesan cheese!
Serves 4.
7.8.1.2
618
https://bevcooks.com/2022/12/creamy-potato-spinach-and-sun-dried-tomato-soup/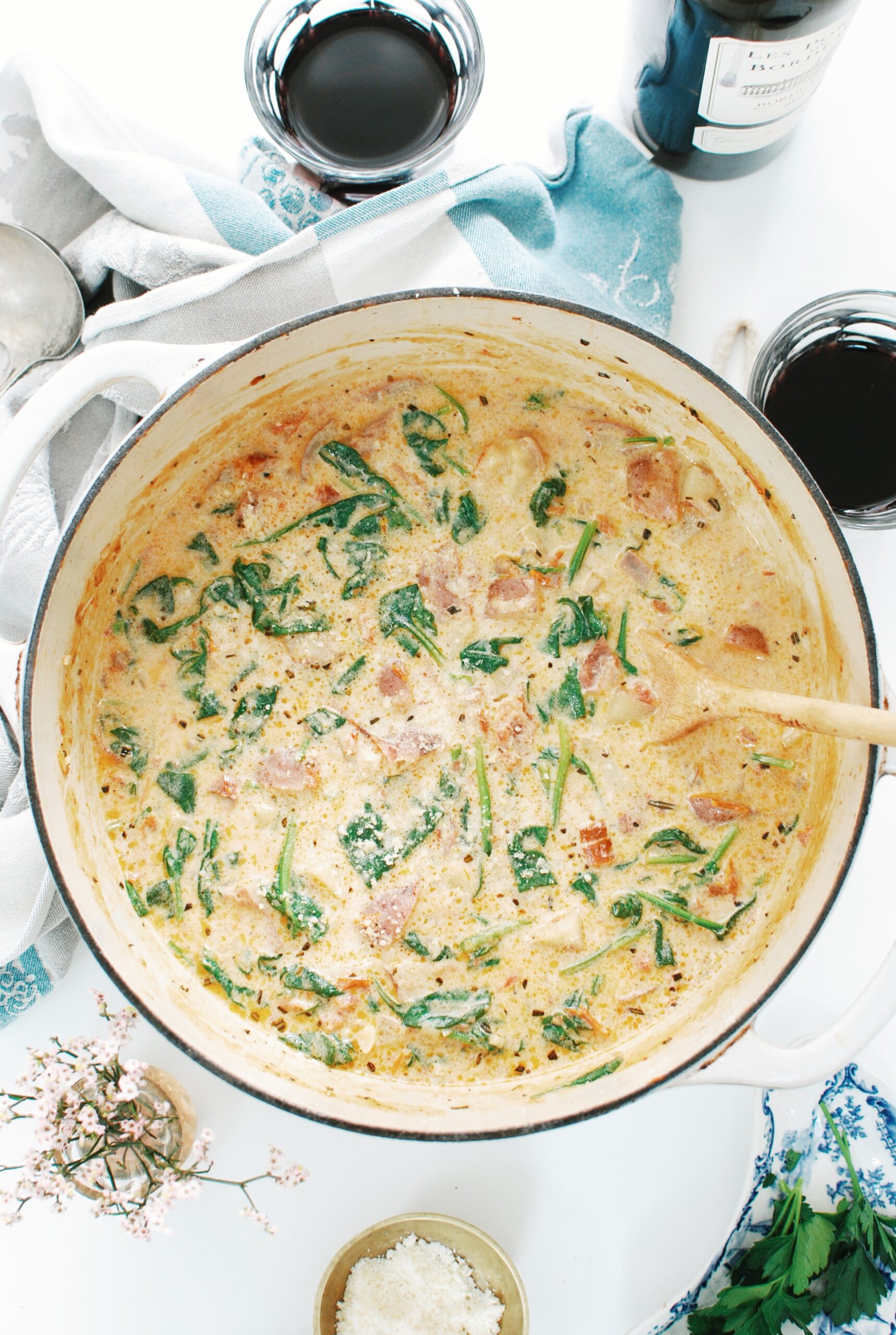 SA-LURP.